Just a stone-throw north of the infamous tourist hotspot Kuta, Legian Beach offers many chilled beach bars, overwhelming sunsets, and the most scenic spot to surf.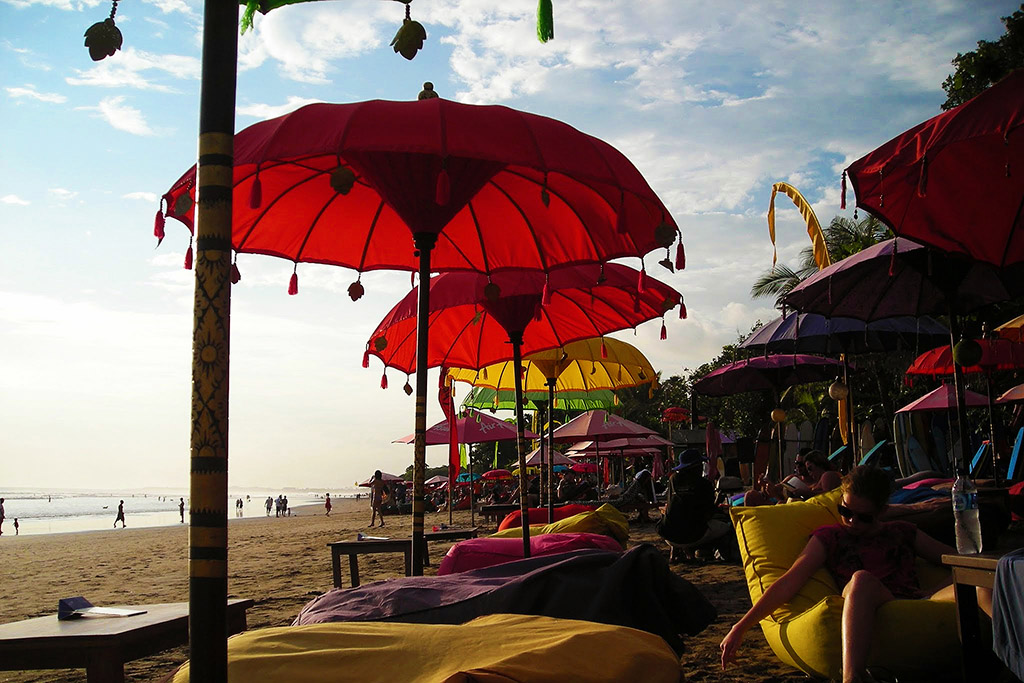 So let your hair down and let it fly in the soft breeze blowing from the Indian Ocean.
Before I got to Bali for the first time, I heard a lot of very different things. They varied from the island being a highly spiritual, enchanting place to being a tourist purgatory with hordes of drunks as if on spring break.
After I've checked it out for myself, I can say that both are true. Or – let me rephrase this – it can be. Actually, it strongly depends on where you are going and what you are looking for. If you spend your entire stay in Kuta, you will certainly have tons of fun – albeit the kind of fun I'm absolutely not going for. But if you skip the busy places and the big, western-style hotels and book yourself in a small guesthouse next to a ricefield, you'll have a wonderful and deep experience.
Gateway to Bali
Bali's coastal towns of Kuta, Legian, and Seminyak are known for kilometer-long wide sandy beaches. Tragically, this is also why mainly Kuta developed into a center of western package tourism, catering mainly to Australians, but also to tourists from Germany, the Netherlands, Malaysia, and Japan. Consequently, this part of the coast is characterized by hotels, souvenir shops, and clubs.
Since the main hotspot Kuta is creeping its way up the coast, the once tranquil residential area of Legian is also becoming more and more touristy. Fortunately, despite the increase of businesses, it somewhat still preserves its laid-back vibe.
While the sandy beaches on Bali's southwestern coast are good for surfing, they are not ideal for swimming due to the strong surf.
Still, the proximity to Bali's capital Denpasar and the Ngurah Rai International Airport that's just less than 10 kilometers south of Legian makes the town a great gateway to Bali and the perfect, relaxing start point for your vacation.
Enjoy a couple of days on the beach – and then move on to the more mystic places.
Kuta Cowboys
What I was not aware of before coming to Bali is that the island caters to female sex tourism. Clearly, it's not as obvious and gross as male sex tourism for instance in Thailand. Still, it's there, and obviously where most of the tourists are, hence, around Kuta.
Beats me why Kuta's gigolos are called cowboys. They wear their hair long and are riding motorbikes – but how does this make them cowboys?
I am a female solo traveller which should make me the perfect…victim? Customer? Still, since I didn't hang out too much in the touristy beach area around Kuta, I hardly ever experienced anything creepy. Just once, as I was looking for some store one evening, hence walking around obviously searching for something, I was approached by some guy and asked whether I needed a boyfriend.
There is an excellent documentary by Amit Virmani called Cowboys in Paradise. It's dealing with the phenomenon of what I would blatantly call male prostitution. You can stream it on amazon and it's absolutely worth watching.
On the Flipside
In 2002, Kuta was the target of a terrorist attack by Islamic extremists. Two clubs were destroyed by the detonation of a car bomb. It killed 202 people, mostly Australians. Today, a large memorial on Jalan Legian remembers the victims. Following the attack, tourism collapsed in Bali and has not fully recovered yet. Especially, since another attack shook the city again in 2005. An explosive device went off in a restaurant on the busy shopping street at the Matahari department store. Contemporaneously, there were further explosions in two beach restaurants in Jimbaran, south of the airport.
Visitors are staying on the west coast for the beach life, not for the culture. As a matter of fact, one of the few architectural sights in the area is the Buddhist temple Viharaya Dharmayana. It was installed in 1876 and is one of only five Buddhist temples in Bali. However, the Dalai Lama visited this site in 1982. Most of Bali's Buddhist population is Chinese. Therefore, unlike most other Buddhist temples in Indonesia, the temple is colorfully decorated in a Chinese fashion.
Pura Tanah Lot
While the town of Legian does not offer that much Balinese culture, there are two of the most famous temples within reach.
One of them is Pura Tanah Lot, the so-called Sea Temple. It is a Hindu temple about 20 kilometers up the coast. It stands on a crag in the sea close to the shore.
From the beach, you can reach the Tanah Lot after a 50-meter-long walk over washed stones and fine dark sand. However, on the footpath, the temple can only be reached at low tide without getting wet.
There is a short climb toward the temple where a fence prevents entry to the actual site of worship. Access to the inner courtyard is exclusively reserved for the faithful.
During high tide, Tanah Lot is completely surrounded by water and appears as an island.
In a small cave at the foot of the temple rock is a freshwater source from the sea. It is sacred and constantly guarded by priests. Opposite the source, there is another cave in the cliffs on the mainland, the Ular Suci. Here the priests look after some sacred snakes. Although the snakes are highly poisonous, they supposedly have never been bitten.
From Legian, you can reach the temple along the coast by a long walk on the beach or cycling. Head northwest from Legian towards Tabanan. Before Tabanan, turn left towards Kediri. In Kediri itself, a side street leads down to the coast.
Instagram Can Kill You
Along with Bali's rice fields around Ubud, the Gate of Heaven in Karangasem, and the jungle swing in Bongkasa, Pura Tanah Lot is the most popular photo spot in Bali. Due to Instagram and all those wannabe-influencers, all these magic places degenerate into overused backdrops and photosets. I've written about this terrible phenomenon in my post Most Instagrammable – Till Death Do Us Part.
And guess what – death did people part: In 2018, a French tourist fell from a swing 15 meters into Tegalalang Valley and died. The swings got famous through…yes, Instagram and have multiplied mainly in the valley ever since. There are no size or safety standards for those swings.
But hey, no price is too high for many likes on Instagram, right?!
Pura Luhur Uluwatu
Another fantastic temple complex, the Pura Uluwatu, lies 24 kilometers south of Legian. Obviously, it is also one of the Balinese temples of the sea and is dedicated to the Vedic God Rudra.
The temple is located at the top of a rocky cliff. In Balinese folklore, these rocks are part of the petrified vessel of Dewi Danu, the Goddess of water.
The temple is reached via a staircase that runs along the cliff overlooking the sea. You reach a large central space through a finely carved stone portal.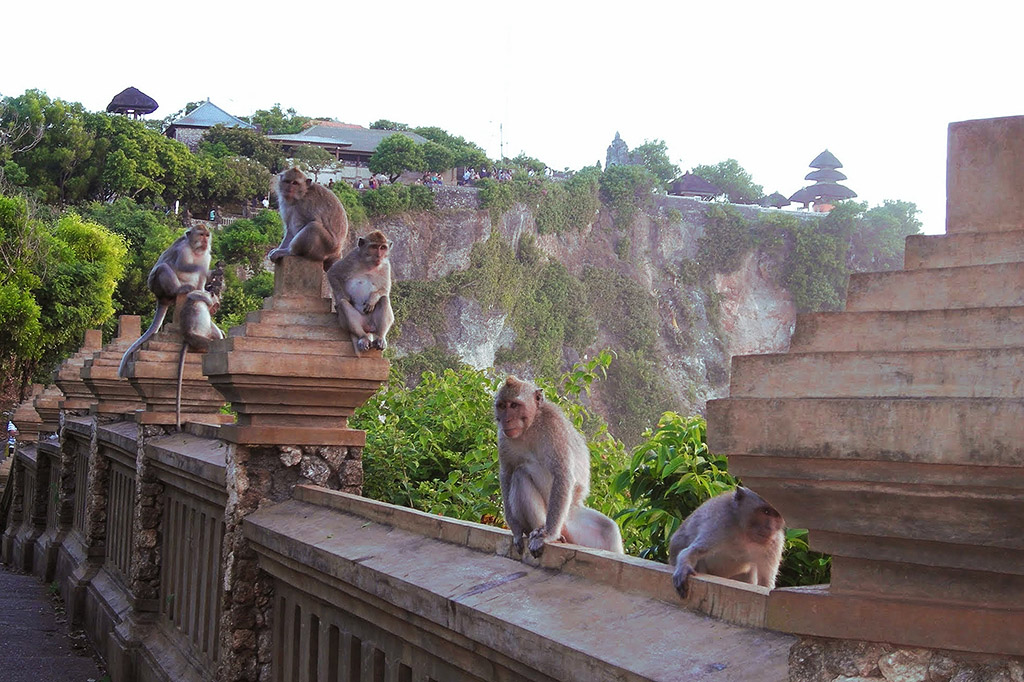 Pura Uluwatu doesn't attract many visitors only with its architectonic beauty. It's also famous for its monkey troops which are definitely up to no good. As you walk on the staircase along the cliff, make sure to have everything thoroughly put away and your bag or backpack closed. These monkeys are no pets. They are wild animals – and they are ruthless. They'll take whatever they like – and not in a playful way.
By the way, when was your last rabies shot?
Kecak
Another reason why visitors are flocking to Uluwatu at dusk is the famous Kecak performance.
Kecak is a dance drama based on elements of the Indian epic Ramayana. Up to a hundred male dancers dressed in black and white checkered loincloths perform in a choir, answered in an antiphon by a solo singer.
Personifying the mythological army of monkeys, helpers of Prince Rama, they are sitting or standing closely in a circle. Moving their arms and hands, they rap Kecak Kecak Cak-a-Cak, changing the pace and volume. Then, more characters join their circle. There is prince Rama, his wife Sita, his companion, the ape god Hanuman, and Rama's opponent, the demon king Ravana.
Although Kecak has its roots in the old Balinese trance dance Sanghyang, it has only existed in its current form since around 1930. The concept for this performance originally came from German painter Walter Spies. Therefore, the Kecak music style and the instrumental ensembles including the jaw harp genggong do not derive from traditional Balinese music.
Today, Kecak is a popular tourist attraction for western and Japanese visitors. Apart from Uluwatu, Kecak shows are performed also at Pura Dalem in Ubud. Because of its location on the shores of the Indian Ocean, Uluwatu still grants a far more grasping atmosphere.
To learn more about Kecak and its creator Walter Spies, please go to my post on Kecak – a German Dance in Bali.
Practical Information
How to Get There
Bali's Ngurah Rai International Airport is less than 10 kilometers south of Legian.
Some major hotels in the beach area offer a free shuttle. However, if the shuttle is not complimentary, you'll probably pay much more than if you arrange your transport yourself. This being said, it's wiser to overpay for a safe trip than to risk your well-being on arrival. You'll find more on this important topic in my post Keep Calm and Travel Solo.
There are three local taxi companies forming kinds of cooperatives. You find their desks at the domestic terminal. Here you can ask for their price and go then with the best deal.
However, for your comfort and safety, here you can pre-book a reliable and reasonably priced airport shuttle.
Getting Around
To me as a solo traveller, this was Bali's weakest point. Although there are public buses, they are used almost exclusively by locals and therefore don't go to touristy places of interest. You have to rely on individual transport.
While hiring a car with a driver is comparatively cheap if you share it between two or three people, it's obviously not that cheap anymore if you pay for the whole thing yourself. Of course, you can try to share with fellow travellers, but it's not guaranteed that you'll find someone according to your interests and itinerary.
This being said, you can always try to join an organized tour with Perama. They have an office at 39 Jalan Legion. Nevertheless, they don't stick to scheduled tours. If on certain days, they don't have enough people, they simply don't go. While I was able to join a tour to Uluwatu, my only option to go to Tanah Lot was by private cab.
To help you find the best option even if you travel to Bali solo, I'm including some tour offers in the What to See section below.
Where to Stay
Although Legian is not as overrun as Kuta, there is a wide choice of different lodging options. Since it was my first stop on my tour through Bali, I wanted to soften the culture shock by choosing the standard middle-class Baleka Resort Hotel & Spa*. Not only are the rooms nice and clean, but they also have a small pool with lounge chairs and a good, reasonably-priced restaurant.
However, here is a map that will help you find an adequate lodging option*
What to Eat
Not only is Balinese food simply delicious, but for international visitors, it is also incredibly cheap.
My first visit to Bali was at the same time my first trip to Southeast Asia. On my first beach day in Legian, I wanted a snack. At one of the chill beach bars, I ordered Satay from the menu at the equivalent of maybe 3 €uros. For this amount of money, I expected a teeny-tiny snack with my drink. Man, was I surprised when the waiter brought me a big plate with a couple of those delicious skewers accompanied by a generous portion of rice.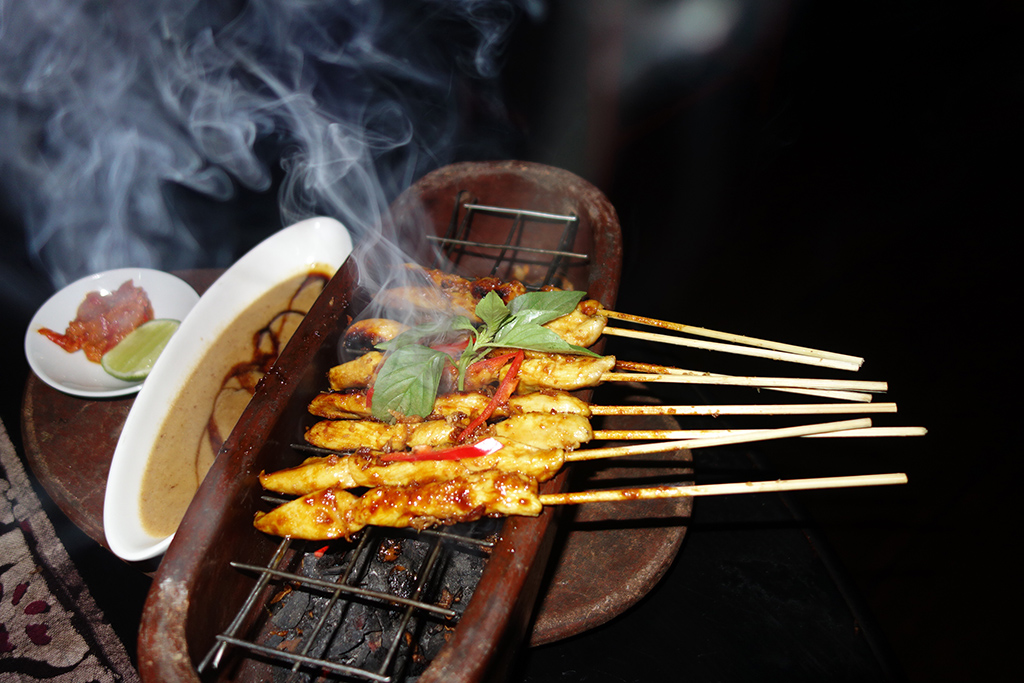 And while it can get a bit more expensive for instance at hotels or fancy restaurants, this would be the average price at the Warungs, Bali's lovely local eateries.
But even at my above-mentioned hotel's restaurants, dinner was around 6 €uros. While this might be comparatively expensive for Bali, to our standards it's still quite cheap.
What to See
I'm an avid solo-travelling woman. Since solo travel doesn't equal solitude, I love to join organized tours here and there. Since this is not that easy in Bali, here are some valid options of how to get to see what this magical island has to offer in a safe and easy way*:
Cash And Cards
In Bali, you pay in Indonesian Rupiahs, abbreviated IDR.
There are coins from 100 up to 1000 IDR and banknotes from 1000 to 100,000 IDR. Consequently, the largest Indonesian banknote is worth about US$ 7.
Legian Beach is a very touristy place, hence, credit cards are widely accepted. Obviously, you can get cash at ATMs.
One US-Dollar equals 15.67 Rupiahs (IDR) and one €uro equals 15.68 Rupiahs (IDR) as of November 2022. You can check the current rate on this page.
Language
The official language on the island of Bali is Indonesian. Amazingly, Indonesian is one of the languages offered on babbel. As usual, the first lesson is free. There you learn the most important words and polite expressions to interact with people.
I gained some basic knowledge for my trip to Bali. It's amazing how easy bahasa was to learn. Especially since it's written in Latin letters.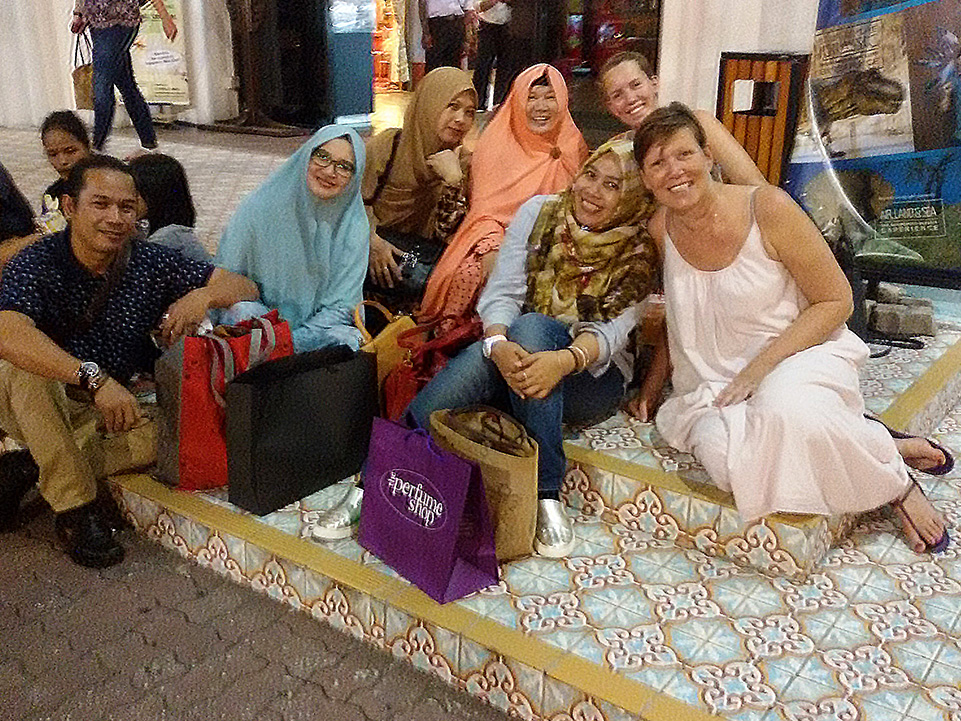 Since Bali is so over-touristy, everyone in the tourist industry has at least a rudimentary command of the language. However, sometimes the accent is so peculiar that you won't understand it right away. Also, locals might not really understand what you are saying but just grasp the supposed meaning from one or two words they got from your sentence. Hence, prepare for some hopeless explaining, quirky conversations – and many bright smiles.
Communication and Connection
Like during most of my trips where European roaming is not available, I did not get a national SIM card. I rather used free WiFi. There was a connection to the internet without any issue at basically every eatery or café and, of course, hotel. Worked like a charm.
But if you insist on being online 24/7, you can get a national SIM card right at the airport.
In Indonesia, plug types C and F are the official standard. The standard voltage is 230 V and the frequency is 50 Hz.
However, nowadays, all these chargers for phones and readers and computers have integrated adapters. Therefore, different voltages and frequencies don't really matter.
By the way, you'll find this kind of practical travel info in my post World's Most Complete Travel Information. Actually, it's an indispensable globetrotter classic.
Legian was just the first of the amazing places I've seen on my trip to Bali. Go to the main post to check out all the other destinations.
Pinnable Pictures
If you choose to pin this post for later, please use one of these pictures: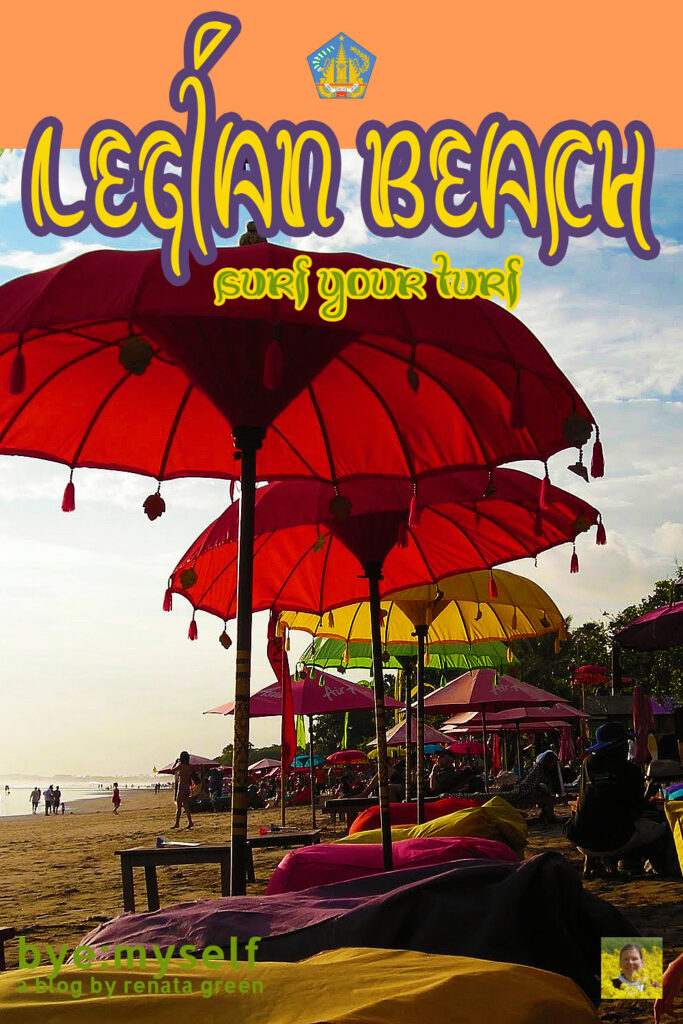 Note: I'm completing, editing, and updating this post regularly – last in November 2022.
Did You Enjoy This Post? Then You Might Like Also These:
* This is an affiliate link. If you book through this page, not only do you get the best deal. I also get a small commission that helps me run this blog. Thank you so much for supporting me!