As you are following my tips and hacks, you'll be packing light and still travel in style – even if you're on the road with hand luggage only.
For years, I was keen to fit all my stuff into a carry-on when going on shorter trips around Europe. First, only my cheapie-cheap flights did not include checking in luggage. But lately, more and more regular airlines charge extra for checking your bags.
However, money is not the only valid reason for minimizing your baggage: It's so much easier to travel light. Having only a small carry-on with you is so much more comfortable and manageable on buses'n'trains.
My motto: Travelling light – yet in style.
Curious?
In this post, I let you take a peek at my packing list.
First, I managed to take a couple of shorter trips around Europe with hand luggage only. Later, I even travelled around Sri Lanka, Japan, and Argentina just with a carry-on for weeks. Since then, I never used a larger piece of luggage again.
climate change
Going places might make you leave a very cold place. Then you take a pretty long flight and land in an extremely hot country. All this needs a bit more preparation and discretion, but usually, I manage just fine. I'm packing light without looking like a bum – or like a tourist, which sometimes is synonymous.
However, having the opportunity to check in your carry-on has a big advantage compared to real hand luggage. You don't have to mind the security restrictions.
Therefore, you'll find tips for both ways of travelling in each of the following chapters.
Please note: When I write carry-on, I'm referring to the small piece of luggage – no matter if you are checking in or actually carrying it with you as your hand luggage.
luggage volume
taking your carry-on on board
What do you have to consider? If you are flying and are entitled to hand luggage only, check which size and weight are allowed. This might differ a bit from airline to airline.
Usually, it's something like 55 x 40 x 23 cm / about 22 x 18 x 10 inches and around 8 to 10 kilograms. But beware: For instance, Ryanair allows only a height of 20 cm / 8 inches.
For a summer vacation, that should be fine if you pack wisely. Also, usually, you are allowed an additional handbag. However, for instance, with EasyJet, this is not the case. I know that I am by far not the only person who on her first EasyJet flight desperately stuffed her handbag in the piece of hand luggage since they strictly allow only one piece. For them, a handbag qualifies as hand luggage, too, not as a personal item.
But as far as I know, it's only EasyJet. All the other carriers, even the cheap ones like Ryanair or Eurowings, do allow an extra handbag.
make it big
My carry-on, by the way, is an Aerolite suitcase on wheels. Its measurements are 55 x 40 x 20 cm / 22 x 18 x 8 inches in case I have to fly with e. g. Ryanair. For many other airlines, I can extend it to 23 cm resp. 10 inches. You'd be surprised what a difference that makes.
Note: Remember that you won't be able to bring souvenirs like wine, jam, spreads like pesto, or creamy and liquid cosmetics home with you. I got in major trouble when carrying soft cheese from France. Since it's creamy, it qualifies as a liquid – I wrote a post about this unexpected adventure.

Your only option is to buy them duty-free when leaving. They might be more expensive than at the local supermarkets. But remember how much you save on your flight when travelling only with hand luggage; this will make up for the more expensive shopping at the airport big time!
checking your carry-on in
If you're travelling on a long-haul flight with only a carry-on, you still have the comfort of little baggage. However, you also have the option of packing things that are not allowed in your hand luggage such as liquids and sharp utensils.
You probably don't have to worry about your suitcase's weight since its size won't make overweight possible; your limit will be at least 20 kg / 44 pounds, after all.
However, these two advantages do not make up for the fact that the space for what you are taking with you is limited. Therefore, you should be packing in a well-planned fashion.
I solve this problem by taking a mid-sized daypack as hand luggage with me on board. I have a large Kipling backpack with a cushioned back and very broad, soft shoulder straps. It's good for my valuables like my laptop and my cameras. Also, I fit even some of my clothing like e. g. all my tops in there, too.
Since all my other stuff goes in the checked carry-on, my rules shared in an earlier article about what to pack in your hand luggage apply.
expect the unexpected
Expect the unexpected, namely that the airline loses your luggage – and be it only for 24 hours; on my recent flight to Argentina, Iberia Airlines managed to leave my luggage in Madrid for one day.
Good that I'm listening to my own advice. I had the below-listed items in a piece of small hand luggage with me on board so that I was able to enjoy even my first luggage-less day to the fullest.
You should always have the following emergency wear with you onboard:
clothes

according to the climate at your final destination like e. g. a dress or a blouse and skirt or a T-shirt and shorts or the like

for two days

PJs

or an extra T-shirt for the night

underwear

for two days

sandals

and/or flip flops

swimwear

large scarf

that you can also use as a beach towel

sunhat

sunshades

sun protection

(in a container of 100 ml/3.4 ounces max.)
on the flight
what to wear
A long flight between different climate zones makes it impossible to wear something that's comfortable on the flight and appropriate and wearable at the final destination.
What I'm wearing from door to door has to be as warm as possible, yet foldable so that it practically disappears in my luggage while I'm on the road in Asia.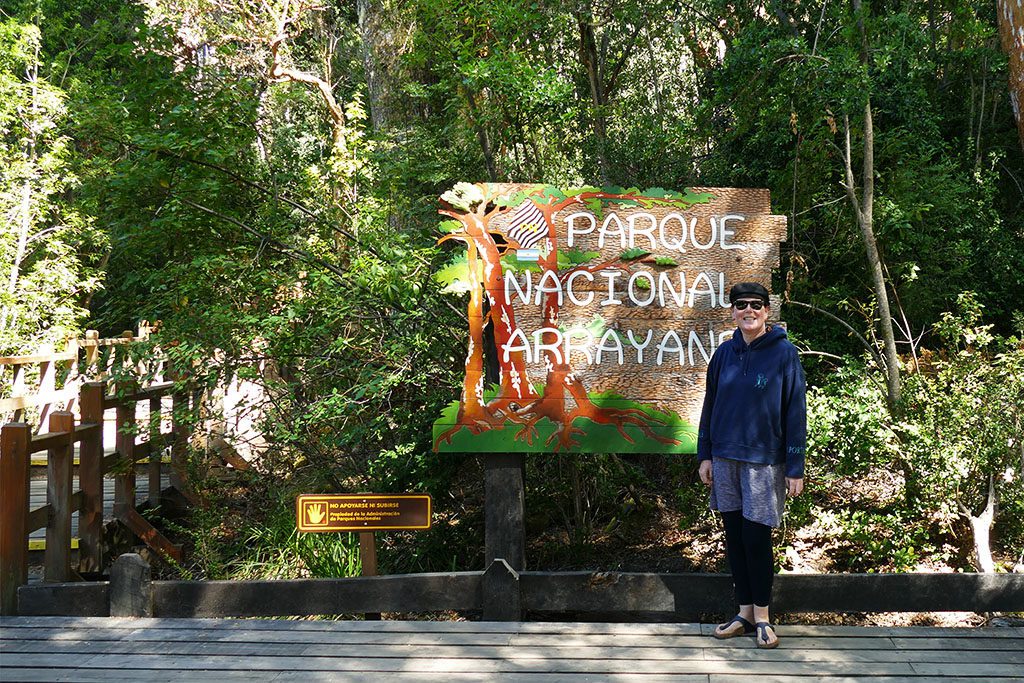 Usually, I'm wearing a T-shirt as an undershirt and a long-sleeve T-shirt-dress on top. A hooded sweatshirt keeps me even warmer. Instead of sweatpants, I opt for thermal leggings. Of course, I wear a pair of warm socks – and for the ride to the airport, I have a foldable down jacket. With all the blankets the flight attendants are handing me, I'm fine.
the eagle has landed
Once at my final, hot destination, the 'undershirt' becomes a T-shirt again. The knee-long dress – with the sleeves rolled up – is so comfy that I can even wear it on easy hikes.
The hoody might come in handy in über-climatized buses and lobbies.
The thermal leggings are rolled together and stowed away in a tiny corner of my suitcase until I need them again for the flight back home. The foldable jacket can even be used as a neck pillow, once I fold it back into the little pouch it comes in.
A crucial tip for the ladies: Wear a really comfortable bra on a long flight, anything else will kill you. I like to wear sports bras or bustiers – not only on the flight, but during the whole trip. They are much more comfortable and even if the straps show under tank tops or dresses, they don't look necessarily like underwear.
what to do
To make sleeping on the plane – and during jet lag – easier, I'm taking Melatonin. I don't know if it's for everybody, but I know that it helps me a lot with getting a good flight rest.
Usually, I'm taking one pill on the flight and then for three or four days to fight jet lag.
Although in the US, you can buy them at every supermarket, I refrain from popping them like candy.
I never ever travel without earplugs – the old fashion wax kind that hermetically shuts your ears against any noise, but I don't really need a sleeping mask since I'm crawling into my hoodie. Hence I know that many people appreciate it.

And of course, I'm having an inflatable pillow to rest my neck whether sitting or laying down.
By the way, I sleep best with my head and upper body resting on the table. Since I'm tall, it's not working with the table right in front of my seat, but the table next to me is fine.

No, of course, I'm not doing that when someone is sitting in that seat, what are you thinking!?!
when you cannot rest
Can't sleep on a plane? Poor you. Hope you're at least travelling with an airline that offers great onboard entertainment like e. g. Emirates or British Airways.
On TAP, the national Portuguese airline, there was Mr. Bean on – for everybody. Mr. Bean – since he doesn't need to be translated…
So if you happen to travel with an airline whose only entertainment program is dumb (and this on so many levels) Mr. Bean, you better make sure to have your own entertainment, be it a book – on paper or on a device – music, your favorite series downloaded on your tablet or even phone.
how to stay well
If you read or watch something on your phone, chances are your eyes are getting uncomfortably dry, particularly in the dry atmosphere on the plane. So you should have eye drops on you (drops=liquid, hence put them in your ziplock 'vanity') and instead of contact lenses, you should wear reading glasses. Make sure to store them thoroughly in an adequate case – my experience is that after one hour of flight every seat on the plane is a mess with papers, candy wrappers, blankets, and extra blankets and spare pillows flying around so you risk finding your glasses in this mess by hearing the cracking noise once you sit on them.
what to eat
Talking 'bout candy wrappers: I like to eat on the plane (actually I like to eat anywhere and any time; but especially on a plane) – only exception here was again TAP where they just slapped a little trough down on the table – no explanations, and of course, no questions about preferences or allergies asked. But maybe you like snacking between meals or you forgot to order your special diet. In this case, it's good to have some snacks like dried fruits, sundries, or whole wheat cookies on hand.
I personally don't need snacks, but I need vitamins. Usually, my diet is so good and healthy that I don't take any supplements. But over the past years when I kept getting colds and rashes because my immune system went down from the stress of travelling, I took up the habit to pop vitamin capsules daily from about one week before leaving over the entire trip; and it's getting better.
move it
You know that they recommend moving around on the plane as much as you can – of course during those periods when it is allowed – and make some exercises. They are actually right, I try to walk and stretch as often as I can.
But I'm also helping my eyes a bit with the 20-20-20-rule: I'm looking every 20 minutes for 20 seconds at a spot about 20 feet / 6 meters from me. This way I'm blinking more often and spreading the lacrimal fluids.
what to pack
clothes and shoes
Obviously, what sort of clothes you take on a trip is the most personal and individual part of packing. But with limited space, you might wanna consider certain aspects.
What are you planning on doing?
Visiting cities and museums and going out for dinner or maybe even a cultural event?
I see all these tourists walking around the elegant shopping areas in the world's metropoles wearing ugly safari shorts, tennis socks in sturdy hiking sandals, carrying a sports backpack – looking like….poorly dressed tourists.
I hate that.
When travelling, I'm basically wearing the same style I wear at home.
Very often, I wear dresses. I think that they call a dress a dress because you always look…dressed.
It's so easy: You do not have to think about coordinates – you slip on a dress, put on a pair of sandals – or sneakers – and you are ready to go; looking dressy.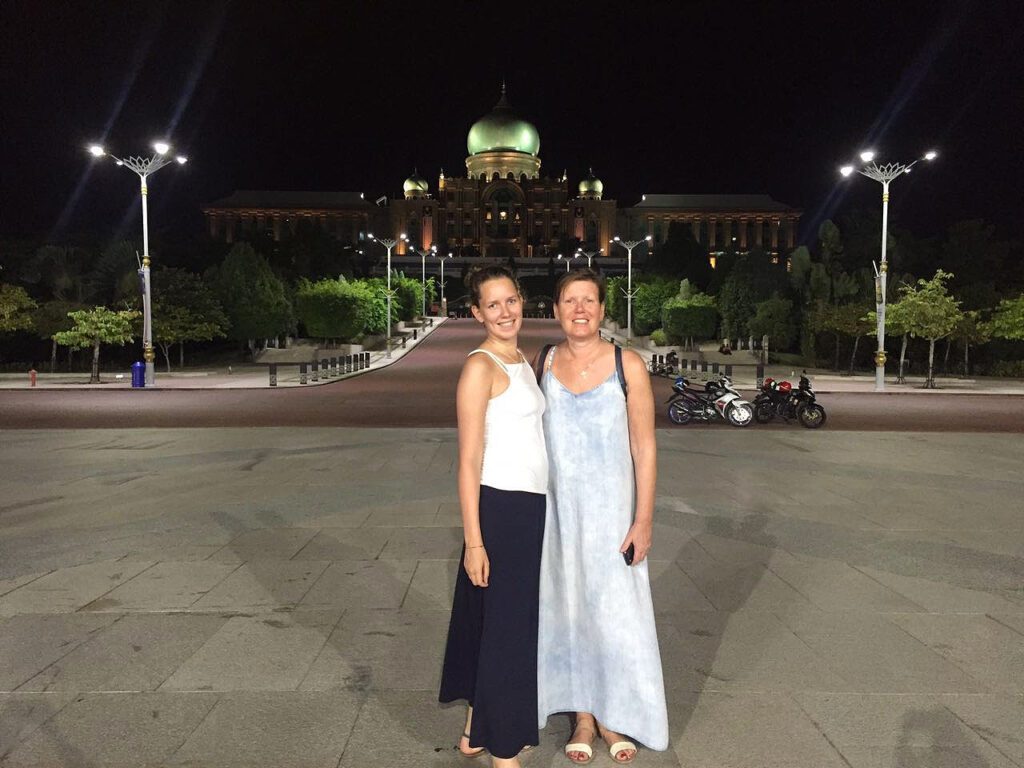 And summer dresses are light; remember – if you can't check your luggage, you're allowed about 10 kilos max!
keep it simple
It basically doesn't have to matter if you are gone for one week or three: You actually need the same amount of clothes, you just have to handwash or give them to a laundry place from time to time.
I'm packing three light dresses, one or two skirts and one pair of shorts. With that about ten matching blouses or T-shirts, whereby blouses are at least as light as tops but deem dressier.
Since most of my dresses are sleeveless, I'm taking a large, but light muslin shawl to wrap around my shoulders in churches and temples for modesty. And in climatized environments also against the cold.
Since you never know, I also take a hooded sweater – already for the plane cabin. When moving from place to place, what I sometimes do on a daily basis, it doesn't go in the luggage, I wrap it around my shoulders or tie it around my waist.
make it matchy
In order not to look like a clown, I choose all my travel clothes very matchy-matchy. One or two basic colors – I admit – yawn! – it's mostly blue and white. Then, maybe one more accent like e. g. a cherry red blouse. That's it.
Besides the foldable jacket – that normally remains folded the entire stay – I'm also taking a foldable raincoat with me. There's nothing more annoying than spending the day at your guesthouse because you cannot go outside without getting soaked.
The sweater and the sandals – we'll get to them later – have to go with every piece of garment I take with me.
Obviously, I need underwear and socks.
I pack these always for one week. If the trip is longer, I handwash them.
For the night, I take two boxers and two tank tops. The tank tops are also a nice backup if for any reason I need an informal top.
These can also be quickly washed by hand and dried overnight if necessary.
footwear
Shoes – also extremely personal preferences here. I like to have at least two pairs of – comfy! – sandals that I can wear with at least most of my clothes and one pair of light, a bit dressy sneakers.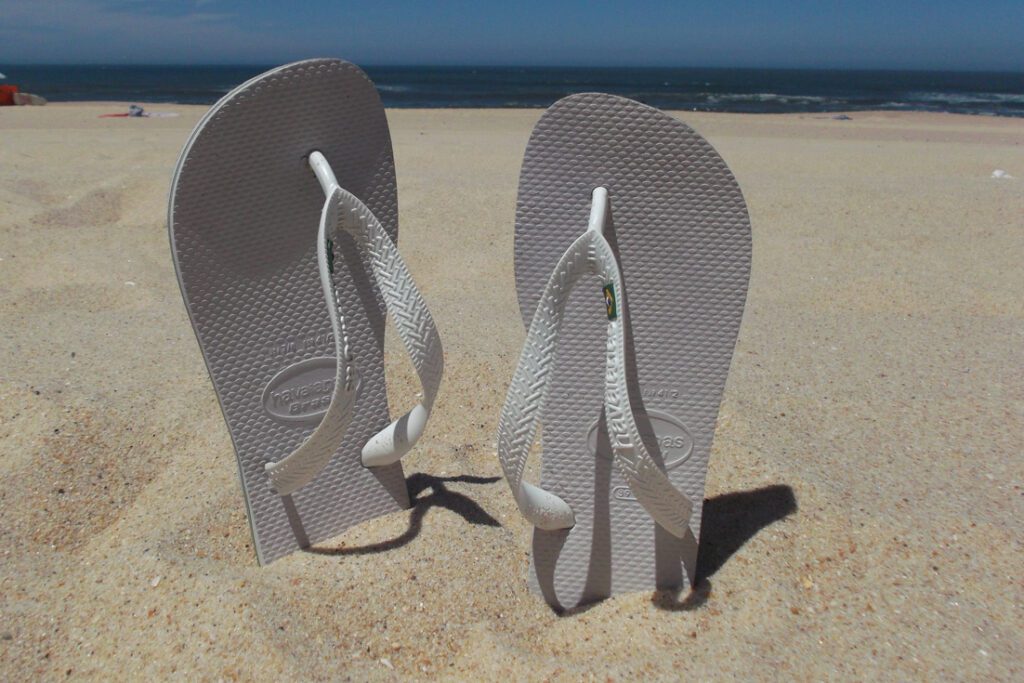 Whereby, when I plan on going hiking, I trade them for my sensible hiking shoes.
Walking downhill in dressy sneakers in Cabo Verde, I slipped and fell and was incredibly lucky that I did not rip a tendon – since then only sturdy hiking shoes for me.
For the beach – and for walking around at the hotel – I pack a pair of flip-flops.
In general, make sure to pick shoes with non-slippery soles.
beachwear and accessories
I tend to take too many bikinis with me when travelling. On my last trip, I limited myself to two and, surprise-surprise, it was totally sufficient.
What's crucial is a sunhat (mainly to shield my eyes when I'm reading, so even a baseball cap will do) and of course sunglasses. Good ones, not those fun ones from H&M – be good to your eyes.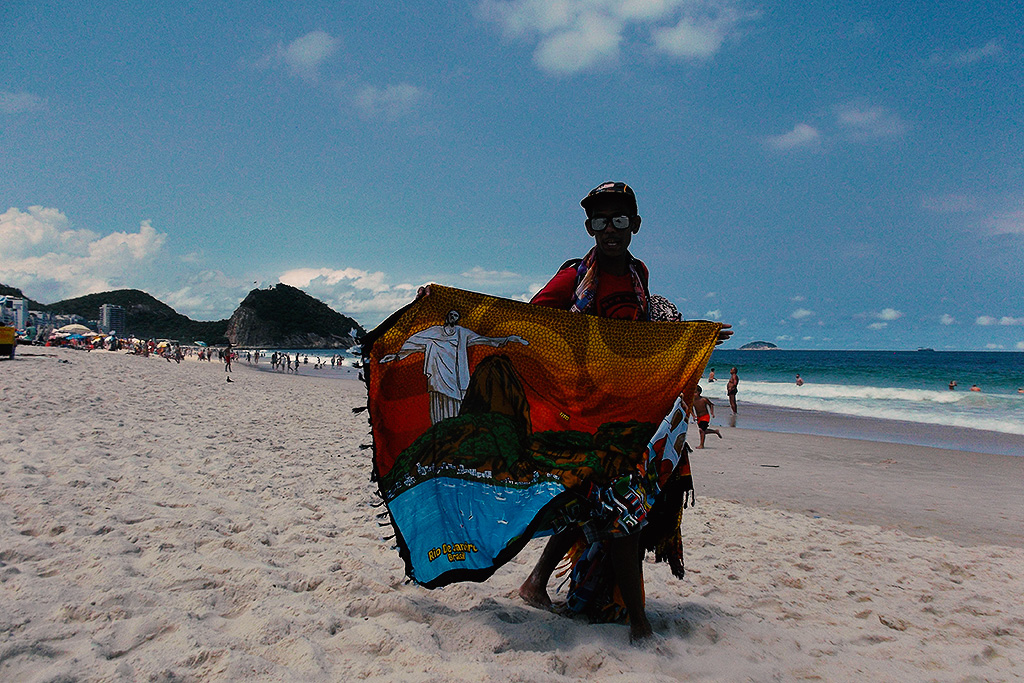 To stretch out, a light sarong is perfect – you can also use it as an informal skirt or dress on the beach.
Travelling light, I'm not taking an extra beach bag with me, but will use the daypack. Unfortunately, the fabric doesn't protect my stuff sufficiently against the fine sand dust, so I wrap my phone in a plastic bag and keep my camera in a neoprene case.
hidden camera
I'll also use the daypack on hikes and maybe in cities, too. In case I find it too bulky for a city tour, I always have a light, trendy canvas tote bag with me.
This, by the way, is also the perfect way to hide your expensive-looking camera. Put it in your bag and hang the long strap over your shoulder. This way, it becomes almost invisible between the straps from the tote. When you want to take a picture, you discreetly take it out and after your shots, it quickly disappears in the tote. Of course, when you are carrying your camera this way, you have to be careful not to bump against something that might damage it.
Another great way to combine fashion and safety is the wonderful fanny pack. I have one that has a belt to tie around your waist and a strap to hang across your chest. In cities like Rio de Janeiro or Buenos Aires, I use both.
toiletries
in your onboard carry-on
Now, this might seem like the biggest issue when travelling with hand luggage only, especially since you are limited to a container size of 100 ml / 3.4 ounces max. As we all know, you have to carry it in a transparent ziplock plastic bag – which is good because this spares you an extra toiletries bag. You can take up to 10 of these containers (which probably never fit in that bag, anyway).
Cosmetic companies are making a lot of money by selling their products in 'travel sizes' which is a total rip-off since they are far more expensive. Unless you are going away just for a weekend, they are pointless because far too small. And at the end of the day, let's think a bit environment-friendly: There are all these great – literally solid – products that don't come in plastic containers and are much better on so many levels!
let's break it down
You have to remove makeup and clean your face: You can use facial wipes, however, the environment-friendly alternative would be a facial soap bar or a konjac sponge. In either case, they are no liquids, hence no problem.
You use day and night cream: The regular sizes come in 30 to 50 ml / 1 to 1.7 oz, so they can go into the ziplock.
You brush your teeth: Regular toothpaste comes in 75 to 100 ml / 2.5 to 3.4 oz and can go into the ziplock. However, there are these tablets that you chew so they become creamy toothpaste. Light and extremely environment-friendly.
Your toothbrush = No liquid (see, you've learned something new here).
You are taking showers: Instead of shower gel, take a nice bar of soap with you = No liquid.
If you insist on a gel, you'll probably get some at your hotel, anyway, or you buy one at your destination.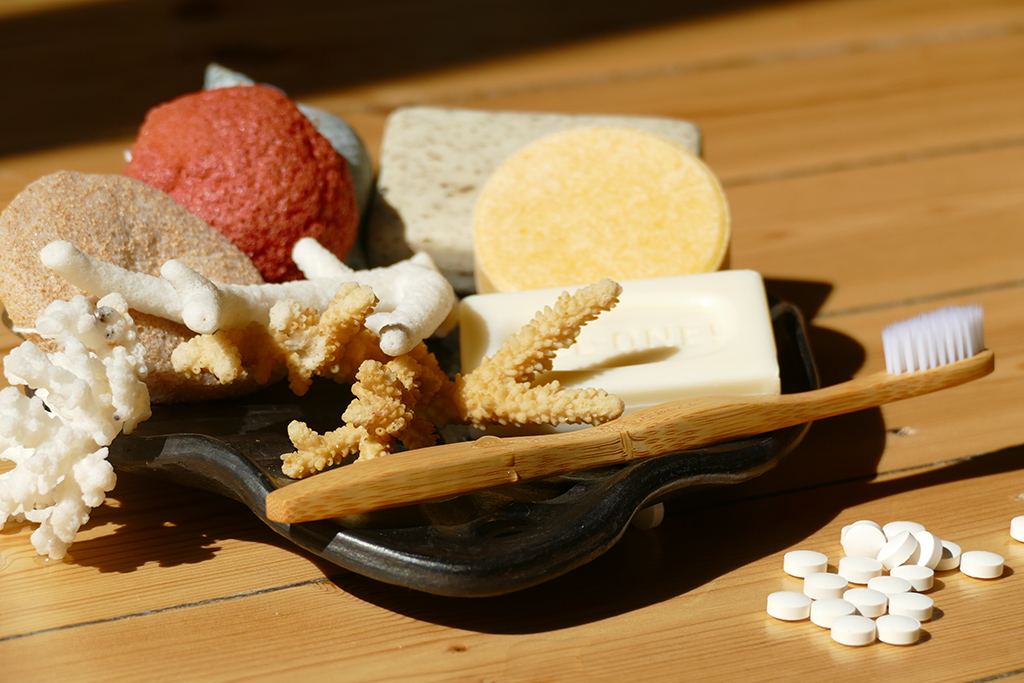 You are washing your hair: If you stay at a hotel, use their shampoo and conditioner. However, the more environment-friendly alternative is a solid shampoo bar.
Latest News: They now manufacture solid bars of body butter which is great for your skin and perfect for your hand luggage!
unavoidable liquids
You are using body lotion: Buy it at the duty-free shop after you went through security or at your first destination (depending on the product, I need 200 to 300 ml / 6.5 to 10 oz per week).: Check my Latest News above – it's getting better and better!
You use deodorant. Opt for a solid stick. The regular sizes come in 30 to 50 ml / 1 to 1.7 oz = Goes into the ziplock.
You need sun protection. Buy it at the duty-free shop or at your destination. Depending on how many days I spend on the beach, I need 100 to 200 ml / 3.4 to 6.5 oz per week.
Tip: Usually they don't have these good yet middle-priced brands at airport duty-free stores. They have rather top-shelf brands so that what you don't use shouldn't go to waste. You might consider taking or buying empty 100 ml plastic bottles. This way, you can take the leftovers home with you.
Even if you need your foundation, mascara, lipstick, and nail polish – it will still fit in your ziplock. According to the above list, there's hardly anything in it.
Oh, to remove nail polish, you can also use wipes that come in small packs, so no liquid here, either.
in your checked-in carry-on
When I'm checking in my carry-on, there obviously is no problem with the size of my liquids.
However, in case there is a problem with my checked luggage on arrival, I'll have one of these transparent bags with a zipper (e. g. ziplock sandwich bag – maximum size 1 liter/33.81 oz) with the following with me on board
facial cream*
tooth tablets

toothbrush

wet wipes (also for my face)
deodorant* (preferably a roll-on product in a plastic container)
hairbrush (preferably foldable)
small soap (bar – just in case)
bar of shampoo

bar of body butter

sun protection* (already stated above, but since it's crucial…)
*in this list only these three items are liquids
gadgets
Guys, I think you're almost set for your one- or two-week summer trip. Now you need some good read. You'll probably have it on a Kindle while I'm smuggling the big book with me.
Everything else will be stored on your phone, don't forget your charge cables, your power bank, and headphones.
Depending on where you're going, you'll also need adaptors. Which one you'll need at your final destination is one of the many useful pieces of info you get in my epic World's Most Complete Travel Information.
Take your computer or tablet – or, if you don't have to work, you might as well leave it at home.
No matter how little space – a travel blogger without a notebook is like a cowboy without a horse. Yeehaw!
I wish you light and carefree travels – and, please, don't forget to send me a postcard!
Pinnable Pictures
If you choose to pin this post for later, please use one of these pictures:
Note: I am completing, editing, and updating this post regularly – last in November 2022.
Did You Enjoy This Post? Then You Might Like Also These: