So here comes a Guide to Ipoh, Malaysia's third-largest yet probably most underrated city and a two-hour train ride north of the capital. However, it is mostly considered a gateway: To the Cameron Highlands in the east or to Pangkor Island in the west.
Still, Ipoh's own attractions should not be underestimated: The Hakka Chinese heritage, mysterious cave temples, and bustling Asian city life.
A Bit of History
Ipoh is the capital of Perak on the west coast north of Kuala Lumpur.
In the 19th century, the city began booming due to the tin-mining industry which gave the city its nickname City of Millionaires. Then, end of the 1950s, the glory was over as the tin prices dropped dramatically.
70 % of Ipoh's more than 650,000 inhabitants are Ethnically Chinese. Their ancestors were mostly Hakka and moved here to work in the tin mines.
Today, however, most of the Chinese speak Cantonese. Actually, my driver's Bahasa was so limited that when we got stuck in our conversation, he had to call his sister and she translated for him into Chinese.
I guess this shows how much the individual ethnicities stick with their own people.
Obviously, the Chinese also had a strong impact on the city center's architecture. Traditional shophouses as well as impressive historical buildings from the British Colonial era are characterizing the city's appearance.
Visiting
I came to Ipoh by train from Kuala Lumpur which allowed me to admire the most imposing buildings right away.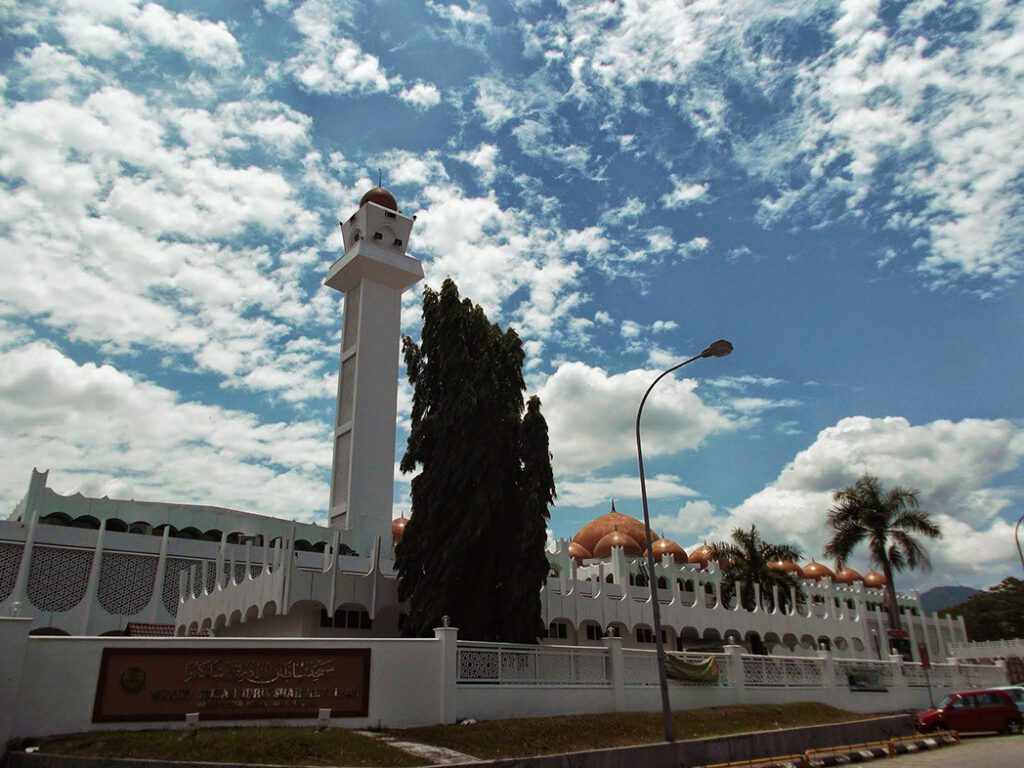 The Railway Station, the Town Hall, and the Court House, as well as the Negeri Perak Mosque, are just a stone-throw away.
Temples
Past the Birch Memorial Clock Tower right at the Padang Ipoh Park is the Tourist Information. They called a driver for me who brought me to the cave temples in the city's southeast.
Kind of a disclaimer: I don't claim that introducing the handful of temples that I'm introducing makes this guide complete. But just type temple and Ipoh on google maps – and the result will make your head spin. Nevertheless, if you are very, very, very much into temples, call Ipoh your Cockaigne!
Kek Lok Tong
Since the 1920s, this cave has been used as a place of worship.
However, in the 1960s, parts of the cave were excavated for mining.
As mining ceased, the cave became a temple again and opened to worshippers and visitors in the 1970s.
The floors have been leveled and parts of the lower walls lined with marble tiles. Still, the roof and upper walls remain in their original state. Hence, they show some amazing stalactite formations.
Next to the car park at the back of the cave are a statue of Kuan Yin and a turtle pond. The stairs from the car park have been curved into the shape of a carp's tail.
Behind the Buddha, the cave opens to a lush garden with many beautiful trees and ponds.
Sam Poh Tong
This temple is also known as the Three Buddhas Cave. It is a Chinese temple built in a limestone cave about five kilometers from the center. Actually, Sam Poh Tong is the oldest and the most famous of Ipoh's cave temples.
A monk from China founded this temple in 1890. He made the cave his home and a place for meditation and stayed there for the rest of his life. Other monks and nuns followed him and a temple was constructed in the 1950s.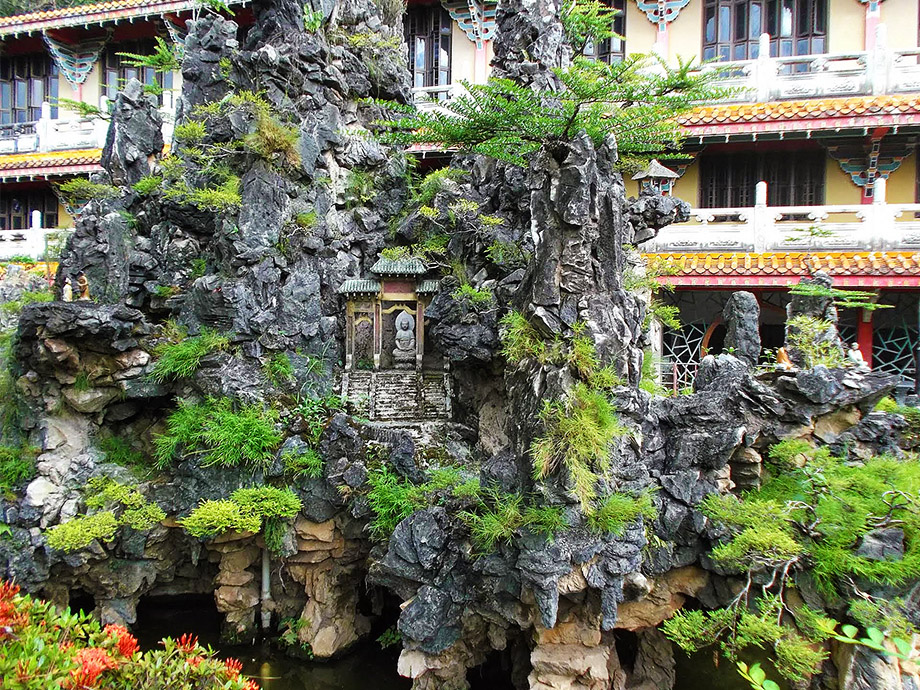 246 steps lead up to the cave from where you have a great panoramic view of the city of Ipoh and its surroundings.
Sam Poh Tong is the largest cave temple in Malaysia. There is a statue of a reclining Buddha. Also, visitors can feed fish and feed or release turtles into a pond. This is supposed to balance your karma.
Wat Mek Prasit
To get to the famous Perak Cave Temple in the north, I took a cab.
Obviously, I didn't know about this temple. However, the driver was nice enough to stop at the Mek Prasit Buddhist Temple without being asked so.
In this temple's main prayer hall sits a Sakyamuni Buddha. In his background is a 24 meters long reclining Buddha in the background. It is actually Malaysia's largest reclining Buddha.
On three sides of the hall are numerous life-sized arhat statues. They are Buddha's disciples.
Finally, some beautiful murals are decorating the temple's walls.
Perak Cave Temple
Perak Tong is a Buddhist cave temple that was built in 1926 by Chinese immigrants. It's a cave in a 120-meter-high limestone rock just outside the city. Inside are over 40 statues of Buddha and frescoes from the world of Chinese legends. Among the statues are a 12-meter-high seated Buddha and the Chinese goddess of mercy Kuan Yin.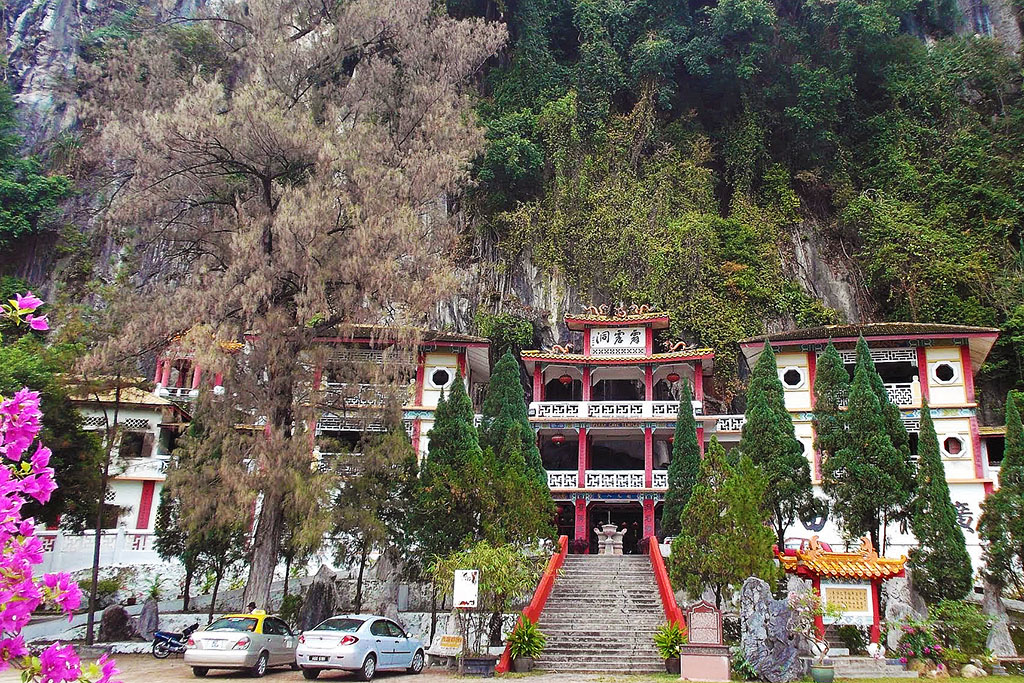 In January 2009, part of the ceiling in the back of the temple collapsed and destroyed the laughing Buddha. A person who worked there as a security guard was killed. Repair work has been going on since then. However, the temple can still be visited.
Besides all these temples and a couple of museums dealing with Ipoh's forefathers and grand past, it's an excellent place to just walk around and take it easy.
Checking out the mysterious Chinese health stores, sampling exotic fruits. Ipoh is famous for incredibly succulent pomelos, wasting hours at coffee shops and fascinating tea stores.
I even went to the hairdresser and got a great haircut. Read in this post how I get haircuts around the world.
Ipoh will relax and ground you – before you continue to wherever you go next.
Practical Information
How to Get There and Around
The more important railroad goes along the West coast and connects Johor Bahru with Padang Besar. Apart from Kuala Lumpur and Butterworth, the gateway to Georgetown on Pulau Penang, Ipoh is one of the main stops. It's about halfway between the other two stations.
Trains in Malaysia are reasonably priced and very comfortable and reliable.
Another option is bus travel. Until not long ago, there was a smaller bus station just a stone-throw from Ipoh's train station. It was just perfect for a short stay. I got there by train and left my big luggage with the stationmaster. Actually, at his office, even not in a locker. Then I took only what I needed for the night with me.
The next day, I picked it up and took the bus to Tanah Rata.
Today, however, you have to go to Terminal Amanjaya all the way north of the city.
Obviously, you can walk around the very city center. Albeit, to get to the temples, you'll need a vehicle.
Best Place to Sleep
The reason I picked the Regalodge Hotel* was the excellent price-service ratio.
It actually is located on the outskirts of the very city center, however within walking distance.
Since I spent only one night, I left my big luggage at the train station and took only a daypack with me.
Nevertheless, on this map, you can check out more great lodging options*:
Best Place to Eat
There are many nice places in Ipoh. However, I liked the Purple Cane Tea House best. You are seated between tea specialties, some of them at the price of a small car.
They serve all kinds of fancy tea-based drinks and cocktails, foods – also based on tea, and – yes, hot tea, obviously.
What to See
I'm an avid solo-travelling woman. Since solo-travel doesn't equal solitude, I love to join organized tours here and there. They allow me to meet fellow travellers – for just a short moment or a lifelong friendship.
Therefore, here are some great ideas of what to do during your stay in Ipoh. Especially if you have only a short time to stay, they'll enable you to make the best of it and visit also the temples on the outskirts of the city*:
Ipoh was only one stop during my exciting Malaysia road trip. Go to the main post to check out all the other destinations. There you'll also find valuable general information that will make your trip smoother.
Pinnable Pictures
If you choose to pin this post for later, please use one of these pictures:
Did You Enjoy This Post? Then You Might Like Also These:
Note: This post is being regularly completed, edited, and updated – last in April 2023.
* This is an affiliate link. If you book through this page, not only do you get the best deal. I also get a small commission that helps me run this blog. Thank you so much for supporting me!