Vinales, a couple of hours west of Havana, is Cuba 's rural paradise: Still dreamy, but not sleepy anymore. Since from Havana, most travellers pay also Viñales a visit.
And most travellers are right to do so because it's truly beautiful. Coffee and tobacco, mysterious caves, endless fields, and mist-covered mogotes. Vamonos, hop on your bike and let's explore pastoral Vinales!
The Colonization
Before the colonization by the Europeans, the indigenous Taíno population lived in the region. Interestingly, the area was colonized at the beginning of the 19th century by tobacco farmers from the Canary Islands.
Then, the town was officially founded in 1879. At that time, there was already a town hall, a school, a church, and the park in the town center.
Viñales has less than 30,000 inhabitants – many of whom live and work on small remote farms. Since the opening of Cuba to foreigners, tourism, of course, has become a far more lucrative source of income. Consequently, almost each one of the small, wooden, two storey houses has the famous casa particular sign out.
Picturesque cone karst mountains – so-called mogotes – are rising from the fertile valley floor. They are giving the landscape its mysterious appearance.
Viñales is a cultural monument and the Valley has been a UNESCO World Heritage Site since 1999.
Cuba's Garden Eden
Honestly, there is not enough to see and to do at the town center. A couple of places to hang out enjoying a snack and a drink. Some stalls selling souvenirs – that's about it.
You don't come to Viñales for Viñales. You come for the breathtaking surrounding. And those can be best explored by bicycle.
Go West
You can cycle west. Going down the main road, you'll enjoy the sight of fields and pastures. Few cars and a couple of carriages will pass you by.
Then you turn right to go to the quirky Mural de la Prehistoria. This mural was painted on the wall of the Pita mogote.
The work began in 1961 according to a design by Leovigildo González Morillo. It has a length of 120 meters which makes it one of the biggest open-air paintings in the world. Twenty farmers finished it in four years.
As you continue on the dust trails between the endless tobacco fields of the Sierra de los Órganos, somewhere on the mountains to your right are living the aquaticos.
Los aquaticos are a community settling way up high in the mountains. The members of this community are strongly believing in the healing powers of water. That seems to work out fine for them since there are actually some centenarians living in the region!
Unfortunately, it's not so easy to find the right way uphill. People won't just show you the way since usually, they can charge 8 CUC for guiding you up there.
Maybe you want to agree on a tour with someone your Casa Particular recommends. That way, you probably still pay the 8 CUC but at least they spare you the haggling.
Caving
17 kilometers west of Viñales is the Caverna de Santo Tomás, Cuba's largest cave system with an area of ​​46 kilometers.
However, there are two smaller caves, Cueva de San Miguel and Cueva del Indio, just a couple of kilometers north of Viñales' town center.
At the Cueva del Indio, a boatman navigates the visitors through the subterranean river. Next to the cave is the Rancho San Vicente, an idyllic, agricultural piece of land.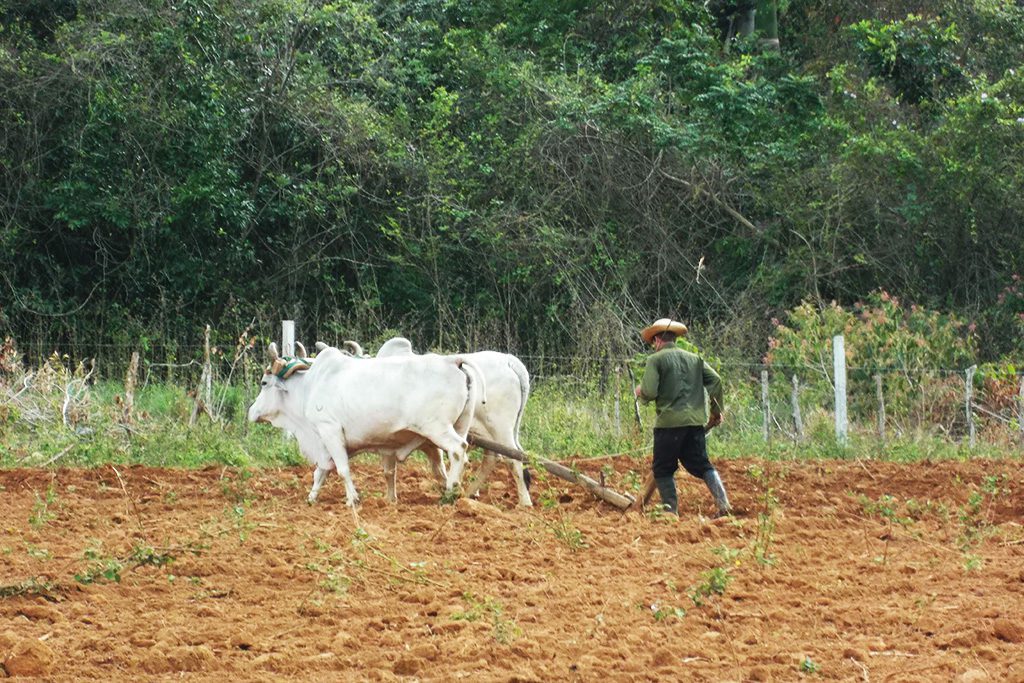 As I got to the Rancho, I locked my bike against the fence of a parking lot. Immediately some guy came to me, asking for 50 centavos parking fee. He clearly was the driver of the only bus parked on this lot.
Why did a bus driver charge me for leaving my bike?
"No problem, you can pay as you come back", he finally said.
Walking across the Rancho towards an eminence, I passed a small house. Two teenage guys were hanging out at the gate, observing me. "Do you want to do some horseback riding", one of them asked. "No, gracias." I'm afraid of horses. I wanted to hike.
Not Your Fool
As I kept on walking on the narrow trail, passing small shacks and gutters with chickens and pigs, I noticed that one of the guys was following me.
I kept on walking.
When I reached a makeshift gate, the guy caught up with me. "Do you want to go there?" he asked pointing uphill. "Yes." "That would be 3 CUC", he demanded, albeit not sounding very persuasive.
"Why 3 CUC?" I felt anger crawling up my spine – being taken again for an ATM on legs. Would I be able to go anywhere without being asked for some quickly made-up fantasy fee?
"So why 3 CUC?" I asked again. "Well, that's the price", he tried to sound more forcefully.
"So since you are collecting the entrance fee, I assume you have some kind of legitimation?" Wow, where did that come from? I was proud of this good thought – and he was irritated.
"Yes, of course, I do", he muttered.
"That's good. Then show it to me", I was on a roll. "I have it at my house", he anxiously pointed towards the house I had passed earlier.
"Yeah, well, that's too bad then. I pay you 3 CUC, but I need to see a legitimation", I shrugged, opened the makeshift gate, and continued my hike.
I was so proud of my ingenious idea with the permit.
From then on, I would ask each and every one of those hobby money collectors for legitimation. And for a receipt. A receipt was good, too.
I would pay up – but only if they showed me a duty pass and gave me a receipt.
As I got back to the parking lot, I sadly wasn't able to try out my new strategy on the bus driver. The bus was gone and so was he.
Shopping for Produce
Talking 'bout deals: Viñales might also be a good place to buy some cigars – basically fresh from the field. Since I just wanted a small souvenir, I bought a pack of ten pieces at a small Finca on the outward road to Havana. I cannot tell you anything about the quality since for me, it was just a souvenir. If you want to buy larger quantities of excellent stuff, you have to confide in your host. Or you purchase the pricey, yet sealed stuff at official stores at a pretty high price.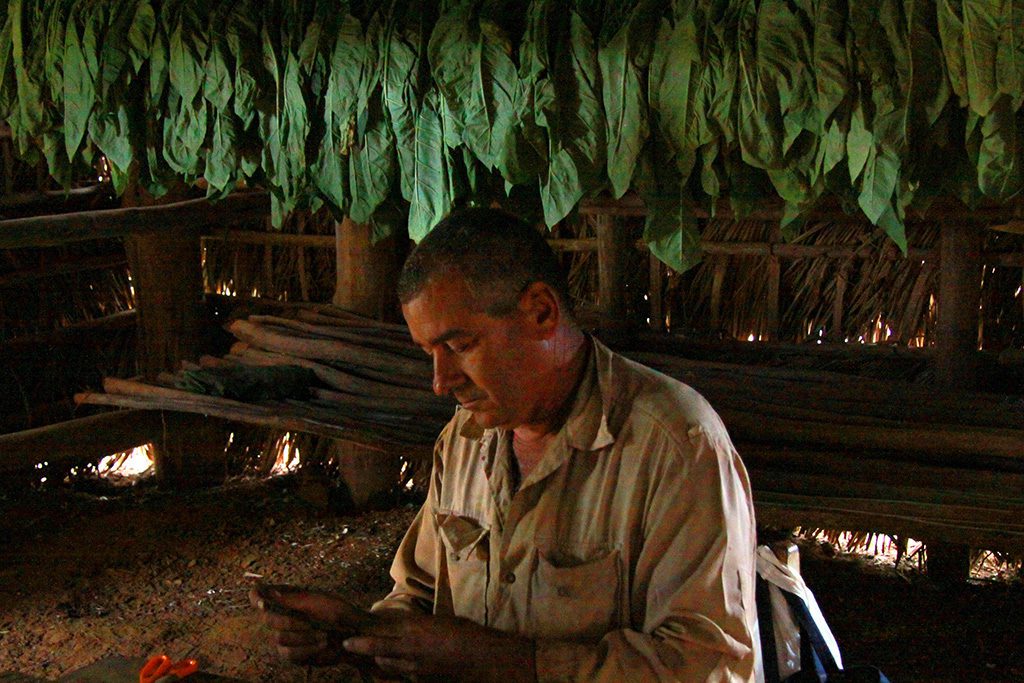 Other souvenirs can be bought at the small, a quite nice street market on Calle Ceferino Fernandez.
Beaches
One last tip on how to spend a wonderful time in Viñales: If you have enough time – which, unfortunately, I didn't – you should absolutely go to some of the nicest Cuban beaches from here. Either to Cayo Jutías west of Viñales or Cayo Levisa in the East.
However, only visitors have access to that key, and Cubans are not permitted to enter. I find that really vile that there is a beautiful place – reserved exclusively for foreigners. Of course, you have to bring your passport when visiting to prove that you are not one of them – creapy'n'crappy.
Map
This map should give you an idea of where to go once you're in Viñales:
Practical Information
How to Get There and Around
There are two daily Viazul-buses going from Havana to Viñales and back. The ride costs about 9 CUC and takes 3.5 to 4 hours. Especially if you haven't pre-booked accommodation, I strongly recommend taking the bus that leaves at 8.40 a. m. instead of the one at 2 p. m.
Also, there are cab drivers waiting next to the Viazul-station in Havana offering rides to Viñales matching the bus company's price. Obviously, this only works if you are at least two or three people. Otherwise, the driver will wait for other solo travellers which can take a while… Besides, bus drivers tend to be less ruthless and less in a rush than cab drivers, which increases your chances of not getting into an accident.
Once you get to Viñales, you can, of course, hike. There are also various options for renting a bicycle. You can also do horseback riding and, obviously, some more or less experienced guides offer trips in their more or less fixed old-timers.
Another option is a hop on hop off-bus by Transtur. For 5 CUC, you get dropped off and picked up at all the landmarks I'm mentioning in this post. I personally find that it doesn't really make sense since that way you miss all the tiny moments and glances at Cuban life which to me are definitely Viñales' strongest suits.
Where to Stay and to Eat
Supposedly, there are almost 200 accommodations catering to visitors Viñales. Most of them are so-called cases particulares, private homes renting rooms to travellers.
However, I've heard many stories of people who came to Viñales on the afternoon bus and had no reservations. Then, they either had to go back all the way to Havana or just spend the night in the park.
I haven't witnessed anything like that, but I would say, a reservation is recommendable.
It's impossible to generalize how these accommodations will be – since they are all different. I stayed at the guesthouse Casa Tito Crespo*. They have two rooms in a separate building and one room next to their bedroom. So even at the same casa, the standard was quite different.
Full Board
I had an okay room with an en-suite bathroom. As Tito's wife Carito asked me if I wanted to eat dinner at the casa and I hesitated for a moment, she made me a really good price for the room with breakfast and dinner included.
What can I say – I didn't regret it. The food was excellent – there was a choice between lobster and pork chops and, of course, chicken. It came with sides of rice and salad and tostones which are fried plantains. Normally, the price varied between 8 to 12 CUC which is excellent for the amount and quality of the food.
We – there were also two German couples staying at Tito's – also bought sodas from Carito and she made us some mean Mojitos. These, too, were at a good price.
The only flaw, if you want to call it that, is the distance to the village center which is about 15 minutes walk. A cab should charge 2 CUC, but you know how it is….as I needed to get to the bus terminal in the morning, the neighbor charged 5 CUC for dropping me off. I did feel like arguing with him. On the other side, I did not feel like carrying my luggage for 15 minutes in the dawn.
Connection and Communication
Since Viñales, although basically a cute village, welcomes thousands of visitors every year, there is surprisingly good infrastructure.
Hence, there is also an Etecsa branch at Calle Fernandez where you can buy scratch cards to obtain an internet connection. You cannot miss it since there is always a large crowd of locals and tourists more or less desperately waiting at the door. Here, you can experience truly Cuban life.
On this page, you'll find ETECSA's complete list of hotspots. To narrow it down, you need to choose Pinar del Rio from the dropdown menu Provincia and Viñales in the menu Municipio.
Cash and Cards
Also, there are two banks on the main street Salvador Cisneros where you can get cash respectively change money.
Until the end of 2020, there were two official currencies: The CUP – Peso Cubano – and the CUC – Peso Convertible. The socialist island state has had this confusing dual currency system since 1994.
However, since the beginning of 2021, only the Peso Cubano keeps circulating. The exchange rate is 24 CUB to one US$. This unification of the currencies is expected to grant Cuba's citizens equal opportunities and social justice.
Already in July 2020, Cuba had abolished the ten percent tax on US$ purchases that had been in force since 2004. Since then, in some shops, certain products can also be paid for by card in US currency.
Since this novelty is still in progress, obviously, some prices in my posts on Cuba still quote the Peso Convertible CUC – as do many Cuban websites. I hope that they'll correct their sites asap so that I can adjust the information on my blog. However, if you don't want to wait: One CUC equals one US$, so that shouldn't be a big problem, after all.
Viñales was only one of the highlights of my visit to Cuba. However, to read about the other formidable places, go to the main post and take your pick! There you'll also find valuable general information that will make your trip smoother.
Pinnable Pictures
If you choose to pin this post for later, please use one of these pictures:
Note: I'm completing, editing, and updating this post regularly – last in November 2022.
Did You Enjoy This Post? Then You Might Like Also These:
* This is an affiliate link. If you book through this page, not only do you get the best deal. I also get a small commission that helps me run this blog. Thank you so much for supporting me!