It is absolutely possible to see the highlights of Vietnam even if you can spend only two or three weeks in this fascinating country.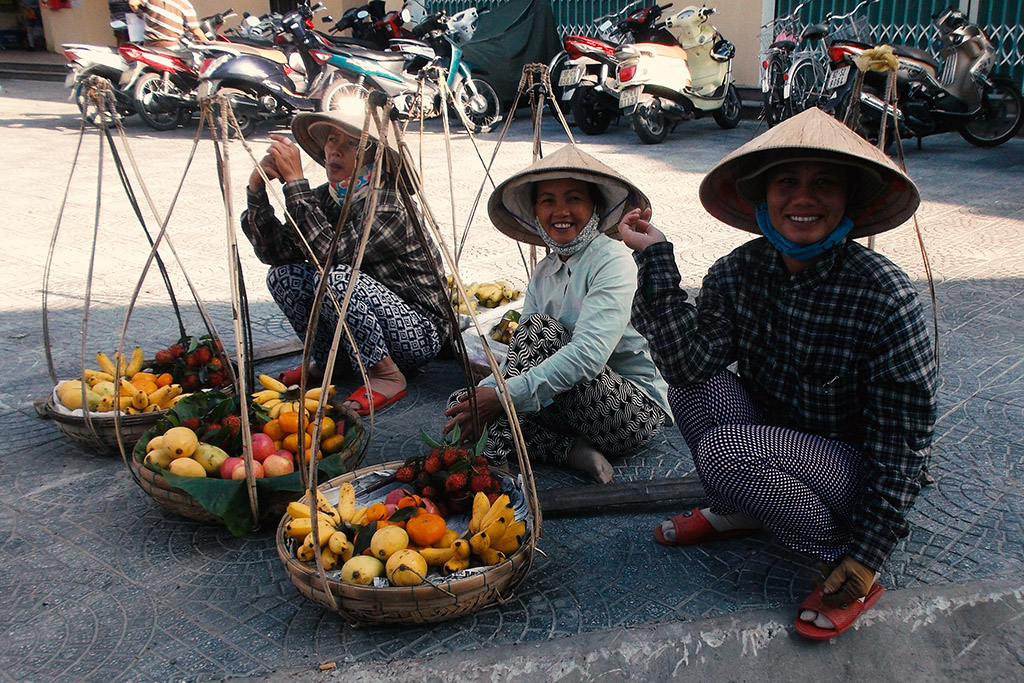 Yes, there is so much fascinating culture and rich yet tragic history. There are bustling metropoles, rolling hills, endless beaches, and mesmerizing bays. Finally, Vietnam is really safe and easy to explore – even for a solo-travelling female.
Sadly, sometimes I cannot cherish a place enough. Because there are some negative points that have a too strong impact. Or I'm not ready for the place or I simply need something different the very moment I'm there. And it's only afterward that I reminisce and realize how cool it actually was.
Vietnam was a place like this.
It's probably due to its political past that it is so very different from the other southeast Asian countries. This might be irritating at first, however, once you get into the groove, there are so many great things there. I'll certainly be back somewhen soon.
History in a Nutshell
Everybody has heard that there was a Vietnam War – sadly, mainly because the US got involved.
But the conflict did not start with the intrusion of the US troops.
Note: If you are a history teacher, you might find the following outline somewhat simplified. It is. Also, my personal political opinion might shine through. Since this is mainly a travel post, the historical and political info is basic and in places not complete.
Early Years
The first Vietnamese state was established in 968. At that time, the region was historically and culturally formed like basically every other Asian culture.
Then, the first Europeans arrived at about 1500. Just like in Latin America, they were Catholic missionaries, mainly Jesuits and Franciscans. From that moment on, the story went down as nicely badly as in Central and South America or any other region where these good people thought they had to implement their idea of civilization.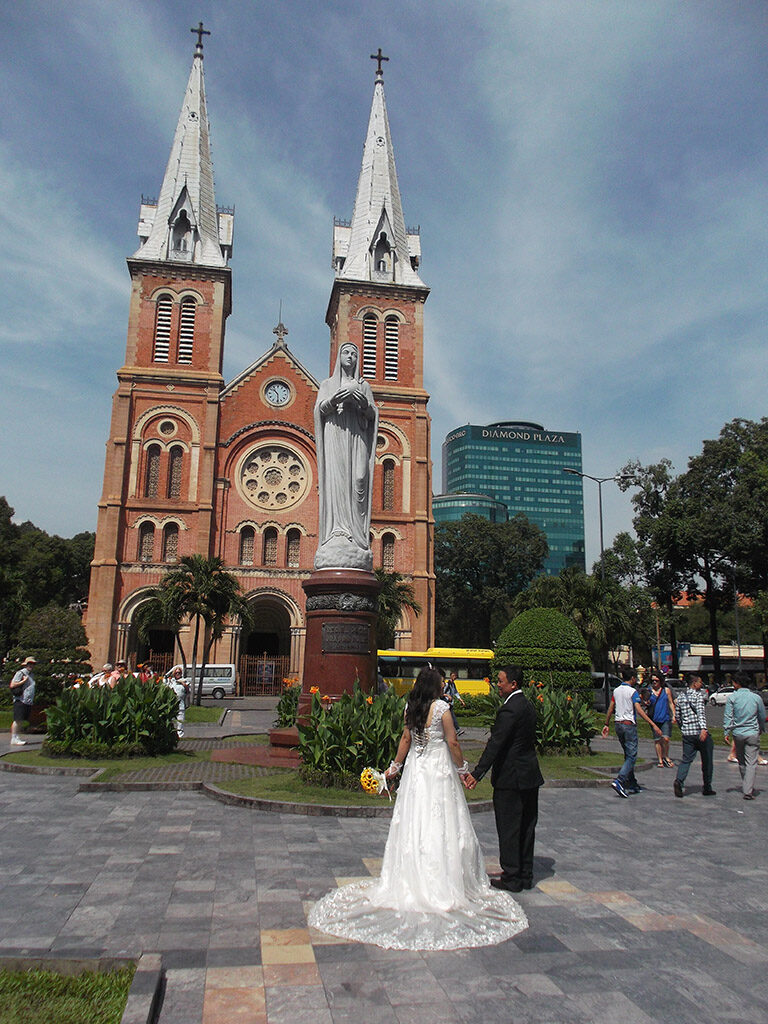 Sadly, they found supporters who profited from their system everywhere, in Vietnam, too.
The French Are Coming
Towards the end of the 18th-century, emperor Gia Long asked the French for stronger support. Once on the continent, they extended their influence on Cambodia, too.
Under the French protection, the country developed in a very unbalanced way – just like Latin American countries under the Spanish. There were few land barons and a vast majority of poor people.
A lesson that every oppressor has to learn eventually: You can exploit people only so long.
In Vietnam, the first uprisings began around 1900. It was the time when Vietnamese students came back from Europe where they had experienced national movements and heard of this new thing – communism.
The Indochina War
One of them was Mr. Ho Chi Minh who came back from his studies in Paris to Vietnam in 1941. There he founded the Viet Minh, a group consisting of freedom fighters and communists.
By that time – during WWII – Vietnam was, like many Asian countries, attacked by Japan, an ally of Nazi-Germany and its collaborator Vichy France.
And at this point, history added an afterwit. Fighting the fascist forces and their allies, the – nota bene – United States of America supported the communist Viet Minh lead by no one else but Ho Chi Minh!
Side note: This was not the only time that the USA supported one side of fighting groups that eventually turned on them and beat them with their own weapons, literally. Just think about Iraq or Afghanistan.
In 1945, Vietnam became the first independent state in South East Asia – founded according to the United States Declaration of Independence and the French Revolution.
By that time, the country got divided into the China-oriented North and the Catholic South, forced by the French. That the population was tending North finally lead to the Indochina war that the Vietnamese guerilla won in 1954.
The Vietnam War
Following the Geneva conference in 1954, the Viet Minh settled in the North of today's Vietnam. The South was ruled by emperor Bảo Đại under Western influence.
For July 1956, free elections were agreed in Vietnam, monitored by representatives of the NATO, the Warsaw Pact, and India. But Bảo Đại's successor, Ngô Đình Diệm, finally denied these elections. The conflicts between North and South Vietnam ultimately resulted in the Second Indochina War, better known as the Vietnam War.
In fear of the strengthening of communism in the region, the USA entered the conflict once again in 1964. And this time, they fought not for but against Ho Chi Minh. In 1973, the US withdrew its troops, but kept supporting the South Vietnamese by supplying them with weapons.
The war officially ended in 1975, and Vietnam was reunited in 1976.
I think it's important to know about this development. Obviously, the 'red hordes' did not take over willy-nilly. They intended to free the country from its colonialists and oppressors. Their idea was to end despotism, injustice, and exploitation.
Sadly as often in these cases, things then lead to just a different kind of despotism and injustice.
Vietnam Today
The country is a one-party state, in which the Communist Party of Vietnam is the unity party and thus has a monopoly on power.
It is still undergoing a transformation from a central administration economy to a socialist market economy. This process has triggered rapid economic growth and made the country an attractive investment location for international companies.
The human rights situation is problematic. The Vietnamese people is closely monitored and civil rights are infringed.
In the 2019 Press Freedom Ranking, Vietnam was ranked 176th out of 180 countries. Actually, the freedom of the press is lower only in China, Eritrea, North Korea, and Turkmenistan.
My Five Cents
As a matter of fact, according to my observations, the socialist idea and politics did well in so-called developing countries. For instance, they grant free education, free healthcare, equal rights for women. Sadly, in the long-term, the result is not always convincing, no matter how many cheesy slogans they write on the walls.
For us Europeans having lived with the iron curtain for decades and having witnessed how complicated it was to let bygones be bygones, it's incredible how the people of Vietnam get over the past and embrace the changes.
One difference is that the Vietnamese way was obviously less doctrinal and obstinate. Already the fact that Buddhist monks joined the Socialist fight against Colonial France and later the US troops shows a very different approach.
In Europe, Socialist governments basically banned every form of religion. Obviously, according to Marx's saying "Religion is the opium of the people". Well, in the Far East they clearly found their own way to deal with opium – pun intended.
Also, it's baffling to see the bold and naive propaganda at every corner – including the inevitable red flags, pentagrams, and hammer and sickle. And right next to it people living their hyper-capitalistic reality.
Practical Information
The Socialist Republic of Vietnam has a population of more than 90 million people. The land is stretching on the north-south axis on about 1,650 kilometers, the east-west width is 600 kilometers max – at the narrowest point in Central Vietnam, the country is only 50 kilometers wide.
While the South and North are low, flat deltas, the central highlands and the far North towards China are rather hilly. Also, the South is tropically hot and humid whereas the North is noticeably cool and rainy. This information might be relevant for your travel planning.
How to Get There
First of all, check on my site World's Most Complete Travel Information what Vietnam's travel regulations for your country are. Citizens of many countries don't need a visa if they don't exceed a certain period.
Tan Son Nhat International Airport in Ho Chi Minh City is Vietnam's busiest airport. Hence, chances are that you arrive there, too.
Bus Service
There is a very convenient connection to Ho Chi Minh City's center by public bus. You can take either line number 109, number 152, as well as shuttle bus line 49. The stop is right in front of the international terminal. Also, there is a minibus service to the cities in the Mekong Delta – it's bus number 119.
So while these services are great during day time – especially if you know exactly where you're going, remember that you shouldn't be cheap when it comes to your personal comfort and safety. If in doubt, rather take a cab.
Taxi Service
There are cabs waiting on your left as you exit through the terminal's main door. Make sure that the driver turns the meter on.
SASCO Travel offers a very convenient taxi service. You can order and pre-pay a car at their desk on your left after you clear customs. Also, online-booking is possible. This way, you pay a standard fare and the driver takes you to your hotel hassle-free.
Some major hotels offer a free shuttle. But beware that if the shuttle is not complimentary, you'll probably overpay. This being said, it's wiser to overpay for a safe trip than risking your well-being on arrival.
You'll find more on this – and other relevant travel topics – in my post Keep Calm and Travel Solo as well as other articles in the Tips & Hacks section.
Land Travel
If you already are on the Asian continent, you can travel to Vietnam also by long-distance bus, obviously. There are frequent connections to Cambodia and Laos.
How to Get Around
Air Travel
Since Vietnam is such a long stretch, it's often more convenient to travel by plane than by bus – especially if you have only three weeks as I did. There are airports in many of the cities I'm introducing in my guide, and tickets are really not that expensive. As a matter of fact, the route between Ho Chi Minh City and Hanoi route is the busiest in Southeast Asia and the sixth busiest in the entire world!
Land Travel
Nevertheless, shorter trips can be conveniently be travelled by bus. There are modern, airconditioned coaches with comfortable seats. And there are those typical Vietnamese sleeper-buses where you basically lay down in a weird position. Also, you have to put your legs into a metal box – it's really not that comfortable, especially not for us big and tall Europeans.
Still, if you have to travel in those exotic vehicles, I have two tips for you: If possible, choose the lower bunk. There's more space, and the ride will be smoother. Also, you might want to bring earplugs. Plugs are on my list of indispensable tools and gadgets, anyway. Let my list of what makes my travel more comfortable inspire you.
If you are going to Mui Ne, Da Lat, Nha Trang, or even Hanoi, you'll leave Ho Chi Minh City from the Mien Dong Bus Terminal. It is on 292 Dinh Bo Linh Street in the Binh Thanh District.
Innercity Travel
There are no trams or subways in Vietnam. Although they are very cheap, bus travel can be a bit confusing and intimidating. Ask for directions at your hotel's front desk – and then keep asking like a moron until you reach your final destination.
Apart from buses, cabs are very cheap to European or American standards. As long as you get a reputable company that is. Hence, look for cabs like Mai Linh or Vinasun and insist that the driver turns on the meter. Besides, beware of cabs resembling those of trustworthy companies. Some scammers copy the famous names and just alter them a little bit. Then, they charge ridiculously high fares.
Be particularly cautious when hiring a cab in big cities like Hanoi and Ho Chi Minh City.
How to Cross Streets in Vietnam
It's absolutely terrifying – even for me, and I do walk criss-cross everywhere in the world.
Don't even think about waiting for a good moment to cross, this good moment will never come, so right now is as good as any.
Just start walking. Yes, I know that there are hundreds of motorcycles and cars approaching. Nevertheless, start walking.
Walk in an even, moderate tempo. Don't run and don't stop, just walk. This way the drivers can estimate your pace and adapt. If you run or stop, you'll confuse them.
Walk a little angular towards the traffic as if you were walking into the traffic – yet please do not actually do so!
While observing the traffic, keep walking until you reach the other side of the street.
This is how you'll have to do it for the time being in Vietnam, so good luck.
Where to Stay
In a country where tourism is increasing, you'll find at least a small choice of lodging options in every corner of the land.
I recommend accommodations for certain places in the individual posts. However, here is a search box that will help you book places to stay across the country.*
What to Eat
While you'll find restaurants for every taste in Ho Chi Minh City and other big, touristy places, in smaller spots, you'll get mostly Vietnamese cuisine, obviously, and that's totally fine.
Vietnamese cuisine is historically strongly inspired by Chinese food. In the south, there is also influence from Thai, Khmer, and even Indian cuisine.
Rice and rice noodles and a large number of different vegetables are eaten as staple foods in Vietnam.
Vietnamese dishes are typically cooked extremely hot. Gas stoves, but also blown charcoal fires, are still normal sources of heating in rural as well as urban areas.
Vietnam is known for spring rolls, which are eaten raw, fried, or deep-fried and sometimes wrapped in lettuce leaves. The fillings vary from region to region and season and range from sweet to spicy and savory.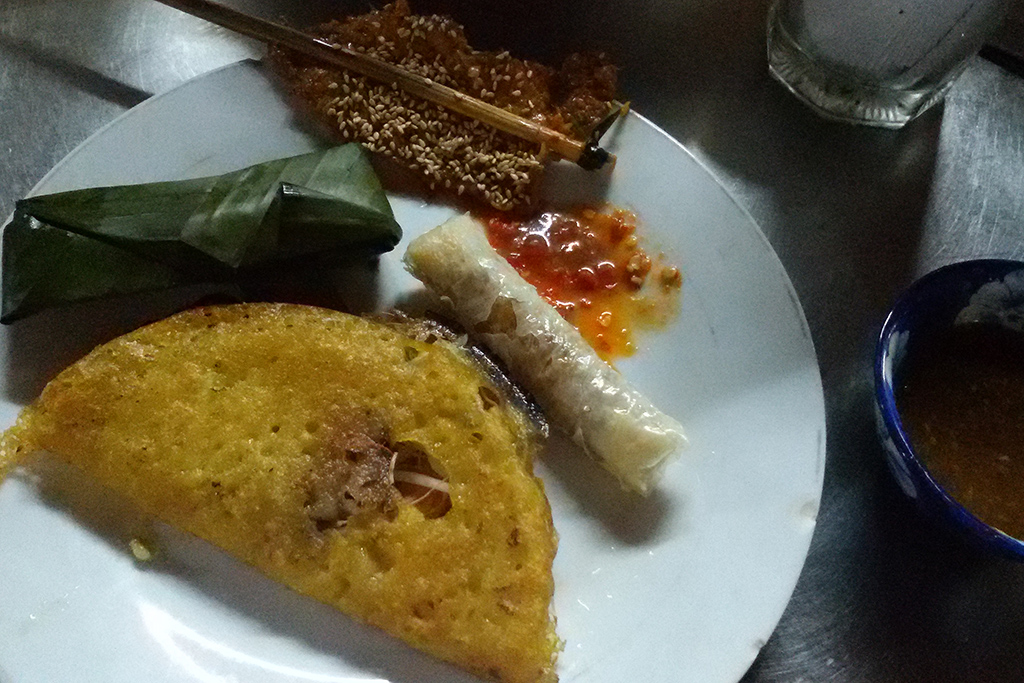 I particularly enjoyed rolling ingredients in rice dough sheets – which is a popular way of eating. There are herbs, lettuce, rice noodles, vegetables, and pieces of fish or meat that you wrap in a crispy, thick pancake. Fun and delicious!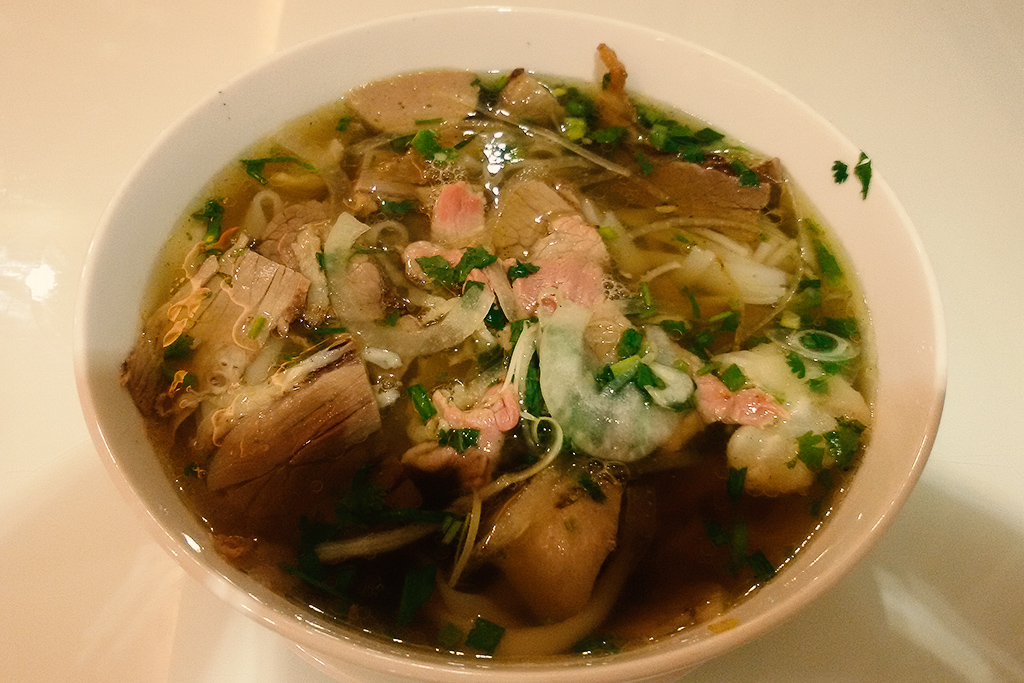 Another iconic specialty of Vietnam is Pho. The basis for this rich dish is beef broth with rice noodles. Then, thin slices of beef or chicken are added. Vietnamese eat Pho as a snack, for breakfast, or even as a whole meal.
Unpretty
All this sounds delicious, nevertheless, I have to warn you. Vietnamese cuisine also consists of weird and to western standards gross dishes – including certain animal cruelty. I do not want to go into details, but beware. On local farmers markets, you won't see only fruits and vegetables. Brace yourself for some pretty quite disturbing sights.
What to See
I'm an avid solo-travelling woman. Since solo-travel doesn't equal solitude, I love to join organized tours here and there. They allow me to meet fellow travellers – for just a short moment or a lifelong friendship.
Therefore, here are some great ideas of what to do during your stay in Vietnam. Pre-booking online will make your stay safe and comfortable*:
Cash And Cards
In Vietnam, you pay in Dong. It has been the country's currency since 1978.
Due to inflation, over the years, banknotes are getting larger. Today, the smallest bill is 10,000 Dong and the largest one 500,000. That's your chance to be a millionaire.
Banknotes with denominations of 5,000 Dong and under are not being printed anymore, yet still in circulation.
Vietnam is getting more and more touristy, hence, credit cards are widely accepted. Obviously, you can get cash at ATMs. Beware that not every ATM works with every international card. Don't freak out, just try a teller from a different bank.
One US-Dollar equals 23,024 Dong (VND) and one €uro 28,021 Dong (VND) as per January 2021. However, here you can check the current rate.
Language
You probably guessed so, Vietnamese speak Vietnamese. Although the language is not related to Chinese, the vast majority of its vocabulary consists of words of Chinese origin. This has to do with the political dominance of China over Vietnam, which lasted for 1000 years. At that time, Chinese became the language of the country's ruling class.
After the end of Chinese rule over Vietnam, the Vietnamese tongue became more important again. However, the language was written in Chinese characters.
With the European missionaries, European languages, especially French, were introduced. After Vietnam became a French colony in the late 19th century, French became the official and educational language. Many words from French came into the Vietnamese language as loan words. In 1910, the French colonial administration officially introduced the Latin script.
This being said, I don't presume that you'll learn this complex language just to go on a vacation. However, it's a nice gesture to say at least the greeting xin chào – pronounced sin tchao – as well as cam on – pronounced almost like come on – instead of thank you.
Talk to Me
Especially young Vietnamese seem to be keen learn the English language. And they also do it by asking westerners to practice with them. I find that actually quite sweet and it's a lovely experience spending an afternoon on a park bench chatting with some giggling Vietnamese students.
Communication and Connection
Like during most of my trips where European roaming is not available, I did not get a national SIM-card. I rather used free Wi-Fi. There was a connection to the internet without any issue at basically every eatery or café and, of course, hotel. Worked like a charm.
But if you insist on being online 24/7, you can get a national SIM-card. From the four companies in Vietnam, Viettel has the largest network. It is closely followed by Vinaphone. The other two are not recommendable although Vietnamobile is the cheapest.
In Vietnam, plug types A, B, and C are the official standard.
The standard voltage is 220 V and the frequency 50 Hz.
But as you know, nowadays, all these chargers for phones and readers and computers have integrated adapters so that different voltage and frequency don't really matter.
Gone are the days when you blew your electric appliances since you forgot to switch them from 110 to 220…good times.
By the way, you'll find this kind of practical travel info in my post World's Most Complete Travel Information – an indispensable globetrotter-classic.
Map
Places I Have Visited
Pinnable Pictures
If you choose to pin this post for later, please use one of these pictures
Did You Enjoy This Post? Then You Might Like Also These:
*This is an affiliate link. If you book through this page, not only do you get the best deal, I also get a small commission that helps me run this blog. Thank you so much for supporting me!
Note: I'm completing, editing, and updating this post regularly – last in January 2021.