Just like to everyone's surprise Rio de Janeiro is not the capital of Brazil, Sydney isn't the capital of Australia, and Zurich isn't the capital of Switzerland, hardly anyone would expect the rather unknown'n'underrated city of Rabat to be the capital of mesmerizing Morocco.
Places like Marrakech or Casablanca are internationally far more famous, after all.
Therefore let me guide you in this comprehensive post on Rabat to the most spectacular spots and landmarks that you can comfortably visit in just two days in the grand capital city of Morocco.
Why Rabat?
It's eight in the morning, yet the flat is pitch-dark as I silently close the door to my inhospitable room. I try to adjust my sight to the dark as I advance cautiously toward the entrance door. I skip the breakfast that consists of some stale bread, a small bowl of olive oil, and a small pot of tea which is cold by now since my not-so-hospitable hosts are preparing it God knows when. I'll have a venti latte and a croissant at Starbucks later. I don't like Starbucks, but due to my living arrangement, it's the only source of half-decent breakfast before school.
Once I step out onto the broad boulevard, the cool is creeping through my clothes. Now I'm wide awake.
Everyone else is dressed in warm winter clothes. I'm wearing sandals and a summer dress. Only a cotton sweater keeps me a bit warmer. I need to suffer through the morning chills since later, it will get really warm. Every day when leaving for school, I need to brace myself for different temperatures.
The Agdal neighborhood of Rabat is extremely Europeanized. It could easily be a part of Paris. And appropriately, the stop where I'm hopping on the tram is called Avenue de France.
After four stops, I get off at Rabat's main train station and walk to school.
Back to School
I'm in Rabat for two weeks to brush up on my Arabic. That means that I'm repeating my morning routine from Monday to Friday.
Till noon, I'm trying to memorize a ton of initially crazy-sounding vocabulary and comprehend the actually quite logical Arabic grammar.
Once the imaginary school bell rings at noon, I rush out into the sun to explore the city.
Two weeks give me more than enough time to get to know the most significant landmarks of Rabat so that I can take advantage of my free weekends to get to know also the other three imperial cities Fez, Meknes, and Marrakech.
However, I got to know the city of Rabat from different sides. Therefore, you'll find the 15 best activities listed and described below.
Note
In case you wonder why I enrolled in a two-week-language course in Rabat: I've explained this wonderful German invention that goes by the name of Bildungsurlaub in former posts. Most German employees have the right to one extra week of paid leave per year if they enroll in a class. This course does not have to be related to their field of work, however, it has to be approved by their state government. In my case, that's the city of Hamburg, which is at the same time one of Germany's 16 Federal States.
Over the past years, I've studied Italian in Florence, Milan, and Rome. Also, I've learned Turkish in Izmir and Portuguese in Rio de Janeiro; and now Arabic in Rabat.
A Little Bit of History
The Umayyad dynasty of Córdoba founded Al Ribat in the 10th century. Then, the wealthy Banu Ashara family founded a town named Salā on the northern bank of the river in 1030.
One of the last Almoravid emirs built a new Ribat, hence, a small fortification, on the site of today's Kasbah. This way, he tried to keep the rivaling Almohads out. Nonetheless, shortly after, the Almohads defeated the Almoravids and destroyed their Ribat.
The Almohad Caliph Abd al-Mu'min replaced the former Ribat with a Kasbah, hence, a citadel. It included a palace and a mosque. The Caliph also had a canal dug to redirect water to the Kasbah.
From here, the Almohad troops set out on crusades to Al-Andalus, today's Andalusian territories of Spain.
The Construction Boom of the Almohads
Abd al-Mu'min's grandson, the third Almohad Caliph Yacub Al Mansur, commissioned a new fortified imperial capital on the site of what is now Rabat's Medina. Its walls were built all the way to the Kasbah. This ambitious project also included the construction of prestigious gates like the Bab Al Rouah and the Bab Udaya.
The masterpiece, however, was to become a massive mosque. But after Al Mansur's death in 1199, his successors were not interested in finishing it, probably because they simply lacked the resources. Therefore, one of Rabat's most symbolic landmarks is a court of pillars. The only representative feature is the Hassan Tower, but even that's incomplete.
From the 13th to 15th centuries, the town of Salé on the opposite bank of the Bou Regreg gained greater importance during the reign of the Marinid dynasty. The Marinids build the Great Mosque in what is now Rabat's Medina. On the nearby site of Chellah, they commissioned an imperial necropolis for their dynasty.
The French Are Here
The French invasion of Morocco began with the occupation of Oujda and the bombardment of Casablanca in the year 1907. Five years later, the Treaty of Fes legitimated a so-called protectorate. This led to riots in the then Moroccan capital Fez so the French resident minister Hubert Lyautey, quite a hardass who had already fought in Indochine, hence, today's Viet Nam, decided to make Rabat the country's capital. After Morocco achieved independence in 1956, the first King Mohammed V simply kept it the way it was.
Today, Rabat, together with the towns of Temara and Salé, forms a conurbation with about two million inhabitants. This makes Morocco's capital the country's second-largest city after Casablanca.
Of all the cities I've visited in Morocco, Rabat was the most globalized one. Although there are some old neighborhoods, a Medina, and a Kasbah, there are vast parts that could as well be somewhere in Europe. Shopping areas and malls where you find all the well-known chain stores and fast food restaurants you'll know from back home. The huge squares and broad boulevards lined by flag poles make you believe this is some metropole in one of the Emirates.
However, as Rabat seems tidier and more organized than the other royal cities, it might be the best place where to begin your trip to Morocco. To slowly get into the groove, so to speak. Yet, I truly missed the exotic and excitement I had encountered in the other imperial cities.
In 2012, Unesco added Rabat to the World Heritage List.
15 Places Not to Miss in Rabat
Although Rabat is not as dreamy and exotic as its smaller sisters, it's worth a visit – especially if you are keen to see all of the four old imperial cities of Morocco. You'll find the most beautiful places and best things to do listed below. There are not only Rabat's historic sites but also some cool things modern Morocco has to offer.
Kasbah of the Udayas
The Kasbah of the Udayas is located on a hill at the mouth of the river Bou Regreg. From the Medina, it's a relatively short walk. Its historic significance as well as its prime location make the Kasbah the most momentous landmark of Rabat.
In 1609, Philip III ordered the expulsion of all people of Moorish descent from Spain. Thousands of these refugees settled around Salé and occupied the Kasbah. They established their own autonomous state and called it the Republic of Salé.
It served as a safe haven for pirates, the infamous Salé Rovers. They preyed on merchant ships around Europe, pillaged the goods, and sold the crews as slaves. The Republic of Salé operated independently until 1666. Then, the Alawid sultan Moulay Rashid took over and got control over the buccaneers.
Rock the Kasbah
As you enter through the imposing gate Bab Udaya, you find yourself in a pretty little settlement. Whitewashed houses with beautifully crafted doors are lining the alleys. The upper part of the Kasbah dates mostly from the Almohad period in the 12th century.
The lower part, however, was added by the Alawids in the 18th century. In that part is also the Royal Pavilion built by Sultan Moulay Ismail. It was this very Sultan who settled the Udayas in the Kasbah in order to protect it against unruly tribes in the region. This is how the Kasbah got its name, obviously.
The northern part is centered around the Rue Jamaa which opens into a large square from where you have an amazing view of the open sea and Rabat's city beaches, the river Bou Regreg and Salé on the opposite shore.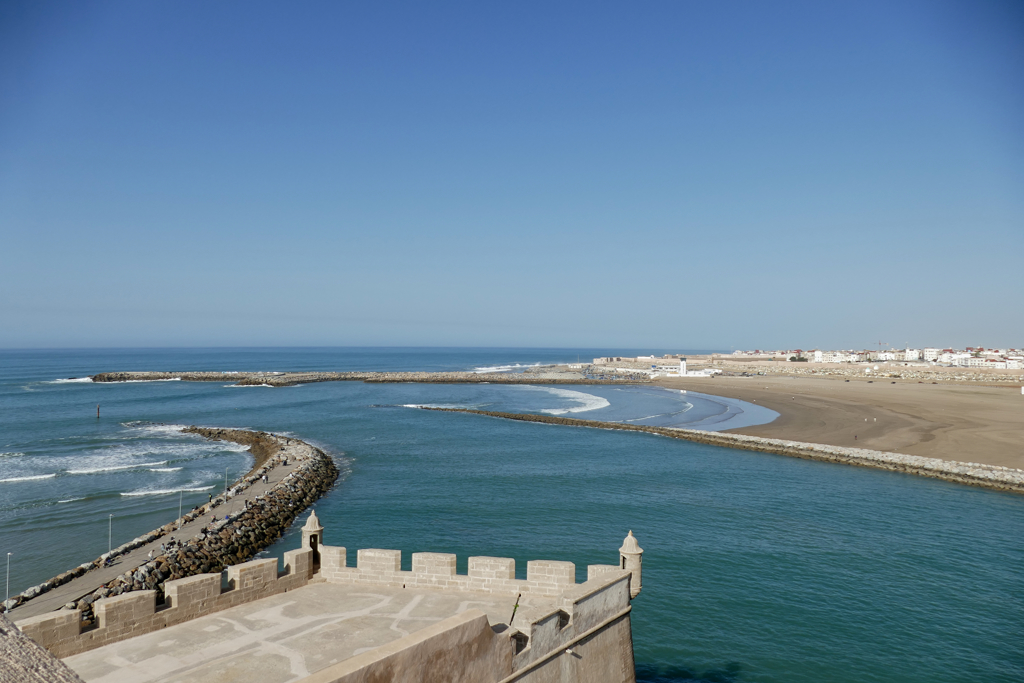 The southern part consists of the lush Andalusian Gardens and the ethnographic museum of the Udayas inside the Pavilion of Moulay Ismail.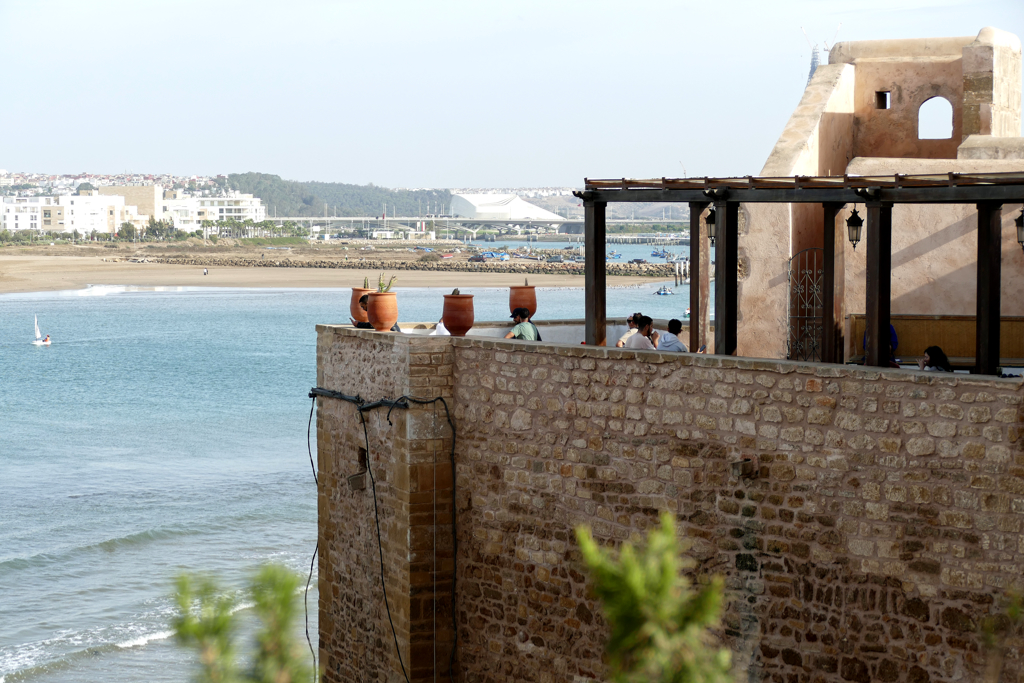 One of the highlights is the popular Café Maure. Despite the rather high prices, it is by no means just a tourist trap. Local couples and families enjoy a glass of mint tea, the view of the river Bou Reg Reg and each other's company. Highly recommended for a break.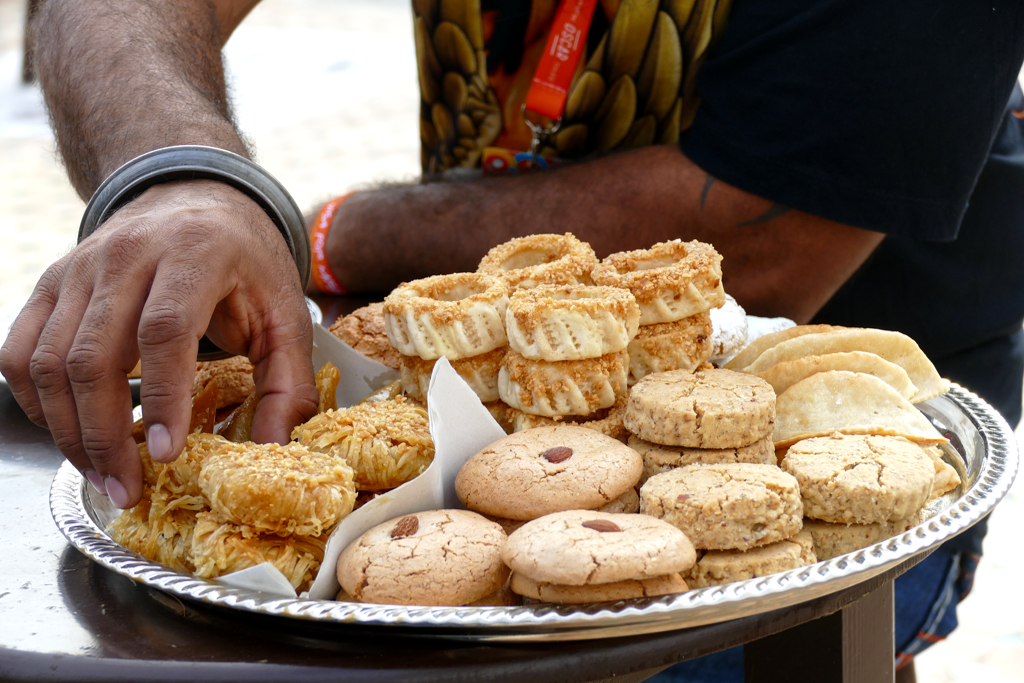 What Should I Do When a Man Escorts Me Without Being Asked to Do So?
Ever since I ran into this trap in Tunesia many years ago, I'm very much on the alert when friendly men are offering to show me around or just guide my way to a specific spot.
In fact, as soon as I got to the Kasbah, an elderly gentleman called me to the lower gate. "Madame! Madame, this is the entrance", he explained.
I was confused since I saw everyone else entering the Kasbah through the Bab Udaya. But, okay, if that's the entrance, that's fine with me. I entered the premises through the lower gate.
As I started to walk around, he walked next to me, trying to explain things. "I don't need a guide, thank you", I informed him. He continued with his explanations. "Sorry, but I really don't want a guide". He certainly wasn't happy but since I denied his services quite decisively, he left me alone.
So, what to do?
Well, firstly, you have to realize as soon as possible that you are about to get a private guide.
Rule of thumb: As long as you talk to a man standing in one spot, you're safe. As soon as you guys start walking and he points at things explaining their history, he's your guide – unless you very clearly tell him that you don't want a guide.
To do so, stop in your tracks. Don't keep walking while he's explaining things. Tell him you don't need a guide and then walk away. If he follows you, stop and insist that you still don't want a guide.
At this point, don't bother too much with sounding friendly.
Promenade Bou Regreg
From the Kasbah, you can walk towards Rabat's city center either through the souks of the Medina or alongside the river.
Oh, the river! The southern banks have been transformed into a recreational area with restaurants and cafés and some quirky entertainment. Some visitors are fishing while others enjoy a boat ride on the Bou Regreg. Also, those boats are the fastest way to cross the river to Salé.
With the open sea and the Kasbah on one side and the old Medina on the other, the backdrop is incredibly picturesque – or instagramable as the kids nowadays call beautiful sceneries.
Medina
Just like in every Moroccan city, there is a Medina, an old town, in Rabat, too. In Moroccan culture, commercial and living spaces are separate. Therefore, you'll have these bustling mostly pedestrian shopping streets and then the quieter back alleys where people live. This is one of the major differences between the Medina, the Muslim part of town, and the Jewish Mellah.
In the Mellah, shops are on the street level of buildings with living spaces above them. Also, the houses in Jewish neighborhoods have windows and balconies facing the street. Muslim architecture foresees an often completely windowless outer house wall. Windows and balconies are arranged around an inner courtyard. Privacy plays a key role in Muslim culture and is therefore reflected also in the architecture.
Therefore, only the commercial parts of Morocco's Medinas are interesting for tourists.
The souks, hence, markets, in Rabat aren't as bustling and crazy as in Fez or Marrakech. Especially the part where you can purchase souvenirs is way smaller.
A peculiarity of Moroccon souks is their division according to goods. You'll find spices in one part, shoes and leather in another, fish in a third one, and so on. I'm familiar with this structure from other countries but never really could wrap my head around it: If there are already five bakeries, is it really smart to open a sixth one right next door? Well, since this system has been successfully working for centuries, who am I to restructure it?!
Souks
The Marché Central, the central market, is the southern entrance to the Medina and the most popular part among locals. It's basically an open-air Target where you can shop for fruits and vegetables, fish and meat, herbs and spices, and much more.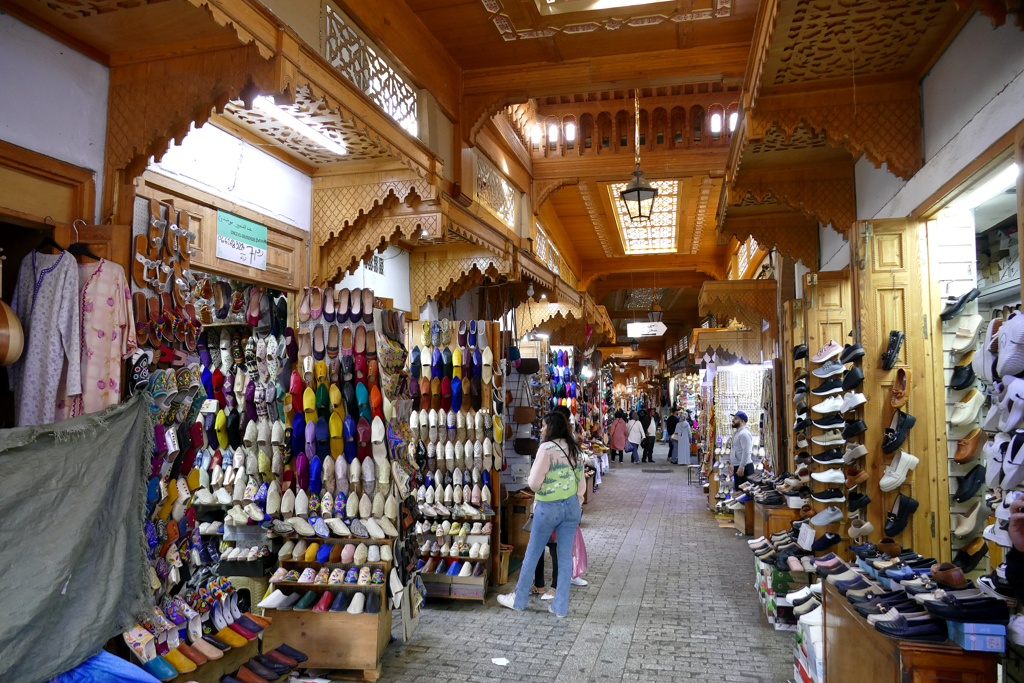 Walking westwards, you'll get to the part where you can shop for all kinds of fabrics, haberdashery, but also djellabas, hence, traditional Moroccan dresses. But they also sell upholstered furniture, curtains, and other stuff to make your home homey, homie.
Fun fact: This part of the souk used to be the market for Christian slaves.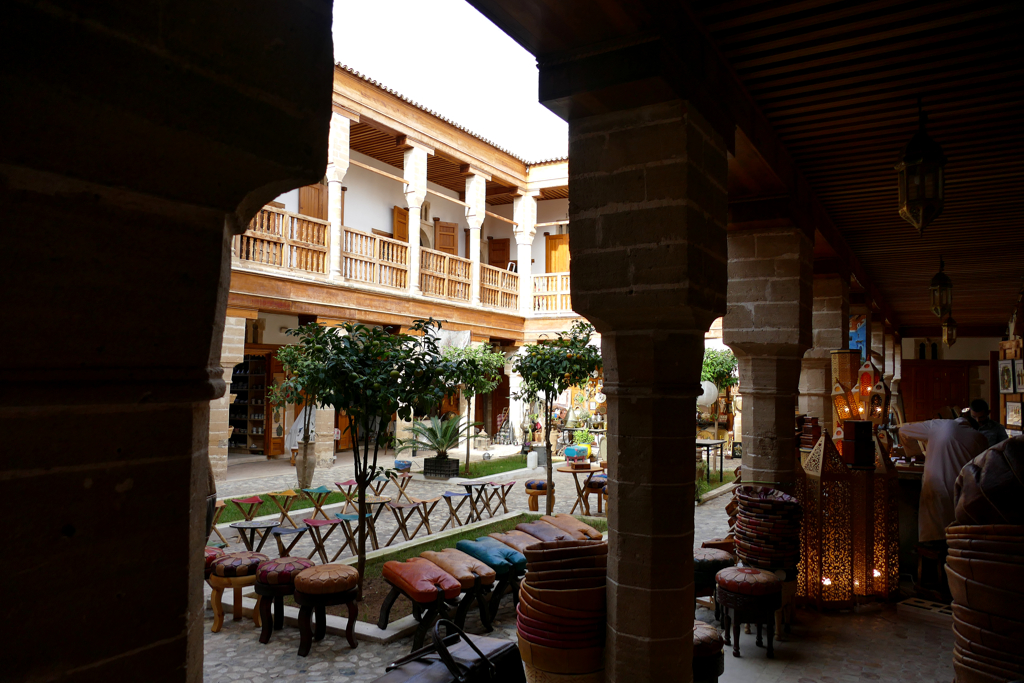 As I said above, the souk of touristy goods is not very big. It's mainly alongside the Rue des Consuls leading toward the Kasbah. I wasn't that keen to shop, anyway. But if you want to buy leather goods, I definitely recommend doing so in Fez. But also the choice of copper and silver goods is far wider there as well as in Marrakech. The latter is the best place if you're ready to immerse yourself in the craze of browsing, choosing, and haggling.
I mainly brought spices, soaps, and oils with me which I purchased in local whole food stores and supermarkets. Yes, that's not very oriental, but this way, good quality is granted, and I didn't have to haggle for halfway decent prices. Actually, all the high-quality stuff I bought at the local supermarket was far cheaper than at the souks – at least for foreigners.
Andalusian Wall
The Andalusian wall borders the southern side of the Medina. Built at the beginning of the 17th century, it marked the section where Moorish refugees settled after their expulsion from Spain in 1609.
The wall is about one mile long, about five meters high, and more than 1.5 meters thick. It encloses an area of 840 hectares and has 26 towers and three still-existing gates.
The westernmost is the Bab Jdid, hence, the New Gate. Nevertheless, it was largely demolished to gain space for new buildings. One side tower and chamber from the former gate have been preserved and houses nowadays a police post.
Towards the middle of the wall is Bab Chellah, hence, gate of Chellah. It is the only one with some kind of monumental appearance. Further east is the Bab Al Bouiba, and two additional gates are simple openings with little architectural significance. Those are the Bab Mellah, the entrance to the old Jewish quarter, and Bab Diouana which has been altered into a mosque entrance.
At the wall's eastern end is the bastion tower Borj Sidi Makhlouf which was added to protect the port. It is the complex's only round tower.
Almohades Mosque, Hassan Tower, And the Mausoleum of Mohammed V
I've mentioned the Hassan Tower above. It is the unfinished minaret of the also incomplete Almohad Mosque. The potent Almohads didn't rule only over North Africa but also over large parts of the Iberian Peninsula. The Almohad's mosque was supposed to be an unmistakable sign of their power. With a length of approximately 180 meters and a width of 139 meters, it would have easily outperformed all other houses of worship in the Maghreb.
Just like the Mezquita of Córdoba, it was designed as a pillared mosque consisting of around 300 stone posts. Today, only these columns can be seen since the building was never finished. Although the Hassan Tower remained unfinished, it is still the most complete feature of this building project.
As the Almohad's imperium fell apart, the city of Rabat lost its prominence.
Across from the Hassan Tower is the Mausoleum of Mohammed V. Interestingly, architect Cong Vo Toan from Vietnam designed the mausoleum complex. He combined traditional shapes with modern materials. Clearly, the mausoleum is also meant to pay traditional Moroccan craftsmanship a tribute.
Construction was completed in 1971. The same year, Mohammed V's body was transferred here. His son Prince Abdallah was buried here in 1983, and Hassan II in 1999. The latter was the second King of Morocco and the father of today's King Mohammed VI.
St. Peter's Cathedral
Question: Who do you think did commission a Catholic Cathedral right in the heart of the capital of a Muslim country? Yes, you are obviously right: It was the French during their occupation in the early 20th century. To this date, the Cathedral is the seat of the Catholic Archdiocese of Rabat.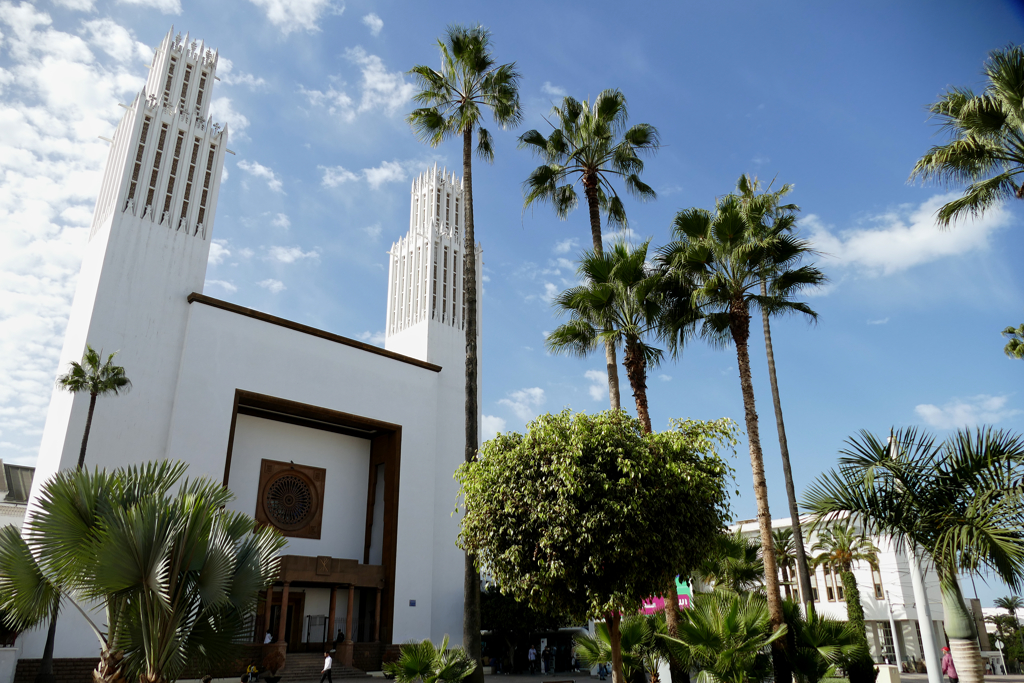 This initially towerless cathedral was designed by French architect Adrien Laforgue and inaugurated in November 1921. The two towers were only added in the 1930s.
While the actual church building looks modern and more European, the towers adopt the shape of classic Maghreb minarets. Also, the window behind the chancel is rather geometric whereas the other window panels have more Moorish shapes.
Dar Al Makhzen – Royal Palace of Rabat
The Alawid rulers have possessed a palace in Rabat ever since the reign of sultan Mohammed ben Abdallah in the 18th century. He used Rabat as one of his imperial residences. The current building, however, was commissioned by Mohammed IV in 1864.
In 1912, when the French brought Morocco under their control, the colonialists moved the country's capital from Fez to Rabat and demanded the Sultan remained near their administrative headquarters. They wanted to pretend some kind of acceptance and unity.
After the independence in 1955, the Moroccan Kings kept Rabat as the capital, and the city's Dar Al Makhzen remained their main palace. Albeit, particularly Mohammed V preferred to actually live in the more secluded palace called Dar As Salaam, which translates to house of peace – nomen est omen. He used Dar Al Makhzen mostly for official and administrative purposes.
Nevertheless, several momentous events have taken place in Rabat's Dar Al Makhzen: Mohammed V's son Hassan II was born here in 1929, and his grandson and today's King Mohammed VI married Salma Bennani here in 2002, to name just a few.
Unlike in Fez or Meknes, humble folk like you and me can visit parts of the imperial grounds in Rabat. However, you have to have your passport on you, otherwise, they won't let you in. While at other places where some kind of ID is required – for instance, if you want to visit the Musée Bank Al Maghrib – you can legitimize yourself with a national ID card or a driver's license, this won't do at the Dar Al Makhzen. As a foreigner, you need to show your passport.
Mohammed VI Museum of Modern and Contemporary Art
Is the museum worth the visit? Well, I'd say yes. It's not very big, and the entrance fee is as little as 40 Dirhams, so why not? And yes, I'm well aware that these reasons don't make me sound euphoric and that is because I'm not.
While the sculptures outside the museum raised my expectations, I'd argue that the experience of your visit strongly depends on the temporary exhibitions.
On my visit, they had a special exhibition of portraits taken by photographer Malick Sidibé in Mali between the 1950s and the 1970s which was wonderful.
The permanent collection, however, is by no means extraordinary.
Architect Karim Chakor designed the two-storey museum building in a neo-Moorish style as four wings enclose strictly symmetrically an inner courtyard.
The art museum is open to the public from Wednesday to Monday between 10 a. m. and 6 p. m. and the general entrance fee is 40 Dirhams. Like many museums and galleries in Morocco, it has a very pleasant cafeteria.
Villa des Arts
Not far from the modern art museum and practically on the other side of the imposing Assounna Mosque is Rabat's Villas des Arts complex.
The so-called Villas des Arts are art spaces in Rabat and Casablanca which offer creative space for painting, sculpting, photography, performing arts, cinema, literature, and more.
They are meant to uplift, promote, and preserve Moroccan art'n'artists. Their aim is to address and inspire not the so-called connoisseurs, but the general public. Yet, the exhibitions of national and international artists do not lack either quality or ingenuity.
As you walk around the premises and enter the different buildings, you'll discover wonderful paintings, fun sculptures, outstanding installations – the Villa des Art is full of amazing surprises.
The Villa des Arts is generally open to the public from Tuesday to Sunday between 9 a. m. and 7 p. m. free of charge.
Bab Ar Rouah
The Almohad mud wall is about three miles long. It was completed in 1197 and originally enclosed the Medina on three sides. The Bab Ar Rouah, which would be the wind gate in Arabic, is located in the southwest near the Dar Al Makhzen. The gate was built at the same time as the wall and remained largely intact for centuries. It only underwent minor restorations.
Today, the square gate building houses a small gallery that you can visit on weekdays between 8.30 a. m. and 4.30 p. m. free of charge.
Chellah
The Chellah was a fortified Muslim necropolis. Today, only an archeological site from medieval times remains.
Presumably, already the Phoenicians established an emporium on the site in the first millennium BC. Later, the so-called Sala Colonia became a Roman colony.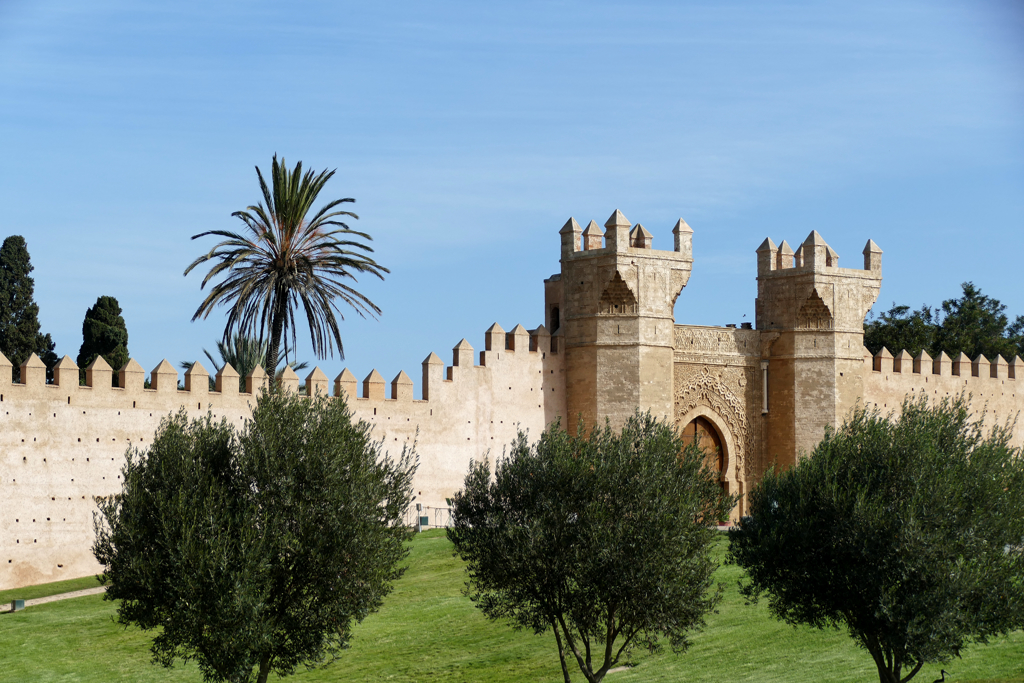 Only in the late 13th century, the Marinids used the site as a necropolis for members of their dynasty. An enclosing wall and a religious complex were added to the mausoleums in the 14th century.
Over the centuries, the necropolis got damaged by earthquakes and looting. Only in the 20th century, archeologists excavated the remains of the ancient Roman town that you can visit today.
However, if you can't get enough of those old Roman rocks, I highly recommend a visit to the much more impressive archeological site of Volubilis in the vicinity of Meknes.
Park Hassan II, Park Nouzhat Hassan, and Jardins d'Essai Botaniques
If after a visit to dusty rocks you need a bit of fresh green, I recommend a visit to the nearby Park Hassan II. For my taste, however, it's too manicured. Also, the trails are all paved. I imagine it must be unbearably hot during the summer months. I guess that's the reason why they built some shelters casting shadows over stone benches. To be honest, they look a bit like bus stops to me.
Howsoever, the park offers various sports fields for football, basketball, and volleyball as well as a climbing wall.
What I liked the most were the many beautiful birds, especially the storks.
The park is open every day from 9 a. m. to 7 p. m.
There are two other parks in the city center of Rabat that I'd recommend for a pleasant stroll or a refreshing break from too much strolling: The first one is the Park Nouzhat Hassan. It is located just outside the southern edge of the Medina. Recently, a flower market was installed in front of its main entrance which makes it even more inviting.
It's open daily from 8 a. m. to 6 p. m.
I'd argue that the Jardin d'Essais Botaniques is Rabat's most beautiful park. It is ideally located in the Agdal district about ten minutes' walk west of the Bab Ar Rouah.
I was installed during the French protectorate of Morocco in 1914. Originally, there were more than 250 species of fruit and ornamental trees from all over the world.
The garden is open from Tuesday to Sunday between 8 a. m. and 6.45 p. m.
Musée National de la Photographie at the Fort Rottembourg
The Musée National de la Photographie was opened only in 2020 and has since then hosted two exhibitions. Its mission is to promote the country's young photographers. Since March 2022, 24 female Moroccan photographers are showing their works in the relatively small gallery. The topics range from abstract to documenting and reflecting the personal as well as socio-political challenges of Moroccan women.
A visit to the Musée National de la Photographie is highly recommended not only for the inspiring exhibition but also for the fortress that houses the galleries.
This so-called Burj Kebir is also known as Fort Rottembourg. Sultan Hassan I commissioned its construction in the late 19th century. It was finished in 1900 under the guidance of German engineer Walter Rottemburg whom it then was named after.
The galleries are open from Wednesday to Monday between 10 a. m. and 6 p. m. and the entrance fee is 20 Dirhams.
Corniche of Rabat
While everyone is raving about the promenade alongside the river Bou Regreg, the corniche alongside the Atlantic Ocean is very much underrated. On my walk from Fort Rottembourg to the Kasbah, I saw a couple of…couples and some occasional fishermen. Other than that, I enjoyed a stroll by the sea basically by myself.
While the view of the open waters is soothing, the traffic racing on the other side of the promenade isn't. Also, there are maybe two rather fancy restaurants along the way, and otherwise no opportunity to get a coffee or buy a soda. Obviously, this austerity doesn't attract the masses.
As the Avenue Al Marsa leads uphill toward the Kasbah, you can turn left to get to Rabat's city beach.
However, if you intend to spend an entire day on the beach, it's worth the trip to one of the much nicer beaches south and most importantly north of the city center.
Urban Art in Rabat
This should have been a hint: As soon as I stepped out of the Agdal train station, I spotted an amazing piece of street art on the opposite side of the street. It portrayed two girls behind half-masks. For a moment, I was irritated by the fact that they looked rather like coming from the Amazonas than from the Sahara; but what the heck.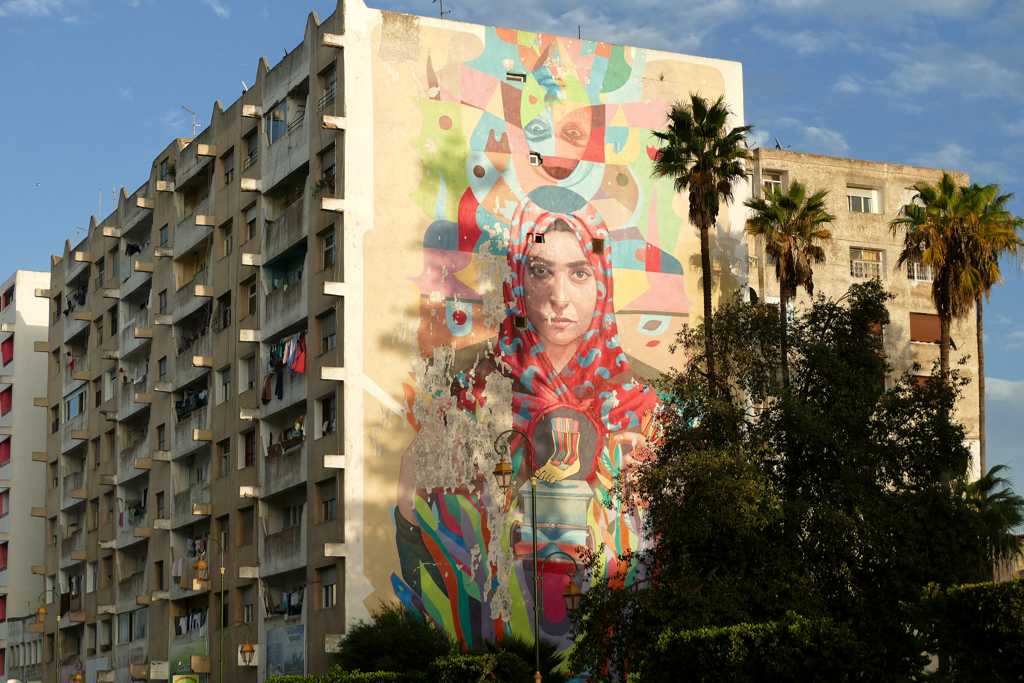 Every day when exploring Rabat after school, I spotted and photographed outstanding murals without thinking twice. Only two days before leaving the country did I go on the internet and searched for Street Art in Rabat. And there it came up, the information that Rabat is arguably one of the capitals of urban art.
Jidar Means Wall, Obviously
Actually, there has been a street art festival called Jidar, which translates to wall in Arabic, since 2015. Every year, a dozen of the world's best and most famous street artists visit the country to paint the walls in beautiful colors.
During my research, I learned that those two masked girls were painted by Colombian muralist Gleo. While he clearly stuck to his style and his favorite motifs, most of the artists that come from all over the world pay tribute to their host country Morocco by depicting traditional people'n'places from the Maghreb. Obviously, national street artists participate in the Jidar Street Art Festival, too.
Since there is so much truly grand street art in Rabat, I finally put together an entire post introducing the best of the best in chronological order from the very first edition of Jidar in 2015 until my recent visit. In the post JIDAR Street Art Festival – How Rabat Celebrates International Urban Art, I'm introducing the artists and their works, I'm linking to their Instagram accounts for more, and I'm including a map to show you where to find those amazing pieces.
Practical Information
How to Get There
Air Travel
The Rabat–Salé Airport is Rabat's international airport located in the city of Salé on the opposite bank of the river Bou Regreg. It is located about 8 kilometers east of the city center. On arrival, you'll find car rental agencies, ATMs, small shops, and other amenities.
To go to the city center of Salé, you can take a cab for 50 Dirham. The fare is 50 Dirham, no matter what cab drivers are telling you. If the first and the second driver won't take you for instance to Salé's train station for that price, a third one will. Take it from me, I've been there. It's 50 Dirham and not one Santim more.
To get to the center of Rabat, a cab ride will cost you 150 Dirhams during the day and 200 Dirhams at night. My driver picked me up at 4 a. m. to take me from Rabat's Agdal area straight to the airport and I paid 20 €uros which equals 200 Dirhams – just that you have an idea.
During the day, you can also hop on the express bus going between the airport to the central train stations Rabat Ville as well as Rabat Agdal. It costs only 25 Dirhams and should go every hour between 6 a. m. and 11 p. m.
The cheapest option, however, is the local bus #2. Nevertheless, to take it, you have to walk outside the airport to the bus station in front of the supermarket Atacadao. The ticket to the city center costs 5 Dirhams just like any other local bus ticket.
Why Should I Fly Preferably Into the Airport of Rabat-Salé?
Despite the fact that Rabat is Morocco's capital, its airport located in Salé is far less frequented than for instance those in Casablanca, Marrakech, or Agadir.
And that's exactly the reason why it's recommendable to fly into Rabat-Salé.
The process at emigration in Morocco can get annoyingly long, especially if there are various flights arriving at the same time. This hardly ever happens in Rabat since there aren't that many flights scheduled in the first place. This makes the whole procedure much faster and more relaxed for everyone.
Especially before your flight home, you save yourself a lot of time and hassle if you fly out of Rabat.

In Morocco, things are not like in Europe where you can obtain your boarding pass online and check your luggage at a self-service station and you're good to go. Nope, although you can check in online, you still need to pick up your boarding pass at the counter. Also, they thoroughly check your luggage. If you have Dirham left, you might want to change them. And again: At those big airports, there will be trizillian people needing to do just the same, hence, it will take forever.
Flying home, I had a very early outbound flight so I was more than happy that the chauffeur drove me in about fifteen minutes to the almost empty airport of Rabat-Salé where there weren't any lines and everything was fast'n'chill.
Land Routes
Train
Being Morocco's capital, Rabat can be reached by train from any larger city. There are two train stations in Rabat, Rabat-Ville in the city center and Agdal southwest of the center. Basically, all long-distance trains are calling at both stations, however, you better double-check as you are buying your ticket.
While Rabat-Ville is basically a dull construction site, the Agdal station is like a spacious mall with shops and restaurants, and all the facilities a traveller might need.
Therefore, the high-speed train TGV that goes from Casablanca to Tanger in only 2.5 hours calls also at Rabat, yet exclusively at the Agdal station.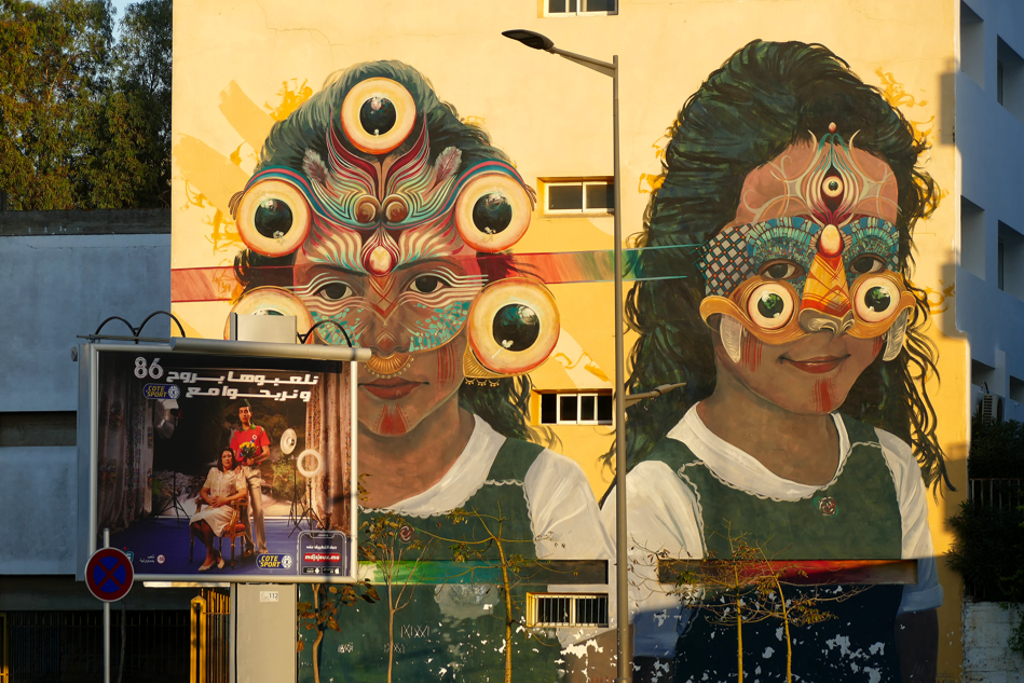 To get from Rabat to Marrakech takes less than four hours and tickets start at 140 Dirhams. Fez can be reached within three hours and tickets cost around 90 Dirhams. To Meknes, it's just a little over two hours for 70 to 90 Dirhams.
The fares quoted are for seats in the 2nd class compartments. Fares in 1st class are about a third higher than in the 2nd which is not a lot of money given how cheap tickets are.
Travelling In Style
I took the train a couple of times. The difference between 1st and 2nd classes is the size of the seats: In 1st class, three people sit in one row and have a bit more space since, in 2nd class, it's four. Also, 1st class is more climatized which in November was not really an advantage. In summer, however, this might make a truly dramatic difference.
During my trip, I did not experience even the slightest delay. Although the trains are not squeaky clean, they are okay. There is a guy selling refreshments, and assigned numbered seats in 1st, as well as 2nd class, are another convenience. All in all, travelling by train was very reliable and comfortable.
What Are Your Tips On Packing?
If you are going to Morocco, you definitely can leave your kitchen sink at home. You simply should travel light which will make your trip smoother and cheaper – at least when you are opting for one of the low-cost airlines that charge extra for basically everything.
How to pack light? That's easy: Just read my post on Packing Light – Travelling in Style and you'll be all set. Also, Morocco is a shoppers' paradise. And I'm not talking exclusively about djellabas and babouches. You'll find all kinds of international brands in the modern malls of Rabat. Hence, in the unlikely event that you've forgotten something really important, you'll be certainly able to obtain it right on the spot.
Bus
There are four long-distance bus stations in Rabat, you'll find the two most important ones on the map below.
Travellers who can afford a higher fare usually opt for the CTM bus company. It's reliable and the coaches are clean. However, the trips are about double the fare of standard local overland buses. You can check out CTM's itineraries and prices online where you can also book your trip right away.
Shared Cabs
Travelling by so-called Grands Taxis is very popular among Moroccans and a viable alternative to trains and buses also for visitors. Spots in the taxis are sold individually. Mind you they usually carry four passengers in the rear and two in the front. To have more space, you can purchase more than one seat. This being pointed out, I personally find it underlines the economic and social differences, but that's a very subjective view. Also, if you are willing to buy more places, why don't you buy a train or bus ticket right away?
There are various Grand Taxi stations in Rabat for instance in the vicinity of train and overland bus stations.
Note that these fares are regulated, hence, it's worth checking the official rates with the tourist board or another reliable source.
How to Get Around
Tram
The metro area of Rabat has a population of almost 2 million people. While most visitors spend their time in Morocco's capital mainly in the sections around the Medina, I discovered how widespread the city really is only during my hunt for urban art.
Fortunately, Rabat has an excellent system of public transport.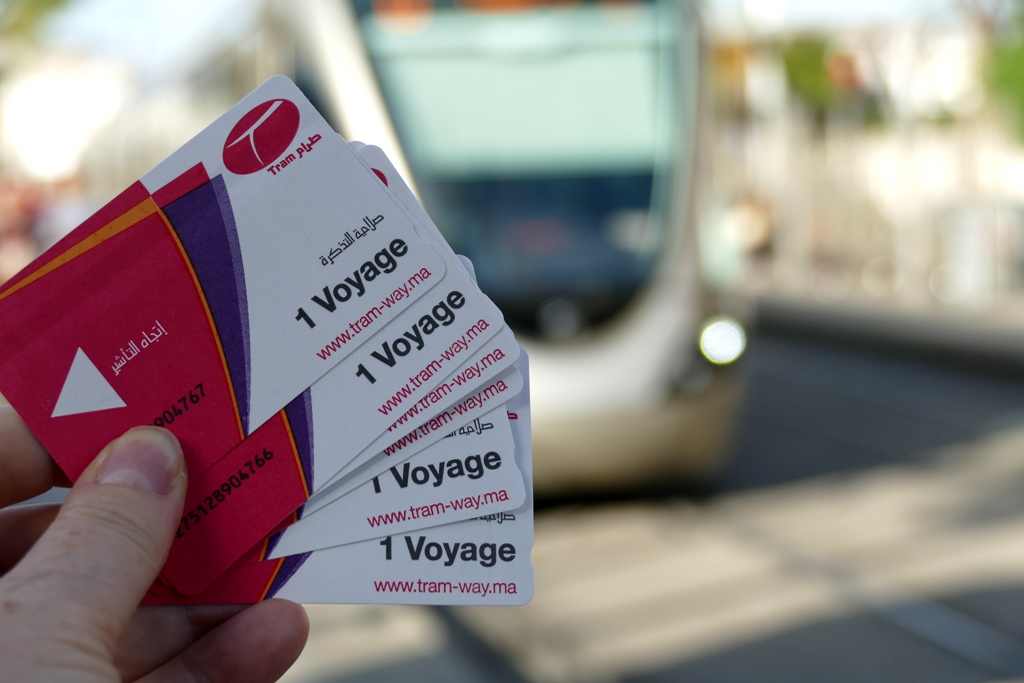 Since 2011, there is the Rabat-Salé tram system. Although there are only two lines, they cover major parts of the general points of interest. A single ride costs 6 Dirhams and you can obtain tickets either from a teller or from a machine.
I got ten tickets which didn't save me any money but lots of time. As the tram is approaching, you just want to hop on, right?
As a matter of fact, they sell only passes for at least one month, hence, for most visitors, this won't be an option.
Once you're on the train, you need to validate your ticket at one of the yellow machines. Also, there is a conductor checking people's validated tickets.
Bus, Petit, And Grand Taxi
At the first glance, Rabat's bus system seems less organized than the tram, but that's the problem in every city around the globe, I guess. But once you familiarized yourself with the system, it's actually pretty great and buses go to far more neighborhoods than the tram.
I'm not publishing the tram's system map since you can see it at every stop as well as right on the trains. Also, if you check your route on maps, google shows you the tram connections. Unfortunately and for no reason, it totally ignores the bus itineraries.
Therefore, below, you'll find the bus system map to see which bus takes you to your desired destination. In general, buses are going every couple of minutes and a single ticket costs 5 Dirhams no matter how far you go.
However, since the tram and the buses are managed by two different companies, tickets are by no means interchangeable.

Casabus, Plan bus rabat salé, CC BY-SA 4.0
Obviously, you can always take one of Rabat's blue Petit Taxis. Those are metered but sometimes the driver seems to forget this feature. Don't hesitate to remind him – right away and not only as you're close to your destination. Also, don't be surprised if he takes further people in the car.
Another option to get around Rabat is by Grand Taxi, hence, shared cab. Those travel only on designated routes and a trip costs 5 Dirhams.
Organized Trips
Due to the language school that I had to visit, I spent two weeks in Rabat – except for the weekends. In all honesty, especially if you visit also the other imperial cities, you can easily reduce your trip to Rabat to two days. While it's a very cool'n'comfortable city with many neighborhoods that have a relaxed European vibe to them, it's by far not as exotic'n'exciting as Fez or Marrakech.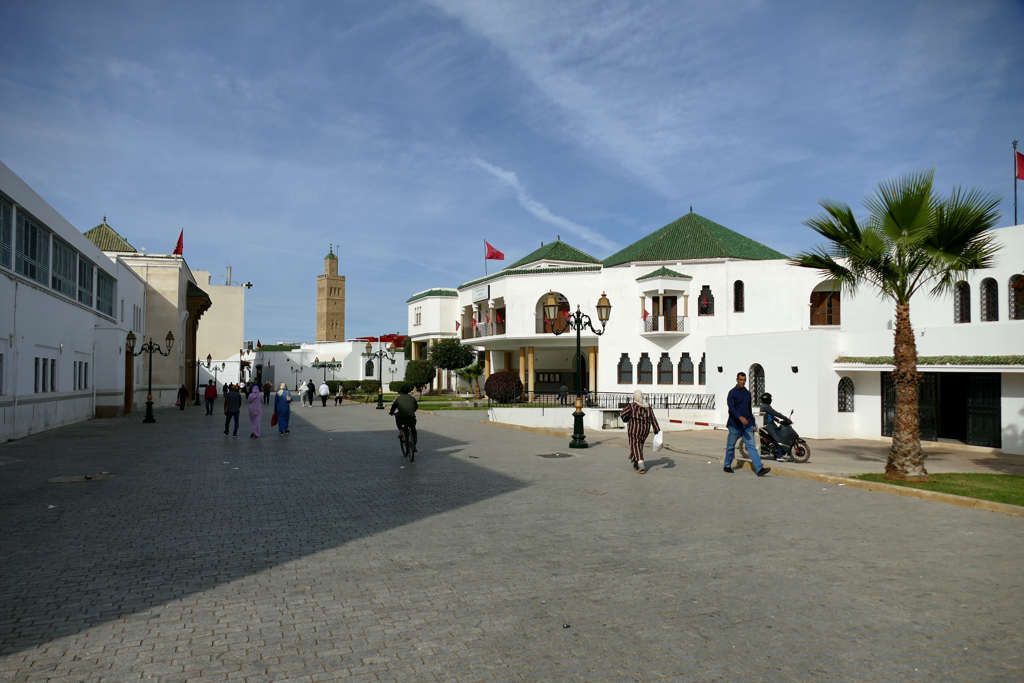 Therefore, if you have only a limited amount of time, you might want to opt for a one- or two-day trip to Rabat*:
Where to Stay
As I pointed out above, I stayed in Rabat with a Moroccan family. Since I've visited other cities during my stay in Morocco, I can still give you the general recommendation to stay rather at a so-called Riad than at a regular hotel.
Yes, Riad is also the capital of the Kingdom of Saudi Arabia. But more importantly, in Morocco, Riad is a traditional house or palace with an inner courtyard. You wouldn't expect the austere, windowless outer walls hiding lavishly decorated rooms around a courtyard. The internal space is lit and ventilated through the roofless yard. This architecture offers the inhabitants protection and privacy.
Today, many owners transform their Riads into guesthouses, conserving the original style and creating a very personal atmosphere. Staying at a Riad takes you closer to the traditional Moroccan way of life.
On this map, you can check out the availability and prices of some suitable lodging*:
Do I Need My Passport at All Times?
Landing in Morocco, you get a stamp on your passport and the officer also writes a number down. This is kind of your ID in Morocco. For instance, accommodations will need this number to check you in.
As I stayed with a family in Rabat, they didn't need this number, obviously.
Also, during my trip to Marrakech, the hosts at the Riad didn't ask for it – which was good since I had only my ID card with me and not my passport.
At the Riad in Meknes, on the other hand, they insisted on writing down the number. Luckily I had brought my passport with me.
Rule of thumb, you should definitely have your passport on you when you're planning on spending the night. It might also be necessary to have your passport on day trips as at some landmarks like for instance the Dar Al Makhzen in Rabat, they require identification to let you in and will not accept just your ID card or your driver's license. You don't need any kind of ID to purchase train tickets.
What to Eat
Moroccan cooking is influenced by various cultures. Usually, it's a mix of Arabic, Berber, Andalusian, and Mediterranean cuisines with a dash of French and Spanish food.
A big meal starts with a series of hot and cold salads, the so-called Mezze. The main course is often Tagine – whereby Tagine is the name of a clay cooking tool as well as of the dish you prepare in it. In a Tagine clay dish, couscous, potatoes, vegetables, and meat are stewed in their own juices. For the delicious oriental taste, caramelized onions, raisins, plums, almonds, boiled eggs, and pickled lemons are added.
Obviously, pork and alcoholic beverages are banned due to religious restrictions. Nevertheless, beer and wine are produced in Morocco but only enjoyed in certain bars and big international hotels. The most popular drink is mint tea.
Traditionally, Moroccans eat with their hands and use bread to get the food into their mouth. While street food stalls for instance in the souks might serve your meal the traditional way, all restaurants in Rabat will give you cutlery without even asking.
There are many nice restaurants in Rabat. One of my favorites would be Al Forno on Avenue Youssef Ben Tachfine #28. They serve – nomen est omen – Italian food but also excellent Moroccan dishes in a lovely setting at reasonable prices. Al Forno is open every day from 11 a. m. till almost midnight for lunch and dinner.
Another nice place is Café El Bahia next to the entrance to the Medina on Avenue Hassan II #4. They are open every day from 8 a. m. to 9.30 p. m. for breakfast, lunch, and dinner. While the food is very good, the waiters seem to hate their job and the customers that come with it.
Can a Female Traveller Visit Restaurants And Bars by Herself?
Particularly in a relatively modern and internationally oriented city like Rabat, definitely yes. You can go to basically every restaurant and most cafés in the company of a man, another woman, or even by yourself. You'll be treated politely and respectfully. As a matter of fact, since I had no table in the room at my guest family's home, I did all my homework at a café.
Interestingly, in contrast to other countries like Spain or Greece, not once did I feel unwelcomed at a restaurant for being a solo traveller eater. Let's hear it for Morocco!
This being said, beware that there are many tea houses frequented exclusively by men. I don't think that as a woman, you'd get openly abused there, but you would most definitely feel very much out of place. Howsoever, it's not a big loss since mostly, these men-only places aren't what we would consider cozy and cushy, anyway. And since there are many truly comfortable cafés and eateries where you can enjoy a snack and a refreshment even as a solo-travelling woman, why bother? For instance, many museums and galleries have amazing rooftop cafés where you get a complimentary panoramic view with your drink.
When it comes to alcoholic beverages, basically all places to grab a drink are hotel bars. You must decide for yourself how confident and comfortable you feel going there by yourself.
Cash, Cards, and Deals
The Moroccan Dirham is the country's official currency. It is abbreviated MAD and subdivided into 100 santimat.
The exchange rate is 1 US$ = 10.70 MAD and 1 €UR = 11.10 MAD as of January 2023. However, you can check the conversion rate to US$ on this page and to €uros on this page.
Even many small businesses and stands in the old souks accept credit cards. However, not all of them do and not everyone is happy if you pay with plastic. On the other hand, I've stayed in Riads where I had to pay cash.
In any case, you should always have cash on you. On the other hand, there are so many ATMs around that you'll have always access to some cash just in case.
Language
Although the two official languages are Arabic and Amazigh, most Moroccans are fluent in French since that's the first foreign language they teach at local schools. Also, it's Morocco's primary language of commerce and economics, culture, and sciences.
Spanish is spoken by many Moroccans, particularly in the northern regions.
I came to Morocco to brush up on my rudimentary Arabic skills at a language school in Rabat. If you happen to speak some Arabic, too, beware that Moroccan Arabic, the so-called Darija, is very different from the standard Arabic also referred to as Modern Standard Arabic (MSA) or Al Fusha. Nevertheless, Fusha – which is pronounced Fus-ha and not like Shisha – is used in books, newspapers, TV news, and political talk shows
I've found this really great App to broaden my Arabic vocabulary and practice what I've learned. It's called Lingohut and it offers an amazing choice of more than 45 languages! Hence, if you feel more comfortable communicating in French, you'll find it there, too.
However, due to international tourism, most people working in tourism and gastronomy speak quite decent English and very often also other languages such as Italian or German.
Connection and Communication
Since international roaming is still terribly expensive, you better get a Moroccan SIM card as soon as possible. You can get one for 20 Dirhams or 50 Dirhams from Inwi or one for 30 Dirhams from Maroc Telecom and Orange. They are sold either in their respective stores, at some Moroccan airports, and in many kiosks and convenience stores nationwide. Normally, you should be asked to show some ID, however, I got mine at the train station in Salé outside of Rabat no questions asked.
Obviously, you can also use free Wifi in many places in Morocco. Basically, every mall, museum, eatery, accommodation, train station, and even the tram in Rabat offers free Wifi.
In Morocco, they use plug types C and E. Their voltage is 220 V and the frequency 50 Hz. Whereby, as nowadays all these chargers have integrated adapters, the voltage and frequency don't really matter.
By the way, you'll find comprehensive travel info in my post World's Most Complete Travel Information – an indispensable globetrotter-classic.
Rabat was only one of the four imperial cities of Morocco that I visited. To read about the others, go to this post and take your pick!
Map
On this map, you can see where all the places I'm introducing in this post are located.
Clicking on the slider symbol at the top left or the full-screen icon at the top right will display the whole map including the legend.
Pinnable Pictures
If you choose to pin this post for later, please use one of these pictures:
Did You Enjoy This Post? Then You Might Like Also These:
* This is an affiliate link. If you book through this page, not only do you get the best deal. I also get a small commission that helps me run this blog. Thank you so much for supporting me!