An important part of Korean culture is the so-called Jjimjilbang. A Jjimjilbang is a public bathhouse consisting of traditional saunas and pools. The latter are not used to cleanse the body; this should be done thoroughly before entering the thermal pool. The Jjimjilbang's facilities are designed for leisure and relaxation. Therefore, it is unsurprising that some establishments even allow customers to sleep there overnight. When visiting a traditional Korean bathhouse, certain procedures are expected, and strict rules must be followed. In this post, I have put together everything you need to know when visiting a Korean Spa so that you don't make any mistakes even as a first-time visitor.
Best Thing to Do on a Rainy Day
Grey clouds, cold wind, pouring rain? What a great opportunity to visit a real Korean SPA, a so-called Jjimjilbang!
I had already read a few things before my trip, but my very first visit still felt like a test of courage. Standing there like a clueless idiot and not understanding anything is embarrassing. Yet, being a butt-naked, clueless idiot is even more humiliating. As I had left my comfort zone several times during my trip to Korea, I dropped my pants – literally – and went head over heels for yet another adventure.
My initiation visit to a Mogyoktang was in Andong. If there hadn't been a sign, I would never have thought there could be an SPA in this inconspicuous building around the corner from my hotel.
I entered hesitantly.
Sitting behind a dark reception desk was a young man, practically still a teenager. When he saw me, he hectically gesticulated.
What?
"Shoes, shoes," the young man shouted, pointing to my feet.
Oh, I should have taken my shoes off already as I entered the building, got it! However, what an embarrassing start.
To visit the SPA, I would have to pay 10,000 ₩on – just 7 €uros and therefore a third of my sauna visits in Germany. Quite a bargain.
First, I had to lock my shoes in a small box. In exchange for the shoe locker key, the teenager handed me a key to a locker.
Then, he sent me off to the ladies' area on the third floor.
My First
I had seen Korean SPAs on YouTube, and they were all pretty posh. The changing room, or better undressing room, that I now entered had absolutely nothing in common with the glitz and glamour. A grumpy-looking old woman sat on a bench and watched TV. There were long rows of simple lockers. I looked for number 82, took off my clothes, and locked them in. "Excuse me, where is the shower?" I asked, miming soaping myself in an imaginary shower. The lady watching TV rolled her eyes dismissively and pointed wordlessly at a large glass door without even looking at me. I hesitantly opened the fogged door and peeked inside. Ah, so there was no separate shower area. Showering and soaking and sweating all took place in one single room. Got it.
There were about six shower heads in the wall to the right of the glass door. Also, there were four times as many showers attached to very low rows of tiled tables. Some women sat on tiny plastic stools in front of these tables. Equipped with plastic bowls, soaps, washcloths, and sponges, they were scrubbing themselves clean. As they sat there on the minuscule chairs in front of the miniature tables, they looked like Snow White who had ended up in the Seven Dwarfs' SPA.
To the left of the entrance door was an area that was rather symbolically separated by a few screens. Two women in black panties and bras scrubbed and massaged their customers' naked bodies.
On a large shelf in front of the screens were colorful plastic baskets jam-full with shower gels, shampoos, sponges, and other accessories. Obviously, the other visitors were regulars who stored their toiletries and accessories here for frequent visits.
Wet'N'Wild
I wasn't a regular. Hence, my travel-sized toiletries were in a small pouch that I sheepishly placed in a corner. I avoided looking around too curiously. Play it cool, girl, I said to myself as I soaped myself up in the shower. Act like you've been here a hundred times before, I ordered myself as I shampooed my hair.
Scrubbed clean, I warily climbed into one of the six water basins where four other women were floating and chatting. The water was of a quite high temperature. Definitely pleasant. In the adjacent pool that was filled with ice-cold water, a woman was jogging in place.
By pressing a button, one of the ladies in my pool had turned on some jacuzzi jets that now massaged her back. Awesome, I had to try that, too. I sat down in a nook and pressed a button. Two powerful water jets hit the musculature to the right and left of my spine. Wow, what a treat! I pushed and turned my body back and forth to allow the water jets to massage my entire body. As the jets stopped, I joined the lady in the ice-cold pool. She was still running in the same spot.
After staying in the sauna cabin for some time, I repeated the process – hot pool, cold pool, sauna, cold shower. After about two hours, my body felt like soft rubber. I was so relaxed that I wondered how I was going to make it the hundred meters back to my hotel.
In exchange for the locker key, the young man gave me the shoe cabinet key. Now I was no longer a rookie, so I slipped into my Birkenstocks only at the doorstep and headed to the hotel.
It was still raining.
I had definitely made the most of this dull afternoon.
Sanitas Per Aquas
Apart from the shoe mishap at the beginning, I didn't do anything wrong on my first SPA visit. At least I wasn't laughed at or insulted, so it must have been somewhat okay.
However, it must be said that not all SPAs are the same. Normally, there is a wet area called Mogyoktang where you are completely naked, separated by gender. Then, there is also a dry area that both sexes use together. It consists of saunas, relaxation areas, gaming stations, cafeterias, and other facilities. In these areas, you have to wear a set of clothing the SPA provides. In Andong, however, they had only a Mogyoktang. But I spent another rainy afternoon at the Insandong SPA in Seoul where the Jjimjilbang had a Mogyoktang as well as a communal section.
However, I have to make one thing clear: I live in Germany where you go to the sauna completely naked. Yes, nude men and women sweat together. This is absolutely shocking for some foreigners, but in Germany, it is absolutely normal. Let me tell you: At 90 degrees Celsius, all lewd thoughts evaporate. For this reason, it didn't take me at all to get used to walking around stark naked in an SPA – especially since, as I said, in Korea they are segregated by gender anyway.
Dress to Impress Sweat
On the contrary, as much as I enjoyed the wet area, I found the dry saunas unbearable. Like I said, I'm used to sitting naked on a towel. As I sweat, the sweat runs down my body into the towel. After coming from the heat, I can immediately rush under an ice-cold shower.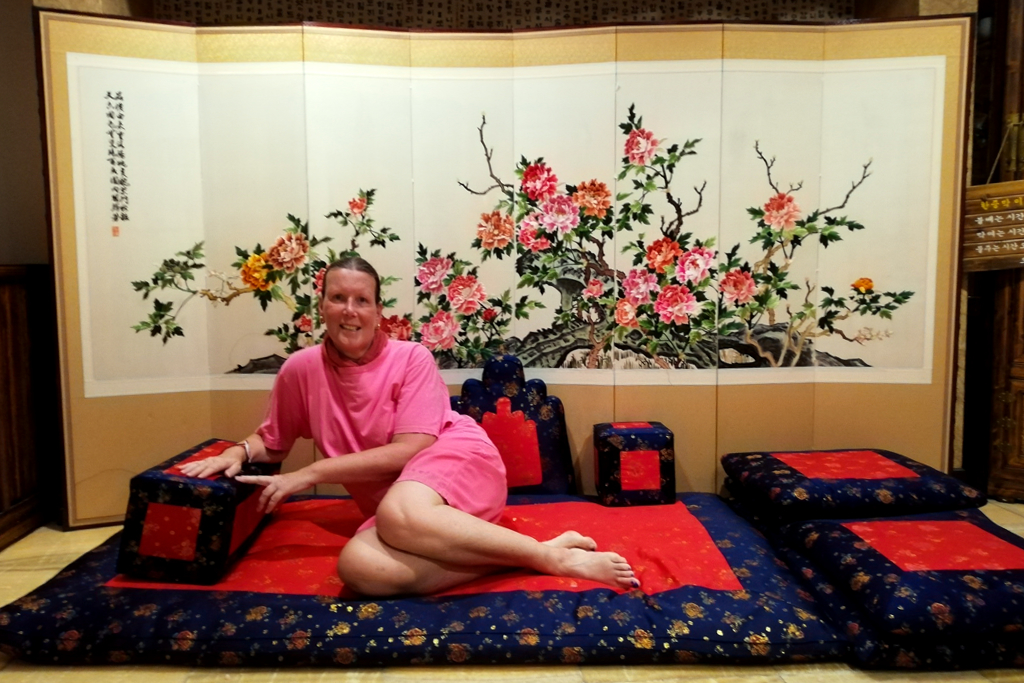 In Korea, along with two tiny towels, you get a sauna outfit. This consists of shorts and a T-shirt made of thick, sturdy cotton. You have to wear this all the time in the common area, including in the sauna cabins.
In the so-called Bulgama sauna, the hot air accumulates under the solid fabric. As you sweat, the sweat soaks your sauna clothes. They stick, they're uncomfortable. When you come out of the sauna, your sweaty apparel clings to your body. To take a shower, you have to laboriously peel off the wet pajamas. If you want to go back into the Bulgama after a while, you have to put your sweat-soaked clothes back on.
As I said, as great as I thought the wet area was, I couldn't really get used to the concept of the dry area, I'm sorry.
Same Same But Different
The two SPAs I visited were quite different. And they were again different from those I've seen on YouTube.
Not only was there no dry sauna in Andong. There was no real relaxation room, either. I really missed that because I would have liked to rest a little between the sauna sessions.
I had also heard that the SPAs had a kind of cafeteria where you could buy drinks and snacks. This wasn't available in either of the SPAs I visited. Yet, there were water dispensers. Therefore, I would definitely recommend bringing plenty of water or another non-alcoholic beverage of your choice with you as well as some light snacks. But make sure to pack snacks that don't have a strong smell.
At least in the Insandong SPA were body wash, lotion, facial tissues, and hairbrushes at the visitors' disposal. However, I brought my own toiletries including a facial mask and some deep conditioner for my hair. I was also happy to have my own towels with me because the ones you get on-site are the size of a guest towel.
As you enter a Jjimjilbang, you'll get a wristband which is the key for your locker. But it's much more: All the toiletries, snacks, drinks, or services you get, will be charged on a chip in your wristband. You then pay your total at the exit. This way, you can comfortably consume whatever you want and don't need to carry your piggy bank around.
Hanjeungmak And Bulgama
Typically, there are two kinds of dry saunas in the communal area. Both are heated dome-shaped chambers, and you have to enter these so-called Kilns through small, low doors. It feels a bit like crawling into an oven.
There are so-called Hanjeungmak Kilns with relatively low temperatures not higher than 50° Celsius. Their insides are often plastered with jade powder, salt, or other minerals. The Hanjeungmak is for relaxation, and you can basically stay in there as long as you like.
Then, there is the so-called Bulgama Kiln which is very dry and intensely hot. Traditionally, pine wood heats the stone walls. Due to the high heat, you probably won't last very long in there. Apparently, you're not supposed to stay in there for a long time, but to go a couple of times in a row.
Either way, the inside temperature of the Kilns is marked next to the entrance.
Baby, It's Cold Outside
While there's definitely a social element to the visit of a Korean SPA, it's not a party. You are allowed to talk, but keep your chatter to a minimum and speak in a low voice. The whole procedure is meant to be relaxing and rejuvenating.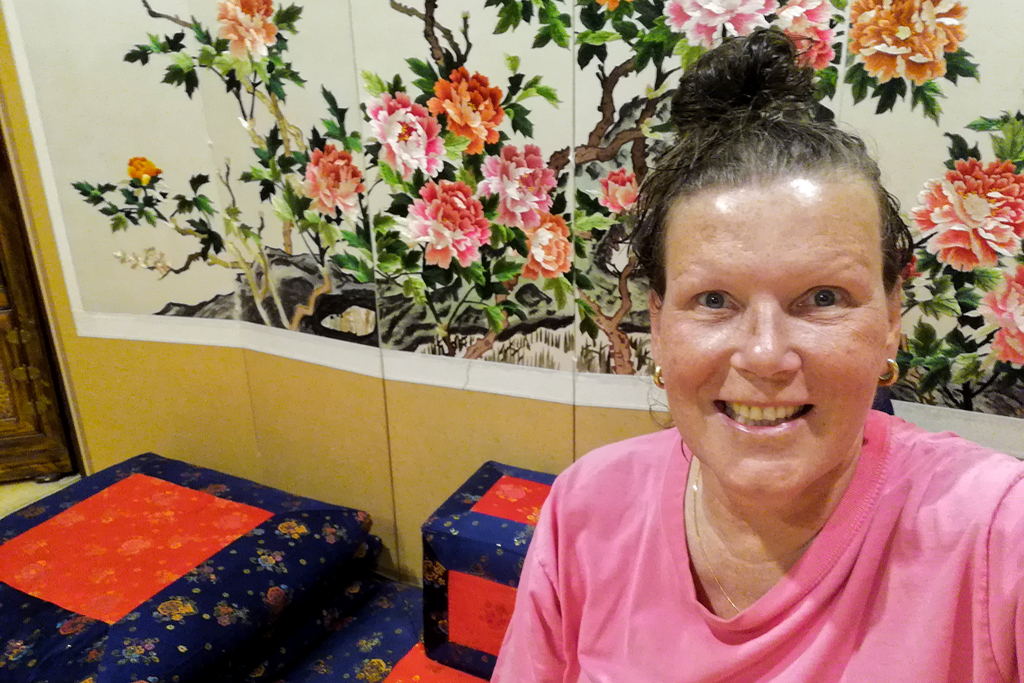 As many Jjimjilbangs are open at all hours, they are a popular getaway for South Korean families. Normally, kids up to seven years do not have to stick to gender segregation, however, in some SPAs, little girls are not allowed in the men's area while little boys can go into the women's section.
Some Jjimjilbangs allow customers to sleep there overnight. They have relaxation rooms where mostly men, particularly those who work away from their families or stay out late working, often spend the night instead of going to a hotel.
By the way, much to my disdain, the SPAs and saunas in Korean hotels are reserved exclusively for men. Korea, you have to make improvements here and arrive in the 21st century!
What to Bring
What you really need to bring is the willingness to adapt and embrace a new experience. Everything else – namely your birthday suit – you'll have automatically on you.
However, as you are requested to enter the basins not only naked but also squeaky clean, you might want to bring at least your own soap or body wash and shampoo. Many Koreans also brush their teeth before entering the pools. All your other toiletries might add to the rejuvenating experience but are totally optional.
As you are supplied with two small towels and a short-shirt-combo for the dry zone, you do not need to bring your own towel. This being said, I find those tiny towels rather useless so I brought my own large towels with me. But this, too, is just optional.
As a SPA is a place where you should unwind and relax, you might want to bring a nice read. For inspiration, check out my tips on Korean literature at the end of my post Best And Most Beautiful Bookstores in Seoul.
While in German saunas mobile phones are strictly banned, in Korean SPAs, they don't seem to be so rigid. In Andong, I even saw a lady reading something on her phone right in a hot sauna cabin. As a matter of fact, I was rather worried about the damage the heat'n'humidity might cause to her appliance than about her taking creepy pictures.
As I said, the SPA in Andong appeared to be a kind of communal bath where everybody seemed to know each other. Therefore, I'm not so sure if the other women would have taken it so well if I had pulled out my phone, too.
Where to Go
In Andong, I visited Onaencheong Spa Land at 141-26 Unheung-dong. It is open around the clock and the basic entrance fee is KR₩ 10,000
In Seoul, I went to the Insadong SPA And Sauna. It is located at 65-1 Unni-don just south of the Changdeoggung Palace. They are open every day from 5 a.m. to 9 p.m. The basic entrance fee is KR₩ 13,000, however, they offer many treatments like scrubs and massages at an additional fee, obviously.
Visiting the Korean SPAs was only one of many amazing activities during my stays in Andong respectively Seoul. To read about what else I enjoyed doing, just hop over to my posts How to Experience the Folk Heritage of Korea in ANDONG and Best Things to Do in SEOUL: The Must-Dos And the Hidden Gems.
However, these were only two of many fantastic destinations I got to see during my tour of South Korea. Check them all out in my post Grand Tour of SOUTH KOREA – A Guide for Individual First-Time Visitors.
There, you'll also find valuable general information that will make your trip smoother and much more enjoyable.
Pinnable Pictures
If you choose to pin this post for later, please use one of these pictures:
Did You Enjoy This Post? Then You Might Like Also These: