Santa Marta is a wonderful, spectacularly unspectacular place.
The perfect place for those who don't suffer from FOMO but are very well able to observe and enjoy the small things of truly Colombian life.
I chose Santa Marta mainly for its proximity to Parque Tayrona. But also because it's on the coast and I wanted to spend a couple of days on the beach.
Doing The Maths
Amazingly, Santa Marta is a town with the perfect locals-traveler-ratio: Some foreigners so that people don't stare at you with their mouths open as if the circus got into town.
But few enough so that life goes on undisturbed by their presence.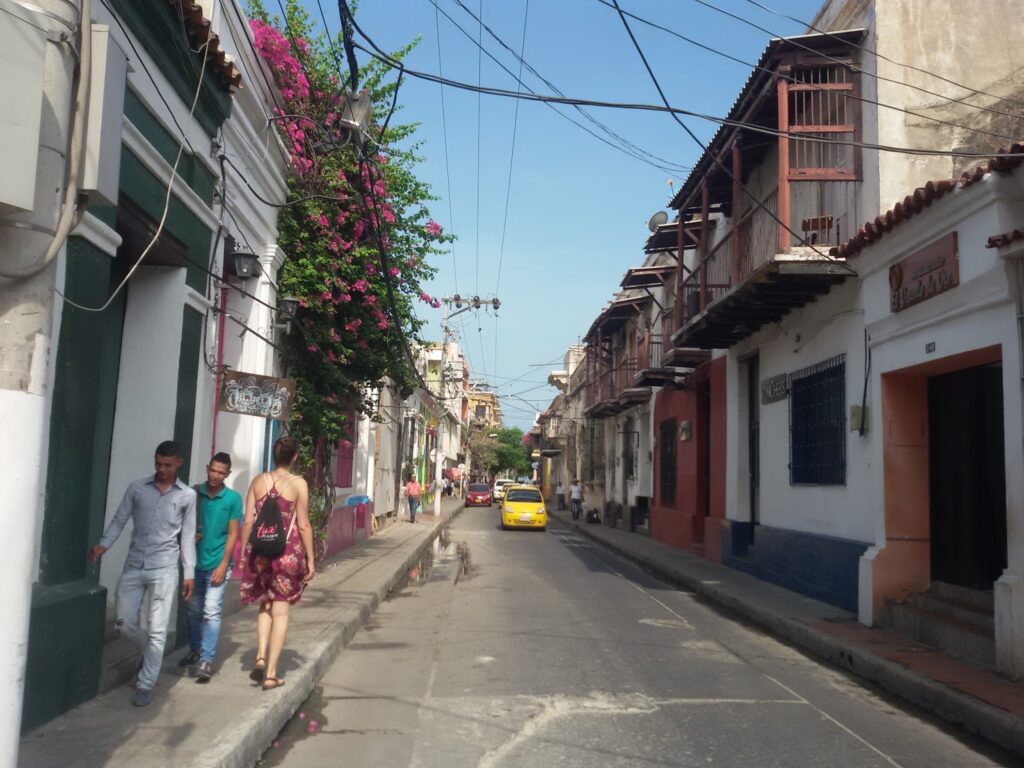 That gives you the chance to blend in as an alien. And when you're respectful and well-behaved, you might even befriend people, and that's very enriching.
I travel to meet, greet, and learn.
As soon as the number of travellers goes too high, you cannot just fit in anymore.
You become part of a group that changes things; and mostly not for the better.
Restaurants and bars switch their menu from local food to this global fusion-vegan-organic stuff, which is certainly healthier than cornbread and pork belly, but offered at quite high prices and for local people hardly affordable.
Same with stores that start to sell things foreigners might like at prices only they can afford.
This is exactly what I saw happening in Salento and, most of all, in Cartagena. The entire range of services and goods was adapted to tourism. I don't know where local people do their grocery shopping.
While in other places people were super-friendly and curious and greeted us Bienvenidas en Colombia, in those tourist spots, they were completely oblivious and a tad rude.
Don't get me wrong, I understand that and do not blame them at all. It's just that a place like this – no matter how enchanting – loses part of its charm.
Quit Dreaming, This Is Real Life
However, since Santa Marta is an average Colombian city, there is also average Colombian poverty which for Europeans can be quite shocking.
Those who can somehow afford it, try to offer some kind of service instead of begging to make a couple of pesos. Or they try to sell more or less desirable goods like really horrible, cheap candy that I bought this morning from a young woman with a little daughter and a baby.
Of course, you always pay far more than it's worth. Notwithstanding the fact that I didn't have a craving for horrible, cheap candy in the first place.
It's truly moving how the folks at the end of the food chain look out for each other. Like the slightly less poor water seller that traded her a pack of water for two horrible, cheap candies, so that the lady could give her daughter something to drink. This solidarity is touching. And somehow shaming.
Muerte En Hawaii 2.0
The other evening we witnessed the sweetest gesture ever.
There is this kid walking around with a boombox singing mostly Muerte en Hawaii by Calle13 and sometimes a song by Arcángel which is a bit lame. However, according to his base cap and the writing on the boombox, the kid is a huge Arcángel fan, so what the heck?
So the other evening we were having pizza at a nice place on the Malecon when the kid showed up with his boombox and a homie in tow. He sang Muerte en Hawaii, we were delighted, gave him a far too fat tip.
I didn't feel comfortable tipping and thus encouraging him, anyway. I find he should study and become a doctor instead of rapping at restaurants. Mimi said, in this case, I should tip him with an exercise book. Haha, she's just trying to be funny!
By the way, considering his cool, clean clothes and the boombox, I don't even have the impression that he does his singing because he needs the money to survive. He rather seems to be practicing for his great hip-hop career.
So as the Muerte song was over and the gratuities collected, the kids left, and by chance, we left at the same time.
He and his homie walked in front of us, the beat booming from the box, we followed behind, it was a little like a very, very short techno love parade.
Your Parents Should Be So Proud!
At the entrance of an abandoned store was a homeless man sitting, cheering at the two rascals.
The kids had already passed him by when they said something to each other, seemed to agree on it, and then the future hip hop star went back and gave the homeless some of the money he had just collected from his fans.
He shared.
Just like that.
How many kids do you know that would do something like that?
This is Colombia! This is Santa Marta!
Life Is A Beach…Not
After I've told you so many good things about Colombia and its people, I finally need to mention the – in my humble opinion – weak spot, which is the beaches.
I don't get how people can praise Colombian beaches. To me, they are the worst. They are messy and dirty. Some of them don't even have real sand but some dust and dirt on rocky ground.
Seriously, Colombia is great, but don't come here for a beach vacation.
Of course, I haven't been to every single beach here, but those that I've seen range from ok – like Parque Tayrona, Palomino, and Rodadero – to dreadful.
Here are my top 5 of the worst ones, whereby No. 1 takes the cake to be the worst beach I've seen in my entire life:
5. Cartagena
4. Santa Marta
3. Playa Grande/Taganga
2. Taganga
1. Playa Blanca/Isla de Barú
But in about 20 minutes by cab or bus you can get from Santa Marta to Rodadero, and the beach there is quite ok and the water is pretty clean.
We were particularly pleased that they have pedal boats and not these ocean-killing jet skis; let's hear it for Rodadero!
Leaving Santa Marta
We came to Santa Marta for various reasons. First of all, I wanted to spend more time in a beach destination. Well, Santa Marta has a city beach, but it's really not great – and located irritatingly close to the harbor.
But Santa Marta is a gateway to the beach in Rodadero and that's pretty nice. You can get there in 20 minutes by cab or bus and have a truly pleasant vacation experience.
Then, hiking tours to the mystic Ciudad Perdida hidden somewhere deep in the Sierra Nevada start at Santa Marta. And the city is also a hub for other fantastic places along the Caribbean coast – just 45 minutes from Minca, an hour from Parque Tayrona, and two hours from Palomino – all reachable by local buses.
That was the other reason why we picked Santa Marta as our alternative Caribbean destination after Cartagena.
Not Leaving Santa Marta
Yes, if you insist, you can visit some landmarks such as the Tairona Gold Museum. Or La Quinta de Bolívar, the house where the Venezuela-born freedom fighter used to live, located just a stone's throw away from the Quinta de San Pedro Alejandrino, the place where this South American hero died at only 47 from tuberculosis.
Finally, there is also the Museo Bolivariano de Arte Contemporáneo, the Museum of Contemporary Art in the vicinity.
These places are about five miles from the center, in Santa Marta's eastern outskirts, close to the Universidad del Magdalena.
But actually, this is not what Santa Marta is all about.
It's about the unspectacular yet pretty side streets.
It's about the lovely squares where you won't awe at impressive statues, but observe how Colombians pursue their daily tasks or meet up after the day's work is done.
It's about strolling along the promenade or checking out the big shopping streets.
¡Es la vida!
The Hip Side of Santa Marta
Nonetheless, there is a small neighborhood that could be called hip and trendy. It's the Carrera 3.
Here, you'll find stylish restaurants and bars designed mainly for visitors and young local crowds from the university nearby. Also, some of Santa Marta's coolest street art can be admired in this area.
Actually, it's a good place in particular if you are longing for some fresh, healthy – and meat-free – food: All the restaurants have at least a couple of valid vegetarian or even vegan choices and prepare wonderful juices, shakes, and smoothies from fresh fruits.
At night, this street is a bit more animated than the bars around the Parque de Los Novios.
Practical Information
How to Get There
By Plane
Surprisingly, Santa Marta's Simón Bolívar International Airport is one of the most important airports in Colombia. There are domestic flights for instance to Cali, Medellin, and, obviously, Bogotá.
The airport is approximately 17 kilometers southwest of the city center. Cabs charge a fixed fare of 26,000 pesos, however, to Taganga, it's 38,000 pesos. In addition, there is a surcharge of 700 pesos on weekends and holidays and of 1,000 pesos at night after 8 p. m.
However, there is an inexpensive local bus service available from the airport to downtown Santa Marta.
By Bus
Going from Cartagena to Barranquilla, Santa Marta, and Parque Tayrona by the marsol bus company is a very good option since it's a convenient door-to-door service.
However, there are also various public buses – actually, Santa Marta is one of the major hubs on Colombia's Caribbean coast.
The public bus to Parque Tayrona leaves at the stop next to the Central Market on Calle 10 with Carrera 9 where any cab takes you for as little as US$1. Here, you have to catch the local public bus towards La Guajira.
How to Get Around
Cabs in Santa Marta are quite cheap so it's not worth it to wait for hours for the public bus. However, normally, public buses are plenty so you really have the choice and will never have a problem getting even to Taganga or Rodadero.
Best place to sleep
Staying somewhere around the Parque de Los Novios is your best option. You reach every point of interest within minutes. And even if not, there are cabs waiting in front of the big supermarket 'Éxito' on Carrera 5 that bring you everywhere you wanna go for a couple of pesos.
We stayed at the rather quirky Hotel del Parque which is rather a guest house. The owner was shockingly unprofessional but very kind. However, they don't offer it on hotel sites anymore – and I can imagine why.
Therefore, here is a good choice of places for all budgets*:
Best Place to Eat
As I mentioned above, many of the restaurants on Carrera 3 are catering to the health-conscious crowd by serving light, fresh snacks.
The café and bar Lulo is the most personable one – due to the service and since it's not pretentious at all.
They have a variety of fantastic breakfast options with lots of vegetarian alternatives. Refreshing natural fruit juices and smoothies full of vitamins and excellent coffee.
In comparison to traditional Colombian restaurants, they are not exactly cheap, but you actually get what you pay for: Good food.
Lulo Bar
Carrera 3 16-34
Callejon del Correo
Santa Marta,
Phone: + 57 – 5 – 423 27 25
Santa Marta was only one of many beautiful places I've visited in Colombia. To read about the others, go to the main post and take your pick! There you'll also find valuable general information that will make your trip smoother.
What to Do
I'm an avid solo-travelling woman. Since solo travel doesn't equal solitude, I love to join organized tours here and there. They allow me to meet fellow travellers – for just a short moment or a lifelong friendship.
Therefore, here are some great ideas of what to do during your stay in Santa Marta. Especially if you have only a short time to stay, they'll enable you to explore the city and its outskirts in a comfortable and safe way*:
Pinnable Pictures
If you choose to pin this post for later, please use one of these pictures: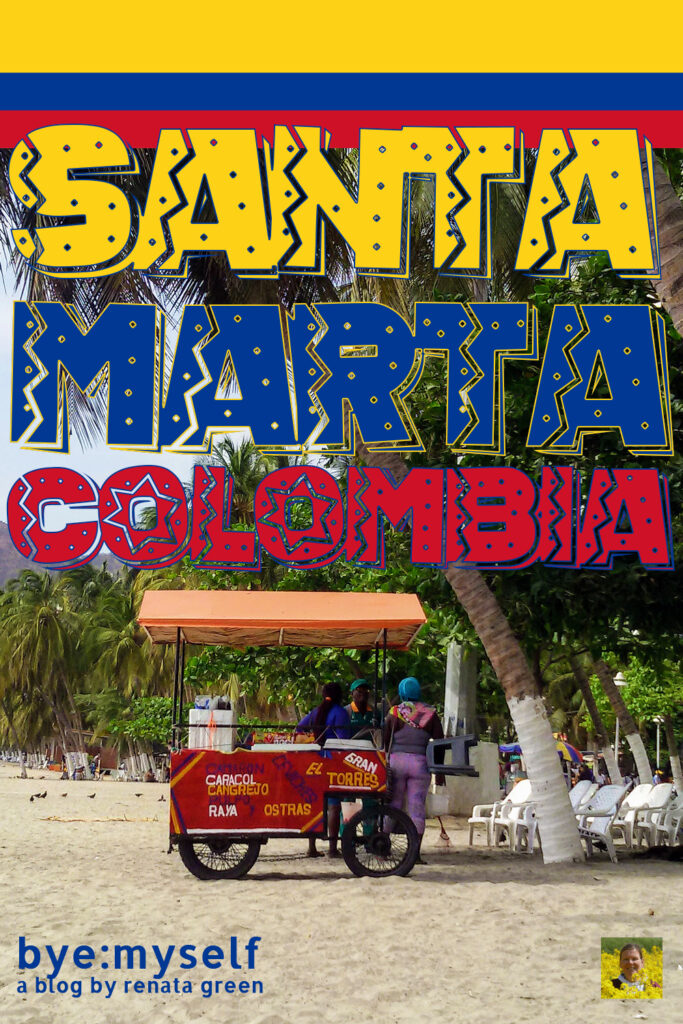 Note: This post is being regularly completed, edited, and updated – last in November 2022.
Did You Enjoy This Post? Then You Might Like Also These:
* This is an affiliate link. If you book through this page, not only do you get the best deal. I also get a small commission that helps me run this blog. Thank you so much for supporting me!