There are dreamy canals and cute house gables. They have some of the most famous art museums and far more bikes than people: All this is Amsterdam, the quaint'n'quirky capital of the Netherlands. But the city is also famous for some of Europe's most vibrant urban art. Some of the best pieces were created during the street art project If Walls Could Speak in the otherwise uneventful Eastside of Amsterdam.
In this post, I'm guiding you to the murals that were created on the walls alongside Platanenweg. So tie your trainers, polish your camera's lens, and just follow me.
Street Art in Amsterdam From the Beginning
There aren't just a couple of terms that can define street art in all its shapes and forms. Drawing, painting, and engraving on walls go way back to the cavemen, to the era of the Pyramids in Giza, and the Roman Empire. Strictly speaking, that's the root and cradle of today's urban art.
In Amsterdam, just like in other European cities, contemporary street art began with graffiti by punks and later by hip-hoppers in the 1980s. Gallery owner Yaki Kornblit was a pioneer when he organized street art exhibitions featuring graffiti artists from New York. This increased the acceptance of murals as a cherishable art form and liberated them from the stigma of vandalism. Following their American fellow artists, Dutch sprayers and painters developed a bright'n'bold styles.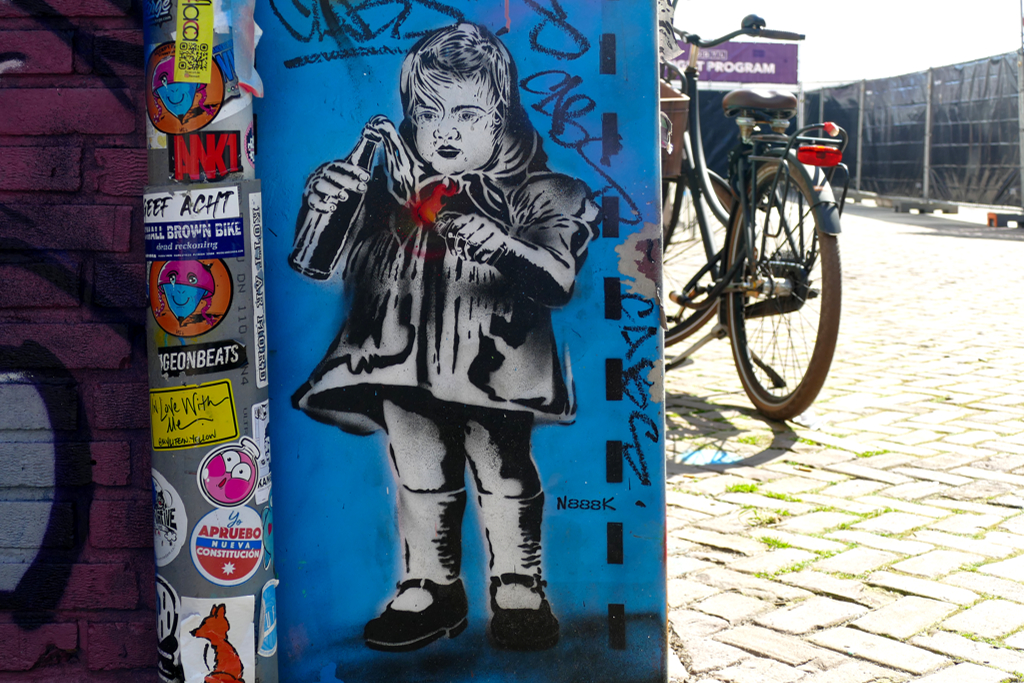 Amsterdam is a bit divided when it comes to street art. On the one hand, it's a very established art form that underlines the city's cool image. Instead of showing them the old masters at the Rijksmuseum, hip parents are taking their offspring to the MOCA where they can take selfies in front of a work by the unavoidable Banksy. Or they take a ferry across the IJ to visit the STRAAT Streetart Museum. Street art in a museum – sounds quite lame paradoxical to me.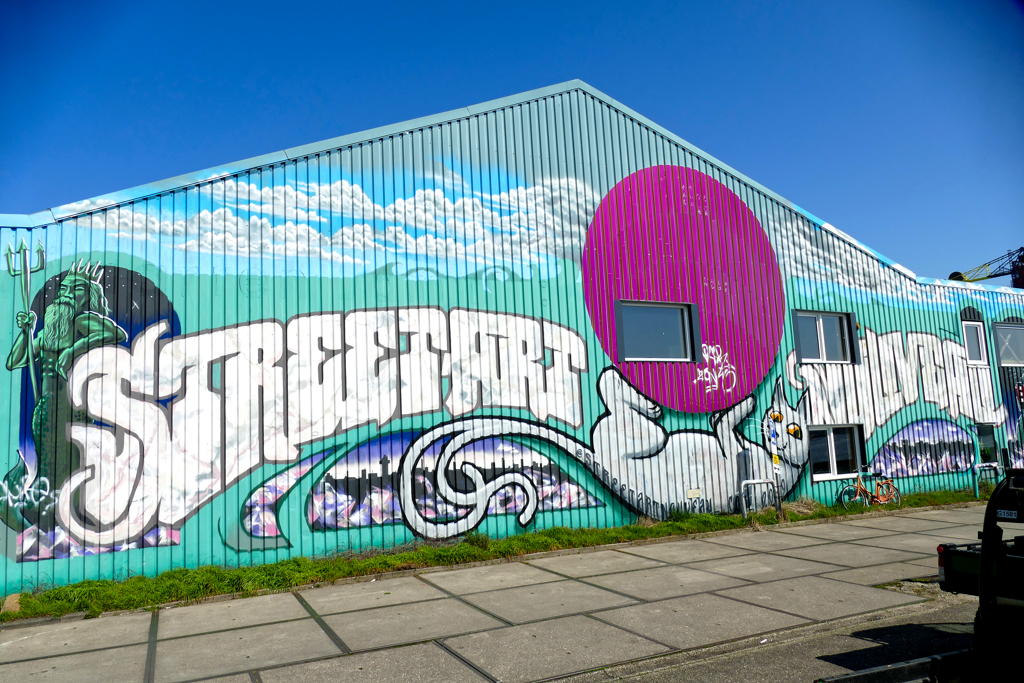 However, you'll spot artistic murals as well as quirky and provocative paintings all over the city. But since urban art is often used to upgrade rather dull neighborhoods, you'll need to leave the very center in your hunt for the best street art projects.
And this is where ASA – Amsterdam Street Art with their project If Walls Could Speak comes in.
ASA – Amsterdam Street Art
A group of creative street art lovers installed the Amsterdam Street Art Foundation ASA in 2010. Over the years, ASA became a forum that promotes street art through exhibitions, fairs, and projects. Also, they operate as an agency connecting artists and commissioners. This way, they increase the acceptance of street art as an art form. Finally, it gets the recognition it deserves.
ASA invites artists from around the world to create murals in the Netherlands. At the same time, they arrange gigs for Dutch urban artists in other countries. This way, they are operating as an agency by commissioning designated walls and organizing events and projects to support artists.
If Walls Could Speak
One of ASA's most impressive projects was the festival If Walls Could Speak in 2019. In cooperation with the housing company Stadgenoot, five blocks at the Platanenweg in the Eastside of Amsterdam were decorated by ten huge murals. Each of them is 10 times 15 meters large and was created by internationally famous muralists. This is one of Stadgenoot's measures to create a sustainable, creative, social, and safe living environment – in short: a home – for its tenants.
The Artists
In this post, I'm introducing the artists who participated in the street art project If Walls Could Speak and, obviously, their respective contributions.
Also, I've added a list of the Instagram accounts of all artists featured in this post. This way, you can enjoy more of their work straight from your lazy chair.
Below, I'm presenting all the western façades of the house blocks from north to south and go then on the eastern side in the opposite direction.
KASH & CHUCK
As I'm introducing this amazing open-air gallery starting at the northwest corner of the block on Platanenweg, I begin with a work by the Dutch sprayers Friso Kasher aka KASH and Peter Meijn aka CHUCK. Both started spraying artful tags many years ago. Therefore, they insisted on creating a mural that also included the traditional art of graffiti. Well, the result proves them right: Under the title Het Wapen van Verbroedering, which translates as The Coat of Arms of Fraternization, the duo created the world's largest emblem.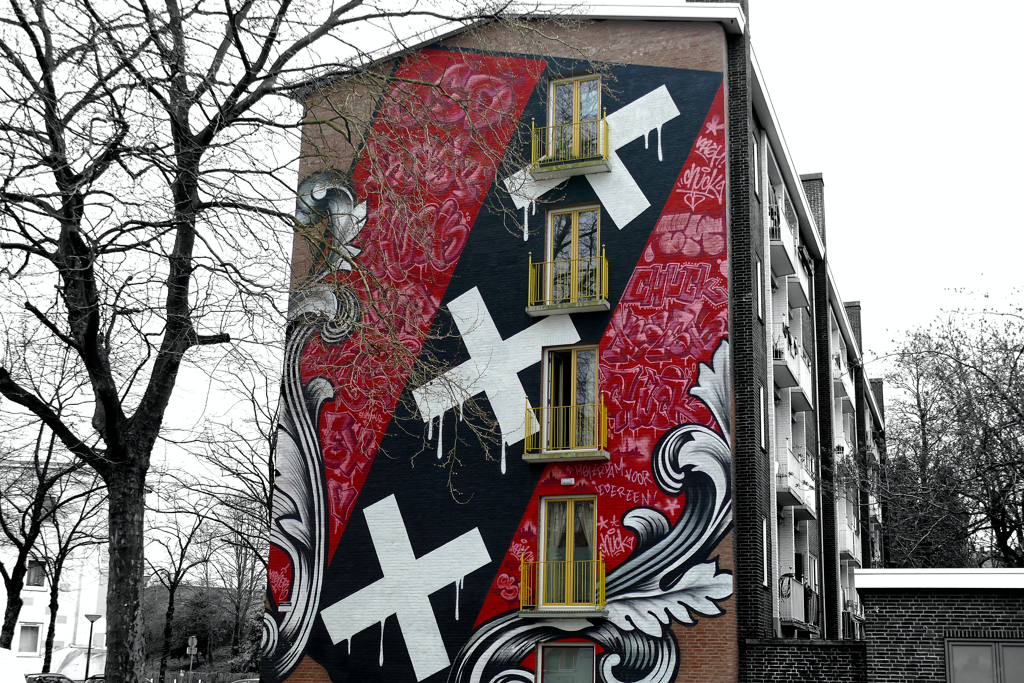 On a red ground covered by tags, they placed three white crosses on a black sash. These crosses refer to the three dangers medieval Amsterdam had to overcome: Floods, fire, and the so-called black death, hence, the plague.
HERA of Herakut
Hera is one of the very few female muralists that gained international fame in the world of urban art. Born Jasmin Siddiqui in Frankfurt to a Pakistani father and a German mother in 1981, she had to cope with prejudice. As an outlet for her frustration with this narrow-mindedness, she began to create her own universe by painting on drab walls.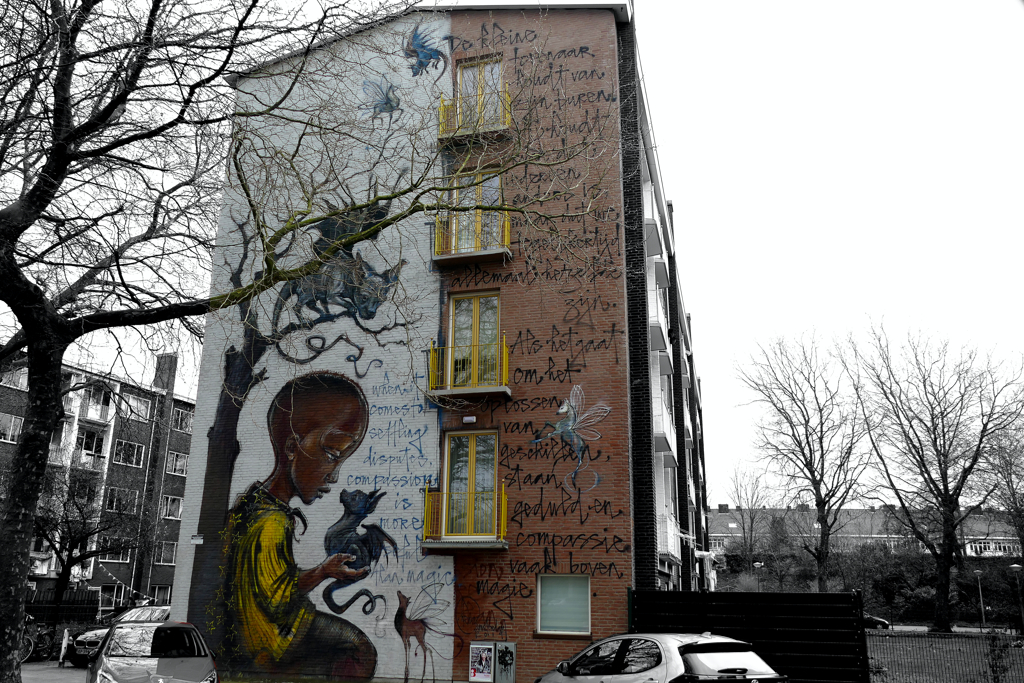 She chose her nom de plume paintbrush Hera, the name of the Greek goddess, to underline her affiliation with her then-boyfriend who sprayed under the pseudonym Zeus. However, today, this pseudonym stands for a confident female artist in a still male-dominated art genre.
In 2014, she merged her alias with artist Akut into Herakut. Akut is the German urban artist Falk Lehmann. Their art is based on social and humanitarian ideas'n'ideals. Therefore, about half of their creations are committed to charitable causes such as shelters for abused children and refugee camps, to name just two.
I've introduced Hera as a solo artist as well as the duo Herakut already in former posts on street art in Berlin and Hamburg.
Sjem Bakkus and IVES.one
Daan Dirven aka Sjem Bakkus is known for his expressive compositions in bold colors. He takes the audience on a rollercoaster ride through fiction and reality and encourages them to look further and read also between the lines brushstrokes. Sjem Bakkus participated in various international art projects such as the Miami Art Basel and Art Battle.
The mural he contributed to the project is a cooperation with fellow-artist IVES.one. However, it's not the first time the two urban artists work together.
IVES.one began creating graffiti in 1996. Already in 2000 was he able to present his work in galleries and eventually participate in international festivals like Art Basel Miami. By now, he has exhibited in galleries in Amsterdam, Barcelona, Berlin, Bristol, London, Melbourne, Miami, New York, and Paris, to name just a few.
Since 2010 IVES.one also works as an urban art marketing consultant for companies like MTV networks, Nike, and Volkswagen as well as governmental institutions such as the Amsterdam Police Amsterdam and the University of Amsterdam.
Sjem Bakkus and IVES.one have been a vital part of Amsterdam Street Art since the very beginning. Therefore, they were predestined to represent ASA's vision in this project.
Julieta XLF
I've introduced Julieta XLF in my posts on the best street art in Valencia where she was born as Julia Silla in 1982.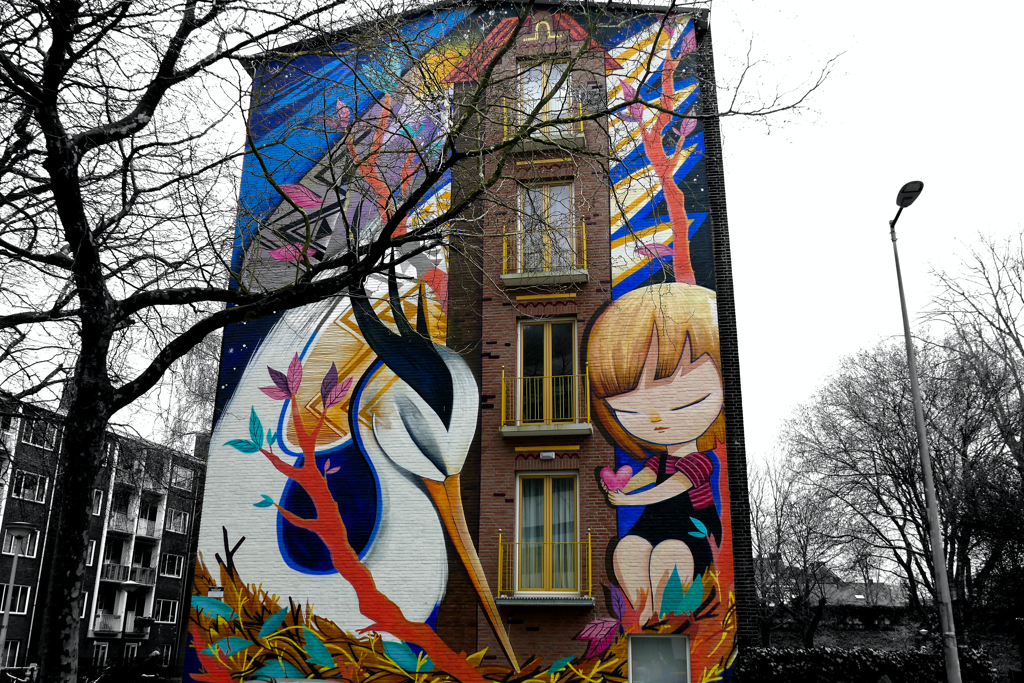 Since 2004, Julieta painted in public spaces around Valencia, Alicante, and Madrid, but she made it also all the way to Lima and Buenos Aires, to mention just a few of the cities where you can see her murals. She has a degree in Fine Arts and a Master's degree in illustration and participates in contests, exhibitions, and open calls for urban art in Spain and beyond.
Julieta XLF's tender and sometimes girly paintings show the aesthetics of illustrations of children's books. Her focus is on ​​beauty with a dreamy and fragile female figure as the central point.
Studio Giftig
Niels van Swaemen and Kaspar van Leek as a duo make up Studio Giftig. When they met back in 2007, each of them had already been a recognized urban street artist. The same year, they chose a vacant warehouse for their studio. They used the former storage space of chemicals and toxins to keep their paints and spray cans. This also explains their nom de guerre since giftig is the Dutch word for toxic.
Studio Giftig conquers the urban art scene with their surrealistic motifs in a hyperrealistic style. The fact that they always photograph their own models first grants a picture-perfect result.
dopie.dsk
Dopie was born in 1983 and is a well-known artist. He has been active in the Netherlands for over twenty years and is also internationally recognized: I've introduced Dopie already in my post on The Powerful Murals of San Nicolas on the island of Aruba where he painted an impressive lionfish.
Inspired by graffiti on the subway in his hometown Amsterdam, he started to experiment with street art by painting his nickname Dopie on walls'n'trains. Over the years, he developed his characteristic photorealistic style.
Today, Dopie combines hyperrealism with classic graffiti in brilliant bold colors. Most of his motifs depict animals. Dopie has been working as a professional artist since 2004.
Smug One
I'm very much into hyperrealism, and Smug One is a master of this trade. Born in Australia, Sam Bates aka Smug One is now based in Glasgow. In his teens, Bates listened to hip-hop, skated, and left his tags on walls. Graffiti played a big part in his life.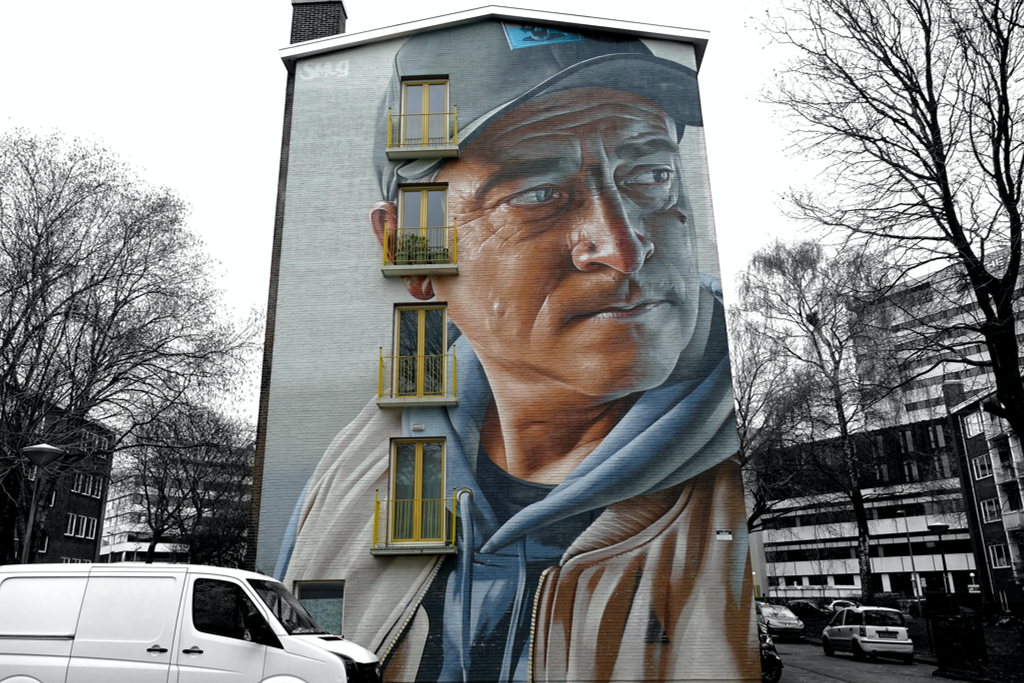 It's amazing how he achieves a photorealistic appearance of his murals by working entirely freehand and using exclusively spray cans. Mind you, usually artists have a lot of time and fine tools when creating hyperrealistic portraits. Smug One has neither of those and yet, he creates amazing large-scale murals that actually look like gigantic photographs.
Dan Kitchener
Another one of my favorites is Dan Kitchener. Kitchener aka DANK is a British artist based in London. He's another master of spray cans who never uses grids or stencils for his amazing murals.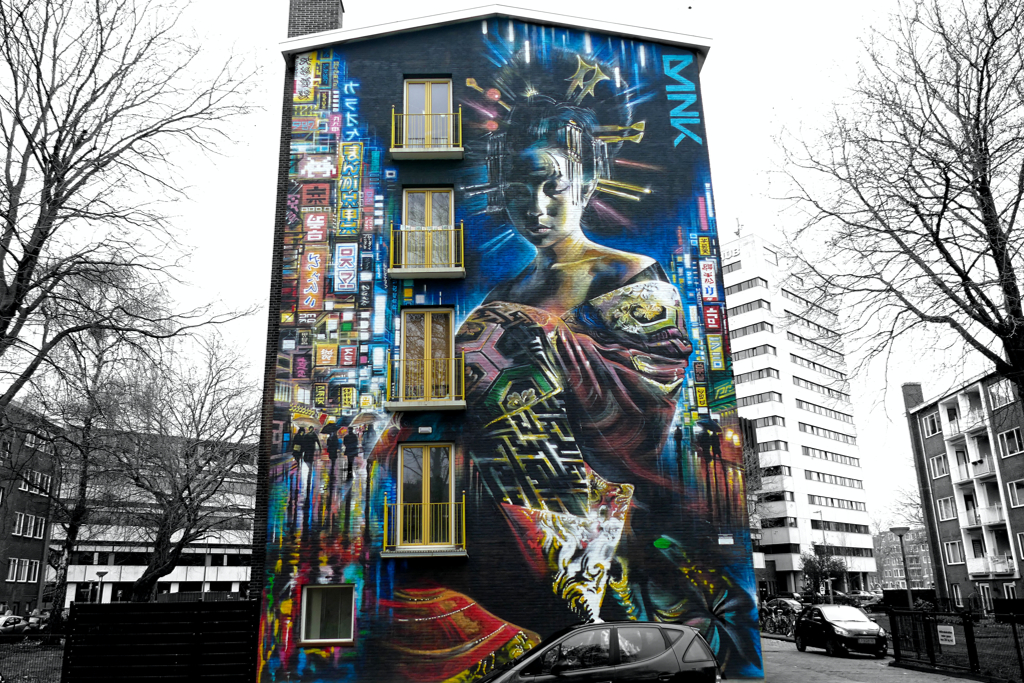 He creates those fantastic moody street scenes in the rain. The seemingly tangible atmosphere of his murals actually seems to suck the viewer in. Over the years, they made him one of the leading urban artists worldwide. You will immediately recognize his murals in many European cities like Berlin and London, as well as in Tokyo, Hong Kong, and the US.
During his artistic career, Kitchener has worked with celebrities like Kylie Minogue, Miley Cyrus, Paul McCartney, and Lenny Kravitz, to name just a few.
Leon Keer
Leon Keer was born in Utrecht in 1980. He is an undisputable master when it comes to anamorphic art. Hence, not only do his works contain messages regarding social and environmental issues. There is also a technical 3D effect that you can only spot'n'cherish from a certain angle. In addition to creating optical illusions, Keer often constructs optical phenomena by using technologies such as augmented reality and video mapping. Also, by scanning his paintings with the Leon Keer App, you can actually see his works come to life.
Leon Keer's absolutely amazing work can be admired in many places around Europe, the Americas, the Arabic Emirates and Saudi Arabia, Australia and New Zealand, as well as Asia.
Case MaClaim
Andreas von Chrzanowski, far better known as Case MaClaim, was born in 1979 and currently lives in Frankfurt. He is a founding member of the muralist group MaClaim which came together in 2000 and where also Jasmin Siddiqui and Falk Lehmann from Herakut are rooted. The crew is mainly known for amazing photorealistic works, and Case specializes in hands as well as other parts of the human body.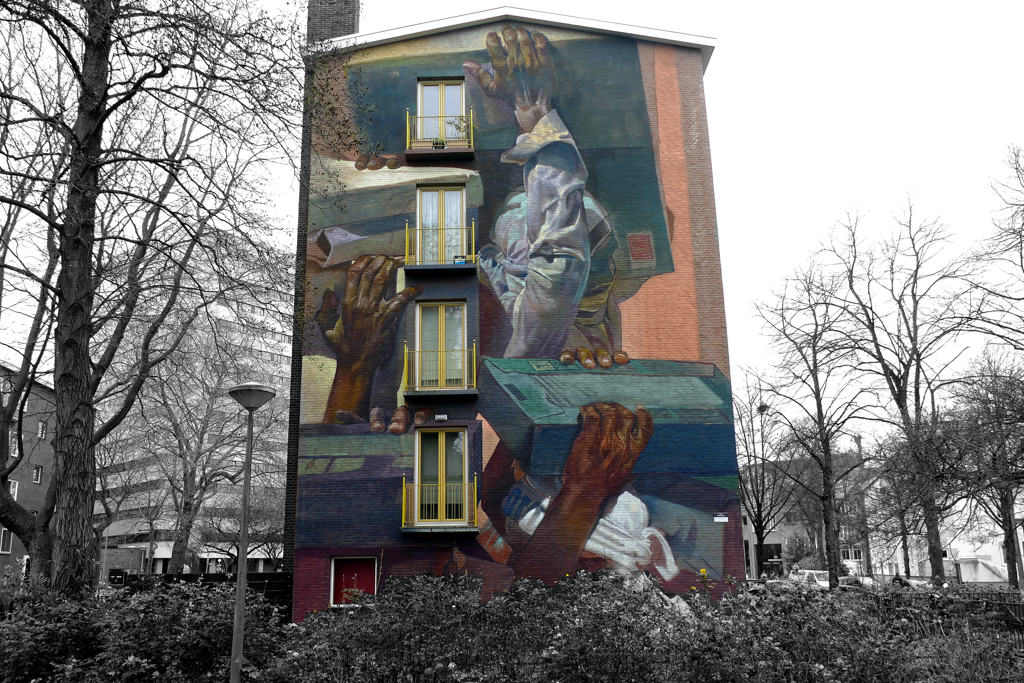 Ever since he started to paint in 1995, he has left his fingerprints – metaphorically and also literally – in over 20 countries. No wonder, the sign language of his hand is globally understood.
I've introduced Case MaClaim already in former posts on urban art in Berlin, Rabat, and his hometown Frankfurt.
There Are More Projects
Street Art Museum Amsterdam SAMA
SAMA is short for Street Art Museum Amsterdam. Just like ASA, it definitely is the real deal and totally my jam: Street Art Museum Amsterdam project was founded by Anna Stolyarova in 2012. Around 300 works are found in the Nieuw-West neighborhood which mostly consists of social housing and is inhabited mainly by migrants. Stolyarova, who worked as a digital production director at an advertising agency, intended to transform her hood with street art. This might attract tourists and increase the local economy.
In my particular case, her plan worked like a charm.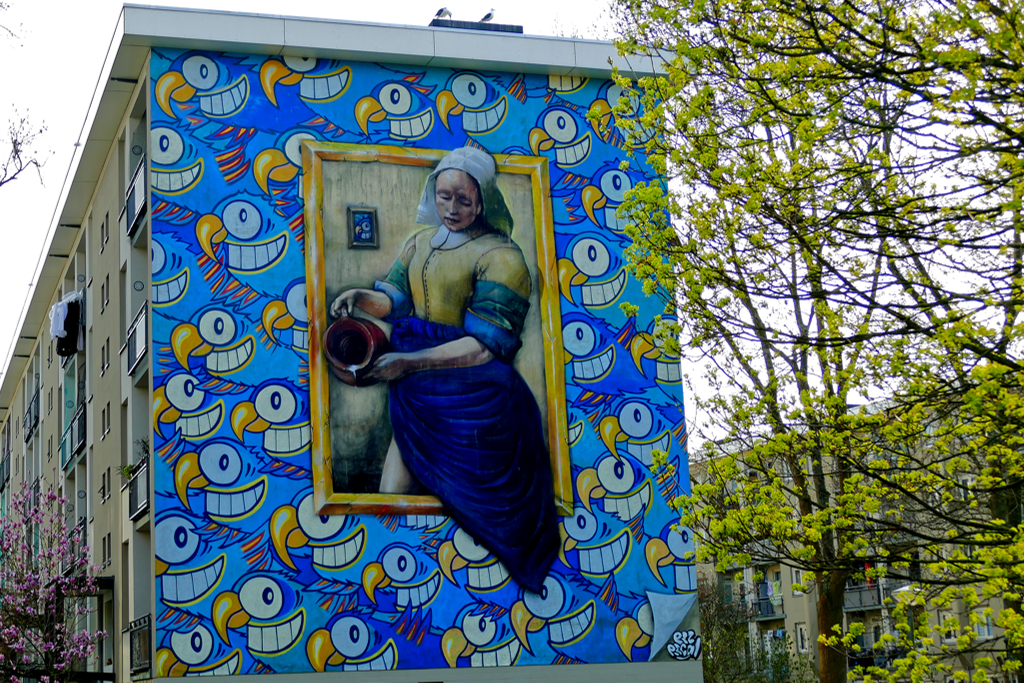 Actually, her intention and drive remind me strongly of Tito Bolivar who transformed the sleeping post-industrial town of San Nicolas on the island of Aruba into a trendy art district.
Just like Tito, Anna Stolyarova actually achieves to commission internationally acclaimed artists to embellish sad grey walls.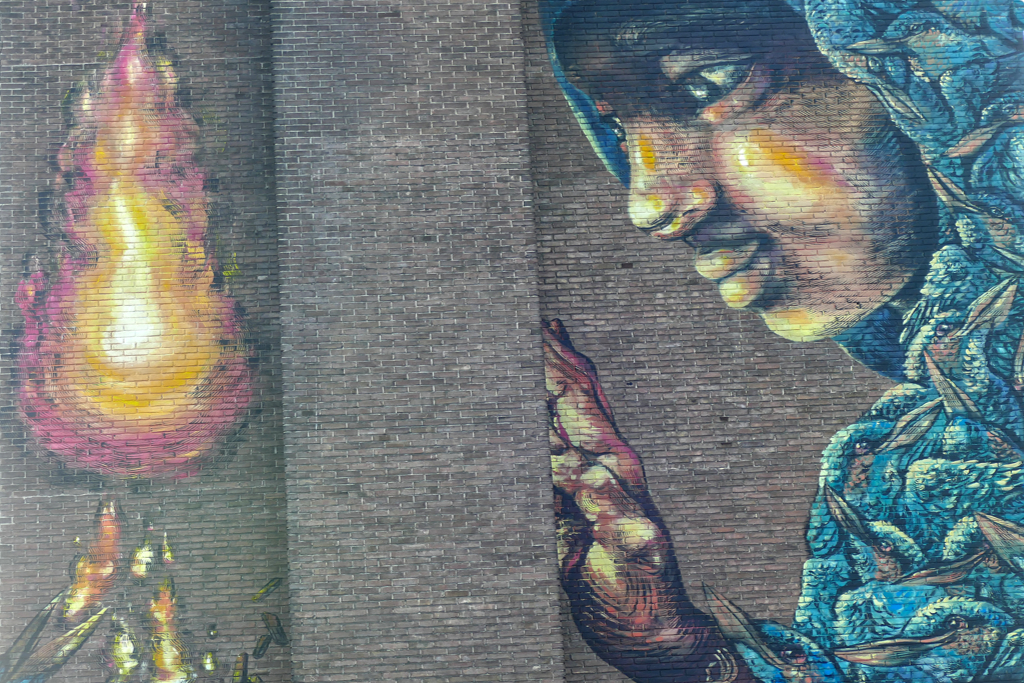 Since it's not that easy to find all those amazing murals, I highly recommend exploring the neighborhood on a guided tour.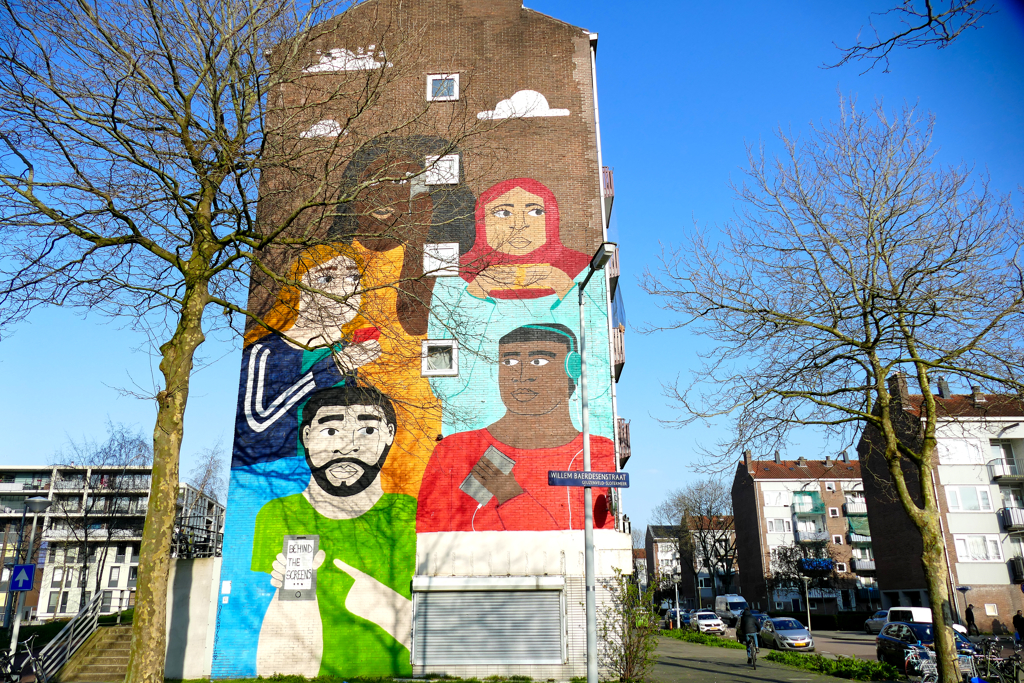 The office is located on Immanuel Kanthof 1 and opens every day from 11 a. m. to 4 p. m. On SAMA's website, you can either download a GPS-guided tour free of charge or book a guided tour for 30 €uros.
STRAAT Streetart Museum
Since the STRAAT Streetart Museum is housed in a huge former warehouse on the NDSM wharf, you have to get there by ferry from the jetty behind the Centraal Station. Mind you, the ferries that cross the IJ canal are free of charge. However, if you want to combine a visit to the museum with an idyllic Canal Cruise, you can book your ticket online* which is recommended as tickets sell out quickly, especially during the high season.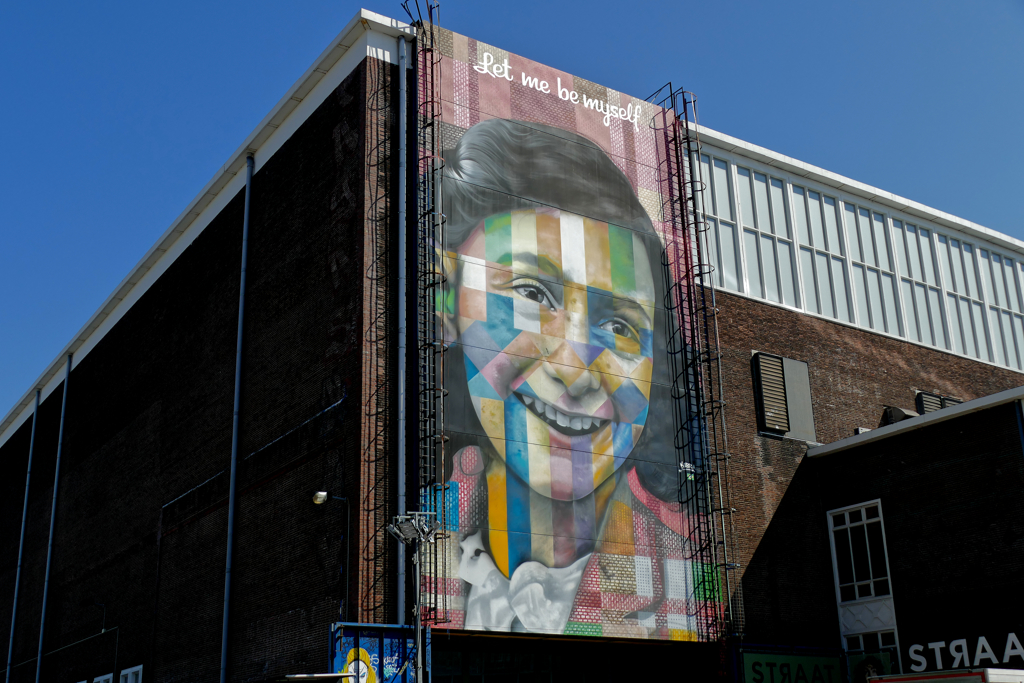 You'll find more than 160 artworks by over 150 artists on walls and scaffolds. The murals were created on-site and are normally not as large as many pieces you'd find outdoors. In contrast to real street art, you get far more information and some context, especially if you join one of their guided tours.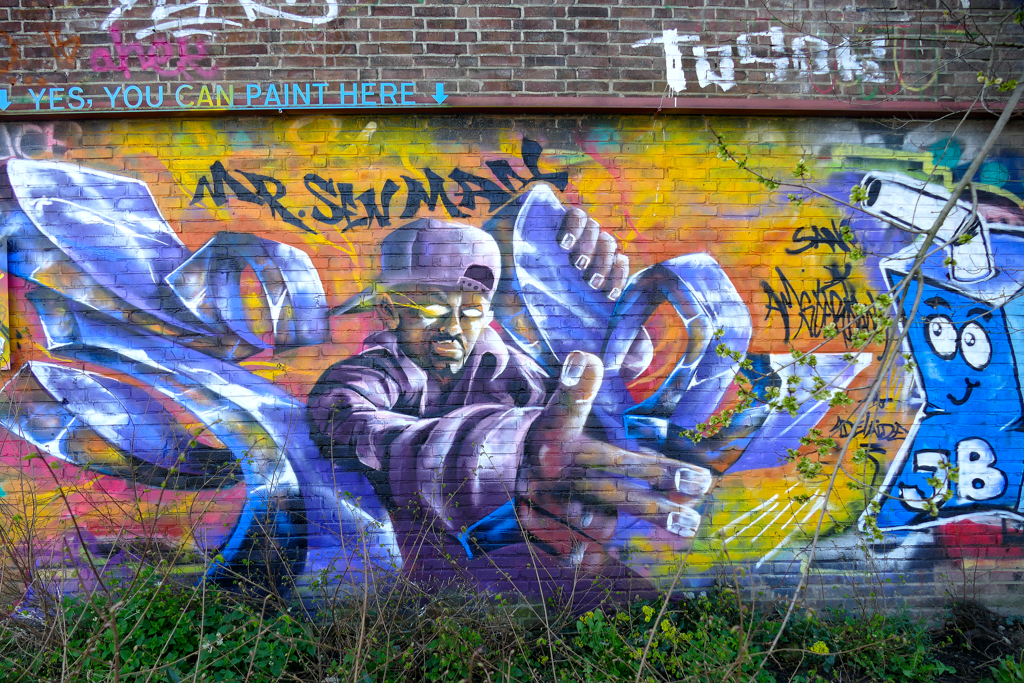 Well, this perk is not limited to an indoor exhibition as I joined guided urban art tours for instance in Bogotá or San Nicolas on the island of Aruba. Also, you find lots of valuable info online – for instance in the Urban Art Section of this very blog.
The museum is located on NDSM-Plein 1 on the NDSM wharf. It opens every day from 10 a. m. to 6 p. m. The general entrance fee is 18.50 €uros and you can book your ticket online* in advance. Note that you get a small discount with the I Amsterdam City Card*.
There Are More Artists
On the opposite side of the Platanenweg is a huge building that houses the Social Hub Student Hotel*. Although the murals that you find here are not as large in size as the If Walls Could Speak pieces, they are as alluring and actually created by some urban art superstars.
Cranio
Cranio comes from São Paulo. Cranio's real name is actually Fabio de Oliveira Parnaiba. His pseudonym, however, translates to skull in Portuguese.
In 1998, he began beautifying the walls of his hometown. Today, you can find his works in many other cities such as Berlin and Hamburg.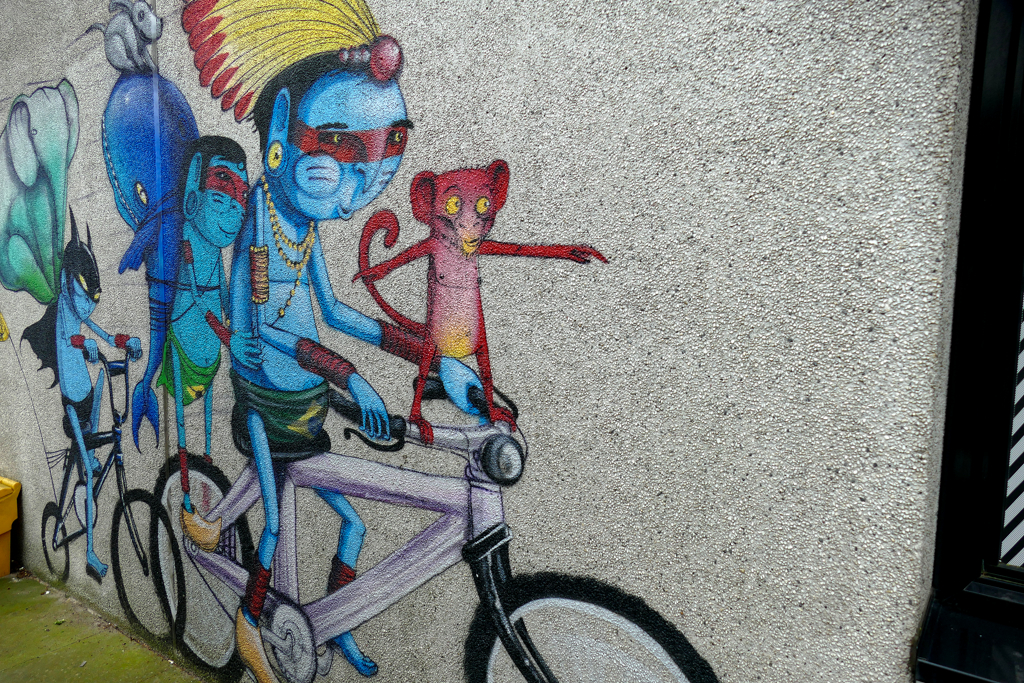 A blue Indian, a representative of Brazil's indigenous people, is the artist's trademark. Although Cranio's Indians appear cheerful and comic-like, they should point out problems such as consumption, corruption, and environmental degradation.
When in Rome Amsterdam….: Obviously, Cranio lets his blue Indian explore the city by cycling. This very fun but relatively small mural is found on the eastern facade of the Social Hub Student Hotel*.
I've introduced Cranio already in former posts on urban art in Berlin and Hamburg.
D*Face
Another international renown master of urban art is Dean Stockton, far better known by his pseudonym D*Face. He is a British multimedia street artist who works with spray paint, stickers, posters, and stencils.
D*Face grew up in London and had an interest in graffiti and related cultural phenomena such as hip-hop, punk, cartoons, and skating. Later, he attended illustration and design classes and worked as a freelance designer whilst perfecting his street work.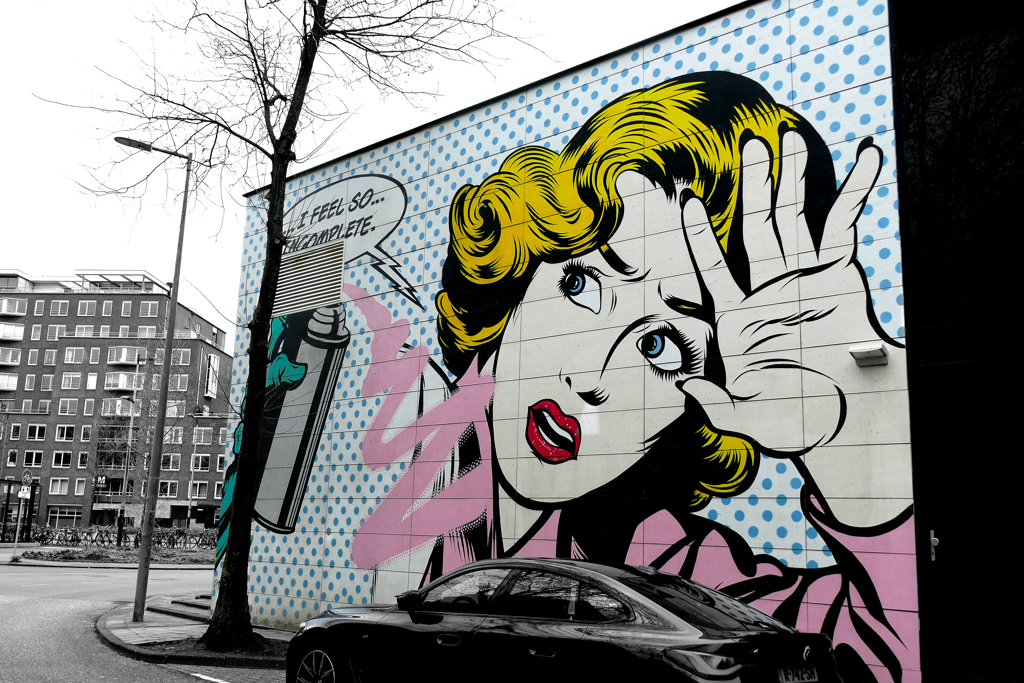 D*Face was the owner and curator for the Outside Institute, London's first art gallery with a focus on street art. He designed covers for stars such as Christina Aguilera and the band Blink-182.
In 2015, he participated in the All City Canvas Global Series by decorating the façade of the Hotel Lisboa in the Colonia Roma district of Mexico City with a mural.
His portrait of a lady in the iconic style of Pop Art painter Roy Lichtenstein is on the Social Hub Student Hotel*'s southeastern facade right across from Studio Giftig's mural.
I've introduced D*Face already in former posts on urban art in Berlin, Málaga, and Paris.
Judith de Leeuw aka JDL Street Art
I spotted JDL's humongous mural in the early evening on my way home. I had been pacing criss-cross Amsterdam, I was exhausted and all I wanted was to sit down and soak my feet in ice-cold water. But then I spotted two oversized ladies swirling on a house wall on the Leidseplein square. This sight was all the inspiration I needed to make my spirits rise one last time for the day.
Judith de Leeuw aka JDL street art creates large-scale murals many of which deal with social issues. She was born in Amsterdam in 1995 and grew up in child services, hence, her life hasn't been always easy. This leads to empathy and understanding for the less fortunate as she expresses in her murals.
During a period of only six years, JDL has worked in more than 40 countries. At the age of 27, she won two awards and had her work exhibited next to Banksy and Keith Haring. Her murals were featured in major media such as CNN and the Chicago Tribune.
In 2022, Judith de Leeuw was invited by the Dutch Royal couple to meet the Italian president to represent the artistic collaboration between the countries.
How to Get Around
Although the project – as well as most of the other spots where you find great urban art – are not in the very center, going there by fiets, which translates to bicycle, is still recommended. This way, you have the freedom of your own mean of transportation and can still move from mural to mural quicker than by walking. Although Copenhagen is number one among Europe's most cycle-friendly cities, Amsterdam is the second-best. You'll be amazed by the comprehensive network of bicycle lanes!
I assume you won't bring your own bike. Obviously, this is not a problem since there are many places where you can rent your own fiets.
Public Transport
The second-best way to explore Amsterdam's center is by walking. During the four days in Amsterdam, I walked far too much. But the city is so beautiful, the sun was shining, what better way of exploring than walking?!
Therefore, ladies, make sure to wear flat, comfortable shoes. Many of Amsterdam's alluring streets are paved with cobblestones. Hence, there go your heels. Good sneakers or even light hiking shoes will make your exploration of Amsterdam safe and enjoyable.
As in basically every European city, there is a comprehensive network of public transportation in Amsterdam. The most important means are the metro, trams, and buses.
Once you have purchased a ticket, you have to validate it at one of the machines located at the entrance to the metro or inside trams and buses at the beginning of your trip. If you don't want to buy an actual ticket, you can just use your debit or credit card as long as it is equipped with NFC.
As you exit the vehicle – or the metro station – it is crucial to check out by tapping the machine again. Otherwise, the clock keeps ticking.
If you have an I Amsterdam City Card*, public inner-city transport is included. Hence, you need to tap that card.
The subway stop closest to Platanenweg is Wibautstraat.
On Instagram
To dig deeper into the subject and see more of the amazing art the above-featured artists have created, you can just check out their Instagram accounts:
Bastardilla
Chuck
Cranio
D*Face
Judith de Leeuw
dopie.dsk
El Pez
HERA by Herakut
IVES.one
Julieta XLF
KASH
Leon Keer
Dan Kitchener
KOBRA
Case MaClaim
N888K
Oxenmystic Martje Rullens
Danny Recal
Tim Rodermans
Sjem Bakkus
Smug ONE
STRAAT Streetart Museum
Street Art Museum Amsterdam SAMA
Studio Giftig
Karski Roy Valk
Map
This map should help you to find the murals I'm introducing in this post. Clicking on the slider symbol at the top left or the full-screen icon at the top right will display the whole map including the legend.
Searching for Street Art was only one of many fun activities on my visit to Amsterdam. To read about the rest, go to this comprehensive guide where you'll find further valuable information that will make your own trip much smoother and more enjoyable. If you have only a short layover in the city, my post 24 hours in Amsterdam has you covered.
Pinnable Pictures
If you choose to pin this post for later, please use one of these pictures:
Did You Enjoy This Post? Then You Might Like Also These:
*This is an affiliate link. Hence, If you book through this page, not only do you get the best deal. I also get a small commission that helps me run this blog. Thank you so much for supporting me!