Way up high on the northern tip of Fuerteventura lies Corralejo, famous for miles of amazing sand dunes and for being an aquatic paradise.
Corralejo – From Pirates' Nest to Surfers' Hotspot
"So, you're already dancing the Macarena?", asks Mimi on WhatsApp. Haha, very funny, and no, I'm not shaking my hips to the Macarena.
After our stay in Gran Canaria, she had to return home while I still had about three weeks to spend on the Canary Islands. My next stop was Fuerteventura where I first spent three days in the southern village of Morro Jable. Eventually, I crossed the island lengthwise up north to enjoy the marvelous beaches of Corralejo.
And the Macarena reference was due to the fact that I actually booked an all-inclusive club hotel. Everyone cracks up laughing since this was so not me. While for others, solo travel is a major challenge, I had to leave my comfort zone to book myself into a touristy all-inclusive place.
But you know what, it wasn't so bad. Actually, it wasn't bad at all. I'm not saying that from now on, I'll spend all my trips in places like that. However, for a few nights, it was actually very comfortable. There were pools, there were loungers and umbrellas. There were nonalcoholic and – albeit, really bad – alcoholic drinks and snacks basically around the clock. During standard mealtimes, there were huge buffets with really excellent food. Local food – which I was grateful for.
And I even didn't have to dance the Macarena.
But you probably still wonder what brought me into this club hotel. No, it was not a lost wager. The very simple reason was the unbeatable price: For less than 70 €uros, I got a nice room with a view, excellent food, good soft drinks, horrible alcoholic beverages, as well as loungers and umbrellas by the pool.
And if I had been up for it, also the Macarena.
Location Location Location
The Hotel Riu Oliva Beach Resort's* strongest feature, however, is the location a couple of kilometers south of the town of Corralejo in the middle of the dunes. Yes, this is wonderful for us tourists. And obviously, this is terrible for the environment.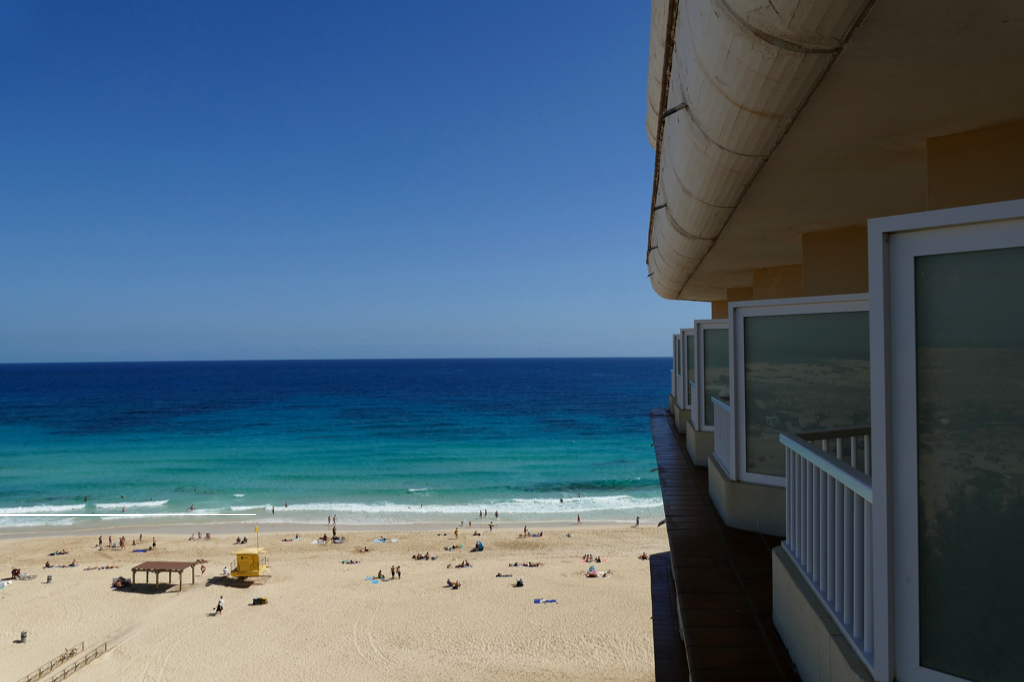 Actually, there are two of these big hotels. Both belong to the Spanish Riu hotel chain, and they were built back in the 1970s when people weren't as aware of natural treasures as they are now.
I actually almost felt guilty that I had such a wonderful time in this abused place. Nevertheless, after the redesignation as a nature park, no further hotel complexes were allowed between the dunes.
Nothing But Sea And Sand
As I said, the town of Corralejo is about five kilometers north of the three connected Grandes Playas Corralejo. From my hotel at the entrance to the dunes, I got there walking along the beach in about an hour. During the entire walk, I enjoyed the mesmerizing sight of the turquoise waters of the Atlantic as well as the Isla de Lobos islets. All the way across the sea, could it be that I was spotting the neighboring island Lanzarote? Yap, that's right! There are less than 20 kilometers between these two easternmost Canaries.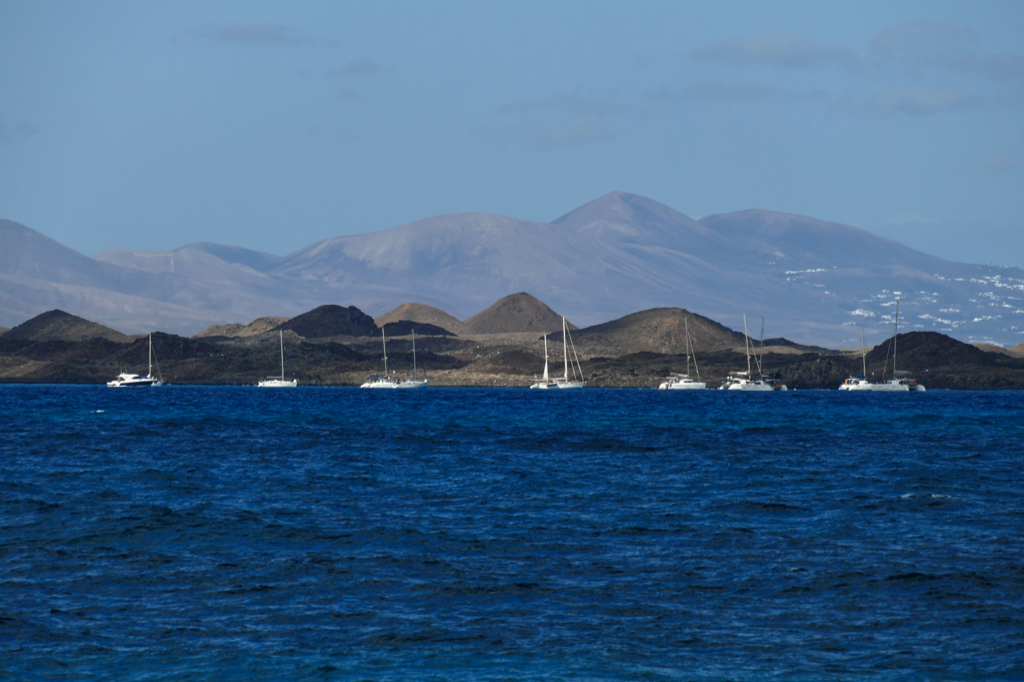 In the 17th century, Corralejo was a port for pirates and smugglers. Taxes and duties for importing foods were avoided by smuggling. During that era, the island's government was in Betancuria. Its distance to the coastal town of Corralejo made the government powerless against those shenanigans.
Eventually, tourists took over from the pirates and smugglers. Today, Corralejo is an important tourist spot mainly due to its fantastic beaches. However, the town also benefits from the regular ferry connections to Lanzarote. Corralejo is definitely the most important tourist hub in the north of Fuerteventura. So if you are into partying and shopping, you came to the right place.
Actually, I'm not.
Still, I love Corralejo since it's so easy to get there – and to leave. Once I had enough of the world's best beaches, instead of partying and shopping, I hop on one of the buses for instance to the island's capital Puerto del Rosario. Or to the historic town of La Oliva. Or I go even further west to the coastal village of El Cotillo.
From Corralejo, I can go there and come back practically whenever I want.
Yet, I also like to stay. Nowhere else on Fuerteventura do the sea and the sand unite in such idyllic harmony.
On the Town
Now, I could invent a ton of things to do and to see around Corralejo. But I want to keep it real. When it comes to attractions and landmarks, there isn't really much.
The most important touristy attraction in town is the Acua Water Park. To this date, it is the only water park in all of Fuerteventura. I'm rather a beach bum and not that fond of pools. Yet, I can imagine that the pools'n'slides are great fun, especially for families with kids.
Carefree and Duty-Free
Other than that, especially the main artery Avenida Nuestra Señora del Carmen is lined with bars and restaurants, souvenir shops, and a suspicious number of perfume and beauty shops. This is due to the fact that the Canary Islands are not part of the European tax area for excise duties and VAT. Therefore, certain products such as gas, cigarettes, and liquor are way cheaper than on the mainland. And supposedly also cosmetics and perfumes. However, I didn't find their prices that great. Also, customs controls are still possible. Therefore, make sure to keep your shopping within the allowed limits.
There are some pleasant squares but honestly nothing to write home about. The area around the Muelle Chico desperately tries to give off an authentic vibe of a fisherman's village, but that ship sailed long ago – pun intended. A bit further up north, behind the entrance to the port of Corralejo from where the ferries are going, begins the Paseo Marítimo Bristol. That's a footpath by the sea where joggers are jogging and dog owners walk their four-legged companions.
Let's wrap it up: I didn't come to Corralejo for Corralejo but for the dunes and the waves, the sea and the sand.
Along the Shoreline
Although the town as such is not exactly overwhelming, it has a beautiful shoreline. Divided in small bays, it's actually quite lovely for a city beach. Starting just south of the old, smaller pier with the Playa Corralejo, you can walk alongside the shoreline all the way to the dunes.
You'll pass some big and small hotels, then you get to Playa Las Clavellinas and eventually to Playa de la Goleta. This is a rather untouched beach. It is a bit more sheltered than the other sections and therefore perfect for a swim even on a windy day.
Keep walking and you'll get to the Playa de los Verilitos. This is the part that has the most amenities like bars.
The following section, Playa del Medio, is rougher and more popular with the surfer crowd and so is the ensuing Playa Vista Lobos. Behind the next protruding bay are the rough and rocky parts Playa de la Barreta and Playa Puerto Remedios.
However, once you pass this rough spot, all that follows are endless stretches of finest sand. Playa del Pozo, Playa del Médano, Playa del Viejo – all these beach sections are broad sandy areas with nothing that might stop the wind from blowing. Therefore, they are perfect for surfers. Bathers, however, should be really careful. Also, I recommend you spread your beach towel in one of the small fortresses good people built from rocks on the beach. Otherwise, you risk getting seriously sandblasted.
Dunes of Corralejo
And then come the dunes. They stretch on an area of ​​about eleven kilometers. On the seaside, the dunes border on smaller and long beaches with fine white sand. These are the largest dunes of the Canary Islands, larger than the dunes of Maspalomas in Gran Canaria.
The Dunes Natural Park of Corralejo consists of so-called active dunes. Will say, they are not just some static heaps of sand but are constantly renewed and reshaped by the northeast trade winds. Amazingly, 90 percent of the sand stems from organic matter. It's actually mainly pulverized mollusk shells and other marine organisms. Since 1982, the dunes have been protected as a natural park.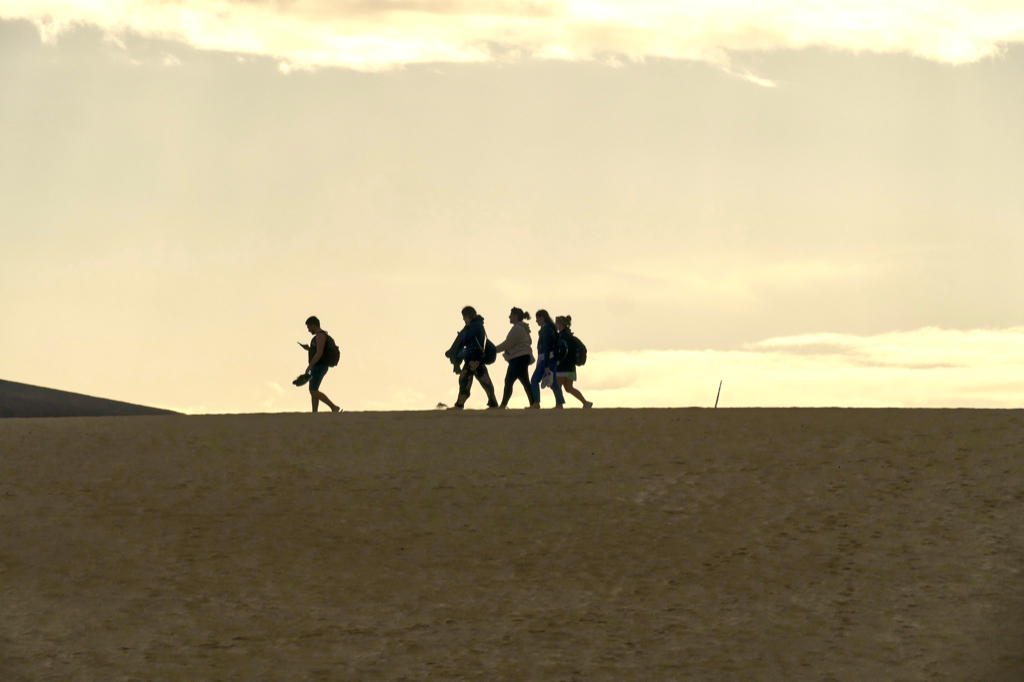 The park also provides a perfect habitat for 18 species of protected endemic plants. The fauna, however, includes 17 animal species, including seabirds, shorebirds, reptiles, and beetles.
To soak up the entire landscape, put on your hiking boots and climb the 300 meters of the Montaña Roja volcano about 12 kilometers south of the town center. Five kilometers west are the Volcanes de Bayuyo which can be mounted via a partially paved hiking trail.
Popcorn on the Beach
The endless sand beaches on most of Fuerteventura's coasts are just mesmerizing for sure. But how about visiting something different – like for instance a beach made of popcorn? From Corralejo, you can reach Playa del Bajo de la Burra by driving or even walking alongside the northern shore, however, it's a bit over an hour and you should definitely wear sturdy shoes. By car, it's only 15 short minutes. Either way, make sure to take enough sun protection, water, and possibly snacks with you.
As you reach the beach, you'll be mesmerized by the sight of the white beach that seems to be covered by popcorn. The moment you touch those small little pieces, you'll realize they cannot be the real deal. They are far too hard. But what are they?
Actually, these little pebbles are so-called rhodolites. As long as rhodolites are alive, they are red or purple. Once their life cycle is over, they become fossils, turn white, and consequently resemble popcorn.
Since this process is quite slow, the fossils are protected. So take as many pictures as you like but don't remove them from the beach to take them home as a unique souvenir. Otherwise, you can be fined.
You can enjoy a lovely beach day at Playa del Bajo de la Burra. However, if you go for a swim, be very careful as the waves there are quite strong. On the other hand, they are perfect for water sports like surfing. Also, when visiting this beach, you should wear good shoes that will protect your feet so that you can step safely on the rhodolite fossils.
Practical Information
How to Get There And Around
By Plane
The Aeropuerto de Fuerteventura is an international airport five kilometers south of the island's capital Puerto del Rosario. Most of the international air traffic are touristy charter flights from Great Britain, Germany, Austria, and the Netherlands. However, there are also domestic flights to the other Canaries as well as the mainland.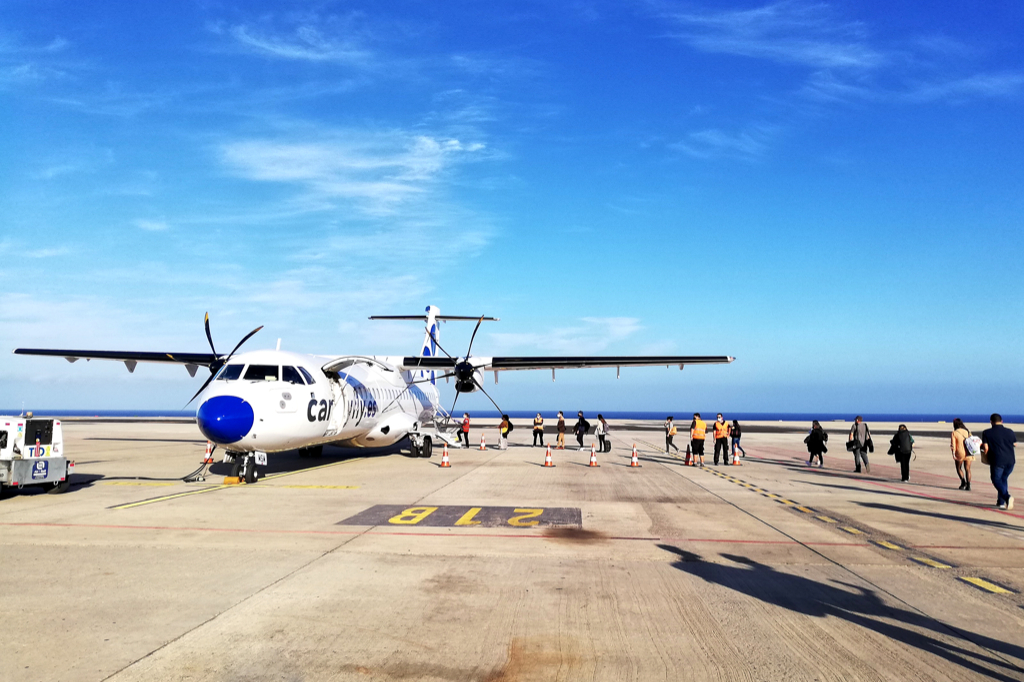 Obviously, there are flights to and from the other islands such as Gran Canaria and Tenerife operated by local airlines like Binter, Canaryfly, and Air Europa. If you check their websites, don't get over-excited about the incredibly cheap prices. Those apply only to permanent residents. However, even for other passengers, flying between the islands is very reasonably priced and oftentimes cheaper than taking the ferry.
By Ferry
The island's largest seaport is located in the capital Puerto del Rosario. However, touristy ports are in Corralejo and in Morro Jable on the island's southern tip.
There are many ferries by Fred Olson as well as Naviera Armas going between Corralejo and Playa Blanca on the neighboring northern island of Lanzarote. From early morning until about 8 p. m., ferries go back and forth.
If you're on a flexible schedule, you should check thoroughly the prices at different times of the day as well as between the individual companies as they can differ a lot. Also, just like the airlines, the ferry companies grant residents of the Canary Islands a considerable discount.
Land Transport
If you haven't booked a package where the travel company arranges the shuttle from the airport to your hotel, you have different options of how to get to your final destination. The most comfortable option is taking a cab, obviously.
However, you save lots of money by taking one of the public buses. First, you need to take bus #3 from the airport to the central bus station on the outskirts of Puerto del Rosario. From there, bus #6 goes northwards to Corralejo. In general, there is a connection every half an hour. The trip sets you back 3.40 €uros.
You can pay cash, preferably with change or small bills. If you take the bus really often, a travel card might be worth it. You can obtain and charge it at the central bus station or from the driver. However, you save only 10 percent on your trips, but have to pay 2 €uros for the card.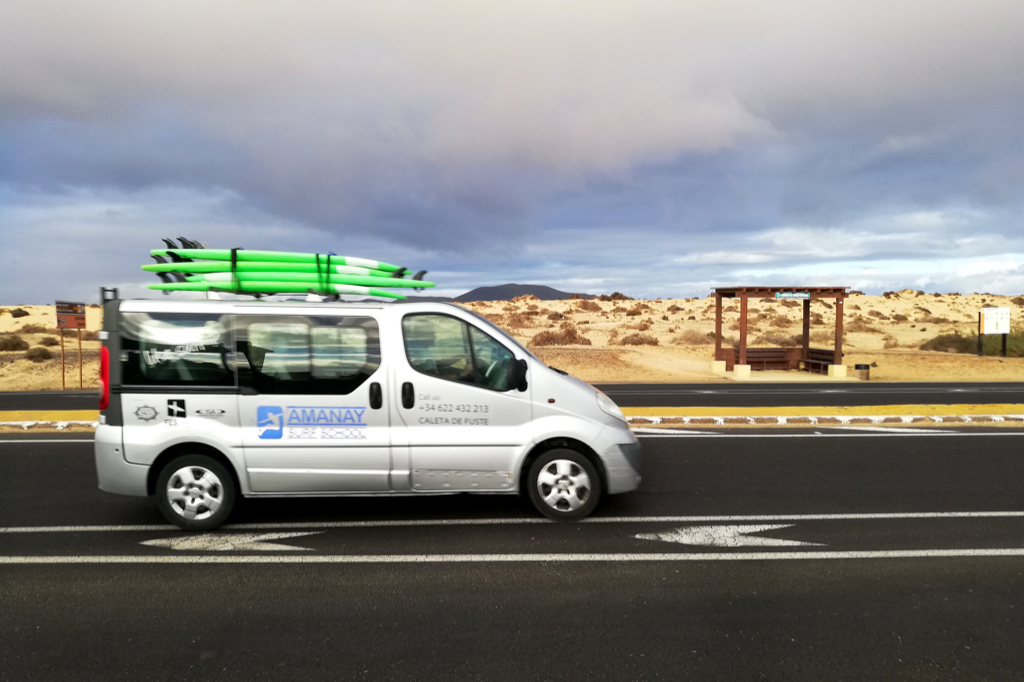 Between the most frequented towns in Fuerteventura, buses go at least every half an hour. However, there might be only one or two daily connections to some places in the hinterland. For instance, it's a bit of a drag to visit Betancuria by public transport despite the fact that it used to be Fuerteventura's first capital and is still one of the very few places of historic significance. If you want to visit that area, you should either rent a car or go there on an organized day trip.
You'll get all the information on buses on the website of the bus company Tiadhe.
I'm not driving, but if you want to rent a car, you can do so right at the arrival hall. There are different car rental companies to choose from.
Where to Stay
Fuerteventura has been a popular tourist destination for decades. Therefore, on the peninsula of Jandía in the south and in Corralejo are many huge hotels and apartment complexes. Nevertheless, you'll find at least a small choice of lodging options even in the tiniest villages. In each and every hamlet, there will be a smaller guesthouse or privately rented apartments.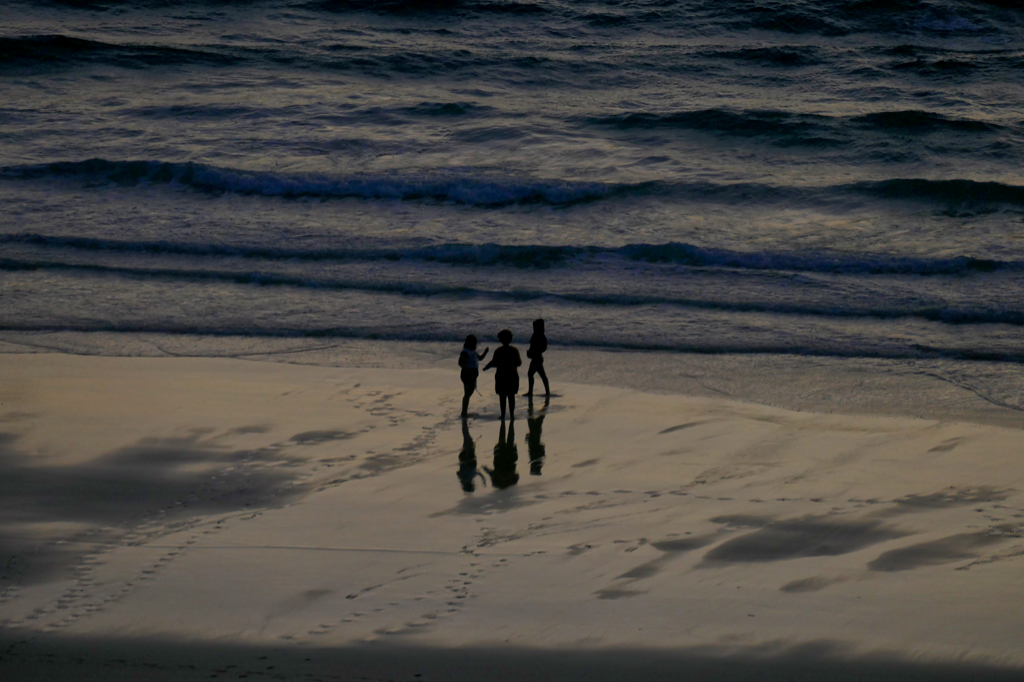 As I explained above, I opted for the all-inclusive resort Hotel Riu Oliva Beach Resort* based on their unbeatable price. Normally, this kind of lodging option is not my cup of tea, however, for three or four nights, it was perfect. Moving to a different location every couple of days can be exhausting, hence, I totally enjoyed a couple of carefree days of total relaxation.
Nevertheless, on this map, you'll find a number of convenient lodging options*:
What to Eat
Just like on the Spanish mainland, there is an overwhelming number of bars and restaurants also on the Canary Islands. There, you can enjoy a glass of beer or wine with some tapas, varied hot and cold snacks. They can be slices of serrano ham, diced or grilled cheese, papas bravas, tiny potatoes with a hot sauce, boquerones en vinagre, marinated fresh anchovies – the list is endless.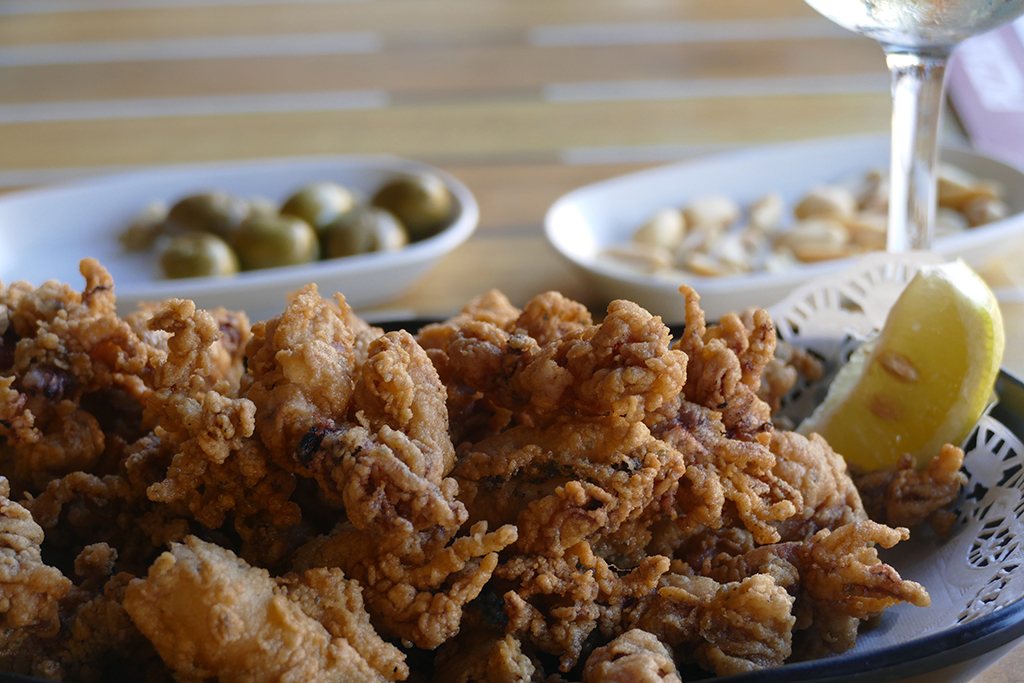 Normally, you'll get some small complimentary tapas with your drink – at least olives or peanuts. A selection of two or three tapas can actually replace a meal. However, you can also order a ración, hence, a serving, or a media ración, a half-sized serving.
In Fuerteventura's more touristy areas like Corralejo, restaurants are more internationally oriented. Apart from local delicacies, you'll find pizza, spaghetti, burgers, and other fast food on the menu.
As in some other European countries, tipping is rather optional in Spain. It is not compulsory, but an appreciative gesture. Also, you don't need to calculate a certain percentage. Rounding up to the next full €uro might be a bit chintzy. However, adding one or two €uros will normally do.
Well-Organized Activities
As I pointed out, it's not always easy to get to remote spots on Fuerteventura. Therefore, I recommend joining an organized tour to historic towns like Betancuria and Antigua. Also, exploring Fuerteventura from the water is a very special experience that you should book organized.
Therefore, here are some great ideas of what to do when visiting Corralejo. Especially during high season, pre-booking online will guarantee your place at the activity of your choice*:
Corralejo was my northern base during my week on Fuerteventura. To read about all the beautiful places I've visited on the island, go to this post and take your pick!
For general information on Spain, go to this post. There, you'll find information and tips that will make your trip much smoother and more enjoyable.
Pinnable Pictures
If you choose to pin this post for later, please use one of these pictures:
Did You Enjoy This Post? Then You Might Like Also These:
* This is an affiliate link. Hence, If you book through this page, not only do you get the best deal. I also get a small commission that helps me run this blog. Thank you so much for supporting me!