Going on day trips from Brussels to the other Flemish medieval jewels such as Antwerp, Bruges, and Ghent is really easy. Just hop on the next train that will take you to each of them in less than one hour and for under 10 €uros.
I'm a busybody with a chronic case of FOMO.
But Belgium got the cure.
It is relatively small, actually, the fifth smallest country in the European Union. It slumbers there nestled between Germany, the Netherlands, France, and Luxemburg pretty much undisturbed in the middle of the continent, not bragging about its beauty.
And beauty it has all right!
During my stay in Brussels, Belgium's and secretly also Europe's capital, I actually managed to visit three other beautiful cities, one more intriguing than the other so that I list them here fair and square in alphabetic order: Antwerp, Bruges, and Ghent.
Medieval Heritage
These three beauts lie north of Brussels in the Flemish part, hence, besides the language, they share the same culture and architecture.
Medieval old towns with cobblestone plastered alleys, large market squares, and majestic churches with iconic belfries. A belfry is a slender bell tower. In Belgium alone, UNESCO declared 33 of them to be a World Heritage Site.
But most importantly, there's water. Each of the three cities is divided by canals. This doesn't make them only scenic. Actually, it was the water that made them accessible and facilitated trade'n'commerce for the Flemish merchants. Bruges even used to be a proud member of the Hanseatic Leagues – you can learn more about this kind of predecessor of the European Union in my post on its queen, the North German city of Lübeck.
When in retrospect we speak about the Dutch Golden Age, it's always these three cities at the center of attention with Antwerp being the world's most important harbor at that time.
Flanders and Wallonia
The rise of Flanders is certainly due to the Protestant Calvinism-based work ethic and thrift and the promotion of education. This wealth also enabled the construction of a large fleet that carried the Dutch around the globe – where they could then enrich themselves with the treasures of peoples in Asia and the Caribbean.
Even today, the Indonesian language is peppered with Dutch words. Also, the architecture of many old towns thousands of kilometers away from Europe clearly bears Dutch traces. A great example is Malacca in southern Malaysia.
By the way, in my eyes an inglorious chapter.
But wait a minute: Why all this yackety-yak about the Netherlands, isn't this post on Belgium? Yeah well, actually, the former Southern Netherlands seceded only in 1830 following the Belgian Revolution.
Therefore, to this date, there is a Dutch cultural predominance in the northern part of the country called Flanders, a French one in the southern Wallonia region, and a tiny German part at the German border.
But now enough with this national and regional tohubohu, let's focus on all the beauty the Golden Age brought and left behind.
ANTWERP
The glorious city of Antwerp is not only a gem in itself, but it also is the world's most important center for the processing and trading of diamonds.
Already in the 16th century, the city was a famous diamond center. The convenient location with a large inland port was an important factor in the rise of Antwerp to the diamond city.
Still, about 80 percent of the world's raw diamonds pass through Antwerp and three of the major diamond exchange stocks are located in the diamond quarter of Antwerp to this date. Numerous jewelers have settled in the vicinity of this trade center.
Hence, Antwerp is undisputably the diamond capital of the world.
Also, the Port of Antwerp is Europe's second-largest freight port, and as an administrative unit, it is actually Belgium's largest city.
The Gilded Age
Already during the Golden Age in the 15th and 16th centuries, Antwerp was one of the largest cities in the world and one of the most important trading metropolia in Europe. As an important cultural center, it was home to artists like Rubens, one of the most celebrated painters of the Flemish Baroque.
No wonder his former residence and workshop is a museum now and thusly can be visited.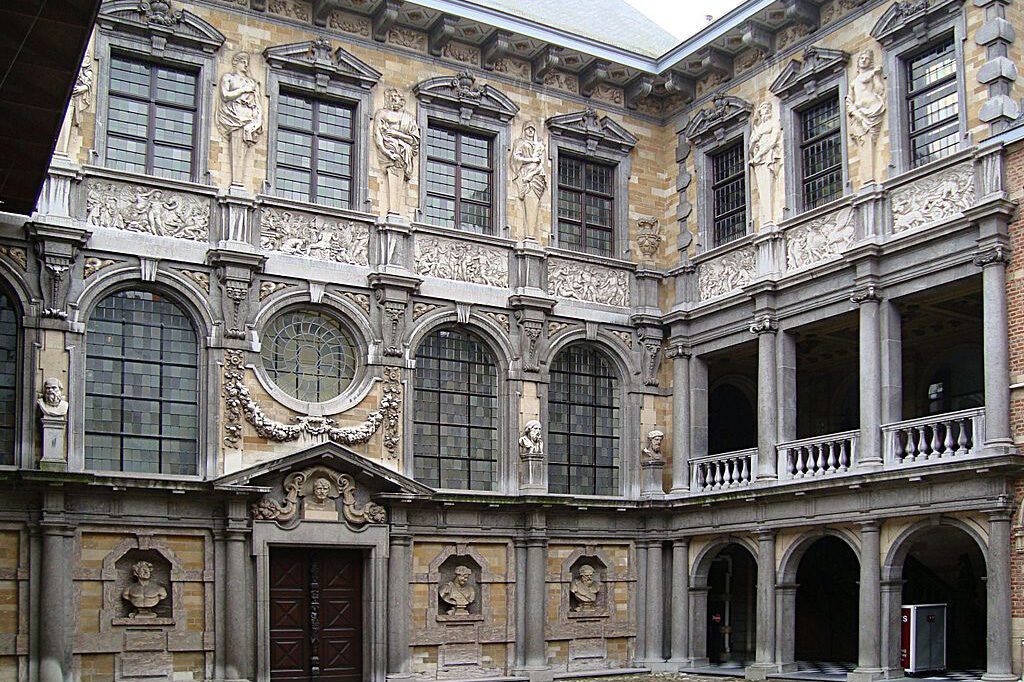 I must admit that I'm not such a big fan of Mr. Rubens – neither of the role he played for the Spanish-Habsburg crown nor of his genre of Baroque. However, as the building lies practically on the way from the Antwerpen-Central train station to the Grote Markt, the main square, you can drop in if you like.
Rubenshuis
Wapper 9-11
2000 Antwerp
Phone: + 32 – 3 – 201 15 55
Email: rubenshuis@antwerpen.be
Towards and Around the Grote Markt
Pacing through the shopping axis, we made our way straight to the Grote Markt, the main square. On our way, left and right, all those international chain stores you find everywhere – but also some truly local jewels – and we weren't even at the diamond district yet.
One of the stores we couldn't possibly just pass by is The Chocolate Line, a store and café located at the Paleis op de Meir, a town Palais built in the 18th century.
The Chocolate Line
Paleis op de Meir
Meir 50
2000 Antwerpen
Phone: +32 – 3 – 206 20 30
The store is open every day from 9.30 a. m. to 6.30 p. m. – Sundays only from 10.30 a. m.
Once we got wrapped in the aroma of high-class chocolates, it was not easy to break away, but we knew there were more wonders waiting for us.
Such as the Onze-Lieve-Vrouwekathedraal, the Cathedral of Our Lady. This house of worship is a Roman Catholic cathedral. Interestingly, although its construction in a Gothic style ended in 1521, it has never been considered completed.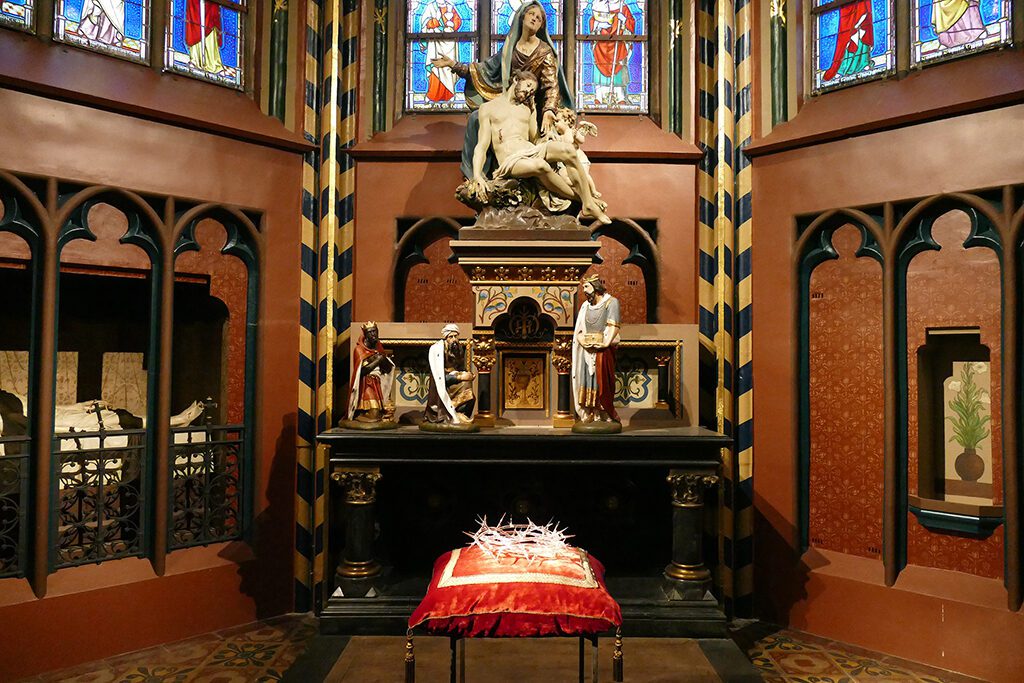 Not only its facade is beautiful and the belfry is impressive. Also inside, you'll find a number of important works by various Flemish artists – like the unavoidable Peter Paul Rubens.
My favorite sculpture, however, is definitely The Man Who Bears the Cross, a bronze sculpture by the famous artist Jan Fabre.
The cross-bearer, who pretty much looks like Fabre himself, has made it to the church's permanent collection in 2015 and stands in a prominent spot in the cathedral.
A few steps further is the Grote Markt. It's one of these typical Flemish squares surrounded by magnificent buildings reminding of the Golden Age – such as the Stadhuis, Antwerp's city hall.
This renaissance building has also made it to the UNESCO World Heritage List.
Antwerp City Card
Make sure to drop in at the Grote Markt 13-15 where one of the visitAnwerp offices is located. The other one is right at the main station.
Here you can get loads of information and printed material such as brochures and maps; and you can obtain an Antwerp city card.
With this card, you can use all public transport for free and visit many museums and landmarks at a reduced price – or even for free. According to the length of your stay, you can get the card for 24 hours, then it costs €uro 29. For 48 hours you pay €uro 37 and for 72 hours €uro 42.
Visit Antwerp
Grote Markt 13
2000 Antwerp
Phone: +32 – 3 – 232 01 03
Email: info@visitantwerpen.be
Open daily from 10 a. m. to 5 p. m.
As soon as we got our cards, we sat down at the very cozy Witzli-Poetzli
to check our options. Of course, there was far too much to see and to do to squeeze it in one single day. By the way, the Witzli-Poetzli – what a name! – is said to serve some of the best hot chocolate in town. We don't know since when we were there, ironically, they were out of their signature drink! We enjoyed our break at this cute'n'cozy place, anyways.
Witzli-Poetzli
Blauwmoezelstraat 8
2000 Antwerpen
Phone: + 32 – 474 03 50 89
Open daily from 11.30 a. m. to 2 a. m.
Museums and Galleries
The most interesting place to explore was, obviously, DIVA, a truly brilliant museum on everything related to diamonds. It's just around the corner from the Grote Markt.
This building used to house the Ethnographic Museum before this super modern Diamond Museum with many hands-on exhibits was installed and opened in the spring of 2018.
Absolutely fascinating are also the two Rooms of Wonder that were opened only in the autumn of 2018.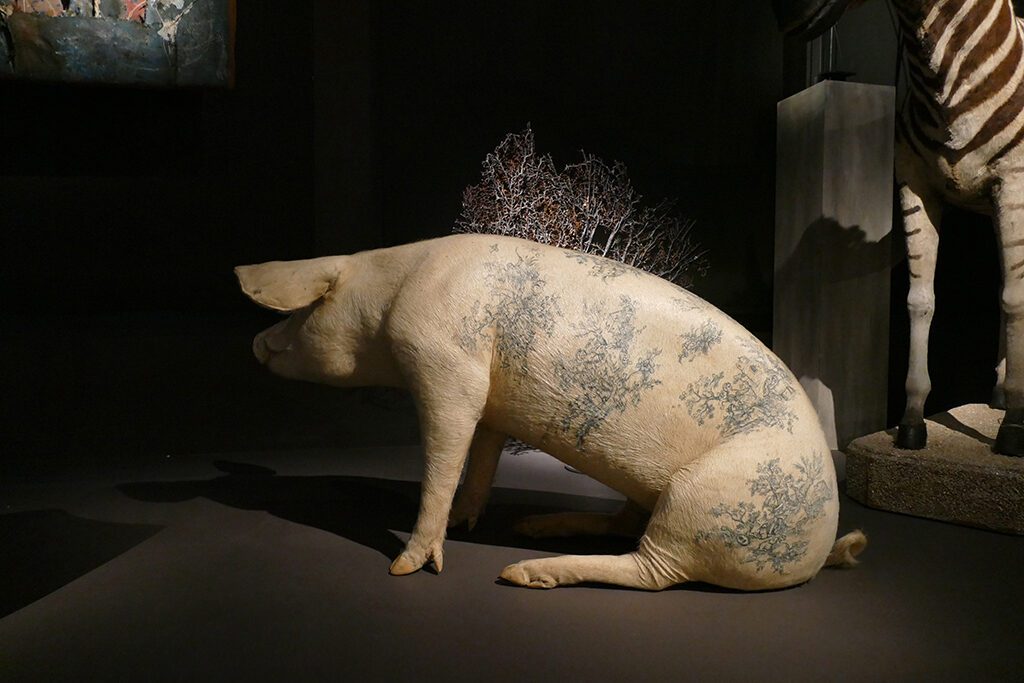 I would say when in Antwerp, there is no way around this fantastic venue – totally worth the visit.
DIVA
Suikerrui 17/19
2000 Antwerpen
Phone: + 32 – 3 – 360 52 52
The DIVA is open from Thursday to Tuesday between 10 a. m. and 6 p. m.
Another gallery that opened relatively recently is the Museum De Reede. Since 2017, this graphic art museum focuses its permanent collection on the work of Francisco Goya, Félicien Rops, and Edvard Munch.
However, they present also small changing exhibitions.
Actually, this museum is a bit quirky, a visit nonetheless quite relaxing between all this pompous splendor of diamonds and pearls and belfries and whatnot.
Museum De Reede
Ernest van Dijckkaai 7
2000 Antwerpen
Phone: +32 – 472 – 19 02 00
Email: info@museum-dereede.be
The gallery is open from Thursday to Tuesday between 11 a. m. and 5 p. m.
Not far from the graphic gallery is another small museum housed in a grand building, namely the Vleeshuis.
This historic building made of brick and sandstone and witnessing many centuries started out as a slaughterhouse, became a guildhall for the butchers – and houses today a museum on Antwerp's dance and music history. Especially the collection of instruments in the basement is quite impressive.
Museum Vleeshuis
Vleeshouwersstraat 38
2000 Antwerp
Phone: + 32 – 3 – 292 61 01
Email: vleeshuis@antwerpen.be
Hendrik Conscience Heritage Library
Another place we absolutely wanted to see was the wonderful Hendrik Conscience Heritage Library.
This library started out with 41 books in 1481. Since then, it augmented to more than 1,5 million volumes.
Although the library is considered one of the most important Flemish heritage collections, it is clearly under the tourist radar.
To be honest, we didn't come for the collection, we came for the elegant Nottebohm Room, a hall located in the oldest part of the library. This spacious room is far more than just a monumental bookshelf – it exudes all the grandeur and sophistication of knowledge and education.
Two precious masterpieces located at the gable end of this hall named after Antwerp patron Oscar Nottebohm are the Blaeu's celestial and terrestrial globes.
Hendrik Conscience Heritage Library
Hendrik Conscienceplein 4
2000 Antwerp
Phone: + 32 – 3 – 338 87 10
Mail: consciencebibliotheek@antwerpen.be


So that was it for landmarks. Yes, we certainly missed out on a lot, but as you know, a day does not have 24 hours when day tripping. Also, we wanted to enjoy the alleys and small shops and the city's atmosphere that we liked a lot.
What I regret the most is that we didn't have the time to explore the street art scene which must be vibrant – visit Antwerp even published a little guide.
Therefore, we'll be certainly back – and then we can hopefully take advantage of the 72 hours Antwerp city card.
Map of Antwerp
BRUGES
Brussels to Bruges is a half an hour's ride – and trains are frequent and reliable.
While Antwerp is being rocked by rocks, Bruges made a fortune with textiles: In the late Middle Ages, this region was one of the centers of the European textile industry. Actually, Bruges was one of the most economically and culturally rich cities in Europe and also an important and proud member of the Hanseatic League.
Nevertheless, like many other grand merchants' towns, Bruges, too, had to swap trade for tourism and welcomes currently 8.3 million visitors per year. Albeit, with almost 120,000 inhabitants, it is West Flanders' largest city. In the most visited part, the historic old town, are living less than 20,000 people. With 126 visitors per 100 inhabitants, Bruges is suffering from over-tourism; the price for being one of Europe's most beautiful cities.
Yes, Bruges is due to its picturesque historic old town and the canals very scenic.
But no, Bruges is not the Venice of the North – this title is already taken by Amsterdam, Hamburg, Copenhagen, and any other city that has a creek or a runnel; I promise: You won't find this lame, overused metaphor in this post or anywhere on my blog!
Arriving in Bruges
This said, Bruges is very striking, indeed. Although we visited on Christmas day so that many museums and stores were closed, we spent a lovely day out.
Once we got off at Brugge main station, we crossed the Albert I park – Albert I was, in contrast to his cruel predecessor Leopold II, a good guy: "There may not have been many monarchs in history who have made such a worthy contribution to democracy as the in every way exceptional Albert", points out German historian Christoph Driessen.
Since Bruges hasn't been destroyed either by wars or by other powers,
the medieval cityscape and historic buildings are very well preserved and there are dozens of fascinating museums and landmarks to be visited.
The medieval town center was declared a World Heritage
Site by UNESCO in 2000 and in 2002, Bruges was the European Capital of
Culture for a reason.
The Historic Core
We checked out only the very core of the historic city, starting at the Sint-Janshospitaal, the Old St. John's Hospital.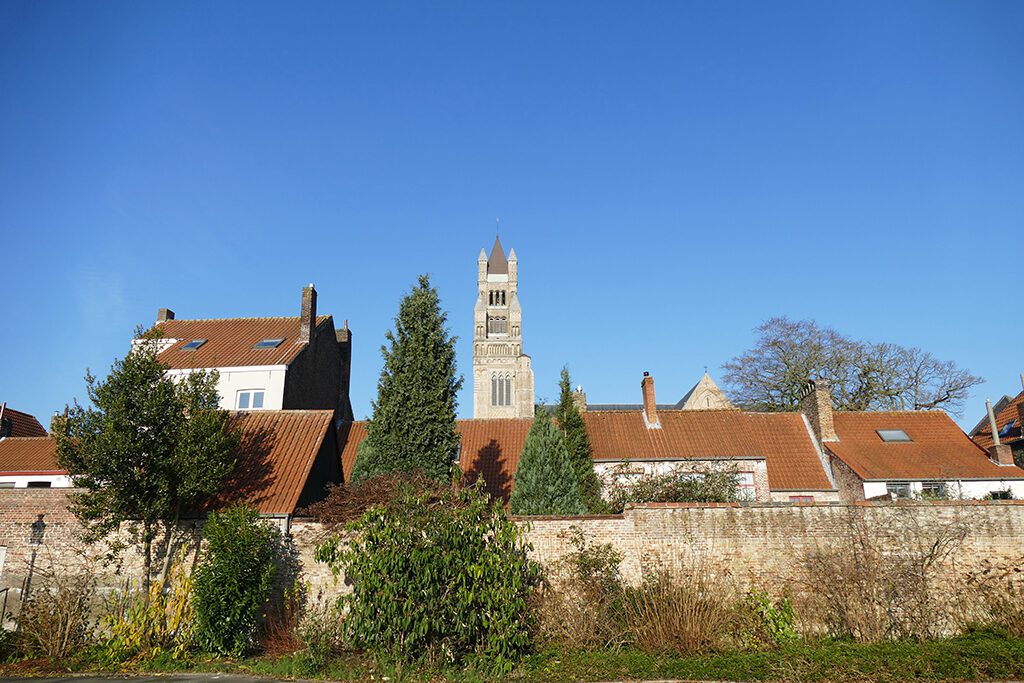 Founded in 1150,  Sint-Janshospitaal was actually the city's medical center until 1977.

Today, in the former patient room are paintings – including works by Hans Memling, antique furniture, and medical items illustrating the daily lives of patients and cleric personnel for several centuries.
The former pharmacy has retained its 17th-century layout and can also be visited.
In the courtyard, herbs are still being cultivated and fill this serene place with a wonderful smell.
From here, we got through an underpass to the famous Onze Lieve Vrouw Brugge, Church of Our Lady Bruges. This prominent Gothic house of worship was founded in the 13th century and is one of the earliest brick structures in Flanders with its tower being the second tallest brick tower in the world.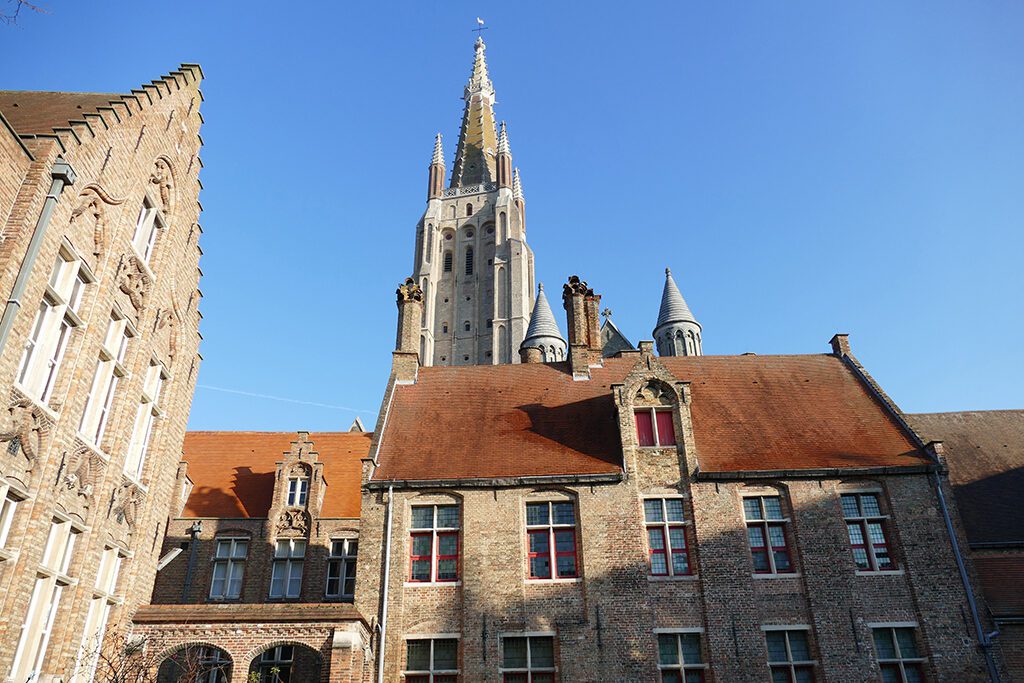 Another amazing feature is the marble Madonna that Michelangelo created in 1503.
Old masters, new masters: Across from the church is the XPO Center Bruges – which, unfortunately, was closed – Christmas day, remember?! However, since one of their permanent exhibitions is on Picasso whom I pretty much dislike, I wasn't too sad although usually, I'm a sucker for art exhibitions. The other – late – artist in residence is Andy Warhol, though, plus they have also a changing temporary exhibit so it might be worth checking this gallery out.
xpo
Site Oud Sint-Jan
Mariastraat 38
8000 Bruges
Phone: + 32 – 50 – 47 61 00
Email: info@oudsintjan.be
Tip: If you don't go to Bruges on a day trip but intend to stay overnight, check with your hotel whether they will supply you with a DiscoverBruges discount card. This is a complementary card you receive upon check-in at some hotels so that you'll get discounts at some attractions and stores.
Delicacies for all Senses
Since in Bruges, we were very lucky with the weather, we enjoyed a little walk. It took us down the cobblestone street Katelijnestraat alongside all the small specialty shops – many of which specialized in beer, by the way.
One of the cutest structures we noticed was the Spanoghe, a house of worship between Katelijnestraat and Stoofstraat. These tiny houses were commissioned by Francesca Spanoghe in the 17th century and intended to accommodate elderly women.
Another place for the pious single ladies would be the Ten Wijngaerde Begijnhuisj, Bruge's only preserved beguinage.
The beguines were religious women who lived in small communities without taking vows or retiring from the world, so that beguinages were not convents. This unique form of community was particularly popular in the Low Countries, hence, the Netherlands and Belgium. They even made it to the UNESCO World Heritage List.
Behind the Onze Lieve Vrouw Brugge – practically in its backyard – lies one of the most popular photo spots – today, you would call it the most instagramable place – the Bonifacius bridge from where you have the quaintest views of the canal and the surrounding old buildings.
Yet there is an even more famous spot, namely the Rozenhoedkaai, just a pleasant walk along the Dijver canal towards the north.
You don't feel like walking? Then maybe one of the canal tours is for you. For only 10 €uro, you get a perspective of Bruges from the water. But note that you can only get on board at Nieuwstraat 11 behind the Church of Our Lady Bruges.
Since we are based on the waters, you cannot impress us with boat rides. Hence, we walked.
A bit further up the river to the Vismarkt, a square surrounded by a covered arcade, built in 1821 for the purpose of selling fish. And that's what's happening here every morning still, but only from Wednesday to Saturday and, obviously, not on Christmas day.
However, we had our share of delicacies since we took a break at the Hollandse Vismijn pub, a joint clearly rather frequented by locals than by visitors. This is reflected not only in their menu, but most of all in their civil prices.
Otherwise, Bruges is really, really pricey when it comes to the gastronomic offer.
Albeit, there are all these Belgium delicacies, especially around the large Markt square and the adjacent streets. The delicious smell lingering in the air, and chocolates, truffles, and waffles in all shapes and flavors are tickling the hungry visitor's taste buds.
Some of the Belgian delicacies have even made it to museums. The history of fries – why on earth are they called French, anyway? – can be traced at the Frietmuseum, located just minutes north of the Markt.
Then, on the Breidelstraat that connects the Markt with the Burg square, the interactive exhibitions Bruges Beer Experience teaches you about the beer brewing history and makes you an alcoholic by filling you up with varied beer samples.
Frietmuseum
Vlamingstraat 33
8000 Bruges
Phone: + 32 – 50 – 34 01 50
Email : info@frietmuseum.be
The museum is open daily from 10 a. m. to 5 p. m.
Bruges Beer Experience
Breidelstraat 3
8000 Bruges
Phone: + 32 – 50 – 69 92 29
Email: info@mybeerexperience.com
The museum is open daily from 10 a. m. to 6 p. m.
But also those who are rather into sweet than bitter will get all dizzy on Breidelstraat. It is basically 200 meters covered with chocolate and waffle dough. Has anyone counted the stores selling these Belgian specialties?
Medieval Heritage
However, the two squares connected by Breidelstraat are well worth a closer look. At the Markt Square, you'll spot Bruge's belfry – one of the 33 special towers listed as a UNESCO World Heritage Site. You can climb it over 366 steps to enjoy a grand view of the city and beyond.
Then, there is the Provinciaal Hof, the Gothic Provincial Court House that looks impressive. Nevertheless, it cannot be visited – in contrast to the neighboring building that houses the Historium Bruges. At this kind of educational indoor theme park, we actually learned a lot despite my shenanigans with the costumes.
Not to be missed is their café bar Duvelorium on the first floor. From here, you have a grand view of the entire Markt.
However, I find the entrance fee to the Historium a bit too high, but you can access the Duvelorium for free.

Other than that, the Markt is tightly packed with restaurants, cafés, and bars. You won't leave either hungry or thirsty.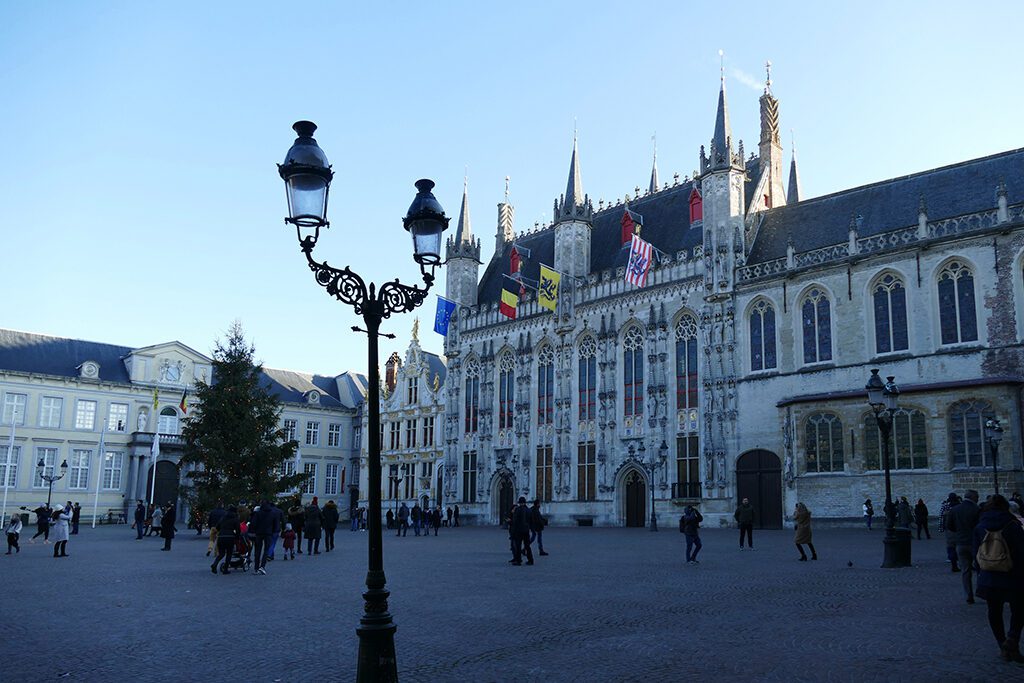 To get to the Burg square, Bruges' other historic, walk across the beforementioned Breidelstraat. Here, you'll spot Bruges' city hall and the Brugse Vrije, a courthouse built in the 17th century with a beautiful Baroque facade.
The Basiliek van het Heilig Bloed definitely impressed me. The slightly creepy Basilica of the Holy Blood opened in the 12th century and is famous for housing a phial supposedly containing a cloth with Christ's blood.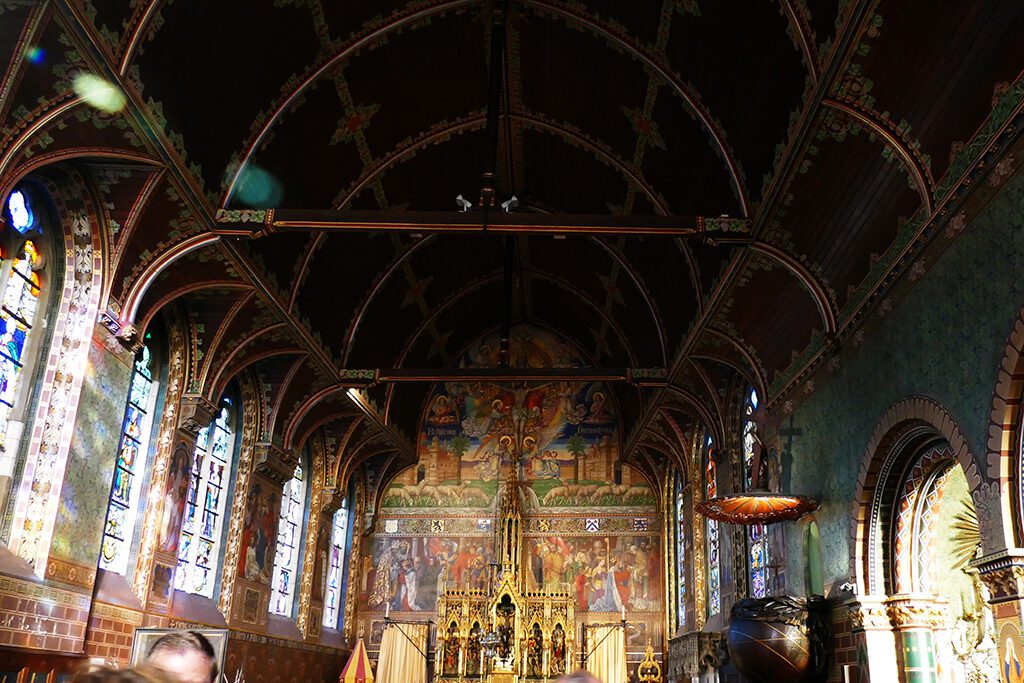 So what can I say – we missed out on the canal tour, on parks, and some of the museums – however, we got sort of a tempting foretaste of what Bruges must be and we'll certainly be back one day for more.
Since already one day was far too tight for the majestic city of Bruges, you'll probably won't make it to one of the city's strongest suits, the seaside resort of Zeebrugge – only 20 kilometers west of the city center.
However, if you have more days, a trip to the beautiful coast is certainly worth it.
Map of Bruges
GHENT
Ghent is located halfway between Bruges and Antwerp and from Brussels it's about half an hour by train. Unfortunately, the Ghent Sint Pieter station is about 3 kilometers from the historic center. Hence, instead of walking, you might want to take tram #1 to the Korenmarkt and visit from there.
Like Bruges, Ghent became a center of textile production and an economic power already in the 11th century. Actually, the city was the Netherlands' largest city – and one of the largest cities in all of Europe until the mid-16th century.
At the MIAT Ghent Industriemuseum, you can still trace Ghent's glorious history of industrialization and the textile industry. The exhibition is charmingly displayed in an old cotton-spinning mill.
Museum of Industry
Minnemeers 10
9000 Ghent
The museum is open from Thursday to Tuesday from 9 a. m. to 5 p. m., on weekends from 10 a. m. to 6 p. m.
Flemish Heyday
Ghent also played an important role in the rise of Calvinism and during the Flemish Golden Age in the 16th century. Today, with almost 250,000 inhabitants, it is Belgium's third-largest city after Brussels and Antwerp. Due to its location in a vast area of ​​flower and plant breeding businesses, Ghent is also known as the Flower Town.
Since during our visit it was pouring, we had to visit Ghent darkened by grey clouds.
It is always unfair to a city when you visit for the first time in bad weather. The place has to offer a lot to make up for the poor impression you automatically have. And yes, Ghent did quite well.
After having picked up some information and most importantly our Ghent cards, we took a waffle-break at one of the cute cafés surrounding the historic town square Korenmarkt. Over a crispy waffle with a generous chocolate'n'cream topping, we decided where to go and what to see in order to make the most of our visit and at the same time stay as dry as we possibly could.
Gravensteen Castle
Gravensteen – translating to Castle of Counts – seemed like the perfect place, to begin with. After all, it dates way back and grants a good look at Ghent's early history.
Gravensteen is a medieval castle whose origins date back to the 10th century. However, the current castle dates to 1180 and was the residence of the Counts till 1353. Eventually, these sturdy structures served as a court, a prison, a mint, and – very proletarian – even as a cotton factory. Today, it houses a museum and grants wonderful panoramic views of the city.
As a matter of fact, with a few exceptions, the historic center is not very widespread and can be visited on an extended walk.
Walking north along the river Leie on the street Kraanlei, we were enchanted by the cute old houses. Today, they are either inhabited or transformed into shops and cafés. Or they are museums like the House of Alijn. This is a former almshouse where today clothing, furniture, documents, and more are telling us about ordinary life in the 20th century; yap, the last century is already history….scary!
Huis van Alijn
Kraanlei 65
9000 Ghent
Phone: + 32 – 9 – 235 38 00
Email: info@huisvanalijn.be
The museum is open from Thursday to Tuesday from 9 a. m. to 5 p. m., and on weekends from 10 a. m. to 6 p. m.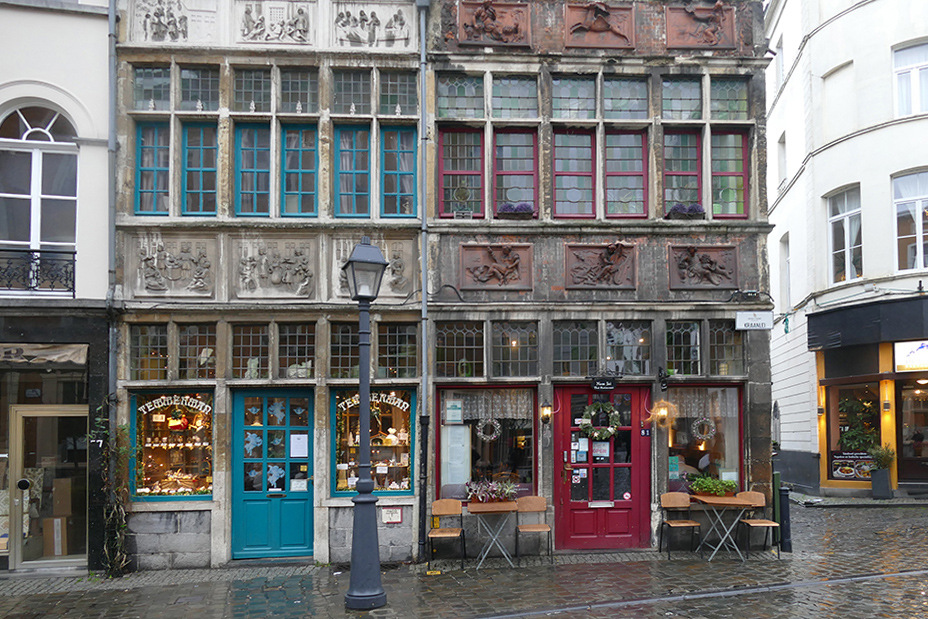 Vrijdagmarkt
Crossing the bridge over the Leie, we got to the Vrijdagmarkt, named Friday Market after the traditional market day. And to this date, there is a farmers market taking place on Fridays and Saturdays – overseen by Mr. Jacob van Artevelde, a merchant, and statesman who went into politics to prove neutrality during the Hundred Years' War and thusly save the textiles industry in Ghent. Although he was murdered during a riot in 1345, he is still looking over the burghers of Ghent from his pillar in the center of the Vrijdagmarkt.
The greatest assembly of historically important buildings stands along the Cataloniëstraat and the Emile Braunplein.
At the corner of the Korenmarkt is St. Nicholas' Church, a house of worship built in a Romanesque-Gothic style using blue-gray stones from the Tournai area. 
Since Saint Nicholas' Church was popular with the guild members doing their business in the vicinity, these guilds had even their own chapels; mind you, it was the time of easy indulgence.
Only a stone throw away – a stone-throw east that is – is one of Ghent's most important landmarks, the belfry. It is a UNESCO World Heritage Site – together with 32 other Belgian and French belfries.
Ghent Altarpiece
Next on this medieval path is Saint Bavo – and that's really unique since Saint Bavo of Ghent was a Roman Catholic and Eastern Orthodox saint who lived in the 7th century. He was even married and had a daughter. Pretty worldly for a saint.
Construction of the church they named after him began in the 13th century. It is famous for its exquisite paintings of whom the Ghent Altarpiece should be the most remarkable one. Formerly known as The Adoration of the Mystic Lamb, it is Jan Van Eyck's masterpiece and definitely one of the most important works of the early Northern Renaissance.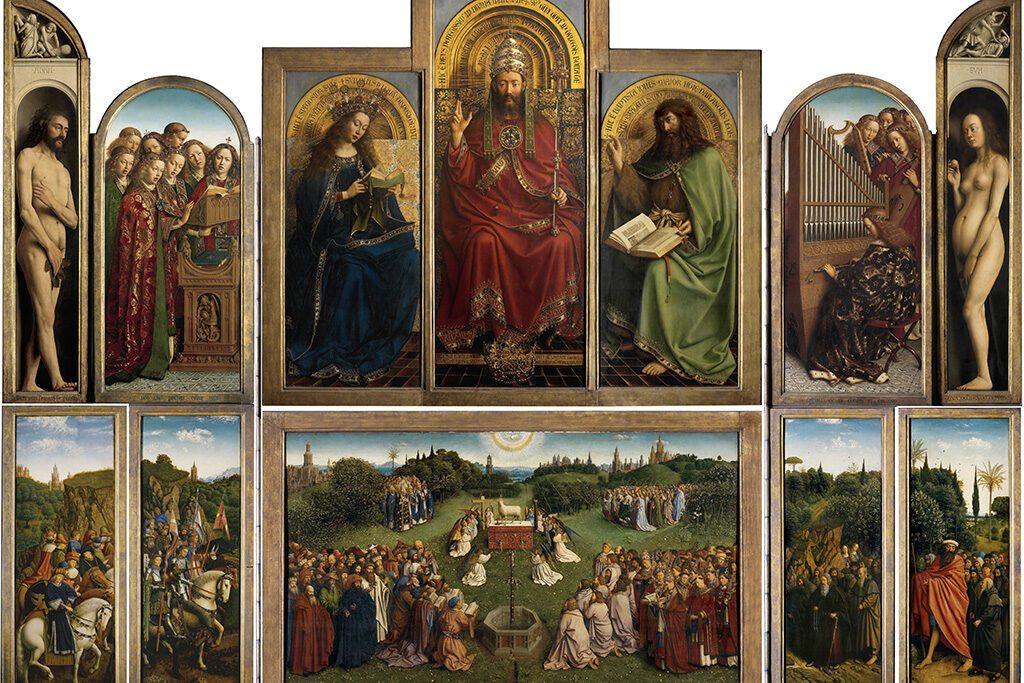 Ghent's Gothic mile finds a glorious end at the Kasteel Geeraard de Duivel, the Castle of Gerald the Devil. Of course, it never was a devil's accommodation, however, its everchanging past has been colorful, to say the least: Since the 13th century, it served over the years as a knights' residence, an arsenal, a monastery, a school, a mental home, a boys' orphanage as well as a prison. Today, it is a museum.
Geeraard de Duivelsteen
Geraard de Duivelstraat 1
9000 Ghent
Citadelpark
To this day, I regret having missed out on Ghent's Graffiti street. But not only was it raining. I also absolutely wanted to visit the museums at the Citadelpark. And the nature of a day trip is that you have only one day.
The Citadelpark is close to the train station on the summit of a hill between the rivers Scheldt and Lys. This public garden was installed on the location of the former Dutch citadel in 1875.
Today, there are two great art museums on the premises. One is the Museum voor Schone Kunsten, the Museum of Fine Arts that houses a vast permanent collection from the Middle Ages until the mid-20th century.
To spice things up, they temporarily also add some contemporary artists'n'pieces. A must-see when visiting Ghent.
Museum of Fine Arts Ghent
Fernand Scribedreef 1
9000 Ghent
Phone: + 32 – 9 – 323 67 00
Email: museum.msk@gent.be
The other museum is the S.M.A.K., Stedelijk Museum voor Actuele Kunst. It was added in 1999. Installed at a former casino from 1949, it houses an interesting permanent collection as well as quirky and provocative temporary exhibitions.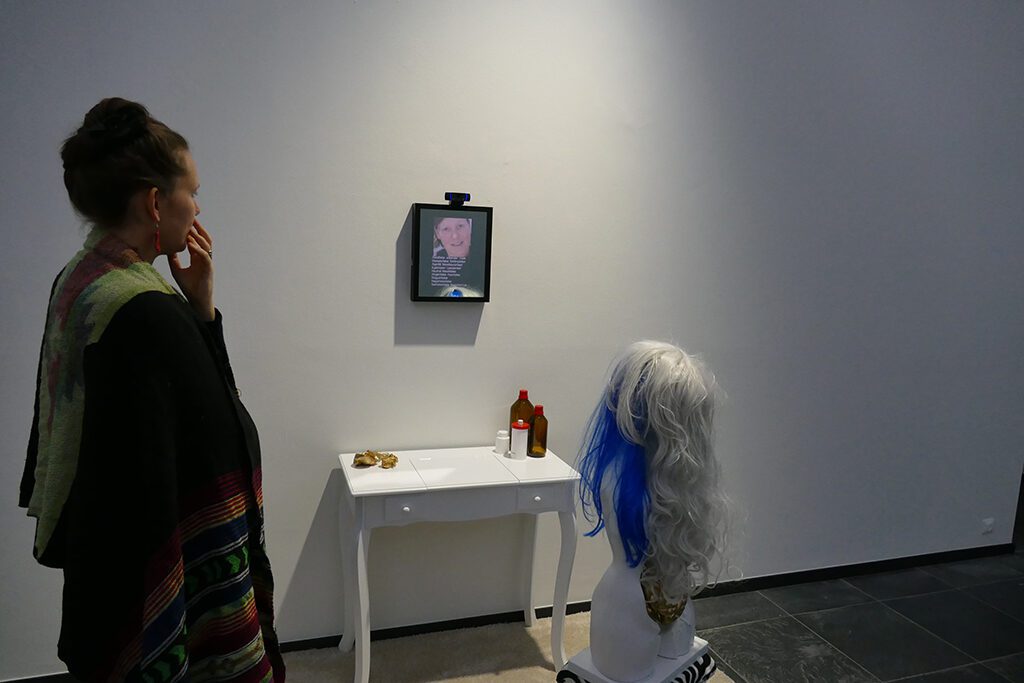 S.M.A.K.
Stedelijk Museum voor Actuele Kunst
Jan Hoetplein 1
9000 Ghent
Phone: + 32 – 9 – 323 60 01
Email: info@smak.be
As I said, weather conditions make city breaks unfair – to the cities: When it's sunny, even the dullest place has something charming to it, and in the rain, even New York, Rio, Tokyo seem sad and worn.
This being said, I think that Ghent is well worth a visit. Once you're there, make sure to pick up some info material at the tourist info on Sint Veerleplein square just below the Gravensteen:
VisitGent
Sint-Veerleplein 5
9000 Gent
Phone: +32 – 9 – 266 56 60
They are open every day from 9 a. m. to 6 p. m.
All the sights described and recommended in this post – and many more – are free with the Gent Card which costs 30 €uro for 48 hours and 35 €uro for 72 hours; there is no 24 hours-option.
Map of Ghent
Practical Information
How to Get There and Around
When in Belgium, quick city breaks are easy to squeeze in. Not only because of the country's moderate size but mainly due to its excellent system of public transportation. There are trains going crisscross country. Also the tickets are very reasonably priced. You can get practically everywhere for about 10 €uros.
If you are a small group or want to travel more, there even is a ticket of ten that costs only 83 €uro. You can use those ten trips any way you like. You can either take ten trips by yourself or split them amongst your group. All you have to do is filling the date and destination in the respective fields and you are good to go.
But before you race to the station to get one of these passes, hold your horses. After all, there is also the Weekend Ticket that allows you to travel half price on return trips between Friday 7 p. m. and Sunday as well as certain holidays.
SNCB, the national train company, has a very comprehensive website. It comes in four languages and is really easy to navigate. You'll find all the price info and schedules you need there.
Where to Stay
If you plan on staying in one of these cities for longer than just a day, you can choose from many accommodations*:
What to Eat
Belgium is famous for some truly delicious foods – that are not always on the light'n'healthy side.
Hearty Specialties
Not only do Belgians fry potatoes. Basically, everything that accompanies these famous frites is deep-fried. There are many frying houses claiming to be the best. There's actually no other way than trying out yourself at which one of the fritures or baraques à frites you like your grease best. In Flanders, they call them frituur or frietkot, by the way.
A truly Belgian classic is mussels. You get them steamed in various broths. My favorite is à la marinière, hence, seasoned with a bouquet-garni.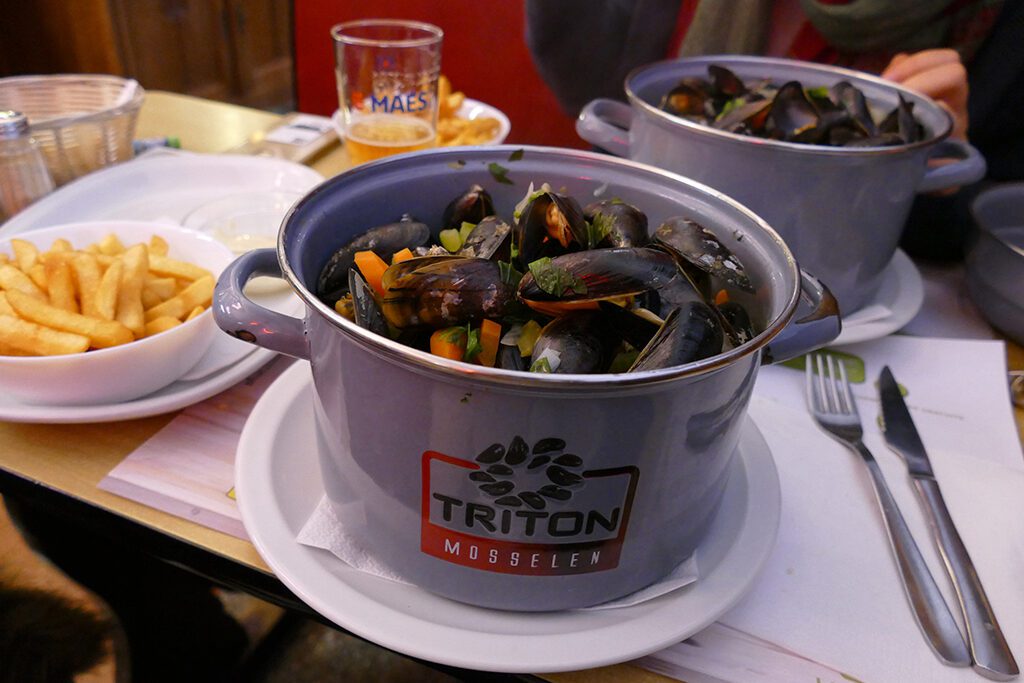 It won't surprise you that traditionally, they come with an order of…fries. Nevertheless, I recommend you don't just dismiss the baguette that they usually serve, too. Once you're done with your mussels, it's a great sponge to clean up the remaining broth.
Obviously, you need to wash your meal down with Belgian beer. In one of Europe's smallest countries are approximately 280 breweries that offer more than 1,000 different…brews. Amazingly, many of them come with specially designed glass – great for collectors and also a wonderful souvenir!
Sweet Treats
Yes, it's all about calories in Belgium. Mind you, the country is also famous for its chocolate that comes in the form of bars and pralines, but also in really cute shapes – and liquid as drinks or sauces.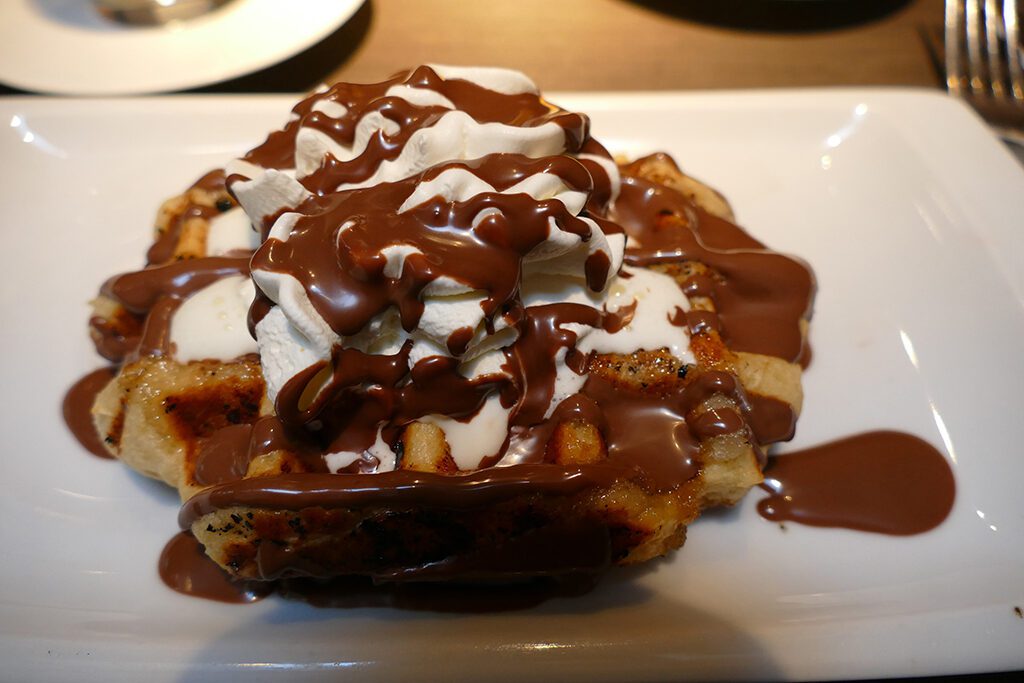 A Belgian treat that unites grease'n'sugar to an irresistible treat is the iconic waffle that you get basically everywhere with a wide choice of toppings that make them extra-yummy to your liking.
What to See
I'm an avid solo-travelling woman. Since solo-travel doesn't equal solitude, I love to join organized tours here and there. They allow me to meet fellow travellers – for just a short moment or a lifelong friendship.
Therefore, here are some great ideas of what to do during your stay in Brussels. Especially if you have only a short time to stay, they'll enable you to make the best of it*:
Cash And Cards
In May 1998, the heads of the member states of the European Union agreed – nota bene in Belgium's capital Brussels.
Until now, 20 European countries replaced their former local currency with the €uro starting in 2002. Obviously, Belgium is one of them. The exchange rate is 1 US$ = 0.94 EUR as of January 2023. However, you can check today's conversion rate on this page.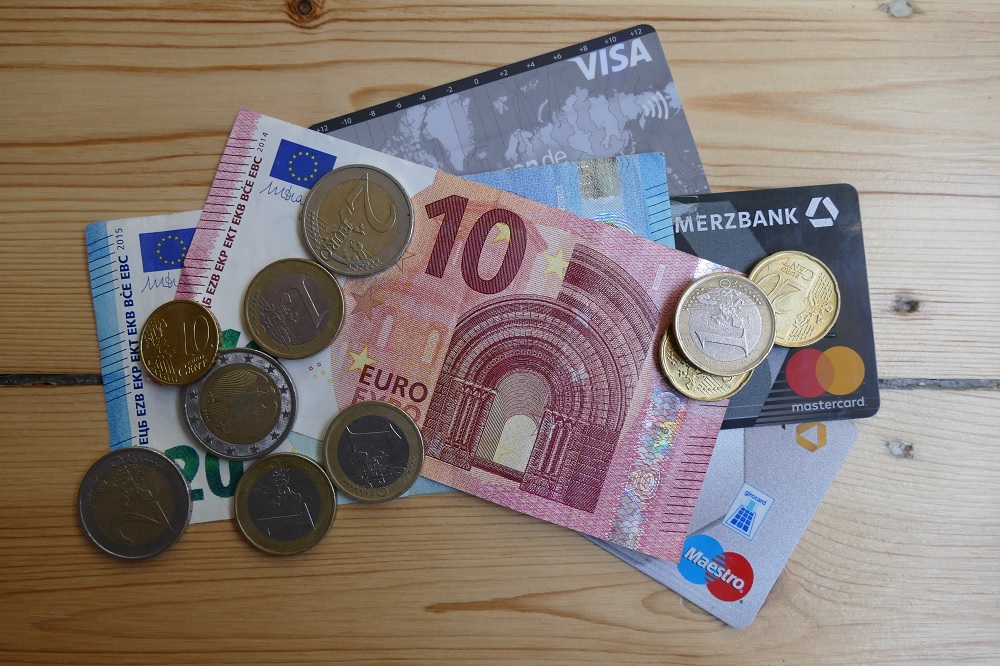 Credit cards are widely accepted. However, there are not as many ATMs as in other European countries so sometimes the queues can be pretty long.
Languages
According to the descendants of the Belgian ethnicities, the country has three official languages: Flemish, French, and German. A narrow majority, roughly 59%, is Flemish, around 40% are French, and only 1% are German-speaking. Obviously, many people speak more than just one of these tongues as well as quite good English.
Nevertheless, you might want to learn some basic French, Dutch, or German vocabulary on babbel.
Connection and Communication
Since June 2017, If you have a European mobile phone contract, no roaming charges apply within the EU. This applies to all 27 countries of the European Union as well as Iceland, Liechtenstein, and Norway.
The EU roaming regulation applies to all contracts.
In case European roaming is not available, you can connect to the internet without any issue at basically every museum, eatery or café, and, of course, hotel. As a matter of fact, I had the impression of having the fastest internet ever.
If you insist on being online 24/7, you can, of course, get a SIM card.
The standard voltage in Europe is 220 V and the frequency is 50 Hz. In Belgium, they are using plug types C and E.
Whereby, since nowadays, all these chargers have integrated adapters, in general, the voltage and frequency don't really matter.
If you are looking for more comprehensive travel info, you'll find everything you need in my post World's Most Complete Travel Information– an indispensable globetrotter-classic.
Pinnable Pictures
If you choose to pin this post for later, please use one of these pictures: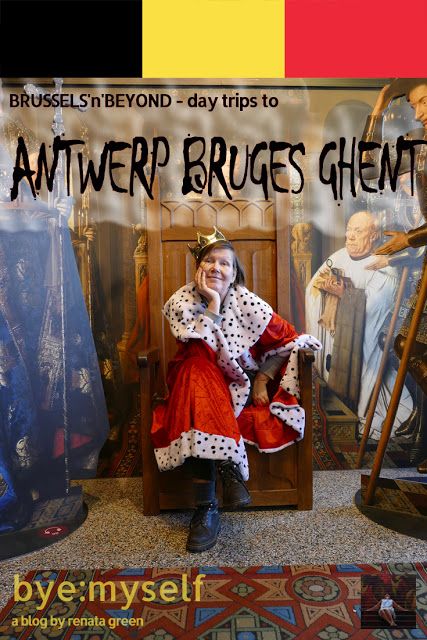 Note: I'm completing, editing, and updating this post regularly – last in January 2023.
Did You Enjoy This Post? Then You Might Like Also These:
* Disclaimer: I appreciate that visitGent as well as visitAntwerpen supported my blogger trip by supplying me with the respective City Cards. However, all opinions on these services are mine and weren't by any means influenced by my cooperation partners.
*This is an affiliate link. If you book through this page, not only do you get the best deal. I also get a small commission that helps me run this blog. Thank you so much for supporting me!