Berlin is huge – actually, with almost 3.7 million inhabitants it's not only Germany's capital but also its largest city. So, how can you possibly explore Berlin in only 24 hours?
Truth is, you can't. But since Germany's third-largest airport – after Frankfurt and Munich – is in Berlin, chances are that you'll have the opportunity to spend a layover there. Of course, you can always come back for more. I already have you covered by two comprehensive guides to Berlin's West and East. Also, you'll find an extended guide to the city's best street art.
Local Currency
Euro (EUR) / 1 EUR = 1.06 US$ (July 2022) / current rate
Emergency Contacts
Police 110
Fire Department 112
National Airline
Airports
Flughafen Berlin Brandenburg "Willy Brandt" / IATA-Code BER
Tourist Info Online and Onsite
Berlin Tourist Info Centre
Pariser Platz
Southern Gate House of the Brandenburg Gate
10117 Berlin
Open every day from 10 a. m. to 6 p. m.
Getting Downtown and Back
Since the airport is located only about 9 kilometers respectively 6 miles from the city, the center can be easily and quickly reached by public transport.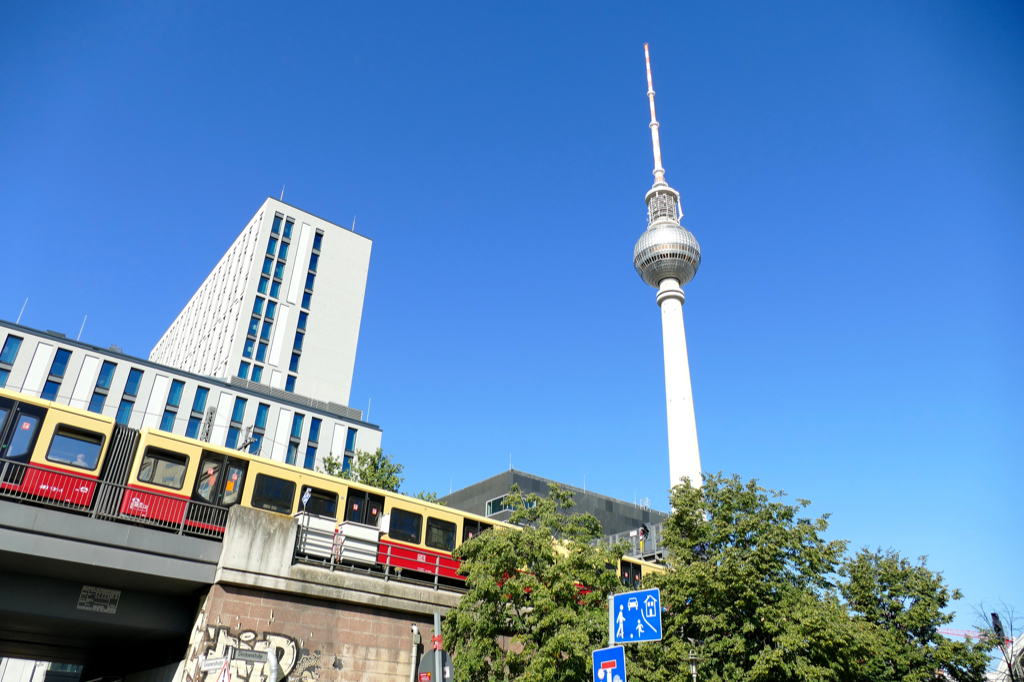 The best gateways to the airport are the Hauptbahnhof, Berlin's central station, as well as Ostkreuz. From both stops, you'll get to the airport by either the Airport-Express train FEX or regional train lines S9 or S45.
For your 24 hours in Berlin, you should definitely opt for a day pass for zones ABC. It costs 10 €uros and has you covered for your entire 24 hours-stay. Don't forget to validate your ticket at one of the orange machines on the platforms. Otherwise, your ticket isn't valid and you'll be fined.
If you like, you can leave your big luggage service center in terminal 1. You can pay by the hour or a daily fee. However, note that they are only open from 9 a. m. to 5 p. m. Hence, if you need more flexibility, you better use the lockers at the central station or Ostkreuz.
Morning Activities
If you are lucky and come to Berlin on a lovely sunny day, a walk across Berlin's main boulevards is the best way to get a feel for the city.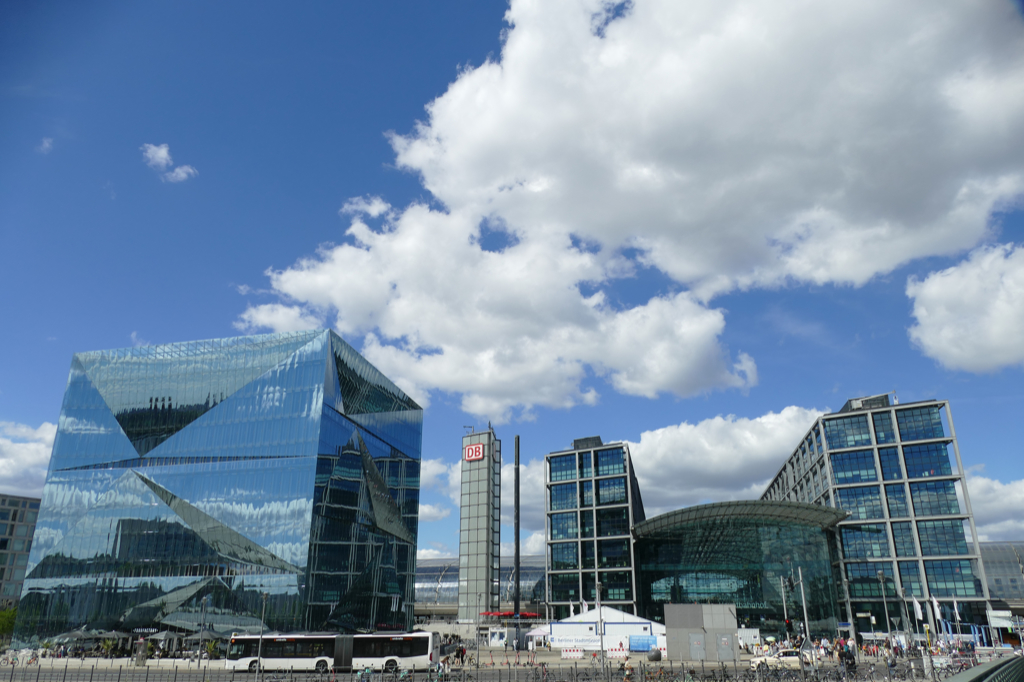 You can lock up your large luggage safely and conveniently at the main train station. On the south side of the train station, you can take a leisurely stroll across the bridge over the Spree. It continues between the modern buildings of the federal government and the old Reichstag building with its glass dome. Should you be able to get tickets for a visit at short notice, don't miss a visit to this magnificent structure, which Sir Norman Foster designed out of steel and glass.
From the Reichstag, it's just a few steps to the Brandenburg Gate – an arch that marked during the division of Berlin the frontier between East and West.
The gate itself was commissioned by Frederick William II and built between 1789 and 1793 in neo-classicist style. Its main decoration is, of course, the Quadriga. This carriage is a work by sculptor Johann Gottfried Schadow. In addition, more of the master's art can be admired at the Alte Nationalgalerie. Of 18 city gates, the Brandenburg Gate is the last existing one.
Besides having been an important symbol for many epochs of German history, yes, also the very dark ones, it is a fantastically adorned structure. For example, notice the wonderful reliefs and friezes.
Walk a Mile in My Your Shoes
From here, you continue your walk on the famous boulevard Unter den Linden. Laid out in 1573 under Elector Johann Georg as a bridle path from the city palace to the zoo, it was fortified in 1647 under Elector Friedrich Wilhelm and planted with linden trees. Now you know why it's called Unter den Linden which translates to under the linden trees.
After German reunification, the boulevard gradually regained its former glory. Today there are a number of carefully restored magnificent buildings on the approximately 1.5 kilometers between the Brandenburg Gate and the Berlin Cathedral. It's lined with nice shops and interesting galleries. Also, you'll find many outdoor cafés where you can take a break and watch time and people passing by.
Other spots you shouldn't miss on your walk down Unter den Linden are the Humboldt University as well as the Bebelplatz across the road which is surrounded by beautiful classicist buildings such as the old opera house.
Obviously, the so-called Lustgarten which is practically the entrance to the museums' island right in front of Berlin's Cathedral is a great place to visit for the fountains and most of all the amazing granite bowl by Christian Gottlieb Cantian in front of the entrance to the Altes Museum.
From here, it's only a short 10-minute walk to Schlögl's restaurant where you will enjoy typical hearty German food. However, if you're not that much into German cuisine and prefer something lighter at lunchtime, you'll find many other restaurants in this area, from Italian to Vietnamese or Japanese – it's a very lively commercial neighborhood that caters to all tastes.
Morning Activities
It's raining? You can still learn a lot about Berlin and Germany at one of my very favorite museums, the Deutsches Historisches Museum, hence, the German History Museum. To get there, take subway U5 to the stop Museumsinsel.
Unfortunately, as of July 2022, the permanent exhibition on German history is closed due to renovation. Therefore, I suggest that you visit the temporary exhibition and then continue to the DDR Museum just one bloc east. Here, you can learn about everyday life in pre-unified Germany. They have a very inspiring concept and many interactive exhibits.
The Deutsches Historische Museum is open every day from 10 a. m. to 6 p. m., Thursdays until 8 p. m. and the entrance fee is 8 €uros. The DDR Museum opens daily from 9 a. m. until 9 p. m. and a general ticket costs 12.50 €uros.
From the DDR Museum, it's only one block east to the restaurant where you can enjoy some hearty hot food against the rain.
Lunch
As you might know, Berlin is super-international. People from all over the world come here not only on touristy visits, but to stay. Therefore, you'll find a wide range of all different cuisines to choose from. Nevertheless, I assume that you'd like to sample some local dishes, and therefore, I recommend you take a seat at Schlögl's – Altberliner Gaststätte. Although the address is Karl-Liebknecht-Straße 9, it's a bit hidden in a small alley of the main street Karl-Liebknecht-Straße.
They are open from Wednesday to Sunday from noon till 10 p. m., Sundays only until 5 p. m.
If they are closed, a valid alternative would be the Berliner Kartoffelhaus practically next door. They are open every day from 11.30 a. m. until 9 p. m. and serve very similar food. Since the Berliner Kartoffelhaus and Schlögl's – Altberliner Gaststätte are in the same building, both addresses are Karl-Liebknecht-Straße 9.
Obviously, you'll find all places mentioned in this post in the maps below.
Afternoon Activities
The afternoon walk takes you further into Berlin's hip'n'wild east. Coming from either of the two restaurants, go some steps back towards the Cathedral and turn right into Rosenstraße.
Here is the memorial honoring a very touching event from 1943: In February of that year, about 8,000 Jewish men were arrested right at their working places, obviously for deportation to the concentration camps. However, some of these men were married to so-called 'Aryan', hence, German, non-Jewish women. Therefore, for two months, these wives protested in front of this building against the arrest of their husbands. So for two months, day by day, they proved that they had no intention to accept the abduction of their loved ones.
In order to avoid bloodshed in the very center of the capital of the 'Reich', the regime backed down and released these men.
Since 1995, there is a sculpture by Ingeborg Hunzinger called Block der Frauen which translates to Block of Women honoring these more than brave females who stood up against the Nazi terror here at Rosenstraße.
In With the In-Crowd
As you continue northwards, you'll get to the Hackescher Markt. This neighborhood is a creative hub with design and fashion shops as well as numerous bars and restaurants.
From the mid-1990s, the historic Hackesche Höfe were extensively renovated. The largest closed courtyard area in Germany now once again houses a diverse mix of workshops, fashion, design and jewelry, art and culture as well as gastronomy in these beautiful courtyards.
While these courtyards, built and decorated in an Art Nouveau style, are housing costly boutiques and chains and big labels, the adjacent Schwarzenberg house withstands posh tenants and stands like a fortress, dedicated to besieging the globalized, capitalist conquerors.
Hence, the Schwarzenberg house is richly decorated with graffiti and quirky sculptures. Also, the bars here are rather rustic. .
From here, you can explore the vicinity in a wide circle by walking up the Rosenthaler Straße which is lined by quirky small shops and therefore perfect for window shopping or purchasing some truly unique pieces.
Then you turn left into Auguststraße where you'll find some of Berlin's coolest galleries. If you have time to spare, make sure to visit the KW Institute for Contemporary Art on Auguststraße 69. Even if you're not that much into art, you'll certainly enjoy a break at their café in a tranquil courtyard.
Finally, at the end of the Auguststraße, turn left into Oranienburger Straße which will take you back to the Hackescher Markt.
A Quick Bite
However, before you reach there, make a dinner stop at the Curry 61 on Oranienburger Straße 6.
You simply cannot leave Berlin without having an original Currywurst, a sausage cut in pieces and smothered in tomato ketchup and curry powder. Curry 61 is a legend!
Afternoon Activities
Museumsinsel
As it keeps raining, you can spend the afternoon at some of the most important art collections in the world. Just crossing the bridge over the Spreekanal, you find yourself on the so-called Museumsinsel, the museums' island. This complex of amazing galleries is even listed as a World Culture Heritage Site by Unesco.
Behind the beautiful greenery Lustgarten is the Altes Museum, hence, old museum. Already the entrance of this neoclassical building designed by the grandmaster is very impressive: A beautiful rotunda is surrounded by 18 massive columns. Inside, a grand collection of Roman and Greek artifacts is awaiting you.
A general ticket costs 10 €uros.
Opening Hours and Deals
All galleries on the Museumsinsel are open from Tuesday to Sunday from 10 a. m. to 6 p. m., on Thursdays till 8 p. m. with the exception of the Bode Museum. As you'll spend the entire afternoon here visiting also the other galleries on the Museumsinsel, you should opt for the Museum Island Ticket that sets you back 19.00 €uros. This pass already pays out if you visit only two museums.
More Awesome Galleries
Behind the Altes Museum is the Pergamonmuseum. It houses the famous Pergamon altar, the Mshatta Façade, and other incredible treasures from the Ancient Near East. At this moment – in July 2022 – significant parts are closed for renovation. However, on the other side of this building complex is the Neues Museum. Completely remodeled by David Chipperfield and re-opened in 2009, it presents a fantastic collection of Egyptian art and prehistoric archaeology. Don't miss out on paying Ms Nofretete a visit!
A single ticket for the Pergamonmuseum costs 12 €uros and for the Neues Museum 14 €uros.
Next to the Neues Museum is the Alte Nationalgalerie, the old national art gallery. They are housing a wonderful collection of the German Romantic movement including those masterpieces by Caspar David Friedrich. Also, there are grand Impressionist as well as early Modernist paintings. Here, you can literally picture Germany's past in the 18th and 19th centuries.
Last not least, on the museum's island's northern tip, you'll spot the Bode Museum. Built by Ernst von Ihne in neo-baroque style as the Kaiser Friedrich Museum between 1898 and 1904 on behalf of Kaiser Wilhelm II, it is home to the Sculpture Collection and the Museum of Byzantine Art as well as the Coin Cabinet.
A single ticket costs 10 €uros. Note that this is the only museum on the museums' island that closes at 6 p. m. even on Thursdays.
Dinner
If you've followed my itinerary for the sunny day, you hopefully enjoyed a Currywurst dinner at the Curry 61.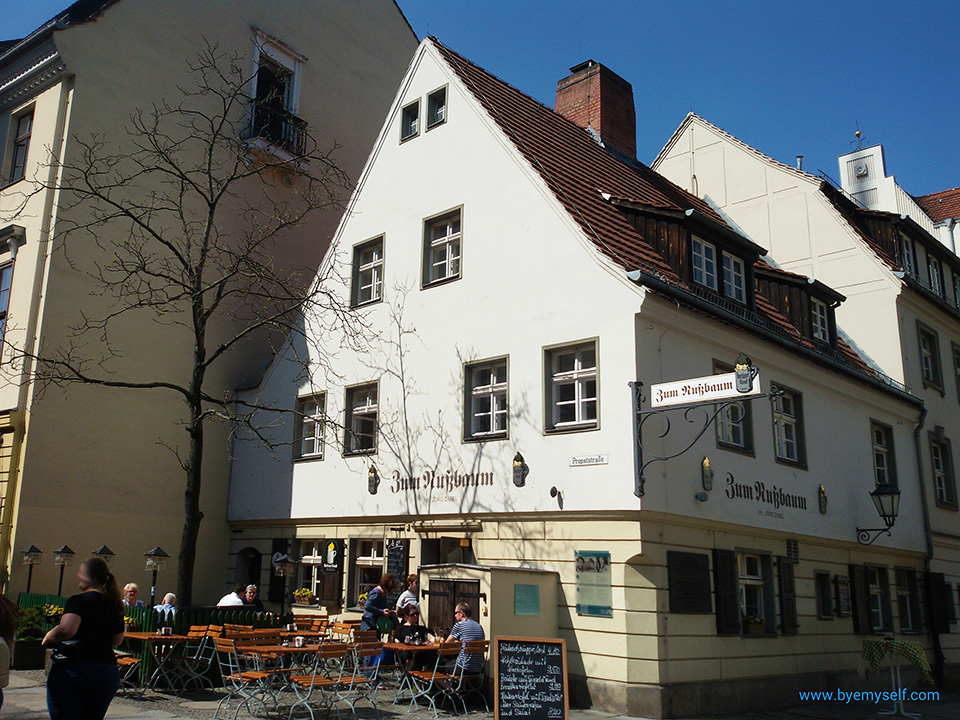 On a rainy day, however, as you're coming from your tour of the museums' island, cross the street to the iconic Nikolaiviertel. There are a couple of traditional restaurants around St. Nicholas' Church. My favorite one is the old eatery Zum Nußbaum at the corner of Am Nußbaum 3.
Here, you get all the staples like liver Berlin style or a so-called Bulette, a thick juicy hamburger patty. Also, from here it's not far to the Alexanderplatz if you're still in for a nightcap.
However, if it's raining too hard, you might want to take the U5 from Museumsinsel to the stop Rotes Rathaus. Later, you can take the U5 to get to the Alexanderplatz to your hotel.
Nightcap
There's probably no better place for a drink than the bar on top of the Park Inn* hotel on the Alexanderplatz. It is accessible right from the hotel lobby on the ground floor. Nevertheless, you need to climb the last five floors on foot.
There is an entrance fee of 6 €uros that has to be paid at the entrance to the terrace. While between April and September, they are closing at 10 p. m., from October to March, they are open only till 6 p. m.
To get to the Premiere Inn, you only have to walk down one block.
Note that the roof terrace is only open when the weather conditions permit. If this is not the case, you can always enjoy a drink at the hotel bar of the Premier Inn – and then go straight to bed.
Accommodation
Especially if you are on a layover and need to get back to the airport in the early morning, staying close to the Alexanderplatz is highly recommended. Each S-Bahn takes you to the Ostkreuz station in under 5 minutes. From there, you have various options to continue to the airport either by the Airport-Express train FEX or another regional train.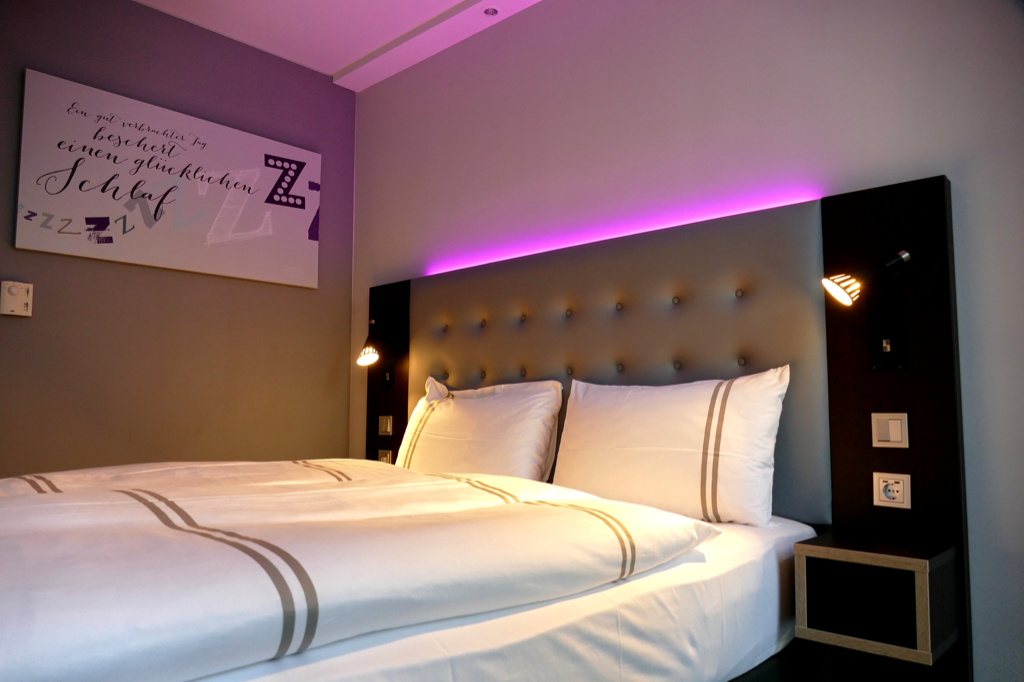 The Premier Inn is just a few steps from the station and offers modern, comfortable rooms at a reasonable price.
Premier Inn
Theanolte-Bähnisch-Straße 2
10178 Berlin
Map – sunny day itinerary
Map – rainy day itinerary
If you have more time to spend in Berlin, check out my comprehensive posts BERLIN guide: get the most for less on bus 100 and BERLIN – a Guide to the Wild Wild East.
To explore Berlin's amazing Street Art, rush over to my post Best Street Art in BERLIN
Before coming to Germany, you might want to check out my post All you need to know before going to GERMANY. This information will make your trip smoother and more enjoyable.
Pinnable Pictures
Like this guide? Pin it for later – using one of these pictures, please:
Did You Enjoy This Post? Then You Might Like Also These:
* This is an affiliate link. If you book through this page, not only do you get the best deal, I also get a small commission that helps me run this blog. Thank you so much for supporting me! I The Premier Inn invited me to stay with them. The Tourist Office visitBerlin supported this post by supplying me with a WelcomeCard and a Museum Pass. Yet, all opinions on these services are mine and weren't by any means influenced by my cooperation partners.
Icons: money bag by Roundicons from www.flaticon.com, police car, train, sun, glass, and bed by Freepik from www.flaticon.com, takeoff plane and board made by ultimatearm from www.flaticon.com, info made by Roundicons from www.flaticon.com, umbrella made by Kiranshastry from www.flaticon.com, food plate by Vectors Market from www.flaticon.com