Being Malaysia's capital and one of Asia's mega-cities, there are many sights and landmarks to experience in Kuala Lumpur – literally. So let me guide you to the five most important highlights of Kuala Lumpur and beyond.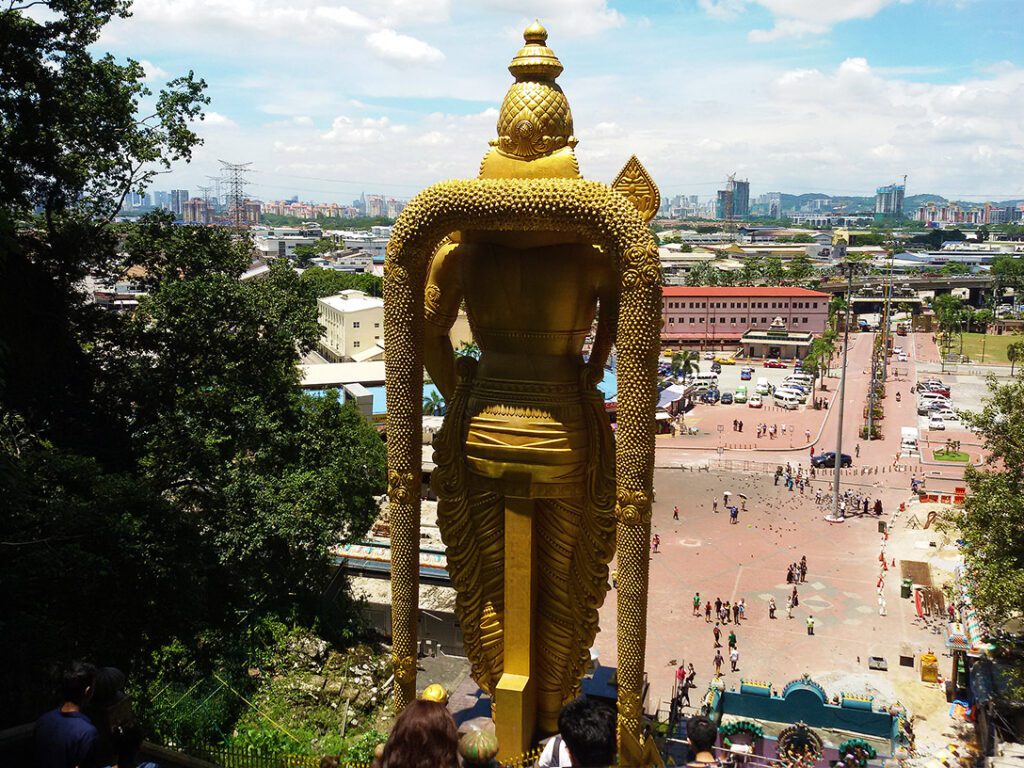 In all honesty, all in all, it's not such a great city. However, practically everyone is visiting. Because, basically, everyone has to: Kuala Lumpur has not only two major airports. There is also a reliable system of trains and long-distance buses.
Its location practically halfway between the northern border to Thailand and Singapore in the south makes Malaysia's capital a great hub.
As a matter of fact, it is the ninth-most visited city in the world. So every visitor spends at least one to two days.
Whether they like it or not.
And actually, there are some great spots to like.
Visiting Five Highlights – Literally
There are many places to visit within the city limits. Nevertheless, let's just start with one of the most iconic landmarks which is actually located on the outskirts of Malaysia's capital. A train takes you quickly to Gombak, 12 kilometers north of the city center, in the state of Selangor.
Batu Caves
Funny enough, on each of my visits, the Batu Caves were first on my itinerary.
Also, I recommend to visit early in the day, too. After all, the main activity at this important shrine is to climb the 272 stairs. The earlier you get there, the better: fewer crowds, less heat.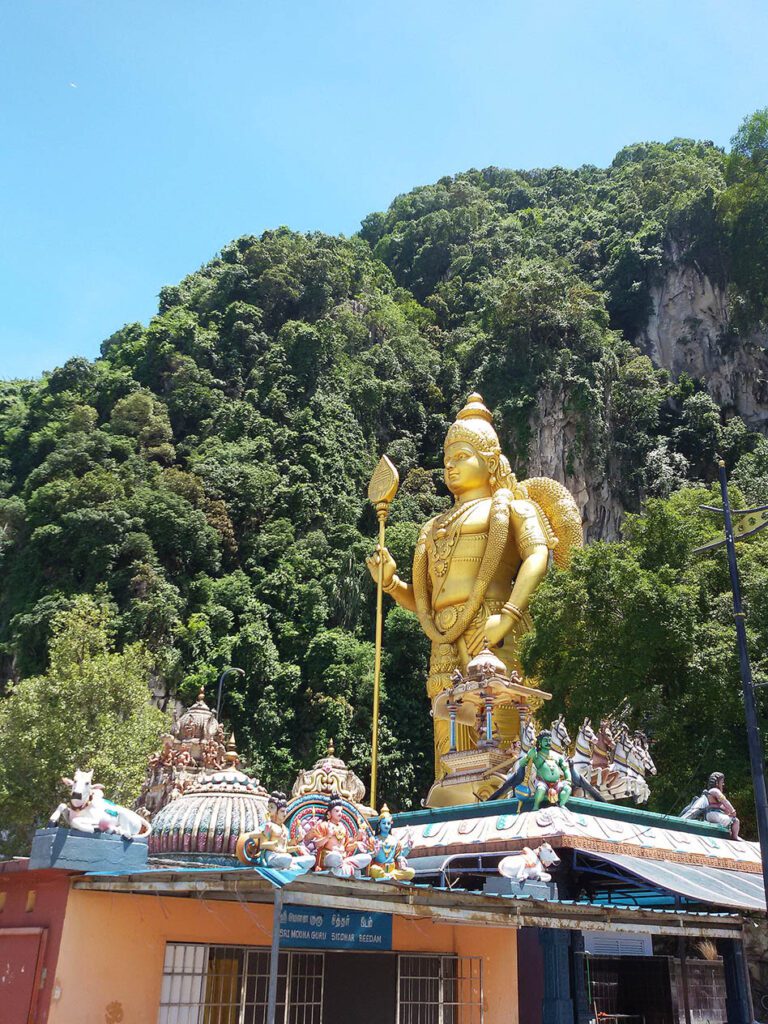 Just take the KTM Komuter train at Sentral to Batu Caves. The journey is about an hour and the fare to the Batu Caves is only RM 2.30. You can't get lost: As soon as you get off the train, you spot your final destination; no wonder: the Murugan statue is almost 43 meters high.
Caves'n'Temples
The Batu Caves temple complex consists of three main caves and a few smaller ones.
Closest to the train station is the Ramayana Cave where the story of Rama is depicted along the walls.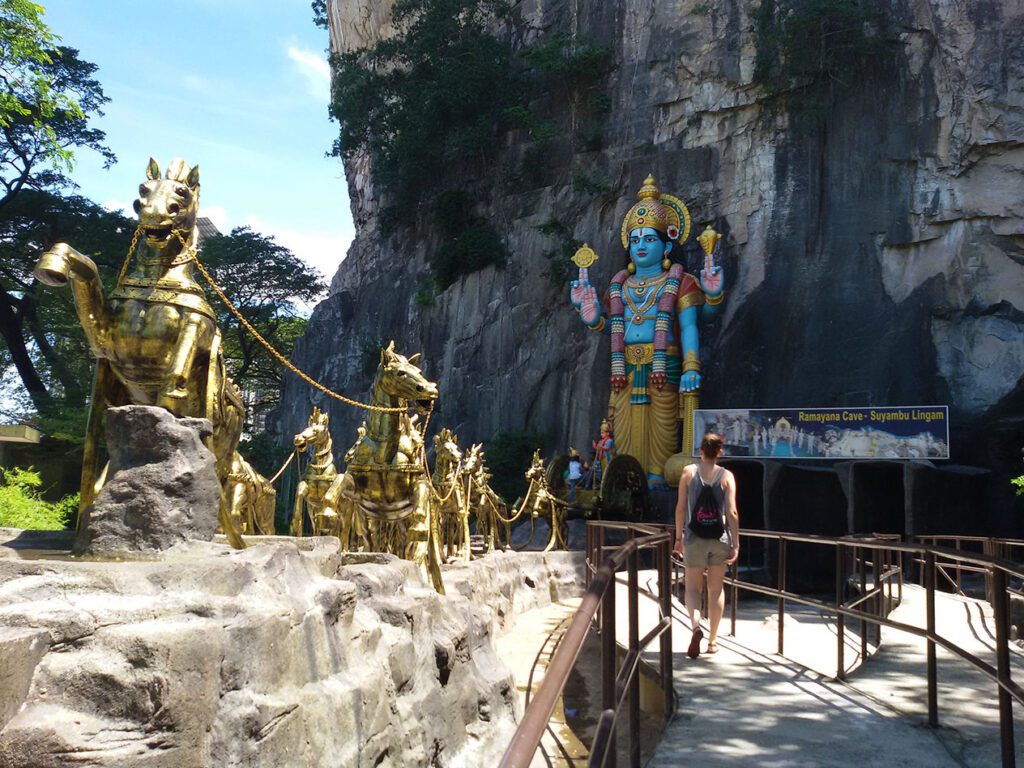 As you walk from the Ramayana Cave towards the main temple, there are parts where you have to pay an entrance fee. The first time I visited, I got confused thinking this was the access to the large shrine.
Well, it's not.
There is a museum with some very flashy exhibits that are nice. But there is also a small sort of amusement park which isn't. It has some carts and toys for small kids and a menagerie with poor critters like snakes and scorpions in cages.
Actually, it's neither educating nor entertaining – whereby I never find poor critters very amusing.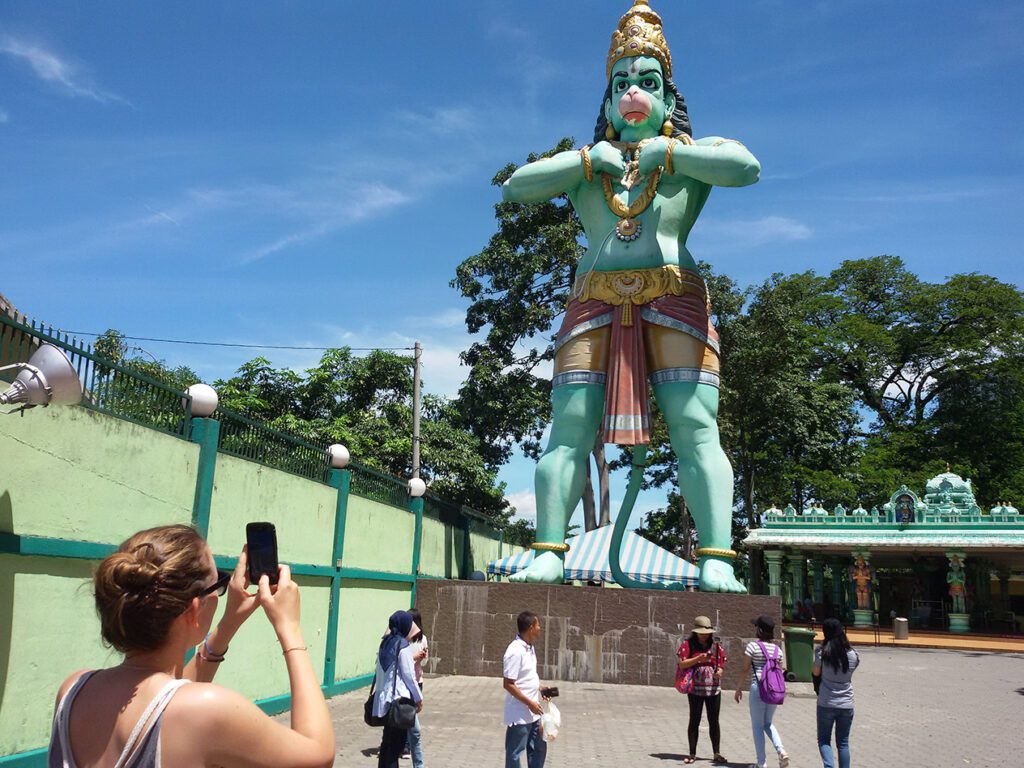 Climbing up the 272 steps to the biggest hall, called the Temple Cave, be aware of the monkeys. They are cheeky – and, more importantly, slightly aggressive.
Halfway to the main cave is the entrance to an exhibition on different critters living in the dark caves. I assume it's pretty interesting. However, I never visited.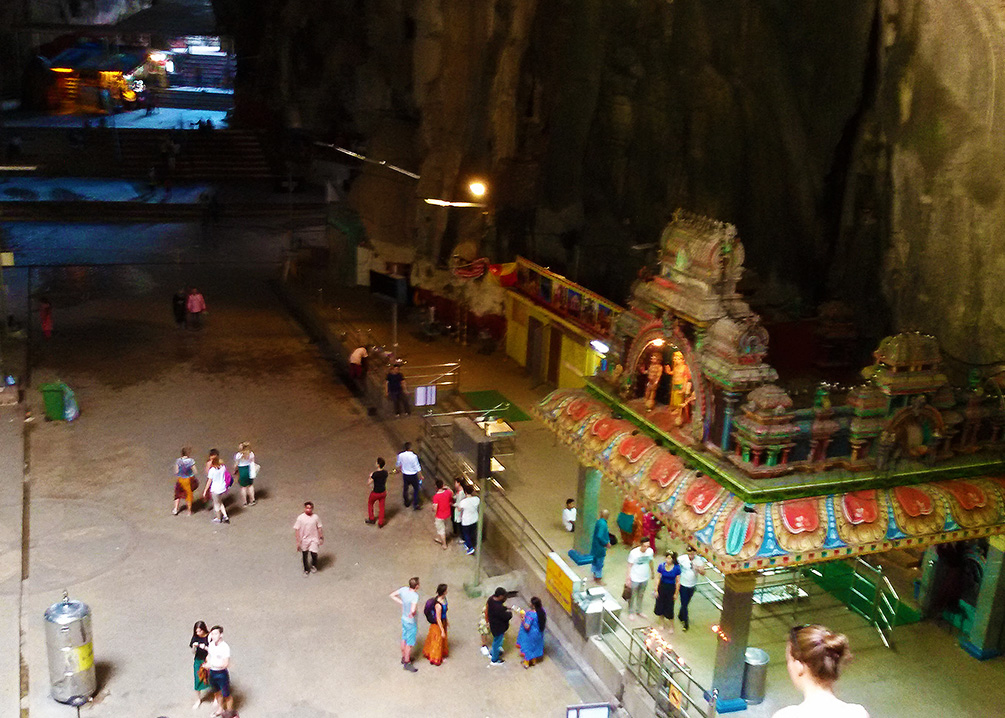 Merdeka Square and the Historic Center
On the way back downtown, you can get off already at the Bank Negara station. From there, walk towards the Merdeka which is large, yet not very spectacular.
However, across the street is the Sultan Abdul Samad Building completed in 1897. It used to house the British colonial administration and is today one of Kuala Lumpur's important landmarks.
On the Merdeka Square's southern tip is the Kuala Lumpur City Gallery. At the entrance is the I❤KL-sculpture. And since no visit is complete without a picture…here is ours: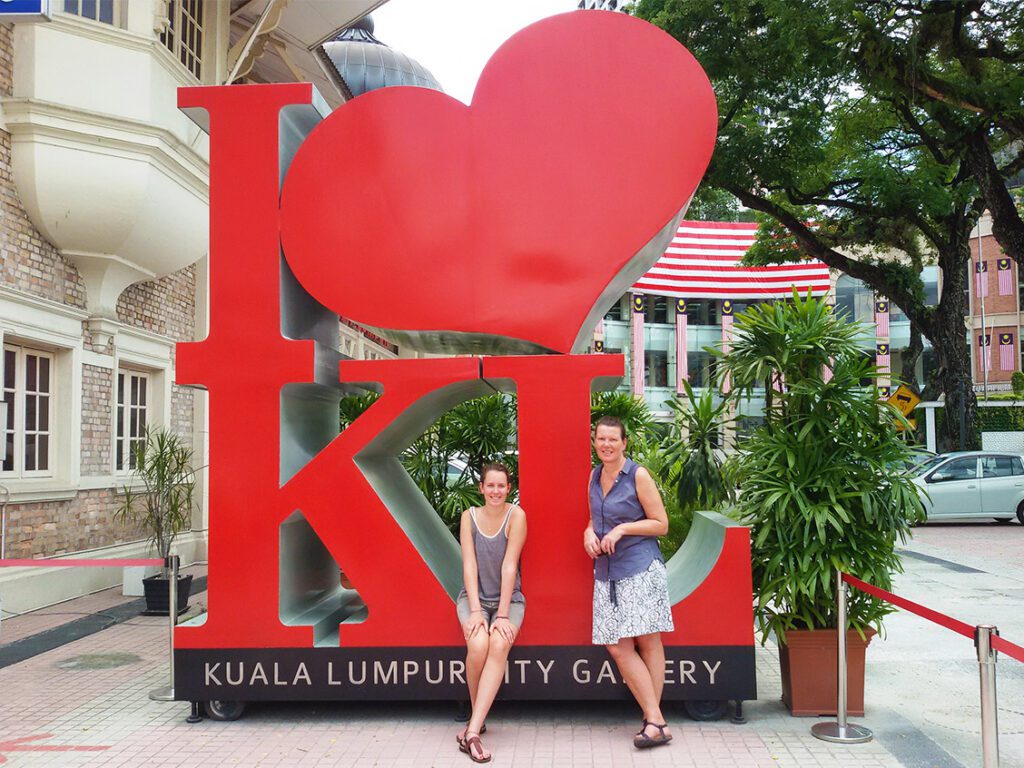 If you're in the mood to visit an exhibition, rather than the City Gallery, you should visit the Textile Museum across the street. They have a permanent collection of national fabrics and costumes and changing exhibitions that do not necessarily deal with Malaysian design.
Turning into the Leboh Pasar Besar Street at the corner, you'll spot the Jamek Mosque – built in 1909 – to your left. Although I had to cover myself with a heavy cloak and put on a huge hood, as a woman, I was still not allowed inside the mosque. Is the visit worth it? I'd say no since it's such a fuss and you don't get to see much, anyway. And you can take the best picture from the Jalan Benteng in front of the HSBC bank.
Markets'n'Malls
Did you know that three of the world's ten largest shopping malls are located in Kuala Lumpur? Well, now you do. However, for most of us Westerners, browsing and shopping around in the area south of Masjid Jamek station is far more fun. The narrow alleys stuffed with small shops and stands, an incredible number of restaurants and cafés – how do they say again? Malaysia – truly Asia!
Hidden within all this craziness are some of Kuala Lumpur's most precious cultural jewels like the Sin Sze Si Ya Temple, the city's oldest Taoist temple, founded in 1864. It is a bit hidden on Jalan Tun H S Lee.
Three blocks down on the same street is its Hindu counterpart, the Sri Mahamariamman Temple. A bit newer, namely from 1973, it is still the oldest Hindu temple in Kuala Lumpur….and, of course, incredibly colorfully decorated.
High Life
A ten-minute walk east of the Masjid Jamek station is an area that shows Kuala Lumpur's incredibly fast development. Here are all these luxury hotels and malls that seem to grow way up in the sky.
There is the Menara Kuala Lumper – yup, Menara means tower – a communication tower that is partly open to the public, for instance on the restaurant level.
Visiting at tea time is just wonderful since you can enjoy a generous buffet while the venue is revolving so that you get to see all of Kuala Lumpur from above. Highly – pun intended – recommendable!
Another ten minutes walk and you'll get to the most famous of them all, the Petronas Towers.
These twin towers, 88 floors on 451.9 meters / 1,483 feet high were finished in 1996 and remained the world's tallest building till 2004. Basically, every global player company has an office at the towers and even poverty jet-setters like me can visit – an exhibition level, the bridge, and restaurants. Below the towers is Suria KLCC, a big shopping mall, and the Petronas Philharmonic Hall.
If you have the time, take a stroll at the adjacent KLCC park where every night – of course colorful – fountain shows take place.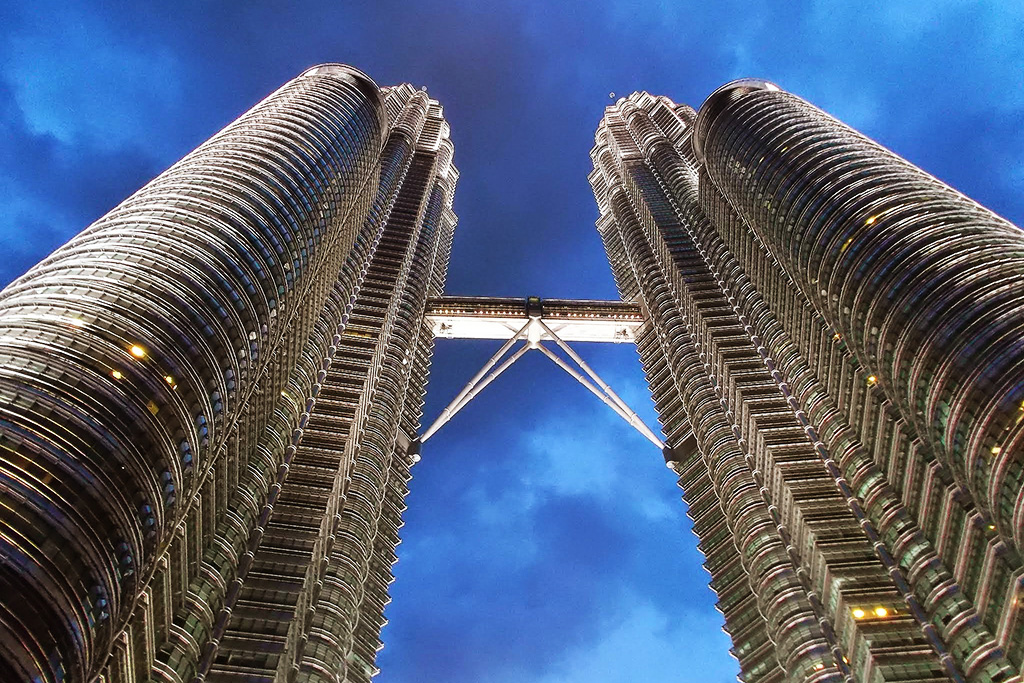 Around Sentral Station
Some of the best places to visit during your stay are actually around the Sentral Station. And even the station itself is a great place – for shopping and eating.
Right behind the station is the National Museum of Malaysia. I like it a lot since it explains in a diverting way the development and history of the country.
Behind the museum, and across a deadly road – be very careful when crossing, is a green oasis in this mega-city that can get pretty hazy and sticky at times called Perdana Gardens. Here, you can walk for hours just enjoying the lush garden. Or you pay one of the compounds a visit: There is a butterfly park, a bird park, and a deer park.
To get another great view of Kuala Lumpur, it's great to take a walk across Brickfield, which is the Indian neighborhood, and walk up to Thean Hou Temple.
Built by Kuala Lumpur's Hainanese community in 1894, it is said to be one of the oldest and largest temples in Southeast Asia.
Putrajaya
While Kuala Lumpur is the cultural, financial, and economic center of Malaysia, the federal administration is located in Putrajaya.
Since this city was built only for that purpose, it is very….new. However, there is the Putrajaya Lake, the pink granite Putra Mosque, located next to the Perdana Putra, which houses the Malaysian Prime Minister's office.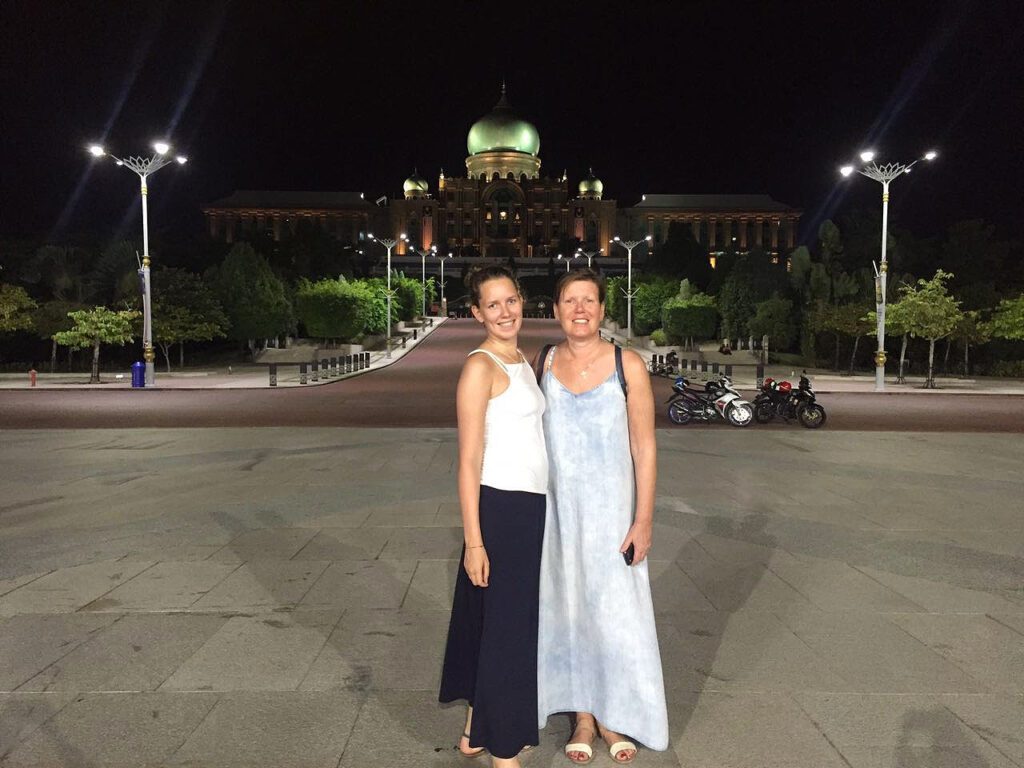 If you are interested in how a city is successfully planned on a drafting table – here is an excellent example.
Practical Information
How to Get There
Coming to Malaysia, almost everyone will arrive in Kuala Lumpur. Probably at KLIA, which is short for Kuala Lumpur International Airport, located about 45 kilometers south of the city center.
It's a huge airport, nevertheless, fantastically organized.
Getting downtown, there are a couple of different options. In most cases, visitors are choosing the KLIA Express, a train taking you quickly to Kuala Lumpur Sentral, the huge and maybe a bit intimidating railway station.
Or they are taking a cab that can be prepaid at the airport to prevent unpleasant surprises. You just tell the lady at the ticket window where you're going. Then you pay, she hands you a voucher – and off you go to your final destination. This is, after all, more convenient than going to the Sentral station.
Most importantly, if you are two people or more, it is even cheaper.
Next to Sentral is also the bus station, serving the entire country and even Singapore.
How to Get Around
Once you're in Kuala Lumpur, you can get literally everywhere by public transport. The worst thing that can happen is that you get confused and overwhelmed by all those choices. There is the Rap Transit and the Light Rail Transit and the MonoRail and there are all these buses. No matter which one you choose, it is really cheap and fast and comfortable.
And to make it even more attractive, there are free shuttle buses, the so-called Go KL-buses, shuttling people between the most important tourist sites.
Best place to sleep
Accommodations are not very expensive in Malaysia so you can get a nice hotel for about 50 bucks.
A good location is e. g. around the Berjaya Times Square Mall. You can walk to the Bukit Bintang shopping neighborhood, even to the Petronas Towers.
The MonoRail station is right at the door and takes you for instance to the Sentral station in about ten minutes.
And it's always handy to have a shopping mall within reach.
Besides the Berjaya Times Square Hotel*, which is a bit upscale, the Melía Kuala Lumpur* is a great alternative – and their breakfast is the most generous and complete I've ever seen: They cater to all their guests so that they offer continental, American, English, Chinese, Indian, and Malayan food – complete buffets of each!
Here are more options where to stay in Kuala Lumpur*:
What to Eat
Malaysia is very proud of the incredible variety of different cuisines – hence it's impossible to recommend let's say ten restaurants – let alone a single one. Then, you have all these markets and night markets where you can feast on fantastically tasty and incredibly cheap street food…it doesn't stop.

However, I would recommend either the tea time or another meal at the restaurant on top of the Menara Kuala Lumpur – already for the night markets.
What to See
I'm an avid solo-travelling woman. Since solo-travel doesn't equal solitude, I love to join organized tours here and there. They allow me to meet fellow travellers – for just a short moment or a lifelong friendship.
Also, pre-booking of tours'n'tickets can be pleasantly time-saving.
Therefore, here are some great ideas of what to do during your stay in Kuala Lumpur. Especially if you have only a short time to stay, they'll enable you to make the best of it*:
Map
Here you find all the places mentioned above.
Do you want to read about all the other beautiful places I've visited in Malaysia? Then go to the main post and take your pick! There you'll also find valuable general information that will make your trip smoother.
Pinnable Pictures
If you choose to pin this post for later, please use one of these pictures:
Did You Enjoy This Post? Then You Might Like Also These:
Note: This post is being regularly completed, edited, and updated – last in August 2023.
*This is an affiliate link. If you book through this page, not only do you get the best deal, I also get a small commission that helps me run this blog. Thank you so much for supporting me!