I will not beat around the bush – São Paulo, Brazil's Art Hub, was my favorite Brazilian city.
Although Bonito enchanted me with its natural beauty, Foz do Iguaꞔu impressed me with the power of nature – São Paulo is the place where I see myself living and working and being part of the cool, artsy crowd.
Christ the Redeemer? In Rio de Janeiro, obviously. The jungle? At Manaus. The waterfalls? In Iguacu. So when in Brazil, why go to São Paulo?
Why? Because it's the coolest and most artsy city in Brazil and you will get inspired and have a great time; that's why!
São Paulo
São Paulo has over 12 million inhabitants and is not only the most populous city in Brazil, but according to its population also the 13th largest city in the world. As a matter of fact, by gross domestic product, it has the largest economy in South America. Also, it is ironically being called Germany's largest industrial city since approximately 1,000 German companies are operating and producing in São Paulo. Volkswagen is probably the largest and most famous among them.
Besides its pretty powerful economy, São Paulo can pride itself to have a vast art scene, many excellent museums and exhibitions – and very relaxed and friendly people.
Eduardo Kobra
Talking 'bout cool, artsy crowd: I decided to let one of the most glorious sons of São Paulo guide you through the city. So let's hear it for Mr. Eduardo Kobra!
Kobra was born in 1975 in São Paulo and is one of the world's most recognized muralists. His huge, very expressive works are found in the US – and of course in Brazil. I've introduced the pentaptych Ethnicity that he has painted on the occasion of the Olympics in Rio in 2016 in another post.
His kaleidoscope-ish portraits are – well, rather hidden than found – all over São Paulo. Not only do I lead you to the walls, but at the same time, I also point out attractions and points of interest in their surroundings.
Wanna follow my route? I've marked all of Kobra's murals on the map at the end of this post. For your convenience, I've also marked all the other spots mentioned in this post.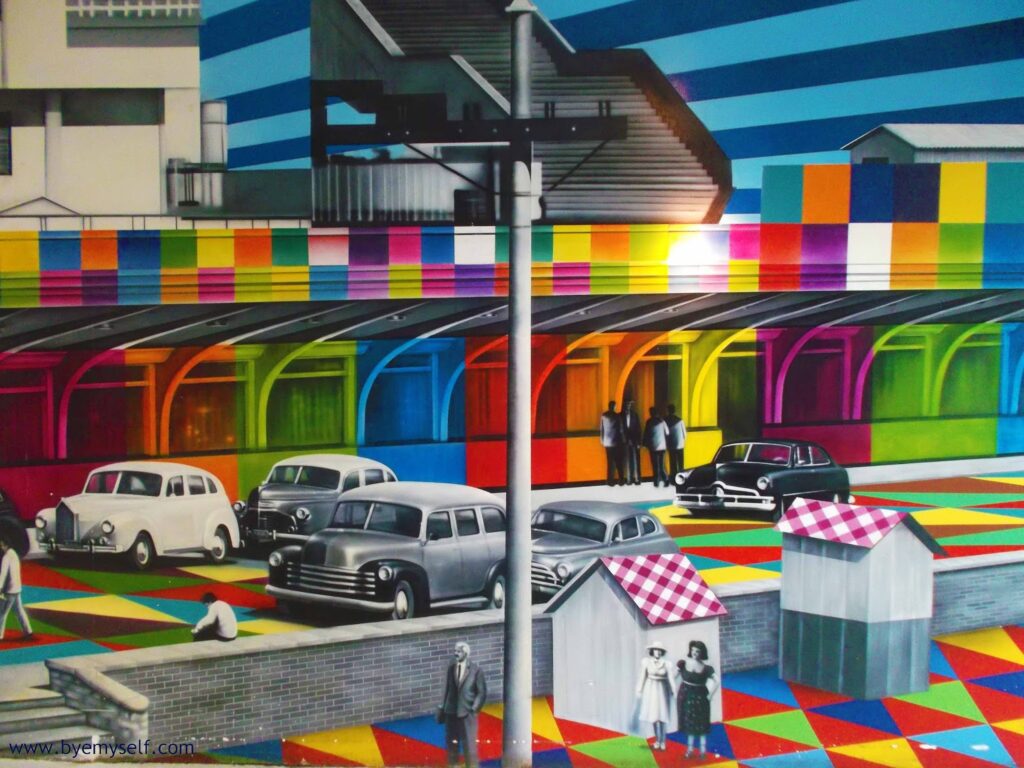 As a matter of fact, you can admire the first of Kobra's works right at the Deputado Freitas Nobre Airport in São Paulo's Vila Congonhas neighborhood.
Avenida Paulista
Although there is a historic center, hence, a downtown area, São Paulo's real lifeline is the Avenida Paulista. This arterial street stretches from Praꞔa Marechal Cordeiro de Farias all the way to the subway station Paraíso.
So let's get started at the Paulista's western end close to the subway station Consolaꞔão where Kobra painted the great Brazilian racing driver Ayrton Senna, who died in 1994 at the age of 34 at the San Marino Grand Prix.
Walking down the Paulista, you'll pass many tall bank buildings, big stores, and malls: The Paulista is basically São Paulo's 5th Avenue.
Especially in the evening you should turn left into the Rua Augusta, the city's vibrant party and entertainment street full of restaurants, bars, theaters, clubs, and fun and follies.
Four blocks further are one of the best art museums São Paulo has to offer, the Museu de Arte de São Paulo. Besides their own collection of modern art, they organize inspiring exhibitions. For art lovers, visiting this venue is a must.
MASP
Museu de arte de São Paulo
Avenida Paulista 1578
São Paulo
Phone: + 55 – 11 – 3149 5959
The general entrance fee is 45 R$, however, Tuesday and Wednesday are free of charge. Still, I recommend checking their website as you plan your visit.
Dr. Bueno
There is a nice surprise is waiting for you just another three blocks down. To your left on Alameda Joaquim Eugênio de Lima, one of the youngest Kobras will impress you. I even saw it in the making beginning of 2018!
It pays tribute to Dr. Edson de Godoy Bueno, a good doctor who sadly died in 2017.
By the way, if you get tired of walking, you can hop on one of the buses going down the Paulista or even take the subway.
The disadvantage of Brazilian public transportation is that you pay one price per ticket no matter how far you go. This makes short trips relatively expensive.
Behind the subway station, Brigadeiro is the Capela Santa Catarina to your left.
Right behind this Chapel is the wonderful Japan House, a venue showing Japanese art and serving excellent Japanese food.
You don't have to feel weird about eating Japanese food in Brazil: São Paulo is actually famous for Japanese and fusion cuisine!
Japan House
Avenida Paulista 1578
São Paulo
Phone: + 55 – 11 – 30 90 89 00
The Japan House is open from Tuesday to Saturday from 10 a. m. to 10 p. m., and Sunday to 6 p. m. Entrance to the exhibitions is free.
Oscar Niemeyer
Now, don't you miss one of the most important Kobras right behind this building depicting another Brazilian art hero, namely star-architect Oscar Niemeyer!
If you happen to visit Curitiba, make sure to go to the museum designed by Oscar Niemeyer which is, obviously, dedicated to his work.
You might get an even better look from the last attraction, located on the other side of the road, the romantic Casa das Rosas.
The Casa das Rosas – the house of roses – is a culture center organizing exhibitions, concerts, and much more. It's always worth it to drop in and check out what's on.
Casa das Rosas
Avenida Paulista 37
São Paulo
Phone: + 55 – 11 – 32 85 69 86
Email: contato@casadasrosas.org.br
The exhibitions are open from Tuesday to Saturday from 10 a. m. to 10 p. m., and Sunday to 6 p. m. Regarding other activities, please check their website.
Parque Ibirapuera
Once you are close to the Brigadeiro station, let's visit some more Kobras – and some other fantastic venues. But I have to warn you: We are going to the Parque Ibirapuera, where especially on weekends many São Paulians are strolling with their families, walking their dogs, or jogging by themselves.
Take any bus going down the Avenida Brigadeiro Luís Antônio and tell the driver you want to get off close to Praça Armando de Sales Oliveira.
Here you can admire the Monumento às Bandeiras, created in 1954 by Victor Brecheret, an Italian-Brazilian sculptor, commemorating the settling expeditions into inner Brazil in the 17th century.
Now cross the Avenida Pedro Álvares Cabral and you'll find yourself at one of the nicest places in São Paulo, the Parque Ibirapuera.
After the Parque Anhanguera, Ibirapuera is only the city's second-largest park. It spreads over 2 square kilometers and besides its lush meadows, trees, and flowers as well as creeks and lakes, there is much to see even for those who are oblivious to the beauty of nature. There are three fantastic museums as well as the planetarium located on or adjacent to the premises.
Museums
To be honest, I'm not so crazy about planetariums. Nevertheless, I like the design by Eduardo Corona, Roberto G. Tibau, and Antônio Carlos Pitombo.
It reminds me of an air saucer – very suitable.
Planetário Ibirapuera Prof. Aristóteles Orsini
Avenida Pedro Álvares Cabral
Phone: + 55 – 11 – 55 75 52 06
To tell you the truth, I find the info on their hours a bit confusing, so if you want to visit, you better contact them beforehand; and tell them to improve the info on their site, please.
Just a stone's throw away is the very nice Museu Afro Brazil.
While the exhibition on Portuguese colonial art on the ground floor is a bit pointless, the upper floor is an artistic treasury showing Afro-Brazilian art from different Brazilian regions as well as African and Caribbean influence – like masks from Benin and artifacts from Haiti.
I can only recommend visiting this venue.
Museu Afro Brasil
Avenida Pedro Alvares Cabral
São Paulo
Phone: + 55 – 11 – 33 20 89 00
The museum is open from Tuesday to Sunday from 11 a. m. to 5 p. m., the general entrance fee is R$ 15
The Marquise
Do you think we forgot about Kobra?
No way, he will be our next stop.
But first, let's walk along the facade of the Pavilhão das Culturas Brasileiras and take a look at murals by other also very talented artists.
Once you spot the Marquise Do Ibirapuera, you will immediately recognize Kobra's style.
Here, he's decorating a public bathroom. I guess once you are a star like him, you get away with painting also restrooms.
Next door you can visit the Museu de Arte Moderna de São Paulo – and maybe have a snack at their very nice cafeteria.
MAM – Museu de Arte Moderna de São Paulo
Avenida Pedro Álvares Cabral
São Paulo
Phone: + 55 – 11 – 50 85 13 00
Email: atendimento@mam.org.br
Open Tuesday to Sunday from 12 p. m. to 6 p. m.
The general entrance fee is R$ 20,00 and Sundays are free.
Another UFO
Isn't that an air saucer that has landed next to the MAM? Nevertheless, this quirky structure has a famous creator. It was Mr. Oscar Niemeyer himself who design the Lucas Nogueira Garcez Pavillion, better known as Oca.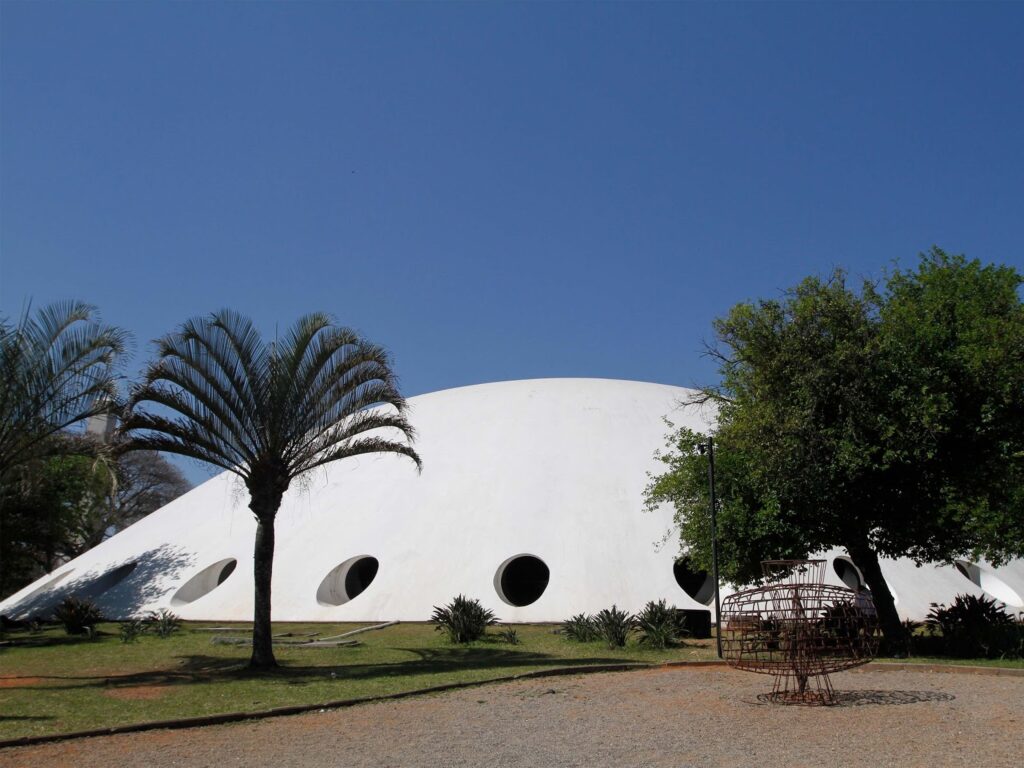 Since 2017, however, this landmark is part of the city museum.
If you are interested in visiting, you need to inquire beforehand when visitors are admitted.
Museu da cidade de São Paulo
Avenida Pedro Álvares Cabral 50
São Paulo
Phone: + 55 -11 – 50 83 0199
Email: oca@prefeitura.sp.gov.br
Contemporary
Before you continue to the best and biggest of the art museums, the Museu de Arte Contemporânea, you shouldn't miss taking a look at the sculptures in this part of the park – some of them are really outstanding.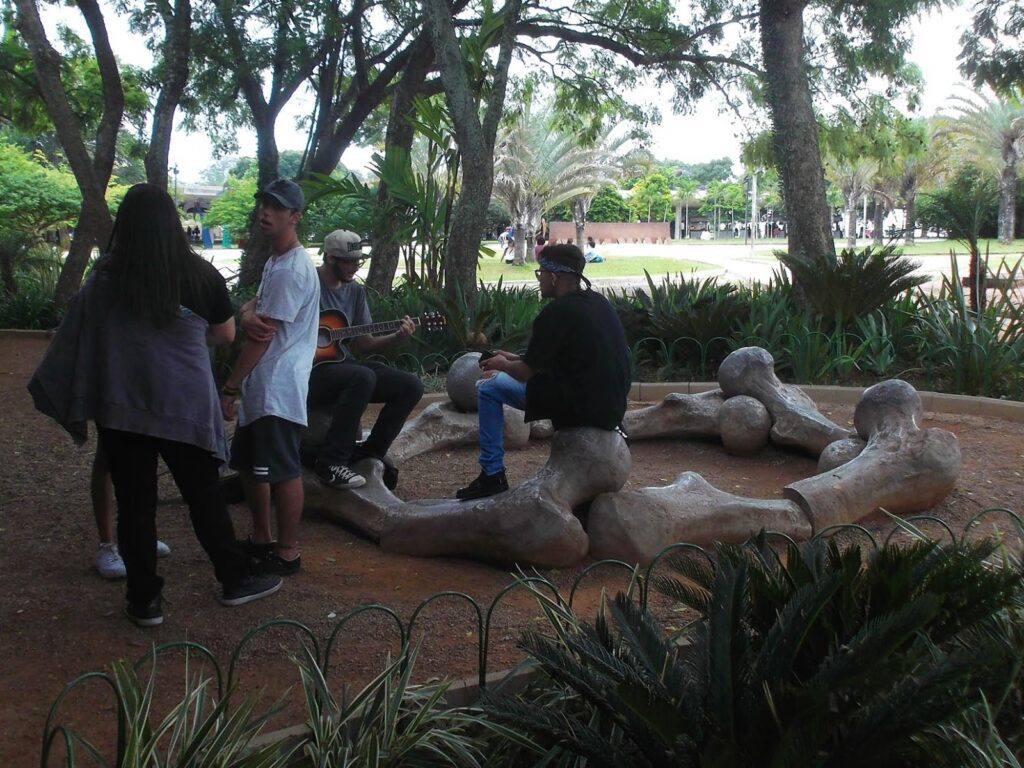 Talking 'bout outstanding: if you want to visit only one single exhibition while in São Paulo, it should definitely be the Museu de Arte Contemporânea.
It's the place where the São Paulo Bienal is taking place – and obviously, after every biennial is over, they leave some great art behind. Actually, you could spend an entire day here and awing at great pieces from all over the world.
Not to be missed!
Museu de Arte Contemporânea da Universidade de São Paulo
Avenida Pedro Álvares Cabral 1301
São Paulo
Phone: + 55 – 11 – 26 48 02 54
Opening hours are Tuesday to Sunday from 10 a. m. to 6 p. m. – respectively on Tuesday to 9 p. m., and the entrance is free.
Luz
Another beautiful park full of lush plants and great art is the Jardim da Luz behind the art museum Pinacoteca.
The Jardim has an area of 82,000 square meters, with two reflection pools and two ponds. It was declared a historic landmark by Condephaat in 1981.
As part of the downtown revitalization project, it resumed dialogue with Pinacoteca and was renovated in 1999. In 2000, the State Government earmarked funds for the purchase of Brazilian sculptures for its lawns.
Even today, the exhibit is free of charge, for those who want to stroll through its green areas and also visit an open-air exhibition.
The Pinacoteca houses a vast collection of modern Brazilian art and is another Mecca for art aficionados.
Since it was founded in 1905, it is the city's oldest art museum.
Pinacoteca
Praça da Luz
São Paulo
Phone: + 55 – 11 – 33 24 10 00
Email: pinacotecasp@pinacoteca.org.br
The Pinacoteca is open from Wednesday to Monday from 10 a. m. to 6 p. m.
The entrance fee is R$ 6, and Saturday is free
And Kobra?
His mural is to be found at the corner of Avenida Tiradentes and Rua Dr. Rodrigo de Barros.
On the way there you might want to see some sacred art – you can do so at the Museu de Arte Sacra de São Paulo. Don't expect just the classic icons – they also show some beautiful rather folkloric pieces.
Centro
To explore São Paulo's historic center, I recommend you join a 'free' walking tour. But remember: The guides work for tips, so please don't make it a free 'free' tour.
For the 'Old Downtown'-tour, they meet at the tourist information booth at Praꞔa República. However, they also offer a tour along the Avenida Paulista and to the bohemian quarter of Vila Madalena.
Anyway, the downtown tour takes you to the Biblioteca Mário de Andrade and then to the grand Teatro Municipal. You get to see the Monument to Carlos Gomes at the Praça Ramos de Azevedo which is a copy of the Fontana di Trevi in Rome. They introduce you to the Prefeitura – which is the town hall with an amazing botanic garden and a pond on the roof. Sadly, you cannot visit the building on their tour, but on another occasion, obviously.
If you don't mind walking, you can stroll from the historic downtown area up towards the Paulista along Rua da Consolação.
Walk the Line
While you admire the Nossa Senhora da Consolação church at the first big junction, don't miss the great murals all around you. Although they are not by Kobra.
Nevertheless, one of his best murals is to be seen at the corner of Rua Maria Antônia.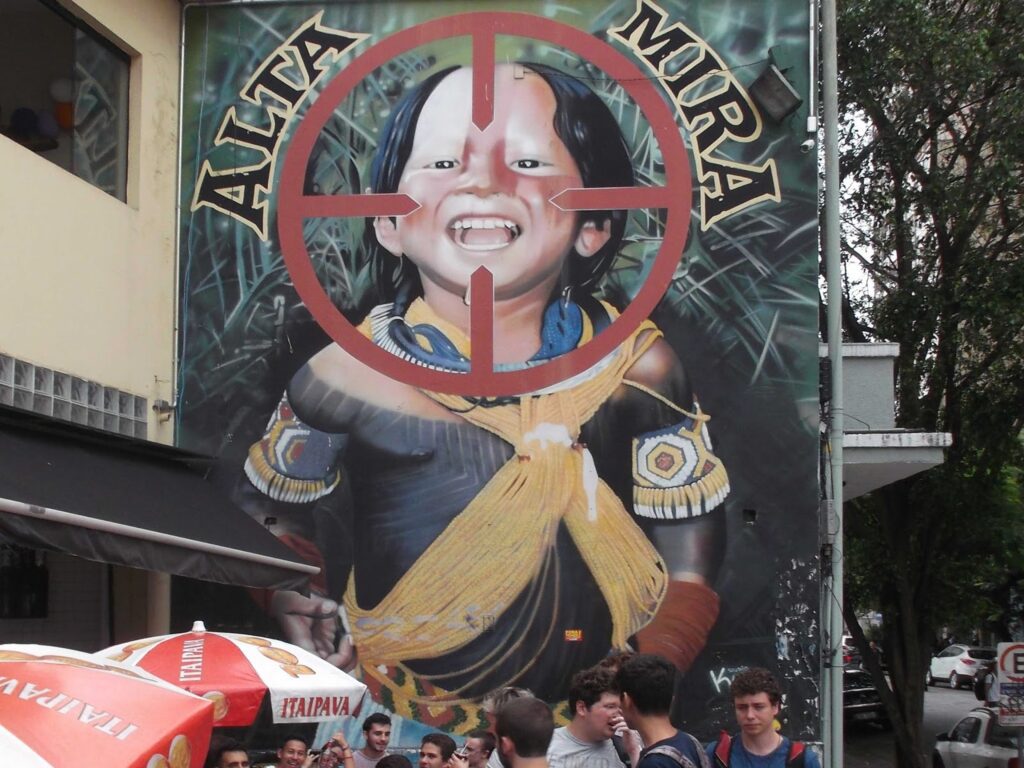 Once you are here, you might want to get a drink – and a break – at the bar next to the mural, which is called 'Esquina do Índio', the Indian's corner.
Esquina do Índio
Rua da Consolação/Rua Maria Antônia 49
São Paulo
Phone: + 55 – 11 – 31 20 24 18
Open from Monday to Saturday from 7 a. m. to 2 a. m.
To get back to the Paulista, either keep walking or get on a bus and get off at the Cemitério da Consolação. This is a small, Brazilian version of the legendary Parisian Cimetière du Père-Lachaise.
Although this cemetery is much smaller and the people buried here are not as world-famous as those in Paris, it's a beautiful and interesting place just the same.
Practical Information
How to Get There…
Like most bigger cities in Brazil, São Paulo has two airports. Guarulhos International is located 30 kilometers east of the city center, and Congonhas is in the city and can be reached in about 30 minutes by public bus.
It's possible to obtain tickets at a really good price. However, you should book well ahead. Hence, look as soon as possible for instance for Azul- and GOL flights.
Obviously, it's possible to get to São Paulo by bus. For instance, a trip from Rio de Janeiro takes about 6 hours and tickets start at about 30 US$. Nevertheless, going to Foz do Iguaçu sets you back about 70 US$, but takes about 16 hours. Check out this website or this one for further connections. However, for longer routes, flights might cost as much as bus rides but are so much faster, especially if you book a very early or a very late flight.
For more tips and hacks on how to save money and still travel comfortably, check out my posts on planning and organizing your trip respectively when to book ahead.
As you are coming to São Paulo by bus, you'll arrive at the Rodoviária do Tietê. From there you get to the center by either bus or subway in about 20 minutes.
…and Around
There is an excellent system of public transportation consisting of a subway – here's a map – a light rail system, and different bus types.
As in most other Brazilian cities, the public transport system in São Paulo is good, reliable, and covers the entire region.
If you are more or less fit and wear comfy shoes, practically the entire area I'm introducing in this post can be discovered walking.
Information
For an excellent tourist service and loads of really great brochures and maps go to one of the Centrais de Informação Turística (CIT). These tourist centers are located at the airport, at the central bus station, at the Paulista, and the Praça da República. There you can also meet the guys from the Free Walking Tour that I've introduced above.
The CIT even has a mobile tourist office a the Parque Ibirapuera where I collected a vast variety of information material right from a truck.
Where to Stay
If you find a reasonably priced hotel around the subway station Consolaꞔão/Paulista, go for it. It's centrally and conveniently located.
I stayed at the really nice Augusta Park Suite Hotel* at the Rua Augusta which is the off-scene theater and clubbing district. Nevertheless, the hotel was very quiet, pretty comfortable, yet reasonably priced. I can only recommend it. That you stay at a small apartment where you have also your own small kitchen is a huge plus.
If you want to check out different lodging options in São Paulo, here is a map*:
What to Eat
The Rua Augusta is packed with all sorts of restaurants and cafés and bars – just walk around and take your pick, they are all very nice.
Without a doubt, there are also many options to grab a bite in the Centro district. If you are opting for a healthier meal, give "Apfel" a try. The fact that it means apple in German gives you a hint that they serve vegetarian food.
Apfel Centro
Rua Dom José de Barros 99
São Paulo
Phone: + 55 – 11 – 32 56 79 09
Open Monday to Saturday 11 a. m. to 3 p. m.
What to See
I'm an avid solo-travelling woman. Since solo travel doesn't equal solitude, I love to join organized tours here and there. They allow me to meet fellow travellers – for just a short moment or a lifelong friendship.
Therefore, here are some great ideas of what to do during your stay in São Paulo. Especially if you travel solo, they'll enable you to see many great sites in a comfortable and most of all safe way*:
Cash And Cards
The currency in Brazil is the Real (plural Reais) and the rate is 1 US$ = 5.14 R$ as of November 2022. For further conversion check this page.
Apart from cash, you can pay by credit card at all the attractions I'm mentioning in this post.
Of course, there is cash and there are cards. Because of the relatively high crime rate such as pickpocketing, Brazilians tend to pay even tiny amounts with debit cards. Even street vendors and hawkers are accepting them when someone just buys a newspaper and chewing gum.
Although there are notably many ATMs all over the place, not all of them work with international credit cards. But don't panic, there are so many different banks – sooner or later, you'll figure out which one works with your card.
In São Paulo as in other big cities like Rio de Janeiro or Belo Horizonte, be cautious where you use the ATM – you shouldn't do your banking in whatever neighborhood and especially not after dark.
Language
Since Brazil used to be a Portuguese colony, people speak Portuguese. As São Paulo caters to international tourists, most people working in tourism speak English and Spanish.
Nevertheless, it's a nice gesture to learn at least some basic words and expressions. You can do so right online with babbel.com.
Connection and Communication
Brazil is one of the very few countries where I got a national SIM card. To be honest for the sole reason that I had accidentally blocked mine and wasn't able to use my phone at all. I got a pre-paid card from Claro and was very happy with their service.
This being said, I actually prefer to use free WiFi. Actually, there was a connection to the internet without any issue at basically every museum, eatery or café, and, of course, hotel. Worked like a charm.
At the end of my trip to Brazil, I had three or four different adapters. Although there is an official type N socket and plug, you'll find also type C plugs. Also, there were type A sockets like in the US – howsoever, it was a wild mix, but in the end, everything turned out fine.
Also, the voltage is either 127 or 220 V, and the frequency is 60 Hz. Thank God, nowadays, all these chargers for phones and readers and computers have integrated adapters. Therefore, voltage and frequency don't really matter.
By the way, you'll find this kind of practical travel info in my post World's Most Complete Travel Information – an indispensable globetrotter-classic.
Map
São Paulo was only one stop during my exciting visit to Brazil's South. Go to the main post to check out all the other destinations. There you'll also find valuable general information that will make your trip smoother.
Pinnable Pictures
If you choose to pin this post for later, please use one of these pictures:
Note: I'm completing, editing, and updating this post regularly – last in November 2022.
Did You Enjoy This Post? Then You Might Like Also These:
* This is an affiliate link. Hence, If you book through this page, not only do you get the best deal. I also get a small commission that helps me run this blog. Thank you so much for supporting me!