In this guide, I'm taking you on four different routes through Jerez to noble palaces, majestic Carthusians, and golden sherry wine – or where do you think the city got its name from?!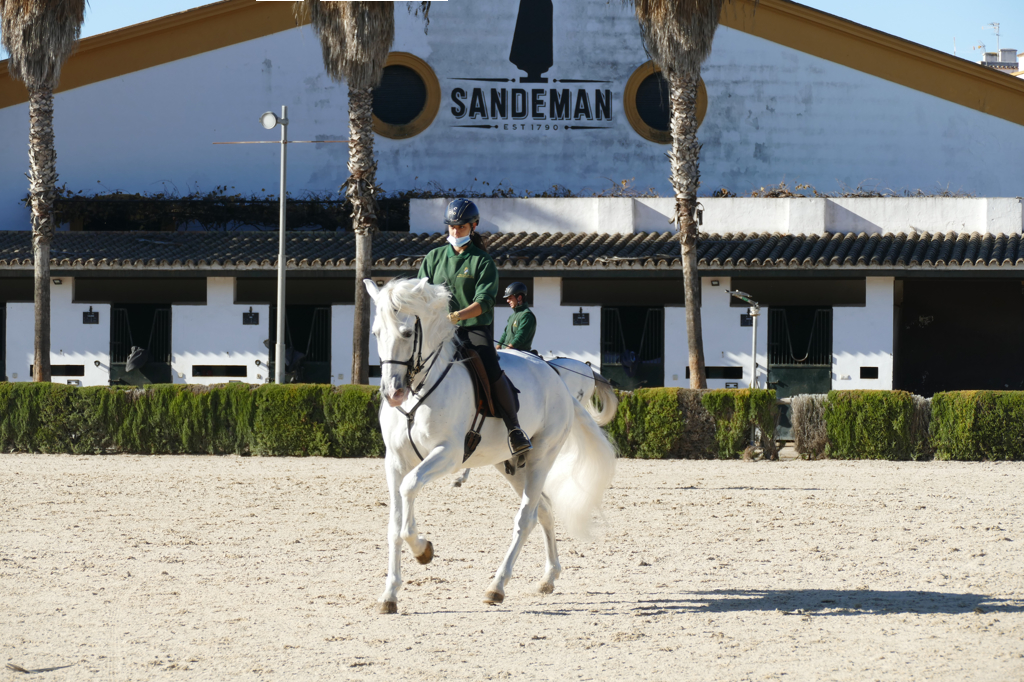 Feels Like Sunday
Since the window of the small room at my cheapie-cheap hotel faces the hallway, the room is pitch-dark. Therefore, not only did I sleep like a baby. It also feels like waking up in the wee hours although it's almost 9. On a Wednesday. So – where is everyone?
The fact that I'm basically by myself as I walk the narrow cobblestone streets of Jerez adds to the feeling of being the lonesome cowgirl in town.
Only the street sweepers are already on duty. Now I remember that it's a holiday in Spain. Yesterday, the streets – and most of all the bars – were packed with people. Actually, as the bars of Jerez, the so-called Tabancos, are mostly just a small hole in the wall, most of the crowd were standing on the sidewalks and streets.
Now I have them to myself.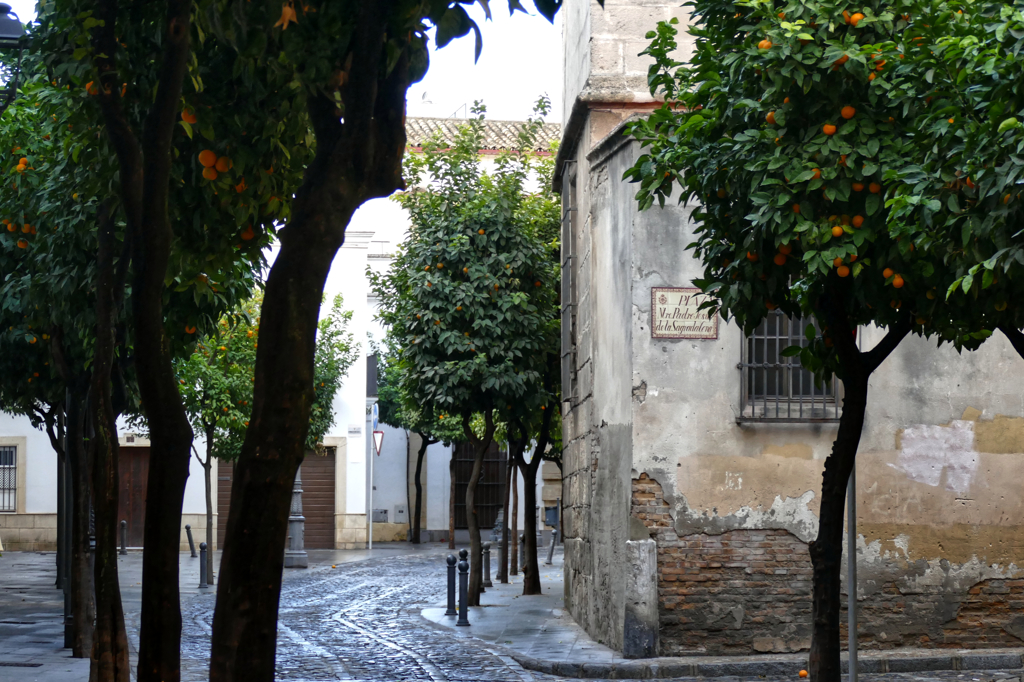 As a matter of fact, yesterday, I experienced one of the downsides of solo travel as a woman. Passing all those eateries and bars packed with large groups of people noisily celebrating life with beers and Jerez, the famous sherry wine, for a moment, I felt a bit lonely, sad, and stupid. Yes, I had some tapas, the iconic Spanish niblets, and a glass of Jerez, too. But it's not the same if you are having it by yourself. Only the company of many noisy friends makes it a fiesta. Also, one of the crucial safety measures when solo travelling as a woman is to stay sober as good as you can. Losing control can be fun – fun that might quickly turn into a sketchy situation. So no fiesta for me.
Musical Chairs Breakfast
Now I'm hungry. I want breakfast. On a large square, I finally find a café that's open at this unholy hour – I mean, it's 9.30. There are mostly old folks having coffee and this Spanish breakfast consisting of olive oil and a fresh tomato spread on a slightly toasted bread roll. I order it, too. Mmmh, I'm in for a real treat.
As I'm losing myself in the narrow alleys of the old city center, I hear beautiful voices singing. I stop in my tracks, close my eyes, and just listen. They sound just so at ease and at peace – and they make me enjoy the serenity of this morning even more.
I still need some pictures of the cathedral. And it's good that I do, because as I get there, I can see where everyone went. Over hundreds of heads, I spot ministrants in embroidered gowns carrying huge candles. A group of young women gathered around the monstrance, chanting surprisingly rhythmic flamenco tunes. Behind them, a marching band in sleek uniforms is getting ready. The very moment they begin to march'n'play, the cathedral bells start ringing and it's a big'n'beautiful cacophony.
Flamenco, Carthusians, And Sherry Wine
So, I've spent one and a half days in Jerez. It's needless to say that it was too short for all this city has to offer. However, I can say this about each and every place that I've visited on my roundtrip through Andalusia. Obviously, my time for this tour is limited, and still, I somehow manage to see most of the iconic landmarks. I'm even catching some of the cities' particular vibes.
In Jerez, possibly and totally unjustified the least popular tourist destination on my route, golden sherry wine and vital flamenco rhythms actually enhance those vibes. I don't know whether it's because of the public holiday or if Jerez is always flushed by all this joie de vivre. It might be since the city is known for the Tabancora, a local and very extensive pub crawl. I put together a route to the best Tabancos, local sherry bars, for you in the last part of my itinerary below.
But before we lose ourselves in that part, I'll guide you to the most iconic classics and the significant palaces stemming from Jerez's glorious past.
Talking 'bout the past: Before we start our four tours, let's quickly take a look at the city's grand history.
History in a Nutshell
With the fall of the Roman Empire, all of Hispania came under Visigothic rule from the year 507. Eventually, during the Andalusian period from the early 8th to the late 13th centuries, the city of what today is Jerez gained great importance. During the 12th and 13th centuries, the layout of what today is the historic old town was created. Also, the city's defense system was built.
When Ferdinand III conquered Seville in 1248, the area around Jerez came under the Castilian protectorate. In 1264, after the revolt of the remaining Mudejar, Alfonso X finally incorporated the city into the Kingdom of Seville, hence, the Crown of Castile. At that time, the city had seven mosques and twenty-one wineries.
Colonial Times
The discovery of America in 1492 made Jerez one of the most prosperous cities in Andalusia. From this time, by the way, stems also the extension de la Frontera – which translates to on the border. It refers to the region around Jerez having been a long-contested area between Moors and Christians.
Jerez's proximity to the ports of Seville and Cádiz facilitated trade significantly. Felipe II even considered digging a navigable estuary so that ships could reach the city directly on the Guadalete river.
In the 16th century, with about 25,000 inhabitants, Jerez was one of Spain's most important cities. During that time, the city also gained intellectual significance through nobles, intellectuals, and clergymen.
Jerez's Claim to Fame
Despite Spain's political, economic, and social decline in the 17th century, Jerez kept on doing well. By then, the city had become world-famous and recognized for its sherry wines.
In the 18th and 19th centuries, industrialization reached the city. Also, Spain's first railway route connected Jerez with Puerto de Santa María and Puerto Real. This route had the purpose of taking the wine barrels from Jerez to the nearest ports for their export, obviously. From 1870, an urban railway was built to connect several wineries.
Furthermore, Jerez was the first Spanish city to have street lighting. Also, the Caja de Ahorros de Jerez was the first savings bank in Spain. It was even the first city in the province to ask for a University. Unfortunately, this request was denied by the government in Madrid.
Yet, apart from these great achievements, in the 19th century, Jerez's population was divided into two social groups. A small group of citizens made up the bourgeoisie, hence, it consisted of wealthy landowners, wine exporters, and the nobility. On the other end of the food chain was the rural and urban proletariat. This led to several uprisings. The government tried to get this under control by denouncing the existence of a clandestine anarchist movement, the so-called La Mano Negra. Obviously, this was just an excuse for oppression and even exemplary execution of several peasants.
Four Tours Across Jerez de la Frontera
Before we start, let me explain really quick how you pronounce the city's – and the drink's – name. The letter J is rather breathed than pronounced – a bit like the H in house. By no means is it pronounced like a J in jeans or a y in yellow.
Although especially Jerez's historic center is not very large, there is a lot to see. Therefore, dividing the visit according to your main interest makes totally sense.
In the first section, I'm introducing the city's most iconic landmarks. Then I'm sketching the city's glorious past along the palaces. In the third part, you get to sample some gold-colored Jerez. Finally, I'm sending you off to a Tabancora, a not-to-be-missed classic pub crawl.
Classic Tour
Fundación Real Escuela Andaluza Del Arte Ecuestre
First of all, I must admit that I'm normally afraid of horses. I think that all animals that are taller and heavier than I am are quite intimidating and possibly dangerous. And apart from very few special races and breeds, horses are much taller than I am.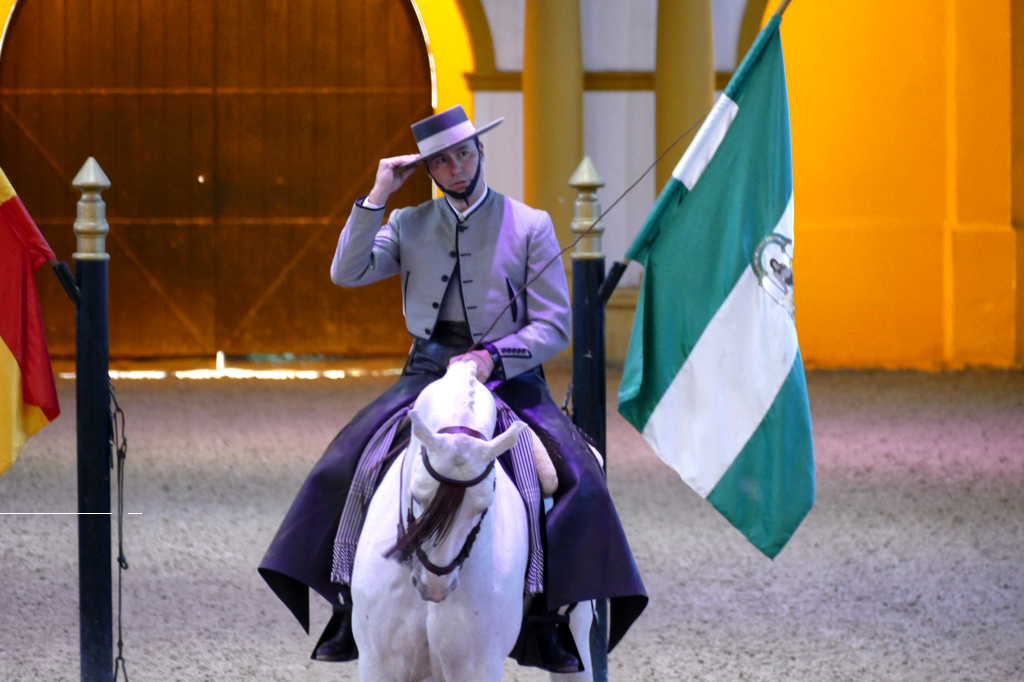 But as they say, travel broadens the mind. Ever since the Royal Andalusian School invited me to get to know their hooved students, my fear transformed into admiration.
Since I was in Jerez during a public holiday, almost each of the 1,400 seats at this honorable institution were occupied for the famous show Cómo bailan los Caballos Andaluces. There were literally busloads of people, and I was more than happy for having hopped on the early train from Seville to make it to this beautiful spectacle in time.
How The Andalusian Horses Dance
The school is an institution that preserves various forms of traditional dressage of the famous Carthusian horses.
In 1973, Álvaro Domecq Romero established the foundation that is now housed at the Palacio Duque de Abrantes. I'll introduce this palace in the itinerary for the second tour. Since 1987, King Juan Carlos I has been the foundation's honorary president. That's what makes the institution Royal.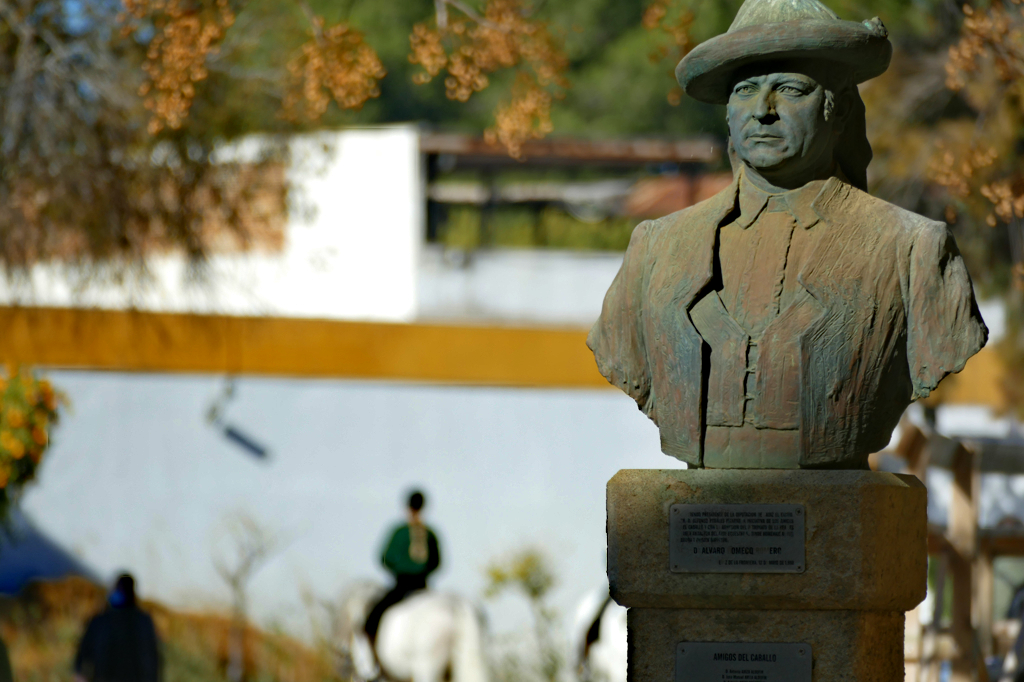 The show Cómo bailan los Caballos Andaluces is seemingly the most important activity of the riding school. Its prestige and reputation have been celebrated for years. Riders dressed in riding attire from the 18th century let their horses perform delightful choreographies to the sound of music.
Every year, these exquisite performances attract about 150,000 visitors. Also, the school tours countries all over the world.
It's Not Just For The Show
Nevertheless, the school's real task goes far beyond the show. The Real Escuela Andaluza del Arte Ecuestre is actually the cultural and also social keeper of the rich equestrian heritage. The institution is in charge of the selection and breeding of the Andalusian horses. They ensure the training of excellent riders and the conservation and promotion of dressage. In short, they preserve the long tradition and rich culture of Spanish horsemanship.
The school's facilities consist of the riding arena and a saddlery. But there is also the Museum of Equestrian Art, the Carriage Museum, and the Duque de Abrantes Palace, obviously.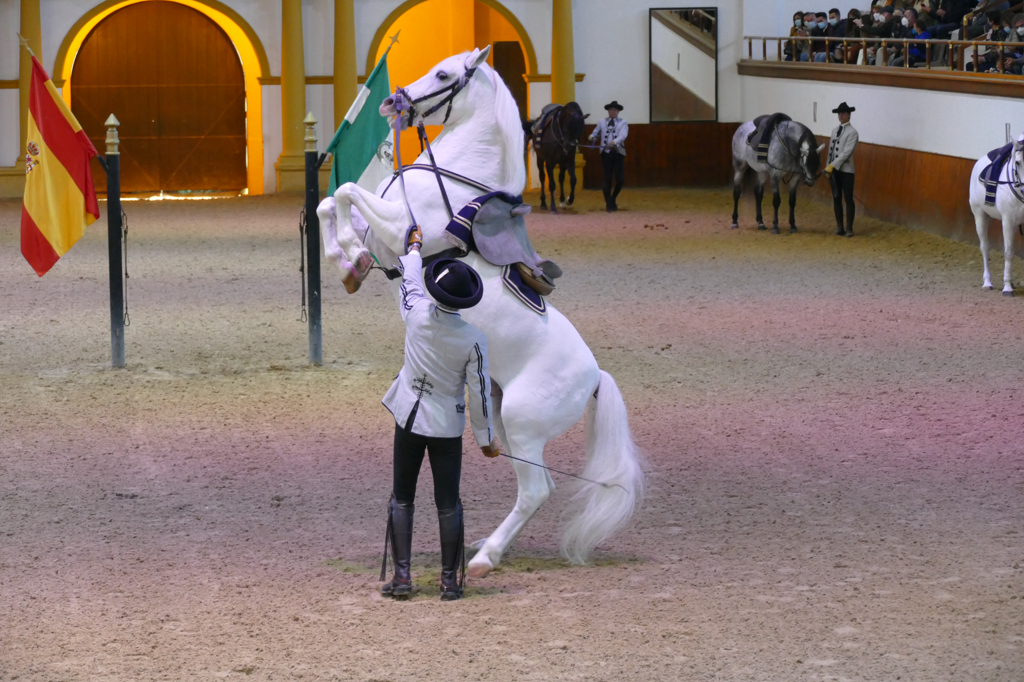 If you'd like to witness this unique spectacle yourself, prices start at 17 €uros. You can inquire about the opening and performing times on the school's website**.
You can also visit only the museums and facilities from Monday to Wednesday and on Friday from 10 a. m. to 2 p. m. The full ticket costs 11 €uros.
If you want to visit just the show and do some wine tasting on a day trip from Seville, you can book an organized visit.
Claustros de Santo Domingo
As you walk from the school south towards the city center, you'll pass the Cloisters of Santo Domingo. It stands at the southern tip of the beautiful Plaza del Mamelón.
The Claustros de Santo Domingo is one of the jewels of Gothic architecture in Andalusia. Initially, the cloisters belonged to the church of Santo Domingo.
In 1436, the Dominicans expanded an Almohad fortification and finished the cloisters in 1595. Those pious men actually wrote up a false document in which they were granted huge plots of land. And all that in addition to a field and an orchard that already was part of the monastery. By 1755, the convent also owned 100 oxen and 136 cows.
However, in the spring of 1836, politician Álvarez Mendizábal secularized unproductive areas and lands of the churches and the orders. In this process, the Dominicans were expulsed and the Cloisters of Santo Domingo passed into civil use. Quite a remarkable process in deeply catholic Spain.
Since 1983, the structures became municipal property and are used for different events.
You can visit the cloister free of charge from Tuesday to Friday between 10.30 a. m. and 1.30 p. m. In the evening, they are open from 6 p. m. to 9 p. m., on weekends only till 1.45 p. m.
Antiguo Cabildo
The Antigua Casa del Cabildo is a fine example of Jerez's importance and splendor during the 16th century.
Already the 15th century marks the beginning of a prosperous time. Jerez became the residence of numerous distinguished nobility. These people made their wealth from agriculture and ranching. However, the highest income came from the export of their finest wine not only to other European countries, but even to the Americas.
Built in 1575, the main of the three façades faces the Plaza de la Asunción. Local architects Andrés de Ribera, Diego Martín de Oliva, and Bartolomé Sánchez designed this main building. Yet, they added an open loggia with three elegant semicircular arches. Figurines of the four virtues decorate the top together with classical statues representing Hercules and Julius Caesar.
Due to its classicism and aesthetics, this building is one of the best examples of Renaissance architecture in all of Andalusia.
Since 1873 and until recently, the Cabildo housed the municipal library as well as the Archaeological Museum. Today, however, it once again houses Jerez's city council.
Alcázar de Jerez
To every Andalusian city her own Alcázar. Consequently, there is also one in Jerez de la Frontera. It stands on an elevation just a couple of minutes from the grand Plaza de Arenal. This location grants panoramic views of the cathedral with the city in the backdrop which makes the visit worth a while.
The Alcázar de Jerez is actually a group of fortified buildings of Almohad origin. Until the Castilians besieged Jerez in the 13th century, the fortress was the seat of the Muslim governor. It should be the oldest Almohad building on the Iberian peninsula. After Jerez surrendered, all Islamic inhabitants of the city were expelled. They sought refuge in nearby towns or emigrated to Africa.
In 1926, wealthy wine producer Salvador Díez Pérez de Muñoz bought the fortress to prevent it from being demolished. He had already bought and restored the cloisters of Santo Domingo in 1908.
By now, major parts have been restored and are open to visitors. There is the Christianized Mosque, Arabic Baths, an Oil Mill, and, of course, the beautiful gardens. In the tower of the Villavicencio Palace is a Cámara Oscura.
You can visit the Alcázar daily from 9.30 a. m. to 3 p. m., from July to September till 6 p. m. The general entrance fee is 3 €uros. If you want to see also the Cámara Oscura, you have to pay 5.40 €uros.
Catedral de Jerez
Right across from the Alcázar is the cathedral of the Diocese of Asidonia-Jerez. Built in the 17th century, it combines Gothic, Baroque, and Neoclassical styles.
The building's lower part flashes a Gothic-Mudejar style while the upper part is clearly Baroque. The bell tower stands a bit apart from the main building. Its construction was probably carried out on the minaret of the old city mosque from the Muslim era.
The dome that decorates the highest part of the tower is embellished with tiles in the colors of the city's banner. At the top is a cross-shaped weather vane.
The dome is an octagon. On each one of the edges stands a sculpture representing the holy doctors of the Latin Church.
The cathedral is open for touristy visits every day from 10 a. m. to 6 p. m. Sundays from 1 p. m.
Villamarta Theatre
Unless your Spanish is really fluent, you probably won't visit a local classic theater play. However, you shouldn't miss out on admiring the Villamarta Theater's façade. Anasagasti Teodoro designed the building in 1926. Therefore, its façade flashes a modernist appearance with a bow to Antoni Gaudí as well as Cubist artists.
If you are lucky enough to visit Jerez during the famous Flamenco Festival, try to get tickets.
Gallo Azul
Just around from the Villamarta is another grand example of Regionalism architecture. Creating the Gallo Azul, the blue rouster, Sevillian architect Aníbal González Álvarez-Ossorio mixed elements of the Renaissance Revival and Neo-Mudéjar.
The Domecq family commissioned the Sevillian architect to design a building that would beautify the corner at Calle Larga and Calle Santa María. It was a gift to the city of Jerez on the occasion of the Ibero-American Exposition of 1929. Due to its prominent location and the outstanding architecture, it has become one of Jerez's architectural icons.
Sadly, today, the building is in a quite deteriorated state and looks rather abandoned.
Sherry Bodega Tour
Yes, when you visit Bordeaux, you are doing some wine tasting. As you call on Porto, you try some port wine at one of the cellars. Hence, now that you are in Jerez, you cannot miss out on having some sherry at one of the many bodegas.
Sherry is a Spanish fortified white wine from Andalusia that has undergone a special aging process. The name comes from the name Sherish. This is what the Moors called Jerez. Sherry became known in the entire world through English trading houses in the 18th and 19th centuries.
Here are three of the brands that offer the most complete visits to their treasures.
Sandeman
It was actually Scotsman George Sandeman who founded Sandeman as an import company for port and sherry in London in 1790. For obvious reasons, branches were soon established in Spain and Portugal. Today, Sandeman specializes in sweet wines like sherry, port wine, and Madeira, but also brandy and Douro red wines.
Since 1928, the company's logo has been the silhouette of a Zorro-like man in a hat and cloak. The Caballero hat stands for the Spanish, the black student cape for the Portuguese products.
You can perfectly combine a visit to Sandeman's Sherry Visitor Centre with your visit to the School of Equestrian Art. They offer different tours including tasting of three sherries to up to eight sherries and two brandies. Hence, just choose according to your level of alcoholism. Prices for these tours are really civil – and I hope that you'll be civil, too, after they've filled you up.
Visits start at 10 €uros. They are carried out on Tuesday and Thursday at 10.30 a. m. and at 2 p. m. Check their website for further info and to make a reservation.

Bodegas González Byass aka Tio Pepe
I think that apart from Sandeman, Tío Pepe is the most famous sherry brand.
Manuel María González Angel established the company in 1835. He was then joined by his English agent Robert Blake Byass. One of the founders' uncles inspired the brand name Tío Pepe which translates to uncle Pepe.
The famous sombrero-wearing and guitar-toting bottle became the icon of the brand in 1935.
Today, the company is run by the 4th and 5th generation of the González family. Right next to their bodega in the vicinity of the Alcázar and the cathedral, they also own a hotel. Hence, if your sherry tasting gets out of control, you always have a place to crash.
Guided tours start at 18 €uros and include only two sherries. The fanciest one set you back 35 €uros.
What I find hilarious is that to enter their website, you have to affirm to be of age. Then, they advertise that kids under 4 have free access and pay only half if they are between 4 and 17. Honi soit qui mal y pense.
Bodegas Tradición
Now, Bodegas Tradición is the most unique place for your sherry tasting experience. Today's company predecessor started his trade way back in 1650. In 1887, the Bodega became the official supplier of the Royal Spanish Household. Therefore, they can use the royal coat of arms on their wine labels.
Then, in 1978, the winery was sold to the Carbonell Group against the wishes of the current owner's family. Nevertheless, in 1998, Joaquín Rivero Valcarce established Bodegas Tradición. In his quest to recover the family's historical bond with winemaking, he bought an old winery started the production of old and exceptional wines.
In 2005, Bodegas Tradición opens a gallery showing an exquisite private collection of Spanish paintings. They range from the 14th to the 19th centuries and include masters such as Goya, Zurbarán, Murillo, and El Greco.
During your visit of 90 minutes, you're not only getting to sample their excellent wines. You also get to see some truly great art. Therefore, for 35 €uros, this tour is the most expensive one. It certainly is a feast for all the senses – but it's also a lot of money. If you are interested, you can check their calendar and make a reservation on their website.
Palace Tour
The third tour that takes you to all those majestic palaces around Jerez is based on the first two chapters, namely the city's wealth and glory. Obviously, all those nobles and merchants needed adequate homes and they commissioned them all over the city.
Palacio Duque de Abrantes
El Recreo de las Cadenas, eventually known as the Palacio de Abrantes, is a beautiful neoclassic palace. It was created by French architect Charles Garnier in the 19th century. Garnier was supposedly also the designer of the Paris Opera and the Monte Carlo Casino.
Interestingly, the palace has two distinctive façades. The eastern one copies the characteristics of French monumental and classicist baroque, the so-called Second Empire style. The western façade has a neoclassical appearance.
The lush garden once had fruit trees, a great diversity of flowers, lakes, ponds, fountains, caves, iron bridges, and even exotic animals. Currently, there are Indian trees and a beautiful central fountain.
French-born winemaker Julián Pemartín y Laborde commissioned the palace, for which the coat of arms of his family still crowns the entrance gate.
Since the Dukes of Abrantes later acquired the building which explains today's name.
The chapel inside the mansion was used by the considerable Protestant community of Jerez in the 19th century.
Today, the Duque de Abrantes palace houses the Royal Andalusian School of Equestrian Art Foundation.
Palacio Domecq
This palace is not far from the Duque de Abrantes palace and literally around the corner from the Claustros de Santo Domingo. Since the Marquisate of Domecq owned the former Palace of the Marqués de Montana for many years, it goes by its present name.
Antonio Cabezas de Aranda, the first Marquis of Montana, commissioned this palace that perfectly matches the fashion of Jerez's grand bourgeois houses of the 18th century.
The palace was finished in 1782 and only three years later, the Marquis died. According to his will, the palace then housed the offices of the revenue administration, the royal customs, and the salt office.
In 1855, Juan Pedro Domecq Lembeye acquired the palace.
The building is free-standing and has a square floor plan. Its symmetry gives it a cuboid appearance. The house has two floors, which are distinguished by two types of holes and delimited by cornices. Balconies with colorful plants adorn the main façade.
The interior is laid out around a square inner courtyard, at the end of which there is an imperial staircase
The location of the building was chosen for a clear baroque design. The privileged location of the building is enhanced by the design of the front garden.
The building has a private owner and is not open to visitors.
Palacio Perez-Luna
The Pérez-Luna Palace is only one of three distinguished structures around the Plaza Rafael Rivero.
The palace was built in a Baroque style for José Antonio Menchaca, Canon of the Collegiate, in 1777. On its beautiful façade is a beautifully decorated balcony. Also, there is a striking sundial.
After many years of financial insecurities, the building has finally been awarded to a real estate agency.
Palacio Petra de la Riva
Casa Petra de la Riva is also located in the Plaza Rafael Rivero. It was the residence of Diego López de Morla y Virués, Count of Villacreces. He was the founder the Caja de Ahorros de Jerez, the local savings bank, in 1834.
Two pairs of Ionic columns support a balcony on the neoclassical façade. The main adornment, however, is two statues of soldiers.
Behind the façade and its wrought-iron gate, lies a shady courtyard. It is full of creepers and only has columns on the right, like many palaces in Jerez, for that matter.
Currently, the palace is a private residence of the Domecq de la Riva's heirs.
Palacio del Conde de Garvey
The third grand palace at the Plaza Rafael Rivero is the former residence of the Earls of Garvey.
In 1780, Irish aristocrat William Garvey Power managed to make his winery one of Jerez's main wine-producing companies. His eldest son Patrick continued the business and exported wines in large quantities.
Today, Grupo Garvey is one of the most important companies producing wine, brandy, and other spirits. They are exporting their goods to more than 72 countries.
Yes, you can visit the Conde de Garvey palace, however, at a pretty high price since it is a fancy four-star hotel.
Palacio Viceroy Laserna
Ever since the Reconquest of Jerez in the 13th century, it was the same family that owned this palace. In the 18th century, however, it underwent a major restoration and got its present neoclassical appearance. José de la Serna e Hinojosa, First Count of the Andes and last Spanish Viceroy in Perú, was born in this mansion in 1770. Since the Viceroy Laserna palace has been inhabited by the Counts of the Andes ever since, it is still in a very good state of preservation. It has spacious, exquisitely decorated rooms and an unrivaled collection of classic furniture and valuable paintings.
In 1925, on the occasion of the Canonical Coronation of the Virgen del Carmen in Jerez de la Frontera, the VI Count of the Andes, Francisco Moreno Zuleta, commissioned the construction of an annex to the Palace.
Located in the city center right off the Plaza del Arenal, the palace is open to the public. You can visit on a guided tour from Tuesday to Sunday for an entrance fee of 7 €uro. Please check the hours on their website since they vary according to seasons and holidays.
Palacio Bertemati
Juan Dávila Mirabal decided to build his residence in the vicinity of today's Cathedral in 1768.
With the decline of the Dávila family at the beginning of the 19th century, this large building underwent numerous transformations. Finally, it was divided into two properties. Wealthy merchant José Bertemati got the larger part that he remodeled in the then-new neoclassical fashion. After a couple of unfortunate purchases, the other part was transformed into an eclectic mix of French and neo-Nazari styles.
Finally, Enrique de Bertemati reunited the two properties and offer them to the Church for the use of the Sisters of Mary Immaculate in 1942.
After restoration in the early 2000s, today, the Bertemati Palace is the headquarters of the Diocese of Asidonia-Jerez.
Palacio de los Condes de Puerto Hermoso
Apart from the Bertemati palace, there is also the Palace of the Counts of Puerto Hermoso in the Plaza del Arroyo. It is a neoclassical building and was the residence of important Jerez families.
Architect Elías Gallegos designed the building for the Pedro Domecq Loustau in 1873. After his death, the palace became the property of Fernando Soto y Aguilar and Carmen Domecq, Counts of Puerto Hermoso.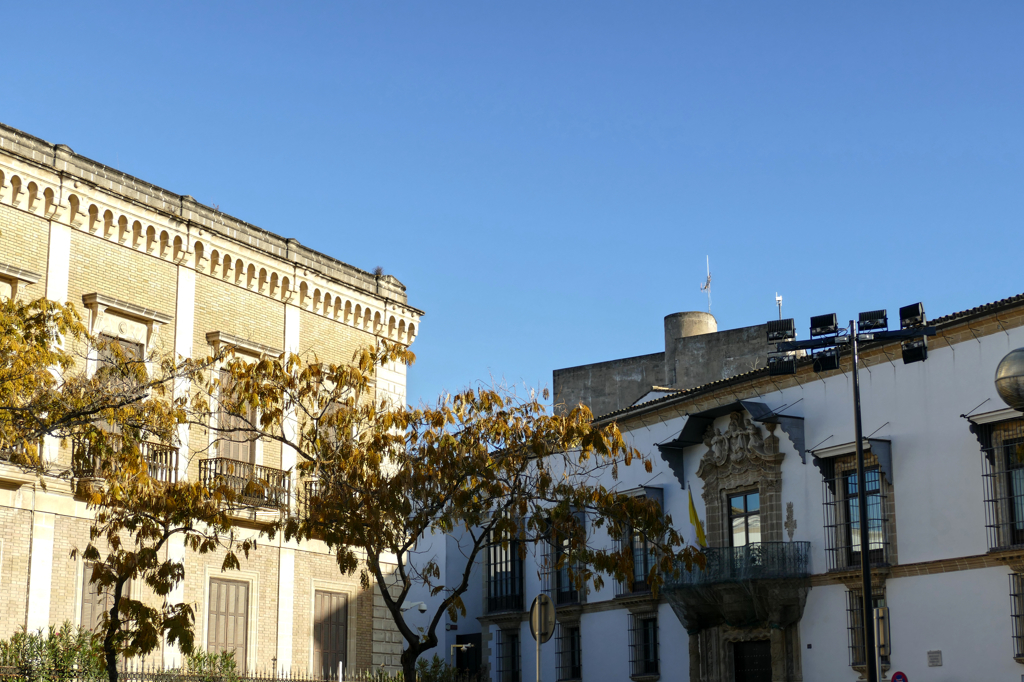 In 1925, it even became a royal residence as King Alfonso XIII came to Jerez for a Coronation.
Today, it houses the local police station.
Palacio de Campo Real
The Palacio de Campo Real or Palacio de Benavente is of medieval origin. According to the tombstone in the portal of the residence, the palace was commissioned by Pedro Benavente Cabeza de Vaca y Carvajal on an Islamic structure in 1545. The heirs of the property were the Marquis of Campo Real, hence, here you have the two names.
José Vargas y Sánchez designed the current renaissance-neoclassical façade in 1785. It consists of two floors. The main door is flanked by two Ionic columns with a balcony above.
Today, it is the private property of Manuel Alfonso de Domecq-Zurita, Viscount of Almocadén, and houses the oldest winery in Jerez.
Palacio Dávila
Bartolomé Núñez Dávila commissioned the renaissance Palacio de Dávila at the beginning of the 16th century. Although the main entrance is at the Plaza de Basurto, the main façade faces the Plaza Benavente.
With a façade of straight lines, the main door is flanked by paired columns. The most characteristic element, however, is the double corner balcony.
Palacio Pemartín
The Pemartín palace dates from the 15th century. Its first owners were Don Alvar López de Hinojosa and his wife Doña Isabel Melgarejo.
Its precious Mudejar decoration stands out, but it is also embellished with plant motifs and stained glass windows.
The square-shaped inner courtyard is one of the most spaces in the palace. It's the perfect place for flamenco-related events and performances since the building is the headquarters of the Andalusian Flamenco Center.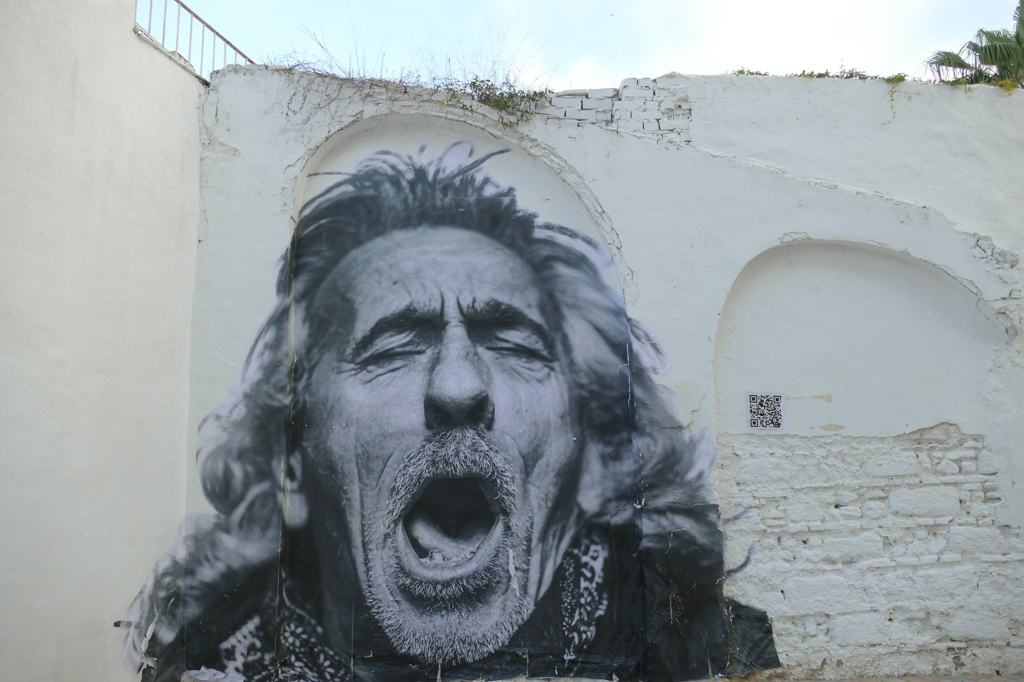 Palacio de Riquelme
It was the Riquelme family who commissioned this palace as proof of power to other important families in Jerez in the Middle Ages. Therefore, they chose to build it in the main square of medieval Jerez.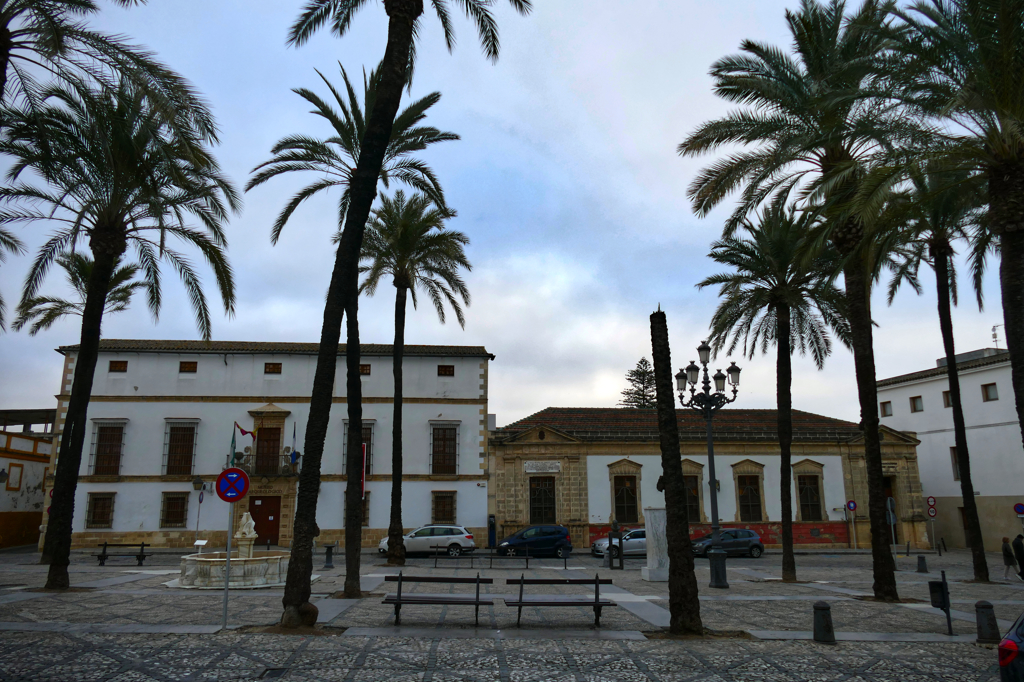 Inspired by the Renaissance Seville City Hall, back then, it was the most important civil building in Jerez. Fernando Álvarez designed the façade in 1542. It has a large front and is kind of presiding over the Plaza del Mercado, visible from every point of the square.
Palacio de Villapanés
The originally Genoese Panés family commissioned the palace in the 18th century. Interestingly, it consists of two houses. The old part has its façade facing Calle Empedrada while the new one's façade is facing Cerro Fuerte and Calle Cruz Vieja.
The architecture is elegant and simple with a long three-storey façade. In the left corner, you can spot the Arcángel San Miguel in a niche facing Calle Empedrada. In the opposite niche facing Calle Cerro Fuerte stands Arcángel San Rafael.
Currently, the municipality owns the palace that has undergone intense remodeling and various uses from civil guard barracks to a private educational center. Although it was planned to host the Lola Flores museum, it is currently used to teach the world's first postgraduate degree on flamenco. Hence, a very Andalusian purpose.
Tabanco Tour
While visitors often choose to go on an organized tapas tour, locals don't need an official guide escorting them from bar counter to bar counter. No matter which one you prefer for your booze-cruize, you will enjoy a truly Spanish classic.
In Jerez de la Frontera, home the signature sherry wine, they take the tapas tour to a whole different level. Not only do you get to sample some truly extraordinary fortified wine along with your nibbles. While sampling some traditional Spanish delicacies, you might be pulled into a night of singing and clapping and lots of Olé.
By the way, don't expect a fiery-eyed beauty with a rose between her teeth stomping across the tabanco. At most tabancos, the entertainment is very home-made and comes very often from the patrons. So if you feel like it, grab that guitar and…ayayay!
But don't get me wrong, tabancos are not the crime scenes of limitless booze sessions. Most of these bars are open for some tapas or a larger lunch at noon, too.
Anyway, below, you find a list of the most popular tabancos including the address and opening hours. For the exact location, please check the tabanco-layer of the map at the end of this post. For your orientation, I've listed them going from the most northern one southwards.
And now: ¡Salud y buen provecho!
Tabankino
Tabankino is actually much fancier than the other tabancos. It is housed in a restored carriage house from 1753. Apart from serving tapas and raciones, you can also book personalized sherry tastings.
They are located on Calle Ídolos 15 and you shouldn't just barge in but make a reservation either by calling or via WhatsApp at +34 627 96 55 92. Although their food is really fancy, they are not really much more expensive than other tabancos, check out their menu.
The Tabankino is open Wednesday to Monday from 12.30 p. m. to 3 p. m. and from 8.15 p. m. to 11.45 p. m. On Sundays, they open from 12.30 p. m. to 4 p. m.
Tabanco La Pandilla
One of the oldest tabancos in Jerez. As it has reopened its doors, it preserved the charm of the past, keeping the furniture and decoration. Check them out on their website.
They have an extensive menu of local tapas and dishes.
La Pandilla is a bit hidden in a quiet neighborhood in Calle Valientes 14 in the city center.
They are open from Tuesday to Saturday from 12.30 p. m. to 3.30 p. m. and from 9 p. m. to 11.30 p. m. On Sundays, they open from 1 p. m. to 3.30 p. m.
Tabanco La Pará
This tabanco is very close to the picturesque Plaza Rafael Rivero and just perfect for a good lunch that gives you enough energy to continue your sightseeing in the afternoon.
They are on Plaza del Clavo 1 and open for lunch from Tuesday to Sunday between 12.30 p. m. and 5 p. m.
Tabanco Romate
This Tabanco is worth the visit for its location. It is part of the Damajuana Café Bar, housed in a palace from the 16th century on Calle Francos 18.
You can check them out on their facebook page. Opening hours are Monday to Thursday from 8 p. m to 3.30 a. m., Fridays from 5 p. m to 3.30 a. m., Saturdays and Sundays from 4 p. m to 4 a. m.
Tabanco Plateros
This Tabanco is also an old classic that's very popular with locals. They are located on Calle Algarve 35. For further information, you have to check their facebook-page.
They are open Monday to Thursday from 12 p. m. to 4 p. m. and from 8 p. m. to midnight. Fridays and Saturdays, they are open till 1 a. m., and on Sundays, they are open only in the evening from 8 p. m. till midnight.
Tabanco El Pasaje
El Pasaje is an old tavern. It's frequented mostly by local people, but also an increasing number of visitors.
They are located just around the corner from the Gallo Azul on Calle Santa María 8. You'll find their menu and further information on their website.
Opening hours are every day from 11 a. m. to 3 p. m. and from 8 p. m. to 11.30 p. m.
Tabanco La Reja
A family-run tabanco was founded in 1942. Good wines, smoked meats, hot sandwiches, and other traditional foods with a good value for money.
La Reja is just around the corner from the Teatro Villamarta on Calle Mesones 6.
They are open from Monday to Friday from 12 p. m. to 4 p. m. and from 8 p. m. till midnight. On Saturdays, they open at 11 a. m. and close at midnight. Sundays, they open only in the evening from 8 p. m. to 11.30 p. m.
Tabanco San Pablo
San Pablo is very popular and known for its delicious tapas. Very good for lunch. They are located on Calle San Pablo 12. They don't have a website, but you find them on facebook.
They are open Thursday to Saturday from 12.30 p. m. to 3 p. m. and from 8.15 p. m. to 11.45 p. m. On Sundays, they open from 12.30 p. m. to 4 p. m.
Tabanco Cruz Vieja
Tabanco with live music, traditional tapas, wines, and homemade stews at reasonable prices. A very lively ambiance. Check out their menu online and better make a reservation.
You'll find the Cruz Vieja on Calle Barja 16.
They are open only on Wednesday and Thursday from 12 p. m. to 3 p. m. and from 8 p. m. to 11 p. m. On Friday and Saturday, they are open from 12 p. m. to 5 p. m. and in the evening from 8 p. m. to 1 a. m.
Practical Information
How to Get There
By Plane
Although Jerez is not a large city, there actually is an international airport located only about 9 kilometers northeast of the city center. It's a hub for domestic as well as international flights. Apart from regular airlines, it caters also to European low-cost companies. Especially during the off-season, you can get there dirt cheap with the Spanish low-cost airline Binter, Ireland's Ryan Air, and Germany's Eurowings where the price-performance ratio is just great.
There are regular buses to and from the airport to Jerez, El Puerto de Santa Maria, and Cádiz.
Alternatively, you can take one of the C-1- or MD-train – MD stands for media distancia, hence, medium distance. On this website, you can check the schedule and even download it. The train station is located west of the airport, just follow the signs.
I'm not driving, but if you want to rent a car, you'll find seven car rental companies right at the airport
Long-Distance Bus
Travelling by long-distance buses between cities in Andalusia is actually a valid option. The cheap prices might make up for the little loss of time compared to trains. Also, there are sometimes even more bus connections than trains – for instance between Jerez and Cádiz.
However, some bus companies do not maintain their vehicles very well. Some buses are quite disgusting. Also, the bus drivers are very unfriendly, rude, and not helpful at all. But maybe I simply had back luck. You might know that I have a secret vendetta with the bus drivers of the world – I hope you have read my post about it.
Jerez's bus station is centrally located at Plaza de la Estación just across the street from the train station. There is a regular connection to Seville, Cádiz, and other Andalusian cities.
Train
First of all, the Jerez de la Frontera railway station is a monumental building of great architectural value. It was designed by Aníbal González Álvarez-Ossorio. If this name rings a bell – he also created the Gallo Azul that I'm introducing on the first tour.
Opened in 1854, from early on, Jerez de la Frontera has been an important railway junction connecting cities like Seville and Cádiz. It has always been one of the main stations in the Andalusian region with a direct connection all the way to Madrid – which takes 4.5 hours. Albeit, you might travel a bit faster if you first go to Seville and take one of the high-speed trains from there.
Obviously, there are regular connections to Seville, Córdoba, and Cádiz.
How To Get Around
Walking
All four tours that I'm introducing above can be easily made walking. Since you can also combine them, you can easily see all the major landmarks and attractions within two to three days. My most important advice is to wear really comfortable shoes.
Most of Jerez's streets and alleys are picturesquely paved with cobblestones and actually only walkable in flats, sneakers, or boots with a big heel. Don't even think about wearing stilettos.
Public Transportation
Although it's relatively small, Jerez has a comprehensive, well-functioning network of public buses.
A single ticket costs 1.20 €uros. You can buy the ticket from the driver. If you are staying longer and do some more travelling by bus, a bono de transporte might be a valid option. You can buy a card with ten trips for 8 €uros at some of the kiosks around town.
Bicycle
Jerez was actually the first city in Andalusia that offered a free public bicycle service. Those rental bikes can be picked up and returned at the Alameda Bank at Plaza Mamelon, at the central bus station, or at the university. You can use them for free for up to eight consecutive hours. You need to return your bike to the station where you picked it up on the same day.
If you use the bike longer than eight hours, you'll be charged 1 €uro per 30 minutes.
However, you have to register with your bank details. Also, you need a Green Bahia de Cadiz transport card. After having used this transport card on a means of public transportation like for instance the city bus, you can pick up your bike. I know this sounds totally crazy, but I didn't invent this very unique system.
Where to Stay
Although Jerez is not Andalusia's epicenter of tourism, there are lodging options of all kinds. If your expectations are not too high, you can get a room at a really cheap price. Since I stayed only one night in the city and needed basically a bed, I booked a very simple yet squeaky-clean room in the historic center for under 30 €uros.
However, it's actually not a bad idea to treat yourself to one of the more traditional houses like the Hotel Palacio Garvey* or the Hotel Bodega Tío Pepe*. Their rates are actually not neck-cutting and you are really in for a treat.
But you can check out on this map which lodging option is the most convenient for your needs*:
Tabancora: Jerez's Trail of Food And Drinks
There is an overwhelming number of restaurants and taverns – called Tabanco – in Jerez where you can enjoy a glass of beer or wine with some tapas, varied small snacks. I dedicated them a whole section.
Obviously, sampling Jerez in Jerez is mandatory and a tabanco is the best place to do so. As you are meandering from tabanco to tabanco, having a glass of sherry with some tapas at each of them, you are on what the locals call a tabancora. This, of course, sounds much classier than a pub crawl – and oftentimes it is. Since if you are lucky, you don't get just a taste of local delicacies, but can also experience the Andalusian culture.
Now, tapas. Tapas can be the Spanish potato omelet tortilla española, slices of serrano ham, diced cheese, olives, small sandwiches called montaditos, a blob of ensalada rusa, potato salad with mayonnaise – you name it. They are called tapas since they used to cover – tapar – drinks with these snacks. Beats me how they did it with olives let alone the ensalada….
Cash and Cards
Until now, 20 European countries replaced their former local currency with the €uro starting in 2002. Obviously, Spain is one of them. The exchange rate is 1 US$ = 0.94 EUR as of January 2023. However, you can check today's conversion rate on this page.
You can pay with credit cards basically everywhere – as a matter of fact, due to the pandemic, most businesses prefer contactless paying by credit card for safety and hygienic reasons.
Connection and Communication
Since June 2017, no roaming charges apply within the EU with a European mobile phone contract, This applies in all 27 countries of the European Union as well as in Iceland, Liechtenstein, and Norway and to all contracts.
If European roaming is not available, you can connect to the internet without any issue at basically every museum, eatery, café, and, of course, hotel.
If you insist on being online 24/7, you can get a SIM card, obviously. The cheapest one would be Lycamobile while Orange Tu Mundo has the widest coverage.
In Spain, they use plug types C and F. Their voltage is 230 V and the frequency 50 Hz. Whereby, as nowadays, all these chargers have integrated adapters, in general, the voltage and frequency don't really matter.
By the way, you'll find this information and many more comprehensive travel tips in my post World's Most Complete Travel Information – an indispensable globetrotter-classic.
Language
Obviously, the official language is Spanish. If you want to learn some basic Spanish or just brush up on your knowledge, there are various apps and online tools. I personally like to practice with babbel. However, due to international tourism, many people speak at least some rudimentary English.
Nevertheless, here are some ground rules to Spanish pronunciation since saying for instance city names wrong can cause some problems.
Say It Right
In general, you read Spanish the way it's written. You only have to know that the letter J is rather breathed than pronounced – a bit like the H in house. If you speak for instance German, Flemish, or Czech, you get even closer by pronouncing it like a CH in echt.
Always, no exception.
This applies also to the letter G, but only if it stands before an E or an I. If it's followed by A, O, or U, it's pronounced like the G in guitar, hence, hard. This is also the perfect example of how to make a G sound hard before an E or an I: They squeeze in a mute U.
Another tricky letter for foreigners might be the letter C. Same rule as above: before an A, O, or U, it's hard and pronounced as K. Followed by E or I, it is pronounced like an English th – at least in Spain, Latinos don't do that, they pronounce it like a normal S. Now, if you want that th-sound in combination with A, O, or U, the letter Z comes in the picture. So Cádiz is pronounced Kadis, and Zaragoza Tharagotha or Saragosa.
On the other hand, if you want C to sound hard in combination with E or I, you make it a QU – but again, you don't hear the U. Fine example: Tequila, that you pronounce like Tekkila.
The last trap is double L which is not pronounced like an L but like a Y in yellow. So it's not Malorca, but Mayorca. However, don't overdo it: When a word is written with just one L like – I don't know why this comes to mind again – Tequila, it's a simple and innocent L.
Alone No More
Although I'm an avid solo-travelling woman, I sometimes like to join organized tours. Not only are they a valid option to go to remote places since I'm not driving. They also allow me to meet fellow travellers – for just a short moment or a lifelong friendship.
Therefore, here are some great ideas of what to do when visiting Jerez. Especially during high season, pre-booking of the popular sites and activities will prevent you from disappointment*:
Map
This map should help you to find all the wonderful places I'm introducing in this post. Clicking on the slider symbol at the top left or the full-screen icon at the top right will display the whole map including the legend.
Jerez de la Frontera is only one of many amazing places I visited during my road trip through Andalusia. To read about the others, go to the main post and take your pick! There, you'll also find further valuable general information that will make your own trip much smoother and more enjoyable.
Pinnable Pictures
If you choose to pin this post for later, please use one of these pictures:
Note: I'm completing, editing, and updating this post regularly – last in January 2023.
Did You Enjoy This Post? Then You Might Like Also These:
* This is an affiliate link. Hence, If you book through this page, not only do you get the best deal. I also get a small commission that helps me run this blog. Thank you so much for supporting me!
** Disclaimer: I attended the show at the invitation of the Fundación Real Escuela Andaluza Del Arte Ecuestre, but all the opinions are my own and were by no means influenced by the institution.