Santiago in the island's eastern part is the capital of Afro-Cuban culture. This alluring home to the country's largest Afro-Cuban population was actually the birthplace of the Revolution.
Since Santiago is cheaper and more relaxed than Havana and full of tropical vibes, I really don't understand why so many visitors simply skip this underrated treasure.
All the cities east of Trinidad were much more…Cuban. Less tourists, more locals. Obviously, the island's western part is far more visited by international tourists than the east.
Santiago de Cuba
Santiago de Cuba is not only the isle's second-largest city but was also the country's second capital from 1522 till 1589. The first one was Baracoa – we'll get there later – literally.
Diego Velázquez de Cuéllar founded Santiago de Cuba as one of seven villas in 1515. This makes it one of Cuba's oldest settlements, hence, celebrating its 500th anniversary in 2015.
In 1522, the Spanish Crown conferred the title of capital from Baracoa on Santiago de Cuba. At the same time, it was the main base of the Spanish Armada in the Caribbean.
After the Haitian Revolution in 1791, French settlers and their slaves from Haiti had a strong impact on the city's social, economic, and cultural development. This French heritage was most prominent in the Tivolí district south of the colonial old town center.
The French settlers also installed the coffee plantation Cafetal Isabélica east of Santiago. Located on the world's third-largest monolith Gran Piedra, it became a UNESCO World Heritage Site in 2000.
In 1862, Spaniard Don Facundo Bacardí Massó founded the Bacardí & Ca distillery in Santiago de Cuba. It became Cuba's most successful business.
Talking 'bout a Revolution
In 1984, Fidel Castro awarded the city of Santiago the honorary title City of Heroes of the Republic of Cuba for its special merits during the revolution. It's Cuba's only city bearing this title.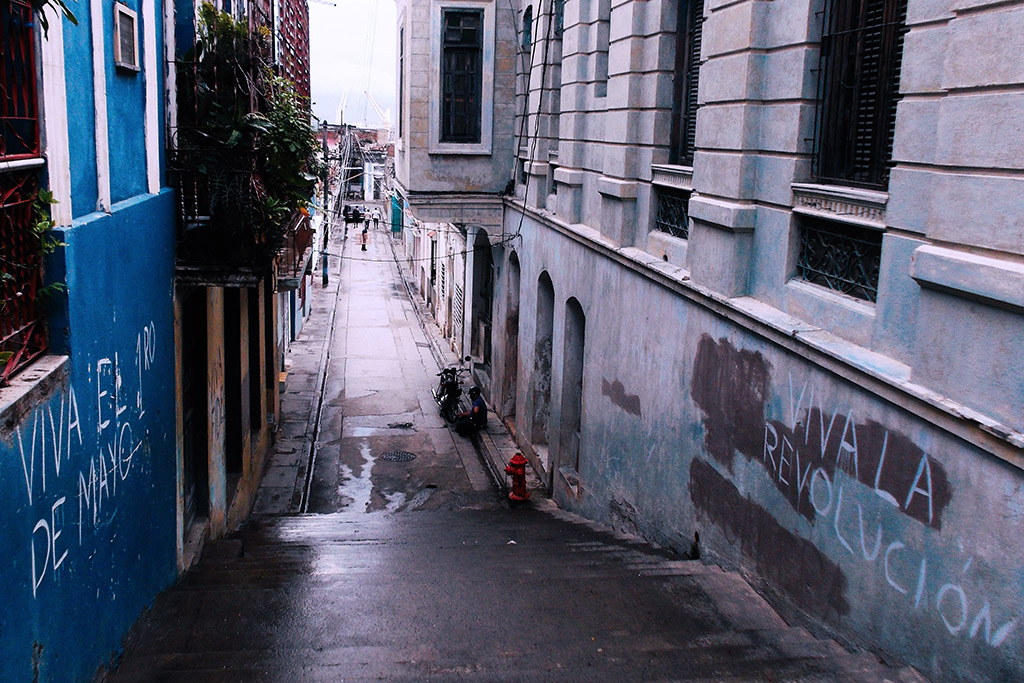 Today, the city's official motto is Yesterday rebellious, today hospitable, always heroic. This slogan is also part of the city's coat of arms.
So let's check out if Santiago actually keeps its promise of being hospitable. You can put the city to the test just by walking.
Walking Tour of Santiago
The best spot to start a city tour is at the central park which dates back to the 16th century. Before finally bearing the first Cuban President Carlos Manuel de Céspedes' name, it had different titles. In the course of history, it was the Plaza de Armas, Plaza Mayor, and Plaza de Isabel II.
To get a first good overview of the city, just go up to the roof bar of the Hotel Casa Granda on the square's eastern side.
As you type the hotel's name in Google, the search engine will autocorrect it to grande. Little does Google know: The building is named after his first resident Don Manuel de Granda. Eventually, it became a hotel in 1914. Today, the Hotel Casa Granda belongs to the Iberostar hotel chain, has 58 rooms, and most importantly, a spacious rooftop terrace.
You don't have to be a hotel guest to take the lift up there and enjoy a grand panoramic view of Santiago.
Sidenote: While it's annoying that employees at public and governmental businesses ignore you when you'd like to order something, it can have certain advantages that they don't give a damn about.
If you use a restaurant's or hotel's bathroom without being a guest or consuming something, they couldn't care less. They really don't care at all if you just enter the premises to use these facilities – or to enjoy a rooftop terrace, for that matter. No, they probably appreciate that you do so without requiring any service.
Santa Basílica Metropolitana
Next to the Casa Granda, on the square's southern side, is the Santa Basílica Metropolitana Iglesia Catedral. Santiago's majestic cathedral was completed in 1818 while its three predecessors can be traced back to 1555.
In 1882, Pope Leo XIII. awarded the house of worship the title Basilica minor. Eventually, it was declared a national monument of Cuba in 1958. In 2015, Pope Francis visited the cathedral.
Across the square, on the northern side is the town hall from 1516. Initially, a hospital and a prison flanked the town hall. Those were closed in 1776.
By 1852, various earthquakes destroyed the building almost completely. From 1854 on, it was completely rebuilt.
In 1901, then-mayor Emilio Bacardí Moreau hoisted Cuba's flag for the first time on this building. Fidel Castro announced the victory of the Cuban revolution from the town hall's balcony in 1959.
Casa de Diego Velazquez
On the square's west side is the Casa de Diego Velazquez, the Spanish conquistador's former residence. The building, completed in the early 16th century, is one of Cuba's oldest residences and also one of the five oldest stone-built houses on the entire American continent.
The structures are showing the so-called Mudejar style, hence, contain a mixture of Moorish and Gothic elements. The barred balcony and the carved wooden ceilings are particularly striking. From these balconies, the ladies could observe what was going on in the squares outside the house as well as in the courtyard.
The house was restored in the 1940s and houses the Museo de Ambiente Historico Cubano. There are ceramics and crockery as well as many European tapestries and furniture from the colonial era. It is one of the most beautiful museums in Santiago de Cuba and gives an insight into the way of life of the upper class of that time.
Santiago's Iconic Museums
Santiago is Cuba's eastern cultural center. There is a wide range of landmarks, museums, colonial palaces, churches, and the annual carnival in July.
Today, many of the colonial buildings are housing museums. Since the Cuban government pays special attention to easy access to culture, entrance fees are usually very low – even if you as a visitor have to pay the equivalent in CUC.
Leaving the Parque Céspedes eastwards, there are some museums you shouldn't miss.
Museo Emilio Bacardí Moreau
On calle Francisco Vincente Aguilera is the Museo Emilio Bacardí Moreau. The name Bacardí rings a bell for a reason. He did bring good to the world – as a rum manufacturer, as Santiago's mayor, and as an art collector.
His neoclassical palace is one of the most important museums in Santiago and houses the oldest collection in Cuba, founded already in 1899.
As a matter of fact, in 1895, during the War of Independence, the Spanish government broad loans from the Prado Museum in Madrid to Cuba. Eventually, the government sent the works to the United States. However, Bacardí managed to acquire some of them for his museum.
But also original devotional objects by José Martí, an Egyptian mummy, and Céspedes' printing machine are on show in the 16 exhibition rooms on three floors.
Construction of the palace began in 1922, and six years later, the Museo y Biblioteca Pública de Santiago de Cuba opened.
Emilio Bacardí Moreau Museo
Francisco Vincencte Aguilera
Santiago de Cuba
Phone: + 53 – 22 – 628402
The museum is open daily from 9 a. m. to 5 p. m.
Museo del Carnaval
Just one block down south at the next corner is another jewel, focusing on the Afro-Cuban heritage and the carnival.
This museum was inaugurated in June 1983. It preserves the customs, history, and memories of Santiago's traditional yearly carnivals.
A building from the 18th century houses the museum. The structures still show fine details of masonry, wooden railings, old doors, balustrades, and huge windows.
The museum is divided into three sectors. One deals with the carnival during colonial times. A second one with the carnival in the Mediated Republic and a third one during the Revolution.
You get to see floats, costumes, capes, decorations, and trophies. As music is something very crucial, the museum doesn't lack a room with musical instruments.
Beyond Entertainment
The history of the most famous carnival in Cuba goes back to the 17th century. On July 25th, the African slaves celebrated their deities – the orishas – with exuberant music and loud chants. Today, this exuberant spectacle takes place for seven days and includes parades and pageants.
Fun fact: I guess that the fact that Fidel Castro set the date of the storm on the Moncada barracks on July 26th, hence one day after the carnival on July 25th, proves the event's significance for Santiago and its inhabitants.
Museo del Carnaval
Calle Heredia 301
Santiago de Cuba
Phone: +53 22 626955
The museum is open daily from 8 a. m. to 4 p. m.
Still, when I was there, it was closed for an hour for no apparent reason. Theoretically, there is a live show in the afternoon. However, it often is out of action for whatever reason. Well, it's Cuba, so you might have to adjust your schedule – and your expectations – here and there.
Casa Natal de José María Heredia
Across the street from the Carnival Museum is the birthplace of José María Heredia. He is one of Cuba's greatest poets and one of America's first romantics.
The three rooms of the museum are mainly dedicated to the work and life of Heredia. Born in 1803, he moved with his parents to the Dominican Republic at the age of two and never returned to Santiago.
Verses of his most famous poem, the Oda a Niágara, are inset on the house wall.
Even if you have never heard of José María Heredia before – actually, welcome to the club – visiting this beautiful house is absolutely worth it.
Casa Natal de José María Heredia
Calle Heredia
Santiago de Cuba
Museo del Ron
The competition between Havana and Santiago starts already with Cuba's national treasure, the rum. If you haven't visited a rum factory or museum before, here is – yet another – chance. Whereby it's probably not the most complete and impressive exhibition.
The first rum production equipment and systems from the past few days are exhibited in the entrance area. Like many houses around Santiago, the colonial building is well-preserved and shows many original features.
Former production equipment, as well as old barrels, their weighing devices, old bottles and labels, and more is on display.
At the end of the tour, you can sample some of their seven-year-old rum, hence, you better make sure to go there after a big breakfast.
Museo del Ron
Calle San Basilio 358 (Calle Bartolomé Maso)
Santiago de Cuba
Where the Streets Have No Two Names
A crazy thing in Santiago is that the names of streets differ. You get an address – and google maps shows you a spot with a completely different name.
It drives me nuts! Nevertheless, don't you worry. Just go where google sends you and you'll be fine.
If you want to make sure, just type both names in a google search and you'll see that it's the same street – like here with San Basilio and Bartolomé Maso = same street.
Here is a map that has both names on it – hope it helps.
Parks'N'Squares
It's very relaxing that in Santiago there is not only a lot to see but also a lot where to hang out. There are various small squares where you can just sit on a bench in the shade of a tropical tree watching people and time passing by.
Plaza de Dolores
The Plaza de Dolores is one of the most popular squares in the old city center. It is not far from the center and Parque Céspedes.
A large number of comfortable benches stand on the square, which adds to the cozy character of the place.
Old lush'n'leafy trees keep the Plaza de Dolores in the cool shade.
In the center stands a statue of Francisco Vicente Aguilera, a freedom fighter from Bayamo.
Plaza de Marte
Further west is Plaza de Marte, which forms the eastern entrance to the alleys of the old town. Created at the end of the 18th century as a parade ground for the Spanish army, it bears the name of the Roman god of war. Although the square was officially renamed Plaza de la Libertad in 1899, most locals call it by its old name.
The Plaza de Marte is a popular meeting place. There are monuments to José Martí, the revolutionary heroes Alberto Fernández Montes de Oca, Camilo Cienfuegos, Perucho Figueredo, the author of the Cuban national anthem, and other great men. In the square's center is a victory column.
Oh – and at the Plaza de Marte, you have also excellent Wifi.
Running Up That Hill
What makes Santiago even a bit more picturesque than all the other already very quaint cities is the fact that it's hilly. There is a bit of an aerial view from many spots around town. You only have to do a little climbing.
But to make it easier, they put a little motivation on every hill for you.
Getting up the Padre Pico Steps five blocks southwest of Parque Céspedes, you'll reach the Museo de la Clandestinidad. Basically, it's only a different name for an exhibition of the revolution in 1956. What they show is pretty much what you get to see at the Museo de la Revolución in Havana.
However, the location is much more spectacular – and well-chosen since it's on top of the Loma del Intendente. It was inaugurated in 1976 commemorating the 20th anniversary of the armed uprising in Santiago in November 1956.
Cuartel Moncada
Another revolutionary lookout is the Cuartel Moncada with the Museo Historico 26 de Julio. Here you are lectured about more heroic activities. However, the most impressive part are the views down the roads toward the Tivolí neighborhood.
Nevertheless, here is some info on Santiago's legendary landmark.
In 1854, field marshal Carlos Vargas-Machuca got general command of Cuba's eastern territories. He commissioned the Cuartel del Nuevo Presidio in 1859. It was a complex of military barracks and a prison.
After the complex was named after General Guillermón Moncada in 1909, a fire destroyed important parts of the ensemble in 1937. It was reconstructed in the Art Deco style.
On July 26, 1953, the young lawyer Fidel Castro and his fighters stormed the barracks. However, the barracks finally came into the hands of the revolutionaries only during the Cuban Revolution in 1959.
Since 1960, the complex has been a school for about 1,600 students.
Museo Abel Santamaría Cuadrado
Since 1973, the Museo Abel Santamaría Cuadrado is in the school's vicinity. It holds pictures and documents about the events of 1953 as well as the October 16th Fidel Castro trial. To this date, the bullet holes in the façade are thoroughly preserved.
Obviously, the museum bears Abel Santamaría Cuadrado's name.
Abel Santamaría Cuadrado and his sister Haydee participated in the Moncada barracks assault in 1953. After this attack failed, they both were imprisoned together with many other revolutionaries. Abel was tortured and eventually murdered by the police.
Remembrance
If you have more time to spend in Santiago de Cuba, there are some interesting historic landmarks on the outskirts.
Cementerio Santa Ifigenia
The Santa Ifigenia cemetery is one of Cuba's most famous cemeteries and is located about two miles northwest of the city center. It was inaugurated in 1868 and declared a national monument in 1937. The name, by the way, derives from the holy Iphigenia, an Ethiopian virgin and martyr in the 1st century.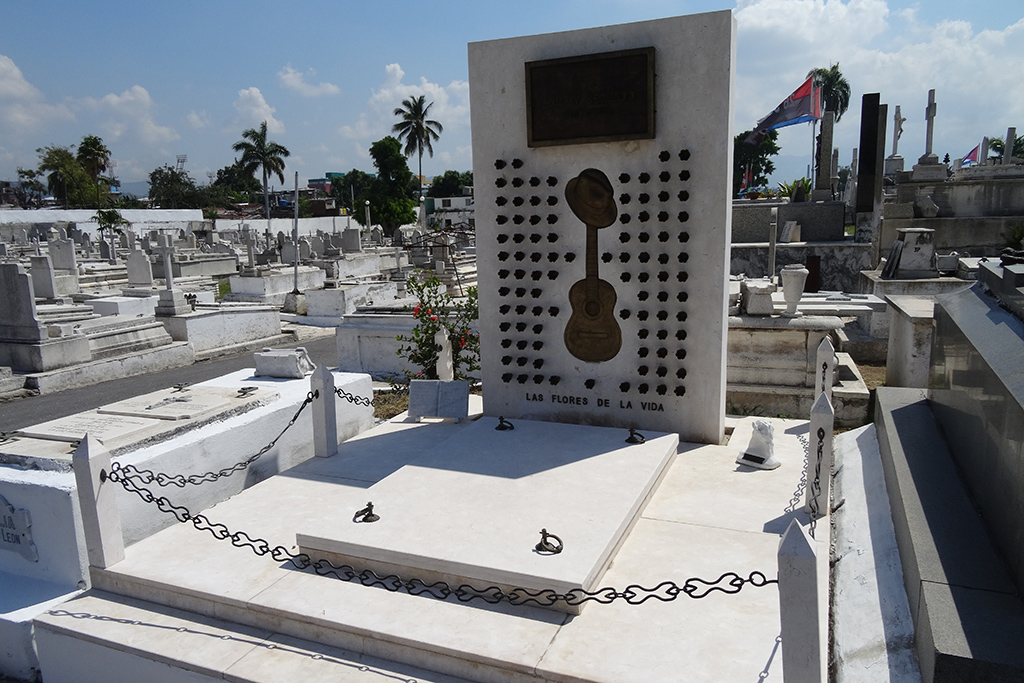 Famous historic personalities such as Fidel Castro, Carlos Manuel de Céspedes, and Emilio Bacardí Moreau are buried here. In 2003, also Máximo Francisco Repilado Muñoz Telles found his final resting place at the Cementerio Santa Ifigenia. You might rather know him by his name Compay Segundo as a member of the Buena Vista Social Club. He composed the beautiful song Chan Chan which you will hear all over Cuba. 
In total, there are around 8000 graves. The most impressive tomb, however, is the mausoleum of José Martí. The 24-meter high granite tower was inaugurated in 1951 and is a fine example of the rationalist fashion in the middle of the 20th century. A changing of the guard of the three-man honor guard takes place every 30 minutes to the sounds of Elegía a Martí.
Castillo de San Pedro de la Roca
About ten kilometers southwest of Santiago de Cuba is the Castillo de San Pedro de la Roca. Locals mostly call it Castillo del Morro. This fortress is the best-preserved and most complete example of Spanish-American military architecture. In 1997, it was declared a UNESCO World Heritage Site.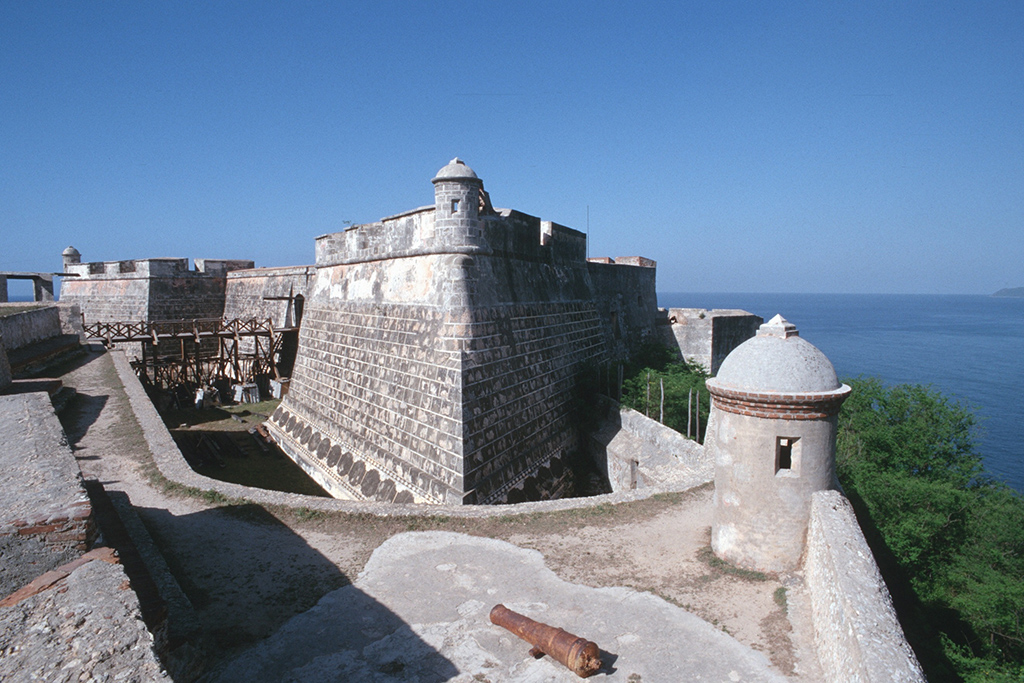 It was commissioned by the governor of Santiago Pedro de la Roca y Borja as a defense system against pirate attacks and was intended to replace an earlier, smaller fortification from the years 1590 to 1610.
The complex was built on several terraces with four main levels and three large bastions for the artillery. Supplies were delivered across the sea and stored in a large warehouse carved directly into the rock or taken to the citadel on the top level.
From 1775, the parts of the fortress known as La Roca and La Estrella, hence, the rock and the star, were converted into a prison for political prisoners. The rest of the fortress remained a military base.
Today, it's one of Santiago's most-visited landmarks, also for the spectacular views of the bay.
Parque Baconao and La Isabélica coffee plantation
The Baconao Natural Park belongs to the municipality of Santiago and made it to the list of UNESCO biosphere reserves in 1987. It is located around 20 kilometers from the city.
The complex offers numerous sights on 85,000 hectares. On the western edge of the park is the 1,234 meters high Gran Piedra mountain. Here you'll find a botanical garden. Also, you can climb to the highest viewing platform in the area.
However, on the way to the mountain top is the historic coffee plantation Cafetal Isabélica which was included in the UNESCO World Heritage List as part of the archaeological landscape of the first coffee plantations in southeastern Cuba in 2000.
The landowner Víctor Constatan initially had corn, cocoa, and coffee grown after he fled Saint Domingue, today's Haiti. He named the plantation after his wife Isabel María.
He was one of the French settlers who fled Saint Domingue's slave revolts that were ignited by the French Revolution at the end of the 18th century. Bringing their slaves with them, those planters established the coffee-growing tradition on the island of Cuba. Eventually, coffee cultivation spread to other countries in South and Central America.
Map
Practical Information
How to Get There
By Plane
The Aeropuerto Internacional de Santiago de Cuba Antonio Maceo is Santiago's international airport. There are currently domestic flights between Santiago de Cuba and Nueva Gerona, Holguin, Havana, and Baracoa.
Nevertheless, there are also about twenty international flights each week.
Claim to fame – Pope John Paul II. flew to this airport during his last visit to Cuba. Likewise, Pope Benedict XVI. landed here during the second papal visit to Cuba before moving on to Havana.
However, if you're not a Pope, you should definitely buy tickets as early as possible. In any case, at least six weeks in advance and possibly on the website www.cubana.cu.
Because if you're not a Pope, booking tickets in Cuba at short notice is difficult and usually not possible. You can try to book a flight in Havana or Santiago de Cuba at one of the larger Cubana offices.
A more convenient option to obtain a ticket is a local travel agency in Cuba, for example, Havanatur with branches in many larger hotels.
Still, booking tickets online way in advance is your best bet.
Please keep in mind that Cubana tends to have massive delays. Don't even think about same-day connections to your international flights. Always allow at least 24 hours, or better still two days.
By Bus
Cubans travel by basically every container with wheels. Old buses, lorries, collectives, you name it. Obviously, you can try that, too. But firstly, it can be really time-consuming – and I'm talking hours. And then I also find it a bit unfair towards the locals who depend on this slow, uncomfortable, and most of all very cheap way of travelling. Mind you, you are taking their seat. You can afford another service, they can't.
Viazul
For people like you and me, there is Viazul. Viazul has a fleet of buses manufactured in China so the seats are really small and space between rows is minimal. Nevertheless, they are the most reliable terrestrial way of travelling all over Cuba since they cater to basically all towns and cities. I did all my travelling by Viazul, and besides the limited personal room on the bus, it was totally fine.
The fare includes only 20 kilograms of luggage. This will be weighed and you'll be charged.
Since Viazul is not only very popular with tourists, the capacities tend to be far behind the demand. Hence, long-term planning is highly recommended. You should put together your itinerary and route about two to three months before your trip and purchase all your tickets on their website.
To give you an idea, the trip from Santiago de Cuba to Baracoa is 12 CUC, and to Havana around 40 CUC. The latter, however, takes up to 16 hours.
How to Get Around
As I arrived by bus from Plays Santa Lucia via Camagüey, a young man offered me a ride to my pre-booked Casa Particular. It was after dark, his price was surprisingly low, so, why not, let's go.
The moment I saw his vehicle, a valid answer for why not came to mind. Actually, there was only the shell left. Yes, there were some half-rotten seats, yet, any kind of interior was missing. I'm not talking about fancy decoration. I'm referring to any sort of the simplest coverage or paneling. I was basically climbing into a tin can while the young man lifted my suitcase into the trunk.
While already the vehicle was pretty scary, his driving was petrifying. He definitely was in a rush. And I actually presume why. Cuban cab drivers need a special license to drive foreigners. I would bet my entire travel budget that he had no license for his tin can. I don't know how much a penalty had been, but it certainly would have exceeded the pretty low fare he charged me.
As we were flying through Santiago's narrow streets, turning corners on two wheels, he hectically tried to convince me to change my plans and ditch my reservation. His mother had a room for me, very comfortable and at a very low price. The rate he quoted was actually only about a third of what my casa would charge me.
After all, I was quite glad that he was in such a rush that we got to my final destination in what seemed to be just seconds. Not only did his driving scare the living shit out of me. Also, his attitude and relentless marketing had been disturbing and a bit nerve-wracking.
Lessons of Cuba
With this little anecdote, I'd like to prepare you for a couple of things:
Drivers are waiting at bus stops for passengers, obviously. Mostly, their vehicles are fine since they have to have a special license to drive foreigners. If they don't, they can really get in big trouble. I don't know if you will also face problems, however, I'd refrain from testing. Actually, I just stumbled into this situation – and the tin can.
Just like Cubans need a transport license, they also need a license to run any other service like for instance a casa particular or a paladar, hence a guesthouse or a restaurant. These licenses are very expensive. The hosts pay a high tax for the rooms – no matter if they get to rent them out or not. That's actually the reason why the owners tend to overbook their rooms and possibly shuffle excessive guests around.
Obviously, there are also illegal cases. These do not meet the minimum requirements but are much cheaper. As a matter of fact, I would not stay there since the host as well as the guest is prone to serious sanctions.
Finally, a couple of words about delinquency in Cuba: Although the young man's attitude – and driving – were not very reassuring and I was glad to get out of his so-called car, there is basically no real crime happening in Cuba. I've heard about very few cases of pickpocketing, but I've never heard of any form of robbery or violence of any kind. They rather talk, flatter and persuade you to death than assault or murder you. Cubans can be annoying but they are not dangerous.
Where to Stay and to Eat
However, from the moment the young man dropped me off at the doorstep of my pre-booked Casa Particular, everything went smoothly.
After the quirky mixups in Camagüey and Plays Santa Lucia, I actually stayed at the casa I had booked. And the dinner at a government-run restaurant in Camagüey had taught me a final lesson – I made a dinner reservation with my hosts, no further questions asked.
As a matter of fact, the longer I meandered criss-cross the island, the wiser I got.
Finally, I stayed at
Dr. Armando Carballo Fernandez
San Felix (Hartmann) #306
Santiago de Cuba
Tel. + 53 – 22 – 65 13 55
Mobil + 53 – 52 – 46 61 61
Cash and Cards and Connection
Santiago is not as popular among international tourists as for instance Havana. Nevertheless, it's a big city and there can be very long lines at Banks, ATMs, and Etecsa offices. Hence, it's not the best place to do your banking or purchase scratch cards for the internet.
There are various Etecsa offices, the one at Calle Hartmann and Parque Céspedes being the most centrally located ones. On this page, you'll find ETECSA's complete list of hotspots. To narrow it down, you need to choose Santiago de Cuba from both dropdown menus Provincia and Municipio. Then, you'll see all the places where you can access the internet.
Until the end of 2020, there were two official currencies: The CUP – Peso Cubano – and the CUC – Peso Convertible. The socialist island state has had this confusing dual currency system since 1994.
Wind of Change
However, since the beginning of 2021, only the Peso Cubano keeps circulating. The exchange rate is 24 CUB to one US$. This unification of the currencies is expected to grant Cuba's citizens equal opportunities and social justice.
Already in July 2020, Cuba had abolished the ten percent tax on US$ purchases that had been in force since 2004. Since then, in some shops, you can pay for certain products by credit card in US currency.
Since this novelty is still in progress, obviously, some prices in my posts on Cuba still quote the Peso Convertible CUC – as do many Cuban websites. I hope that they'll correct their sites asap so that I can adjust the information on my blog. However, if you don't want to wait: One CUC equals one US$, so that shouldn't be a big problem, after all.
Santiago de Cuba was only one of many fascinating places I've visited in Cuba. To read about the others, go to the main post and take your pick! There you'll also find valuable general information that will make your trip smoother.
Note: I'm completing, editing, and updating this post regularly – last in November 2022.
Pinnable Pictures
If you choose to pin this post for later, please use one of these pictures:
Did You Enjoy This Post? Then You Might Like Also These:
* This is an affiliate link. If you book through this page, not only do you get the best deal. I also get a small commission that helps me run this blog. Thank you so much for supporting me!