Let me guide you to Foz do Iguaçu, worldwide known for its spectacular waterfalls.
However, this city at the tripoint of Argentina, Brazil, and Paraguay has actually more attractions to offer than you think.
Foz do Iguaçu
The city, located in the western part of the federal state Paraná, has about 260,000 inhabitants. The name derives from the indigenous word Iguaçu, which translates to big water, and the Portuguese word Foz, which means embouchure. Hence it's the embouchure of the big water, and seeing the waterfalls, the Paraná river, the Itaipú lake, and the waterpower plant Itaipú – who would dispute that?!
Foz is a medium-sized city with great attractions on the outskirts while the center itself is not very exciting.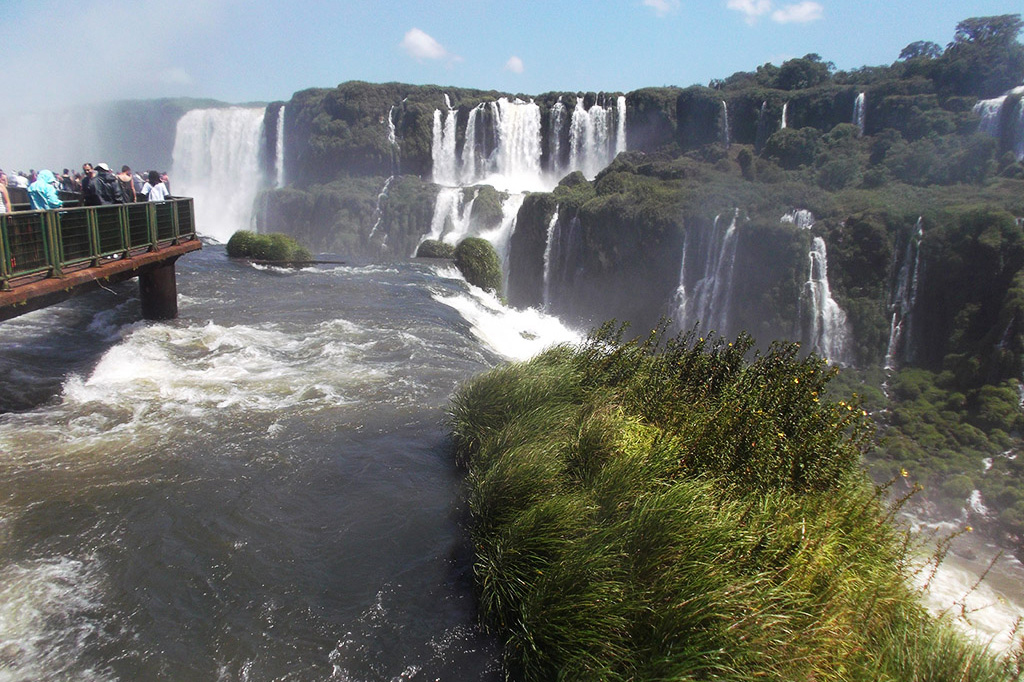 If you arrive at the airport, make sure to check out the tourist information there. The lady was not very welcoming and cheery, but she was efficient, handed me a map, and explained to me how to get where I wanted to go. Hence, I can do without a smile…
Cataratas do Iguaçu
Obviously, the waterfalls are the main reason for people coming to Foz, and they are right.
The falls are a breathtaking spectacle of nature.
They consist of 20 large and 255 smaller waterfalls along almost three kilometers. Most of them are about 65 meters high, but there are some up to 82 meters. Unimaginable 1,500 to 7,000 m³ of water do basically crash down from the rocks.
The Iguaçu waterfalls are one of the Seven Natural Wonders of the World. In 1984, the Argentinian side made it to the UNESCO World Heritage List. Brazil followed in 1986.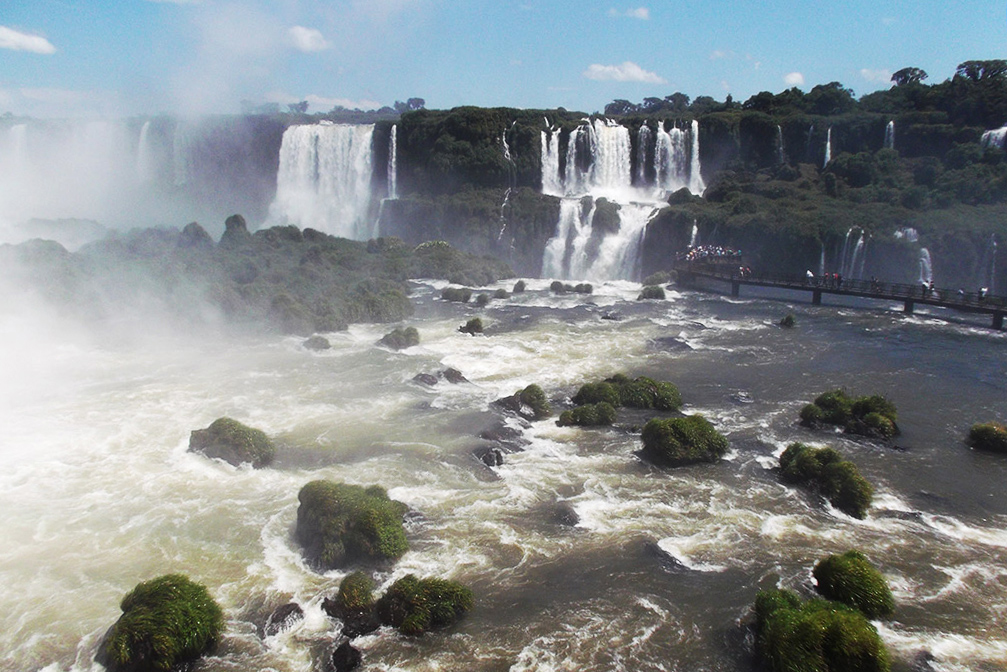 The entrance fee is 80 R$ for foreigners. Locals, nationals, and Brazil's direct neighbors pay a bit less.
The ticket booths are open from 9 a.m. to 5 p.m.
After that, you can still finish your walk – or your meal with a view at the restaurant located at the final point Porto Canoas.
In addition to just walking along the falls, you can also hike some trails through the park and for instance, do some kayaking or get really close to the falls on a dinghy ride. All these extras also cost…extra.
Cataratas do Iguaçu
Br 469, KM 18
Foz do Iguaçu, Paraná
Phone: +55 – 45 – 35 21 44 00
Email: contato@catarataspni.com.br
A Different Perspective
Supposedly, you get the most spectacular but also the most expensive view from a helicopter. Whereby a 10-minute flight over the National Park and the Iguaçu Falls sets you back 430 R$ and the 35-minute flight over the Iguaçu National Park, Itaipú Hydroelectric Plant, and Three Borders Landmark costs about 4,360 R$.
Helisul Aviaꞔão
Phone: +55 – 45 – 35 29 74 74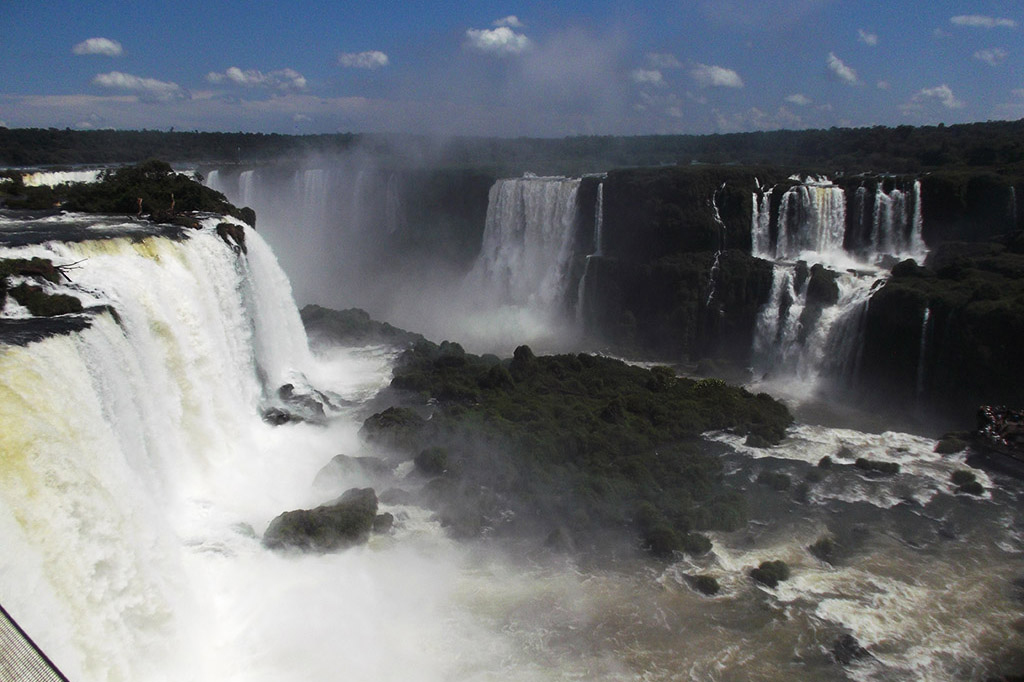 Obviously, you can also visit the park from the area in Argentina. In general, crossing the border is really easy.
However, from that side, the entrance fee is a bit more expensive. Also, their ticket booth closes already at 4.30 p.m. and you can stay till 6 p.m.
Iguazú Argentina
Puerto Iguazú, Misiones
Phone: +54 37 57 49 14 69
Email: iguazuinformacion@iguazuargentina.com
To get to the falls from downtown Foz in about 20 to 30 minutes, take bus #120 at the bus terminal Terminal Transporte Urbano TTU.
Usina Itaipú
Another huge, water-based tourist attraction is even not really touristy. It's an industrial plant – the bi-national project Usina Itaipú.
In 1974, Brazil and Paraguay started this "Herculean job" as the US magazine Popular Mechanics called the project.
Till 1981, up to 5,000 people were hired every month. As a matter of fact, throughout the construction period, there were about 100,000 people working on the project. At the peak of the dam's construction, about 40,000 workers at the plant as well as employees in Brazil and Paraguay worked for Itaipú. Besides having a job, they were supplied with perks such as housing, schools for their children, and hospitals.
Finally, in 1984, Brazil and Paraguay opened the world's largest hydropower plant. Ten years later, in 1994, it was elected by the American Society of Civil Engineers being one of the seven Modern Wonders of the World.
Over the decades, every year, more than 1 million tourists paid Usina Itaipú a visit.
No Pressure: How to Visit
Every day between 8.30 a. m. and 5 p. m., you can join a panoramic bus trip. This tour takes almost two hours and costs R$ 42. Nevertheless, don't forget to bring your passport, otherwise, they won't let you enter the premises.
You can also visit the state-of-the-art Itaipú Ecomuseum from Tuesday to Sunday between 10 a. m. and 6 p. m. This visit costs R$ 18.
The panoramic bus stops also at lake Itaipú where you can join a Catamaran ride. However, this cruise is not included in the entrance fees.
For all visiting options check out their page:
Usina Itaipú
Centro de Recepção de Visitantes
Av. Tancredo Neves, 6702
Foz do Iguaçu
Phone: + 55 – 45 – 35 76-70 00
Email: info@turismoitaipu.com.br
Getting to the site from downtown Foz is easy, however, it is quite a ride since it takes about 30 to 40 minutes. Just take either bus # 101 or 102 from the main bus terminal Terminal Transporte Urbano TTU.
Other Attractions
Besides these two pretty wet landmarks, Foz do Iguaçu tries to interest and entertain visitors with other attractions. As a matter of fact, some of them are a bit too theme park oriented. And since they also have a couple of shopping centers, the whole thing reminded me a bit of the International Boulevard in Orlando in Florida. Fortunately, they are not that professional and profit-oriented yet.
Parque das Aves
The bird park deems pretty touristy and just like a little zoo. Nevertheless, they actually do grant the birds shelter and work on their recovery and conservation.
It's located next to the falls, and I would rather visit before going to the overwhelming waterfalls.
If for some reason you miss it, it's no drama. As a matter of fact, I'm even not sure if the R$ 60 is worth it, especially since there are so many beautiful, exotic birds flying around everywhere you go all over Brazil, anyway.
Parque das Aves
Av. das Cataratas, KM 17.1
Foz do Iguaçu
Phone: + 55 – 45 – 35 29 82 82
The park is open daily from 8:30 a. m. to 5 p. m.
Three Frontiers Landmark
The Marco das Três Fronteiras, the Three Borders Landmark, has recently become another one of Foz's tourist attractions.
The landmark consists of three structures. One is in Ciudad del Este in Paraguay, another in Puerto Iguazú in Argentina, and finally, one in Foz do Iguaçu. They are painted in the colors of each country's flag and were inaugurated in 1903.
Since this landmark has become a tourist attraction, they quickly made it into a leisure facility and charge a general entrance fee of R$ 33. The site is accessible every day from 2 p. m. till 10 p. m., and you'll find further details on their visit the official website.
Espaço das Américas S.A.
Av. General Meira
Jardim Eldorado
Foz do Iguaçu
DreamLand
Right across the road from the very recommendable Hotel San Juan Eco – you'll get all the details below – are three a bit bizarre attractions.
Firstly, there is a wax museum, then, there is a valley of dinosaurs, and finally a miniature wonderland. There's nothing wrong with either of those, nevertheless, I find it strange that at a place where nature is pampering us with one of the greatest natural wonders and with the hydro plant also a man-made wonder, people obviously need additional artificially created attractions showing, for instance, Whoopie Goldberg in Sister Act.
So – the real wonders aren't enough?
However, if you want to visit Whoopie and her fellow wax figures, here is their address:
DreamLand
Avenida das Cataratas, KM 1
Foz do Iguaçu
They are awaiting you from Tuesday to Sunday from 10 a. m. to 5 p. m. just like the Maravilhas do Mundo, the wonders of the world, miniature replicas of for instance the statue of liberty, the Taj Mahal, Egyptian as well as Mexican pyramids, the Eiffel tower, and more.
Why exactly do you need this in Brazil?!
Each individual entrance fee is also R$ 94, but you save if you add more attractions to the fun and buy combo passes
Aquamania Water Park
And since for some reason all the waters at some of the most powerful waterfalls and the world's largest hydropower plant with the connecting Paraná river and the great Itaipú lake aren't enough, they had to add a water park. So if all these natural waters do not satisfy your needs, here is where you can take a dip:
Acquamania Foz
Avenida das Cataratas
Foz do Iguaçu
The water park is open from Tuesday to Sunday from 10 a. m. to 6 p. m.
The entrance fee is R$ 40 for kids up to 11 years old and R$ 80 for adults respectively kids from 12 years of age.
Practical Information
How to Get There…
Obviously, it's possible to get to Foz do Iguaçu by bus. For instance, a trip from São Paulo takes about 16 hours and costs around 70 US$. Check out this website for further connections.
Howsoever, taking the bus to Foz do Iguaçu is long and relatively expensive compared to a quick'n'comfy flight. As a matter of fact, a plane ticket will cost you about the same if you search a bit in advance.
Look for instance for Azul- and GOL flights. I paid from Curitiba 65 US$, however, I booked my ticket with Azul two months ahead.
For more tips and hacks on how to save money and still travel comfortably, check out my posts on planning and organizing your trip respectively when to book ahead.
…and Around
As in most other Brazilian cities, the public transport system in Foz do Iguaçu is good, reliable, and covers the entire region. Particularly important to visitors is bus #120. It's going from the bus terminal downtown all the way to the waterfalls, passing not only the airport, but also many other attractions.
My Tip: In Brazil, if you change buses at terminals, hence, the final stops, you don't have to pay for another ticket, you just get on the connecting bus. It only works this way if you are changing buses, hence, if you arrived at the terminal by another bus.
Consequently, in case you are boarding your first bus there, you do have to pay.
Where to Stay and What to Eat
Obviously, you'll find in a touristy place like Foz do Iguaçu everything from a bunk bed in a dorm of a cheap hostel to a wide range of luxury places.
Of the latter, the Belmond Hotel das Cataratas is the only accommodation within the national park. You can basically take a shower under the waterfalls – metaphorically, guys, just metaphorically.
Do you care about the price? About 370 US$ a night – which seems like a bargain compared to the Belmond next to Machu Picchu in Perú which starts somewhere around 1,200 US$.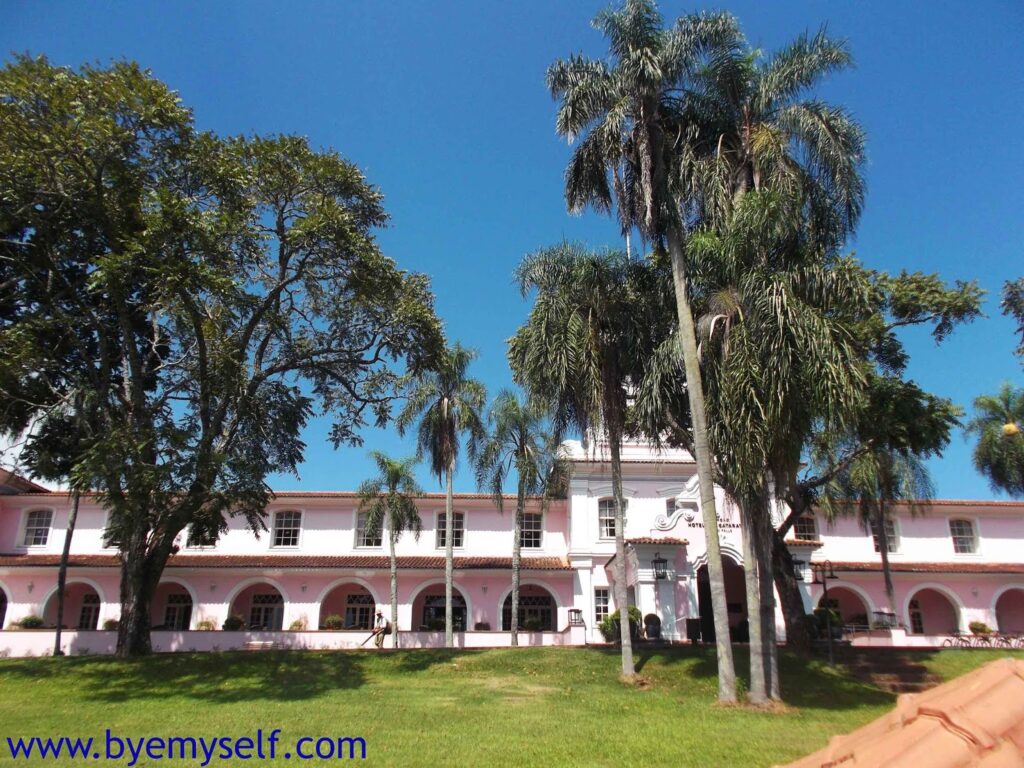 Okay, and now back to most people's reality.
Since I was in Foz do Iguaçu only for two nights and had an early flight out, I stayed at a nice place being part of the San Juan Hoteis* chain. It is located about 4 kilometers from the airport and a ten minute's bus ride from the national park and the waterfalls.
Obviously, I paid only a fraction of the above-quoted price.
Because I stayed only two nights and I felt very comfortable at my hotel, I had Caipirinhas at their bar – by the way, for a cheaper price than at less elegant places in Rio de Janeiro.
I also ate dinner there since they have a huge buffet including everything your heart – and stomach – desires for about 50 R$. Their food is really excellent!
Still, if you want to check out further lodging options in Foz do Iguaçu, here is a map*:
Cash And Cards
The currency in Brazil is the Real (plural Reais) and the rate is 1 US$ = 5.14 R$ as for November 2022. For further conversion check this page.
Apart from cash, you can pay by credit card at all the attractions I'm mentioning in this post.
However, there are ATMs all over the place, mostly also right next to the park entrances.
Yet, keep in mind that not all of them might work with international credit cards. But don't panic, there are so many different providers – you'll quickly find one that works with your card.
What to See
I'm an avid solo-travelling woman. Since solo travel doesn't equal solitude, I love to join organized tours here and there. They allow me to meet fellow travellers – for just a short moment or a lifelong friendship.
Therefore, here are some great ideas of what to do during your stay in Foz do Iguaçu. Especially if you travel solo, they'll enable you to see many great sites in an efficient yet comfortable way*:
Language
Since Brazil used to be a Portuguese colony, people speak Portuguese. As Foz do Iguaçu caters to international tourists, most people working in tourism speak English and Spanish.
Nevertheless, it's a nice gesture to learn at least some basic words and expressions. You can do so right online with babbel.com.
For two weeks, I actually took language lessons in Rio de Janeiro, which was a great experience and enriched my stay in many ways. To learn more about this option, please go to my post Language Learning in Brazil.
Connection and Communication
Brazil is one of the very few countries where I got a national SIM card. To be honest for the sole reason that I had accidentally blocked mine and wasn't able to use my phone at all. I got a pre-paid card from Claro and was very happy with their service.
This being said, I actually prefer to use free WiFi. Actually, there was a connection to the internet without any issue at basically every museum, eatery or café, and, of course, hotel. Worked like a charm.
At the end of my trip to Brazil, I had three or four different adapters. Although there is an official type N socket and plug, you'll find also type C plugs. Also, there were type A sockets like in the US – howsoever, it was a wild mix, but in the end, everything turned out fine.
Also, the voltage is either 127 or 220 V, and the frequency is 60 Hz. Thank God, nowadays, all these chargers for phones and readers and computers have integrated adapters. Therefore, voltage and frequency don't really matter.
By the way, you'll find this kind of practical travel info in my post World's Most Complete Travel Information – an indispensable globetrotter-classic.
Map
Foz do Iguaçu was only one stop during my exciting visit to Brazil's South. Go to the main post to check out all the other destinations. You'll also find valuable general information that will make your trip smoother.
Pinnable Pictures
If you choose to pin this post for later, please use one of these pictures:
Note: I'm completing, editing, and updating this post regularly – last in November 2022.
Did You Enjoy This Post? Then You Might Like Also These:
* This is an affiliate link. If you book through this page, not only do you get the best deal. I also get a small commission that helps me run this blog. Thank you so much for supporting me!