At the beginning of my railroad trip, I spent two days in Porto – enough time for a grand tour of the city.
Road trips are my passion. Preferably railroad trips. Buses are fine, too. But trains are classier. There is no legendary Trans Siberian Bus, no illustrious Orient Coach, after all. Nope, legends on wheels are always trains.
And getting to Porto by train undoubtedly keeps the legend alive.
Bem Vindo ao Porto: Welcome to Porto
Porto, Portugal's second-largest city, is just beautiful. And actually, it's not as much a hidden gem as I thought before I got there. Still, it's not overrun like some Italian jewels like Venice or Florence or even its big sister Lisbon.
However, there is a good amount of mainly French and Spanish tourists and weekend-trippers there.
Albeit, they are coming for good reasons: For the amazing structures, covered in Azulejos, traditionally blue-painted tiles. For old churches and contemporary art. And, of course, for the Porto, the port wine that's being celebrated in numberless bars and cherished on guided tours through the world-famous cellars where it is maturing to golden or amber brown….or dozen shades in between.
My Porto
But what I particularly love about Porto are the hidden gems within this big gem. Even if you ignore all these fantastic churches and palaces and just walk – literally! – up and down the streets and alleys, you will notice all these artists working right on the pavement.
And then the views…oh, these views! That's the big advantage of the steep hills: once you make it up there, you are rewarded with spectacular views of this North Portuguese jewel.
There are cute little specialty shops – and I am not talking about the numberless souvenir shops selling basically every imaginable item made of cork.
Porto is Full of Miracles
There is this guy across from the Sé do Porto, the bishop's seat.
He is standing on his balcony on the third floor of a slightly deteriorated house, singing to the crowd that's standing and sitting on the stairs in front of the building.
When his audience needs a snack, they can buy some food and drinks from his woman standing behind an improvised counter in front of the door.
Are they doing this for fun?
Do they try to make ends meet?
Are these relevant questions?!
After all, his audience loves him!
As a matter of fact, due to the humid climate from the ocean and from river Douro, it seems to be difficult to maintain the structures; a bit similar to Venice. So the city and the owners are fighting a probably never-ending fight against the decay.
The densely crane-sprinkled skyline proves, obviously, that a great effort is made to keep the city as breathtakingly beautiful as it is.
Porto Is Worth a Grand Tour
Since Porto was the northernmost place to visit, I was even considering not to go since it seemed so far from Lisbon.
Man, I'm so glad that I didn't skip this jewel! It's not only beautiful, but it also has a very pleasant atmosphere to it.
Porto makes it easy to be loved. Hence, the moment you arrive at the São Bento station, you already find yourself at one of the most beautiful attractions that Portugal's second-largest city has to offer. The entrance hall is lined with scenes from Porto's life along the river Douro, depicted on traditional azulejos, blue painted tiles, obviously.
And because of its central location, São Bento is the perfect location to start exploring the city that's home to about 237,000 inhabitants.
Since many of the magnificent structures, stemming from Portugal's gilded colonial era, are clustered around squares and parks, you can visit them one after another – I'm listing them clock-wise starting north of the station; or just take your pick. The map below will help you to find your way.
However, they can all be reached walking.
To save on entrance fees as well as on public transport, you might want to get a Porto.CARD.
24 hours
48 hours
72 hours
96 hours
Discounts
and free
Public Transport
€ 13,00
€ 20,00
€ 25,00
€ 33,00
São Bento
But let's start by taking a closer look at São Bento station, our gateway to awe.
Coming from Lisbon, it's probable that you don't get off at São Bento: Like many stations located in the center Portuguese cities, São Bento is a railhead station, hence trains cannot pass through.
You might have to get off at Campanhã station and then take the next train to the historic center – they are going every couple of minutes.
Of course, the entrance hall, entirely decorated with azulejos, is the main attraction at this station, but I find the arrival hall very picturesque, too.
On Blues
In general, at most of the train stations around the world, the passionate rail tripper is greeted by a bunch of drug dealers along with their clients, groups of drunks and shady individuals? Unlike Porto, which is a grand exception to the rule – Porto's São Bento train station is not only the city's hub to the world, it is one of its major attractions.
As soon as you arrive, it makes you forget seeking orientation and searching for the way to your accommodation. Keeping half an eye on your belongings, you begin to klick away with your camera or phone because this train station is like a huge art gallery presenting beautiful paintings and impressive, immaculate Portuguese azulejos, the classic blue painted tiles.
As you force yourself to step out of this blue-tiful hall, you enter undoubtedly one of the most beautiful European cities. Majestic buildings lining narrow streets and alleys that lead up and down steep hills – shoes, ladies, shoes!
The grand facades – lots of art deco and of course some of the inevitable azulejos – make you forget your aching calves and your burning feet and your sweat.
Visiting Light
However, before you start to take a million pictures of the beautiful blue paintings and eventually explore the historic center, you might want to lock your baggage in. Well, that might be a problem, since they have far too little lockers at the station.
Although there were trains going to São Bento already from 1896, the building was inaugurated only in 1916. It was designed on the premises of an ancient monastery by architect José Marques da Silva whereas painter Jorge Colaço depicted scenes from Portuguese life and glorious past to decorate the great entrance hall.
As you leave the station, you'll spot Igreja de Santo António dos Congregados, Saint Anthony's Church, to your right.
Praça da Liberdade And Avenida dos Aliados
As you turn right after Santo António, you find yourself at the Praça da Liberdade, leading into the Avenida dos Aliados which technically is Porto's largest square since this Avenida, avenue, is so broad.
On Liberdade, you'll immediately notice the Monumento a Dom Pedro IV by French-born sculptor Célestin Anatole Calmels. That's good. Not only because it is a great sculpture, but also because the people of Porto Walkers, the free walking tour, meet here.
If you don't walk with them, you can still stroll on the Aliados up north and admire the majestic buildings mainly on the west side and cast a glimpse of the Menina Nua at the Fonte da Juventude, the Naked Girl and the Fountain of Youth.
Behind the fountain, at the end of the square, you'll see the formidable building of the Câmara Municipal do Porto, obviously, Porto's townhall.
Praça de Lisboa
To get to the next square, walk back to the Praça da Liberdade and turn right into Rua dos Clérigos.
At the end of the street, you basically bump into the Igreja dos Clérigos, the Clérigos church, and the adjacent Torre dos Clérigos, the Clérigos tower. This church is quite nice – but climbing on the tower that was finished in 1763 is something you shouldn't miss.
There are different ticket-options in combination with other attractions, so you better check out for yourself which one is the best for your itinerary.
Another, very different, attraction you should absolutely visit is the Livraria Lello, a very special bookstore on the Rua das Carmelitas leading from the Clérigos to the north.
Livraria Lello
What was there first – the hen or the egg?
This classic question also occurs when it comes to this quirky bookstore.
Formerly, it used to be a really special and sort of bewitched little bookshop.
Then, no one less than JK Rowling discovered this jewel and rumor has it that it inspired her to Harry Potter's Hogwarts.
Hence, now the visitors come here for the magic of Harry Potter who came to life because of the magic of Livreria Lello, so….hen or egg?
Officially, Livraria Lello was founded in 1906 and introduces you to the magic of books and literature.
Since legend has it that Joan Rowling was inspired by the bookstore's unusual staircase, today, the store is packed with tourists taking pictures – mainly on the stairs, obviously.
However, it's truly beautiful and magic and just use your imagination and pretend you are all by yourself.
You have to buy a ticket to visit the Livraria, but the entrance fee will be deducted from your shopping.
Livraria Lello
Rua das Carmelitas 144
4050-161 Porto
The Livreria opens at 9.30 a. m. from July to September and at 10.00 a. m. from October to June. It closes at 7.30 p. m. on weekdays and at 7 p. m. on weekends.
Praça de Gomes Teixeira
Across from the Livraria is Porto's university, housing also two scientific museums, the Natural History Museum and the Museum of Geology; in case you are into that.
In front of the university's main entrance is the beautiful Fonte dos Leões, a fountain built in the 19th century in Roman style.
From here, two more churches will call your attention. Firstly, the Igreja do Carmo with its fantastic azulejo-adorned facade, built in the second half of the 18th century in a rococo style, and the baroque Igreja dos Carmelitas Descalços, already inaugurated in 1628.
If you need a snack and something to drink before you continue, the streets in the area around the Praça de Lisboa are packed with cafés and bars. I mean, you won't be looking too long for a place to eat in Porto, but this area is just incredible.
Jardim do Infante Dom Henrique
To get to the Jardim do Infante Dom Henrique, the fresh green square with the statue of…you've probably guessed it: Dom Henrique, walk south to the pedestrian street Rua das Flores where you can admire more antique facades – and also the Igreja da Misericórdia, built in Renaissance-style.
The Rua das Flores is also an excellent spot for getting some nice souvenirs. If you are lucky, even made by one of the street artists. Also, there are many cool street cafés in case you need a relaxing break.
But then – off to Henrique, the park lies just one large block further south.
On its north side is the Mercado Ferreira Borges, a former market building from the late 19th century, now a hip place housing a club and a restaurant.
Palácio da Bolsa
On the west side is one of Porto's most important and imposing building, the Palácio da Bolsa, the former stock exchange and today's chamber of commerce that can be visited on guided tours. Actually, this is something you should absolutely do when in Porto.
You have to join a tour which is offered in various languages at different hours. So you better don't count on getting in right away. It's probable that you have to buy a ticket for a tour that starts a little or even much later. Hence, adjust your itinerary accordingly.
Palácio da Bolsa
Rua Ferreira Borges
4050-253 Porto
Phone: + 351 – 223 – 399 000
Email: correio@cciporto.pt
Visiting hours are 9.30 a. m. to 1 p. m. and 2 p .m. to 5.30 p. m.
Around the corner from the Palácio is the incredibly beautiful Igreja Monumento de São Francisco, Monument Church Of St Francis.
As soon as you enter the church from the 14th century and spot the detailed woodwork, you'll understand why I call it incredible.
To visit the church and the museum located in the old monastery, you need to buy a ticket.
Igreja do Convento de São Francisco
Rua da Bolsa 80
4050-116 Porto
Phone: + 351 – 222 062 100
Email: geral@ordemsaofrancisco.pt
Across the street from São Francisco is São Nicolão. Since this is a 'real' church and not a monument, entrance is free.
Yes, there definitely is no shortage of churches in Porto.
Praça da Ribeira Porto
So now you are only one block from the waterline, the river Douro. Coming from the Jardim, turn left and stroll along the river to the Ribeira Square, the historic center of Porto, designated World Heritage by the UNESCO.
Musicians, jugglers, street artists – there is a lot going on on the Cais da Ribeira, the Ribeira Quai. And from Thursdays to Sundays, there is a market taking place selling all sorts of stuff made of cork.
Note: My experience regarding shopping in Portugal was that all these little wallets and clutches and purses were cheaper in Porto than anywhere else; well cheaper.
Not necessarily in this market, although the prices are not bad.
It's a bit of a lottery – and you can take your chances and try to haggle even at some of the stores. As a matter of fact, in my case, it was the shop owner who said 'It's twelve Euros, but I can give it to you for eight'.
I didn't get why, but yes, sure, I take it.
Muito obrigada!
Ponte Dom Luis I
At the end of Cais da Ribeira one of the most iconic constructions is awaiting you – the Ponte Dom Luis I that I've even chosen for this article's main picture.
This iron bridge has two decks and was opened end of 1886. You can cross the river Douro from Porto to Gaia where all the port wine manufacturers and cellars are located. Most of the big houses offer guided tours with a little tasting of their products. Something everyone should do when visiting Porto.
But before you order a glass of port and call it a day, let's visit our last two squares, I promise you won't regret it.
Terreiro da Sé
To get to the Sé, Porto's cathedral, walk up Rua da Ribeira Negra and turn right on the Escadas do Barredo and then left on the Escadas das Verdades.
From the Rua de Dom Hugo you can easily reach the large square, the Terreiro, where you find the Pelourinho do Porto, Porto's pillory.
Besides the Cathedral and the adjacent treasury and cloister, even the Paço Episcopal, the bishop's residence, can be visited. Albeit, only on guided tours, so that no tourists accidentally enters the bishop's private rooms.
Of course, you need a ticket to visit all this splendor. Note that there are combi-tickets e. g. with the Torre dos Clérigos.
Terreiro da Sé
4050-573 Porto
Phone: +351 – 910 – 440 044
Opening hours are Monday to Saturday (except Wednesday) from 9 a. m. to 1 p. m. and from 2 p. m. to 6 p. m.
Praça da Batalha
Hey, you've almost made it – the grand tour of Porto. We are almost back to São Bento. There is still one nice square missing though, so walk up north towards São Bento but turn right into Rua Chã, at the end keep walking on Rua de Cimo de Vila and you'll reach Praça da Batalha, a square with some good hotels, stores, and banks – and the gorgeous Igreja de Santo Ildefonso, Church of Saint Ildefonso, as well beautifully decorated with azulejos.
And next to Ildefonso is the entrance to Rua de Santa Catarina, one of Porto's main shopping streets. But careful, you tourists, here the cork and other souvenirs are more expensive than for example between Clérigos and Rua da Flores, just sayin'.
What's supposedly not to be missed on Rua de Santa Catarina is the Majestic Café. Yes, this Belle-Epoque-ish decorated Café is certainly beautiful, but it's also extremely popular – mainly with tourists – and it's hard to get a table. I took a look around – and had coffee elsewhere.
So, you guys, I leave you here in Santa Catarina since I assume you want to do some shopping.
I hope you enjoyed my Porto-tour – and if you have any questions, please don't hesitate to contact me.
Adeus, nos vemos!
Practical Information
How to Get There
By Plane
Porto's Francisco Sá Carneiro Porto International Airport is located about 15 kilometers northwest of the city center. It is Portugal's second-largest airport after Lisbon.
A couple of European low-cost airlines offer very reasonably priced flights to Porto.
To get to the city center, you can, of course, take a cab. However, there is a bus connection, and also the purple metro line E runs every 20 or 30 minutes, depending on the time and day of the week.
By Train
There is always rush hour on Portuguese rails since travelling by train is very popular. For a reason: It's fast, reliable, and relatively reasonably priced – especially if you book ahead.
Train journeys from Lisbon to Porto take normally 3 to 4 hours. However, check the schedule before booking since there are also connections that take up to 6 hours.
Usually, there are about 14 trains per day from Lisbon to Porto alone. If you book in advance, tickets start at € 25 €uros.
Get all the info needed and your tickets on Comboios de Portugal's website.
By Bus
Interestingly, most of the journeys you can book on trains, you can do by bus. Nevertheless, make sure to compare the length of the trips and, of course, the fares. Sometimes, especially on short distances, the bus is not only faster, but also cheaper.
A very popular bus company is Rede Expressos with many convenient connections at reasonable prices.
How to Get Around
Although buses and metro in Porto are operated by two different companies, the network is well coordinated. There are single tickets as well as day tickets.
For visitors, there are two kinds of day passes: Firstly, there is the Porto.CARD that I've introduced above. In addition to free public transport, his card includes many perks and savings.
If you're not planning on visiting chargeable attractions and landmarks, the Andante Tour Card might be sufficient. The Andante Tour Card is very similar to the local Andante Card, but is exclusively for tourists.
Depending on the length of your stay, you can purchase an Andante Tour 1, which is valid for 24 hours and cost 7 €uro. Or you choose an Andante Tour 3, valid for 72 hours at 15 €uro.
Where to Sleep
If you want to get away from the – yes, wonderful, but at times also a bit stressful – hustle and bustle of the city center – and especially if you have a car – I recommend spending the night at a hotel in the outskirts respectively at Gaia.
Vila Nova de Gaia is one stop before Campanhã. From there, you can take a bus to the Arrábida Shopping mall where the Hotel Mercure Porto Gaia* is located; by the way, staying next to a shopping center can be very convenient, anyway.
However, Hotel Mercure Porto Gaia* is an excellent lodging option. And if you choose to stay there, you should get off at Vila Nova de Gaia and go to your hotel first to leave the luggage there.
Where to Eat
If you are really hungry and want to try a truly Portuguese specialty, turn at the next corner into Rua Passos Manuel. At number 190 is the restaurant Lado B which prides itself to serve the world's best Francezinhas.
Well, I cannot really judge since I've had my first – and possibly last – Francezinha with them. Layers and layers of cold cut and meats, topped with melted cheese and drowned in gravy is just not my…cup of Francezinha.
By the way, this is one of the eateries where you get a discount with your Porto.CARD.
LADO B
Rua Passos Manuel 190-192
4000-382 Porto
Phone: +351 – 222 – 014 269
Email: geral@ladobcafe.pt
What to See
I'm an avid solo-travelling woman. Since solo-travel doesn't equal solitude, I love to join organized tours here and there. They allow me to meet fellow travellers – for just a short moment or a lifelong friendship.
Therefore, here are some great ideas of what to do when visiting Porto. Pre-booking online will guarantee your place at the activity of your choice*:
Cash And Cards
Until now, 20 European countries replaced their former local currency with the €uro starting in 2002. Obviously, Portugal is one of them. The exchange rate is 1 US$ = 0.94 EUR as of January 2023. However, you can check today's conversion rate on this page.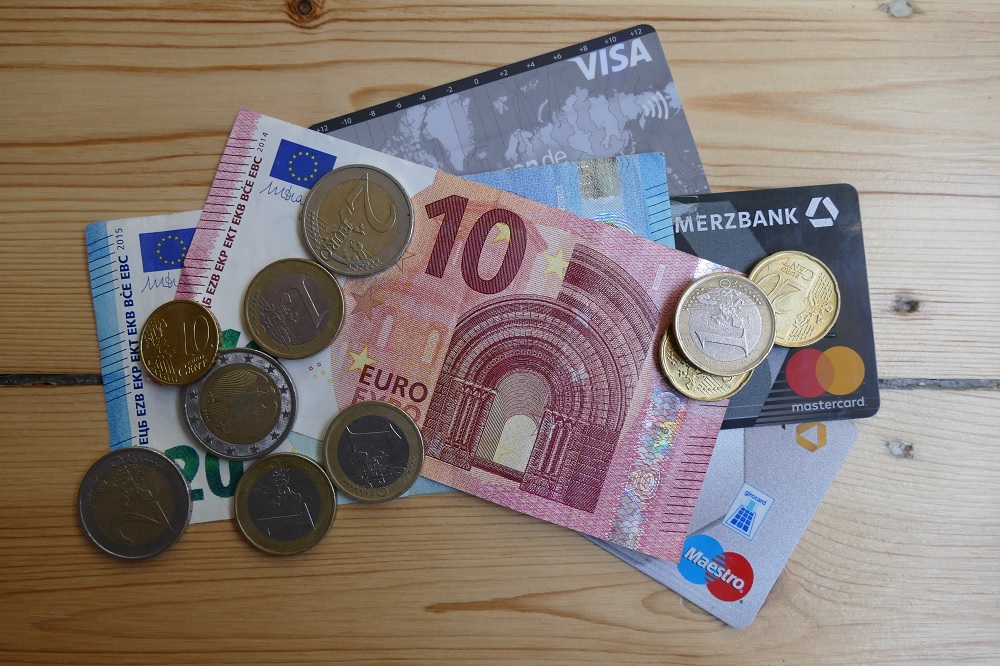 Cards are accepted basically everywhere. Except, of course, at the small stands on the streets and at the market.
Language
Actually, many Portuguese have a great command of the English language. However, it's always nice to be able to say at least some pleasantries in the local language so you might want to pick up some words e. g. online with babbel.com.
The first lesson, which already covers all the hellos and thank yous, is even free.
Map
For better orientation, here is a map with all the squares listed in this post.
Clicking on the slider symbol at the top left or the full-screen icon at the top right will display the whole map including the legend.
Porto was only the first of many beautiful places I've visited in Portugal. To read about the others, go to the main post and take your pick! There you'll also find valuable general information that will make your trip smoother.
Pinnable Pictures
If you choose to pin this post for later, please use one of these pictures:
Note: I'm completing, editing, and updating this post regularly – last in January 2023.
Did You Enjoy This Post? Then You Might Like Also These:
Disclaimer: I was very lucky to be a guest of the Mercure Porto Gaia*. However, all opinions on these services are mine and weren't by any means influenced by my cooperation partner. *This is an affiliate link. If you book through this page, not only do you get the best deal. I also get a small commission that helps me run this blog. Thank you so much for supporting me!