By the time I reached the southernmost destination on my railroad trip through Portugal, I was an expert on the country's trains and train stations. Hence, I intended to guide myself through this glorious city of Lisbon along the route of the legendary tram No 28.
Arrival in Lisbon
Being such a flatlander from Hamburg, I wasn't really prepared for Portuguese cities to be so very hilly. That makes them beautiful and grants their visitors stunning views. However, for the arriving passenger, it's quite a challenge.
Arriving from Coimbra at Lisbon's Santa Apolónia station, I checked google maps for the way to my accommodation. I got the information it was a bit over a kilometer, less than a mile. Hence, no problem, I would walk this short distance.
What the app withheld was that it was a bit over a kilometer uphill. Partly on steep cobblestone alleys, partly on stairs. Even less than a mile uphill on alleys and stairs becomes pretty far. Especially if you are dragging a suitcase on far too small wheels behind.
So I was a heavily sweating mess as I arrived at the apartment and knocked at the neighbor's door for the key.
Yes, correct, I stayed at an apartment. Nope, not the Airbnb kind. It was a small room on street level. I technically lived on the alley.
Modest Shelter
However, it was equipped with most things a visitor might need. Obviously, there was a bed – from IKEA, foldable. Also a table and three chairs – not IKEA, but still foldable. A kitchenette, consisting of two hot plates, a microwave, a sink, and all the necessary accessories. There was even a washing machine, which was irritating since there was no closet. I wonder why they rather put a washing machine in such a small room than a closet. Especially since there was hardly space to hang your freshly washed laundry.
Maybe washing machines were on sale.
There was no TV. I didn't need a TV, but since there was no internet access, either. However, people without a good old-fashioned book might get pretty bored.
Or they'll entertain each other by fighting.
If I had stayed there with another person, we probably would have fought. It was a small room with not much to do, after all.
Location Location Location
Nevertheless, the apartment was in an incredible location: In a narrow alley within the castle wall!
Tourists were passing right in front of my cobblestone alley-level door. There was neither an aircon nor a fan in the room. And since I left the door window open for fresh air, every single one of those tourists peeped into my room.
I didn't blame them, that's something you automatically do. They probably took me for a Portuguese bohemian.
I bet some of them were pretty jealous because of my million-dollar location.
I was staying right next to the castle, after all!
Within the castle walls!
Did I feel like a queen?
Nope, not on twenty square meters without a TV and without Wifi.
Rather like the queen's washing woman living close by to be available at any time; I had a washing machine, after all.
Did I like staying at the posh, comfortable places in Porto and Figueira da Foz?
Yes.
Did I like staying at a rather run-down one-room apartment at the Castelo, doing my own grocery shopping feeling like a true-born Portuguese?
YES!
Showing You Around in Lisbon
It's like they say: Home is where the heart is. And I know that Lisbon occupies a big piece of my heart now. Actually, it's definitely my second favorite city in Europe. The all-time favorite is Venice, just so you know.
Since according to this charming saying this is sort of my home now, let me show you around a bit. This way, you'll understand why it took Lisbon less than 24 hours to make it to my all-time favorite list of cities.
Tram No 28
Guys, I'm sorry, I know I'm not original in guiding you through Lisbon along the iconic line of tram No 28. However, this route is just too perfect.
It would be more original and unique to send you to Lisbon's satellite town and impoverished outskirts. Or to the business district around Parque das Nações. But those look like any other business district around the globe – besides the really cool Oceanário, the aquarium.
Still, the nicest places and most interesting attractions are located along the #28's route and that's how we travel. Nevertheless, I promise you some additional detours.
Although a major touristy means of transport – and a tourist attraction in itself – the tram #28 still is a public cable car in Lisbon. Only that hardly any locals take it since it's always packed and infamous for attracting pickpockets.
So if you take it, look a bit after your belongings. Also, try to hop on at one of the final stops which are either Martim Moniz downtown or Campo Ourique in the west to get the best seats. Or seats at all.
Take A Seat
However, I have to warn you: You will keep your nice seat only if you stay on the tram during the entire tour. If you use it as a hop-on-hop-off option, you probably have to stand from the first time you come back on board. The train fills up pretty quickly and seats are very limited.
If you have a ticket for the day – either the 24-hour metro ticket or the LisboaCard – I'd suggest you do the entire route once without getting off and do the hop-on-hop-off thing another time, e.g. on your way back.
Praça Dom Pedro IV – Rossio
Before getting on the train, let's look around the Praça Dom Pedro IV a bit, aka Rossio. In the northwest corner is the grandiose building housing the Rossio train station where the trains to Sintra are leaving from.
The station was built in the late 19th century in a Neo-Manueline style. I find it's one of the most striking buildings in Lisbon.
Next to the station on the northern side of the Dom Pedro IV square is the Teatro Nacional Dona Maria II – adjacent to the Largo São Domingos.
São Domingo
Here, the São Domingos church is worth a visit. This house of worship was built mid of the 13th century, but that's not the reason why it deems a bit windblown. Actually, it should be called the Phoenix church since it resurrected from various damages caused by both nature and men – such as earthquakes and fires.
At the end of the Travessa Nova de São Domingos turn left into the Rua da Palma where you can get on tram #28.
Alfama
It carries you around the Graça neighborhood and takes you to the Alfama district overlooking the Rio Tejo. Alfama – architectonically influenced by the Moorish – is the home of ordinary folks, very colorful and charming with lots of narrow alleys – and due to its elevated location, it grants grandiose views of the city and the river alike.
São Vicente
Soon, the tram stops at the Praça de São Vicente. Here you cannot only see the Monastery of São Vicente de Fora, but you also enjoy some of the best views of Lisbon and the river Tejo.
If you feel like walking – to be precise: climbing – you can walk up the Rua de São Vicente up to Largo Rodrigues Freitas and enter one of Lisbon's most visited attractions, the Castelo de São Jorge.
São Jorge
The Castelo de São Jorge complex is a medieval citadel, consisting of the castle, ruins of the former Royal Palace, and the adjacent former elite's neighborhood. Built by the Moors in the 11th century, it functioned as a defensive stronghold for the citadel's inhabitants such as the Moorish governor and his entourage.
The fort can be visited daily from 9 a. m. to 6 p. m. from November to February and from 9 a. m. to 9 p. m. from March to October. Tickets are €uro 8,50 resp. €uro 5 for students under 25 and €uro 20 for families.
I suggest you don't visit only the Castelo itself, but venture a little bit through the adjacent alleys to get a feel for the true Portuguese life.
To continue our tour, you don't need to take the tram to the next stop since it's only one block down – literally down, so be a bit careful not to slip.
Santa Luzia
One of the most famous Miradouros, Lisbon's many outlooks, is the square in front of the Igreja de Santa Luzia. I'm afraid that hardly anyone visits the church, that, after all, dates back to the 12th century – everybody is too distracted by the views from the courtyard.
Across from the church is Lisbon's arts and crafts museum, the Museu de Artes Decorativas. It houses paintings, textiles, ceramics, and more from the 15th to the 20th century.
If you aren't a total aficionado, you get to see so many of these all over Lisbon – and all of Portugal – that I'm not sure if it's worth visiting this museum. But if you choose to go, here are the details:
Museu de Artes Decorativas Portuguesas
Rua de S. Tomé 90
1100-564 Lisboa
Phone: + 351 – 21 881 46 00
Email: geral@fress.pt
Baixa
Now you should definitely get back on the train since from here to the next stop, it's a crazy ride downhill. The tram gets so close to the houses that you might touch them – but don't, it's not safe to stick your head or arms out of the windows.
At the Sé de Lisboa, the Lisbon Cathedral, the tram turns with squealing wheels 'round the corner.
Here you can visit Lisbon's oldest church which houses also the see of the Archdiocese. Since its foundation in the year 1147, the building has been modified several times so that it flashes a mix of Romanesque, Gothic, and Baroque architectural elements.
Santo António
One block down from the Cathedral stands the beautiful Baroque Igreja de Santo António, built in the 18th century; in comparison with all the other medieval churches in Portugal, it's practically a hyper-modern building. It's said that the Santo António Church marks Saint Anthony's birthplace.
After the tram crosses a couple of commercial streets, it reaches Lisbon's most important square, the Praça do Comércio.
Praça do Comércio
This square was remodeled after the big earthquake in the 18th century. Designed as a rectangular square, it opens in the shape of a U towards the river Tejo. One of its most impressive buildings is the Arco da Rua Augusta, an arch that was finished only in the 19th century. It opens to the Rua Augusta shopping street.
Make an investment of 2,50 €uro and you won't regret it – I find the monument's terrace grants Lisbon's best views.
Not only for the view from the arch, but also for the views of the arch, i. e. the statues on the top, I recommend getting up there. Don't worry, you don't have to climb, there is a lift.
Rua Augusta
A stroll along the Rua Augusta is…basically like a stroll along any shopping street in Europe.
It's still worth it, if only for the Elevador de Santa Justa, aka Elevador do Carmo. This elevator connects the Baixa neighborhood with the bohemian Chiado. This lift, that – you guessed so: lifts passengers 8 meters up, was built at the turn of the 20th century according to the design of Raoul Mesnier de Ponsard, a scholar of Gustave Eiffel.
Chiado
The Elevador de Santa Justa is one of the possibilities to get up to the bohemian and hip Chiado neighborhood – and it's the most crowded one, people wait up to an hour.
Obviously, you can also climb streets'n'stairs. Or you hop back on the tram and let it carry you up there. For instance, to the Museu do Chiado. I will not lie to you: This gallery is more interesting because of its architecture by Jean-Michel Wilmotte. This French architect remodeled the former São Francisco da Cidade monastery in a very plain and minimalist style.
Museu Nacional de Arte Contemporânea do Chiado
Rua Serpa Pinto 4 | Rua Capelo 13
1200-444 Lisbon
Phone: + 351 – 213 432 148
Email: museuchiado@mnac.dgpc.pt
Opening hours are Tuesday to Sunday from 10 a. m. to 6 p. m.
Especially here in hilly Chiado, you'll be grateful that you don't have to walk but that the #28 carries you comfortably to the most scenic places – like e. g. the Largo do Chiado, a busy yet very beautiful square with lots of cafés and snack bars, the Teatro São Carlos – and literally three churches.
Largo do Chiado
I'm not sure, but I have the impression that Portugal has the highest number of churches I've ever seen:
Around the Largo do Chiado, you'll find the Igreja de Nossa Senhora do Loreto aka Igreja dos Italianos in the north, the Igreja de Nossa Senhora da Encarnação across the square in the south, and one block further east the Basílica de Nossa Senhora dos Mártires – all three of them built in the 18th century in Baroque style.
Three blocks farther, don't miss to look left towards the river: You'll see the steep Rua da Bica de Duarte Belcio. On this street, the Elevador da Bica runs over 260 meters, connecting the Rua de São Paulo and the Largo do Calhariz. This funicular was constructed by Portuguese Raoul Mesnier du Ponsard and inaugurated in 1892.
About one kilometer further west, to your right you spot the Palácio de São Bento, the Palace of Saint Benedict which is home to the National Assembly, i. e. the Portuguese parliament. Adjacent to it is the official residence of Portugal's Prime Minister – basically Rua Downing 10….
Estrela
Only about four blocks further is the Basilica da Estrela – of course, Baroque, but also a bit Neo-Classicist – to your left and the Jardim da Estrela to your right. This is my favorite park in Lisbon since it's just so pretty and serene. They have a nice café there, too, so it's the perfect place to just relax from all that sightseeing.
So, you guys, we've almost reached the final stop – which ironically is a cemetery. Before we get to the station Campo de Orique – or Prazeres, which is the graveyard's name – I'd like to point out the Igreja do Santo Condestável, the Church of the Holy Constable, which was built in a Neo-Gothic style.
Prazeres
Once you get to the Prazeres cemetery, by the way, Prazeres means pleasure – I have no clue who came up with this cute name for a graveyard, you have to get off the tram even if you want to take the same train back. Everybody has to get off and then stand in line about twenty feet further to get on again.
Since you have to get off, anyway, you might want to take a stroll through the cemetery and look at some of these beautifully carved tombstones.
So now would be the moment to take the tram back downtown – either for a joy ride just watching beautiful Lisbon passing by – or adding a couple of stops at some of the most alluring places.
So riding the tram #28 is cute and fun and not exclusively touristy – and since at the last stop, everybody has to get off – to possibly get on again about five steps further and five minutes later, they mix things up a little and everybody has a new chance getting a good seat.
Amoreiras
What you can also do is either walk up north to the Amoreiras neighborhood – which would be about 1.5 kilometers – or go there by bus #774 – five stops towards Gomes Freire, getting off at Amoreiras.
As you get off in front of the Amoreiras Shopping Center, you might want to get up to the open-air platform on the roof to enjoy a 360°-view of Lisbon.
A ten-minute walk east of the mall is another nice and peaceful park, the Parque das Amoreiras, named after the mulberry trees that Marquês de Pombal planted here. Apart from the mulberries, there are also many other trees like even ginkgo and banana trees.
Mãe d'Água das Amoreiras
Beneath one of the arches of the aqueducts close to the Mãe d'Água das Amoreiras reservoir stands the Capela de Nossa Senhora de Monserrate. And once you're here: The Mãe d'Água das Amoreiras reservoir is totally worth a visit.
Reservatório da Mãe d'Água das Amoreiras
Praça das Amoreiras 10
1250-020 Lisboa
Phone: + 351 – 21 – 810 02 62
Opening hours are Tuesday to Saturday from 10 a. m. to 12.30 p. m. and 1.30 p. m. to 5.30 p. m.
Not only did Mr. Marquês de Pombal plant mulberry trees, he also was an important statesman in the 18th century, hence they named a square after him, the Praça Marquês de Pombal. From here you can either walk back south towards the city center or choose to go north to the Parque Eduardo VII, Lisbon's largest and most manicured public garden.
Rigo
To get to the last stop of this extended city tour, you can take the metro on the east side of the park, cleverly called Parque. From there, continue to Praça de Espanha station. Now it's just a very short walk to the Museu Calouste Gulbenkian and Centro de Arte Moderna complex.
Mr. Calouste Gulbenkian was born in 1869 in Constantinople, hence, today's Istanbul, and educated in Marseille, London, and Baku. He was a clever and successful businessman, active not only in Europe, but also i. a. in Iraq, South Africa, and Australia. He acquired British citizenship, lived in Paris, and finally moved to Lisbon where he died in 1955 leaving an incredible fortune – both in France and Portugal. Therefore long negotiations took place before all the personal art treasures could be sent to Portugal and are now on display at the museum's Founder's Collection.
Calouste Gulbenkian Museum
Avenida de Berna 45A
1067-001 Lisbon
Phone: + 351 – 217 – 823 000
Email: info@gulbenkian.pt
Opening hours are Wednesday to Monday 10 a. m. to 6 p. m.
Practical Information
How to Get There
By Plane
Unlike many other European capital cities, Lisbon has only one airport. Therefore, it is served by regular and low-cost airlines alike. The airport is conveniently located 7 short kilometers north of Lisbon's center.
To get downtown, you can take Aerobus Line 1 straight to Rossio station.
However, if you are planning on using public transportation the same day, you better get the Via Viagem for € 6,60. Then you can take the metro from the airport to Alameda station. There you change to the green line down to Rossio station.
By Train
There are three major train stations in Lisbon.
Firstly, Santa Apolónia, the oldest railway station, but the most important train station for long-distance travel. Secondly, Estação de Caminhos de Ferro do Rossio – short Rossio. This is the most centrally located one. From here, trains are leaving for instance to Sintra.
Going by train up the Atlantic coast to Estoril, Cascais, or only to Belém, you hop on the train at the train station Cais do Sodré, west of the city center.
By Bus
If you travel by long-distance bus Rede Expressos or one of its subsidiaries, you'll arrive in Lisbon at the terminal Sete Rios about 4 kilometers north from the historic city center. From here, you can take the blue metro line.
However, all other intercity and international buses depart from the Estação do Oriente.
How to Get Around
If you need just a ticket without any further perks, the Via Viagem card is your best option. For 24 hours of unlimited rides on public transport – the airport is included – you pay only € 6,60.
A day ticket that takes you all the way to Sintra and Cascais, sets you back € 10,70.
An even better deal is the LisboaCard that does not only grant you free travel on public transport – even all the way to Sintra and Cascais. There are also many discounts and even free entries to museums, attractions, shops, restaurants, and much more included.
You can order the LisboaCard online: You get a voucher that you exchange upon arrival e.g. at the airport or the tourist office.
Since ordering the card online is a bit more pricey (although it's less than a €uro) and you cannot use the voucher but have to exchange it first, I really don't see the point in buying the card online.
Where to Sleep
Obviously, there are many accommodations to choose from. Since my experience with booking.com* has always been pleasant, you might want to pick one of their offers:
Where to Eat
Obviously, there are all sorts of eateries all over Lisbon. You won't be starving.
However, I'd like to introduce two of my favorite restaurants that are a bit different.
Padaria do Povo
Firstly, there is the really original, bohemian place, the Padaria do Povo.
In 1904, the Padaria do Povo – which translates to People's Bakery – was founded to offer cheaper bread in the parishes of Santa Isabel and Campolide.
Then, in 1919, António Ferreira de Macedo and Bento de Jesus Caraça founded the Universidade Popular Portuguesa, an institution of public education. The University became a tenant of the Bakery.
Today, this traditional institution is a mix of a community center, a cultural center, a coffee bar, and a restaurant.
Albeit, it's no bakery anymore.
So, anyway, if you are keen to experience an eatery totally off the beaten tourist tracks, treat yourself to a meal and a drink – and maybe some new Portuguese friends.
Padaria do Povo
Rua Luís Derouet, 20-A
1250-153 Lisboa
Phone: + 351 – 21 – 362 04 64
The Padaria is open Monday to Friday from 12 p. m. to 1 a. m. (Friday 2 a. m.), Weekends 3 p. m. to 1 a. m. (Sunday 2 a. m.)
Loja das Conservas
The other place I'm recommending is right in the city center. It's a place where you can enjoy really good food and maybe stock up on some cute souvenirs.
What I like about their restaurant is the love for details. They serve their artisan food – Portuguese with a creative crossover twist – on beautifully decorated dishes. Everything is just a little…special.
Another great thing is that there is a shop connected right to this really fine restaurant. So, with your full stomach, you can pick out some delicious gifts for your loved ones back home who didn't have the privilege to visit Lisbon.
Loja das Conservas
Rua Assunção 83
1100-043 Lisboa
Phone: + 351 – 913 552 984
Open Monday to Saturday from noon.
What to See
I'm an avid solo-travelling woman. Since solo-travel doesn't equal solitude, I love to join organized tours here and there. Also, to make the most of your trip to Lisbon especially if you have a limited amount of time, you might want to make some reservations ahead. So here are some ideas of what to do and how to visit Lisbon in a safe and easy way*:
Money
Until now, 20 European countries replaced their former local currency with the €uro starting in 2002. Obviously, Portugal is one of them. The exchange rate is 1 US$ = 0.94 EUR as of June 2023. However, you can check today's conversion rate on this page.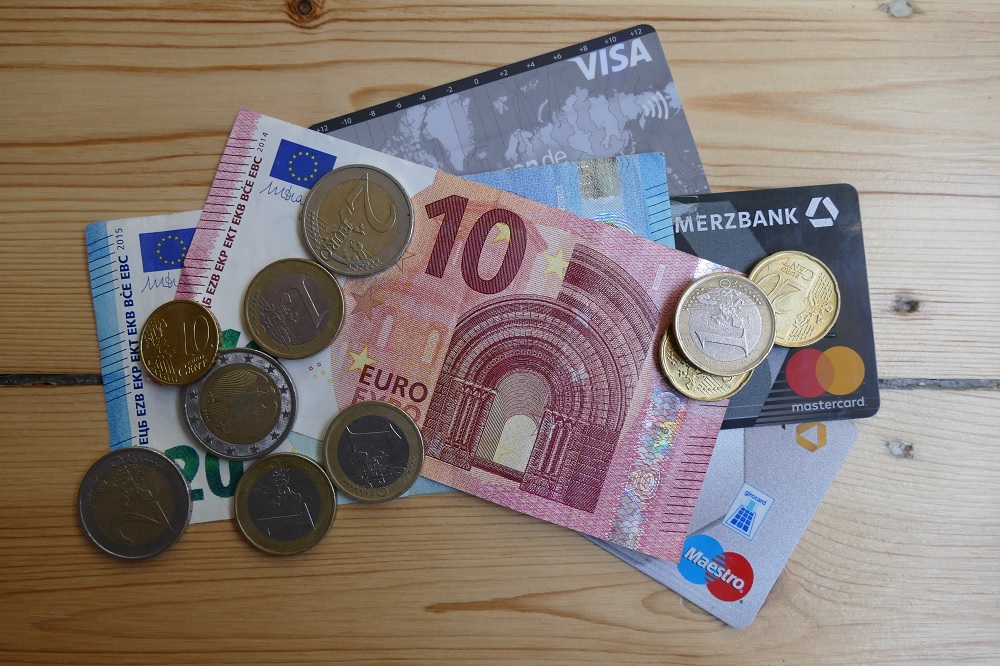 Cards are accepted basically everywhere. Except, of course, at the small stands on the streets and at the market.
Language
Actually, many Portuguese have a great command of the English language. However, it's always nice to be able to say at least some pleasantries in the local language so you might want to pick up some words e. g. online with babbel.com.
The first lesson, which already covers all the hellos and thank yous, is even free.
Lisbon was only the last of many beautiful places I've visited in Portugal. To read about the others, go to the main post and take your pick! There you'll also find valuable general information that will make your trip smoother.
Pinnable Pictures
If you choose to pin this post for later, please use one of these pictures:
Note: I'm completing, editing, and updating this post regularly – last in June 2023.
Did You Enjoy This Post? Then You Might Like Also These:
* This is an affiliate link. If you book through this page, not only do you get the best deal. I also get a small commission that helps me run this blog. Thank you so much for supporting me! I was very lucky to be supplied with a 72hrs-Lisbon-Card by Turismo de Lisboa. However, all opinions on these services are mine and weren't by any means influenced by my cooperation partner.