For many visitors, gates to Vietnam open at Ho Chi Minh City – a metropolis formerly known as Saigon.
This megacity in the southern, tropical part of Vietnam has about 8.5 million inhabitants – and 7.4 million motorbikes.
Nomen Est Omen
Hồ Chí Minh City is Vietnam's largest city and economic center. Under its old name Saigon it was the capital of the Republic of Vietnam until 1975. After the withdrawal of the US troops and the military defeat of the South Vietnamese government, the city got its name after the North Vietnamese head of state Hồ Chí Minh in 1976.
So why do some people still call it Saigon? Well, while some people – mostly foreigners – do it randomly, others do it on purpose.
Since the city used to be called Saigon before and was named after the communist party's leader Hồ Chí Minh after the war, calling it either of those names can also be a political statement.
Re-naming cities is common in those circles: St. Petersburg was named Leningrad after the Soviet revolution. In 1991, however, they changed it back to St. Petersburg as one of the Perestroika's consequences.
Chemnitz in Eastern Germany was named Karl-Marx-Stadt after WWII – and after the German reunification back to Chemnitz in 1990.
Hence, those who are not happy with the outcome of the Vietnam war keep calling it Saigon to underline their disapprobation. Others, however, call it Saigon simply because it's much shorter.
I call it Hồ Chí Minh City mainly because it's the city's official name.
Still, this got me in trouble.
More Than Just a Name
Next to signs of US fast-food chains and high fashion advertisements, there is communist propaganda everywhere in Vietnam. Still, I had the feeling that everyday life remains quite unaffected by the ideology, the past wars, and the differences between people.
They seem to be no hard feelings towards American tourists. As I asked about the attitude towards the French because of the colonial past, people didn't even get what I was implying.
So forgiveness – or disremembering – all around.
So since there are all those luxury stores and foreign restaurants, now that the country obviously tolerates this beacon of imperialist capitalism, you would think they might slowly take down the red flags and save a lot of money for the extensive propaganda.
But no, both ideologies and lifestyles exist side by side.
Yet I had to learn the hard way that not everybody is that chilled when it comes to political ideas and the past.
Day Tripping – Literally
It was on my two-day trip to the Mekong Delta. I went with a bunch of tourists guided by a rather unpleasant Vietnamese guide.
On the bus, at some point, he asked who calls Hồ Chí Minh City by its new name and who calls it Saigon. I'm not even sure whether the other people on the bus understood the ulterior motives of this question. However, I obediently raised my hand to Hồ Chí Minh City – it's the present official name, after all.
"Are you communist?" the guy barked at me over the microphone. I'm sure that nobody really got what was going on and why. Maybe besides the one Vietnamese lady who had migrated to the US many years ago and was for the first time back to her native country.
"I'm not answering that question", I answered the question. I wasn't willing to discuss such a complex topic yelling back and forth on a tourist bus.
Do You Like Communism?
"Do you like communism, or do you like freedom?" the tourist guide insisted. He was truly ready to discuss a complex topic on a tourist bus. Also, he had the advantage of yelling into a microphone.
Do I like communism, or do I like freedom – golly, I wish the answer was a teeny bit as easy as the question.
Also, I wished the tourist guide would do his job making my vacation pleasant instead of making me feel uncomfortable by calling me out for calling his damn city by its damn official name.
"Are you from the GDR? Are you from Dresden?"
At this point, I decided to look out of the bus window and not pay any attention to his pseudo-counterrevolutionary BS.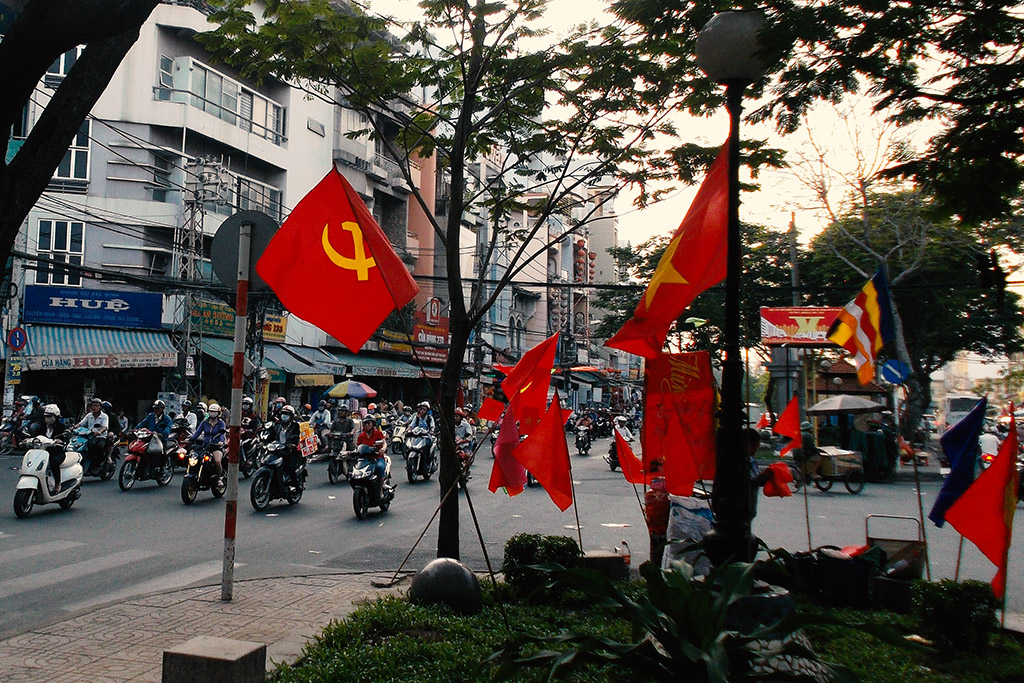 However, this much for how relaxed things are under the surface. Obviously, you cannot even call a city by its name without being stigmatized.
What surprises me, though, is that someone who is working as an official tour guide can get away with being this openly anti-communist…in a communist country plastered with bold propaganda.
Hồ Chí Minh City
In 1859, the French army occupied Saigon under the pretext that the French missionaries were being persecuted under Emperor Tự Đức. By the Treaty of Saigon, the city was declared the capital of the French colony of Cochinchina in 1862.
Hence, France set the agenda in politics, religion, art, and architecture. Foreign visitors compared it to French towns, describing it as the most elegant and cultivated city in Asia during that era.
At the same time, the living conditions of the Vietnamese were very difficult during the French colonial rule – to say the least. Hence, in the 1920s, resistance formed and numerous strikes took place. Finally, this led to the infamous three Vietnam wars.
Today, Hồ Chí Minh City is Vietnam's industrial and cultural center. There are universities, theaters, cinemas, museums, monuments, and parks. Still, the old center reflects in its appearance and character the colonial times under French rule.
This metropolis is located just north of the Mekong Delta on the right bank of the Saigon River. A trip to that lush and fertile area bordering Cambodia should be on every visitor's itinerary.
The Grand Tour of Hồ Chí Minh City
Since most of the city's points of interest are located in the neighborhood of the old colonial center, the city could be easily walkable.
So why the conditional?
Because there is the above-mentioned number of motorbikes. Then, add a significant number of cars and buses, and other vehicles driving on streets with very, very few traffic signals and you can imagine the quality of the air. Over the day, all these vehicles belch exhaust gases so that from the early afternoon on, you feel like breathing air without any oxygen; it's really bad.
Anyway, to be positive, let's start the day at a park, namely the Tao Đàn Park – which is rather a small forest. It's cool and nice in the shade of the trees so that you can see many – surprisingly old – folks doing their fitness program like walking and jogging and some sort of Thai Chi where they are waving huge hand fans.
There are playgrounds for kids, picnic areas, and even two Buddhist temples in the park, and on the Westside, on Cách Mạng Tháng Tám, you'll find many coffee shops.
A perfect start to a long day.
I'm just mentioning that there is a Reunification Palace on the northeastern side of the park.
Nevertheless, I do not exactly recommend going there since it's the ugliest concrete building you can imagine – very 70s socialist architecture.
Around Bến Thành
So coming down from the Tao Đàn Park, turn left and you'll reach the famous – and enormous – Bến Thành-Market which is a tourist market. I don't say it's bad, but it's touristy so beware of fantasy-prices.
Actually, I've found a good way of estimating a real price: Go to the governmental section towards Phan Bội Châu near the eastern entrance. They have fixed prices – no bargaining here. So this gives you an idea of how much you should pay for things and you can take it from here.
If you don't want to bargain at all, do your shopping here.
If you've been following my blog for a while, you might know by now that I love art. I go to museums and galleries everywhere I travel, hence, I recommend the Museum of Fine Arts south of the Bến Thành-Market – and most of all South of Quách Thị Trang square, one of the worst places to cross since it's a circle of never-ending traffic.
So after you've survived Công viên Quách Thị Trang, lower your heart rate, catch your breath, and keep walking one block south towards the Museum.
In a palatial neoclassicist villa are displayed mainly paintings from different eras as well as statues from the Cham and Funan epoch.
The post-war, heavily ideological works with their über-clear message deem a bit…bizarre.
Hồ Chí Minh City Museum of Fine Art
97 Phó Đức Chính
Nguyễn Thái Bình
Quận 1, Hồ Chí Minh City
Open Tuesday to Sunday from 9 a. m. to 5 p. m.
Around Đồng Khởi
After this highly socialist impact, you might want to discover Hồ Chí Minh City's capitalist side.
The best way to get to the Đồng Khởi, a boulevard that used to be a posh strolling promenade already during the colonial era, you better walk along Huỳnh Thúc Kháng. Don't get fooled by the proximity to the river and refrain from walking down Ton Duc Thang. That way is longer and not as idyllic as you might expect.
Before you get to Đồng Khởi, you might want to hang out a bit on Nguyen Hue, a pedestrian area facing Hồ Chí Minh's memorial. Today, he's standing between the legendary Hotel Rex where the American 5 o'clock conferences during the war took place and the old town hall that today houses the national committee.
Next to all the red flags, to the faithful pioneers, to the propaganda and dogma, it seems preposterous to walk past stores such as Luis Vuitton, Prada & Co. Just go and see for yourself. It's amazing how all this seems to go together nicely.
While there are these high-class stores, there are agreeably few chain restaurants and shops like McDonalds, Starbucks, or Seven Eleven. I appreciated that a lot. Who needs western fast food in the cradle of street food culture? Who wants Starbucks in the world's second-largest coffee exporting country?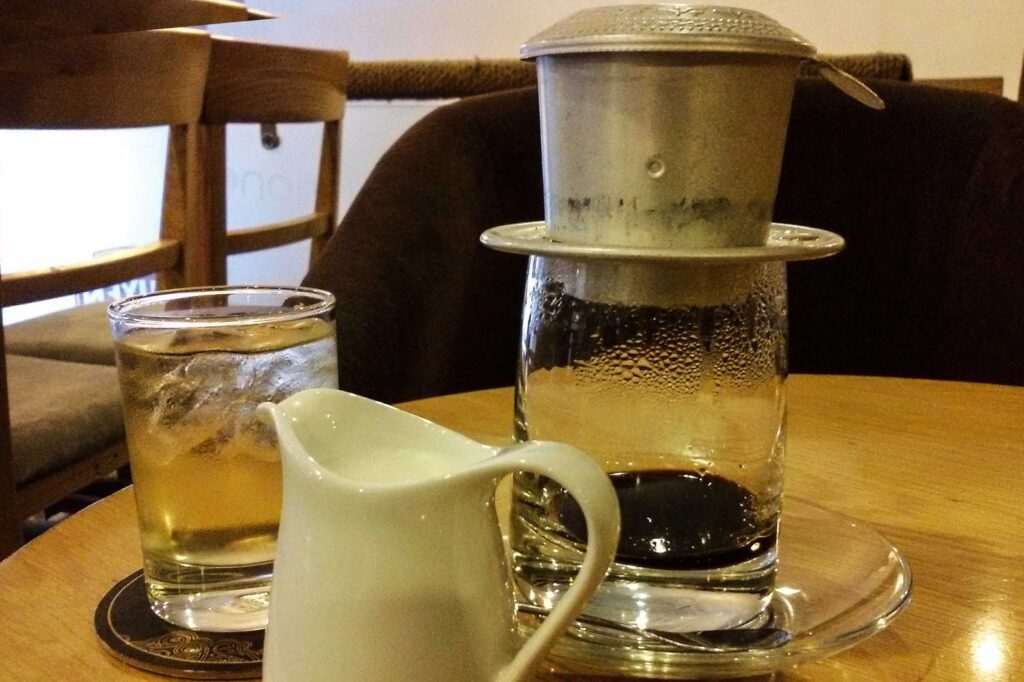 Viet Nam has its own coffee chains and coffee products. While the White Coffee brand is just average and tends to be very sweet, Trung Nguyên Coffee is really outstanding. On Đồng Khởi, there is one at #80.
By the way, coffeebeans should be high on your shopping list of great souvenirs.
Strolling Đồng Khởi up north leads you back into colonial times. There is the Nhà hát Thành phố Hồ Chí Minh, the city's opera house. This ornate colonial building from 1897 today houses the city's ballet and symphony orchestra.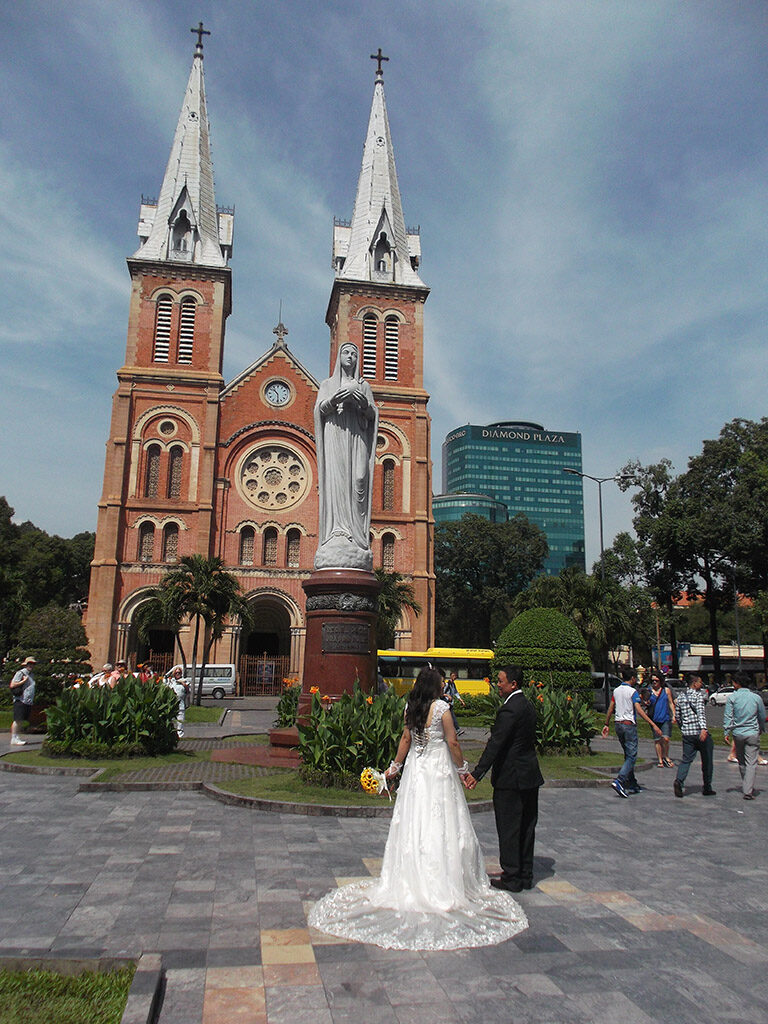 Three blocks up, you'll get to the French colonial landmark Notre Dame cathedral. Nevertheless, besides the name, it has nothing in common with the grand Parisian relative that was severly damaged by a fire in 2019. Instead of Gothic, this one is built in a neo-roman style from stones imported from Marseille.
Behind the cathedral is the Hồ Chí Minh City Post Office. The building was designed by Auguste-Henri Vildieu and Alfred Foulhoux and constructed in the late 19th century. It shows Gothic, Renaissance, and neoclassicist styles.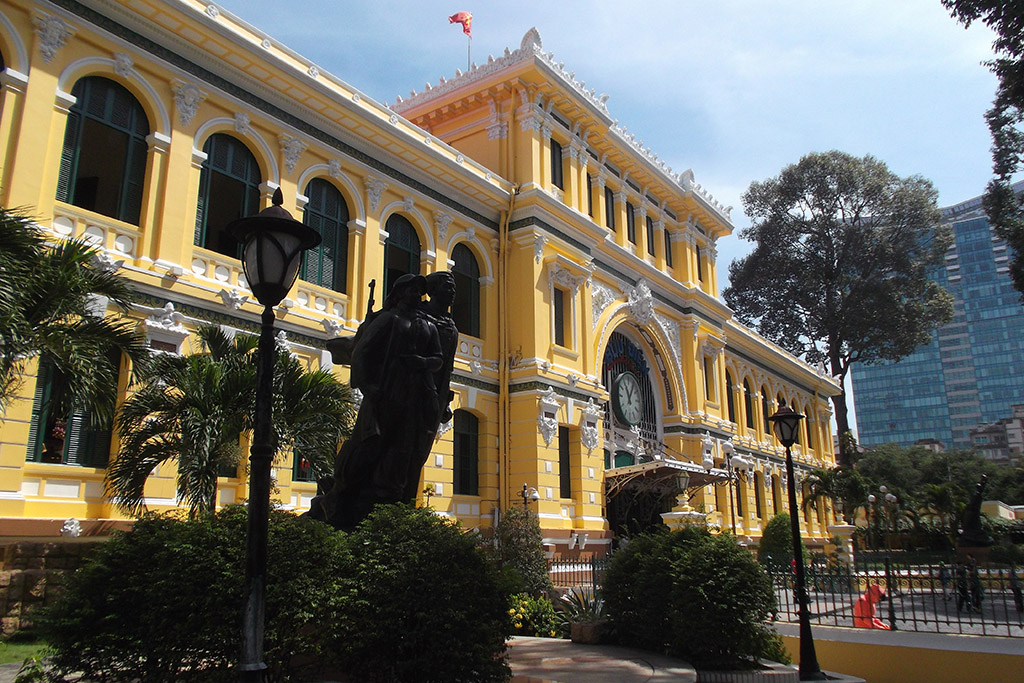 No less than Gustave Eiffel – yap, the one with the tower – sketched the metal frame. Interesting are also the maps inside the great hall. One depicts what used to be Saigon and the other the Cochinchina telephone network dating from the early 1930s.
Some Noteworthy Temples
There are many religious sites in Hồ Chí Minh City to visit. Still, based on the political development, less than 27 percent of the Vietnamese population can be characterized as religious believers. Interestingly, the Buddhists who make about 15 percent these faithful are followed by Roman Catholics with almost 8 percent.
Ngoc Hoang Pagoda
The Jade Emperor's Pagoda is an ancient temple, built in the Chinese style with many decorative ornates.
The pagoda is built from bricks and the roofs are covered with yin and yang tiles. The corners are covered with colorful ceramic statues. Further paintings and statues are inside the temple
Trần Hưng Đạo Temple
The temple was built in 1932 as a Buddhist pagoda. However, it was completely rebuilt in 1958 in a style of northern Vietnamese temples.
Inside the temple are lacquered boards are beautiful inlay tables. Paintings on the wall show Trần Hưng Đạo defeating Kublai Khan's Mongol troop.
Xá-Lợi Pagoda
The Xá-Lợi Pagoda is the largest pagoda in Ho Chi Minh City. It is most famous for the series of raids in 1963 when special forces of the Vietnamese army attacked Buddhist monasteries under the leadership of Ngô Đình Nhu, the brother of the Roman Catholic President Ngô Đình Diệm.
They threw a monk from a balcony into the courtyard six meters below. Also, Nhu's units ravaged the altar and confiscated the heart of Thích Quảng Đức, the monk who burned himself to death in protest against the government. I'm also mentioning him in my post on the city of Huế.
With seven storeys and a height of 32 meters, the pagoda's bell tower is the tallest one in Vietnam. The two-ton bell on the top-floor was cast after the bell in the Thiên-Mụ pagoda in Huế
In this context, I'd like to recommend a visit to the Southern Vietnam Women Museum. On the first floor, it takes the traditional life into focus. Then, on the second floor, it honors the women's part during the war which was very powerful and supportive.
Let me tell you, Vietnamese women are tough – then and now.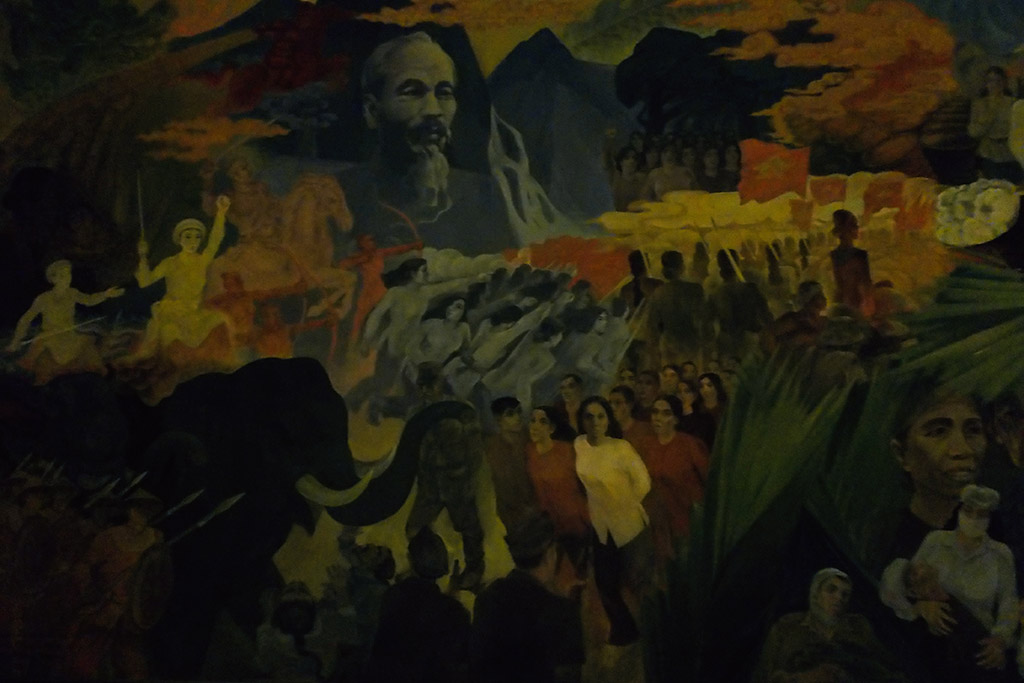 Southern Vietnam Women Museum  
202 Võ Thị Sáu, phường 7
Quận 3
Hồ Chí Minh
The Museum is open daily from 7.30 a. m. to 11.30 a. m. and from 1.30 p. m. to 5 p. m.
Markets: Chợ Lớn, Bến Thành, Chợ Thái Bình
For obvious reasons, the market in Chợ Lớn on the city's outskirts is much less touristy than for instance the Bến Thành Market in the very center. Therefore, it has much more groceries than knick-knacks.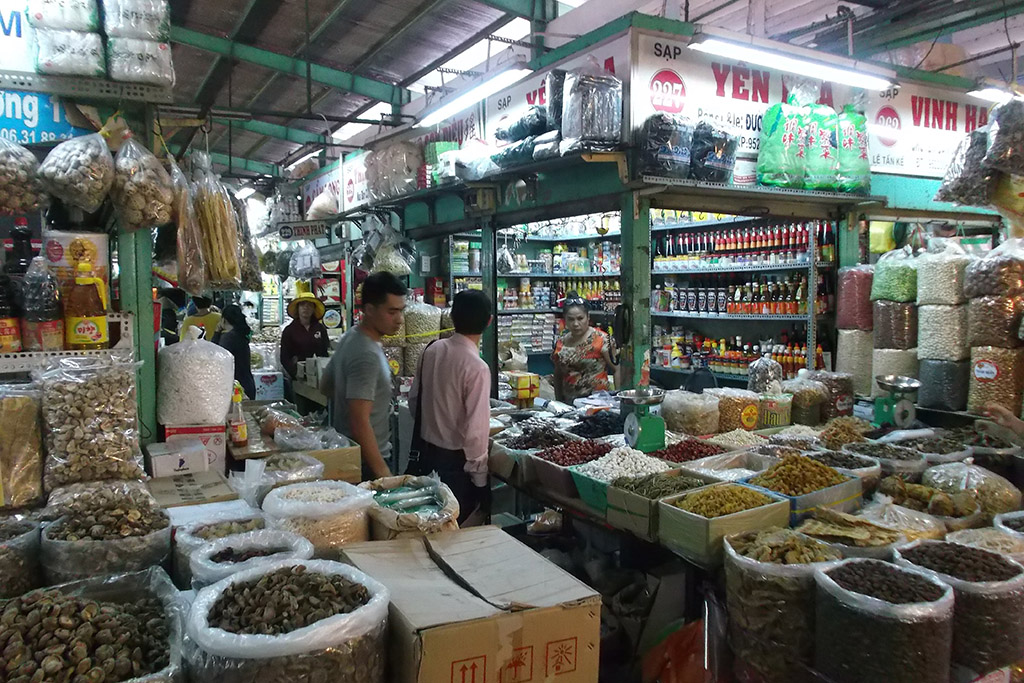 My favorite market, however, is neither of the two big ones. It's actually a small place at the Western end of the central park North of the backpacker district called Chợ Thái Bình.
It's an unimpressive little place but I bought first-rate coffee there at an unbeatable price. First, however, I had to dare to wake up the vendor sleeping behind his counter.
Extra-Tip: Across the street, at 185 D Cong Quynh is the unremarkable entrance to a home for blind people. There you can get an excellent massage at a likewise excellent price.
Day Trips from Hồ Chí Minh City
Hồ Chí Minh City is also a great gateway for interesting day trips.
The first leads you just around the corner to a place that's nowadays part of Hồ Chí Minh City. It's the Chinese borough of Chợ Lớn, easily accessible by bus No. 1 from Ben-Thanh-Market.
Chợ Lớn
Chợ Lớn, Quận 5 or the 5th district, is Hồ Chí Minh City's Chinatown. Initially, Chợ Lớn, which translates to the big market, was a city in itself. Mainly due to the high influx of refugees it has merged with the former Saigon.
Half a million ethnic Chinese are living in Chợ Lớn. Obviously, they opened Chinese pharmacies, restaurants, and shops.
The ancestors of today's residents migrated to Vietnam from different regions of southern China. Hence, they have retained not only their dialects and customs. There are even separate temples for the people of Chaozhou descent and separate temples for those from Guangzhou.
However, at the turn of the 20th century, Chợ Lớn was also a wicked entertainment district. Consuming opium was just one of the popular pleasures there. Even the British writer Graham Greene was among the visitors.
On your way back to the city center, I recommend walking along Nguyen Trai. This way, you get to see a typical residential street. Also, on the Northern side of the street, you'll find stunning Buddhist temples.
Since the bus back to the city center goes along this street, you can just hop on as soon as you're ready.
Củ Chi Tunnels
I assume no visitor to Hồ Chí Minh City refrains from a visit to the Củ Chi tunnels.
Củ Chi is actually a district in the city's administrative area. The well-known tunnels were a hideout of Vietnamese partisans during the Vietnam War from 1965 to 1975.
However, the first tunnels were built already in 1948. In the 1960s, North Vietnamese partisans dug further and deeper until the tunnel system had grown to a considerable length of 200 kilometers on three levels.
They installed basically small cities with schools, hospitals, offices, and sleeping quarters. One could get to the outside world through folding doors covered by leaves and grass. Also, the entrances were secured by primitive yet highly effective traps.
As the US troops had all these high-tech mass destruction weapons, the Vietnamese relied on some quite medieval traps. They covered holes with twigs and leaves and when the enemy fell in the trap, he got impaled on some pointy bamboo sticks. Also, there were trapdoors built after the iron maiden model – all sorts of sharp, spiky stuff.
I'm Confused
Actually, that they have a shooting ranch next to a war memorial was not the only thing that I found highly irritating. Their whole way of dealing with the past confused me. Especially since this past still reaches into the present and affects people's lives. Yet, they find so many controversial ways of dealing with it. Even at a historic site like Củ Chi.
As we got to the site, the first step was obvious and not unusual at all. We had to endure pure and utter pride and propaganda.
We had to watch a film that should be called "Vietnam's way to socialism for dummies".
It shows in an extremely simplified fashion how happily Vietnamese people were living. Beautiful small waisted women in Ao Dais sashayed over fields, mildly humming cheesy tunes. Everything was peaches and cream.
All of a sudden – and to emphasize the shock, the film at this moment turns darker – American villains came and dropped bombs and erased villages and razed the country to the ground.
Sadly, that's the only part in the film that's true.
But GI Joe didn't reckon the brave Vietnamese's – who of course were all devoted communists – resistance.
Not only the film itself, also the content is in very, very, veeery black and white.
Missing Relevant Details
Yes, it was bad that there was colonialism. Of course, it was bad that the US got involved in the war. But no, Vietnam and its people were not one big bundle of harmony. There were also many Vietnamese people who were not desperately longing for a communist government.
It was not only an uprising. There was also a civil war, after all.
There is not one word about the rapture between the north and the south, no outline of earlier history that lead to the conflicts. No, first, everything was idyllic, then the Americans attacked.
Anyway, I knew I was at a memorial site, so of course, they tried to feed me their broth. What confused me, was the entertaining Disney World-ish side to it: Getting down into the earth holes, there were puppets involved in all sort of crafts and chores – and once everybody entered the hole, the guide flipped the switch and the puppets got busy.
Let me tell you, the mechanism was not exactly the latest state of the art. Not only the bad technics ridiculed the whole scenario.
Between Memorial And Theme Park
Then there was a couple of ruthless Viet Cong puppets in their fighting apparel to take your picture with.
So that's what became of the Viet Cong now? Just another Minnie Mouse and Goofy at Disney World?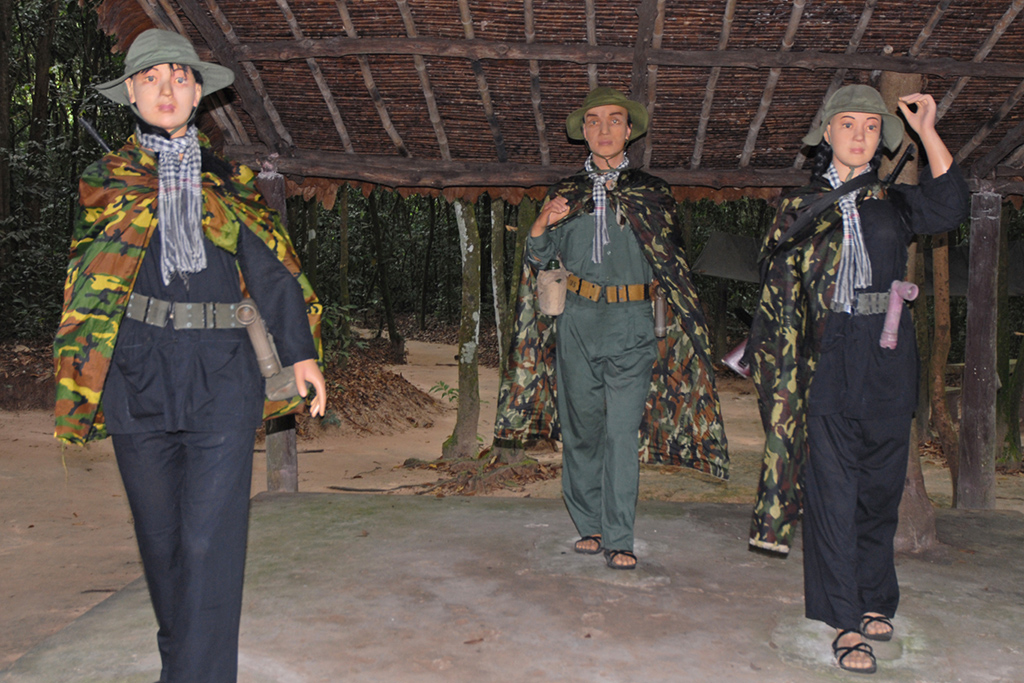 To top it off, at the gift store, they are selling the Viet Cong scarf and other goodies. I mean it's clear that people will only buy it for fun – for mocking, not because they want to be ready as it's time to join the Vietnamese army.
So first they are torturing the visitors with this tacky, bold propaganda and half an hour later you can mock them?! Come on, guys!
But there was another thing that for me personally took the cake. We were walking along the trail and watched the dummies doing their work – I'm talking about the puppets here. Then we were climbing into the narrow tunnels. I made like twenty steps and got out at the first possible exit. The Viet Cong wouldn't have won the war with me at their side, that's for sure. Anyway, during all this fun, there was constant gunfire in the background. Naive me, I thought it was some sound effect to make the visit more realistic and dramatic.
Nope, turns out, there is a shooting ranch right next to the Cu Chi tunnel memorial!
Sorry, but placing a shooting ranch – yes, real guns, real bullets – next to a war memorial leaves me jaw-dropped.
Cao Đài at Tây Ninh
But I slowly get the feeling that Vietnamese have a thing for controversial mixes.
An organized tour from Hồ Chí Minh City to Củ Chi usually includes also a visit to the Cao Đài Temple in Tây Ninh.
Caodaism is a religion officially founded in southern Vietnam in 1926. The estimates of the number of followers vary widely, with the majority giving two to three millions.
In Cochinchina, there was a tradition of Buddhist millennialism already before the French colonization by France. Caodaism emerged from the confrontation with colonialism.
The religious leader Le Van Trung modeled the organizational structure according to the Catholic Church. However, there was a social doctrine that corresponded to the Buddhist reform movements of the time. It called for equality between farmers and landowners as well as the female part of the population. Caodaism teaches the transmigration of souls and holds moral principles such as vegetarianism, alcohol prohibition, unselfishness, charity, and poverty as a moral duty.
Hence, this religion contains a comprehensive syncretism of Asian and Christian beliefs. Among the high spirits of Caodaism are a group of colorful characters like Sun Yat Sen, Isaac Newton, the Maid of Orleans, and Victor Hugo.
The cult is carried out in richly furnished temples with incense, evocations, and prayers.
Practical Information
How to Get There
By Bus
If you already are on the Asian continent, you can travel to Vietnam also by long-distance bus, obviously. There are frequent national connections as well as trips to Cambodia and Laos.
There are modern, airconditioned coaches with comfortable seats. And there are those typical Vietnamese sleeper-buses where you basically lay down in a weird position. Also, you have to put your legs into a metal box – it's really not that comfortable, especially not for us big and tall Europeans.
Still, if you have to travel in those exotic vehicles, I have two tips for you: If possible, choose the lower bunk. There's more space, and the ride will be smoother. Also, you might want to bring earplugs. Plugs are on my list of indispensable tools and gadgets, anyway. Let my list of what makes my travel more comfortable inspire you.
If you are going to Mui Ne, Da Lat, Nha Trang, or even Hanoi, you'll leave Hồ Chí Minh City from the Mien Dong Bus Terminal. It is on 292 Dinh Bo Linh Street in the Binh Thanh District.
By Plane
I presume that most international travellers will arrive at the Tan Son Nhat International Airport. It is about six kilometers north of Hồ Chí Minh City's center.
Bus Service
From the airport, there is a very convenient connection to Hồ Chí Minh City's center by public bus. You can take either line number 109, number 152, as well as shuttle bus line 49. The stop is right in front of the international terminal. Also, there is a minibus service to the cities in the Mekong Delta – it's bus number 119.
So while these services are great during day time – especially if you know exactly where you're going, remember that you shouldn't be cheap when it comes to your personal comfort and safety. If in doubt, rather take a cab.
Taxi Service
There are cabs waiting on your left as you exit through the terminal's main door. Make sure that the driver turns the meter on.
SASCO Travel offers a very convenient taxi service. You can order and pre-pay a car at their desk on your left after you clear customs. Also, online-booking is possible. This way, you pay a standard fare and the driver takes you to your hotel hassle-free.
Some major hotels offer a free shuttle. But beware that if the shuttle is not complimentary, you'll probably overpay. This being said, it's wiser to overpay for a safe trip than risking your well-being on arrival.
However, for your safety, here you can pre-book a reliable and reasonably priced airport shuttle.
You'll find more on this – and other relevant travel topics – in my post Keep Calm and Travel Solo as well as other articles in the Tips & Hacks section.
Getting Around
There are no trams or subways in Vietnam. Although they are very cheap, bus travel can be a bit confusing and intimidating. Ask for directions at your hotel's front desk – and then keep asking like a moron until you reach your final destination.
Apart from buses, cabs are very cheap to European or American standards. As long as you get a reputable company that is. Hence, look for cabs like Mai Linh or Vinasun and insist that the driver turns on the meter.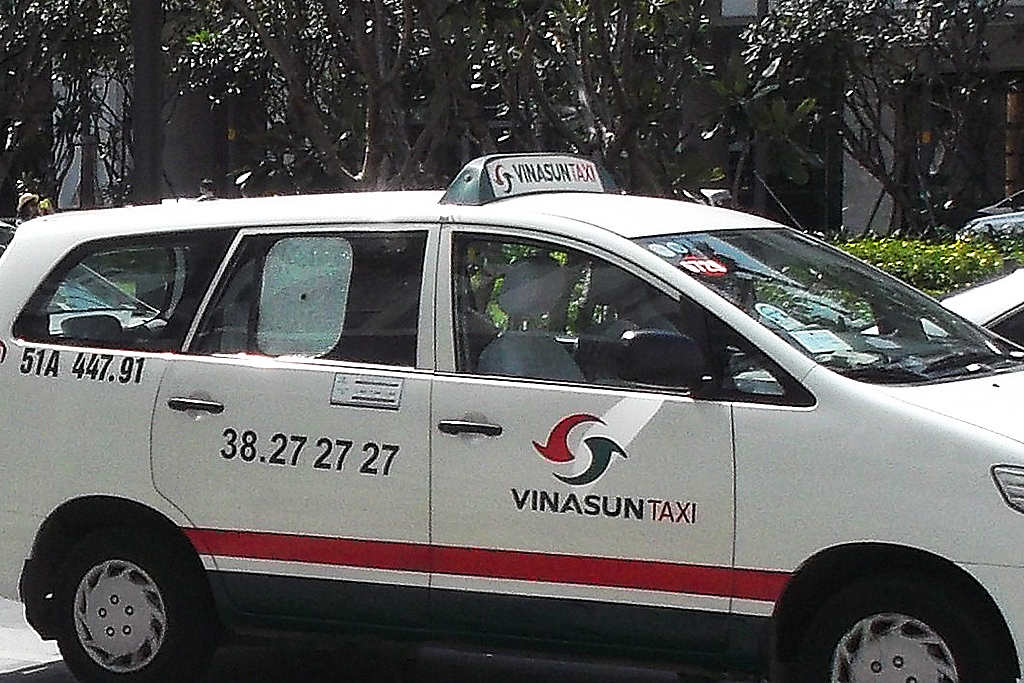 Besides, beware of cabs resembling those of trustworthy companies. Some scammers copy the famous names and just alter them a little bit. Then, they charge ridiculously high fares.
Be particularly cautious when hiring a cab in big cities like Hanoi and Hồ Chí Minh City.
C

rossing

Streets in Vietnam

It's absolutely terrifying – even for me, and I do walk criss-cross everywhere in the world.

Don't even think about waiting for a good moment to cross, this good moment will never come, so right now is as good as any.

Just start walking. Yes, I know that there are hundreds of motorcycles and cars approaching. Nevertheless, start walking.

Walk in an even, moderate tempo. Don't run and don't stop, just walk. This way the drivers can estimate your pace and adapt. If you run or stop, you'll confuse them.

Walk a little angular towards the traffic as if you were walking into the traffic – yet please do not actually do so! While observing the traffic, keep walking until you reach the other side of the street.

This is how you'll have to do it for the time being in Vietnam, so good luck.
Where to Stay
Accommodations are not very expensive in Vietnam so that you can get a really nice hotel for about 50 bucks.
A good location is for instance around the Bến Thành Market. From there, you can walk to practically all points of interest.
Also, there is a stop where many of the bus lines are stopping – even those connecting the city with the airport.
However, you can check out various great lodging options on this map*:
What to Eat
While you'll find restaurants for every taste in Ho Chi Minh City and other big, touristy places, in smaller spots, you'll get mostly Vietnamese cuisine, obviously, and that's totally fine.
Vietnamese cuisine is historically strongly inspired by Chinese food. In the south, there is also influence from Thai, Khmer, and even Indian cuisine. However, staple foods are rice and rice noodles and a large number of different vegetables.
Vietnamese dishes are typically cooked extremely hot. Gas stoves, but also blown charcoal fires, are still normal sources of heating in rural as well as urban areas.
Vietnam is known for spring rolls, which are eaten raw, fried, or deep-fried and sometimes wrapped in lettuce leaves. The fillings vary from region to region and season and range from sweet to spicy and savory.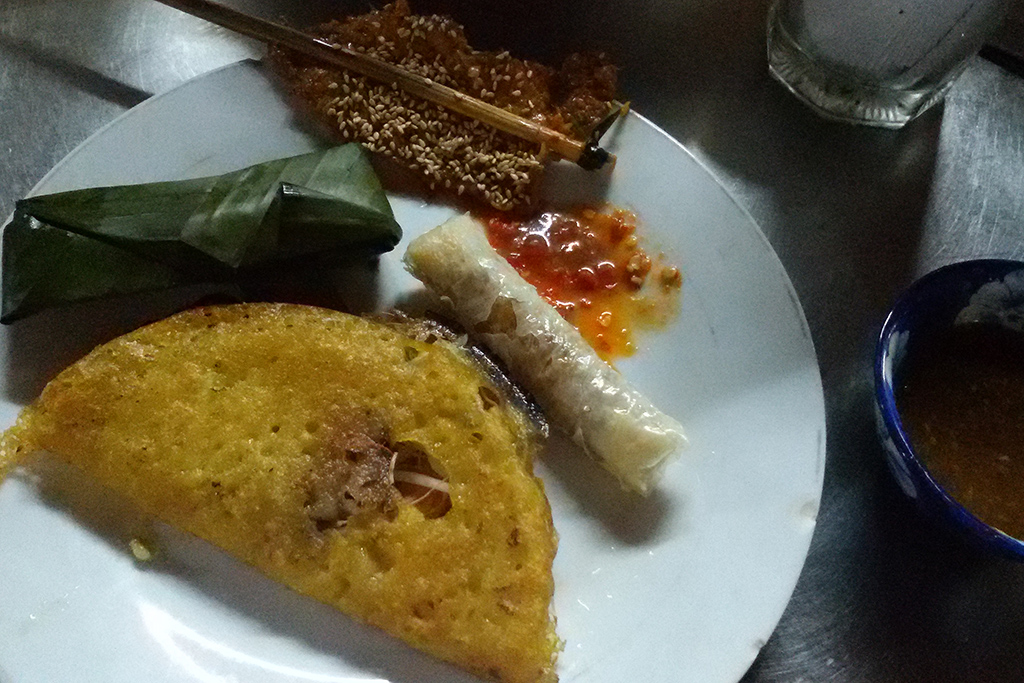 I particularly enjoyed rolling ingredients in rice dough sheets – which is a popular way of eating. There are herbs, lettuce, rice noodles, vegetables, and pieces of fish or meat that you wrap in a crispy, thick pancake. Fun and delicious!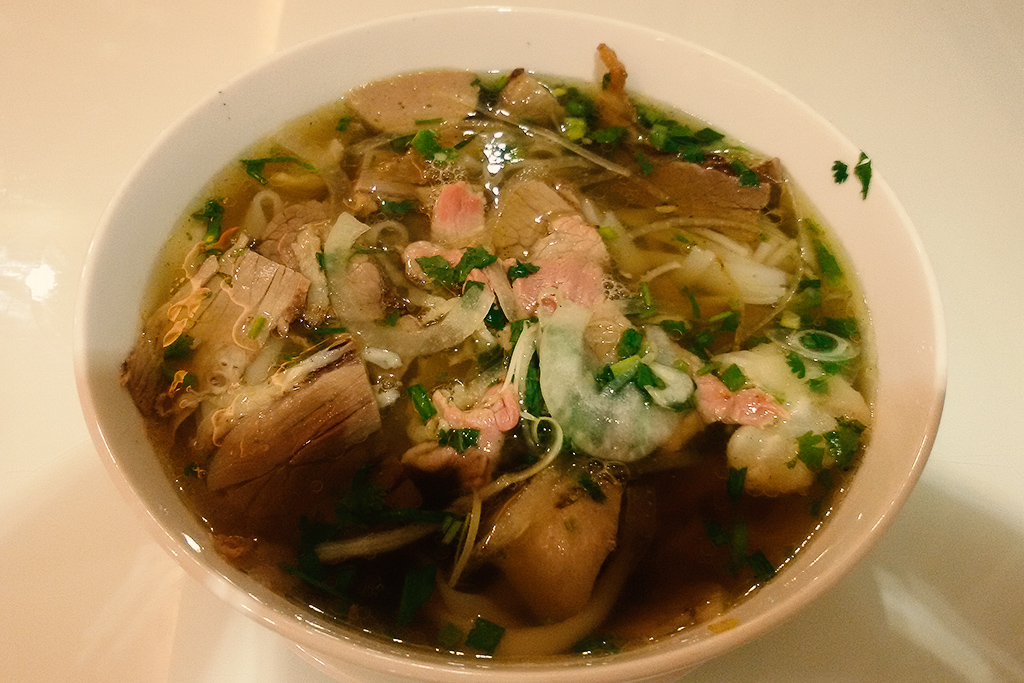 Another iconic specialty of Vietnam is Pho. The basis for this rich dish is beef broth with rice noodles. Then, thin slices of beef or chicken are added. Vietnamese eat Pho as a snack, for breakfast, or even as a whole meal.
Unpretty
All this sounds delicious, nevertheless, I have to warn you. Vietnamese cuisine also consists of weird and to western standards gross dishes – including certain animal cruelty. I do not want to go into details but beware. At local farmers' markets, you won't see only fruits and vegetables. Brace yourself for some pretty disturbing sights.
What to See
I'm an avid solo-travelling woman. Since solo-travel doesn't equal solitude, I love to join organized tours here and there. They allow me to meet fellow travellers – for just a short moment or a lifelong friendship.
Therefore, here are some great ideas of what to do during your stay in Hồ Chí Minh City. Pre-booking online will make your stay safe and comfortable and spare you the unnerving haggle*:
Cash And Cards
In Vietnam, you pay in Dong. It has been the country's currency since 1978.
Vietnam is getting more and more touristy, hence, credit cards are widely accepted. Obviously, you can get cash at ATMs. Beware that not every ATM works with every international card. Don't freak out, just try a teller from a different bank.
One US-Dollar equals 23,024 Dong (VND) and one €uro 28,021 Dong (VND) as per January 2021. However, here you can check the current rate.
Language
You probably guessed so, Vietnamese speak Vietnamese. Although the language is not related to Chinese, the vast majority of its vocabulary consists of words of Chinese origin. This has to do with the political dominance of China over Vietnam, which lasted for 1000 years. At that time, Chinese became the language of the country's ruling class.
After the end of Chinese rule over Vietnam, the Vietnamese tongue became more important again. However, the language was written in Chinese characters.
With the European missionaries, European languages, especially French, were introduced. After Vietnam became a French colony in the late 19th century, French became the official and educational language. Many words from French came into the Vietnamese language as loan words. In 1910, the French colonial administration officially introduced the Latin script.
This being said, I don't presume that you'll learn this complex language just to go on a vacation. However, it's a nice gesture to say at least the greeting xin chào – pronounced sin tchao – as well as cam on – pronounced almost like come on – instead of thank you.
Talk to Me
Especially young Vietnamese seem to be keen learn the English language. And they also do it by asking westerners to practice with them. I find that actually quite sweet and it's a lovely experience spending an afternoon on a park bench chatting with some giggling Vietnamese students.
Communication and Connection
Like during most of my trips where European roaming is not available, I did not get a national SIM-card. I rather used free Wi-Fi. There was a connection to the internet without any issue at basically every eatery or café and, of course, hotel. Worked like a charm.
But if you insist on being online 24/7, you can get a national SIM-card. From the four companies in Vietnam, Viettel has the largest network. It is closely followed by Vinaphone. The other two are not recommendable although Vietnamobile is the cheapest.
In Vietnam, plug types A, B, and C are the official standard.
The standard voltage is 220 V and the frequency 50 Hz.
But as you know, nowadays, all these chargers for phones and readers and computers have integrated adapters so that different voltage and frequency don't really matter.
Gone are the days when you blew your electric appliances since you forgot to switch them from 110 to 220…good times.
Ho Chi Minh City was only the first stop of my exciting visit to Vietnam. Go to the main post to check out all the other destinations.
By the way, you'll find this kind of practical travel info in my post World's Most Complete Travel Information – an indispensable globetrotter-classic.
Map
Pinnable Pictures
If you choose to pin this post for later, please use one of these pictures
Did You Enjoy This Post? Then You Might Like Also These:
*This is an affiliate link. If you book through this page, not only do you get the best deal. I also get a small commission that helps me run this blog. Thank you so much for supporting me!
Note: I'm completing, editing, and updating this post regularly – last in January 2021.