Let me guide you to Brussels, the vibrant capital of Belgium – and of Europe, for that matter. Historic buildings, wild street art, fantastic museums, beer, fries, and chocolate: This cosmopolitan city holds actually something for everyone in store.
If it hadn't been for my daughter studying in Brussels, it probably wouldn't have come to my mind to visit Belgium's capital. Or Belgium at all, for that matter.
But Christmas came and families and loved ones were expected to get together. So I packed a couple of warm sweaters, threw in some fun presents, and hopped on the late flight to Brussels.
Just to find out that this European capital with all its old architecture and new street art, its pralines and beers, surrealist art, and political reality is not only for me but for everyone.
Belgium
Belgium is a really special country. Although it only has a size of 30.528 km, they manage to squeeze almost 11,5 million Belgians in. This makes it Europe's third densely populated country – after Malta and the Netherlands.
In addition, these crunched Belgians have to communicate in three different languages. In Dutch in the northern part of the country called Flandern, in French in the southern Wallonia region. And finally, there is a small German part at the German border.
What many people don't know is that Belgium is a federal hereditary monarchy. However, their King Philippe, enthroned in 2013, is practically never seen in the international tabloids.
Maybe that's also because Belgium is so Über-European. Centrally located between the Netherlands, Germany, Luxemburg, and France, it is the epitome of the continent.
The Cradle of the European Union
Belgium has traditionally been opening up to its European neighbors. Two-third of the population is pro-EU which is more than in most other countries where the quota is around 50 percent.
The country plays an important and active role in the Benelux Union as well as in the European Union, the Council of Europe, the European Monetary Union, the NATO, and the Common Foreign and Security Policy (CFSP). Belgium supported all these organizations as one of the founding members.
Hence, it's actually embarrassing that I haven't visited this European wonderland much earlier. Especially since its capital Brussels has something for everybody in store.
What to know when you visit:
How to Get There
Belgium is very small and its central location makes it quickly accessible from many countries and regions.
From many European cities, you'll get there by train in just a couple of hours max. Also, bus travel has become extremely popular in Europe. You can travel between many cities by clean, comfortable buses. Usually, they leave a couple of times per day and often at incredibly cheap prices.
The bus station is at the train station Bruxelles-Nord / Brussel-Noord, a business neighborhood that becomes a bit abandoned at night. Therefore, you should know where you're going and not venture around too much. Anyway, by the frequently going S-trains, the suburban train, you'll get to the central station in about five minutes.
However, since it's not only geographically but also politically Europe's hub, there are tons of flights at great prices.
The airport is located about 12 km northeast of the city.
The best way to get downtown is by one of the regional or suburban trains for only 9 €uro. You can buy the ticket from one of the vending machines. Don't worry, there is a friendly, English-speaking person lingering, waiting for helpless visitors to need her or his help.
How to Get There
Travelling by public transport in Brussels is really easy since they have maps at all the stops and, of course, google maps gives you the best connection between two points right away.
If you're not planning to visit places that are far from the very center, a day ticket might not be worth the money. A single trip is 2,10 €uro, but you can buy a card for 10 trips for 14 €uro. This can even be shared with others, for instance, if you are travelling with another person.
Either a single card or a multi-card – you have to check in before boarding the train. If there is no turnstile, there will be a metal box where you have to tap your ticket. At many stations, you have to tap it again at a turnstile when leaving the station. If there isn't any, don't worry, you can just go – unlike e. g. in Amsterdam where you always have to check out, too.
Tourist Information and Deals
Already before you go to Brussels, you can get the first information online.
In Brussels, you'll find info centers at the different locations, whereby the most convenient one is at the famous Grand Place – or Grote Markt:
visit.brussels
Town Hall of Brussels
Grand-Place
1000 Brussels
Phone: + 32 – 2 513 89 40
Email: tourist@visit.brussels
They are open daily from 9 a. m. to 6 p. m.
They answer all your questions, supply you with info and brochures, however, a decent city map costs 1 €uro.
You can also buy a Brussels Card there; as well as at some of the participating museums.
With this card, you have free admission to 40 museums and discounts on tourist attractions, guided tours, shops, restaurants, bars, and clubs.
With the card, you get a very informative booklet, a free city map, and a great museum map.
There are no special rates for kids or students. In general, kids and students under 26 years of age get a discount at museums and other venues. Kids under six years of age have free access.
However, if you travel as a family with, let's say, two teenage kids, it certainly does add up.
You can add a Hop on Hop off bus respectively a travel card for public transport.
However, you definitely should reconsider this option. Brussels is not that big and many of the popular attractions are within walking distance in the city center. So I would say, it's not worth it since you'll probably need two or three rides per day max. Those are 2,10 €uro.
If you are staying longer, you might consider getting a travel card with ten rides.
This way, one ride costs you 1,40 €uro. Also, you can use the card for as many people as you like. It's not personalized.
Up to four kids under six years of age travel free in the company of an adult.
The Brussels Card costs 28 €uros for 24 hours, 36 €uros for 48 and 44 €uros for 72 hours. You can add a travel card for 7,50, 14, or 18 €uros respectively as well as unlimited Hop On Hop Off rides for 18, 22, and 26 €uros.
You can buy it very conveniently online. In this case, you get a QR code that you can print out or have on your phone.
To get your travel card, they supply you with a code. Then, you have to key it in at one of the vending machines.
Then, you can either download the guide booklet or pick it up at one of the points of sale.
Money
In May 1998, the heads of the member states of the European Union agreed – nota bene in Brussels – on the implementation of the €uro.
Until now, 20 European countries replaced their former local currency with the €uro starting in 2002. Obviously, XXX is one of them. The exchange rate is 1 US$ = 0.94 EUR as of January 2023. However, you can check today's conversion rate on this page.
Credit cards are widely accepted. However, there are not as many ATMs as in other European countries so sometimes the queues can be pretty long.
Language
As I wrote in the introduction, Belgium has three official languages. For about 60 percent of the Belgian population the mother tongue is Dutch and for about 40 percent French. Only a small minority of about 74.000 people, living on the country's eastern border, speak German.
However, all three languages show dialect features. They differ a bit from the versions that are spoken elsewhere.
Brussels is officially bilingual, but as a matter of fact, French clearly wins by the nose.
Being the central spot of the continent – and a surprisingly touristy destination – practically everyone speaks English. Albeit, it was pretty clear that many people working in the service sectors are much nicer when you speak French.
Since it's always nice to be able to say at least some pleasantries in the local language, you might want to pick up some words online with Babbel.
The first lesson, which already covers all the hellos and thank yous, is even free.
You'll find also Dutch and German courses there.
Brussels is for:
Architects and Artists. On Visitors' Classics and Art Museums.
Brussels Central: Nomen est omen – this train station is centrally located. Although architectonically by far not as alluring as the main stations of Ghent or Antwerp, it definitely is a perfect starting point to explore the city.
Leaving the station to the West and walking down the Rue Infante Isabelle, you'll get to the lovely Place de l'Agora where the glorious Galerie du Roi can be admired. Yes, prices here fit for a king, but all the gold and glitter justifies the investment of gold ducats in delicious Belgian chocolate.
Opposite the entrance is the Rue de la Colline. This street leads right to the heart of Brussels' eclectic historistic architecture, the Grote Markt or Grand Place where nomes is omen, too.
Grote Markt
The Grand Plance from the end ov the 11th century is totally…grand. French troops fighting over Flandern in 1695 destroyed this central square.
The city's guilds rebuilt the prestigious square over the following years. This explains the non-uniformly style. You find Gothic, Baroque, and Louis XIV styles side by side – whatever tickled the commissioners fancy.
Besides the guildhalls, there are two larger buildings standing across from each other: The town hall and the Maison du Roi, the King's House, or in Dutch Broodhuis, the brad house. Latter houses the Museum of the City of Brussels.
The square is one of Brussels' most famous landmarks and has been on the UNESCO World Heritage List since 1998.
Place de la Bourse
Walking down the Rue au Beurre, you get to the Grand Place's little sister, the Place de la Bourse or Beursplein. This is the second most important square in Brussels.
The neo-classical building was built in the late 19th century. It then housed the stock exchange for more than a hundred years.
If you continue walking westwards, you'll get to the Place Sainte-Catherine, one of the city's oldest and most charming areas, dominated by the Catholic Saint Catherine's Church.
For more architecture and most of all art, you can either stroll back towards the central station or take the métro at Sainte Catherine. It's actually only two stops.
Mont des Arts
From here you walk along the Rue Ravenstein slightly uphill in a long curve – until you get to the Oreille Tourbillonnante, the Whirling Ear fountain, created by Alexander Calder. But the view from here over the park Mont des Arts, the hill of arts, as well as all of Brussels to your feet might distract you from Mr. Calder's masterpiece.
Following the Rue Montagne de la Cour, you'll spot the truly beautiful Musée des instruments de musique. While their collection of instruments is not very impressive, I still urge you to pay the restaurant on the top level a visit. Note: I urge you to pay a visit, not to consume something.
Fact is the staff is pretty rude, especially to people who don't speak French. They are totally understaffed, but they shouldn't make it the customers' problem. However, riding the old elevator is fun – and at moments a bit exciting. But also walking the stairs back down is nice since you get to see this wonderful building.
If you do that, hence, if you don't visit the – pointless – exhibition, entrance is totally free. You just have to tell them you want to go up to the restaurant. Belgian architect Paul Saintenoy designed this grand Art Nouveau building. It used to house a department store called Old England and the old writing is still on the front facade.
Place Royale
Next is the Place Royale or Koningsplein, also a neoclassical square that used to be the main marketplace in front of the Royal building complex. After it burned down, it was re-erected in the late 18th century. Actually, it resembles very much the Place Royale in Reims.
The Church of Saint Jacques-sur-Coudenberg and the courthouse dominate the square. In its center is an equestrian statue of Godfrey of Bouillon.
At the western corner is Brussels' most important museum complex housing four of the six museums forming the Royal Museums of Fine Arts of Belgium. There is the museum of the Old Masters and the museum of modern art. They are both not that overwhelming, but I must also admit that I'm not the greatest fan of the Flemish Baroque in general.
However, I enjoyed the paintings and sculptures on the four levels of the Fin-de-Siècle Museum a lot. Opened only in 2013, it has a fine collection of Belgian art from the turn of the 20th century as well as painters from France, the Netherlands, and England.
Yes, there is access to the Magritte Museum at the Musées Royaux des Beaux-Arts, too. I'm covering this in this post's last chapter.
Children and Childish. On Comics.
While other nations labeled comic books as trashy, the French and the Belgians had developed already very early unique and charismatic characters and wrapped an entire cosmos around each of them.
Whether the adventurous Tintin, the jumpy Marsupilami, cowboy Lucky Luke or the Smurfs – they are all world famous – and all of them were born in Belgium.
And also the phenomenon of comic books for adults like detective and crime novels are a very Franco-Belgian thing.
Centre Belge de la Bande Dessinée
Therefore, a visit to the Centre Belge de la Bande Dessinée, Brussels Comic Book Museum, is a must when visiting the city.
Those who are already into comics will have the time of their life – and probably spend a fortune at the very complete book store on the ground floor. Those who don't care so much might enjoy some interesting encounters with another cultural complex – a literary complex.
However, don't expect Disney World. Although there are a couple of large figurines, it's not an amusement park, it's a book center.
For instance, there is a large section where you can follow the individual steps on how a comic book is being created – from the idea over the storyboard to the drawing, coloring, and printing. Very interesting – and if this doesn't make you appreciate Bandes Dessinées, then I don't know what will.
Centre Belge de la Bande Dessinée
Rue des Sables 20
1000 Bruxelles
Phone: + 32 – 2 – 219 19 80 Email: visit@comicscenter.net
More Bande Dessinée
While I totally urge you to visit this museum, I honestly cannot recommend the other comic exhibition, the Museum of Original Figurines, short MOOF.
Yes, there are more than 1,000 figurines shown mostly in vitrines – and that's it. However, if you got yourself a Brussels Card, the MOOF is included so why not pay a quick visit – especially since it's about three minutes from the Central Station. But paying the 10 €uro they normally charge….I don't find it's worth it.
Of course, Brussels is also a great place to shop for comic books and merchandise. I already mentioned the very complete book store they have at the museum. Even if you don't buy anything, just browsing through the variety of different editions is amazing – I think there is not one subject or historic character they don't cover.
If you are – like me – into Tintin and want him on your stationery, your tableware, your sheets, your bathrobe and towel as well as your umbrella – unlike me – a visit to La Boutique Tintin will make you very, very happy.
La Boutique Tintin
Rue de la Colline 1
1000 Bruxelles
Phone: + 32 – 2 – 514 51 52
The store is open daily till 6 p. m., Sundays only till 5 p. m. and Monday, they open only at noon.
Musée Art & Histoire
Another good museum also to visit with kids might be the Musée Art & Histoire, the art and history museum that's a very small version of e. g. the British Museum, i. e. it houses artifacts from around the world. To me, the most enchanting piece was, of course, the little Peruvian figurine. In the Tintin book The Broken Ear – by the way, first published in 1935 – it supposedly got stolen.
Also, the fact that they've had an exhibition on the comic book character Alix by Jacques Martin proves my point of how serious comic book characters are taken – provided they are thoroughly elaborated. In this case, Alix, a Gallo-Roman fellow, fits pretty well between the statues, vases, and other artifacts from the early classical Roman and Greek periods.
By the way, just like the French Asterix books, the characters and stories of Alix are also historically accurate and amazingly detailed.
Art & History Museum
10 Parc du Cinquantenaire
1000 Bruxelles
Phone: + 32 – 2 – 741 73 31
This museum is housed in the southern wing of the Arcades du Cinquantenaire, the triumphal arch from 1904/1905. It also houses the Royal Museum of the Armed Forces and Military History as well as the Autoworld – two topics I simply couldn't care less for no matter how hard I try. Anyway, the Brussels Card covers all these museums, so knock yourself out.
World's Most Famous Wee-er
Tintin is not the only famous little dude from Belgium. There is also the pretty quirky Manneken Pis, which translates to little man piss. The Manneken was made by Hieronimus Duquesnoy the Elder and installed at the fountain in 1620. So the dude was practically wee-ing into the communal water reservoir.
The guy is 61 cm tall and the original is at the Museum of the City of Brussels. The bronze sculpture you see today at the corner of Rue de l'Etuve and Rue du Chêne is the version from 1965.
The guy is naked – but he doesn't have to be: There is a number of outfits and costumes waiting for him just down the road at the GardeRobe MannekenPis, a museum that would turn every fashionista green with envy.
As a matter of fact, all the little mannekens modeling the wardrobe are holding their pecker – which actually looks even creepier on a dressed boy than on a naked one. It's also a bit disturbing that they disguised him as famous men such as Nelson Mandela – I mean, come on: A 24 inches tall Nelson Mandela is holding his pecker wee-ing?!?
GardeRobe MannekenPis
Rue du Chêne 19
1000 Bruxelles
The GardeRobe is open from Tuesday to Sunday from 10 a. m. to 5 p. m.
The original Manneken is actually dressed in the attires on exhibit from time to time.
The Belgians seem to have a thing for urine: To balance things out, there is also a Jaenneke Pis, a statue of a girl squatting and relieving herself.
And to make the trio complete, there is also a dog called Zinneke Pis lifting his leg against a pole – now that's a sight I'm pretty used to, even in public.
Gourmands and Gourmets. On Food and Drinks.
Brussels is a big city and already because of its EU position home to many people from all over the world. Therefore, it won't be difficult to find any kind of food your heart – and stomach – desires.
But there are, of course, the popular, typical Belgian delicacies, not one of them healthy, but each really succulent and yummy.
Are you sometimes having Belgian waffles for breakfast? Well, in Belgium and, of course, its capital, you can have hot, thick waffles at any time. They make them with really lots of sugar so that while they are baking, they caramelize and get this crunchy crust – just delish!
Another crispy delicacy is Belgian fries – chunky, soft on the inside, and golden-crispy on the outside. The portions at the Fritures or Frituren are usually huge and you can order all sorts of sausages – plain or breaded – and other mains with it.
But the most important supplement is one of the many sauces that they pour lavishly over your fries: There is tomato sauce, the mild, fruity sauce andalouse, spicy sauce samurai, Asian satay sauce, and many more.
Manneken Frites
Rue du Midi 30
1000 Bruxelles
They are open daily from 11 a. m. to 1.45 a. m., Fridays and Saturdays to 3.30 a. m.
Moules Frites
The true gourmet, however, orders a big pot of mussels with his fries – or fries with the mussels, who knows?! Anyway, moules frites is a Belgian classic and a must when visiting Brussels.
I know they say fish and wine go together – but in Brussels, you have to try another soft alcohol: Beer. I'm based in Germany, so I'm not that easily impressed by good beer, but what they serve in Belgium certainly is amazing. Not only is there an incredible number of different beers, but they also have a special glass with each brand. Maybe the savoir vivre is a Belgian invention after all?!
By the way, if you have the chance, try to get one of these special packs containing e. g. two bottles of beer and one of the corresponding glasses. You don't have to get it at one of the specialty stores, just buy them at the next supermarket.
It's a great gift to bring home with you – but unfortunately, only an option if you're not flying and carrying hand luggage only.
No problem at all is the export of chocolate and pralines in large quantities. Brussels' city center is packed with chocolateries – just like the beer, chocolate comes in incredible shapes and flavors.
There are artisanal chocolateries where it's really worth it to spend a couple of €uros extra. But for your everyday craving, the boxes they sell at supermarkets will definitely do.
Hipsters and Hoodrats. On Streetart and Cool Neighborhoods.
But don't worry, there are alternatives to these yummy yet heavy Belgian delicacies. Like in every other city, Brussels' gastronomic scene moves towards healthy food – healthy for the eaters and our environment.
My favorite whole food supermarket is the Food Hub on Quai du Hainaut on the northern shore of the Canal Bruxelles-Charleroi. I love them not only for their organic food, but because the whole atmosphere and decoration are like at a farmyard sale.
Food Hub
Quai du Hainaut 23
1080 Brussels – Molenbeek-Saint-Jean
They are open from Wednesday to Sunday – please check out the hours on their website since they vary so much.
Art in the Underground
The closest metro station to this hip'n'artsy neighborhood is Comte de Flandre where the work 16 x Icarus by Paul van Hoeydonck greats you already on top of the tracks. It's part of an art project initiated by the transport company STIB in 1990. They decided to make Brussels' Métro into a huge, lively art gallery by installing at presently 69 stations about 80 works of art. These pieces – paintings, sculptures, photographs, and others – are decorating platforms, ticket rooms, and corridors.
Every piece expresses the creator's art, but is always adapted to the particular station.
Of course, with a day ticket and a little patience, you can visit them all.
For inspiration – and orientation – you might wanna check where to find which work beforehand. Therefore here is a link to the wonderful catalog L'art à Bruxelles passe aussi par le métro.
Comic Book Trail
That brings me straight to the next open and free art project not to be missed when in Brussels, the Comic Book Route.
Like I explained in the chapter above, Belgium prides itself to be home to some of the most famous cartoonists and comic artists. So it's not really surprising that the city pays tribute to the most popular Franco-Belgian authors by adorning walls all around the city center with their charming characters. The project started in the early 1990s and is realized by asbl Mural Art.
If you want to meet all of these little guys – there are about 55 of them – a list certainly comes in handy. But for just 2.50 €uros, you can also obtain a map at the tourist office.
Contemporary Art
Of course, there are also indoorsy exhibitions of modern and sometimes quirky art, and that brings us back to the métro station Comte de Flandre where the MIMA – Millennium Iconoclast Museum of Art is located.
Installed in a former brewery, they don't have a permanent collection, but show temporary exhibitions of different visual arts with a highly political impact. Talking 'bout high: On the 5th floor, they have a terrace from where you have a grand view of the neighborhood.
Since there is no permanent collection, check their website before visiting what's on. If there is anything on at all since they are closed between exhibition.
MIMA – Millennium Iconoclast Museum of Art
Quai du Hainaut 41
1080 Brussels – Molenbeek-Saint-Jean
If you are looking for a relatively cheap hotel with a pleasant concept in a cool neighborhood, don't look any further. The Meininger* right next door offers beds in dorms from 15 €uros and private rooms from 45 €uros which in a European city is a great bargain. Since – besides offering a breakfast buffet – you can use a communal kitchen, you can even save a lot of money on food staying there.
One métro-stop further, at Sainte Catherine – a distance that you can easily walk in ten minutes – is a pretty unexpected venue, the CENTRALE for contemporary art.
Since its opening in 2006 in a former power plant, CENTRALE has not only been an exhibition hall, but a hub for encounters and debates among artists, collectors, art connoisseurs, and aficionados alike.
CENTRALE for contemporary art
Place Sainte-Catherine 44
1000 Brussel
Phone: + 32 – 2 – 279 64 44
Email: info@centrale.brussels
Another interesting venue for shows of contemporary art is the WIELS, which is a bit off the beaten – or comfortable – track in the southwest of Brussels. This gallery opened in 2007, like the MIMA in a former brewery. The building, designed in the 1930s by Adrien Blomme, is an impressive example of modernist industrial architecture.
Besides showing contemporary art – since its opening in over 65 exhibitions, the WIELS granted residency to over 130 artists.
WIELS Contemporary Art Centre
Avenue Van Volxemlaan 354
1190 Brussels
Also, the last three venues are included in the Brussels Card. Otherwise, they are at least 10 €uro each; yes, visiting exhibitions is pretty pricey in Brussels.
Parliamentarians and Royalists. On the EU Quarter and the Belgian Royals.
When I was a child, there was the European Economic Community, founded in 1957 by Belgium, France, Italy, Luxemburg, the Netherlands, and the Federal Republic of Germany. Tis community, which later was joined by further European states, was the first step towards a united Europe.
Obviously, smarter and more powerful people agreed with me and in 1992 they signed the Maastricht Treaty, which broadened the task fields of what now was called the European Community. Then, in 2009, in the Lisbon Treaty, the European Community was replaced by the European Union.
This Union – I love the unity that this term indicates – consists of 28 states, home to over 500 million people. Given these figures, and the fact that we are all coming from different cultural backgrounds, speak different languages – in some countries not only one, but two or three – it's understandable that juggling all these individual interests isn't always easy. Some decisions, rules, and laws seem at times a bit irrational and absurd. However, this unity is a wonderful concept with lots of advantages as it grants free movement of people, goods, services, and capital within the internal market.
The European Parliament is in Strasbourg and in Brussels, and the European Commission is in Luxemburg. The Parliament has 751 members….you know what? At the Parlamentarium, they will tell you all this and much more in a very fun and entertaining way.
The Parlamentarium is the European Parliament's visitors' center that opened its doors to the public in 2011. It's open daily till 6 p. m. – Mondays only from 1 p. m., though – and it's totally free of charge. Plus, they give you an audio guide – you can pick one of the official languages spoken in the European Union.
They bring Europe's past from WWII until now alive. I presume that after this visit, you too, just like me, will become a big fan of this unionizing idea; have you been there, Theresa? You should go!
Parlamentarium
Place du Luxembourg 100
1050 Bruxelles
Phone: +32 – 2 – 283 22 22
Belgian Royal Family
While Belgium is some sort of the European Union's midwife, they still are a federal hereditary monarchy. Only that nobody seems to know these Royals. Even when I'm reading these trashy magazines at the dentist's, there are only all those Spanish, the Dutch, and the Scandinavian bunch; oh, and the English, of course. No sight of King Philippe, Queen Mathilde or one of their four daughters.
It's a pretty young monarchy, though. Since 1815, there was the United Kingdom of the Netherlands. In 1830, the southern part detached under the name Belgium for political, religious, and linguistic reasons.
In 1831, German-born King Leopold I. came to power. He was followed in 1865 by his second-born son Leopold II, a sucker for terrible colonialist ideas. He founded and became the personal owner of the Freestate of Congo in Central Africa. Het let abuse, torture, and exploit the local population in the caoutchouc production and ivory hunt. If his personal belongings, aka African adults and children, weren't efficient enough, he let chop off one of their hands. That should teach them a lesson….
According to the US historian Adam Hochschild, during caring Leopold's reign, about 10 million Africans fell victim to the King's monstrosities.
There is a highly recommendable book by Mark Twain, King Leopold's Soliloquy*, that deals with that era.
Belgium seems to do much better in the European, parliamentarian field.
Surrealists and Humanists. On René Magritte and Erasmus' heritage.
The cultural movement that grew in the early 1920s from Dadaism grew mainly in France and Belgium. And while the French, led by André Breton for whom Surrealism was not an artistic idea, but rather a complex, revolutionary movement, were much more radical, the most celebrated star in the field of visual arts became undoubtedly Belgian René Magritte.
Born in 1898 in Lessine, Magritte studied at the Académie Royale des Beaux-Arts in Brussels. Although his studies did not inspire him on an artistic level, this profound professional training allowed him to earn a living even during difficult times. In 1922, he married Georgette Berger, whom he had known since his teenage years.
It's sort of comforting that Magritte was already known while he was still alive; he had exhibitions and travelled the world and went along with his wife – until they both had an affair, but even there, they eventually got together. So I think that when he died in 1967 at the age of 68 from pancreatic cancer, he probably looked back in contentment.
Oh, why I'm telling you that? Because I've skipped the Magritte Museum in the first chapter of this post where I'm dealing with the Royal Museums of Fine Arts of Belgium. The Magritte Museum – spread over two storeys – is part of it and included in the ticket. Even if it wasn't, it's a must to see these beautiful, ingenious paintings in bright colors.
There is also the house where the artist lived and worked between 1930 and 1954. This landmark is also included in the Brussels Card, only that it's over half an hour by public transport to get there. If you have lots of time or are Magritte's biggest fan under the sun, be my respectively his guest. If not, there is so much more to see in the city center.
Erasmus And the European Spirit
More or less the same distance, i. e. about half an hour, is the way to the Erasmus House. They call it that because he stayed here in 1521 and to this date, you can trace his visit. However, the house itself was built already in 1458 in a late Gothic style and used for a school, governed by Pieter Wijchmans who eventually hosted his buddy Erasmus.
If you have the time, it's worth the visit since the building, the furnishing, and the paintings are magnificent. There is also Erasmus' garden, but since I visit around Christmas, I cannot tell you much about it.
Maison d'Érasme
Rue de Formanoir 31
1070 Anderlecht
The museum is open from Tuesday to Sunday from 10 a. m. to 6 p. m.
The entrance fee is included in the Brussels Card, however, the regular rate is 1,50 €uro only.
Once you're there, you should also visit the Church of Saint Peter and Saint Guidon as well as the adjacent beguinage, installed in 1252.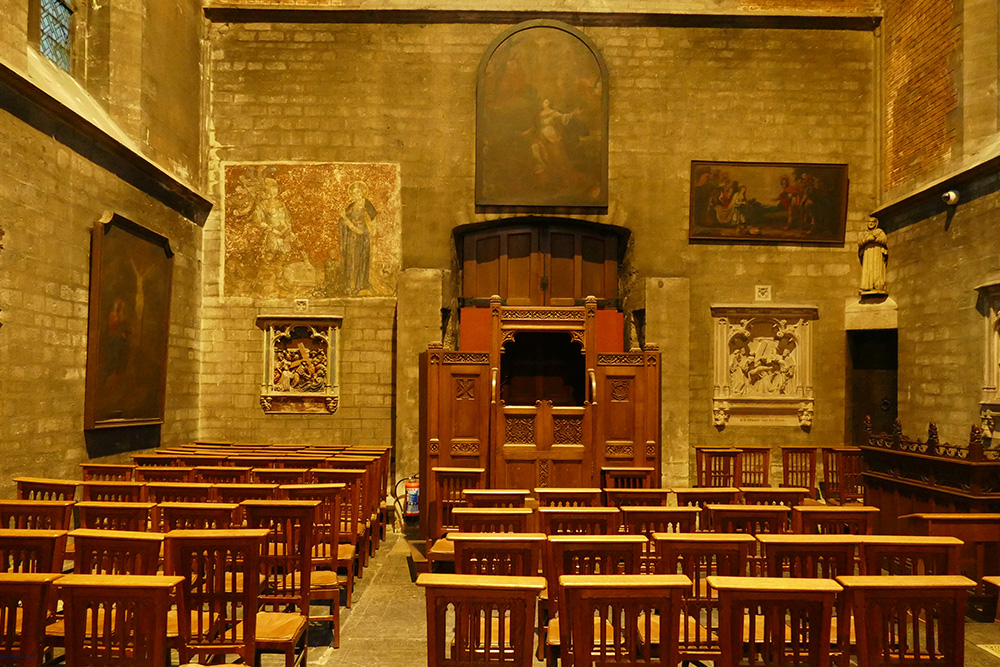 It's a small, walled architectural complex that was created to house the beguines, religious women who lived in the community without taking vows or retiring from the world. Albeit, it is not a convent. This form of community was particularly popular in the Low Countries, i. e. the Netherlands and Belgium.
Map
On this map, you'll find all the wonderful places I'm introducing in this post.
Clicking on the slider symbol at the top left or the full-screen icon at the top right will display the whole map including the legend.
Yes, this post proves that there is a lot to see in Brussels. Nevertheless, there are incredibly beautiful little cities in Belgium worth exploring. And to learn how you can visit them on day trips from Brussels, please refer to my post BRUSSELS'n'BEYOND: Day Trips to Antwerp, Bruges, and Ghent.
Pinnable Pictures
If you choose to pin this post for later, please make sure to use one of these pictures:
Note: I'm regularly completing, editing, and updating this post – last in January 2023.
Did You Enjoy This Post? Then You Might Like Also These:
* Disclaimer: I appreciate that visit Brussels supported my blogger trip by supplying me with a 72 hours Brussels Card including a Travel Card. However, all opinions on these services are mine and weren't by any means influenced by my cooperation partner.
There are affiliate links in this article. By purchasing items through my affiliate links at no extra cost to you, I will receive a small commission. This helps me to run this site.