I've heard that there are people travelling periodically to the Lakeland of Kawaguchiko west of Tokyo just to take a good shot of Mount Fuji.
This majestic, perfectly shaped volcano – that erupted lastly in 1707 – seems to be hiding behind clouds most of the time. Therefore, it can be a challenge – or a hobby – hunting the best view. Or at least a glimpse.
No, I won't spend my leisure time travelling periodically to the region west of Tokyo. However, after my trip to Hakone had been Fuji-wise a wash-out – literally, I decided to take another shot – and this time hopefully not only at, but also of the mountain.
This time, I didn't plan my visit to Fuji-san as a day trip. This time it should be an excursion: An overnight stay between Tokyo and Nagoya.
As I arrived by a fully booked and fully filled local train at Kawaguchiko station, the sun was shining, it was noonish, it was hot.
Getting to Kawaguchiko
Kawaguchiko – although sounding like a cheaper motorcycle brand – is one of the five lakes that make up the Lakeland at the base of Mount Fuji. It consists of the lakes Yamanaka, Saiko, Shōji, Motosu, and Kawaguchi – being the easiest accessible and therefore most touristy ones.
Before I went there, I had seen on the internet that there are three bus lines shuttling people between the most popular and scenic places of the five lakes. Also, there is an abundance of resorts, guest houses, and restaurants – everything is ready and waiting for you.
Apart from the beauty of nature, there are some museums like the Museum of Art, the Itchiku Kubota Art Museum showcasing textile art, the Yamanashi Gem Museum, and the Music Forest Museum.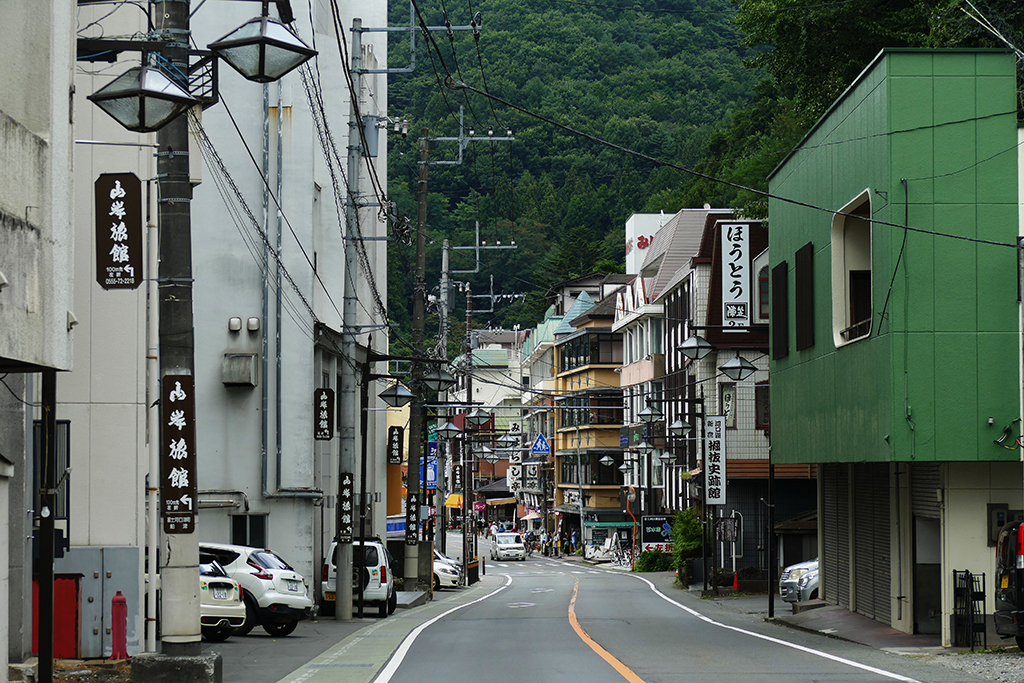 Although Japan has a very Asian side – obviously, since it is an Asian country – it also adopted some deplorable customs from the US: The amount of packing material, the generous distribution of plastic bags, the mindless use of plastic straws – and the amusement parks.
When there are beautiful lakes, interesting museums, old temples – and last not least a majestic, world-famous mountain, I personally do not need in addition an amusement park – nature is amusing me enough.
But anyway, if you really should get bored, there are fairground rides to amuse you.
Where am I?
After having spent the first hour dragging my suitcase criss-cross Kawaguchi-Ko, asking five different people for the way to my hotel – not really wondering why the minuscule screenshot I had stored on my phone finally didn't guide me straight to the room booked in advance – I finally made it there.
Actually, it was a short guy at a garage giving the final directions – a short guy with a shitload of tattoos, in Japan a sign for the Yakuza, the local mafia. A short guy with a tattooed tear under his left eye – isn't that a sign for killing a man in jail? However, the tattooed inmate-murderer explained to me the way to my hotel, I dropped my bags, hopped on a bike, and was ready to explore in my sporty, individual way.
Hitting the Road
I cycled. I cycled along the Kawaguchiko's main street, passing the train station where hordes of day-trippers were boarding tourist buses. Oh, sweet bicycle freedom! I turned left, rolled comfortably downhill without any paddling….and there it was: Lake Kawaguchi in its entire beauty and glory.
I turned left on a trail and cycled, feeling happy and free.
Families were picnicking on the lawns, kids were throwing pebbles in the water, some men were fishing, it was all so idyllic, I was cycling on.
I was cycling on for another ten minutes when some drops fell on my little t-shirt. Drops of rain. I looked up. Oh look, there was a big grey cloud right above my head. Nothing to worry about, it will drizzle a little, and then it will be sunny again. No reason to pack up your stuff like the picnickers did now. I knew I was the lucky kind, it would not be raining for long, the sun would win this fight. I kept on cycling.
Shelter From the Storm
Still optimistic, I waited for the sun to win the fight against the ugly clouds while I was hiding under a pergola at Yagizaki park overlooking the lake. I saw the Ubuyagasaki bridge, supposedly the best spot to take pictures of the iconic mountain – as long as Fuji-san was visible. I spotted the Rokkakudo, a hexagon temple marking the spot where in 1274 a temple had been built which then was torn down by heavy snow and rain in 1559. All this must be so scenic with a background of only pale blue in a little sunshine.
Yet at that moment, not only had the grey cloud changed its color to anthracite, it also got company by some of its cloud friends.
But I knew I was the lucky kind, it was just a question of time. By now, I was pretty wet, though. It was time the sun would win – I started to get cold.
Not far from park Yagizaki is the doll museum. I'm really, really not interested in a doll exhibition. But where there's a museum, there's a café and being all wet and cold, I craved a hot drink. I craved it even more as I entered the café and the ice-cold breeze blowing from the air condition began to even lower the temperature of my soaked clothes. The friendly waitress brought me a tiny towel with my tiny cup of coffee and handed me the not-so-tiny check with a tiny smile – 5 bucks.
I Can See Clearly Now, the Rain is Gone…not
After a while, as my optimism had predicted, the rain seemed over. I hopped back on my bike. After the actually far too refreshing coffee break in the airconditioned room, the humid yet much warmer air outside felt so nice on my skin.
I kept on cycling, observing the color and movement of the clouds, heading west, clearly towards a big assembly of really, really dark puffs – I couldn't even see the tops of the mountains. Uh oh, slowly my optimism that had turned into more and more desperate hope vanished toward fatalism.
No matter what, by now, I was trapped – located pretty much exactly on the opposite end of the stupid lake and, hence, about 10 kilometers from town.
It rained harder and harder, wearing only some linen shorts and a t-shirt, I was soaked through and through. And so was my canvas backpack with my camera inside.
I was far from being happy and even farther from feeling like the lucky kind. And worst of all, still pretty far from downtown.
After another short wait in a tunnel for the rain to stop, I definitely and officially gave up and just kept on cycling through this flood.
Gimme Shelter
At some point, already within sight of the town of Kawaguchi-Ko, I suddenly spotted a parking lot with a little building: Tourist information.
Three pairs of very surprised eyes looked me up and down. "Konnichi-wa". My plea for a plastic bag to cover my camera was answered by a couple of towels, a disposable raincoat for 200 yen, a map for orientation. Oh, and a plastic bag for my camera.
Although I was still soaked through, the plastic coat sheltered me from the airflow while cycling. I didn't feel exactly comfortable, but at least geared up for the last miles back to my hotel room; the one with the view of Mount Fuji….when there is a view.
The indestructible optimist in me set the alarm clock for 5.30 a. m. expecting not only a Mount Fuji view, but no, anticipating a Mount Fuji view under a rising sun.
At 5.30 a. m., I couldn't even see the parking lot under my room's balcony in the dense fog. I went back to sleep.
A couple of hours later, the receptionist gave me a ride back to the train station. Before she slid the passenger's door close, she handed me a postcard. It showed a picture of Mount Fuji at sunrise.
Conclusion
So, was it worth it? In all honesty: No. At least not under these circumstances, but you never know before, and somehow, also these not-so-great days are pieces of my travelling puzzle.
Nevertheless, if the weather is nice, it's certainly great to cycle the 20 kilometers around Lake Kawaguchi and maybe cross the hill to lake Saiko which is famous for trout fishing and nice forests.
It was not a complete waste of time, but if you go there mainly to see Mount Fuji, I would do so on a spontaneous day trip. Nonetheless, check the weather report beforehand.
Practical Information
How to Get There
There are various ways leading to Kawaguchiko for Tokyo. There is a regular bus service from Shinjuku as well as Tokyo train stations at 1,750 yen one way. The trip takes about 1 hour and 45 minutes. The buses leave Shinjuku every hour.
If you have a JR pass, you can take the local train at Shinjuku. However, the trip only included the Otsuki station. From there it is operated by a private train company so you have to pay another 1,500 yen on arrival – in cash.
Therefore, it is not really worth it to start your JR pass period just to go to Kawaguchiko unless you've already activated it.
How to Get Around
As I wrote above, there are buses taking you comfortably around the entire area. You can buy the tickets on the spot, there are representatives waiting at the train station welcoming visitors. Also, there is a tourist office at the east corner of the train station.
There are different circle buses that cater to visitors taking you to all the points of interest around the five lakes as well as the Fuji World Heritage area. An unlimited pass for two days costs 1,500 yen.
You'll find many bike rentals around the city center, however, I find them quite pricey. A standard bike costs about 1,500 yen for a day and 2,500 yen for 24 hours. Whereas, an e-bike sets you back up to 4,000 yen for a day and 5,500 yen for 24 hours.
By the way, all the bike shops are offering luggage storage for about 500 yen a piece a day – during their opening hours from 9 a. m. to 5.30 p. m.
Best Place to Stay
Since Kawaguchi-Ko is a popular tourist destination, prices are high. The Fujizakura Inn offers quite good value for money. It's about a 15 minutes walk from the train station – if you contact them beforehand, they arrange a free shuttle. The rooms are okay, supposedly, most of them have a view of Mount Fuji. However, in my case, it was a joke that I specifically asked for a mountain view.
Here you can check their rates and availability.*
Yet, if you'd like to check out other suitable lodging options, you can do so on this map*:
Best Place to Eat
As I mentioned above, prices at Kawaguchiko, in general, are aimed at tourists and therefore quite high for what you get.
A good and reasonably priced little restaurant is Tetsuyaki at the corner of the main street across from the post office. It's a bit hidden behind the Tempura restaurant. The main courses are about 800 yen.
A Japanese institution, especially at breakfast time, is Komeda's coffee. Actually, it's a bit like an American diner, but breakfast is good and plenty.
At the Kawaguchiko branch – and in Nagoya, too – you get a big chunk of delicious toast with a spread of your choice for free with your cup of coffee. If you're not very hungry, this makes an excellent breakfast and kind of justifies the coffee price of almost five bucks for a medium-sized cup.
What to Do
I'm an avid solo-travelling woman. Since solo travel doesn't equal solitude, I love to join organized tours here and there. They allow me to meet fellow travellers – for just a short moment or a lifelong friendship.
Therefore, here are some great ideas of what to do during your stay in Kawaguchiko. Especially if you have only a short time to stay, they'll enable you to make the best of it*:
Do you want to read about all the other beautiful places I've visited in Japan? Then go to the main post and take your pick!
Before you go, you might want to check out my post on What (not) to pack for JAPAN. It will make your packing – and consequently your luggage – so much easier.
Also, there is a post on How (not) to behave in JAPAN. There you learn about some of the most important rules to follow.
Pinnable Pictures
If you choose to pin this post, please use one of these pictures
Note: I'm completing, editing, and updating this post regularly – last in November 2022.
Did You Enjoy This Post? Then You Might Like Also These:
* This is an affiliate link. If you book through this page, not only do you get the best deal. I also get a small commission to run this blog. Thank you so much for supporting me!