Street Art is becoming more and more not only tolerated but also actually recognized and promoted – not exclusively in Rio de Janeiro. All over South America, Street Art has a long tradition – as a medium where colors give people a voice.
I'm introducing Rita Wainer, Eduardo Kobra, and Jorge Selarón, three of the greatest urban artists that left ineradicable traces in Rio de Janeiro.
Street Art: The Voice of Colors
Street Art is, obviously, artwork in public locations where the artist does not only speak his mind, but often also for his or her people. Today, also private property owners and investors are commissioning pieces. However, many muralists are still working illegally. Therefore, some artists choose to remain anonymous or work under a pseudonym. The most famous enigmatic urban artist is undoubtedly Banksy from the British city of Bristol.
Street Art such as murals did not derive from graffiti. Just think of Mexican muralists like Diego Rivera who created murals long before the invention of spray cans. However, both are often connected and combined. Especially the illegally working artists are using spray paint, stencils, posters, and stickers. This way, they can quickly apply their piece – long before the cops enter the scene.
Street Art often carries a social or political message – and sometimes it just doesn't – especially when private investors commission the pieces. Is this a sellout? I don't know. Obviously, there are different approaches to urban art.
I personally enjoyed the urban art in Colombia the most since it is wild, anarchistic, angry, and rebellious. Compared to Bogotá, much of Rio's street art is quite tamed; nevertheless, beautiful and exciting. So let me tell you the story of three ingenious artists.
Rita Wainer
Rita Wainer, obviously one of rather few women active in urban art, was born in 1978 in São Paulo. Brazil's most populated city is the cradle of ingenious artists and consequently a hub for phenomenal art. She already was a highly aspiring Brazilian fashion designer when she decided to move to Rio de Janeiro in 2013. At the same time, she gave up soft fabric for hard bricks and rough earth, hence, she became a visual artist.
Come to think of it, the step is pretty congruent since fashion can totally be considered urban art.
In January 2013, Rita opened her internet store where she's selling her sculptures. She does so straight from her ample flat close to the Copacabana. Without any middlemen, but with great success. Already during the first three years, she had sold 1,000 pieces – or as she puts it in an interview: Pelé's thousand goals.
The resourceful variety of her works – illustrations, painting on tiles and places – and, of course, walls – is less surprising when you look at her hyper-artistic genealogy.
The Cradle of Creativity
Everybody in Brazil knows some Wainers. Whether it's Rita's mother, the artist Pinky Wainer. Or if it's her grandparents, the actress and model Danuza Leão, and her husband, publisher Samuel Wainer. And this is only her very close family.
Keeping up with the Wainers?
No way. Obviously, Rita follows her own path. She does not want to be just an idle clanswoman with a golden spoon in her mouth.
Although Rita Wainer's murals are just one niche of her artistic activities, for obvious reasons, it's the most conspicuous.
She's painting girls. Skinny girls in bold, unshaded colors. Fragile beings with serious facial expressions. As they look at you, their glance is piercing – hardly any expression.
Often, they even don't look at you but turn their head away from the beholder in oblivion. Maybe it's haughtiness. Undoubtedly it's never fear.
Although these girls are so skinny and deem so airy and fragile, there is something very fierce to them. Maybe it's the black outlining, maybe the pointy outline. In any case, take their prickly gaze as a warning….never to mess with them.
Here you can check out Ria Wainer's online shop.
Eduardo Kobra
Yes, Kobra as well: Born in São Paulo in 1975, however, in the poor neighborhood of Garden Martinique. Therefore, no descendence from a dynasty of artists. Nevertheless, with over 500 works painted all over Brazil and 20 other countries around the planet, Kobra is one of the world's most famous muralists.
But yes, he started as subversive as almost every urban artist, as an illegal tagger. He got arrested three times for his passion. Illegal? Sure! But talented? As a matter of fact, one judge was so impressed by Kobra's talent that he sentenced him to….paint. He commissioned Kobra to create a mural on the wall of a police station of all places!
Eventually, in the 1990s, Kobra got the chance to make some money with his art by designing posters and painting toy sets. Expectedly, his talent was quickly acknowledged, hence the jobs got more professional and sophisticated. This is especially very admirable since Eduardo Kobra got no professional training whatsoever.
His asset is exclusively his talent.
Brazil's Superstar
Today, Kobra is unquestionably most famous for his hyper-realistic portraits of famous people that he paints over graphic patterns of geometric shapes in bold colors.
He paid tribute to great Brazilians such as architect Oscar Niemeyer and racing driver Ayrton Senna.
Anyway, slowly but surely he paints his way around the globe by paying tribute to historically important personalities such as Nelson Mandela, Albert Einstein, Anne Frank, Mahatma Gandhi, and Malala Yousafzai. Also, since 2015, there is Bob Dylan in Minnesota and David Bowie in Jersey City since 2016.
Raising the Voice of Color
No, Kobra is not as angry and rebellious as the young men in the Candelaria district in Bogotá. However, he's not oblivious to what is going on in his country and thematizes social and political problems. For instance, in his hometown São Paulo, he raises awareness for the destruction of the living environment of the indigenous people through his mural Belo Monte.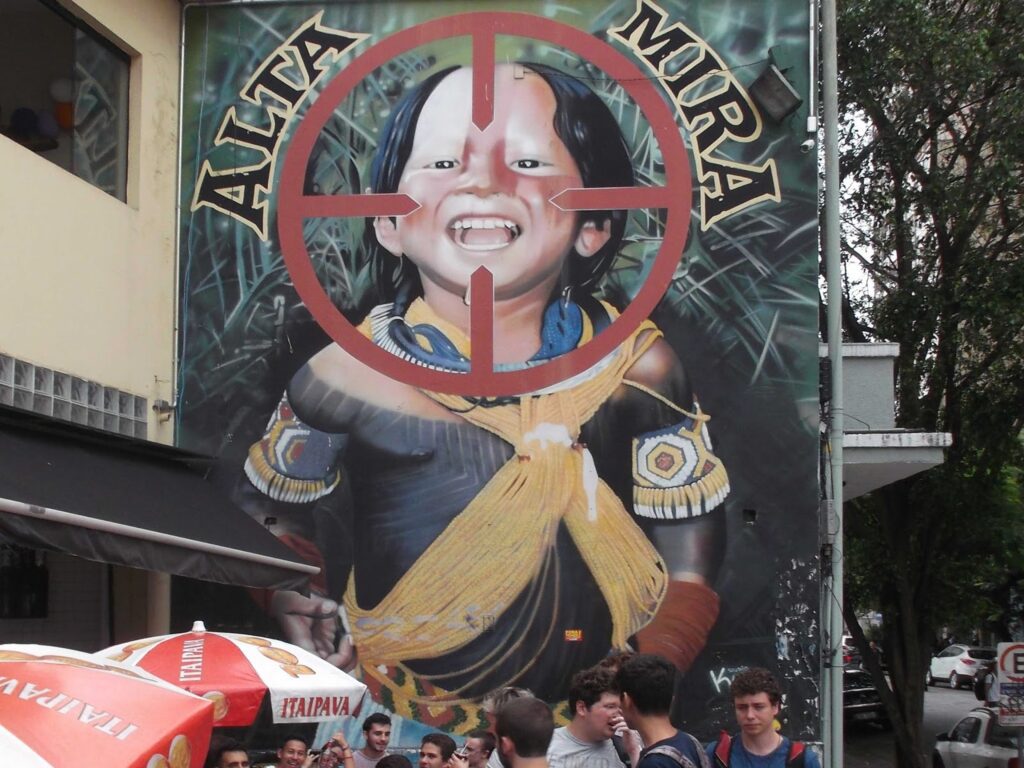 Okay, but how about the awareness of the concrete jungle? As a matter of fact, in 2016, Eduardo Kobra was invited to create a giant mural. Las Etnias, Ethnicities, measures over 32,000 square feet and therefore made it to the Guinness Book of Records.
Of course, by now, it has been exceeded at least twice.
Higher, faster, farther – obviously, very few Cariocas had a reason to celebrate the Olympic Games in Rio de Janeiro. It was a good example of how gigantomania can totally fail. Therefore, for me, it's really difficult to celebrate an artistic project that was commissioned in the same larger-than-life spirit.
Nevertheless, nobody can dislike the idealist idea of we are all one people behind his work.
So here are the five panels that today embellish Rio's Boulevard Olimpico.
Eduardo Kobra does not have an agent or manager and can be contacted through his website.
Jorge Selaron
The Cristo, the sugar loaf, these 'colorful stairs' – apart from the world-famous beaches of the Copacabana and Ipanema, obviously, it's these three points of interest that every visitor to Rio de Janeiro puts on his to-do list.
Albeit, surprisingly – and sadly – not many of these visitors know about the man who created those stairs, the world-famous Escadaria Selarón.
It was Jorge Selarón, a painter and ceramist, born in 1947 in Limache in Chile.
Selarón led a pretty restless lifestyle, obviously. He had passed through 57 countries before finally moving to the Lapa neighborhood of Rio de Janeiro in the 1980s. As a matter of fact, he moved right next to the stairs that eventually should make him famous – and finally become his death place.
After having made a living from selling paintings in restaurants all over the city, Jorge Selarón had begun decorating the 215 stairs connecting Lapa with the Santa Teresa neighborhood with ceramic tiles in 1990.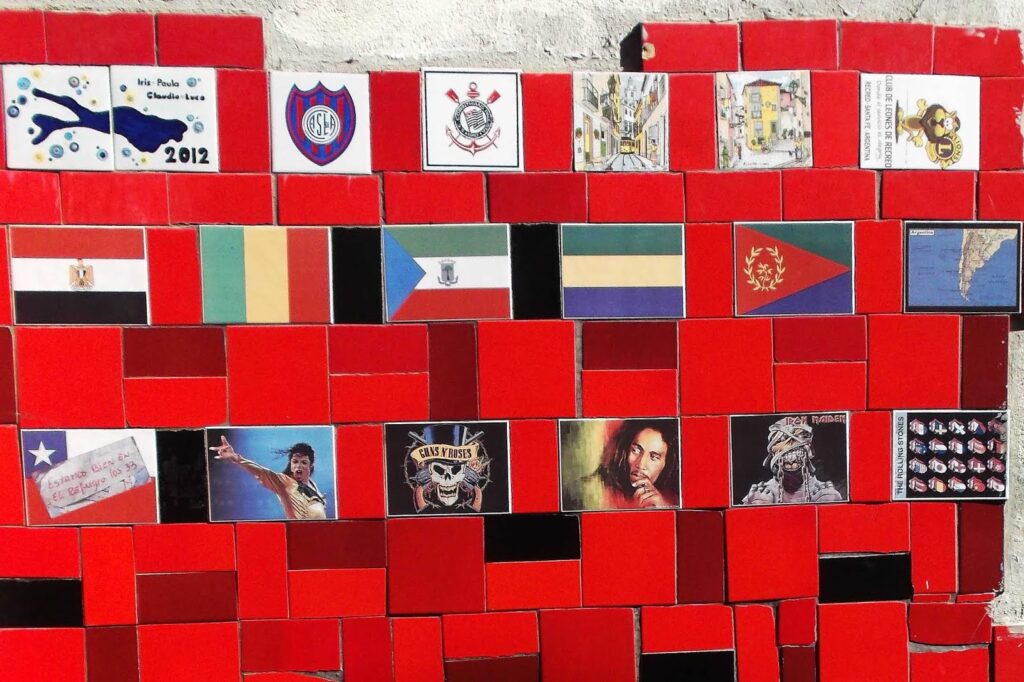 The Sisyphus of Santa Teresa
He considered this sort of Sisyphus work a tribute to the Brazilian people.
Decorating the stairs, he first used tiles and porcelain his friends and supporters donated. Eventually, people from all over the world contributed by supplying him with tiles. Therefore, you find the most incredible – and slightly absurd – motives there. In the end, more than 2,000 tiles from over 60 countries were processed.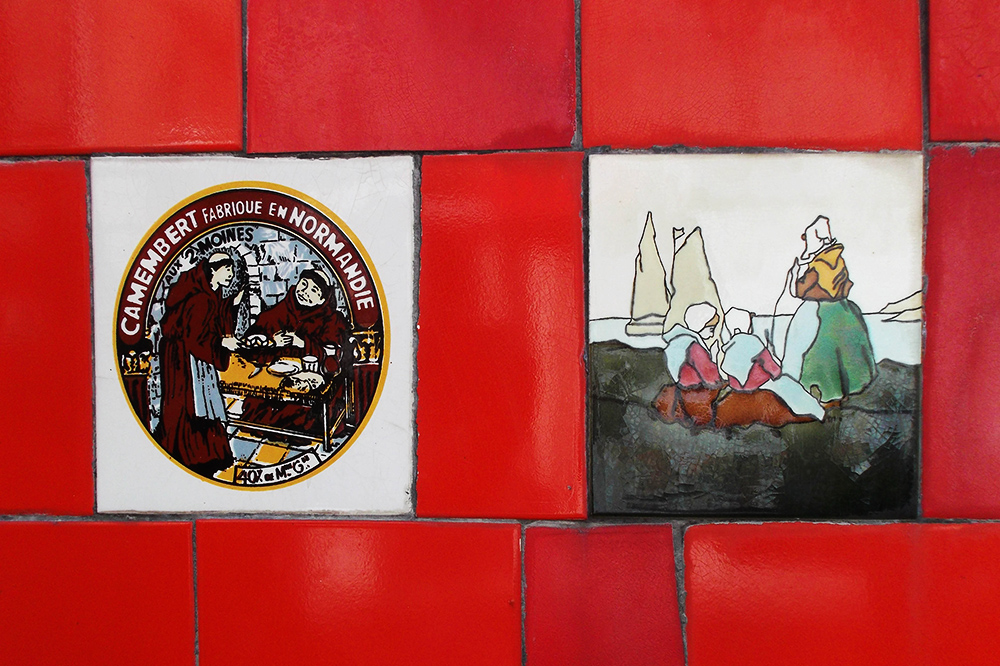 It took Selarón twenty years to complete his work – whereby he did not consider it finished. However, the stairs have been a city landmark since 2005. Also, Jorge became an honorary citizen of Rio de Janeiro.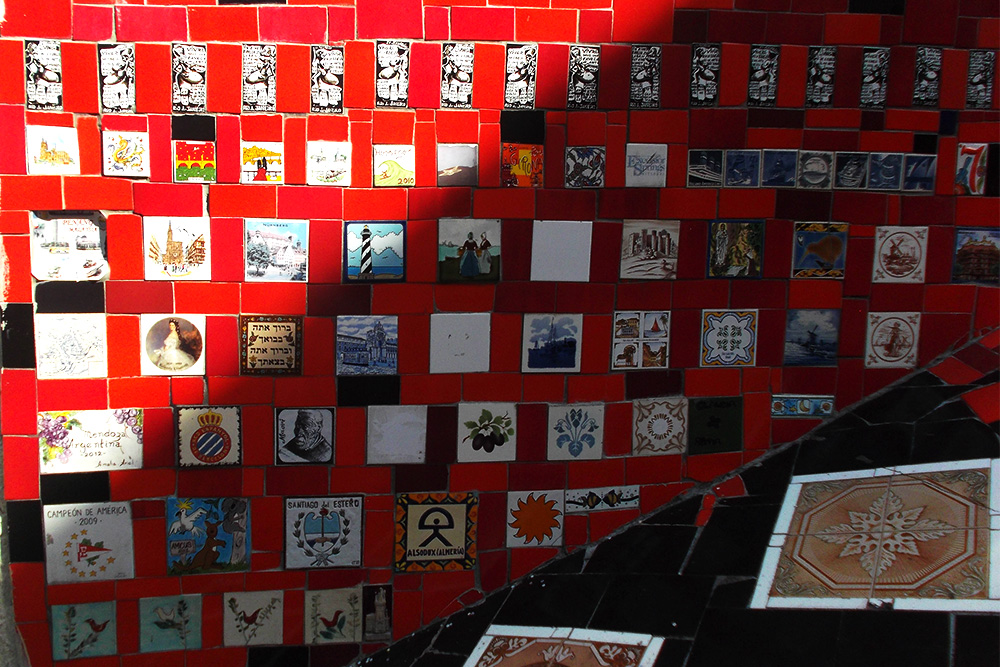 In a documentary from 2010, the artist explained that for him, the stairs would be finished only on the day of his death.
Sadly, this day came unexpectedly and far too early. On January 10, 2013, Jorge Selarón was found dead on the stairs, not far from his home.
The police did not rule out homicide since he had received death threats from a former co-worker. However, friends of Jorge's claimed that he was depressive so suicide cannot be ruled out as the cause of mortality.
Wanna read more about Brazil?
I've written city guides to Rio de Janeiro and Sao Paulo as well as other great places. Just go to my comprehensive post on Brazil.
Pinnable Pictures
If you choose to pin this post for later, please use one of these pictures:
Did You Enjoy This Post? Then You Might Like Also These: