There are actually still a couple of majestic structures reminding the visitor that the small yet picturesque town of La Oliva used to be of high significance for Fuerteventura in Ye Olden Days.
Whether the coronel's former mansion Casa de los Coroneles, the old granary Museo del Grano La Cilla, or the church Nuestra Señora de la Candelaria – the little town between Corralejo in the west and El Cotillo on the east coast is basically like an outdoor museum.
Blame it on the Rain
I have to prevent you that this probably won't be my most enthusiastic post on a place in the Canary Islands. I believe that the main yet simple reason is that the weather was bad that morning and since I had my day planned out, I didn't want to wait for the sky to open – which it actually did as you can see in my post on El Cotillo. Because that's where I spent the rest of the day.
But yes, this day trip from Corralejo started out in La Oliva. To be precise, all my days in the north of Fuerteventura started out in La Oliva simply because La Oliva is one of the island's six municipalities and also includes Corralejo where I was based. But obviously, that's not what I mean. La Oliva is also a town and one of the island's places with true historic value. Between 1708 and 1859, La Oliva played an important political role and was the seat of the military command. Actually, for a couple of years, La Oliva was Fuerteventura's administrative center. However, the city lost this position in 1860 to the then-so-called Puerto de Cabras, today's Puerto del Rosario.
Tour of La Oliva
Due to its historic importance, there are some landmarks around the town that are worth visiting. Sadly, in my pictures, they all look a bit worn and dull – kinda like when a dog comes in from the rain. The light was terrible and the sad grey sky didn't help, either. But you know what, this is travellers' and travel bloggers' reality, hence I refrain from downloading literally picture-perfect glossy shots from some photo stock.
Also, since La Oliva is not the island's busiest place despite its historic significance, it's not exactly overcrowded so some of those landmarks open rather late – or don't open at all. However, you can always stop for a moment in La Oliva, even if you are touring by public bus. Since the bus from Corralejo goes by the hour, you can easily spend just one hour here and then continue to the next town called Lajares.
However, please pronounce it the right way – Lahares and not Ladgares – so that the bus driver understands where you want to go. If you want to read the funny little story that makes me point this out, go to the post on El Cotillo. Obviously, you can also continue straight to the wonderful fishermen's village El Cotillo if you prefer the coast over a volcano. Clearly, you can also do both – the bus goes by the hour, remember?
Nuestra Señora de la Candelaria
The three-aisled parish church Iglesia de Nuestra Señora de la Candelaria is the most centrally located landmark in La Oliva. As the bus from Corralejo stops right north of the church, you cannot miss it.
Built in the 17th century, it used to be of major significance and the venue of choice for weddings and celebrations for many of the island's nobles.
However, this house of worship does not stand out for its size, but rather for its beauty and quirks. It consists of three naves with gabled roofs and a beautiful stone belfry. You'll notice that this square tower looks rather sturdy than elegant or playful. The reason is that in the past, it also served as a watchtower to prevent possible attacks.
Inside, five paintings adorn the main altarpiece of the church. They are attributed to the painter Juan de Miranda, arguably the most important painter in the Canary Islands in the 18th century. Another noteworthy work is the painting of the Last Judgment. Don Melchor de Cabrera and Doña Ana de Cabrera Bethencourt donated it in 1732.
The church is open on Tuesday from 10 a. m. to 3 p. m. and in the afternoon from 4 p. m. to 6 p. m. Fridays, the church is open from 10 a. m. to 3 p. m. and Saturdays until 2 p. m.
Church service takes place Wednesdays at 6 p. m. and Sundays at 12.30 p. m.
Fuerteventura's Powerful Coroneles
And this brings us straight to the Cabrera Bethencourt family.
The era of the Coroneles began actually in the early 18th century as a defensive power against attacks from foreign enemies like for instance the British corsairs. With the appointment of the first Coronel Pedro Sánchez Dumpíerrez, the town La Oliva was declared the island's garrison town. However, it never became the capital. Betancuria remained the capital until it was replaced by Antigua and eventually Puerto del Rosario.
Supposedly, the 4th Coronel Ginés Cabrera Bethencourt built the Casa de los Coroneles. Not only this stately building was a strong symbol of rulership. The Coroneles were not only the commanders in chief on the island. They also represented the jurisdiction of the King of Spain. The Coroneles were absolute and unrestricted sovereigns. Only the king and pope stood above them. However, once the power of the Coroneles got out of hand, Madrid abolished the feudal reign in 1836. In 1852, the garrison in La Oliva was dissolved and an infantry unit was relocated to today's capital Puerto del Rosario.
Casa de los Coroneles
Nevertheless, the Casa de Los Coroneles remained one of the island's architectural and historical gems. It was constructed in a Canarian-Andalusian style. In an era when many of the rural dwellings didn't have a single window, the sight of the sixteen windows on the main façade must have been just glorious. It was clearly an ostentatious display of power.
Today, the mansion serves as a cultural center where you can learn about the history of the colonels in a permanent exhibition. However, they organize also temporary exhibitions, concerts, and other cultural events.
Unfortunately, renovation has been going on since March 2022 so right now, you can only admire the exterior. As soon as they re-open, I'll update this post accordingly.
In the mansion's vicinity is the protected Malpaís de La Arena Natural Monument. This precious area emerged approximately ten thousand years ago due to one of the last volcanic eruptions. On these grounds is a diverse flora, a 10,000-year-old volcanic crater, as well as lava formations.
Casa Mané
In the 1950s, Manuel Delgado Camino opened a framing shop in Las Palmas de Gran Canaria. There, he sold material to Gran Canaria's artists. Later, his love for the plastic arts motivated him to open galleries in Las Palmas and in Madrid. Yet, Manuel's big dream was to open an art gallery on Fuerteventura. He wanted it to be in the vicinity of the historic Casa de los Coroneles and the majestic Tindaya mountain.
At 58 years of age, Manuel's dream came true. He bought a weathered house from the Manrique de Lara family, restored it, and named it after his nickname Casa Mané. He had created the first venue for exclusively Canarian art in Fuerteventura. As a matter of fact, one of the first of its kind in the entire archipelago.
Also, the extensive garden of Casa Mané with opuntias and young palm trees is a work of art in itself.
Sadly, Manuel Delgado Camino passed away in his beloved La Oliva in 2016.
Normally, the Casa Mané is open to visitors from Monday to Friday from 10:00 a. m. to 5:00 p. m. and on
Saturdays till 2:00 p. m. Admission is free.
Museo del Grano La Cilla
As you turn the corner at the Aulaga shop and walk up the Calle la Orilla, you'll notice a beautiful small estate to your left. This is the Museo del Grano La Cilla. It is an agricultural museum housed in a former granary.
Before tourists conquered the island, agriculture was Fuerteventura's main livelihood. Traces of this agrarian past are still visible today, among which are the so-called Cillas. As farmers had to leave a tenth of their annual crops to the diocese, these shares were stored in the Cillas. Of the Cillas still left on the island, the one in La Oliva is the best-preserved one.
Today, it houses a museum that showcases the island's agricultural heritage.
The museum is open from Tuesday to Saturday between 10 a. m. and 4 p. m.
Casa del Coronel
As a matter of fact, what today is called Casa del Coronel was never actually the colonels' residence. And don't confuse it with the mansion that I've introduced above. Nevertheless, it is a beautiful traditional house with several rooms and an interior courtyard. After thorough restoration in 2013, it now houses La Oliva's Mercado de Las Tradiciones, the local market of the island's finest local produce and handicrafts.
Unfortunately, the market takes only place on Tuesdays and Fridays between 9 a. m. and 2 p. m.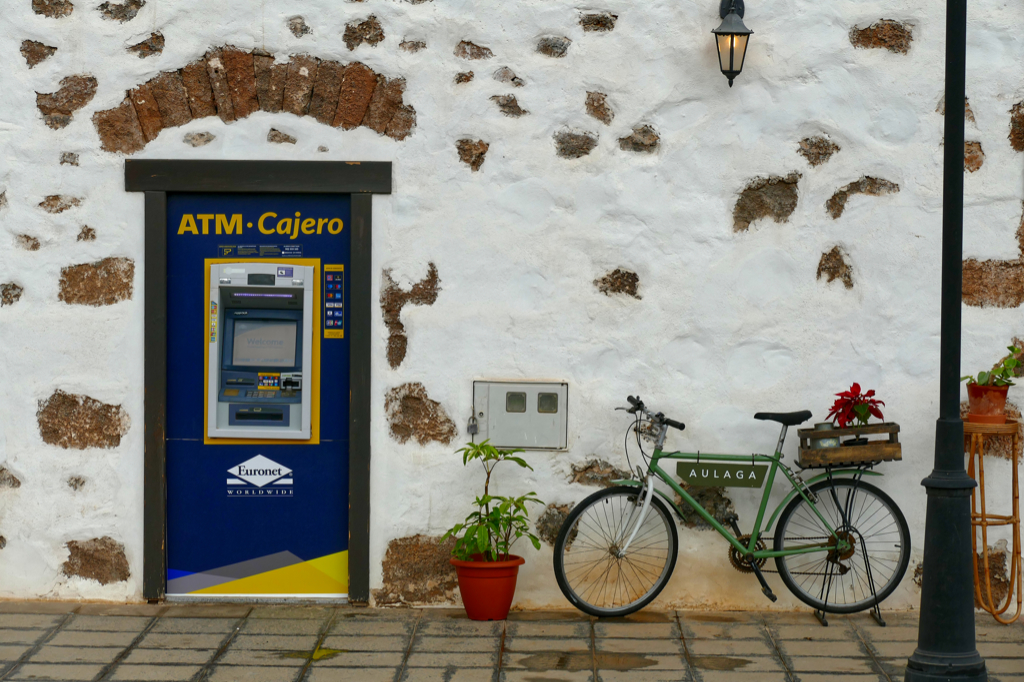 If you happen to miss out on the market, you can always check out Aulaga, a small store across from the church. Here, you'll find a wide variety of local decorations and art. Nevertheless, their stuff is rather trendy than traditional.
Aulaga is open from Tuesday to Friday from 10 a. m. to 2 p. m. and from 5 p. m. to 7 p. m. On Saturdays and Sundays, they are open only in the morning.
Another popular local line of products is cosmetics made from Aloe Vera. In La Oliva, there are two places where you get extended information on this wonder plant and shop for some unique souvenirs. The store Aleo Vera Fresca is located at the entrance to La Oliva as you are coming from Corralejo. It's open every day from 10 a. m. till 6 p. m.
Aloe Vera Integral Way is another great place. However, it's not in the center of town but about one kilometer north. It's open daily from 8 a. m. till 6 p. m.
Malpaís
About five kilometers west of La Oliva is the Montaña de Tindaya, the sacred mountain of the Canarian natives. Only 2.5 kilometers north of town is the most recently active volcano in Fuerteventura, the Montaña de Arena. Nevertheless, the last eruption was around 4,000 years ago. It left what today is called Malpaís, uncultivated land – or literally bad land. For hikers, however, it's a very good land since there are pleasant, easy trails to walk upon.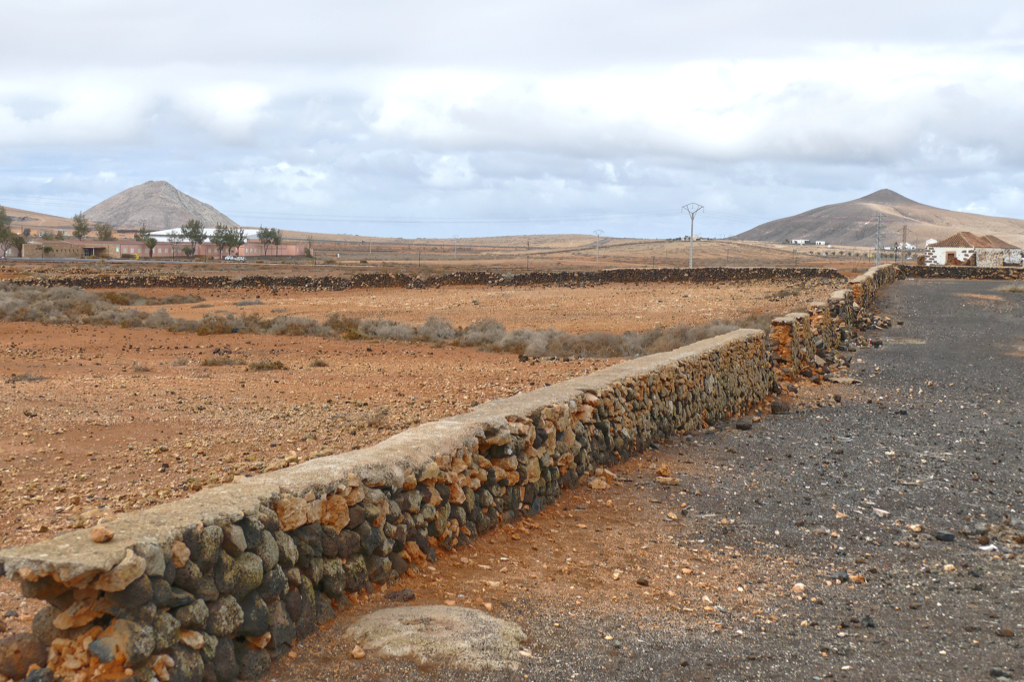 So yes, you see that there is quite a lot to see in the small town of La Oliva and I would definitely recommend at least a short stopover for instance on your way to Lajares or El Cotillo.
How to Get There
To get to La Oliva by public transport, you have to take bus #8 from Corralejo. Between 8 a. m. and 8 p. m., the buses are going by the hour. Hence, if you make it a day trip, you can easily continue your trip by one of the next buses to Lajares as well as El Cotillo. You find the bus schedule online on the website of Tiadhe, Fuerteventura's bus company.
Since the road is quite flat, it should be also possible to cycle there. From Corralejo, it's about 17 kilometers. Although there are no significant ascents, the wind can blow quite harshly which makes cycling a challenge.
Well-Organized Activities
While it's possible to visit many places on the island by public bus, you might want to leave all that planning and organizing to others and just enjoy your trip and some great days out. Also, some spots are really complicated to reach or it's not possible to go there and back on the same day. Therefore, here are some ideas on how to visit Fuerteventura's hinterland or put out to sea in the most comfortable way*:
La Oliva was just one of the wonderful places I visited during my week on the island of Fuerteventura. To read about the others, go to this post and take your pick!
For general information on Spain, go to this post. There, you'll find information and tips that will make your trip much smoother and more enjoyable.
Pinnable Pictures
If you choose to pin this post for later, please use one of these pictures:
Did You Enjoy This Post? Then You Might Like Also These:
* This is an affiliate link. Hence, If you book through this page, not only do you get the best deal. I also get a small commission that helps me run this blog. Thank you so much for supporting me!