Tallinn, Estonia's capital between the poles of history and creativity, cannot be described with a handful of corny attributes and some stock catchphrases.
Overall, by the standard categories, this city is far too diverse, its past too changeful, its faith too inconsistent, its present too dynamic, and its future definitely too promising. In conclusion, a hub between the poles of history and creativity.
Estonia is the northernmost of the three Baltic States. Hence, culturally and language-wise, there are close relations with Finland whereas historically, there are multiple cultural ties to Germany through the German Baltic states.
Just like its southern neighbors Latvia and Lithuania, Estonia made it through an everchanging history during which the eras of freedom and independence were shockingly short, namely from 1918 to 1940 and now again since 1991.
Estonia's Past
Like the other two Baltics, Estonia was occupied by the German knights in the 13th century.
However, over the centuries, Estonians were under Danish, Swedish, and Russian supremacy.
From the Middle Ages until well into the 19th century, there was a hegemony of German merchants. Also, Estonian culture and architecture were under strong German influence. Especially since Tallinn – then under its old name Reval – was an important and active member of the Hanseatic League.
Note: If you want to learn more about this powerful predecessor of the European community, read my post on Lübeck, the North German queen of the Hanseatic League.
Only after the end of WWI in 1918, Estonia gained independence. This lasted only a couple of years till 1940 when Nazi-Germany and the Soviet Union agreed in their Hitler-Stalin-Pact the Baltic should henceforth exist under the Soviet hegemony.
This era lasted till 1990 as the European iron curtain was lifted.
Estonia's Present
Only in 1991, as the country got tied up with the Perestroika, the wind of change also blew through Estonia towards further independence. This time, hopefully, for good.
It seems as if Estonia tries to make up for the decades of forced deep slumber as fast as it can – going casually beyond all other European countries. Since the year 2000, the Estonian state has by law guaranteed its citizens access to the internet.
Therefore, there are Wi-Fi access points covering the country's inhabited areas. Estonians who still do not have their own computer are entitled to access the net for free at one of 700 public terminals in post offices, libraries, or village shops. Also, all schools are online.
In brief: Estonia has the most Internet connections per capita worldwide.
Becoming an e-Resident
Sounds intriguing and you wanna be in with the in-crowd?
Since the beginning of 2015, Estonia has offered citizens of many countries a so-called e-residency. However, e-residents do not become citizens or residents of Estonia and thus do not receive a residence permit, EU visa, or the right to vote. They get only a digital identity.
For an e-residency, you can apply online, obviously. After a processing time of a few weeks, an examination by the Estonian Border Guard and the payment of a processing fee of 100 €uro, finally, a card with chip and reader can be picked up in Estonia or in many Estonian embassies.
However, the e-residency entitles you mainly to some commercial transactions.
By the way, one of your e-compatriot would be Pope Francis!
Which is even funnier since the majority of Estonians do not belong to any denomination.
However, even today, it's not all peaches and cream in this land of milk and honey. Despite numerous state programs, it has not been possible to fully integrate the Russian residents who mostly settled in Estonia during the Soviet era. For example, about half of Estonia's Russian-speaking population doesn't even have an Estonian passport.
Welcome to Tallinn
It's somehow symbolic: As you arrive at Tallinn's Balti Jaam, the main train station, you are at the brink of choosing between history and modernity. Basically like the entire country.
Hence, you can either dive head over heels into the dreamy historic old town, surrounded by an almost intact city wall. Or you turn west and plunge into the Telliskivi Creative City. Here, with all the startups, creative centers, but also restaurants and bars, Tallinn's hipsters work hard and play even harder.
But it's early in the morning, so let's just explore the traditional, historic part of Tallinn in the morning. We'll meet up with the in-crowd later on.
Historic Old Town
Tallinn's Old Town is surrounded by an almost intact city wall with guard towers and barbicans and everything else a classic medieval fairytale town needs.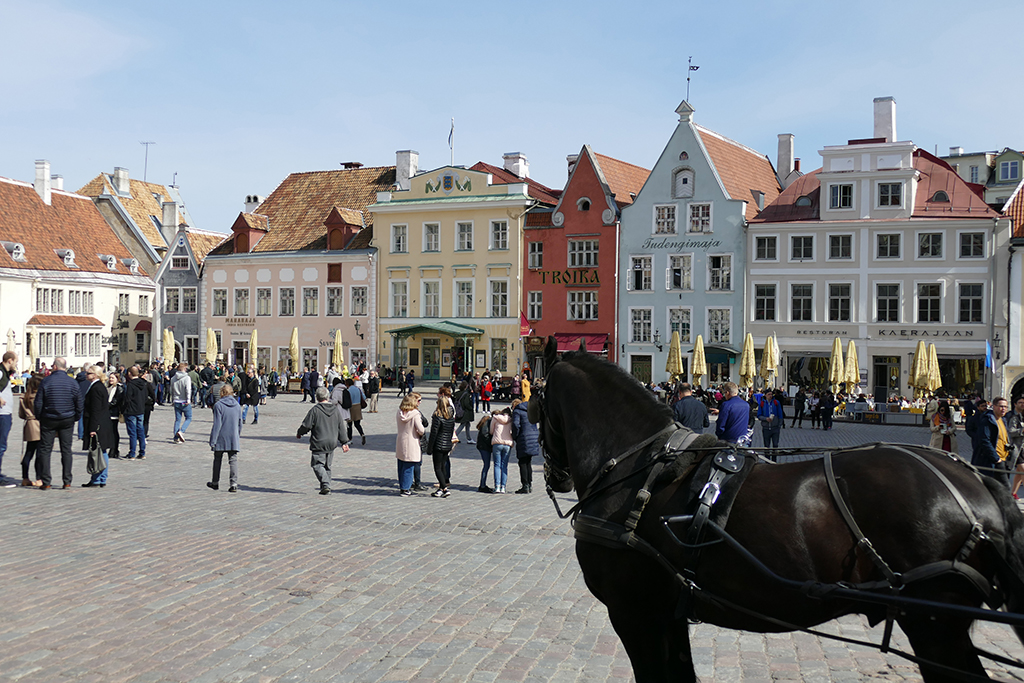 Although the historic center can be very easily explored walking, if you're not a regular at your local gym, you might break a sweat since it's divided into two areas – a lower and an upper town. Since the lower town is one of the best-preserved European medieval towns, it has been listed as a UNESCO World Heritage Site since 1997.
Peeping in Kitchens
The first major landmark you'll spot is actually the city wall. It's not only beautiful and stately, but it is also possible to walk on a short part that connects the three towers Nunne, Sauna, and Kuldjala on the northern side. Also, some of the towers are open to the public, the Kiek in de Kök being the most important and interesting one. This former cannon tower houses a fascinating museum. The funny name, by the way, stems from the German times and translates to peek in the kitchen – and until this day, the view from the top is grand.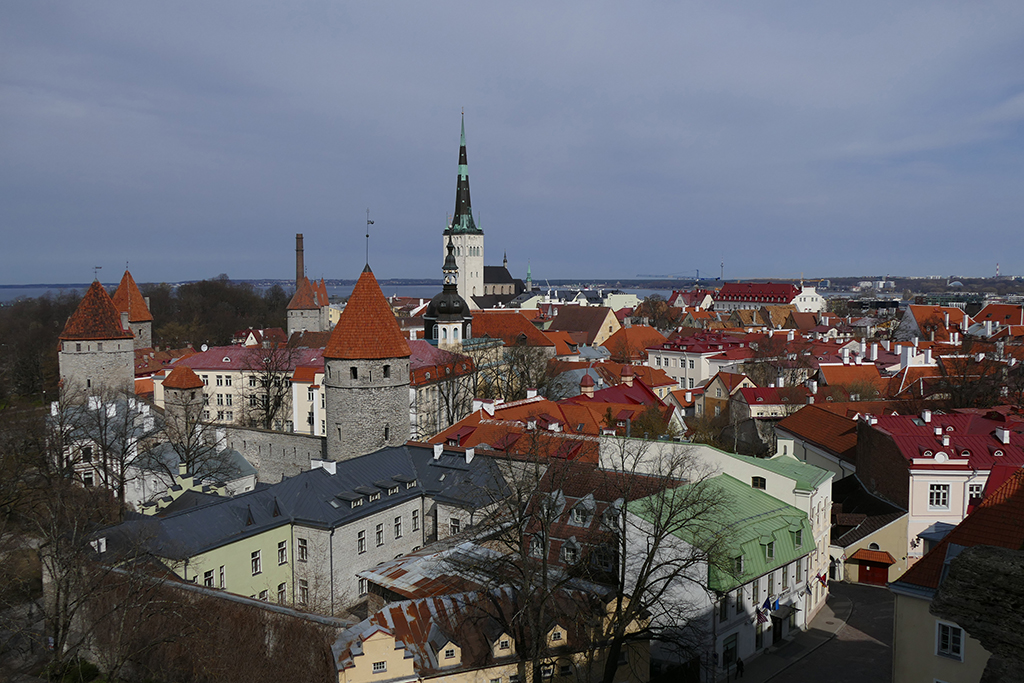 However, coming from the main station, you cross the Šnelli Park and walk almost straight to the main square Raekoja Plats. This town hall square is one of Tallinn's biggest tourist attractions where you are surrounded by the most amazing buildings of which the Town Hall is only the largest one.
Each of the buildings encircling the square is an architectural masterpiece and tells the most amazing stories. Like for instance the Revali Raeapteek, Europe's oldest pharmacy, continuously operating since 1422. Just take a peek in since today, it is also a museum.
It is a good idea to walk south to the next corner where you'll find the Tallinn Tourist Information Center. Here you can get recommendations, maps'n'flyers, book tickets or join a free walking tour – of course, based on tips.
Churches in an Ungodly Place
Right across from the Tourist Info Center is St. Nicholas'. No wonder this church is also a museum.
Considering that approximately 70 percent of Estonia's population does not belong to any denomination, there is clearly an oversupply of houses of worship.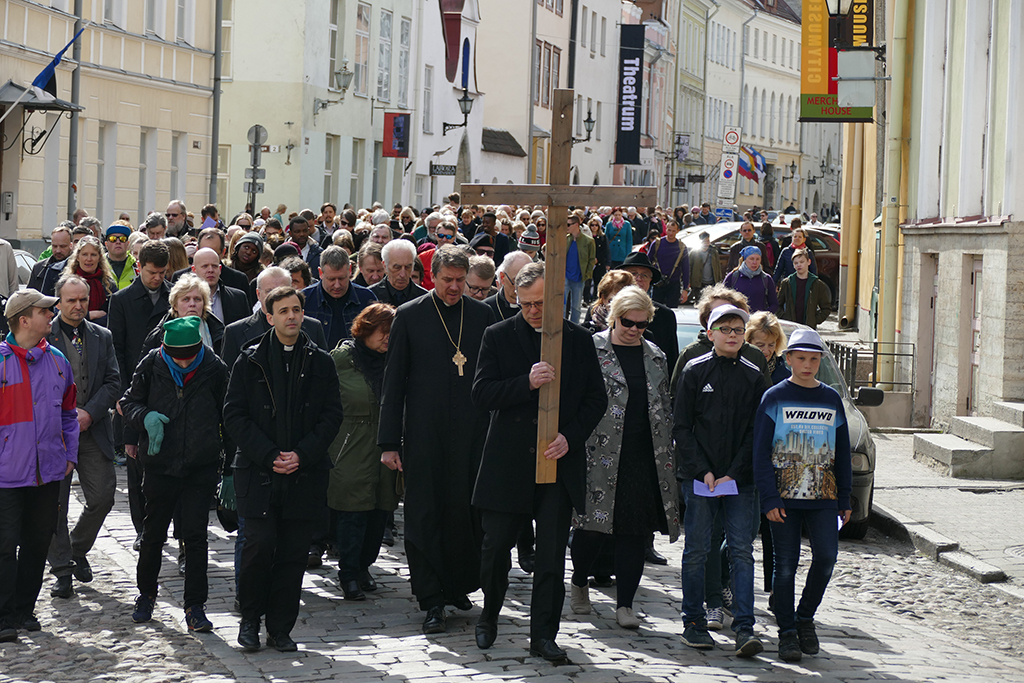 However, Tallinn's transitional eras are also reflected in its variety of confessions.
St. John's
Starting our walking tour, we firstly admired the facade of the protestant Saint John's church on the Freedom Square.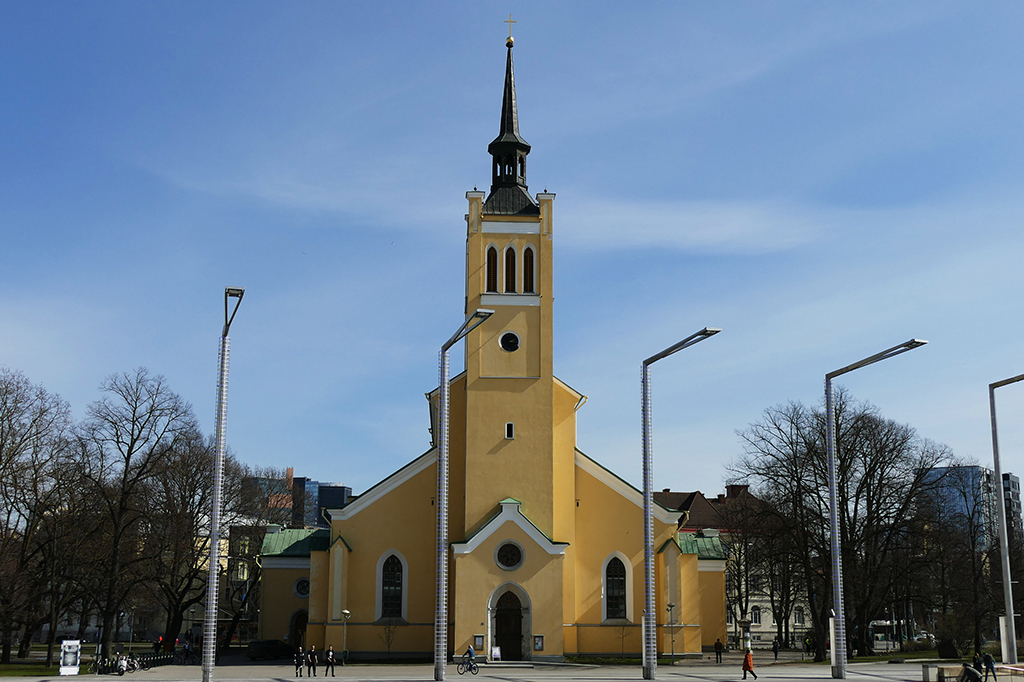 According to religion in Northern Germany, following the time of the Reformation, Estonia turned to Lutheranism, and this beautiful yellow church was built from 1862 to 1967 in neo-Gothic style.
Alexander Nevsky Cathedral
As you walk up the Komandandi tee to the upper part of town, you cannot miss the iconic Russian Orthodox Alexander Nevsky Cathedral.
Built in typical Russian Revival style between 1894 and 1900 while the country was part of the Russian Empire, to this date, it is not only an important house of worship to the local Russian community, but one of Tallinn's most important touristic landmarks.
St. Michael's
Once you've made it up here, make sure to take a glimpse at the Swedish St. Michael's church from the Danish King's Garden nestled behind the city wall close to the Kiek in de Kök tower.
Actually, the sight is even more impressive with the spooky monk-statues, namely, the faceless clergymen Ambrosius, Bartholomeus, and Claudius.
St. Mary's Cathedral
Two blocks north you'll get to the medieval Catholic St. Mary's Cathedral from the 13th century.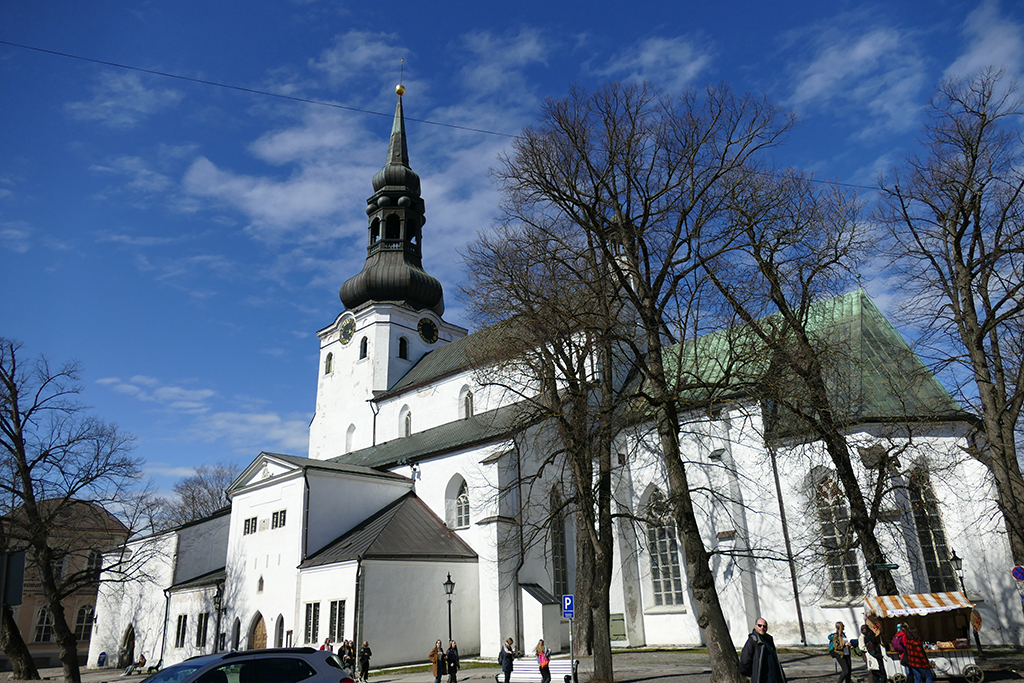 St. Nicholas
In the lower part of town, there is – besides many others – the Orthodox Church of Saint Nicholas, the first church built in a Classicist style in the early 19th century.
Not to be missed are the church's valuable iconostases.
Church of the Transfiguration of Our Lord
Another house of God that owns a treasure of iconostases would be the Orthodox Church of the Transfiguration of Our Lord, built in the 13th century.
Initially an abbey, it was reconstructed as the Transfiguration Church in 1732.
Today, this majestic complex houses not only the grave monument of the holy martyr Bishop St. Platon, but rings also the oldest church bell in Tallinn.
St. Olaf's
Last but definitely not least, I'd like to introduce St. Olaf's church, a Baptist church built in the 12th century. It is named after King Olaf II of Norway, also known as Saint Olaf, and used to be the center of the Scandinavian community.
All this is fine and good, however, St. Olaf's is mainly popular among tourists for its observation platform on the 405-foot tower.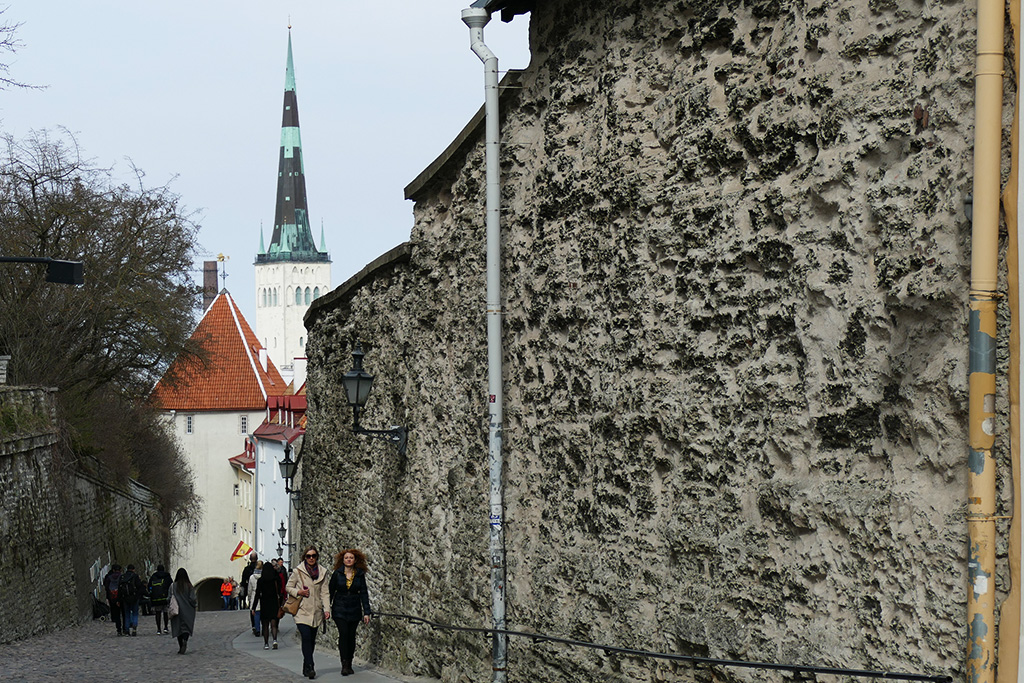 Hard to believe that there is space for some amazing worldly structures between all these houses of God.
City With a View
Although Saint Olaf's is a very popular outlook, it's by far not the only opportunity to see the enchanting city of Tallinn from above.
Like I said, there are the Lower Old Town and the Upper Town, built on the limestone mountain called Domberg. Actually, till 1877, the Lower and the Upper Towns were separate cities.
At the Upper Town, you'll find many governmental and administrative buildings as well as some embassies such as the German and the Dutch one. But you'll find also spots that grant a grand view of the city and its outskirts.
The two parts of the city are connected by only a few streets and stairs.
Anyway, breathtaking views don't have to be necessarily from above. Also, the lower part of Tallinn is full of charming alleys and mesmerizing courtyards. In the past, craftsmen were working at their tiny workshops, and craftsmen are still crafting here, albeit mainly artisan craftwork.
Souvenirs: Made by Hand, Made with Love
Handicraft is big in Tallinn. While in Riga it's all about woolen gloves, here you'll be amazed by the number and variety of artfully knitted sweaters and vests. Prime quality at reasonable prices.
But also embroidery, broderie anglaise, and ceramics are great.
If you prefer to shop for edible souvenirs, you'll find a variety of artisan pralines, truffles, and chocolates.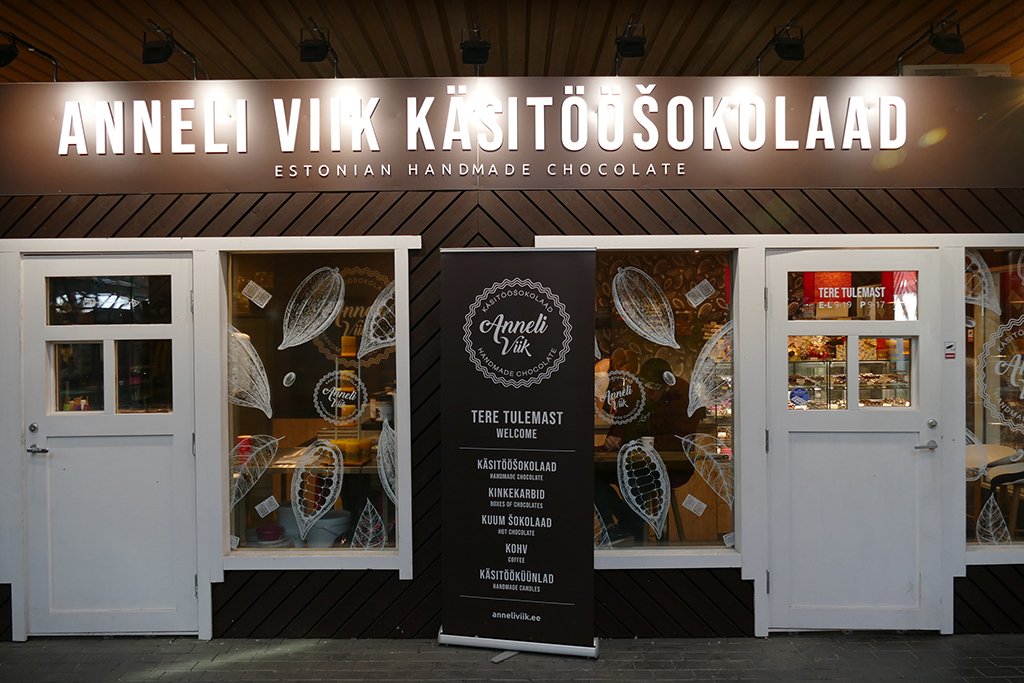 Sampling Sweet…
The famous café Maiasmokk is known for the best marzipan; Estonia's best marzipan – since Tallinn's big Hanseatic sister Lübeck is world-famous for the same treat. As they say, competition is good for business.
Maiasmokk
Pikk tn 16,
Tallinn
Phone: + 372 – 64 64 079
Email: maiasmokk@orkla.ee
Looking for something more….spirit-ual? Well, Vana Tallinn Liköör, a 40% liqueur based on rum, refined by citric oil, cinnamon, and vanilla might be the perfect gift then.
…And Sampling Hearty
The Olde Hansa is not only a medieval restaurant but also houses a gift shop selling all sort of quirky souvenirs – including booze, of course.
They still prepare food and drinks like in the Hanseatic period. Also, they play music from that era, and the staff dresses accordingly.
Usually, I am not very much into this sort of Disney-fication, but since the Olde Hanse presents itself on the spot as well as on their website with a certain irony, even I find it okay. And I assume that people who are not from northern Europe will just love it.
Olde Hanse
Vana turg 1
10140 Tallinn
Phone: + 372 – 627 90 20
Email: reserve@oldehansa.ee
Museums Not to Be Missed
Since Estonia is looking back at such a dramatic history, it will be of no surprise that there are a couple of museums dealing with the country's past.
There are the Estonian History Museum Tallinn and the City Museum. At the Vabamu Museum of Occupations and the Freedom Hotel where KGB artifacts like uniforms, cameras, and spy gear are on exhibit, you learn about the difficult times during Soviet rule.
If you prefer to deal with the good life, the Museum of Estonian Drinking Culture at the beautiful Luscher & Matiesen Distillery might be for you – including wine tasting. Or you visit the chocolate museum Chocolala and learn about the history of the Estonian chocolate industry since 1806.
We couldn't have asked for nicer weather when we visited Tallinn in Spring. Though, you see that even if the sunshine should be rather liquid, there's enough to keep you busy.
Visits to all these museums are free with your Tallinn Card so you should definitely consider getting one when visiting the city.
The Hip Neighborhoods Outside the Walled Center
So yes, I presume that nobody will visit Tallinn without exploring the enchanting old town.
However, if you have the time, getting to know the gentrified hip parts is as intriguing.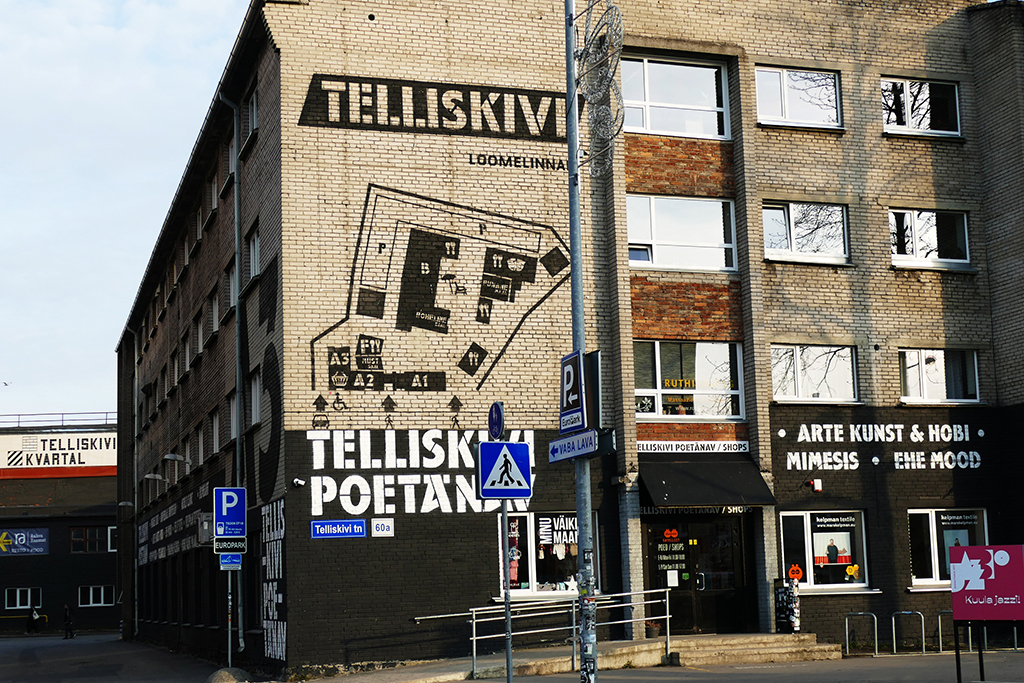 The hip neighborhoods of Kalamaja, Noblessner, and Telliskivi begin just behind the Balti Jaam railway station.
Once a working-class district, Kalamaja with its old, charming, very nordic wooden buildings is highly sought after as a residential area. Besides, it is also attractive for visitors since they find a great choice of galleries, shops, restaurants, and bars.
Probably the most known part is the Telliskivi Creative City, a former industrial complex. Today, the old, spacious structures are housing agencies, studios, creative companies, but also hip'n'trendy specialty stores.
Telliskivi – A Creative City within a Creative City
It's a great neighborhood to feast on international cuisine but also on traditional food with a light'n'healthy twist. There are many bars – and as soon as the weather turns from cold to cool, they even offer outside seating; now, ain't that cool?!
If you can adjust your itinerary accordingly, make sure to visit on Saturday when the weekly flea market takes place.
Another, much lesser known hip'n'creative neighborhood is just north of the Fat Margaret tower: The Kultuurikatel, Tallinn's Creative Hub. From 1913 till 1979, the building housed the city's central power plant. After the renovation, it is now a venue for exhibitions and festivals, but also for workshops and conferences.
One block further is the CCA, Center for Contemporary Arts, founded in 1992 to promote Estonian contemporary art.
They are doing a great job: I'm still thinking back at Estonia's contribution to the Venice Biennale 2015 where NSFW. A Chairman`s Tale by Jaanus Samma was presented.

However, the center, as well as the art they are promoting, will probably rather take people by the storm who are really into contemporary and maybe a bit quirky art.
Kadriorg Park
Art – yes, but quirky?! Well, if you are interested to see some more pleasing exhibits, there are two very nice venues a short ride from the old center. And they are set in a very pleasing environment, too: The Kadriorg Park.
The Kadriorg Park was first laid out in the early 18th century by Russian Tsar Peter I. Over the centuries, elements from the 19th and 20th centuries were added.
For a pleasant stroll in the park, there are trails along the flower beds and around the swan pond.
Old Art…
Also, there is a number of museums in the park such as the Kadriorg Art Museum and the Mikkel Museum, the Peter the Great House, as well as the charming café Katharinenthal – which, by the way, would be the translation of Kadriorg.
The Kadriorg Art Museum houses and displays a large collection of western European and Russian art while the neighboring Mikkel Museum houses a collection of art and porcelain donated by the private collector Johannes Mikkel who passed away in 2006.
Also, Estonia's presidential palace is located right behind the Kadriorg Art Museum.
Kadriorg Art Museum
Weizenbergi 37,
10127 Tallinn
Phone: + 372 – 606 64 03
Email: kadriorg@ekm.ee
The museum is open from Tuesday to Sunday from 10 a. m. till 6 p. m., Wednesday till 8 p. m.
…And New Art
An outstanding structure is the KUMU, short for Kunstimuuseum.
Designed by Finnish architect Pekka Vapaavuori and finished in 2006, it houses large collections of Estonian art. Besides the permanent collection, there are also temporary exhibitions taking place.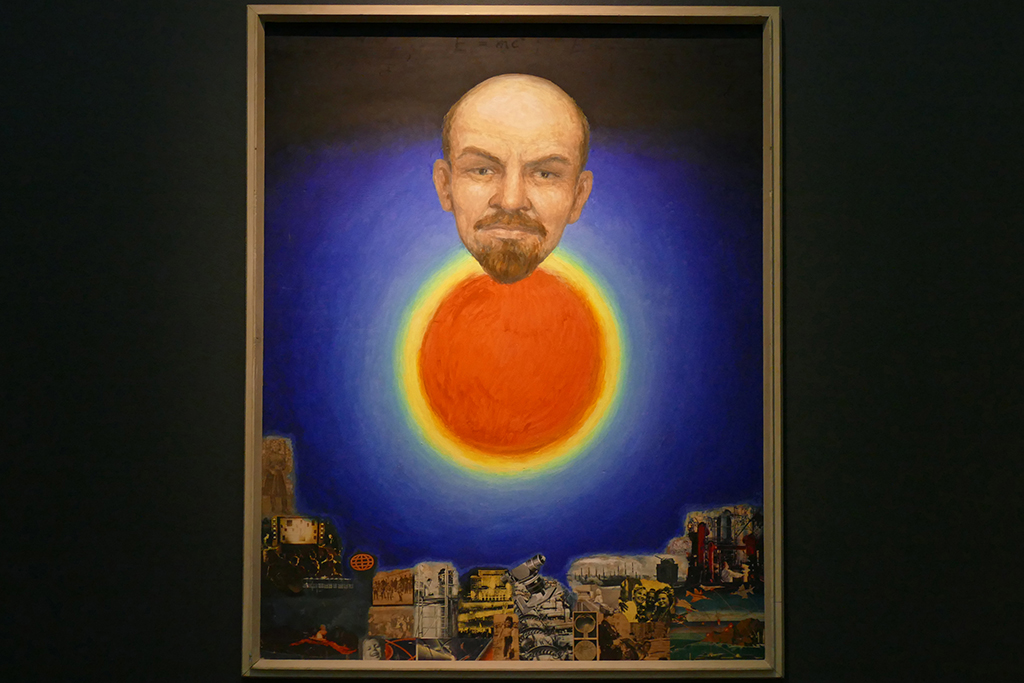 Kumu Art Museum
Weizenbergi 34 / Valge 1,
10127 Tallinn
Phone: +372 – 602 60 00
Email: kumu@ekm.ee
The museum is open from Tuesday to Sunday from 10 a. m. till 6 p. m., Thursday till 8 p. m.
To get to Kadriorg, you can take tram #1 or #3 from the stop Hobujaama to the stop Kadriorg.
If you want to start your visit at the KUMU, you can catch buses #31, #67, or #68 at the stop close to the Opera and get off at Kumu.
Practical Information
How to Get There
There are many options on how to get to Tallinn.
By Air
The fastest and easiest way is, obviously, flying into Lennart Meri Tallinn Airport. Although air Baltic is not the most service-oriented airline and the staff could certainly be more courteous, they have some good offers.
Once at the airport, a cab to the city center should set you back about 7 to 10 €uros.
But you can easily get downtown e. g. by Tram line #4 – you'll be there in less than 20 minutes.
All relevant information on public transport in Tallinn can be found on this site.
By Land
Of course, Tallinn has also a train station. Nevertheless, the cheapest yet fastest and most comfortable way to travel to other cities in the Baltics would be by bus.
The long-distance busses are clean and punctual and
almost equipped like planes with reclining seats and a great
entertainment program. On our way from Tallinn to Riga, which took only
four hours, we were able to listen to the latest hits and
watch films that made it to the movie theaters only recently; and all this
for about 15 €uro each – can hardly beat this.
If you are planning on travelling within Estonia or paying the other Baltic states a visit, make sure to check out the schedules and offers.
We went by Lux Express and did not regret our choice – just check out their website for the best deals.
However, unlike in most other cities, in Tallinn, the long-distance bus stop is not next to the train station but a couple of city bus stops from the old town.
By Ferry
If you are coming from Helsinki or Stockholm, taking the ferry is a perfect – and very scenic – option. While the trip to and from Helsinki takes up to three hours, from Stockholm, it's much longer – about 15 hours – and travels through the night.
Getting Around
Obviously, the Old City Center can be visited walking – actually, there is hardly any other way due to the slopes and the cobblestone plastered streets and alleys.
So the only tip here: To hell with vanity, put on your most comfortable shoes and prepare for a bit of an exercise.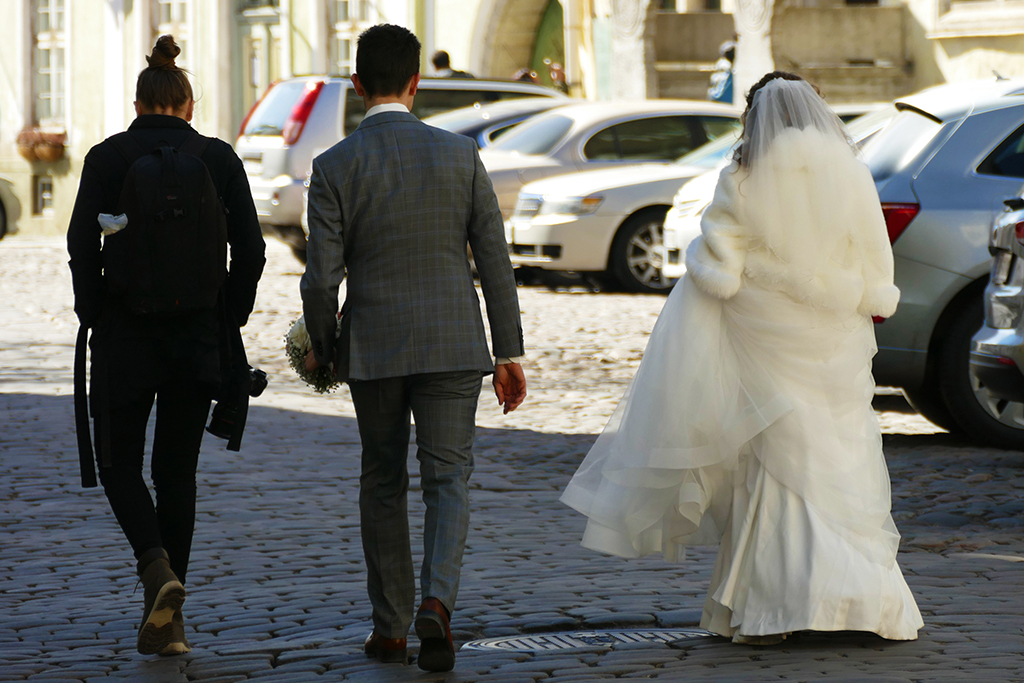 In general, public transportation in Tallinn is not only excellent, it is also free….at least for the city's almost 430,000 inhabitants. But also as a visitor, you pay quite little: Buying a ticket from the driver will cost you 2 €uro, buying a QR-ticket on the Internet only 1 – pretty amazing, isn't it?
If you stay for a couple of days and intend to visit more places outside the Old Town, you might consider getting a Ühiskaart Transport Card.
If you get the Tallinn-card, and I really recommend it, all public transportation is included.
Where to Stay
There is all kind of accommodation in Tallinn, a little more expensive within the old city wall, quite reasonable in the outskirts.
We opted for an apartment about ten minutes walking from the center which gave us the feeling of seeing Tallinn not only from a totally touristy perspective. We found it on booking.com*.
However, you can check out availability and prices of other great lodging options on this map*:
Traditional Food and Artisan Drinks
There are tons of restaurants to choose from – whether in the Old Town or around. However, some of the best….yes: fast food is to found at the newly-restored market complex right next to the Balti Jaam, the main train station.
New Cuisine at the Old Market
It's a covered market where you can buy everything you expect from a farmers market – and more: We bought fantastic artisan cheese, dark Estonian bread, huge fresh eggs and some succulent fruits for our breakfast – we had rented an apartment and cooked our own breakfast.
But we also browsed the stands selling everything from clothes to antiques.
Finally, we crashed at the Humalakoda Brewery on the first floor and ordered beer. To be honest, we ordered four beers – you see them on the picture below.
I find this is such a cool idea: You can sample four small glasses from their endless beer menu. By the way, we loved them all!
Humalakoda
Kopli 1,
Tallinn 10149
Phone: +372 – 699 99 60
Email: info@humalakoda.ee
Although the tempura shrimps and the artisan burgers were delicious and the beer a truly gourmet experience, the next day, we opted for grandma's cuisine – with a twist.
Traditional Cuisine at a Modern Joint
A restaurant and bar located in one of the old structures at the above mentioned Telliskivi district offers traditional cuisine like stuff dumplings in creamy sauces – just so good.
If you also have a craving for something more exotic, you can even mix it up a bit since they have a variety of Asian dishes, too. Combine your very own fusion cuisine – you'll love it either way.
Kivi Paber Käärid
Telliskivi 60a/7
Tallinn
Phone: + 372 – 600 36 26
Language
After independence, Russian was replaced by English as the first foreign language. Often the English lessons start already in kindergarten.
Since English TV is broadcasted unsynchronized, learning English is greatly enhanced.
Therefore, you absolutely shouldn't have any problems making yourself understood.
The Russian minority speaks, obviously, Russian.
We often refer to Lithuania, Latvia, and Estonia as the Baltics and I've stressed the point how similar the history was. Notwithstanding, they are not just three versions of the same country. There are many differences and one of the most obvious is the language: While for instance, Latvian is a Baltic language with very slight Slavic traces, Estonian is so similar to Finnish that they were able to understand Finnish TV when they were able to get it behind the iron curtain. I personally find this also reflected in the people's physiognomy: In general, Estonians look more Scandinavian while Latvians have often a rather Slavic appearance.
Money
Until now, 20 European countries replaced their former local currency with the €uro starting in 2002. On 1 January 2011, Estonia was the first of the Baltic States to replace the national currency with the €uro. The exchange rate is 1 US$ = 0.94 EUR as of January 2023. However, you can check today's conversion rate on this page.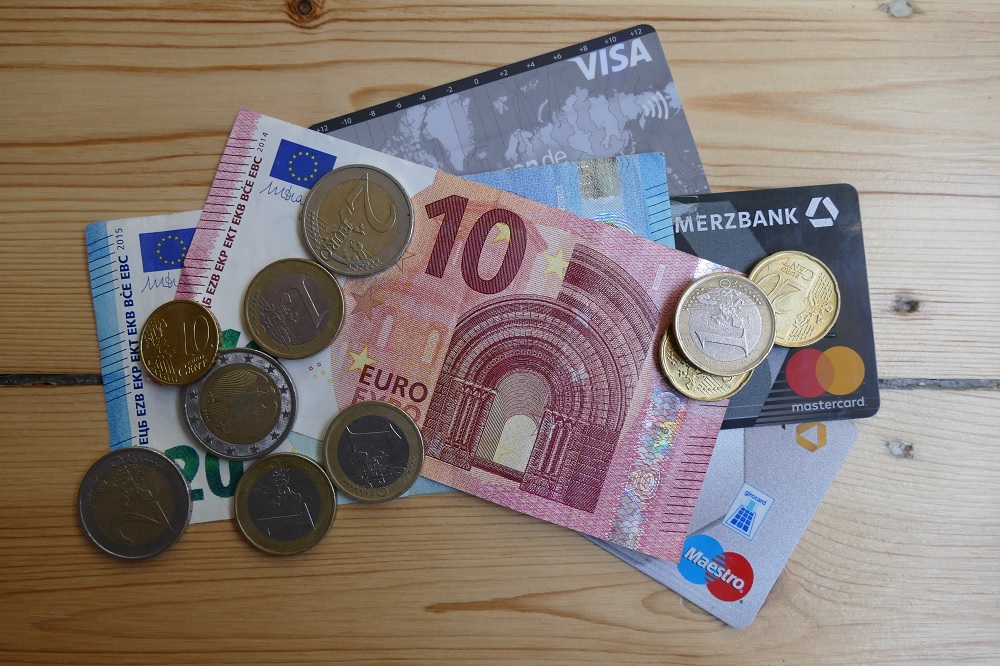 Nonetheless, credit cards are widely accepted, and there are ATMs all over the place.
Tours, Information, and Deals
As I wrote above, there is a tourist information point about three minutes from the town square where the very knowledgeable and friendly staff is at your disposal.
Highly recommended is the Tallinn Card that grants you free public transportation, free access to many museums as well as many perks at stores and restaurants. If you opt for the plus-version, there is even a ride on one of the hop-on-hop-off-busses included.
24 hours
48 hours
72 hours
adult
28 €
42 €
51€
adult plus*
36 €
49 €
58 €
child under 17 **
16 €
21 €
26 €
child under 17 **
plus*
21 €
29 €
35 €
* includes a hop-on-hop-off
**an adult card includes two children under 7 years of age
Tallinn Tourist Information Centre
Niguliste tänav 2
Tallinn 10146 |
Phone: + 372 – 645 77 77
Email: visit@tallinn.ee
The center is open every day from 10 a. m. to 6 p. m.
I'm an avid solo-travelling woman. Since solo-travel doesn't equal solitude, I love to join organized tours here and there. They allow me to meet fellow travellers – for just a short moment or a lifelong friendship.
Especially if you have only a short time for exploring the city of Tallinn, an organized trip will enable you to make the best of it*:
Map
On this map, you'll find all the wonderful places I'm introducing in this post.
Clicking on the slider symbol at the top left or the full-screen icon at the top right will display the whole map including the legend.
Pinnable Pictures
If you choose to pin this post for later, please use one of these pictures:
Note: I'm completing, editing, and updating this post regularly – last in January 2023.
Did You Enjoy This Post? Then You Might Like Also These:
Disclaimer: I'd like to thank Tallinn Tourist Information Centre for supplying us with Tallinn Cards Plus to experience the city's tourist attractions. The opinions and recommendations, however, are mine and weren't by any means influenced by my cooperation partner.
* This is an affiliate link. If you book through this page, not only do you get the best deal, I also get a small commission to run this blog. Thank you so much for supporting me!