Buenos Aires and me – from the must-sees to the hidden gems: It was love at first sight. The stately baroque architecture like in Barcelona, the elegant cafés – even a bit more charming than those in Paris. Old-fashioned gelato parlors like in Rome. The powerful street art of Bogotá is next to the picturesque decay of old Havana.
This city simply has it all.
The beauty and energy of Buenos Aires took me by storm – and was definitely the highlight of my first trip to Argentina.
The Legend
Some time ago, I met this guy in Bonito, a small, very cute town in Brazil. He was on a trip around the world and had seen the most amazing spots in Asia as well as Latin America. And here he was raving about the beauty and energy of Buenos Aires.
This made me curious – especially since online and in my guidebooks alike, Argentina's capital was pretty much reduced to the Casa Rosada, an Obelisk, and some touristy Tango-joints.
I was very surprised to learn that Buenos Aires is supposedly the most visited city in South America. I mostly noticed larger groups of Brazilians, other than that, I didn't find any over-tourism.
The Megacity
Pedro de Mendoza y Luján, a Spanish nobleman and conquistador, founded Buenos Aires in 1536. He named it Puerto de Nuestra Señora Santa María del Buen Ayre which translates to Port of Our Lady of the Blessed Virgin Mary of the Good Air.
The city has been Argentina's only access to the open ocean for the longest time because Indian tribes populated the southern coasts. Interestingly, Buenos Aires' inhabitants are still called Porteños, hence, people from the harbor.
Where the good air – the name's only part that remained – comes from is today a mystery. The city suffers from the same ecological problems as any conurbation around the globe.
Already in 1890, Buenos Aires was the largest and most important city in Southamerica with a significant population growth coming mainly from Spain and Italy, but also from France and Germany.
Immigration
The influence is still extremely strong and reflected in the architecture, the infrastructure, style'n'fashion, food, and even the language. No wonder Buenos Aires is widely considered the most European city in Latin America – it definitely is.
While I liked this European attitude, I still missed the Indio-African influence and culture I know from other Latin American countries. Actually, Argentina made me longing for Mexico and Colombia.
Talking 'bout large'n'important and European: Already in 1913, the first subway line moved the Porteños around the subsurface. This is pretty amazing given the fact that the métro in Paris started only 13 years earlier.
Until Mexico City got a subway in 1969, the metro of Buenos Aires remained the only one in Latin America.
Today, Buenos Aires is South America's third-largest urban area – after Mexico City and São Paulo and also home to the region's largest port.
The Grand Tourist Boulevards
Practically all of the standard tourist points of interest in Buenos Aires are located in the east in the proximity of the waters.
The farther you move westwards, the more you get into the Belly of Buenos Aires – and frankly, I'd rather be careful.
As usual, I was travelling by myself and had no problems at all.
Albeit, I took security precautions as I did for instance also in Rio de Janeiro. This includes no walking in isolated alleys, and no unnecessary venturing around after dark. Only the very necessary valuables on me – hidden in an unimpressive grey cotton tote.
No jewelry, especially no necklaces that might be ripped off.
However, I must add that I used to live in Central America and I'm fluent in Spanish. Therefore, I'm proceeding with a certain aplomb.
Plaza de Mayo
Approximately in the middle of the city runs the vertical Avenida de Mayo, connecting two structures of power: The Congreso de la Nación Argentina in the west with the even more famous Casa Rosada in the east, at the eastern side of the Plaza de Mayo.
This Square was the starting point for the original settlement and represented the urban core in a semicircle.
Casa Rosada
The palace was built on the remains of the old city fortifications and frequently changed. Casa Rosada is the official seat of the incumbent president. However, it is only used as such on formal occasions. The pink exterior paint dates from 1873
El Cabildo
Right across the square is the Palace of Government of the Autonomous City of Buenos Aires and next to it the Museo Histórico Nacional del Cabildo y la Revolución de Mayo, the National Historical Museum of the Cabildo and the May Revolution, housed in a former colonial government building. During the Viceroyalty of the Río de la Plata around the turn of the 18th century, it was the seat of government.
I first mistook it for a church – and the actual house of worship, the Catedral Metropolitana on the northern side of the square, for some governmental building.
In Argentina, many things seem to be reversed.
Catedral de Buenos Aires
However, the Buenos Aires Cathedral is pretty impressive. Not only for its size but also for its everchanging history. It's still reflected in the different architectural and artistic styles.
In 1880 General José de San Martín's remains were brought from France to Argentina and buried in a mausoleum in the church. Then, French sculptor Albert Carrier-Belleuse designed the mausoleum of marble of different colors.
Three life-size female figures representing the countries of Argentina, Chile, and Peru are watching over the black sarcophagus.
Besides the tombs of Generals Juan Gregorio de Las Heras and Tomás Guido, there is also the tomb of the unknown soldier.
The cathedral was the seat of Archbishop Jorge Mario Bergoglio SJ aka Pope and Head of the Roman Catholic Church and the State of the Vatican City.
Talking 'bout Vatican City. Another very impressive feature at the Cathedral is the sculpture Jesus without a roof by Canadian artist Timothy P. Schmalz. It was sent by the Vatican to different churches around the world.
The Pyramid and the Mothers
The pleasant square is decorated with an equestrian statue of General Manuel Belgrano and the so-called Pirámide de Mayo; Argentinians really have a thing for these pyramids and obelisks – I wonder where that comes from.
Around the pyramid, however, are little mosaics depicting headscarves. This is a tribute to the Madres de Plaza de Mayo, the mothers of those who disappeared during the military dictatorship that had a cruel grip on Argentina from 1976 to 1983.
You can learn more about this important human rights movement every Wednesday from 2:30 p. m. Then, there is a historic guided tour to the relevant sites.
You find more info on the initiative online.
Shopping on Calle Florida
Honestly, I don't get why the official Buenos Aires promoters are raving about this street. Must be the business.
Florida is one mile of a pedestrian street with shops of very different qualities. There are top-notch arcades in architectonically glorious structures next to cheap chain stores and souvenir shops selling….yes, souvenirs, but also leather goods and cashmere sweaters.
You get these iconic Argentine merchandise in various qualities at according prices: Top-notch designer bags, shoes, and belts at expensive yet relatively okay prices. Equally nice, but manufactured in a quick'n'dirty fashion pieces can be a great bargain. As always: You get what you pay for.
Now, the most ostentatious, which is a friendly way of calling it annoying, phenomenon of Calle Florida is the money changers. "Cambio. Change. Dollars. Reais." You hear these monotonous whispers all over the place. Every two steps.
It's just incredible, they are everywhere. There are far more money changers than pigeons in this street. I think there is not enough money in this world that could be changed in Calle Florida.
Although the moneychangers do not really harass let alone aggress people, it's still not very pleasant how they ceaselessly address you.
Recoleta: A Truly French Experience
The elegant – and expensive – neighborhood of Recoleta is about four kilometers north of the Plaza de Mayo. Although also Brazil and Russia can afford an embassy here, France is boss. Not only do they have their embassy installed on the southern tip of Avenida Alvear. No, buildings from the Belle Époquethe are lining the entire avenue so that a wif of je ne sais quoi lingers in the air.
No wonder one of Recoleta's most prominent squares is called Plaza Francia.
Resting In Style Peace
It is adjacent to one of Buenos Aires' most visited attractions – the Recoleta cemetery – also a very French thing, come to think of it.
However, this cemetery is far smaller than the famous Père Lachaise in Paris, but each and every grave and mausoleum is a fantastic piece of art and a visit a must.
Also, Eva Perón, the famous wife of infamous and dubious military and politician Juan Domingo Perón, rests in the Duarte family's grave.
Right next to the cemetery is the Basílica del Pilar, a colonial church that was completed in 1732 and is worth the visit for the beautiful interior and ornate altars.
Centro Cultural
Even if you'd like to hang out a bit and enjoy Buenos Aires' hip and trendy side, the Recoleta is the place to be since adjacent to the church is a huge complex housing the Centro Cultural Recoleta, many specialty stores, restaurants, bars, and clubs – just spectacular.
Walking across the Plaza Francia, you'll get to one of Buenos Aires' most important galleries, the Museo Nacional de Bellas Artes.
I'm an art buff, so I hardly skip an art museum. But quite honestly, if you're not a great art aficionado, there are more…Argentinian things to see in the city.
Art – Old'N'New
The museum houses a good collection of modern art from Europe and the Americas. However, do you really need to travel to Argentina to see Renoir and Degas?
Nevertheless, a visit might be a good plan for a rainy day, and entrance is free on Tuesdays.
Museo Nacional de Bellas Artes
Avenida del Libertador 1473
Buenos Aires
Phone: +54 – 11 – 52 88 99 00
Open from Tuesday to Sunday from 11 a. m. to 8 p. m., weekends from 10 a. m.
Behind the museum, crossing the endless Avenida Presidente Figueroa Alcorta, you'll get to the greenery of the Plaza Naciones Unidas where you can admire and reflect yourself in the Floralis Genérica, an imposing 20 meters high sculpture designed by Argentine architect Eduardo Catalano.
Made of stainless steel and aluminum, it is the first sculpture in motion controlled by a hydraulic system and photoelectric cells.
La Boca: A Kaleidoscope of Gentrification
This biggest tourist magnet is called El Caminito, hence, the small alley. You find it in the rather infamous neighborhood of La Boca. This, in turn, translates to the mouth – because it is located at the confluence of the Riachuelo River and the Río de la Plata.
As a matter of fact, it is quite ironic that particularly this street – and meanwhile also the adjacent lanes – are one of the most visited places in Buenos Aires. Let me explain why.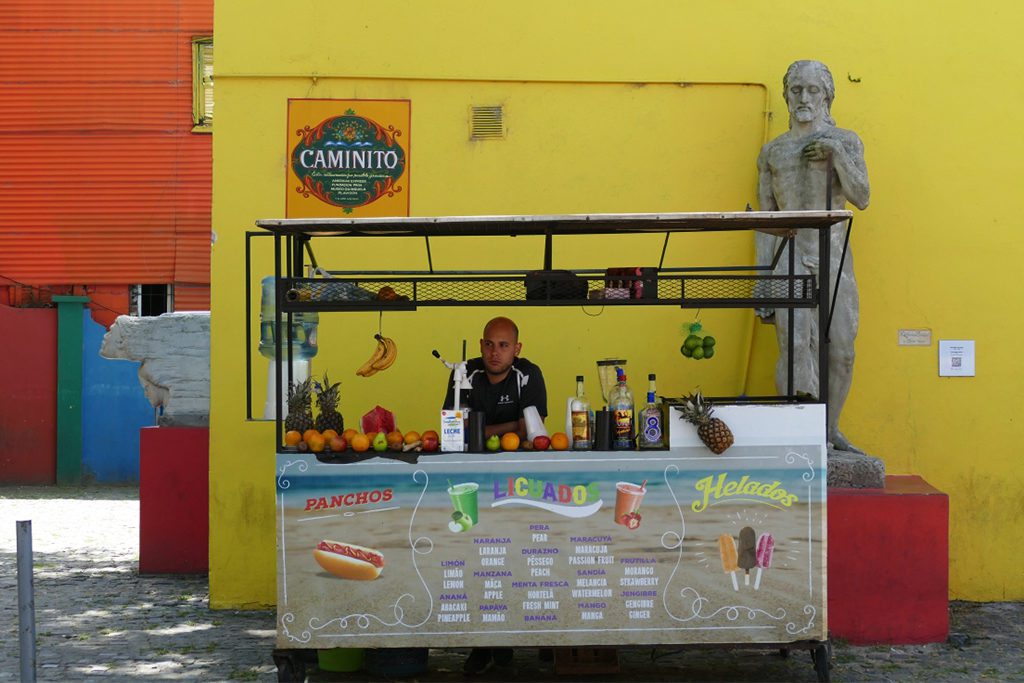 Initially, La Boca was a neighborhood where the poor dockworkers – often stemming from Genove in Italy – made their homes. They were so poor that they were using wood and sheet metal from wrecked ships. Eventually, they painted them in different bright colors. Not because they were in such a cocky'n'creative mood. They simply used what color was available.
The port moved up to Puerto Madero, the railroad closed, and the neighborhood became an abandoned dump.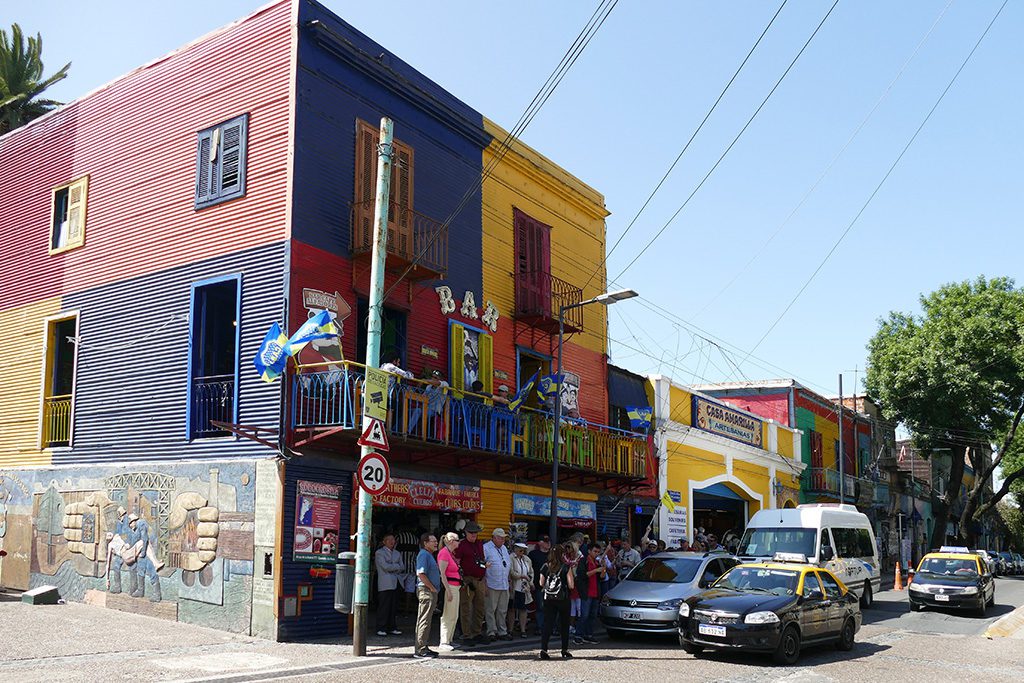 In the 1950s, local artist Benito Quinquela Martín remodeled the area according to their predecessors.
When Life Gives You Lemons Color
I assume that the artist wanted to memorize and honor the local culture. Unfortunately, his project deteriorated into a small, tacky funfair that has nothing to do with everyday life in Buenos Aires.
The worst thing is that besides this handful of colorful, hyper-touristy alleys, the rest of La Boca remained a poor neighborhood with little funds and lots of delinquency.
I came walking. However, most tourists get there by cab or tour bus so they actually see exclusively this basically artificially set up block. Finally, they remain oblivious to the rest of the barrio.
Against this background, I really cannot recommend a visit. Actually, I stayed there for maybe half an hour. It's not Argentina, it's an instagramable setting for shallow selfies.
Just so you know, there is a neighborhood that looks like the colorful houses of La Boca, but it's sadly genuine. It's the so-called Villa 31, a slum northwest of the Retiro station.
I saw it through the bus window- and this is probably the very last part of Buenos Aires you should visit.
Another reason to visit La Boca is the world-famous soccer club Boca Juniors and their stadium Estadio Alberto J. Armando, usually referred to as La Bombonera, chocolate box.
For me, it's very easy to control my excitement since I'm not into soccer at all.
The Side Streets
San Telmo: From Proletarian to Bohemian
If you choose to walk from the Casa Rosada to the touristy epicenter of La Boca – which is about 3.5 to 4 kilometers – you'll cross one of my very favorite barrios, the bohemian, artsy neighborhood of San Telmo.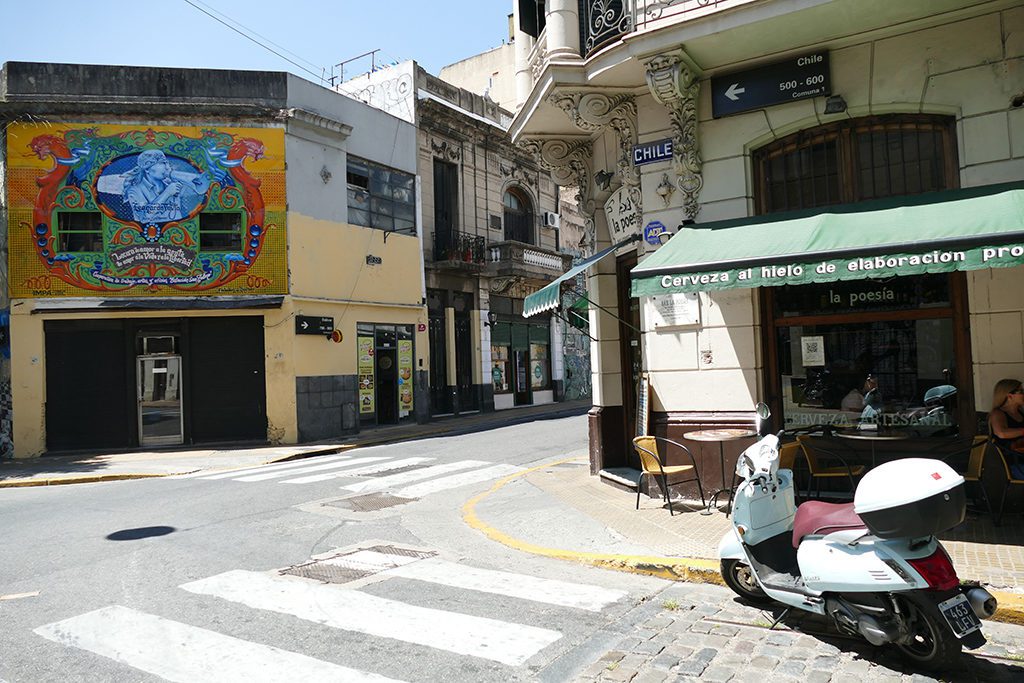 It is Buenos Aires' oldest neighborhood.
As a matter of fact, Mr. Mendoza founded what he called Puerto de Nuestra Señora Santa María del Buen Ayre exactly here, in San Telmo.
However, this district that's today south of the city center, underwent some drastic changes.
San Telmo used to be a proletarian neighborhood and industrial area. Today, it is some sort of Buenos Aires' Greenwich Village. There are streets lined with well-preserved and also not-so-well-preserved buildings. Those are not only residential, but are also housing creative little stores, charming cafés, and an incredible number of antique shops.
There were corners that actually reminded me of the historic part of Havana.
If those are not enough for you, you can check out the semi-permanent Feria de Antigüedades, the antique fair in the Plaza Dorrego.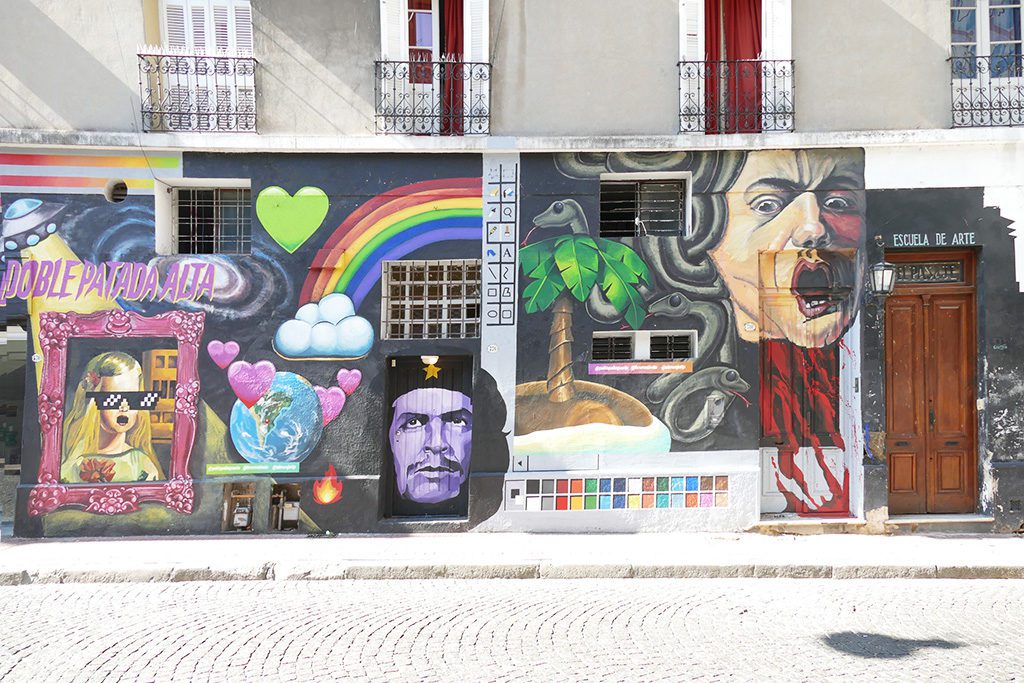 The French
Especially the thoroughly renovated backyards like the Solar de French are alluring. However, I'm more attracted by the slightly run-down, mysterious courtyards like the Pasaje de la Defensa.
Nevertheless, although the Solar de French has been transformed into an upscale shopping arcade, it has a very interesting history.
At Defensa 1066, Domingo French was born in 1774.
Wanna know what he's famous for? Well, first of all, in 1802, he became Buenos Aires' first mailman. Nope, I kid you not.
Although this is very honorable, it's no reason to name a shopping passage after him. He earned this honor for bravely and decisively fighting back the English invasions in 1806 and 1807.
Yap, the Falkland War in 1982 was not the first trouble Argentinians had with the British.
Snacking'N'Shopping
To grab a bite, the Mercado San Telmo offers all sorts of food stalls to all tastes.
San Telmo has designated attractions like the Nuestra Señora de Belén Church, the Museum of Modern Art, and newly added sights like the Mafalda* statue. Despite all this, I just love walking up and down and criss and cross the cobblestoned streets watching.
There are first traces of commercialization – like the clearly touristy Dulce de Leche* shops that are found at every corner – and gentrification. Yet, at this moment, San Telmo is still very pristine and genuine.
I wish this wonderful barrio and its inhabitants that it stays like this as long as possible.
*Two explanations:
Mafalda is a six-year-old comic strip girl. She was created by Argentine artist Quino in 1963. Although the series ended in 1973, the character is still very popular mainly around Latin America and Spain.
In Argentina, you'll find Mafalda everywhere – on clothing, stationery…and at the corner of Defensa and Chile in the heart of San Telmo.
Dulce de Leche is a Latin American confection that's also popular in Spain. Basically, it's sweetened milk. It's being slowly heated to become a creamy caramel sauce.
It can be eaten as a spread or as a dessert sauce. It is also being used as a filling for the typical pastry Alfajor.
In Argentina, they make also delicious ice cream of Dulce de Leche.
Since Dulce de Leche makes a nice souvenir, many specialty shops sell it in all kinds of decorated jars and boxes.

Well, I went for authentic and bought mine at the supermarket, paid a fraction, and do have what every Argentine household has in the fridge.
Palermo
Palermo is Buenos Aires' largest barrio. Therefore, I cannot introduce it as one homogenous district.
The northern part is rather posh with large greeneries like parks and a botanic garden while the southern part is more of a hip, artsy neighborhood with lots of graffiti and murals, thrift shops, and flea markets. And most of all an overwhelming number of pubs and bars.
It is a teeny bit like San Telmo but lacks the cozy, long-established neighborhood vibe.
There actually are groups of visitors searching for the off-the-beaten-track experience and the most instagramable spot – you know what I mean.
Palermo Chico
This is one of my favorite areas of Buenos Aires. It is the part of Palermo they call Palermo Chico, the Small Palermo. It's just a couple of blocks between Avenida Libertador and Avenida Presidente Figueroa Alcorta.
This is a mostly residential area of Buenos Aires' rich and famous.
Because of the manicured parks and the inspiring MALBA, the Museum of Latin American Art, the neighborhood can be a nice break for visitors alike.
Fundación Malba
Museo de Arte Latinoamericano de Buenos Aires
Avenida Figueroa Alcorta 3415
Buenos Aires
Phone: + 54 – 11 – 4808 6500
Email: informes@malba.org.ar
Also, many embassies are located in this neighborhood, but I hope you won't need their services.
Global Village
Walking north from the Scalabrini Ortiz subway station, you pass many nice shops and cafés where the wealthy mums are sipping organic café latte while feeding their offsprings vegan cookies.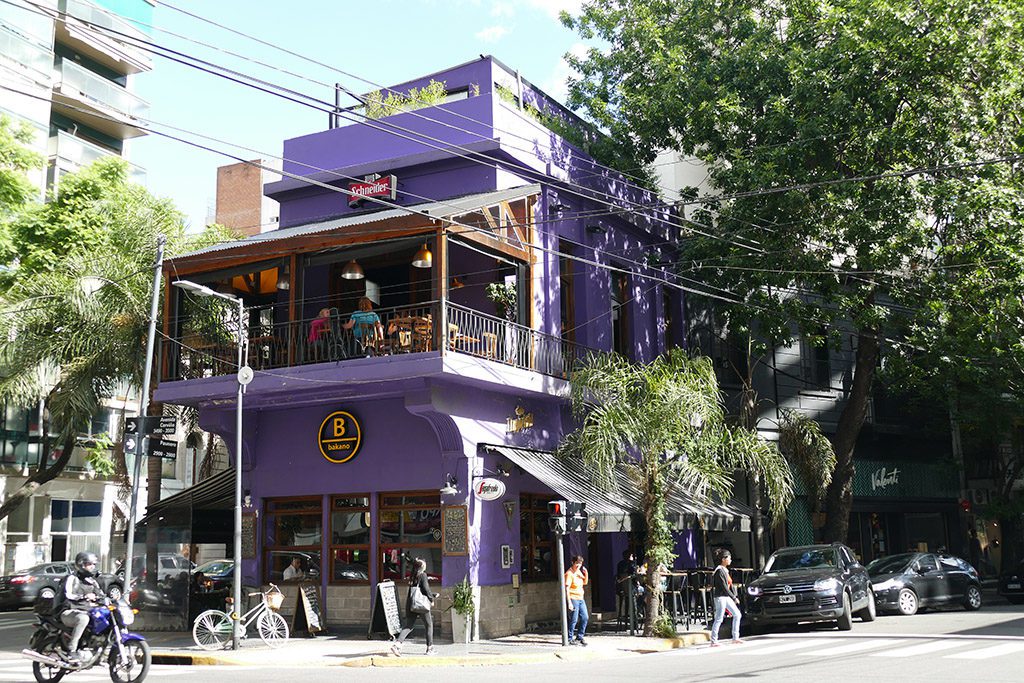 I might sound sarcastic but I don't mean it that way: It can be very relaxing and comforting to chill in such a carefree environment that plays by the global rules from time to time. And after all the burgers and milanesas de ternera, breaded escalopes of veal, that I had, some vegan cookies would certainly do me good.
Further north, behind the Plaza República del Perú you can check out the Alcorta mall – and if you are up for a longer walk, you continue all the way to the coast.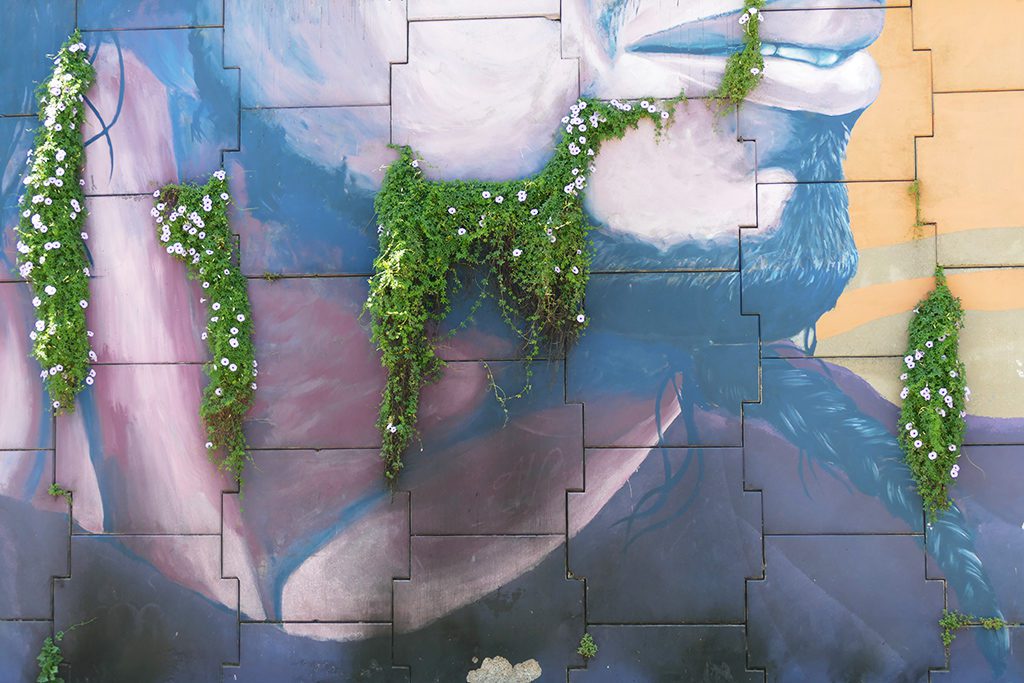 Strolling along the Avenida Costanera Rafael Obligado, you'll pass the Club de Pescadores to your right and the city airport Jorge Newbery to your left. Finally, you get to the glorious Monumento a Cristóbal Colón, the Monument to Christopher Columbus. Again you wonder why those conquistadores are still being so glorified.
As I got here, I was really tired from walking – plus it was in February, Buenos Aires' sweltering summer month – so I took the bus to Plaza Italia, the heart of the district from where it is just a short walk to all the trendy waterholes of Palermo.
Puerto Madero: The Dock of the Bay
Puerto Madero is named after businessman Eduardo Madero. He was in charge of the construction of a new port between 1887 and 1897. However, only ten years after completion, the much larger cargo ships made the new port basically useless.
It was bound to happen that eventually, investors transformed the warehouses on the west bank into fancy offices, residences, lofts, luxurious hotels, and restaurants. On the east bank, however, are modern cinemas and theaters, but mainly corporate buildings.
Wanna know what I have to say?
Well, I'm based in Hamburg, Europe's third-largest harbor. At my day job, I overlook a major part of the port from my office window. Obviously, you can hardly impress me with waters.
Also, in my post on Dusseldorf, I've introduced the city's gentrified Media Harbor including buildings designed by the world's most significant architects.
Compared to this project alone, Puerto Madero is not very impressive.
Unless, of course, you want to go out for an after-work drink, then the bars and restaurants along the river might be a relaxed option.
Other than that – you really don't need to add Puerto Madero to your list.
The Back Alleys
Now we are coming to those areas of Buenos Aires that are really under most visitors' radar – although some of them have as much or even more to offer than the attractions listed in the first chapter.
La Once
La Once is an area located between La Recoleta and Palermo. Although not very overwhelming at first sight, a stroll through the barrio is worth it. Here, you'll get in touch with a whole different side of Argentine life. It's basically the Lower East Side of Buenos Aires where the Jewish community installed her home.
Under Perón, Argentina generously offered refuge to Nazi war criminals after WWII. On the other hand, it must be acknowledged that during the war, the country welcomed an impressively high number of Jewish refugees.
Today, Buenos Aires' Jewish community is Latin America's largest and even the world's third-largest after Israel and New York.
My favorite blocks in the neighborhood are between the streets Jean Jaurès and Zelaya. Behind colorful facades are many small theaters and Tango schools – the real ones, not the touristy nonsense.
Also, for those who are interested in this powerful dance's history, the Museo Carlos Gardel at Jean Jaurès 735 is a must.
Plaza Constitución
Plaza Constitución is about 2 kilometers south of the city center. It's not a must-see, but yet another grand square in Buenos Aires that probably did not make it into everyone's Instagram account.
I'm a trouper, I came walking – and, actually, it is only a twenty minutes walk from the famous Plaza Dorrego in the southern part of San Telmo.
Despite this proximity, Constitución as a barrio is a bit off the beaten tracks where you shouldn't flash your cash. This you shouldn't do anywhere, for that matter.
Coming down Lima Avenue, you'll first spot the Iglesia Inmaculado Corazón de María, the Immaculate Heart of Mary Church. This church is one of these characteristic, massive Catholic temples built in a Neo-Gothic style. It was inaugurated in 1923.
Now, on the other side of the square, across from the church, is the Constitución railway station, a majestic building, that opened in 1865 and was painted in the same shade as the Casa Rosada, hence, in pink.
Better Keep Your Distance
Although the station is huge, train-wise, there is not too much shaking. In Argentina, you rather travel by long-distance bus than by train. However, subway line C is going to Constitución as well as numerous public buses.
The surrounding barrios, however, are rather poor and home-to-work immigrants from neighboring countries such as Bolivia and Paraguay. Another neighborhood where you should be a bit street-smart.
You should especially refrain from walking down the Calle Lima along the station and the rails. I did. And I understood pretty quickly that I was the only person there with a roof and without a drinking or drug problem. It's a really sketchy part that you should avoid.
If you want to continue walking to the Calle Lanín that I'm introducing in the next chapter, you should rather choose the Calle Salta one block west of Lima. Or you take bus #100 and get off at the Doctor Ramón Carrillo 409-441 stop. In this case, however, you need to have a SUBE card on you – see below.
Paseo de los Mosaicos Lanín
I've introduced Mr. Marino Santa Maria already in the above section about the Once. However, some of his most important projects are in the rough'n'touch neighborhood of Barracas. Here, the artist spent his childhood. And today, again, he is a resident.
His beautiful street art, mostly mosaics made from small ceramic pieces, is found all over the city. Notwithstanding, his largest project is the facades of the houses of Calle Lanín where he grew up in house #33.
It's in this building where Santa Maria has his workshop. And this was the first facade that he decorated with his curved, flowing designs in 1990.
Obviously, his neighbors were delighted and asked their own artist-in-residence to decorate their houses, too. Since the city government, the Museo de Bellas Artes, and even UNESCO chipped in, Santa Maria was able to decorate in total 35 houses. They spread over two blocks.
Beauty In a Dangerous Place
While the Calle Lanín is a cute little alley, it's located in a rather rough neighborhood. Although I got there walking from the Plaza Constitución, I wouldn't do it again: Particularly since the streets behind the station are more than sketchy. Generally speaking, I'm not a huge cop fan, nonetheless, I felt much better as I spotted a small group.
If you don't want to spend money on a cab, you can always take bus #100 at Constitución and get off at Doctor Ramón Carrillo 409-441 stop. From there, you walk down the Branson, passing a beautifully painted underpass, and turn right into the Calle Lanín.
Paseo de la Resistencia
On an average shopping boulevard like the Avenida Mayo, I'd never expected to find such a fascinating oasis. A cradle of creativity and resistance.
As always, it started out as David versus Goliath, the poor against the rich, the powerless against the capital. Protests against eviction, a movement in favor of proletarian families making a living.
Struggles and fights show on a local level the global injustice. Therefore, at the Paseo de la Resistencia, they don't present only documentation of the Paseo's history, they also take a stand on other national and international problems and conflicts.
Oh, and when they are not resisting and taking stands, they manufacture different artwork and jewelry. If you buy there, not only do you get an affordable and unique souvenir, but you also support local artists.
Usually, my problem with this sort of merchandise is an aesthetic one. I like to support the idea, but I'm not into dreamcatchers and carved nick and woven nack.
Therefore, I was thrilled when I saw that much of the handcraft is actually quite cool and not hippie-ish. Actually, the pair of earrings that I purchased, is really beautiful. Carved from bone in a fancy Art Deco style, adorned with an inlay from mother of pearl.
So if you are looking for some truly original and unique souvenirs, don't look any further, go to the Paseo de Resistencia. They are on the Avenida de Mayo 649 and open every day from 10 a. m. to 9 p. m.
It Takes Two to Tango
Before The Show Began: A Quirky Encounter
So before I start raving about how beautiful and original and pleasantly frill-less the tango show at the legendary cafe Tortoni was, I absolutely have to share the craziest story of my trip.
Not only is the story as such absolutely crazy. Almost even more irritating was the way the hero narrated his adventure.
But let me start.
So when you book a show at the Tortoni – which is Buenos Aires' oldest cafe and worth a visit for the decor alone – you still have to stand in line in the evening. Then, places are assigned on a first come first serve basis. But this is based on when you made your booking at noon – not when you show up in the evening.
Since I had been fourth on the list, I was seated at a table right next to the stage. Together with the lovely couple from Michigan that I had met while waiting in line. The fourth seat stayed empty.
I was getting my camera ready for the show, fumbling, and cleaning. As I looked up, a gentleman in board shorts, crocks, and a very colorful t-shirt was sitting on the fourth seat.
He gave us a bright smile before studying the café's menu through a middle-sized magnifying glass. Wow, that was strange – some people's eyes seem to be much weaker than mine – while I need someone choosing from the menu for me when I forget my reading glasses, I'm still quite far from needing a magnifying glass.
Funny Little Story Not
We all start to chit-chat like where are you from and how long have you been travelling Argentina and all this stuff- which is a bit difficult since it turns out that the gentleman is from Moscow and his English is rather basic.
"Three days ago, I had accident", he suddenly says. "Car accident. Car roll over six time. Me inside."
Come again – what was that? you were in a car accident and the car rolled over six times?
"Yes", he laughs as if he's telling us about the darndest incident, not a car accident that sounds like it might have been fatal. "Roll six times and airbag no open. That's why…." and he holds up the magnifying glass with a bright smile. And now I see it – there are huge purple bruises under his eyes. Since he's quite tanned, they aren't as prominent as you would expect.
Oh my gosh, that's terrible! You are so lucky to be alive!
I feel like I have to say something much deeper, philosophic. I also feel like I should buy him a drink. We should celebrate. Life.
But I seem to be far more shocked than he is. How can he just sit there in his colorful beach outfit, studying the menu through a magnifying glass, and casually tell our table that he was given the gift of life again only three days ago?! How – after having survived something like that – can he have the nerve to visit a tango show and chat casually with his fellow visitors…he should be burning votive candles or incent at some houses of worship or make a major donation or do – I don't know – something very deep and meaningful and celebrate life and not giggle away at some touristy tango show.
The Show Must Go On
"I not tell my wife", he adds laughing. And then he turns to our waiter Angel, which is ironic since that means angel in Spanish, and orders some wine.
He is so incredibly relaxed. And cheery. He rolled over in a car accident that sounds like something really traumatic.
However, he does not seem to be traumatized at all – and is actually telling us in his funny English how he's planning to go in a Jaguar from Moscow to Germany in a couple of weeks.
Oh my gosh, he's such a character!
He points at my camera "I had Nikon for 7000 $ with huge objective….everything poof – he makes an exploding noise " in accident. 10,000 pictures…." and still he has this chilled, casual tone.
Were you able to save the chip card?
I will never know since then the room turns pitch-dark and some melancholic tune raises and two ladies in lingerie enter the stage, and the show begins.
It's like they say: The show must go on.
On so many levels.
Passion and Prowess instead of Posing
As I wrote at the beginning, Argentina stands for Tango. Therefore, all over Buenos Aires are joints where people are actually dancing for…well, I'd say rather a passion than fun.
And then there is a number of larger venues where they transform this intimate, passionate dance into some sort of Las Vegas spectacle. Far more choreography than corazon.
The overpriced entrance fee includes not only a supposedly authentic Argentine dinner. They also offer a shuttle service from and to your accommodation. The perfect Tango bubble.
I didn't want to do that. Not only because I'm sometimes pretty cheap. Also because I find a spectacle tailored for tourists in a shuttle bus pointless.
Since on the other hand, I'm a diehard tourist, when in Buenos Aires, I wanted to see some Tango.
And here the Tortoni, Buenos Aires' oldest café comes into the picture.
A French Institution
Located on the Avenida de Mayo, the Tortoni has catered to its guests since it was opened in 1858 by a French immigrant. Noblesse obliges, he named it after a Parisian café located on the Boulevard des Italiens.
Today, you cannot miss the entrance since, at any time of the day, large groups of people are waiting to be let in.
It's worth the wait, however, in all honesty, rather for the decor and ambiance, not for the food. Nonetheless, the prices are surprisingly reasonable and the best thing is, also their Tango show is relatively cheap.
As I pushed myself through the waiting crowd to the entrance door to buy my ticket, the lady bouncer told me to come back at noon. Then, the ticket sale for the same day begins. And my tip is, to be there as early as you can so that you make it to the top of the guest list. Because in the evening, it doesn't really matter what time you show up. You are seated according to that very guest list.
Oh, the show costs an incredible 900 Pesos which is a fraction of what you pay for those big spectacles. And, of course, also at the Tortoni you can order food and drinks and enjoy them during the show.
Size Doesn't Matter
At the Tortoni, the show takes place on a small stage in a small room. Therefore, there are only up to two couples on stage at the same time. But as you know, quantity is no indicator of quality – and the dancers at the Tortoni are fantastic. Precise, passionate, powerful.
Apparently, there is no backstage entrance at the Tortoni. Consequently, the dancers are paving their way through the waiting audience – wearing jeans and flip-flops and carrying their costumes in large garment bags.
Kinda cute!
The secret star, by the way, is the singer – his voice is just so beautiful. And as he puts all his emotions into his performance, he'll move you to tears.
The show takes a bit over an hour.
Then the lights go on and everyone is clapping frantically. But no, no encore, no photo session with the artists, the Tortoni really knows how to avoid any form of tacky Disney-Las Vegas attitude.
While we were enjoying a last glass of wine after the show, we saw the dancers paving their way between the small tables. They were back in their jeans and flip-flops, their costumes thoroughly packed in their garment bags.
Practical Information
How to Get There
Airport Jorge Newbery
Buenos Aires has three airports: Jorge Newbery, El Palomar, and Ministro Pistarini International Airport, more popular as Ezeiza.
Although they call the Newbery an international airport, it basically caters mainly to domestic flights and to Uruguay.
El Palomar Airport
El Palomar is the hub for national low-cost flights. It used to be a military airport. And the passengers' waiting area is still proof of it. It's basically the lawn in front of the check-in hall. No shops, no restaurants, only a lonely van selling coffee and some sad sandwiches.
Another snack bar is located next to the three gates – that's it.
Although El Palomar is more than 20 kilometers from the city center, it's really easy and cheap getting there. There is a regional train going every twenty minutes between the San Martin Retiro Station and El Palomar, the ride is about 40 minutes and costs less than 50 pesos. Be sure to have your SUBE, tough!
During the off-hours, the wonderful Tienda Leon bus company shuttles people according to the flight schedules. When you're flying flybondi, you can even make a reservation when booking your flight. Great service!
Ministro Pistarini International Airport
So the real international airport is Ezeiza, located almost 50 kilometers southwest of the city center.
Taking a cab will set you back around 30 US$. Albeit, this is really a waste of money since the wonderful bus company Tienda Leon takes you to Puerto Madero in about 45 minutes for only 490 pesos. The shuttle goes every half an hour and you can make reservations online.
Depending on where you're staying, a cab from the Madero stop should be about 200 pesos – as long as your accommodation is in the city center, of course.
Long-distance Bus
Although the distances in Argentina can be really long, travelling by bus is a very popular way of going places. Spending up to 24 hours on the bus is not unusual.
Some companies like for instance Condor Estrella are really comfortable – like business class on a plane. However, I've been on long-distance buses overnight which was not so great. Fortunately, I'm a sound sleeper. If you are having problems sleeping in uncomfortable positions, you should rather consider flying – despite the relatively high airfares.
Ferry from Uruguay
Getting from Uruguay to Buenos Aires can be done by ferry. There are currently two ferry companies and three routes. The most frequent service is by Buquebus which takes you from Puerto Madero to Montevideo in a bit over two hours.
How to Get Around
Public Transportation
Buenos Aires has a good system of public transportation. There are buses and a metro and some regional trains if you need to get to the outskirts or to the Palomar airport.
While in other cities you need to buy a travel card in order to make things easier, faster, and possibly cheaper, in Buenos Aires you need a travel card no matter what. You cannot pay for your rides with cash or cards. It is imperative to obtain a SUBE Card for 90 pesos and then charge it with an amount of your choice. But don't get overboard since, in comparison to other big cities, public transportation in Buenos Aires is very cheap – usually less than 20 Pesos.
You can re-charge your SUBE at the metro stations called SUBTE. But also some small corner shops.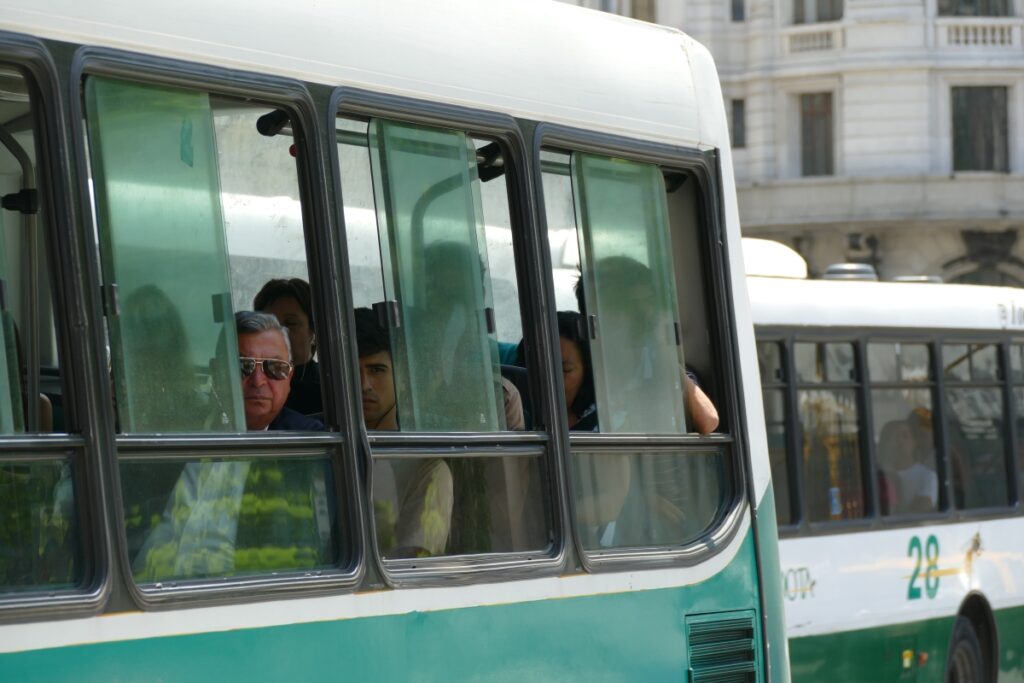 Note that your SUBE card is not only valid in Buenos Aires but for instance also on the busses in Bariloche.
So the question isn't even if it's worth buying it. You simply cannot use any public transportation without it.
Sold Out
Having said that, I'd like to warn you that some SUBTE stations might run out of cards. It happened to me at one of the major stations Plaza Italia. Tried all the counters – no cards.
Finally, the guy let me enter the station through the turnstile and told me to get off at the next stop and try my luck there.
I won't lie to you: I actually got off at my final stop and obtained the SUBE there. This way, I saved something like 20 cents. Hey, a peso saved is a peso earned, am I right?!
Taxis
Especially compared to Europe and the US, but also in comparison to other Latin American cities, taxis in Buenos Aires are not only plenty, but they are also pretty cheap. Within the city center, I never paid more than about 200 Pesos.
Another great thing is that they are registered and metered – so no haggling and no unpleasant surprises at your final destination.
Where to Stay
There is an overwhelming number of quite good hotels all over the greater city center – which might be the reason that you get really nice, meticulously clean rooms for under 30 US$.
During my three two-night stays in Buenos Aires, I stayed in three different hotels.
Regarding the locations, all three were great – I just organized my days in the respective neighborhoods.
First, I stayed at the HTL city baires in the north of San Telmo*. Not only was it the perfect spot to explore San Telmo and La Boca. Also, the service was very friendly and helpful, and fun. The rate didn't include breakfast, however, there was a huge breakfast buffet available at an okay price.
Eventually, I stayed at the Leonardo Da Vinci Residence on Libertad* street – a perfect gateway for Palermo and, most of all, La Recoleta. Although there were some minor flaws – the walls are paper thin and the neighbors just didn't care – there was the big advantage of having a kitchenette.
Finally, I stayed at the El Conquistador on Suipacha*, just a stone's throw from Calle Florida, and within walking distance to many points of interest. However, this was the hotel I liked the least. It certainly had seen better times and the staff was not very ambitious in making the guests feel comfortable. However, the price is okay and you are really close to Retiro and Madero, the two major hubs.
Obviously, there are many more options for where to stay in Buenos Aires, and you can check them out on this map*:
Where to Eat
There are tons of eateries and restaurants around Buenos Aires, you won't be starving. However, there are few of those street vendors that you might know from other big cities in Latin America – no Arepas, no Elotes, no Chicha Morada in the city center. Only around poorer neighborhoods like the Retiro train station or the bus station Liniers are these beloved traces of Latino life. This is the downside of Buenos Aires being elegantly Europeanized.
A very cool place for trying out Argentine snacks is certainly the Mercado San Telmo. Also, when you walk about five blocks southwest of Plaza Italia in the district of Palermo, you'll find basically nothing but restaurants and bars serving artisan beer with their artisan burgers'n'skewers.
Cash And Cards
This section is my least favorite one since there is so much going on in Argentina. Possibly, by the time I finish writing this one paragraph, everything might have changed.
Of course, there is cash and there are cards and one is more popular than the other under certain circumstances – for instance, sometimes, you get a small discount if you pay cash for organized tours. This might sound attractive at first, but if for this transaction you first have to get cash at an ATM where they charge you a pretty high fee, it might be just a naïve fallacy.
Although normally, credit cards work fine at ATMs, you will encounter another significant problem: There simply might be no cash in that stupid thing.
Yes, it is definitely frustrating having waited for 15 minutes in line just to find out that the person before you got the last bills.
Also, at some ATMs, there's a limit of a certain – very low – amount like e. g. 3,000 Pesos; and no matter how much you get, you always pay the same, very high fee.
Yes, there is the euphemistically called parallel market where you can change cash privately or in some touristy places simply in the street.
Although you get a much better rate than at the official exchange office or an ATM, it's illegal and if something goes wrong – for instance, if they hand you false bills – you're on your own.
During my stay, the difference between the official rate and the parallel market was up to 30%; that's a lot of money.
The current exchange rate is 1 US$ = 173 ARS as of December 2022, but you can check the conversion on this page.
Language
Yes, Argentina is a South American country once conquered by the Spanish so to this date, they speak Castillano.
Even if you have a great command of Spanish, the first days, you might have trouble understanding everything: Argentinians pronounce everything that sounds like ya, ye, yi, yo, etc. sha, she, shi, sho. Yo llego becomes sho shego. A servilleta becomes a servishetta – by the way, one of my favorites.
Also, they mostly use vos instead of tu or Usted. And they don't use the – correct – imperative ven, but they say veni.
Most people – especially when they are working in the service and tourism sector – have at least a basic knowledge of the English language, however, you might want to brush up your Spanish on babbel since they still cater mainly to national tourism.
What to See
I'm an avid solo-travelling woman. Since solo travel doesn't equal solitude, I love to join organized tours here and there. They allow me to meet fellow travellers – for just a short moment or a lifelong friendship.
Therefore, here are some great ideas of what to do during your stay in Buenos Aires. Especially if you travel solo, they'll enable you to see many great sites in a comfortable and most of all safe way*:
Connection and Communication
Like during most of my trips where European roaming is not available, I did not get a national SIM card but did rely on WiFi – worked like a charm. I could connect to the internet without any issue at basically every museum, eatery, or café, and, of course, hotel.
If you insist on being online 24/7, you can, of course, get a SIM card. Preferably from movistar – not for the name giving you more glamour, but because it has great coverage.
Regarding plugs in Argentina, it's easy for Europeans since the sockets are this strange type I which is like a crooked type A that they use i. a. in the USA. Two flat pins that are, withal, not parallel. For flat Euro-plugs, it's generally not a problem since, in addition, they have these two round holes.
With a computer and a round plug with thicker pins, you have to improvise since they don't enter. I, therefore, had to mutilate a US adapter plug to squeeze these thick pins in; something no electrician will recommend.
The standard voltage, however, is 220 V, and the frequency is 50 Hz. Whereby, since nowadays, all these chargers for phones and readers and computers have integrated adapters, in general, the voltage and frequency don't really matter.
Gone are the days when you blew your electric appliances since you forgot to switch them from 110 to 220…good times.
Map
This map should help you to find the places introduced in this post. Clicking on the slider symbol at the top left or the full-screen icon at the top right will display the whole map including the legend.
Buenos Aires was only the start of my exciting Argentinian road trip. Go to the main post to check out all the other destinations.
Pinnable Pictures
If you choose to pin this post for later, please use one of these pictures:
Note: I'm completing, editing, and updating this post regularly – last in November 2022.
Did You Enjoy This Post? Then You Might Like Also These:
* This is an affiliate link. If you book through this page, not only do you get the best deal. I also get a small commission that helps me run this blog. Thank you so much for supporting me!