Yes, there are those paradisiac beaches lining the island of Naxos. But the true travel connoisseur makes sure to explore also Naxos' hinterland for at least one day. Don't wanna drive up those crazy serpentines yourself? No problem since Naxos' 5 most beautiful mountain villages can be conveniently visited on a self-guided tour by public bus. All you need is an elaborate timetable which I put together for you in this post.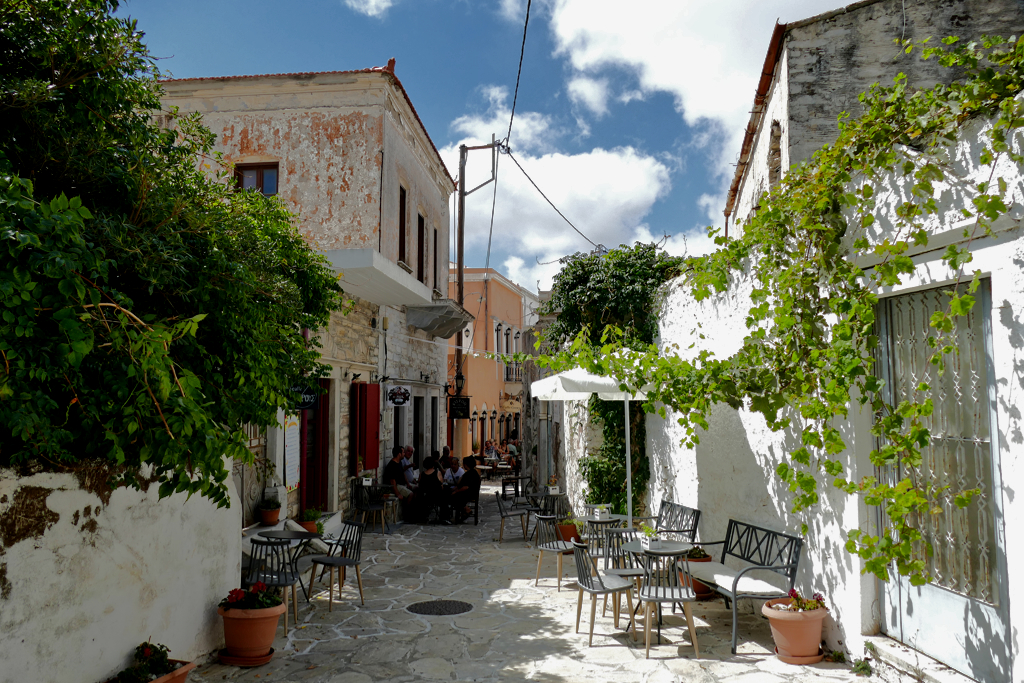 This way, not only do you save a lot of money. Travelling by bus also spares you driving the crazy serpentines and searching for a secure parking spot. Hence, let the driver do the job while you enjoy the scenery to the fullest.
Getting High in Naxos
Naxos' countryside is incredibly captivating. Picturesque little villages are scattered high up in the mountains and the lush valleys. After all, Naxos is the largest and at the same time the most fertile island of the Cyclades. Thousands of olive trees cover the hinterland, called Tragea. Interestingly, Naxos is also known for excellent potatoes. Another significant economic element is the quarrying of high-quality marble. All these treasures are hidden far from the island's mesmerizing beaches in the hinterland. Now, add a couple of Venetian towers, tons of Byzantine monasteries and churches, some quaint cemeteries, and you get the picture.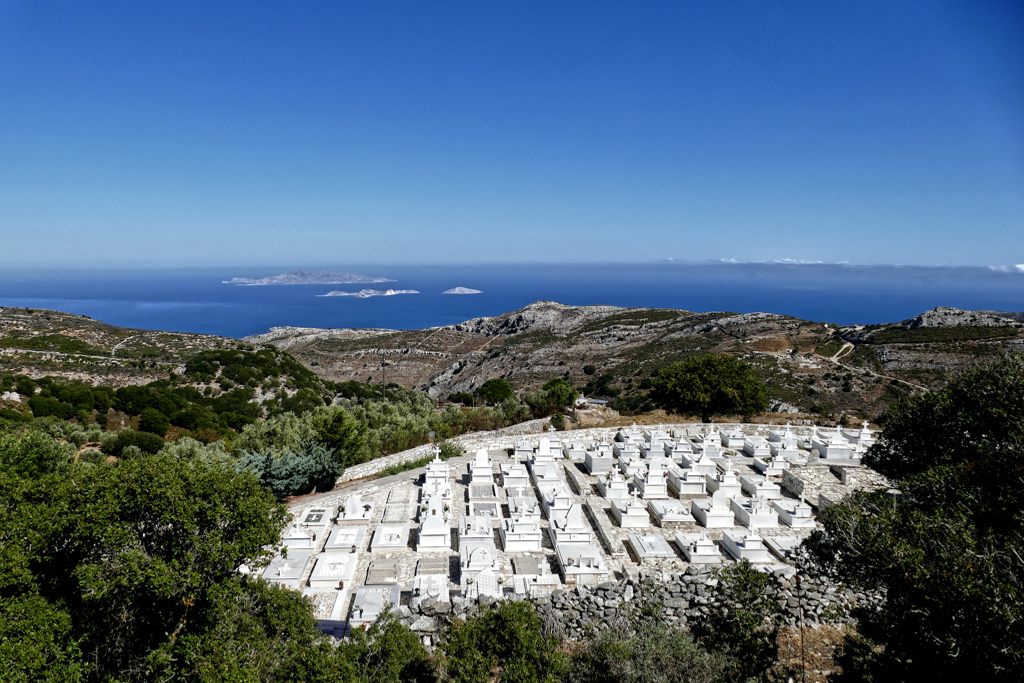 You haven't seen Naxos if you haven't visited those distinctive villages and townlets. Nope, there is no excuse since you can actually get to basically all of them in less than an hour. Didn't rent a car? Neither did I! Public buses are going to most of the settlements a couple of times per day for a fistful of Dollars Euros.
Below, I'm introducing the five most intriguing villages. You can visit one or two of them on a half-day trip. If you spare all day, you can actually get to know all of them.
So what are you waiting for? Get up, put on some clothes, and let's rush to the bus station – the next coach to Naxos' five most beautiful mountain villages is leaving in a couple of minutes.
Sangri
Just southeast of the Chora lies the village of Galanado. Here, you get to admire the Venetian Tower of Belonia as well as a small chapel dedicated to St. John. The unusual little church from the 13th century is a Catholic chapel on the left side. On the right is an Orthodox chapel.
Through the traditional village of Vivlos with its characteristic windmills, you'll get to Sangri. It is located on a hillside and surrounded by fields and farmland. Here, you can visit a couple of Naxos' most iconic Byzantine churches. Also, the old monastery of Agios Eleftherios is highly interesting since it served as a secret school during the years of the Turkish occupation.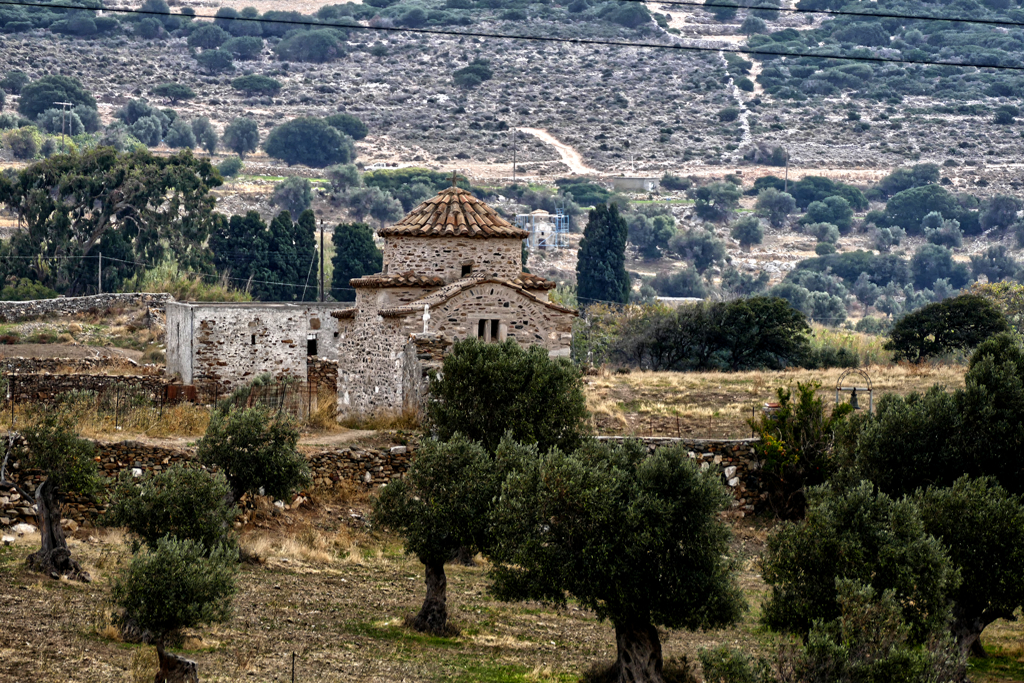 As a matter of fact, the village of Sangri is neither very interesting nor particularly picturesque. Nevertheless, there are some historically significant landmarks like Byzantine churches and chapels on the outskirts that make a visit worth a while. Keep in mind that visiting various of them might take almost the entire day. Hence, the itinerary at the end of this post works only if you visit exclusively the Demeter sanctuary.
Temple of Demeter
The magnificent Temple of Demeter dates back to the 6th century B. C. and has been made exclusively from the finest Naxos marble. Since it is completely curved, each individual component had to be manufactured specifically for its purpose. It is one of the early Ionian temples. As Demeter was the Olympian Goddess of agriculture, harvest, and fertility, the fruitful grounds around Sangri were chosen to build the temple.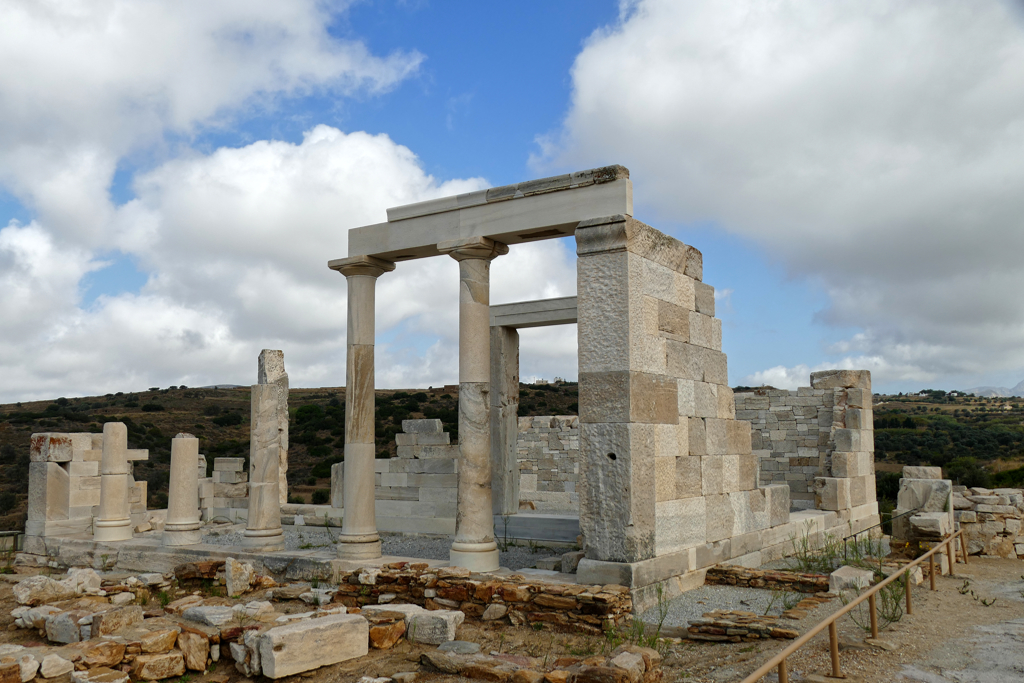 Around the 3rd century, Christianity repressed the Olympian deities. Hence, the temple of Demeter was converted into a Christian basilica, dedicated to Saint John. Said church was probably destroyed in the 7th century during an Arabic invasion of the island.
The remains of the ancient temple of Demeter were discovered only in 1949. During the excavations that took place in the second half of the 21st century, fragments of the temple were recovered from all around the area but sadly, many had been looted.
Plan Your Visit
Today, the Temple of Demeter is one of the most alluring ancient Greek temples especially due to its scenic location amidst the green fields of Sangri.
Parts of the temple that were not used for the restoration are exhibited in a small museum next to the archeological site. The collection is divided into three parts. The first one is dedicated to the sanctuary and its development from the 8th to the 3rd century B. C.
A second part deals with ​​the function of a Byzantine basilica, while the third one shows photographs, drawings, and plans of the complex. The redesign of the complex and the establishment of the museum was awarded the Europa Nostra prize in 2003.
The museum is open every day except for Tuesdays from 08:30 to 15:30. Entrance to the outdoor archeological site is free.
Oops, I did it again
"Sangri! Sangri" yells the driver in an impatient tone. He opens the backdoor and only five people alight from the packed bus. Then, he closes the door quickly, and off he goes. Sangri's bus stop is just a small sign on the side of the main road. That's probably the reason why our lot seems a bit baffled. Getting off at Sangri has a bit of a being abandoned in the middle of nowhere feel to it. Oh well, I know where I'm heading so I turn and walk decisively toward the village center.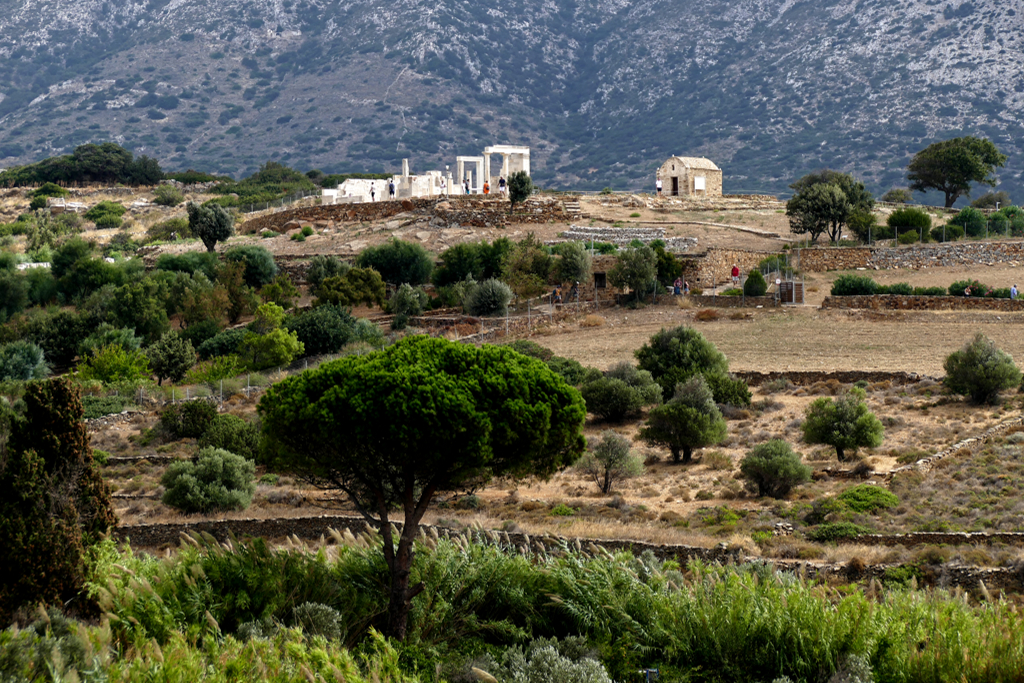 I'm here to visit the Temple of Demeter. From the village leads a road to the site. Yet, walking four kilometers alongside a Greek road doesn't excite me much. But what's this over there? A map. And on the map are hiking trails, and trail #7 leads to the Temple of Demeter and I'm all in.
I'm not wearing hiking boots but dressing sneakers with a totally smooth sole. But hey, how bad can it be? As I hit trail #7, I'm walking on a track across some fields. Not very comfortable but quite okay.
Treacherous Trail
Then the trail gets bumpy. Time and weather conditions have left deep holes, shrubs and twigs obstructing my way. The way is extremely uneven, a bit like a small rollercoaster designed by mother nature. It gets really steep in some spots. My sneakers definitely do not have enough grip for this kind of trail. I wasn't prepared for this, hence, my high-quality hiking boots are securely stored in the apartment at Naxos' Chora. Damn, I'm such a moron. Now I even have to climb over some wooden gates. Man, trail #7 becomes more and more bootcamp-ish.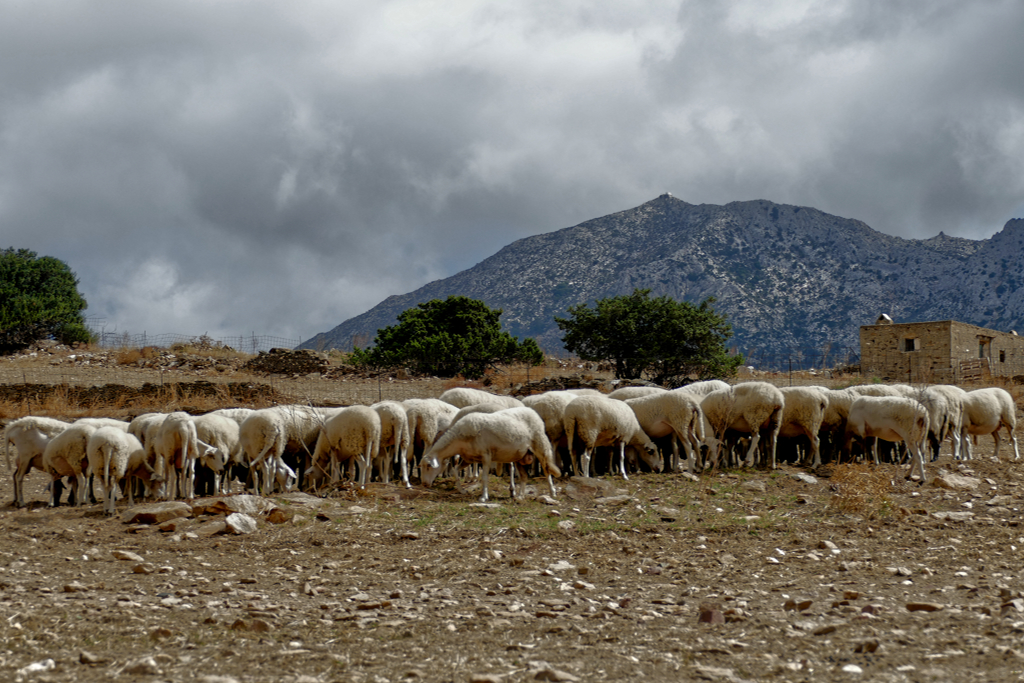 Remembering the last time I was all by myself in an impassable terrain makes me quiver. Back then, I was wearing unsuitable sneakers and continued hiking on basically untraversable rocks and in the end, I spent a week at a hospital in Gran Canaria and the following three months on crutches. How is it even possible, that I find myself in such a stupid situation again?
At this point, it doesn't even make sense to walk back to the village since trail #7 is quite a challenge in either direction. Hence, I very carefully continue towards the Temple, hoping for the best and promising myself to walk back alongside the road no matter how much longer it takes.
Chalkio
There is a small square in the center of Chalkio village which supposedly was the oldest market in all of Naxos. A group of sophisticatedly dressed American ladies gathers in the square. They open their expensive-looking paper bags to show each other what they've just purchased. They look, admire, and shriek, and then they rush into the next shop.
Around the central square of Chalkio is an impressive number of elegant shops selling high-class ceramics and some very tasteful figurines made of marble. One of the neoclassical mansions houses the Vallindra Kitron distillery. Here, you can participate in a tour and get a taste of the famous Kitron liqueur.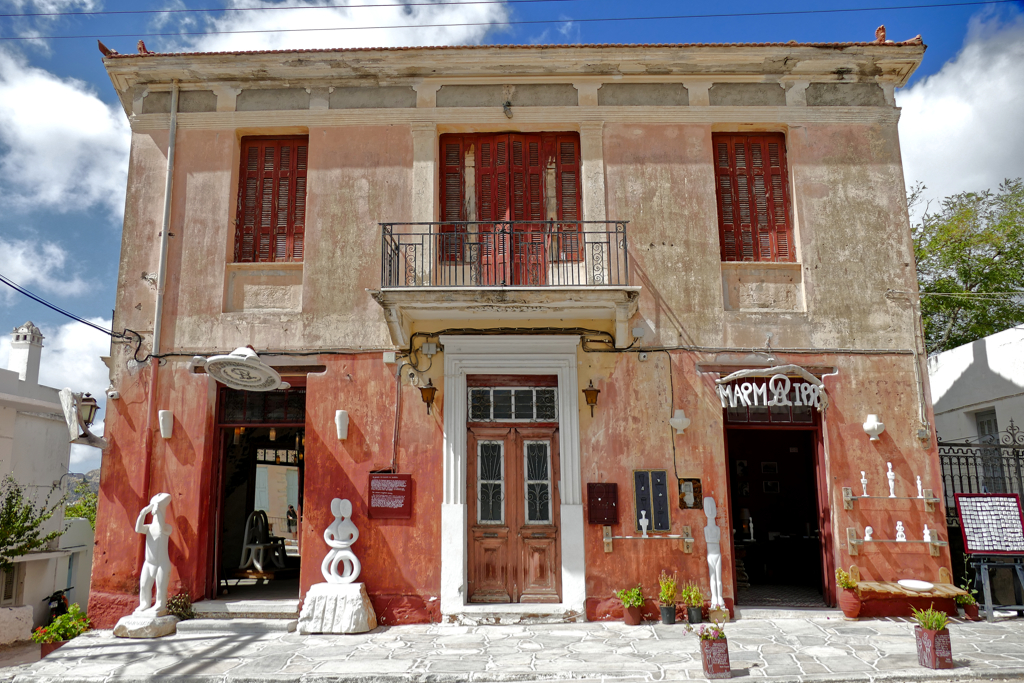 I also like what I see in Chalkio's store windows but that doesn't mean that I have to buy it. What you see is what you get has never been my way of life.
I'm not judging. I'm only very glad that I didn't grow up in a society where every wonderful experience has to be topped off, crowned, and sealed with a purchase.
And at the end of the day, I cannot shop, anyways. Like almost always, I'm travelling with hand luggage only, and the iconic souvenirs at Chalkio are made from ceramics or marble.
Hence, I leave the center square and the adjacent alleys lined with shops and restaurants behind and head for the village's outskirts.
An Archeological Treasure Box
Back in the day, Chalkio used to be the capital of the island as well as its main administrative center. You can trace the townlet's rich history and wealth from the elegant neoclassical mansions. Obviously, the village has also picturesque alleys and some lovely churches one of which is the Church of Panagia Protothronos. It dates from the 9th century and has been in uninterrupted service since 1052. It houses some stunning Byzantine and post-Byzantine frescoes.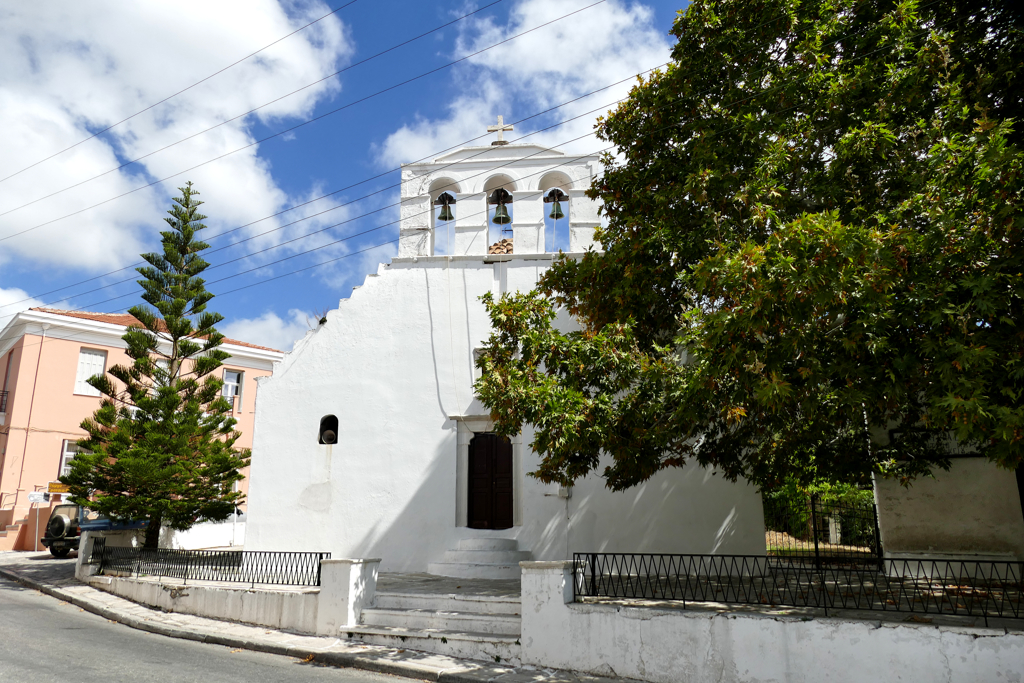 Nevertheless, most of the architectural and archeological treasures stand on the outskirts of Chalkio. Its surroundings are covered by enormous olive groves, dotted with significant Byzantine churches. Also, you'll spot many Greek citron trees. The famous Naxian liqueur Kitron is made from its exotic-looking fruits.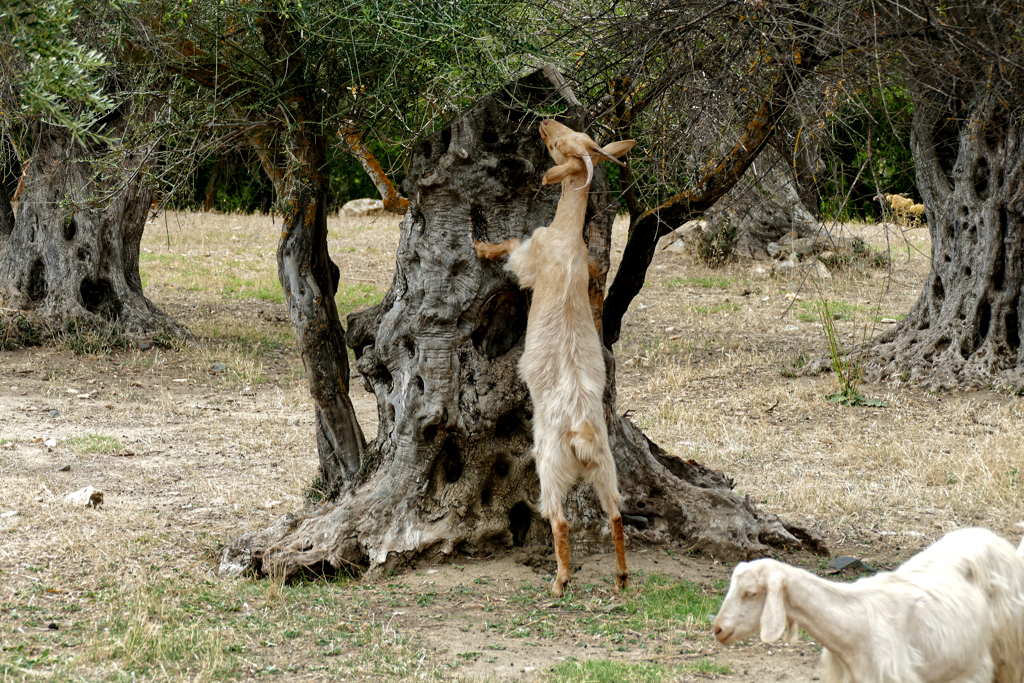 There are a couple of trails leading visitors through the fields to some charming settlements like for instance the Monitsia Village about ten minutes north of Chalkio.
Take A Hike
If you are planning on going on one of the longer hikes, you won't be able to see all the mountainous villages according to my itineraries at the end of this post. But don't worry, apart from Koronos, all villages are served by a couple of buses every day. Hence, you can plan your day trips totally according to your needs and liking.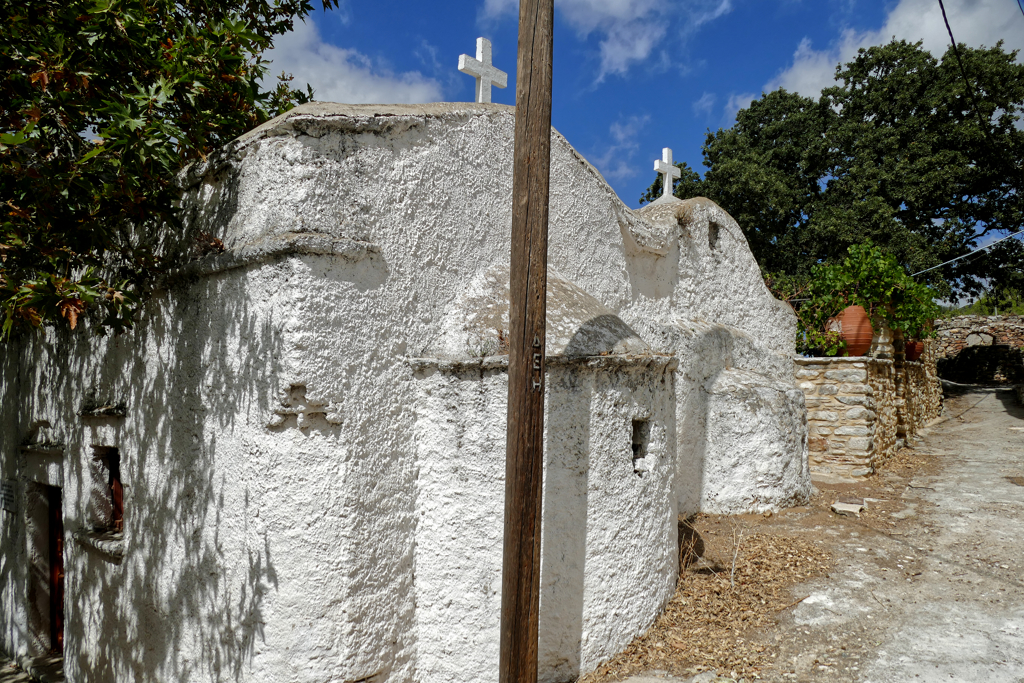 Even if you spend just a very short time between two regular buses in Chalkio, you'll have the chance to see some of the most famous Byzantine churches like for instance Agios Georgios Diasoritis.
It is also easily possible to get from Chalkio to the next stop of my itinerary, the village of Filoti, by hiking. I'm describing this comfortable one-hour hike in my post NAXOS – Five Best Things in Five Days.
Filoti
Filoti is definitely one of the most famous and actually also the most alluring villages on the island. With a population of about 1,800, it is not only the largest village in Naxos, but in all of the Cyclades. But mind you, Filoti is also home to roughly 60,000 sheep!
The area is famous for the excellent quality of its livestock products like milk and cheese; and sadly also lamb and goat's meat. Furthermore, a cooperative of local women pickles and sells homemade fruit preserves, the famous Glyka tou Koutaliou, which traduces to spoon sweets.
Filoti's lovely alleys and picturesque stairs connect charming little squares and are lined with whitewashed houses, decorated with flowers blooming in bright colors.
Interestingly, Filoti's center of social life is around a small square alongside the main street which at first sight is not that idyllic. Yet, you cannot miss it since that's also the spot where the buses in both directions stop for passengers. This spot is surrounded by traditional Greek kafenia, hence, coffee houses, but also cozy taverns serving local staples.
The Old Center
As you walk up the stone-paved alleys, you'll get to the church Panagia Filotitissa. Built around 1700 on a plot of land the local population achieved to purchase from the feudal lord Barozzi, it is dedicated to the Assumption of the Virgin Mary.
Apart from its beautiful bell tower, this triple-aisled basilica houses old icons and an artfully crafted marble altar, hence you should also take a look inside.
Talking 'bout the Barozzi family: You'll find the same-named tower just a stone's throw east of the square. Next to the church is a small museum granting an insight into village life.
Going Up
The further you walk uphill, the more you'll be impressed by the amphitheatric views of the surrounding mountains. Looking west, you'll see the lush Tragea while the livestock farms are located in the south.
While the village of Filoti is lovely, indeed, the most fascinating landmarks are in its surroundings. There is the Aria spring about 3 kilometers south of the village on the slope of mount Zas as well as the cave where, according to mythology, Zeus was born. Obviously, there are numerous Byzantine chapels you should visit already for their amazing frescoes. And finally, the southern outskirts of Filoti are the starting point for those who want to get all the way to the summit of mount Zas. I'm describing this hike – including many tips – in my post NAXOS – Five Best Things in Five Days.
If you want to enjoy Filoti's surroundings hiking but want to tune it down a notch, how about hiking back to Chalkio? Actually, it's rather a walk that shouldn't take you more than an hour. You'll find a hiking guide in my above-mentioned post.
Apeiranthos
But before you think about walking back to Chalkio, remember, that we are still not done with the mountainous villages. There are still two townlets lying ahead to which the bus needs to take you further up.
The first one, namely Apeiranthos, is built amphitheatrically at an altitude of about 650 meters at the slopes of mount Fanari. It is surrounded by fields and vineyards and grants magnificent views of the mountain ranges around.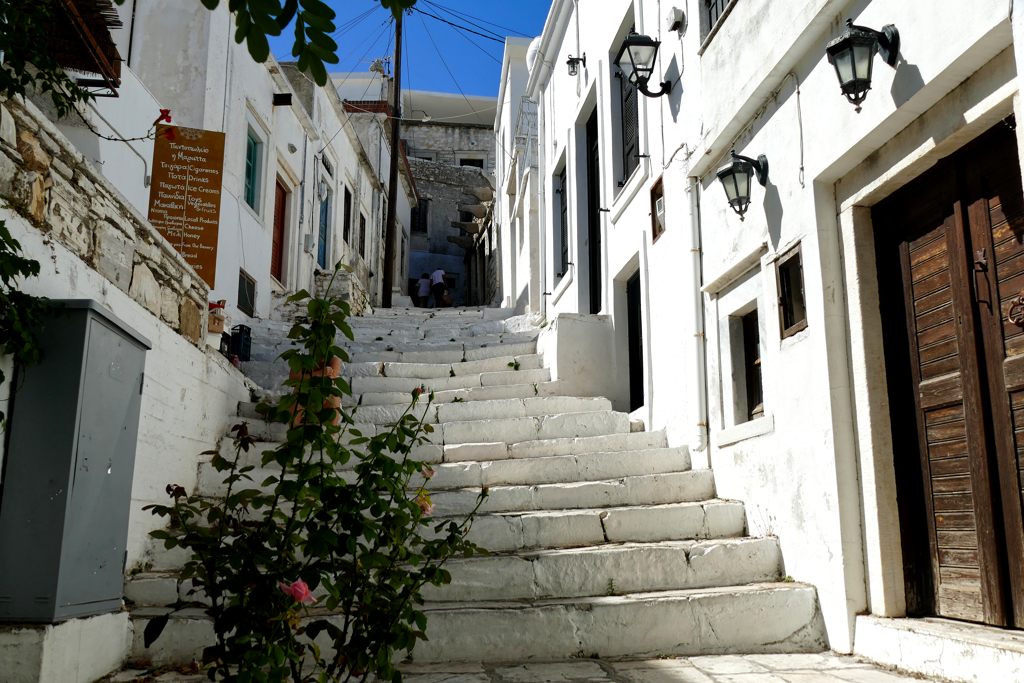 What makes Apeiranthos the indisputably most beautiful village of Naxos is the fact that the streets were laid out with the finest marble. Also, marble was used to construct most of the houses.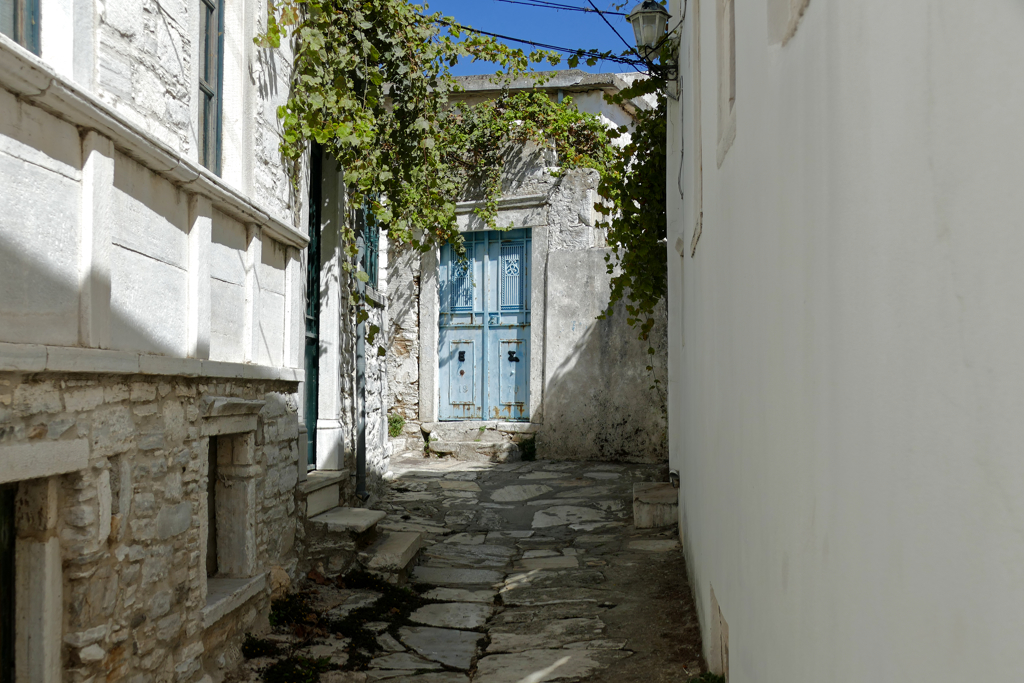 Landmarks
Apeiranthos is not only incredibly beautiful, but there are also some grand landmarks to see. Its main church Panagia Apeirathitissa is one of the oldest churches on the entire island of Naxos and houses some amazing icons. Also, there are no less than five museums in the village. The Museum of Geology shows a collection of stones, minerals, ores, and fossils. At the archaeological museum you get to see finds from the stone and bronze Ages. In the local natural history museum is marine wildlife as well as corals and shells. Then, they are the folklore museum and an art museum which is only open during the months of July and August.
Also, like in many other settlements in Naxos, Aperiranthos has an old Venetian tower. It's named Zevgoli Tower and is still very well preserved. It belonged to the feudal family by the name of Somaripa. Today, it is privately owned and inhabited.
Although I'm not exactly into a mortuary cult, I was quite impressed by Aperiranthos' cemeteries. Actually, I found it quite odd that a village with only about 1,000 inhabitants has two large graveyards located just a couple of hundred meters from each other. While from the old one which is located right in the heart of town, the inhabitants have a majestic mountain view, those who died later are buried with a panorama of the Aegean sea to their feet.
Wherever you go, Aperiranthos is every photographer's Dorado!
Koronos
"No, no, you pay ticket at market" barks the driver as I intend to give him money. Oh-kay then, sorry that I'm not familiar with how things work up here in Koronos. I wanna get out of here, hence, I'm not giving him any attitude.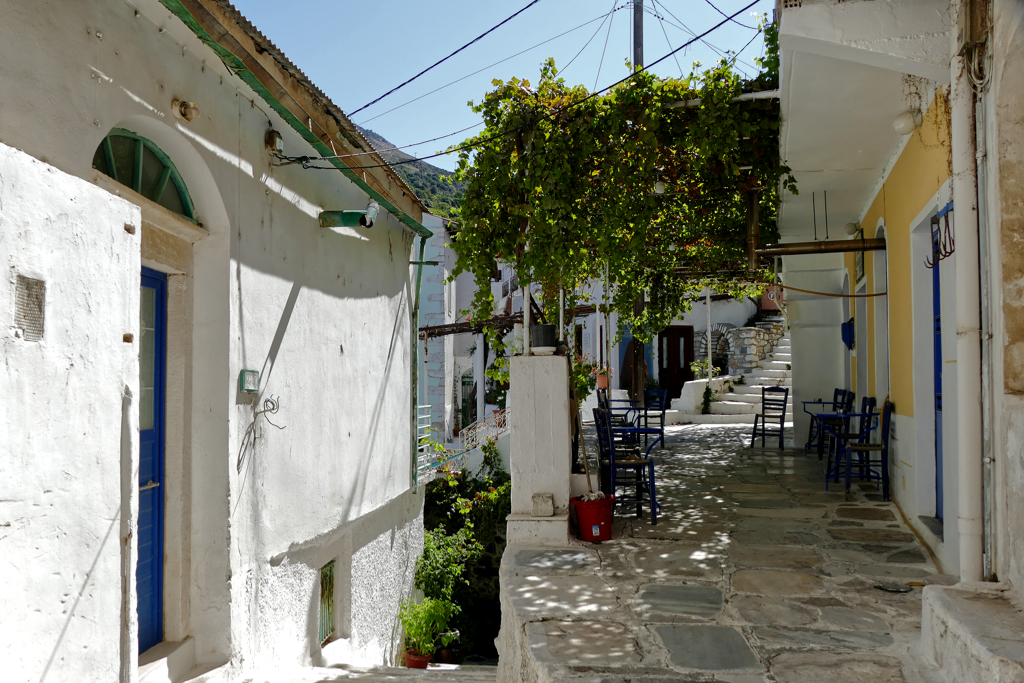 I'm at the one village that's most complicated to visit – at least if you are going by public bus as I did. Well, let me rephrase it: Visiting Koronos is not complicated, but you have to stick to a strict schedule since there is only one coach each way you might take. However, as I pointed out a couple of times, make sure to check KTEL's current schedule before you go.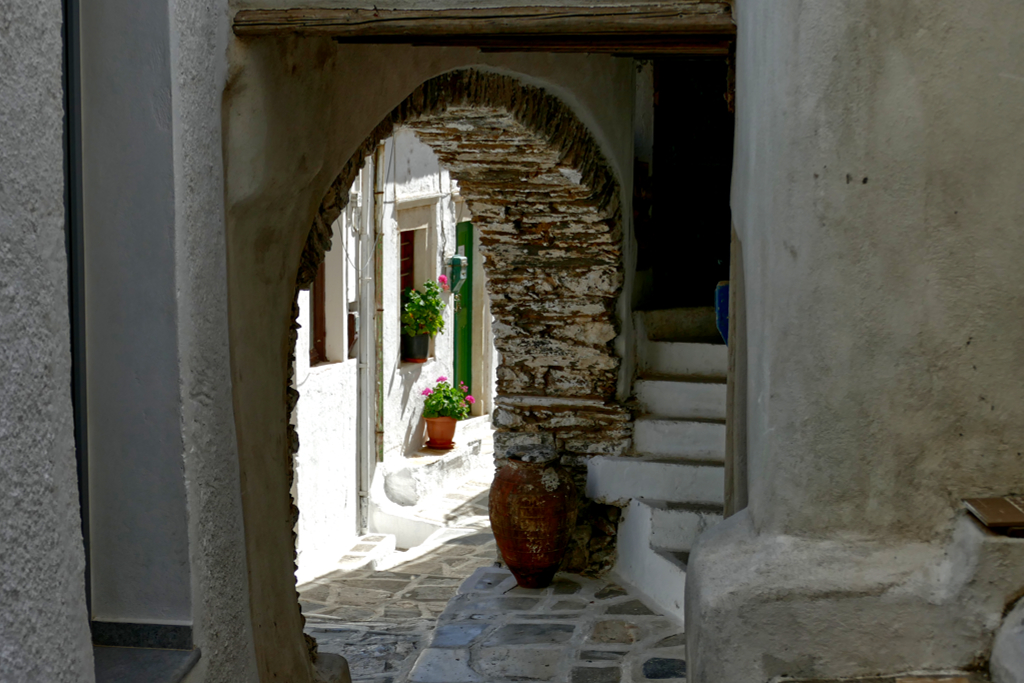 When I went, there was a bus at 1.30 p. m. leaving the Chora of Naxos. It took me to Koronos in less than 90 minutes which gave me only a bit over an hour to explore the village before I had to take the return trip at 4 p. m.
Is Koronos Worth the Detour?
Was it still worth it? Yes, definitely. As a matter of fact, the way is the goal. The views that open before your eyes as the bus makes its way up the mountains will leave you bedazzled. And although I don't agree that Koronos is Naxos' most beautiful village, the location is definitely one of a kind. The village is one of the oldest settlements in northeastern Naxos and basically consists of two wings that cling to the slopes of Mount Amomaxis and Mount Koronos. Below the 540 meters high settlement, you have a wonderful view of a lush valley, overgrown by vineyards with the Aegean sea in the backdrop.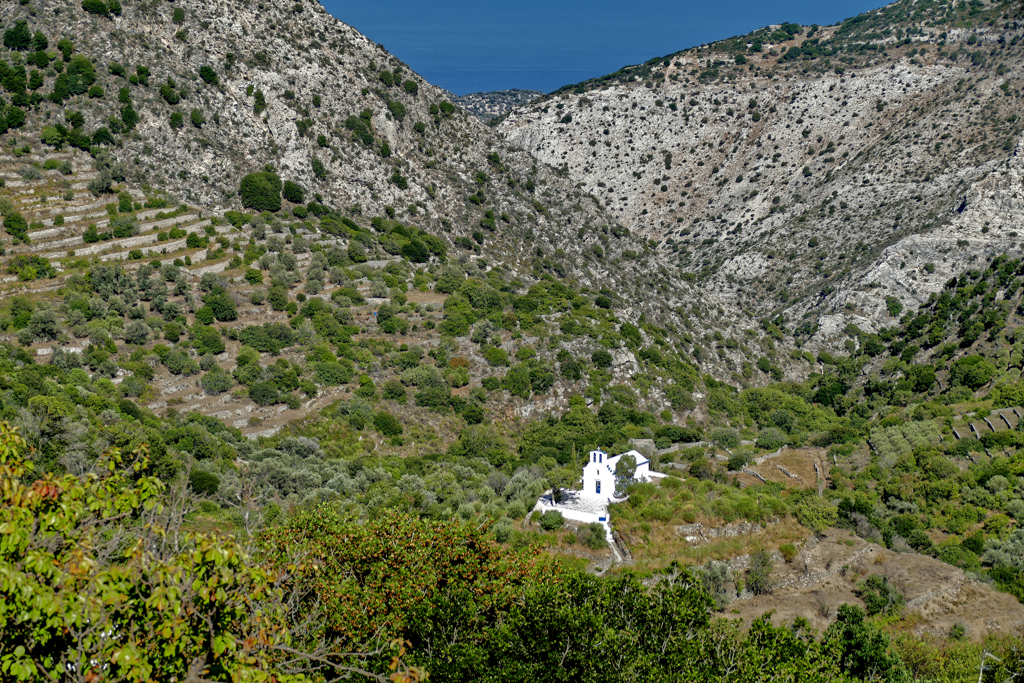 Just like in Filoti and Apeiranthos, steep stairs and narrow alleyways connect the tiny courtyards and whitewashed houses. Kafenias, traditional Greek cafe houses, have their tables and chairs under shadowy trees. Yes, the serenity of Koronos takes you back in time.
Koronos wouldn't be a Cycladic village if there wasn't a big church in the center. The older of the two aisles was built before 1200 and dedicated to Agios Ioannis. Agia Marina was added much later, namely in the 16th century.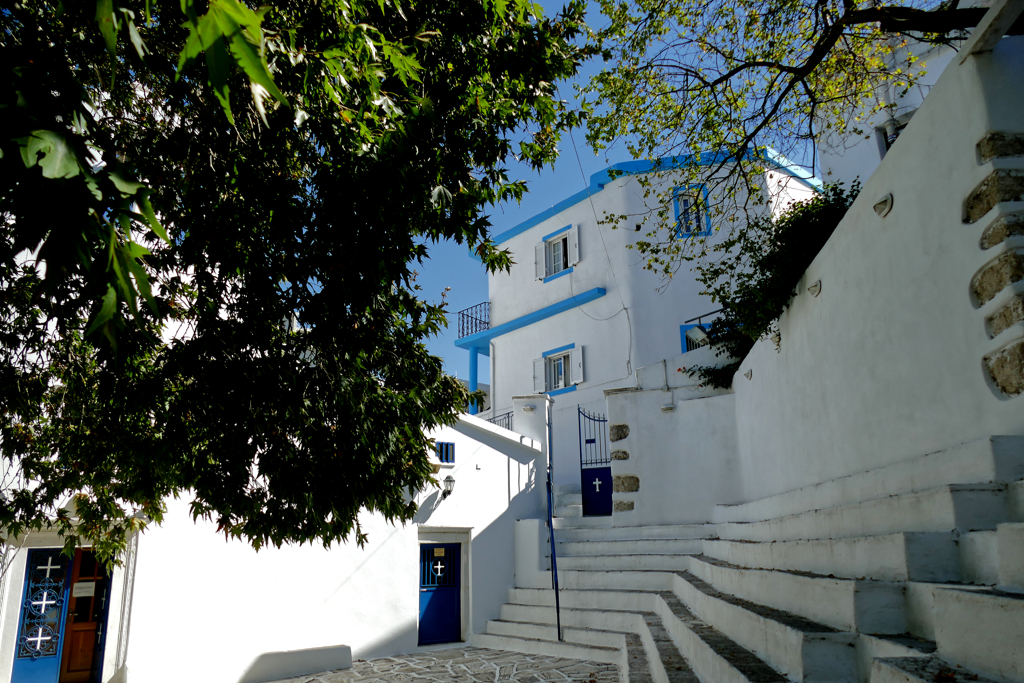 Even if the church should be closed when you are visiting, you can still enjoy the beautiful courtyard featuring an old plane tree, a water fountain, and benches to take a break from climbing those stairs.
Route And Suggested Schedule
It's very easy to visit the individual villages by public bus. Apart from Koronos where there is only one round-trip connection per day, you can choose from five or six coaches. However, if you want to visit various – or even all – of the villages, you need to plan a bit ahead.
Below, I've put together two itineraries, one that includes the secluded village of Koronos and another one that doesn't. Both itineraries give you enough time to visit the most important landmarks in and around the village, however, longer hikes or the visit to more remote churches is not possible. Also, if you stick to the complete itinerary, you'll get to Filoti only in the early evening and will be able to enjoy the village for around one hour in the fading daylight. However, I'd argue that Filoti is the best place to enjoy a traditional dinner, and this itinerary gives you enough time to do so before you catch the last bus going back to Naxos' Chora.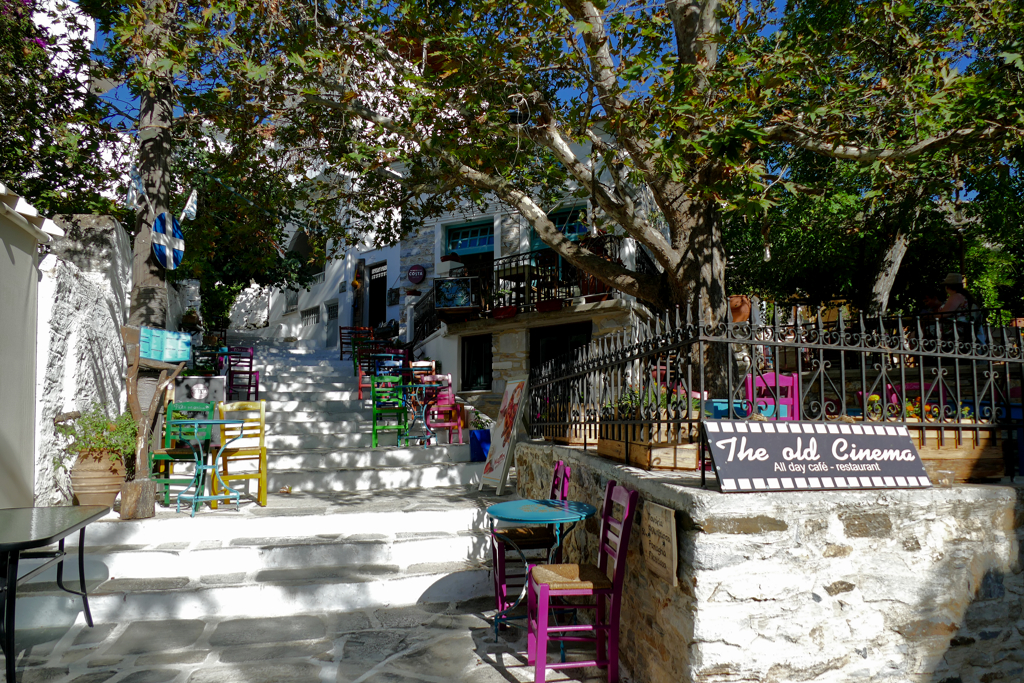 Nevertheless, if you want to explore some of the villages extensively, hence if, for instance, you want to see some of the Byzantine churches and monasteries around Sangri or go on a circular hike around Chalkio, you cannot do that in just one and a half to two hours. In this case, forget about my thoroughly elaborated itinerary and plan for at least half a day in the respective village.
Timetables
| | | | |
| --- | --- | --- | --- |
| Departure | Arrival | Bus Number | Route |
| 9.30 a. m. | 9.50 a. m. | #2 or #6 | Chora to Sangri |
| 12.20 p. m. | 12.30 p. m. | #2 or #6 | Sangri to Chalkio |
| 2.10 p. m. | 2.30 p. m. | #2 or #6 | Chalkio to Filoti |
| 3.30 p. m. | 3.50 p. m. | #2 or #6 | Filoti to Apeiranthos |
| 6.30 p. m. | 7.15 p. m. | #2 or #6 | Apeiranthos to Chora |
Itinerary for four villages.
| | | | |
| --- | --- | --- | --- |
| Departure | Arrival | Bus Number | Route |
| 9.30 a. m. | 9.50 a. m. | #2 or #6 | Chora to Sangri |
| 12.20 p. m. | 12.30 p. m. | #2 or #6 | Sangri to Chalkio |
| 2.10 p. m. | 3 p. m. | #2 | Chalkio to Koronos via Apeiranthos |
| 4.05 p. m. | 4.15 p. m. | #2 | Koronos to Apeiranthos |
| 6.30 p. m. | 6.45 p. m. | #2 or #6 | Apeiranthos to Filoti |
| 9.45 p. m. | 10.30 p. m. | #2 or #6 | Filoti to Chora |
Itinerary for five villages.
How to Explore Naxos' Villages by Public Bus
Above, I've put together itineraries that allow you to visit four respectively all five of the mountainous villages. Apart from their beauty and historic relevance, they have in common that they can be conveniently reached by public bus throughout the day.
Although my itineraries are thoroughly elaborated, schedules might be subject to change. Therefore, I'd recommend checking the bus company's comprehensive website. Also, the ladies at the KTEL bus station in Naxos' Chora are very helpful.
If you have already determined your plans for the day, you can buy all your tickets there in advance. And don't worry about changing your plans: You can still utilize unused tickets for other trips – which have to be at the same price, obviously.
Either way, note that you have to get your ticket in advance before boarding the bus. Apart from the main bus station, kiosks and mini markets are selling bus tickets, too.
Well-Organized Activities
Although it is possible to explore the villages by public bus, joining an organized tour definitely has its advantages. Yes, it's definitely more expensive but you also save time and – most importantly – you get tons of information right on the stop which you otherwise need to research in books or on the internet. Also, especially for solo travellers, joining a group on a day trip can be a nice change and a great opportunity to meet like-minded fellow travellers.
Therefore, here are some suggestions for what to do when visiting Naxos. Especially during high season, pre-booking online will guarantee your place at the activity of your choice*:
My day trips to the mountain villages were only two lovely day tours during my five days on the island of Naxos. To read about the others, go to this post and take your pick!
Map
This map should help you to find all the wonderful places I'm introducing in this post. This way, you can plan your own visit accordingly. Clicking on the slider symbol at the top left or the full-screen icon at the top right will display the whole map including the legend.
Pinnable Pictures
If you choose to pin this post for later, please use one of these pictures:
Did You Enjoy This Post? Then You Might Like Also These:
* This is an affiliate link. Hence, If you book through this page, not only do you get the best deal. I also get a small commission that helps me run this blog. Thank you so much for supporting me!