Foehr – let me guide you to the island in the Northern Sea where every village is a home. Every village a home – what's that all about?
Well, let me take you to one of Germany's most popular holiday islands where almost each of the 16 villages' names ends with the suffix –um. Since this is the Frisian and Lower German version of heim…which translates to home, you can imagine how cozy and homey this North Frisian island is to its….homies.
The Wadden Sea
The National Park Wadden Sea stretches from Den Helder in the Netherlands along the German Westcoast all the way up to Esbjerg in Denmark and is the world's largest contiguous Wadden area.
There are seven East Frisian and five North Frisian islands scattered in the German part. Föhr* is the largest and most populated island with no land connection. I've introduced Borkum, one of the East Frisian islands, in another post of this series.
Going to Föhr, you have to take a ferry which adds to the charm.
Already while crossing from Dagebüll, the small harbor on the mainland, you'll spot some smaller isles on the horizon – these are Halligs (singular Hallig), small islets, some unpopulated, some being home to tiny communities like the nine inhabitants of Hallig Gröde, located southeast of Föhr.
Wyk
Wyk is the capital of the island of Föhr and, obviously, one of the exceptions to the –um-rule. More than half of Föhr's population, i.e. about 8,500 people, is living in Wyk which is also the only town on the island.
Before I keep on, I'd like to emphasize that Wyk is pronounced almost like week in English, whereby you would replace the w by a v – so it's veek.
Everyone gets to Wyk because there are not only shops and supermarkets, a movie theater, and a disco – yes, disco, like in the 1970s – there is also the small harbor from where ferries are crossing by the hour between 7 a. m. and 8 p. m.
Halligs
Also, the day trips to the Halligs around Föhr are starting from here.
Halligs are small, undiked islets off the coast of Schleswig-Holstein. There are ten of them, and if you can arrange it, it's totally worth staying another day to enjoy a cruise to these unique, secluded places. You can visit either one of the two largest of the ten German Halligs – which are Langeneß and Hooge – or the smallest one, Hallig Gröde where 19 inhabitants form Germany's smallest municipality.
You can book for instance the Hallig Royal trip: It takes all day and even includes little refreshments. On this trip – that costs 45 € for adults, 25 € for kids, and 140 € for families, i.e. two adults and up to three kids from 4 to 14 years – you get to see all three islands. But you can also go on shorter trips to just one of the Halligs.
MS HAUKE HAIEN
Bredstedter Straße 35
25813 Husum
Phone: + 49 – 4841 – 8 14 81
Mobile: +49 – 171 – 770 58 77
Email: info@wattenmeerfahrten.de
Hooded Beach Wicker Chairs
Even if there's a nip in the air – or a strong breeze – you'll find shelter in one of the roofed wicker chairs that I love so much.
They call it a Strandkorb, a beach basket. It shelters you perfectly against the wind while you enjoy the rays of the sun. When it's warmer, you just push back the roof and – voilà – you have the perfect beach bed.
Sleeping On The Beach – In Style
For about four years now it's even possible to spend the night – or your entire vacation – in a Strandkorb. They developed a new kind that's a bit wider so it houses two people.
You'll get a key and can spend a romantic and cozy night under the stars.
There is a bathroom nearby – some of the showers have only cold water, but come on, be a sport! – and if a sudden shower comes down, you can cover the Strandkorb with a hood similar to those of a convertible. This one-of-a-kind accommodation is available during the summer season from May till September.
Föhr's Past
It's certainly interesting to learn a bit more about Föhr's history, and the Dr. Carl-Häberlin-Friesen-Museum, the Frisian museum at Wyk, is the perfect place for it.
Here, you'll learn about the whale catchers who were active in the 17th and 18th centuries. They are also telling you why so many Föhrers migrated to the United States in the middle of the 19th century.
You'll see the traditional attires, furniture, and utensils in three original buildings – one of those is Föhr's oldest house, built in 1617.
Also, there is an antique post mill. It was brought here from Langeneß, the largest of the Halligs surrounding Föhr.
Dr.-Carl-Häberlin-Friesen-Museum
Rebbelstieg 34
25938 Wyk
Phone: + 49 – 4681 – 2571
Email: info@friesen-museum.de
Regarding their opening hours, please check their website since these vary according to the different tourist seasons.
Out Of Wyk
So yes, Wyk is a nice little town, but I'm not coming to Föhr to stay in a town – I'm coming for the seclusion and serenity. Obviously, I find these features between the fields and the meadows between all the –ums, those lovely little hamlets and villages. Here, most of the farmhouses are reed thatched and have some wise slogan painted around the doorframe.
So come on, jump on your bike and let's hit the road.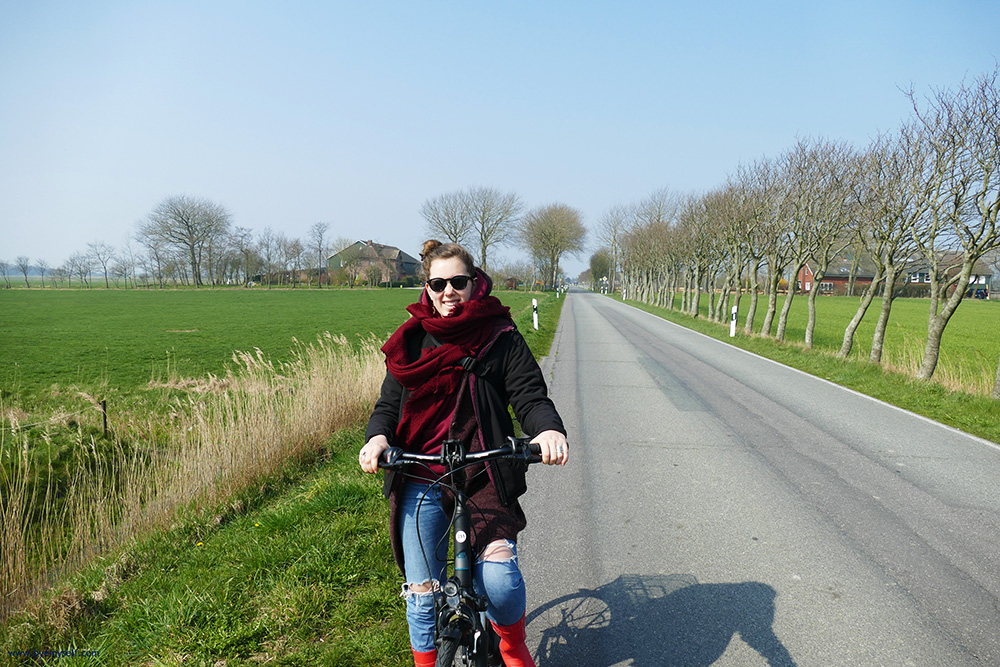 Although there are a couple of elevations, namely 17 burial mounds from the bronze age, the island is mostly flat and therefore perfect for cycling. However, it's an island amidst the northern sea, so even on a warm and sunny day, a strong breeze can make riding a bike pretty challenging. Therefore, I really recommend renting an e-bike that helps you to cycle against the wind when needed.
Wrixum
Leaving Wyk on the route L214 towards the northwest – which sounds much more like a serious road trip than it actually is – you'll first get to Wrixum, a name that sounds like borrowed from an Asterix-book.
Wrixum's landmark is the windmill, erected in 1851 and functioning till 1960. At that time, grinding corn in a mill like this simply wasn't economically interesting anymore.
After a checkered history, the community of Wrixum bought the mill in 2016 and is now trying to re-animate it. The mill is now heritage-protected and the association is collecting money to buy new wings. The old ones had to be detached for safety reasons.
Eventually, the mill should grind again and the baked goods will be sold at a bakery next door.
Wrixumer Mühle
Hardesweg 54
25938 Wrixum
You can visit the windmill Sundays at 2.30 p. m.
Oevenum
As you keep on cycling northwest on Hardesweg, turn right into Dörpstrat which takes you straight to the village of Oevenum, island-famous for treats and dainties: There are farm stores where you get the very freshest produce and also a farmers market.
Homemade candy from the sweet shop Snupkroom, which is Frisian for sweets, are great to enjoy on the spot or to bring home as a souvenir; well, good luck with that….
Föhrer Snupkroom
Wohlackerum 2
25938 Oevenum
Phone: +49 – 4681 – 746 21 38
With your pockets full of snupkroom, keep riding down the Dörpstrat, which by the way translates to village road – these Föhrers really nail it, which eventually leads into Midlumweg and you'll find yourself in
Alkersum
Alkersum is an –um not to be missed for two great attractions.
Art…
One is the Museum Kunst der Westküste, the Museum Art of the West Coast.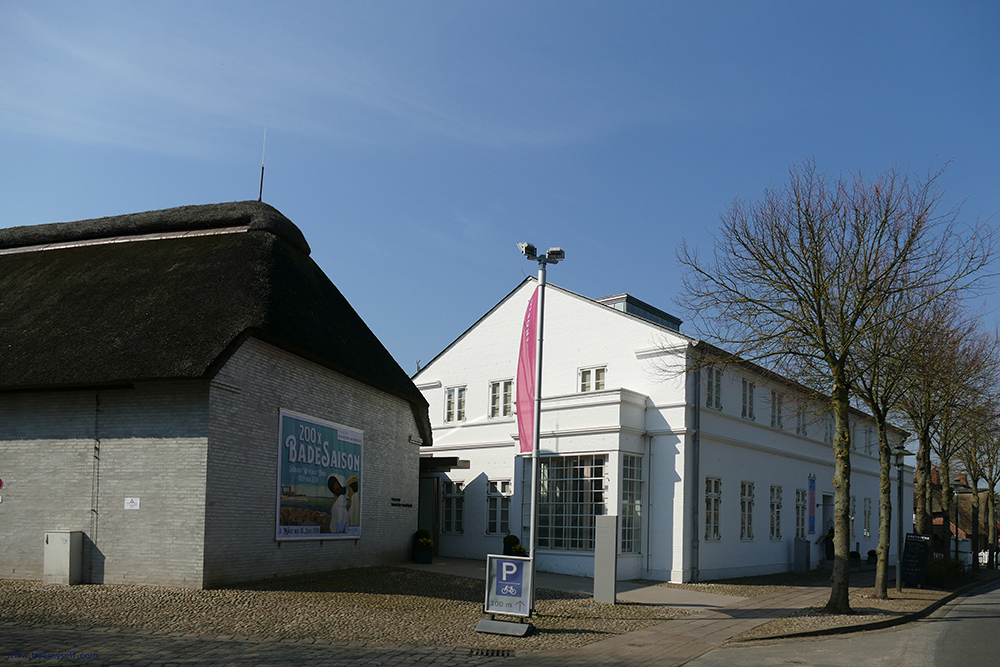 The founder is Dr. Frederik Paulsen Jr. whose father was born in Dagebüll in 1909. As a young man, he had to flee the Nazis to Sweden and Switzerland because of his opposing political ideas. In Sweden, he founded the pharmaceutical company Ferring. In 1997, he died in Alkersum.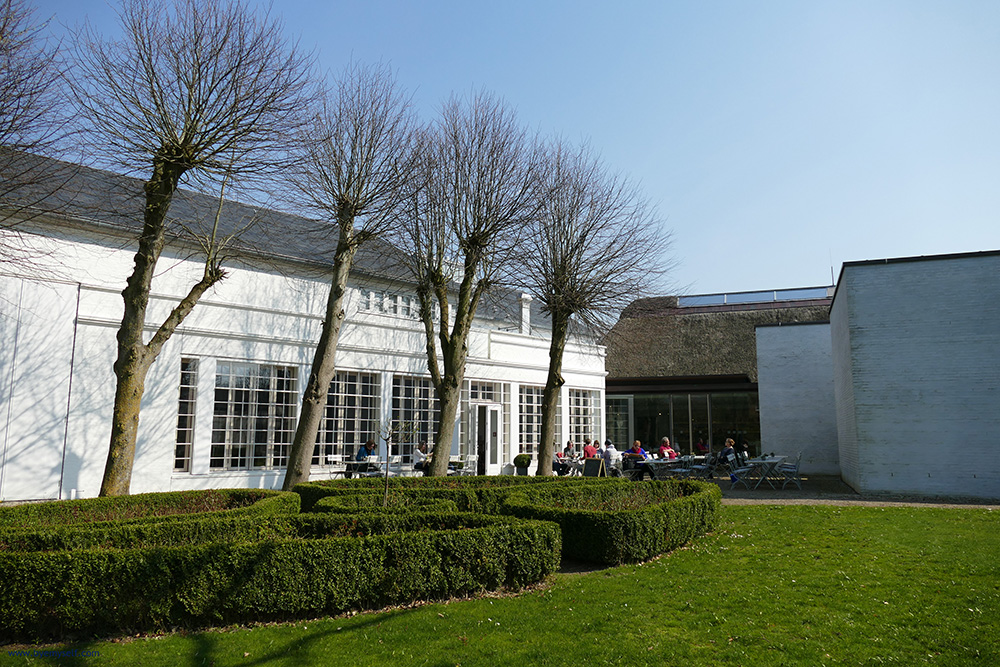 Dr. Paulsen's art collection is the backbone of the museum that he founded in 2009 in the very village his father died. The museum was installed at the former tavern Grethjens Gasthof which used to be a hangout of German and Danish artists in the 19th century. The exhibition consists of paintings by Edvard Munch, Max Liebermann, Max Beckmann, Peder Severin Krøyer, and many other Nordic masters.
Today, the temporary exhibitions deal with the topics sea and coast.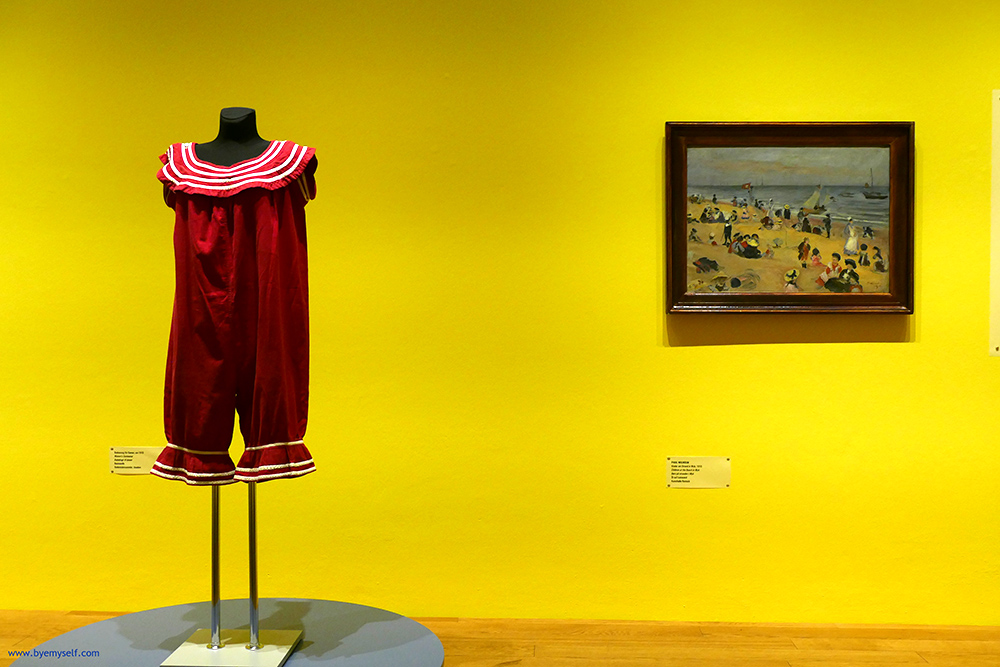 The venue, its history, and the art on display are interesting and inspiring and not to be missed when visiting Föhr. About 50,000 visitors per year will certainly agree.
Museum Kunst der Westküste
Hauptstraße 1
25938 Alkersum
Phone: +49 – 4681 – 74 74 00
The museum is open Tuesday to Sunday from 10 a. m. to 5 p. m.
…And The Art Of Food
The other place to visit in Alkersum is not artsy, however, very original: At the farm store Hofladen Hartmann you can buy all sorts of freshly homemade dairy.
It's closed?
No worries: Inspired by a candy machine, you can buy their goodies such as cheese and yogurt from a….well, it's probably called a dairy machine.
There you can also obtain empty glass bottles.
What for?
Well, next to the candy….sorry: diary machine is – inspired by a gas station – a milk station.
Put your brand new bottle in the little compartment, insert one €uro and one liter of fresh milk will pour into the container.
So much fun!
Hofladen Hartmann
Hauptstraße 9
25938 Alkersum
Phone: +49 – 4681 – 24 92
If you prefer to shop the conventional way: The farm store is open Monday to Friday from 9 a. m. to 6 p. m. and Saturdays to 1 p. m. On Sunday, you have only the ingenious machines.
Oldsum
So Oevenum is for food, Alkersum for the art – the next village on the road L214 would be Oldsum and that stands for tradition, history, and handcraft: Today, at many of the thatched half-timber houses you'll find cozy cafés, galleries, and specialty shops selling wool and ceramics, but also jam and other local delicacies.
In the 17th century, Oldsum was an important whale-catcher village: Commander Matthias Petersen caught 373 whales in his life. Look out for his gravestone in the cemetery around the St. Laurentii church in Süderende – we'll get there in a moment.
Staying at a Frisian House
Talking 'bout whale-catchers: Another one was Arfst Ketels, born in 1808. When he died in 1884, he left a beautiful house that today belongs to Ms. Marion Koziol – for the record: She is not catching whales.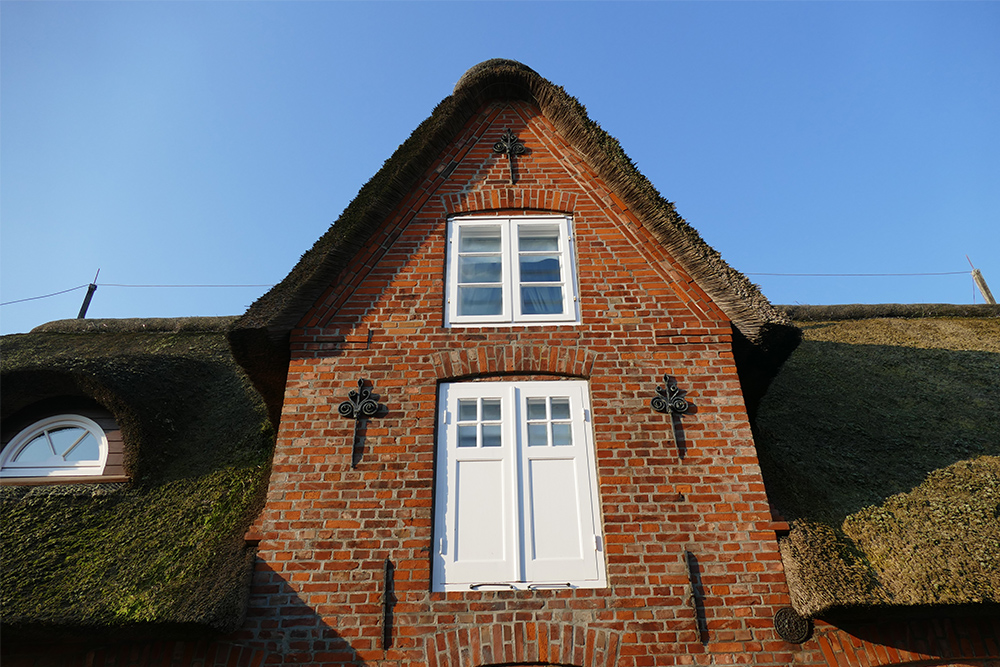 Marion, who moved to Föhr from Southern Germany, did a great job in restoring the old structures and transforming the house into a real -um, a cozy home. Now, she's generously sharing it with others by renting three of the upper rooms to guests. As a matter of fact, two are connected to form a suite.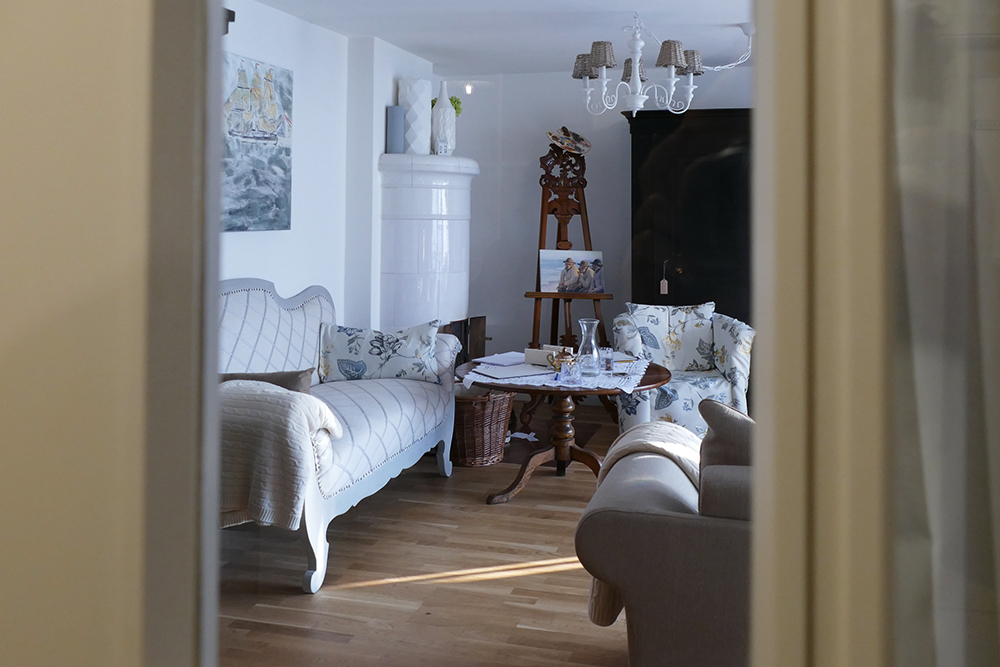 And since Marion loves to bake and cook, you can enjoy a wonderful breakfast prepared to your liking before you leave to explore the island and the sea.
If you like, she awaits you in the evening in the cozy dining room with an opulent dinner like for instance her Frisian tapas, a variety of local delicacies with a modern twist. Prepare for a long, filling, and fulfilled evening!
You can check the Friesin's availability and rates here*
By the way, Arfst Ketels' gravestone is at St. Laurentii: Northeastern corner, third row.
However, since the Friesin has only two rooms, chances are you might look for another accommodation – and you can conveniently do so on this map*:
Dunsum
As you might remember from my post on Cuxhaven and the hike across the tideland to the island of Neuwerk, I'm a huge fan of the Wadden sea and hiking around in the mud. To me, no visit to the North German coast would be complete without marching in the mud to see all the wonders nature has created and we should cherish and protect.
While every guided hike on the tideland is an excursion into wonderland, in Dunsum, they throw in a handful of seals.
You can hike towards the island of Sylt and approximately halfway, there is a sandbar where the chubby, cute gray seals are frolicking in the ice-cold waters or lazing on the sand.
Crossing The North Sea Walking
Since the waters come and go and there are relatively few people getting to the sandbank, it's also a dorado for shell collectors. Not only the amount is simply amazing, but they are also unbroken since few feet are trampling around. So if you take this hike and you love to collect shells, bring a big bag with you.
The hike to the sandbar and back is in total about 8 kilometers, the schedule, of course, depends on the tides.
You can get info at the Tourist Information or at the tavern
Zum Wattenläufer
Dunsum
Phone: +49 – 171 – 1 13 36 28
If you want to hike and didn't take your own gumboots, you can rent them at a little price
Antiquitäten & Gummistiefel-Verleih
Sandwall 58
Wyk
Phone: +49 – 173 – 8 11 56 70
When the weather is warm enough, there are even hikes all the way to the neighboring island of Amrum. Although the distance is only about 8 kilometers, the tidal creek at the end of the hike is thigh-high so that you have to cross wearing beachwear; believe me, you don't want to do this in let's say March…
To get back to Föhr from Amrum, you take a ferry.
Of course, you can visit Amrum, Sylt, and many of the Halligs by ferry; but come on, do you really want to miss the opportunity to basically walk on water from isle to isle?!
Süderende
Süderende – although, obviously, not an –um – is, however, also a very cute village with nice houses and most importantly a very impressive Lutheran church, St. Laurentii. The original structure stems from the late 12th century. However, the building was extended for the first time already in the 13th century and underwent a couple of changes. This you can see from the very different bricks and stones.
The most fascinating part – of all Protestant churches on Föhr – is the graveyard surrounding the house of worship: You will notice a number of beautifully engraved stones, the so-called Talking Gravestone. Following an old tradition, the deceased's biography is summarized in artful writing, telling e.g. about the exciting life of the whale catchers.
Also, pay attention to the floral decoration. The family's men and sons are mentioned on the stone's left side in some tulip-like flowers. Women and daughters to the right in a four-blossomed flower. A broken flower is telling you that the person died before the family tombstone was finished.
These graveyards are very unique and typical for North Frisia.
By the way, the North of Germany is mostly protestant, so there is only one Catholic church on Föhr, the St. Marien Kirche in Wyk.
Utersum
Here you'll agree with Föhr's self-proclaimed title Friesische Karibik, Frisian Caribbean: Miles and miles of fine sand along the North sea make this village the epitome of a beach vacation.
Even as the tide is low you can take a dip in a tidal creek.
Facilities such as bathrooms and showers are great – and there are designated beach areas for different needs like a dog beach or even a non-smokers' part.
Since Utersum is on the island's very West, not only is there a good view of the neighboring island Amrum. The sunsets here are just spectacular!
Witsum
River deep – mountain high: Föhr's smallest village Witsum is adjacent to the island's only river, the Godel. The endless fields and the humidity create a unique Biotop, ideal for all the resting'n'nesting birds.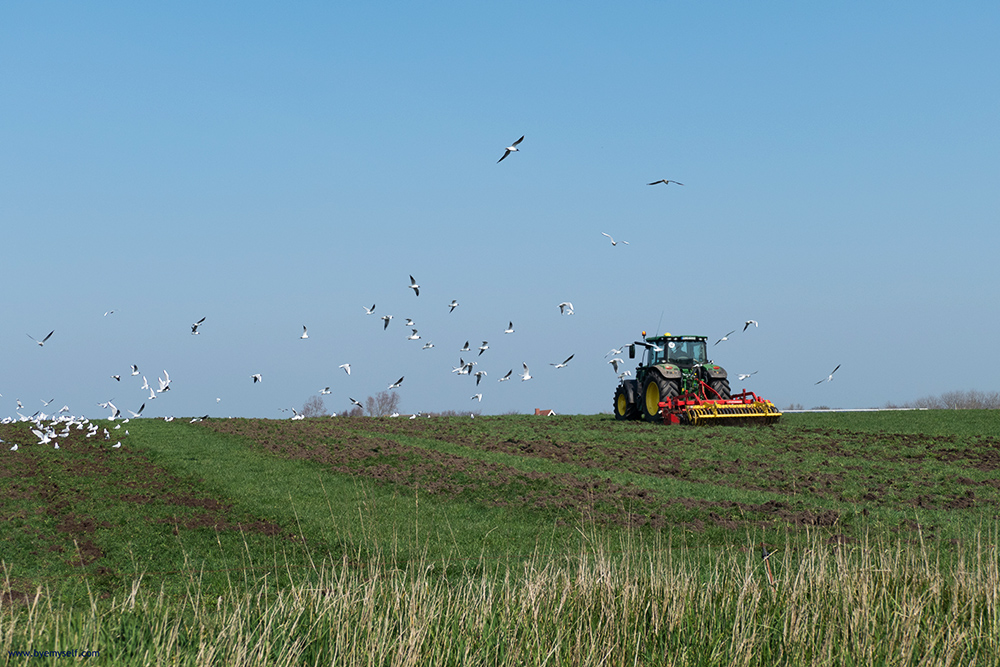 Oh, I almost forgot that one of Föhr's highest elevations, the 11 meters high Sylvert hill, is also located at Witsum. You see, this tiny village seems to have it all….
Nieblum
All the -ums are super-cute and have lovely corners, but Nieblum is the prettiest of them all. Consequently, also the most touristy one. Especially since there isn't only the incredible number of perfectly maintained Frisian houses but also the proximity to the Frisian Caribbean, the Northern sea.
On Nieblum's beach, everyone finds his or her favorite activity; or passivity in case lazing in the sun is your personal favorite.
While the whale catchers used to live in Oldsum, Nieblum was for the captains and to this date, it is reflected in the magnificent Frisian mansions. Nieblum as a village, considered Föhr's most precious gem, won various village competitions for a reason.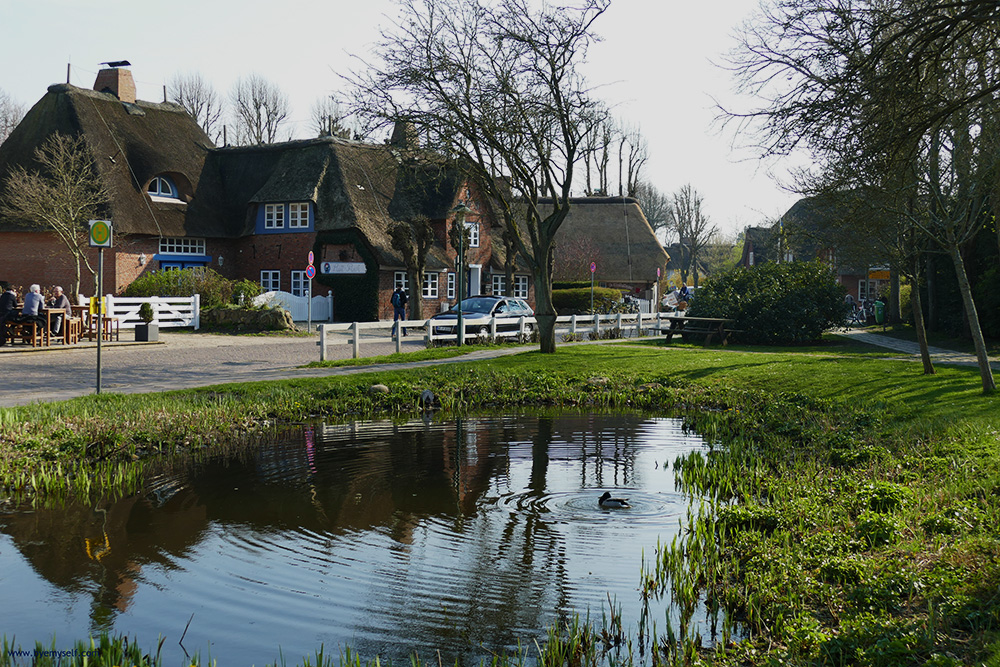 The cobblestone and pebblestone covered alleys are lined by linden trees and roses in many colors are blooming in the gardens and on housewalls.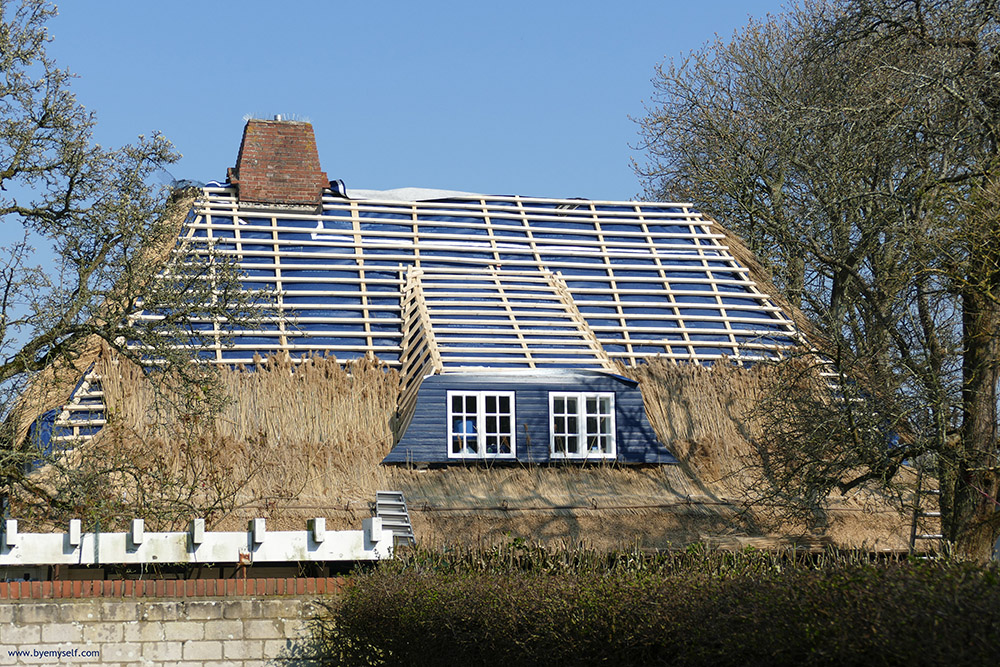 Just like Süderende, Nieblum's center, too, is dominated by a house of worship, the Saint John church, called the Frisian Cathedral. It is Föhr's largest church, built almost 600 years ago.
Practical Information
Getting There…
Although Föhr does have an airport and there are regular flights to the island from Sylt as well as from Flensburg and Husum on the mainland, most visitors are coming by ferry via the port of Dagebüll.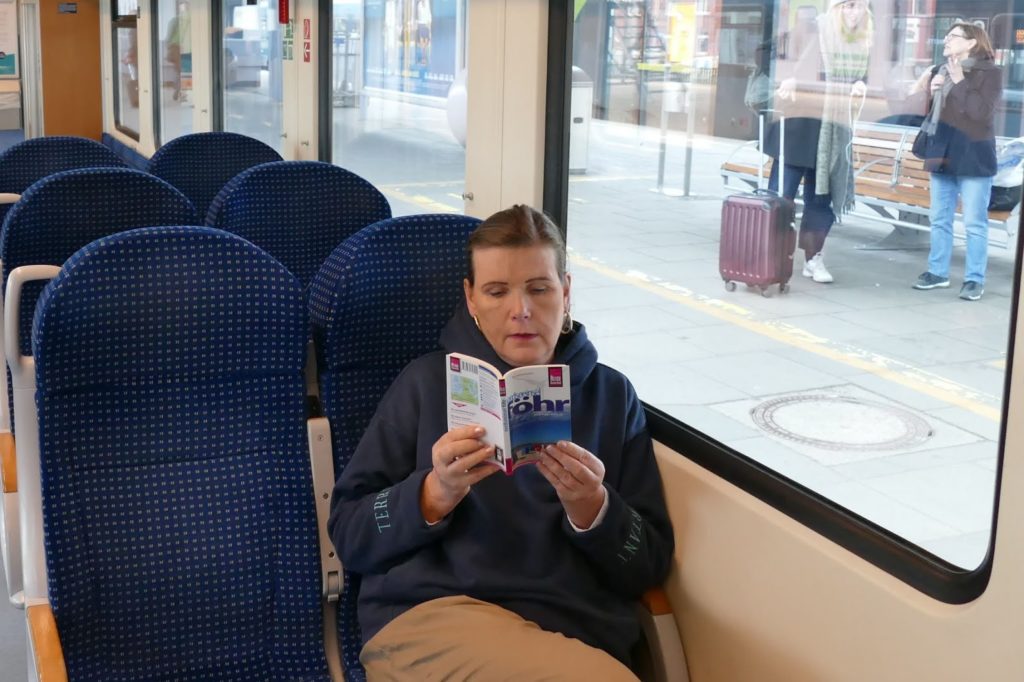 It's not complicated to get e.g. from Hamburg to Föhr, however, it does take about five hours in total since you have to change trains at least once or twice and then wait for the ferry….but I find it's definitely worth the effort.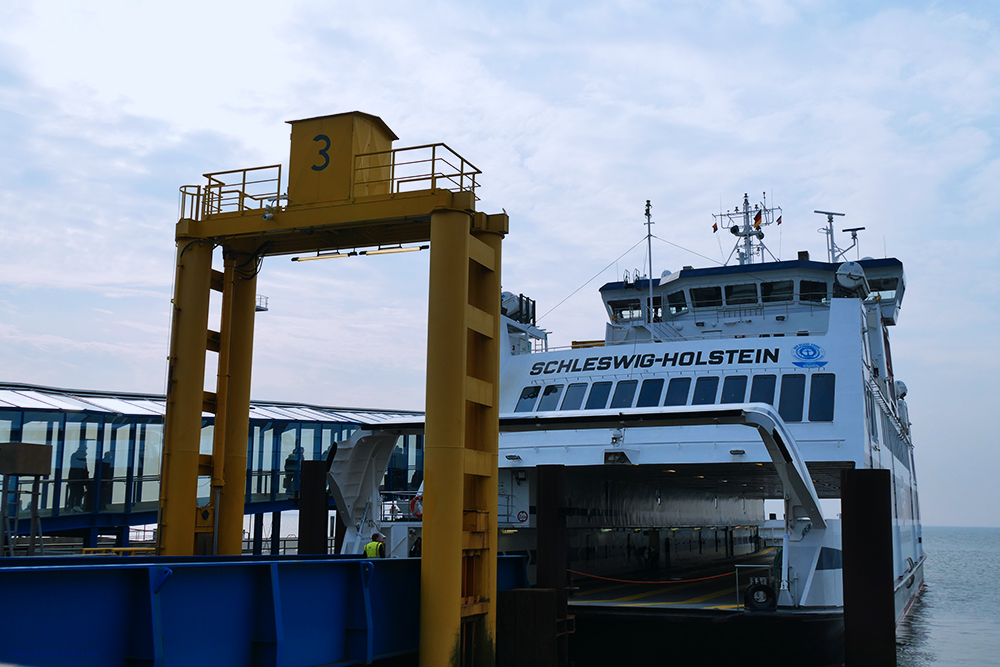 If you are coming from Hamburg or any place within the federal states of Schleswig-Holstein or Mecklenburg-Western Pomerania and you are not travelling by yourself, you might want to consider getting a Schleswig-Holstein-Ticket: It costs 29 €uro for one and you have to add another 3 €uro per person travelling with you. So if you are two adults, it will set you back 32 €uro for both of you, if you travel with four other people, you'll pay 41 €uro for your party of five; not bad, right?!
A child under 15 travels for free with two adults.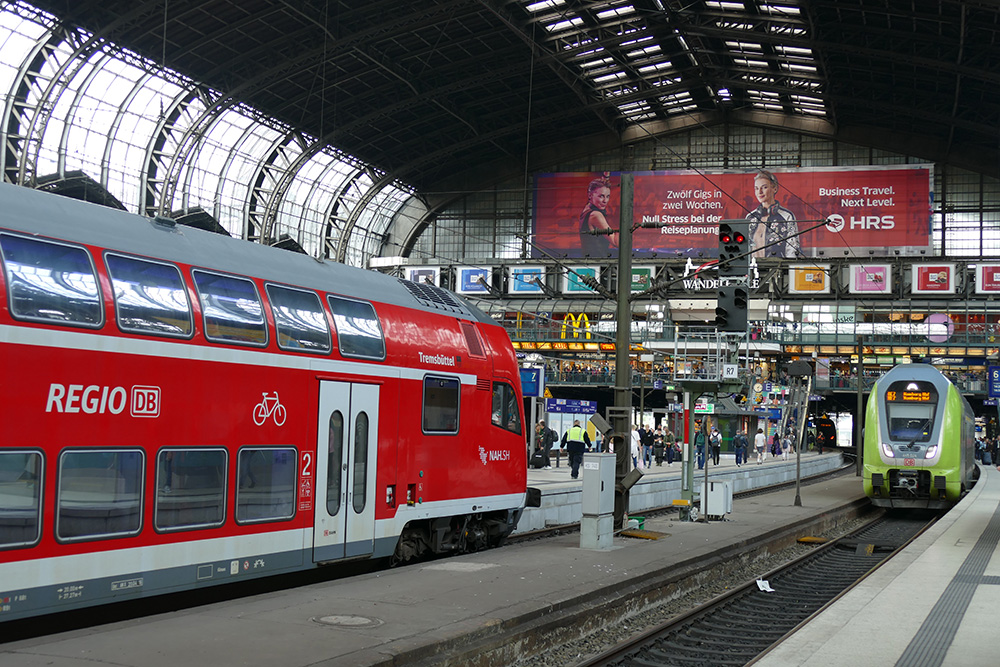 While you can actually travel the entire day within the respective federal state, you are only allowed to take the regional trains – train numbers beginning with RE, MET, etc., but not the interregional trains such as the Intercity (IC) or Intercity-Express (ICE).
One Ticket For Three States
The Schleswig-Holstein-Ticket covers also the federal state of Mecklenburg-Western Pomerania as well as the city-state of Hamburg.
For other connections and rates, please visit the Deutsche Bahn's website, it's available in seven languages.
Once you get to the port of Dagebüll, you have to take the ferry – which goes by the hour between 5 a. m. and 8 p.m.; the last ferry from Wyk back to the mainland leaves already at 6.40 p. m.
The fare is 8,40 €uro one way and 13,60 €uro round trip for adults and 4,20 respectively 6,80 €uro for kids from 6 to 14 years old.
…and Around
The best way to explore the island is definitely by bicycle. Due to the harsh wind, I highly recommend renting an e-bike.
There is very little traffic on the island and usually, people are driving pretty prudently when they see you. So make sure they do. Wear something flashy, turn on the light if necessary, and try to make way when cycling on the road.
However, if you are not into cycling, there are two public buses serving the entire island: Number 1 respectively 11 that go around the island on the northern route, getting to the villages practically in the order of this post. Bus Number 2 respectively 22 goes the other way around.
There are further busses at the center of Wyk.
Obviously, you can also explore the island driving – but to me, it does not match the serenity, closeness to nature, and spirit of this beautiful island.
Money
On Föhr you are paying with €uro, obviously. Not every business takes credit cards, but there are various ATMs at Wyk, but also at Nieblum, Oldsum, and Utersum, so getting cash shouldn't be a problem.
The exchange rate is 1 US$ = 0.94 €UR as of December 2022, but you can check the conversion on this page.
Language
I'd say that most people in Germany have at least a rudimentary knowledge of the English language, many even speak it pretty decently. However, this is neither Berlin nor Hamburg and they cater mainly to national visitors, so don't expect everyone to be fluent.
For some useful words and phrases, you might want to practice a little with help from e. g. Babbel (the first lesson is for free and already supplies you with useful basic vocabulary).
*Note: In this article, I'm writing out some of the German names and places and you will notice that there are letters that might not exist in other languages. Most importantly for this article, there is the letter ö being pronounced more or less like the u in fur – which actually would be almost how you pronounce the island's name.
Then there are also the vowels ä, which is very easy since it's pronounced like an open e as in head, and ü that is pronounced approximately like the u in huge.
The letter ß, which exists only in the German alphabet, is by no means a B – it's a 'sharp', double S as in kiss. When writing, you can actually replace it by a double S.
Tourist Info
After having read this post down to here, do you still need further information or have specific questions? Of course, I'm here for you, but more importantly, so are the friendly and knowledgeable people at the Tourist Information.
You can check their informative website or get your info in person at
Föhr Tourismus GmbH
Feldstraße 36
25938 Wyk
Phone: + 49 – 4681 – 30-0
Email: urlaub@foehr.de
On this map, you get an overview of the island and can see where all the wonderful places that I'm recommending are to be found. Clicking on the slider symbol at the top left or the full-screen icon at the top right will display the whole map including the legend.
This is the second post of a series on five absolutely fascinating islands in North Germany. I hope you've enjoyed it. Did it make you curious for more? Then make sure to check out these posts on the other great isles:
Pinnable Pictures
If you choose to pin this post, please use one of these pictures:
Note: I am completing, editing, and updating this post regularly – last in December 2022.
Did You Enjoy This Post? Then You Might Like Also These:
Disclaimer: I appreciate that Föhr Tourismus was supporting my blogger trip by supplying us with e-bikes, booking a room at the B&B Die Friesin and granting access to some attractions. However, all opinions on these services are mine and weren't by any means influenced by my cooperation partner.
* This is an affiliate link. If you book through this page, not only do you get the best deal. I also get a small commission that helps me run this blog. Thank you so much for supporting me!