24 hours in Kuala Lumpur – as the city's airport KLIA is a major hub when going to many destinations in Southeast Asia, chances are that a longer stayover gives you the opportunity to get to know this exciting city.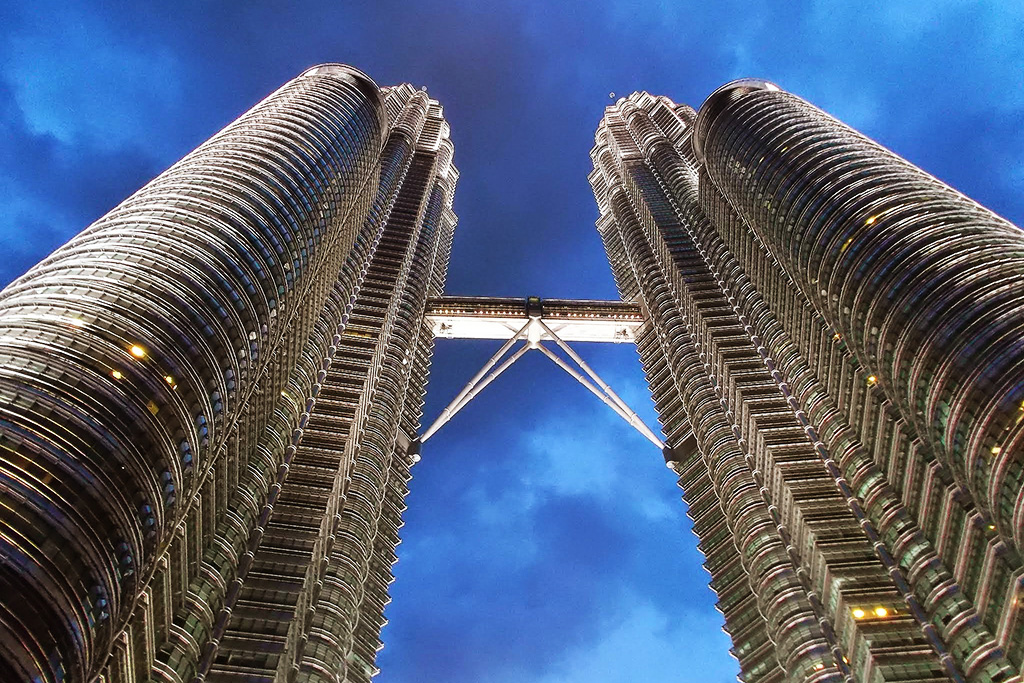 Since this post supplies you with itineraries for a sunny day as well as an alternative for a rainy one, you'll be so ready for a short city break or a layover at Asia's glittering mega-city.
Kuala Lumpur with its population of 1.8 million is actually the ninth-most visited city in the world.
The population is a mix of a Malay majority and Chinese and Indian minorities with ex-pats from all over the world peppered in. Malaysia is Asia's Melting Pot and so is its capital Kuala Lumpur.
And just like the population represents a colorful variety, the city itself with modernism next to traditions, financial districts and shopping malls close to ancient jungles does, too.
So if you have the chance to spend a day on a layover in Kuala Lumpur, do it. I supply you with a complete itinerary that allows you to see as much of this fascinating place as possible.
Local Currency
1 US$ = 4.65 Malay Ringgit (MYR) as of August 2023/ current rate
Emergency Contacts
Police or Ambulance, dial 999 from a landline and 112 from a mobile phone.
National Airline
Airport
Kuala Lumpur International Airport KLIA / IATA-Code: KUL
Tourist Info Online and Onsite
Kuala Lumpur has actually various tourist info points. The most convenient one for day-trippers is obviously at the main station KL Sentral. It's open every day between 9 a.m. and 6 p.m.
However, another great spot not far from the Petronas Towers is the MaTiC, the Malaysia Tourism Center. They are open from Monday to Friday from 8 a.m. to 5 p.m. and also have a good website with lots of info.
Malaysia Tourism Centre (MaTiC)
109, Jalan Ampang,
50450 Kuala Lumpur
Phone: +60 – 3 – 92 35 – 48 00 or – 49 00
E-Mail: infomatic@matic.gov.my

Getting Downtown and Back
There are different convenient options to go downtown.
The KLIA express train takes you quickly to Kuala Lumpur Sentral, the city's huge railway station.
Nevertheless, if you prefer to take a cab, you can prepay it at the airport to prevent unpleasant surprises. Just tell the lady at the ticket window where you're going. Then you pay, she hands you a voucher – and off you go to your final destination.
Morning Activities
As you are already at Kuala Lumpur's primary hub, you can as well continue by regional train to Gombak, 12 kilometers north of the city center. There you'll find one of the city's most iconic landmarks, the famous Batu Caves.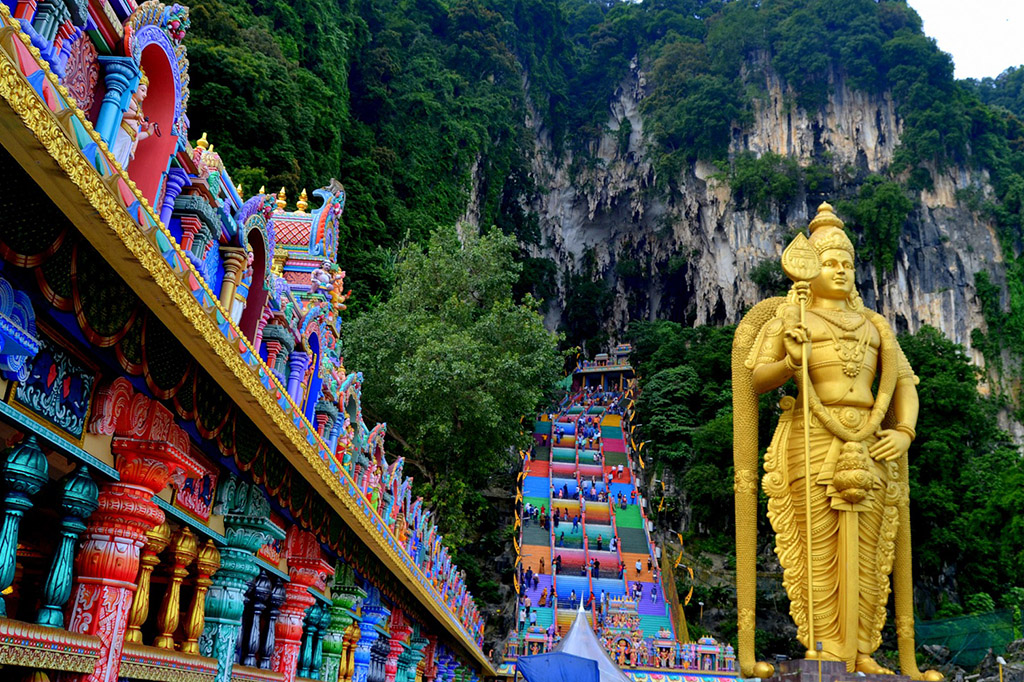 In these limestone caves, the story of the god Murugan defeating the demon Soorapadam is told. The most impressive feature, however, is the almost 43-meter-high statue of Murugan standing on the forecourt.
Numerous long-tailed macaque monkeys live on the hill and around the caves. Although you can feed them, be very careful since they can be quite malicious.
I recommend visiting the caves relatively early in the day. After all, the main activity at this important shrine is to climb the 272 stairs. The earlier you get there, the better: fewer crowds, less heat.
There is a certain dress code. Women are only allowed into the temple with their shoulders covered. In addition, women and men must have their knees covered. You can rent sarongs before climbing the stairs.
Morning Activities
Since Kuala Lumpur is the capital of a tropical country, you won't be freezing.
But as a tropical monsoon region, especially from October to February, you might experience heavy rains. Never mind, grab an umbrella, and let's go.
You don't need to walk far since right behind the station KL Sentral is the National Museum of Malaysia. I like it a lot since it explains in a diverting way the development and history of the country.
Beginning with prehistory and early history, it explains the arrival of Islam, followed by the colonial era to modern times.
Another attraction is an original-sized old Terengganu timber palace known as Istana Satu. It was commissioned by Sultan Zainal Abidin III in 1884 in Kuala Terengganu. In 1974, the Istana Satu was erected on the museum's premises.
The adjacent Orang Asli Craft Museum showcases the arts and handicrafts of the aboriginal communities who dwell mostly in rural areas across the Malaysian Peninsula.
National Museum of Malaysia
Jalan Damansara
50566 Kuala Lumpur
The museum is open every day from 9 a.m. to 5 p.m. Foreign visitors pay 5 MYR.
Lunch on a Sunny Day
Coming back downtown by train again, you can already get off at the Bank Negara station.
From there, walk towards the Merdeka square which is large, yet not very spectacular. However, on the square's western side is a nice Indian restaurant where you'll enjoy a lovely lunch before you continue your walk.
The Banana Leaf Corner
Jalan Kassipilay Jalan Ipoh
51000 Kuala Lumpur
Phone +60 12-967 6958
Lunch on a Rainy Day
After having spent the morning exploring the museum, you might be ready for lunch. It's a shame if due to the rain, you cannot explore Kuala Lumpur's amazing food scene.
Nevertheless, the food court on Sentral's 3rd floor offers an excellent variety of delicious and reasonably priced specialties. If you want to eat as the Malay do, try Nasi Lemak. It's rice, soaked in coconut milk and then steamed together with leaves of the screw pine – you might know it as pandanus. The hot and spicy chili sauce Sambal is an important side dish. Traditionally, cucumber slices, roasted peanuts, dried anchovies, and a hard-boiled egg are added as side dishes.
Afternoon Activities
Merdeka Square
After lunch, you can quickly enjoy the attractions around Merdeka Square.
There is for instance the Sultan Abdul Samad Building which once used to house the British colonial administration and is today one of Kuala Lumpur's important landmarks.
Turning into the Leboh Pasar Besar Street at the corner, you'll spot the Jamek Mosque. I had to cover myself with a heavy cloak and put on a huge hood. Still, since I'm a woman, I was not allowed inside the mosque. You can take the best picture from the HSBC bank in Jalan Benteng.
Back to Merdeka Square's southern tip where you'll find the Kuala Lumpur City Gallery.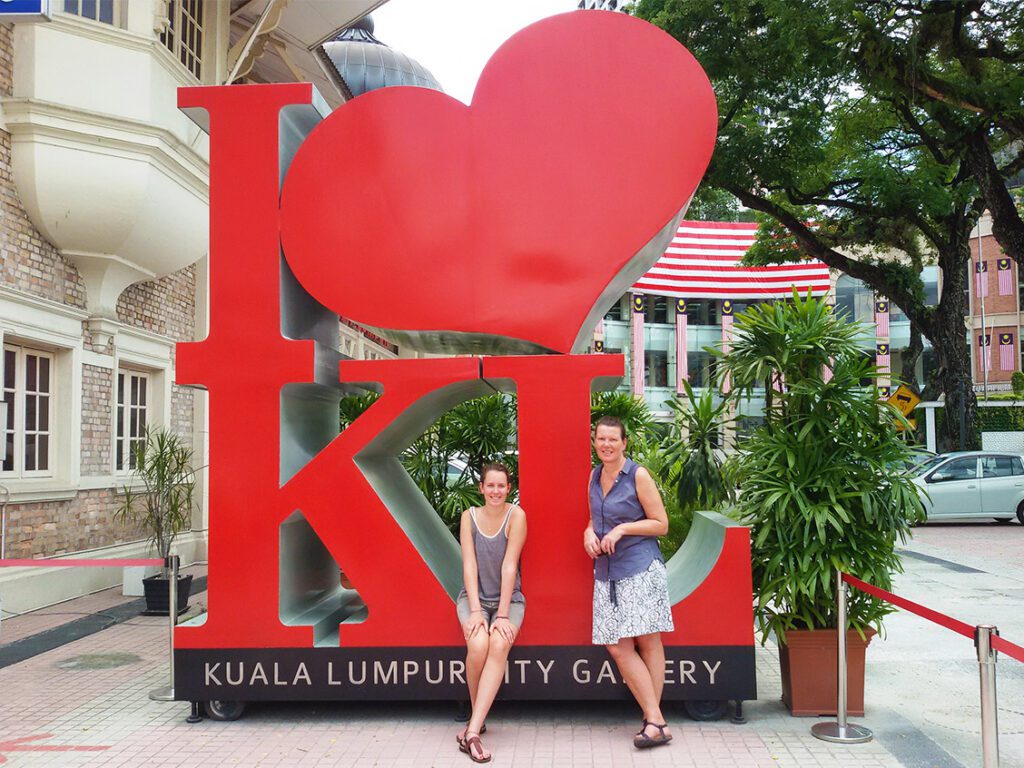 At the entrance is the I❤KL-sculpture. And since no visit is complete without a picture…here is ours.
Chinatown
Just like Singapore, also Kuala Lumpur is an Asian melting pot. Each of the predominant ethnicities has its own house of worship.
Therefore, within walking distance, you can visit a Buddhist as well as a Hindu temple – and I've already introduced you to one of the city's most essential Mosques above.
Kuala Lumpur's oldest Hindu temple is Sri Maha Mariamman on Jalan Tun H S Lee. One of its most flashing features is the ornately carved entrance tower.
Just 200 meters up north is the city's oldest Taoist temple Sin Sze Si Ya. It was built by Yap Ah Loy in honor of two deities who helped to guide him during the Selangor Civil War.
One block west is Kuala Lumpur's central market, a cultural heritage site with a restored art deco façade where you can enjoy a snack and do some souvenir shopping.
To enjoy your dinner at the Atmosphere 360 restaurant you can either take a cab to the main entrance of Menara Kuala Lumpur.
If you're not too tired, just walk about one kilometer to the KL Forest Eco Park that's located just underneath the tower. There, you can for instance take a stroll across the canopy walk or visit the Upside Down House before you make it up the Menara – which simply translates to tower.
Afternoon Activities
Is it still pouring so that you cannot continue by any chance with the sunny part itinerary? Don't worry since your afternoon will be great just the same.
You are going to see amazing things.
To get to the aquarium, you can either take a cab. Or you hop on the KJL train towards Gombak and get off at the KLCC stop.
Aquaria KLCC
The Aquaria KLCC is an underwater park located below the Kuala Lumpur Convention Center.
Covering an area of ​​5,600 square meters on two levels, Aquaria KLCC is home to more than 250 different species and over 5,000 land and aquatic animals from Malaysia and around the world. It also has a 90-meter underwater tunnel and interactive kiosks with information.
Aquaria KLCC is based on a journey from land to sea, beginning with the misty mountains, going through rivers as well as the tropical rainforests and mangroves to the depths of the oceans.
Aquaria KLCC*
Kuala Lumpur Convention Centre
Jalan Pinang
50088 Kuala Lumpur
The aquarium is open every day from 10 a.m. to 7 p.m. m. and you can pre-book your ticket here*.
Petronas Towers
Although you are visiting lots of waters at the Aquaria, you don't need to get wet as you continue to today's final attraction, the iconic Petronas Towers.
Until the completion of Taipei 101 in 2004, these towers ranked as the tallest buildings in the world.
The tower's architect is César Antonio Pelli. He designed the towers in a modernist composition of steel, aluminum, concrete, and glass. The floor plan of each tower is the shape of an octagonal star, the inner edges of which are again curved outwards.
At a height of 172 meters, hence, between the 41st and 42nd floors, the towers are connected by the so-called sky bridge.
Tickets to visit the bridge and the 86th floor are available from 8.30 a.m. Nevertheless, usually, all 1,600 daily tickets are sold out within two hours. However, you can obtain tickets for the following day.
Petronas Towers*
Kuala Lumpur City Centre
Concourse Level, Lower Ground
50088 Kuala Lumpur
The towers are open to visitors Tuesday to Sunday from 9 a.m. to 9 p.m. m. and you can pre-book your ticket here*.
To enjoy your dinner at the Atmosphere 360 restaurant, you'll probably need to take a cab. Even if you travel by public transport, you'll need to walk quite a bit as the Menara Kuala Lumpur is on top of the 90-meter-high Bukit Nanas.
Dinner
As a matter of fact, with 421 meters, the Menara Kuala Lumpur is the world's seventh-highest TV tower. It stands on the 90-meter-high Bukit Nanas, hence, the pineapple hill, and thus enables a view even of the Petronas Towers from above.
As you go up, you might want to make a stop at the viewing platform at 276 meters. Then, you continue to the restaurant at 283 meters.
The Atmosphere 360* is a revolving restaurant. From 7 p.m. to 10 p.m., you can help yourself to a generous dinner buffet for 199 MYR from Monday to Thursday. On weekends, you pay 248 MYR.
Note that they also serve lunch and a High Tea – you can get all the info and prices on their website* where you can also make your reservation.
Nightcap
Especially if you have an early flight, you might prefer to take your nightcap at your hotel – and crash right after the last sip.
For your convenience, The Movenpick Hotel and Convention Center KLIA* has not only great rooms and amenities but also a bar where you can enjoy a drink in a cool'n'cozy atmosphere.
Accommodation
In the event of an early flight, it might be good to stay close to the airport. The Movenpick Hotel and Convention Center KLIA* is 7 kilometers from Kuala Lumpur International.
They have beautifully decorated rooms with a complimentary breakfast. Also, there are male- and female-only pools, a spa, and a gym. There are restaurants and lounges – and, as I mentioned above, a bar.
Also, you can book your room at the Movenpick Hotel and Convention Center KLIA right here*.
Map – Sunny Day Itinerary
Map – Rainy Day Itinerary
If you're not flying into Malaysia but you are taking the bus for instance from Singapore, you might like this little story about my adventure doing so.
Pinnable Pictures
If you choose to pin this post for later, then please use one of these pictures:
Note: I'm completing, editing, and updating this post regularly – last in August 2023.
Did You Enjoy This Post? Then You Might Like Also These:
* This is an affiliate link. Therefore, if you book through this page, not only do you get the best deal. I also get a small commission that helps me run this blog. Thank you so much for supporting me!
Icons: money bag by Roundicons from www.flaticon.com, police car, train, sun, food plate, glass, and bed by Freepik from www.flaticon.com, takeoff plane and board made by ultimatearm from www.flaticon.com, info made by Roundicons from www.flaticon.com, umbrella made by Kiranshastry from www.flaticon.com