The coastal town of Vela Luka might not be as mesmerizing as its big sister, Korcula town. Nonetheless, I'd argue it's the better choice if you're looking for a tranquil base where you can just drift from day to day during your stay on Korčula island. In this post, I'm telling you why.
Colors of the Adria
Walking through a tunnel of exotic-looking bushes and conifers, smelling the scent of their needles. Hearing nothing but the cacophony of what seems to be a thousand cicadas. Passing a row of cactuses, turning left at the little field of olive trees. Then, carefully climbing down some huge stones.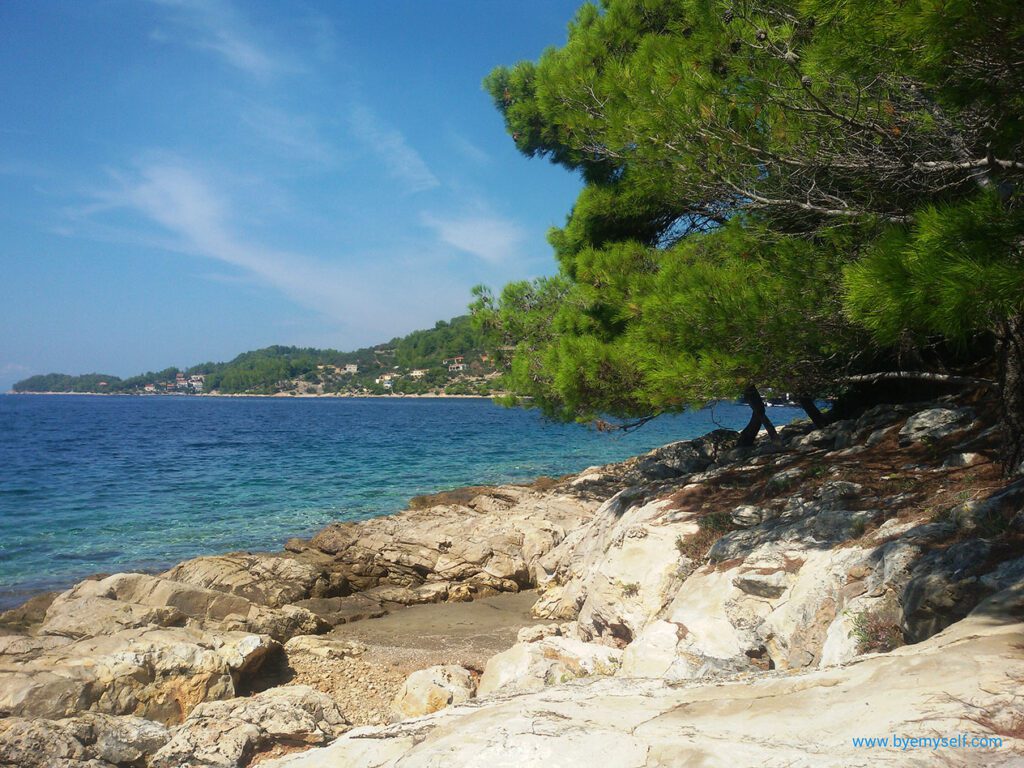 There, I'm spreading my towel on the biggest rock that's shaped like a mattress. That's my personal piece of paradise for the day.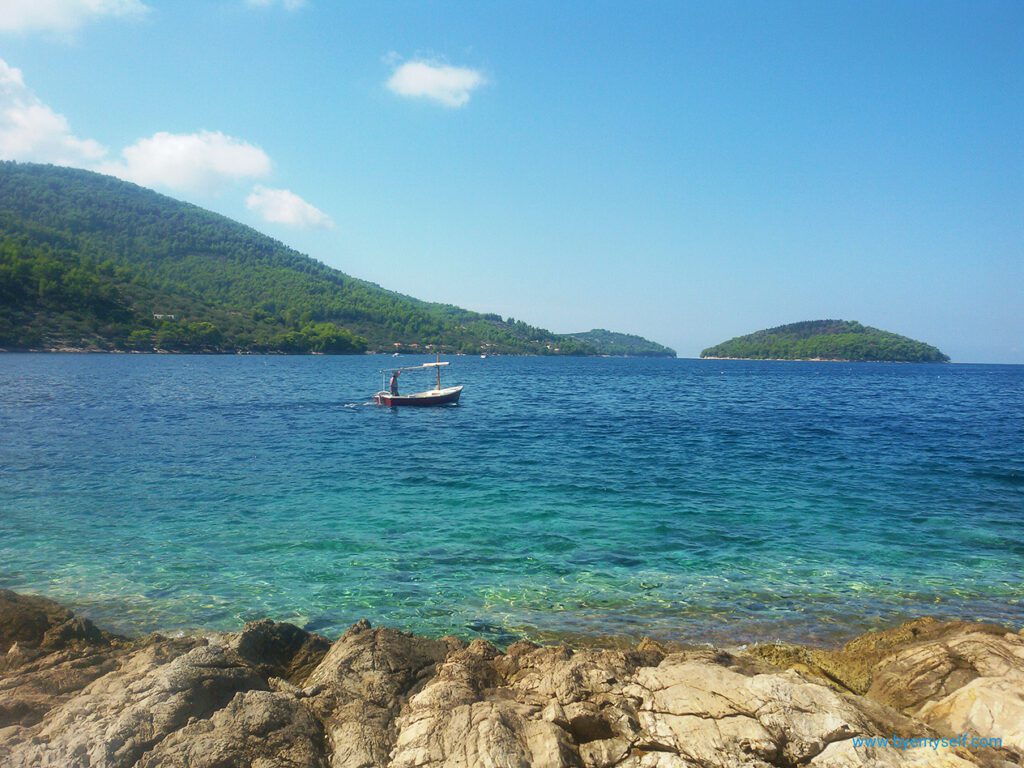 Down here, the noise of the cicadas is not that loud and leaves room for the gurgle of the sea and the lapping of the waves against the rocks.
From time to time, you hear one of the small boats chugging. Then, it's just the pretty regular ripple of the water again.
Do You Know What Time It Is?
Twice a day, a ferry slides by, almost silently. Then I know it must be either around one or half past five in the afternoon. Enough time to take another dip in the deep blue sea.
To get there, I have to climb prudently across the rocks. I don't have swim shoes. Therefore, I'm wearing my flip-flops to the very shore where I leave them behind on one of the rocks to just dive headlong into the clear water.
It's good that it's clear since I need to see what's on the ground. There are sea urchins – in incredible numbers and all sizes. Even paradise needs a little flaw, I guess.
Back on my cozy rock, I turn on my stomach and take a nap.
Vela Luka
This is how I spent the last few days. In Vela Luka. On Korčula, an island south of the much more popular island of Hvar.
The island of Korčula is much less known and popular than many of its sisters. Although, with over 15,000 inhabitants, it is the second most populous Adriatic island.
In the western part of the island, the town of Vela Luka, arranged around a half-moon-shaped bay, grants total relaxation while the famous Korčula town offers a breathtaking historic old town within fairytale-like fortress walls.
Korčula used to be a pretty important spot in her days. Not only came the timber for the wooden walls of Venice from here. It had also been one of the most important harbors to the Venetian fleets.
Korcula – the Island
Just like Cres, Korčula, too, is the name of the island and of a town.
Coming from Split, the first harbor you reach, though, is Vela Luka, a town with 4,000 inhabitants.
The many indented coves along the crystal clear waters make it a sunbathers' and swimmers' paradise.
Because of the lush vegetation along the bay, going for a pleasant walk or a sportive hike are great options on how to fill gaps between lazing on the rocks on the shores.
There is, for instance, the Vela Spila, the Big Cave, which is one of the most important prehistoric caves in Europe. From the town center, it's only about 2 miles, but you have to hike uphill.
To get a further great view of this beautiful island, there is also the Hum Hill – about 2.5 miles southwest of the town center and the slope is twice as high as the one to Spila.
Everything around Vela Luka is just beautiful – so I guess the town itself doesn't have to be. It's basically one or two rows of houses along the shore. Cute, but nothing to write home about. Only the part in the very center, before you get to the harbor, is somewhat scenic.
Vacation in Vela Luka
Of course, there are supermarkets and restaurants and basically, everything you need; it's just not that cute. Actually, it's much less pretty and charming than most other places I've been in Croatia; and, however, I do recommend it since there is no nicer and calmer place for a couple of lazy dayz.
However, it might be difficult for people who are not so fit or with small children. Climbing on the big rocks can be a bit dangerous. Also, there are lots of sea urchins in the water.
Besides the sumptuous landscape, another thing is really striking in Vela Luka, and that's the many modern mosaics. They've been there since 1968 when the International Artist's Meeting of Painters was held there.
Korcula – the Town
Now, Korčula – the town of Korčula – is a whole different story. From Vela Luka, you can get there a couple of times per day by bus. It takes about an hour and you'll get to see the entire island.
Korčula – the town of Korčula – has an amazing historic old core surrounded by walls.
The most spectacular feature is the layout of the streets in a herringbone pattern.
This arrangement allows the air to circulate and protects at the same time against the strong winds blowing from the Adriatic Sea.
The historic part is on a promontory and can be accessed over a wooden drawbridge from 1863.
Marco! Polo!
Lose Your Way At Korcula's Walled Center
Within the walls, there are all these cute narrow alleys, but also impressive structures such as St. Michael's Church located right at the entrance on Trg Antuna i Stjepana Radića. It was restored in 1615, hence, the Baroque appearance.
But there is also the Romanesque-Gothic Cathedral of St. Mark, built in the 15th century – just like the Saint Nikola monastery and the Franciscan monastery with a Venetian Gothic cloister.
But you don't need to look for the most prominent houses since basically every building within the old walls is a jewel. Take for instance the Renaissance Palaces that can totally keep up with those in Venice or Florence.
Talking 'bout Venice – rumor has it that Signore Marco Polo was born in Korčula in 1254. Together with his father and his uncle, he was one of the first Europeans to travel the Silk Road to China. Like I said, rumor has it, but there's actually no proof.
Notwithstanding, the good people of Korčula would be crazy not to gain profit from this rumor, so they insist and you can even visit a building they claim to be Marco Polo's house of birth.
I find it pretty unique that a municipality just decides having been some famous guy's birthplace – and upsadaisy – tourism flows.
A Supermarket With A View
By the way, to get the most scenic view of Korčula – the town of Korčula – I recommend climbing up to the very un-scenic supermarket at the town's entrance. Take the elevator to the parking level and from there you'll have the best view of the entire promontory and the marvelous sea and mountains in the backdrop.
So while Korčula – the town of Korčula – is much more beautiful than Vela Luka, I'd still recommend staying at the latter.
It's far more relaxing, with few tourists, and hardly any day-trippers. Twice a day, the ferry to Split slides by. Then it's rush hour in Vela Luka.
Practical Information
How to Get There…
There are two places on Croatia's mainland from where you can go by ferry to the island of Korčula.
You either take a Jadrolinija catamaran or a ferry at Split that goes twice a day to Vela Luka and back.
Or you take the ferry further south in Orebić on the peninsula of Pelješac. Then, however, you arrive at the port of Korčula town.
It's possible to book an entire trip from the town to Vela Luka all the way to Dubrovnik.
In this case, you hop on the bus in Vela Luka. It takes you to the town of Korčula in about an hour. There, the coach goes on the ferry together with all the private vehicles. The crossing takes about an hour. You can leave the bus and enjoy the views before you go back to the coach shortly before your arrival in Orebić.
From Orebić, the journey continues on the serpentines of the Dalmatian mountains all the way to Dubrovnik.
A pretty relaxed and very scenic trip that takes about 5 hours and costs around 16 €uros.
…And Around
On the island of Korčula, you can easily travel around by public bus, if you don't have your own vehicle. There are various trips every day. The first bus goes around 5 a. m. and the last one around 7 p. m.
However, make sure to double-check the last connection!
Since going from Vela Luka to Korčula town, you are practically crossing the entire island from west to east, it's a very scenic and intriguing ride where you get to see many of the small villages such as Blato, Smokvica, Čara, Pupnat, and Žrnovo.
Best Place to Sleep
Location, location, location: Although it's about a twenty to thirty minutes walk to the harbor, I loved the location of Apartment Rustica Vela Luka.* And Jenny and her husband picked me up at the ferry on arrival and brought me to the bus to Dubrovnik as I left, anyway.
The nearest beach – which is not so nice and in front of a pretty busy hotel – is just across the street. But when you walk for about fifteen minutes along the lovely trail next to olive trees and cactuses and through tunnels of greenery, you'll get to paradisiac spots where you are all by yourself.
Here you can check out Apartment Rustica Vela Luka* rates and availability.
Since the owners of Apartment Rustica Vela Luka* have only two apartments, chances are they might be booked out. Therefore, you can comfortably search for a suitable lodging option on this map`*:
Best Place to Eat
Actually, I must admit that the best place to eat for me was at the apartman: I enjoyed doing a little Croatian grocery shopping and doing my own cooking in the well-equipped kitchen.
Here is how I prepared coffee since I wasn't able to buy coffee filters at any of the local supermarkets:
Money And Shopping
Both, Vela Luka and the town of Korčula are touristy places. Therefore, it's no biggie getting cash at one of the ATMs around town. Hence, you can also pay by credit card.
In 2022, Croatia replaced its currency Kuna with €uros. The exchange rate is 1 US$ = 0,94 EUR as of July 2023, but you can check the conversion on this page. Credit cards are widely accepted.
Both places offer a wide variety of beautiful, handmade souvenirs. Obviously, you'll find pottery, wooden goods, as well as crocheted lace as well as edible souvenirs such as infused salts, olive oil, and truffles. Also, lavender products are typical for this region.
What to Do
I'm an avid solo-travelling woman. Since solo travel doesn't equal solitude, I love to join organized tours here and there. Since I was travelling through Croatia by public bus, I needed to join organized tours when I wanted to go on a day trip. Hence, especially if you don't have your own vehicle and want to visit more remote places in a comfortable and secure way, here are some great options*:
The island of Korčula is only one of many beautiful places I've visited in Croatia. So to read about the others, go to the main post and take your pick! There you'll also find valuable general information that will make your trip smoother.
Pinnable Pictures
If you choose to pin this post for later, please use one of these pictures:
Note: I'm completing, editing, and updating this post regularly – last in July 2023.
Did You Enjoy This Post? Then You Might Like Also These:
* This is an affiliate link. If you book through this page, not only do you get the best deal, I also get a small commission that helps me run this blog. Thank you so much for supporting me!