The four cities Fez, Marrakech, Meknes, and Rabat are the so-called imperial cities of the Kingdom of Morocco. They have in common that at some point in Morocco's history, each of them used to be the capital of the country as it was ruled by powerful dynasties.
The respective rulers designed'n'developed their capital so magnificently that to this date, a visit to the imperial cities is an absolute must when travelling to Morocco.
I've put together individual posts on each of Morocco's imperial cities, you'll find the links at the end of this post. In those guides, I'm taking you to the most iconic spots. Also, you'll get tons of information and tips which will prepare you for the unexpected and make your Morocco trip smooth and fun.
Finally, I summarized all the answers to questions that might occur regarding travel to Morocco in the post Solo Female Travel to Morocco – All Your Questions Answered. Yes, it's primarily aimed at female travellers, however, I'm sure that each and every visitor will find some valuable recommendations there. So go and check it out.
But first, let's see what Morocco's royal cities have in common and what makes them unique.
A Chronology of Power
Already in the 2nd millennium BC, Berber tribes settled in what is now Morocco. In the 12th century BC, Phoenicians established trading posts on Africa's northern coast. Eventually, it became a Roman protectorate in 33 BC.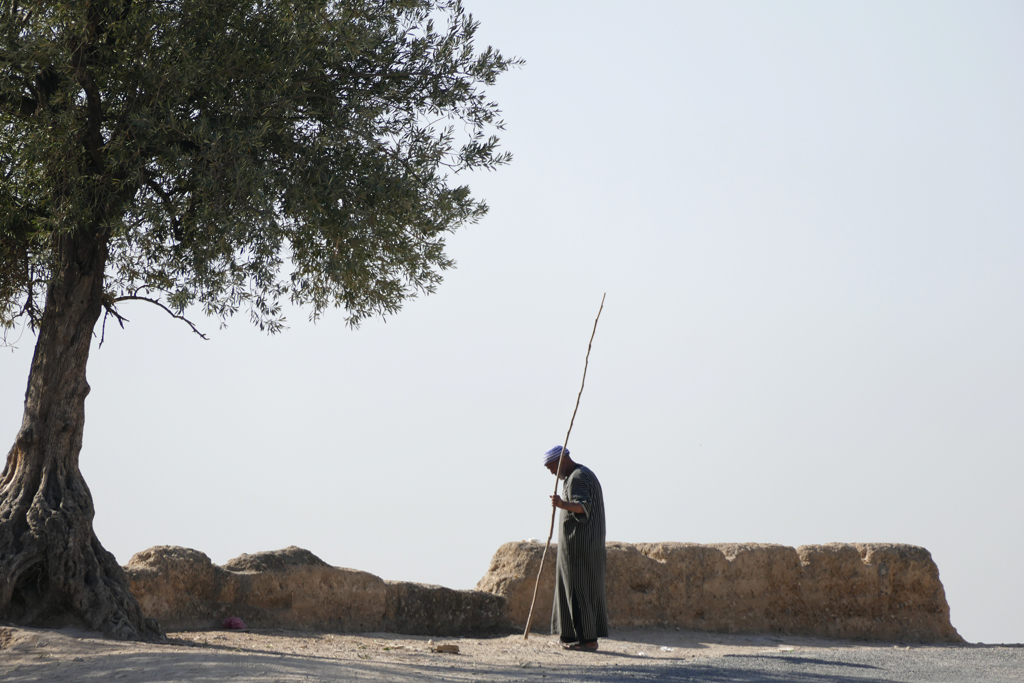 Arabs got to today's Maghreb only around 700 AD, and this is when Islamization began. In 711, a Berber who had converted to Islam crossed what's today the Strait of Gibraltar to Spain. He and the cavalry force that accompanied him conquered the Visigoth kingdom. The Moorish era of the Hispanic peninsula began.
Meanwhile, in his motherland, Mulay Idris, founded the Idrisid dynasty and made Fez the capital of his empire. It remained the center of Islam in North Africa until the late 10th century.
Then Almoravids, Berbers from the south, took over and installed their capital in Marrakech. They ruled from 1062 to 1147 before the Almohads defeated them and stayed in power for about a hundred years.
The rule of the next dynasty, namely the Merinids, lasted about 150 years. Their capital, which was again Fez, became an important epicenter of art and science.
During this era, the coastal cities of the Maghreb came under the control of Portugal and after the Reconquista under the dominion of Spain.
"Portuguese Go Home"
In the early 16th century, the Saadian dynasty united the Islamic units in southern Morocco and organized uprisings against Portugal. They freed Agadir from the Portuguese in 1541. This gave the clan high recognition and granted them power over the entire country. Then, a succession dispute after Al Mansur's death in 1603 led to a new division of the country. Obviously, this was the end of the Saadian dynasty.
Now it was the Alawids' turn. This dynasty achieved to liberate most of the coastal towns occupied by Spain and Portugal. However, the widespread acceptance of piracy in favor of local economic and geostrategic interests led to several armed confrontations with France, Spain, and Venice. Hence, the French and the Spanish divided the country into respective protectorates in 1912. Formally, the sultan remained the emperor of Morocco.
Free At Last
However, in the early 1950s, the call for independence got louder and louder and outrage against the foreign rule finally led to the country's independence in 1956.
Mohammed V became King.
The present King is his grandson Mohammed VI. He strives to modernize and democratize the country. For instance, he is the first sovereign whose wife appears in public. In April 2004, he also set up an independent national commission for equality and reconciliation to deal with human rights violations during the reign of his father, the late King Hassan. Nevertheless, Morocco has a very poor rating ​​in international comparison when it comes to freedom of speech, freedom of the press, acceptance of homosexuals, and gender equality.
The Imperial Cities
Today, the four cities of Fez, Meknes, Rabat, and Marrakech are known as the royal cities of Morocco since, at some point in Morocco's history, each of them was the capital. Powerful and wealthy rulers constructed and expanded their capitals magnificently. Obviously, all four cities are listed as World Heritage Sites by UNESCO.
The different dynasties ruled the country from their respective capital in the following order:
| | | |
| --- | --- | --- |
| Period | Dynasty | Capital |
| 807-926 | Idrisids | Fez |
| 1070-1147 | Almoravids | Marrakech |
| 1147-1269 | Almohads | Marrakech |
| 1248-1465 | Merinids | Fez |
| 1554-1659 | Saadians | Marrakech |
| 1666-1672 | Alawids | Fez |
| 1672–1727 | Alawids | Meknes |
| 1727-1912 | Alawids | Fez |
| 1912 until now | Alawids | Rabat |
Fez is the oldest of the country's four royal cities and was the first one I visited on my recent trip. I'd argue that Fez – just like Marrakech – is one of the cities you definitely shouldn't miss out on when visiting Morocco. Even if you're not interested in history, the city will sweep you off your feet with its amazing beauty fairytale-like atmosphere.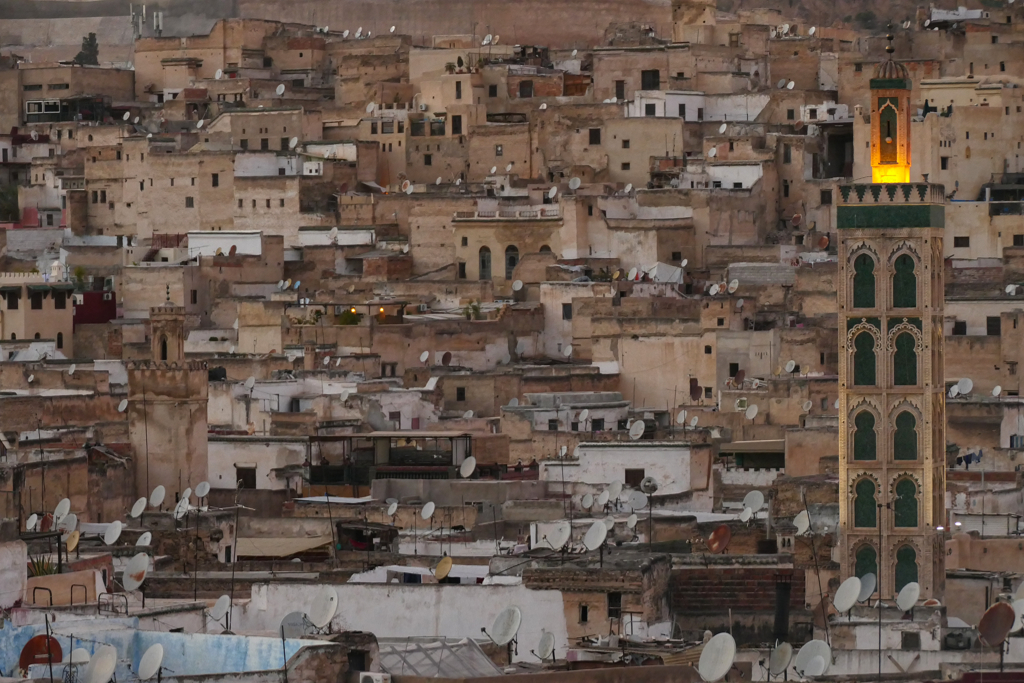 Idris ibn Abdallah found the town on the right bank of the Fez river in 789. The water sources in this area were certainly a decisive criterion in the choice of the location. Then, in 809 his son Idris II decided to found a capital of his own on the opposite bank. Although these cities were only separated by a small river, they developed individually.
Early Migration
8,000 Moorish families who were expelled from Spain by the Umayyads of Córdoba settled in the area on the right bank. Shortly thereafter, 2,000 exiled families from the Tunisian city of Kairouan came and settled on the left bank. Eventually, the Almoravids unified them in the 11th century.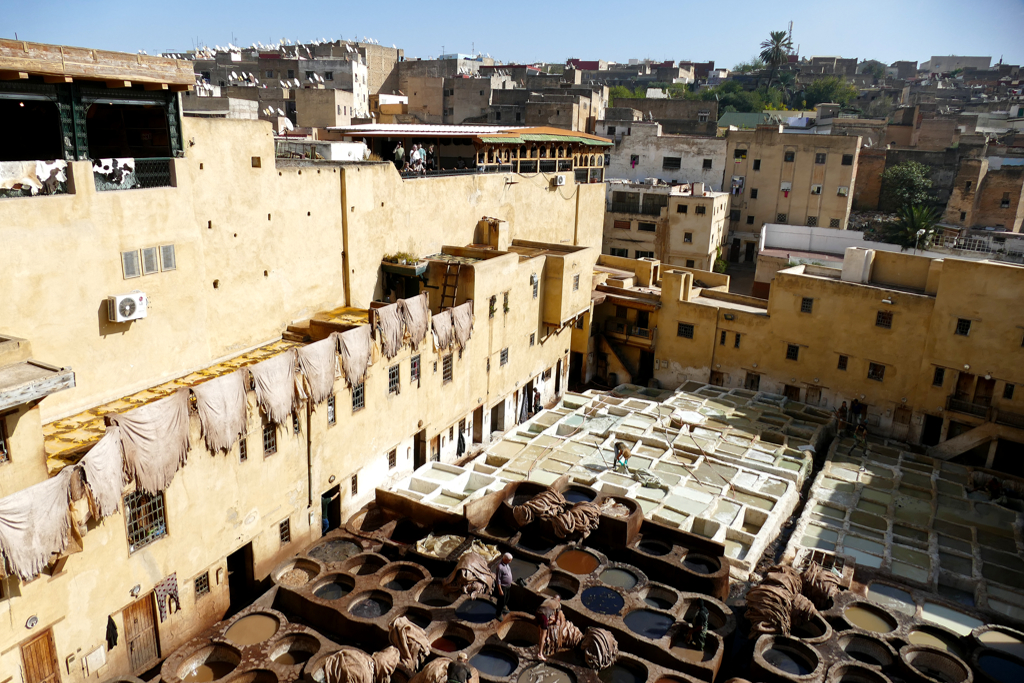 However, all those people came from an urban background and had great manual skills. Therefore, they transformed Fez into the cultural center and religious heart of Morocco.
Truly unique is the foundation of the university mosque Al Qarawiyyin in 859. Installed by the wealthy merchant's daughter Fatima Al Fihrya, this university became one of the most important centers of spirituality and culture in Islam. As a matter of fact, the Al Qarawiyyin is the oldest existing, continually operating university in the world. Obviously, the institution was incorporated into Morocco's state university system in 1963. Its focus lies on the Islamic religious and legal sciences as well as classical Arabic linguistics.
The Power Is Shifting
In 1276, the then-ruling Marinids founded the new city Fez Al Jadid. They commissioned palaces and gardens which they enclosed with a high wall.
Beginning with the rule of the Alawid dynasty in the late 17th century, Mulai Ismail established his capital at Meknes around 50 kilometers west of Fez.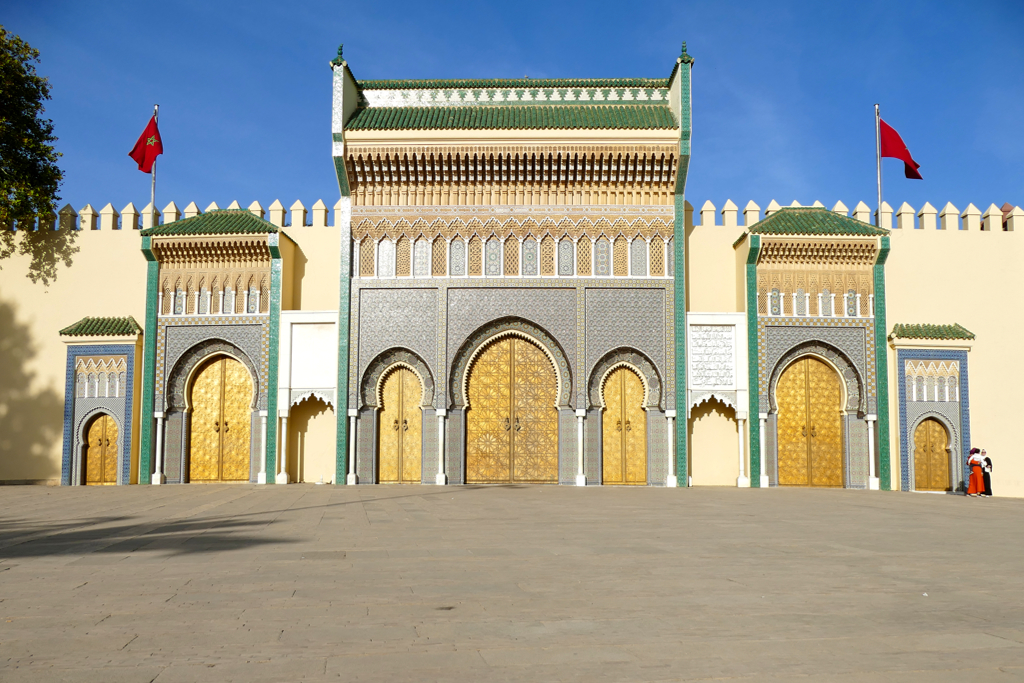 In 1727, Fez became Morocco's capital again and remained until the beginning of the French protectorate in 1912. Then, a French general designated Rabat as the administrative seat of French Morocco. Nevertheless, the King kept his main residence in Fez. To this date, he often stays in this palace.
Even with Rabat being the official capital of Morocco, Fez remains an important imperial residence and a center of culture, crafts, and commerce. Most importantly, it conserved its magical vibe of 1001 nights.
UNESCO listed Fez as a Cultural World Heritage Site in 1981.
Once in Fez, you need to
✔ lose your way shopping in the alleys of the souks at Fez Al Bali
✔ get an idea of the sacral buildings' glory at the Madrasa Bou Inania and Madrasa Al Attarine
✔ observe the tanners at the Chouara Tanneries
✔ take in the majestic views from the viewpoints around the Marinid Tombs
✔ enjoy a traditional meal at one of the stands or restaurants around the famous gate Bab Boujeloud
But there is much more to explore – as you can read in my post.
As many visitors to Morocco pay Meknes, supposedly the country's Versailles, just a short visit on a day trip – or even skip it altogether – the charming city is much more serene and somehow authentic than her big sisters Fez, Marrakech, and Rabat.
Hence, conveniently located between Rabat and Fez, Meknes is a perfect retreat for those who need a break from the hustle'n'bustle and still want a truly Moroccan experience. Ideally, you should spend not only a day, but at least one night in Meknes to truly enjoy its laid-back oriental vibe.
Sleeping Beauty
In the 11th century, the Almoravid dynasty built a fortress in Meknes to protect the city against the conquest by the Almohads. Yet, the latter took over in 1147, followed by the Merinids and all the other dynasties I've listed above.
Long story short, Meknes fell into a long sleep and was only awakened by the Alawid sultan Moulay Ismail in the 17th century.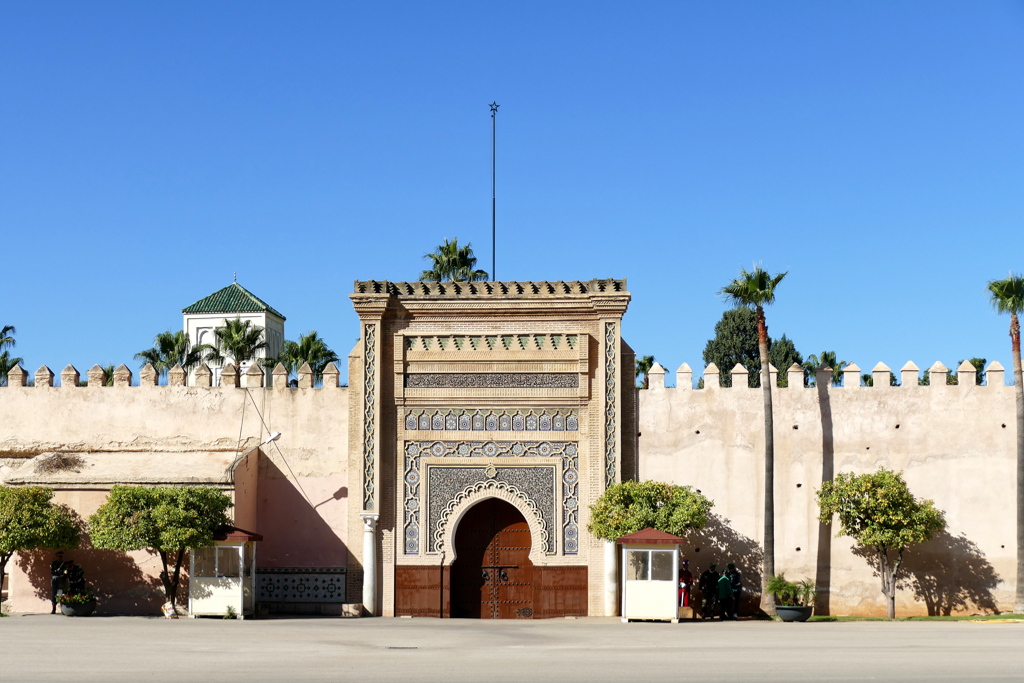 Moulay Ismail made Meknes the capital of his empire and redesigned it drastically. To the east of the old town, he commissioned a royal complex called Ville Impériale. This made him kind of the Sun King and consequently, his crib a Moroccan Versailles.
Together with the Medina, UNESCO put Meknes' imperial city on the World Heritage List in 1996.
Nothing lasts forever, hence, after Moulay Ismail's death, the country's capital was moved back to Fez
Once in Meknes, you need to
✔ visit the magical Ville Impériale by horse and carriage
✔ admire the glory of the Heri As Souani stables and the enormous Basin Souani
✔ enter the Mausoleum Moulay Ismail
✔ learn about Moroccan culture at the Dar Jamai palace museum
✔ go on a day trip to Volubilis And Moulay Idriss
But there is much more to explore – as you can read in my post.
Hardly any foreigner would expect the rather unknown'n'underrated city of Rabat to be the capital of Morocco.
Places like Marrakech or Casablanca are internationally far more famous, after all.
And indeed, of all the cities I've visited in Morocco, Rabat was the most globalized one. Although there are some old neighborhoods, a Medina, and a Kasbah, there are vast parts that could as well be somewhere in Europe. Shopping areas and malls where you find all the well-known chain stores and fast food restaurants you'll know from back home. The huge squares and broad boulevards lined by flag poles make you believe this is some metropole in one of the Emirates.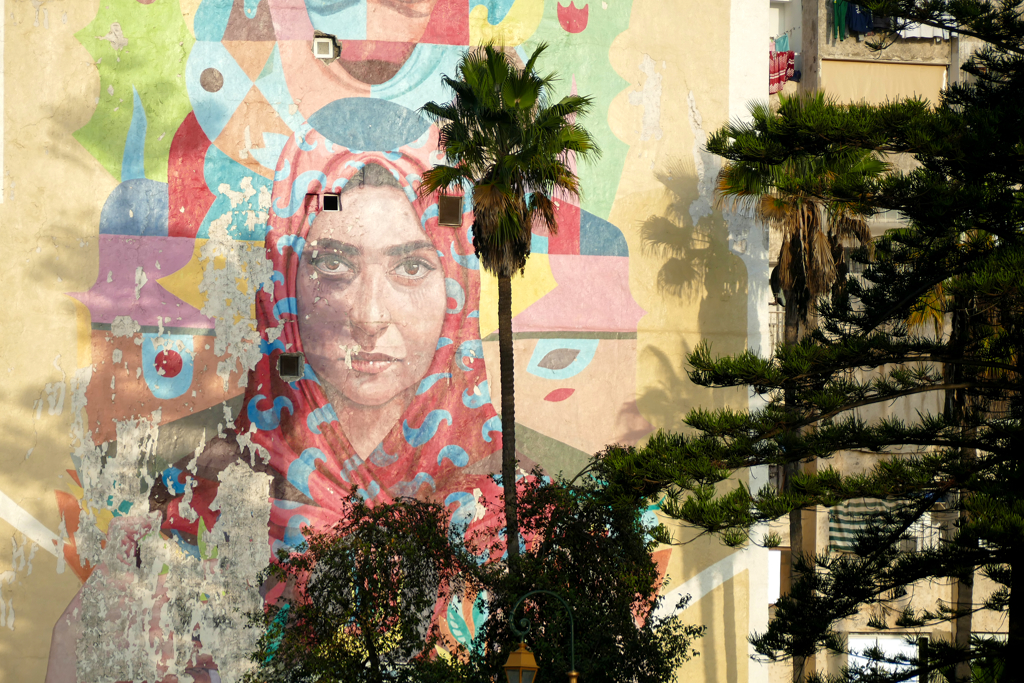 However, as Rabat seems tidier and more organized than the other royal cities, it might be the best place where to begin your trip to Morocco. To slowly get into the groove, so to speak. Yet, I truly missed the exotic and excitement I had encountered in the other imperial cities.
How It All Began
One of the last Almoravid emirs commissioned a Ribat, hence, a small fortification, on the site of today's Kasbah. This way, he tried to keep the rivaling Almohads out. Nonetheless, shortly after, the Almohads defeated the Almoravids and destroyed their Ribat.
The Almohads replaced the former Ribat with a Kasbah, hence, a citadel. It included a palace and a mosque. From here, the Almohad troops set out on crusades to Al-Andalus, today's Andalusian territories of Spain.
The Construction Boom of the Almohads
Abd al-Mu'min's grandson, the third Almohad Caliph Yacub Al Mansur, commissioned a new fortified imperial capital on the site of what is now Rabat's Medina. Its walls were built all the way to the Kasbah. This ambitious project also included the construction of prestigious gates like the Bab Al Rouah and the Bab Udaya.
The masterpiece, however, was to become a massive mosque. But after Al Mansur's death in 1199, his successors were not interested in finishing it, probably because they simply lacked the resources. Therefore, one of Rabat's most symbolic landmarks is a court of pillars. The only representative feature is the Hassan Tower, but even that's incomplete.
The French Are Here
The French invaded Morocco and made it their protectorate – a fancy word for colony – in 1912. This led to riots in the then Moroccan capital Fez so the French decided to make Rabat the country's capital. After Morocco achieved independence in 1956, the first King Mohammed V simply kept it the way it was.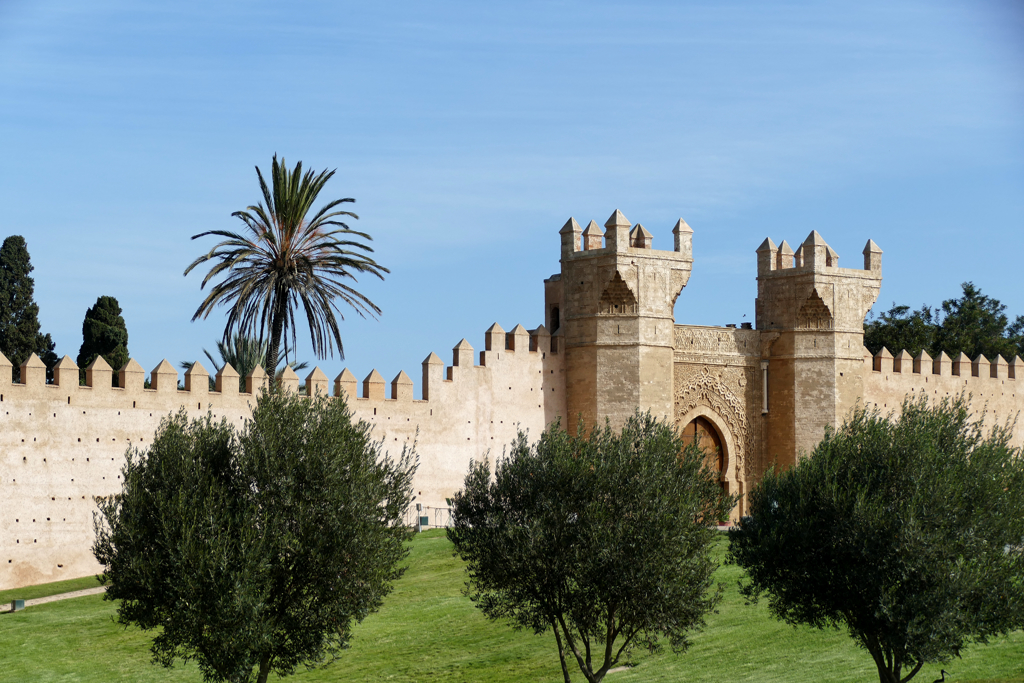 UNESCO inscribed the city on the list of World Heritage Sites in 2012.
Once in Rabat, you need to
✔ explore the Kasbah of the Udayas
✔ stroll alongside the Corniche of Rabat
✔ visit the Villa des Arts
✔ go mural-hunting all over the city
✔ enjoy tea and amazing views of the river Bou Regreg at the Café Maure
But there is much more to explore – as you can read in my post.
I'd argue that Marrakech is the epitome of Moroccan culture and fantasies of 1001 oriental nights. And indeed, you'll find what you expect: A confusing net of alleys in the old medina, jugglers and snake charmers on the legendary Jamaa Al Fnaa, mosques and palaces full of stories of faded glories, lush gardens and grand views of the Atlas mountain ridge.
The conservative religious Almohads conquered first northern Morocco and finally Marrakech in the mid-12th century. They destroyed the Almoravid's religious and secular buildings and built their own houses of worship, for instance, Marakkech's famous Koutoubia Mosque.
But only about a hundred years later, the Merinids gained power over Morocco in 1269. The leader Abu Yusuf Yaqub moved the country's capital from Marrakech to Fez.
However, Marrakech temporarily became the Moroccan capital again in 1554 under the Saadian dynasty.
Finally, the Alawids again chose Fez as their center of power until it was moved to Rabat by the French occupants. By the way, today's Royal family descends from the Alawid dynasty.
Since Marrakech was an important caravan station, many historic buildings are lining the streets and alleys of the old Medina.
UNESCO listed the city as a World Heritage Site in 1985.
Cradle Of A Very Unique Culture
The main attraction of the city remains the Jemaa Al Fnaa. It's a medieval market and former executioner's square. Today, it is a lively place full of stalls and eateries, henna painters, snake charmers, and jugglers. Obviously, this is a spot where you should be on the alert since it's the ideal surrounding for skilled scammers and pickpockets. Hence keep your eyes open and your valuables well-secured.
The most fascinating trade is actually traditional storytelling. The tales that those storytellers have told for generations on the Jemaa Al Fna never end. They are a fluid oeuvre of fantastic, erotic, heroic, and comic fiction. The Spanish writer Juan Goytisolo, who lives in Morocco, has campaigned for the recognition and preservation of public storytelling traditions in Marrakech as a public treasure. Finally, since 2008, the storytellers of Marrakech have been part of UNESCO's Intangible Cultural Heritage.
Once in Marrakech, you need to
✔ explore the oriental souks of the Medina with all your senses
✔ learn about the glorious past at the Al Badi Palace
✔ visit the Saadian Tombs in the Kasbah
✔ venture to the Jardin Majorelle with the Villa Oasis, the Musée Berbère, and the Musée Yves Saint Laurent
✔ let the jugglers, musicians, storytellers, and snake charmers on Jamaa Al Fnaa make your head spin
But there is much more to explore – as you can read in my post.
Practical Information
How to Get There
By Plane
Apart from Meknes, all the imperial cities have an international airport. You'll find further information in the individual posts.
In general, I can recommend flying into Rabat's airport Rabat-Salé if you have the chance.
Despite the fact that Rabat is Morocco's capital, its airport is far less frequented than for instance those in Casablanca, Marrakech, or Agadir. This makes the process at emigration much faster and less annoying. Especially before your flight home, you save yourself a lot of time and hassle if you fly out of Rabat.
In Morocco, things are not like in Europe where you can obtain your boarding pass online and check your luggage at a self-service station and you're good to go. Nope, although you can check in online, you still need to pick up your boarding pass at the counter. Also, they thoroughly check your luggage. If you have Dirham left, you might want to change them. And again: At those big airports, there will be trizillian people needing to do just the same, hence, it will take forever.
Land Routes
Train
In the northern part of Morocco, travelling by train is reliable, fast, and inexpensive. However, if you want to continue from Marrakech further south, you have to go by bus. I'm explaining all that in this guide.
The four imperial cities, however, are connected by a great train system. You'll find the connections and rates in the chart below. Please note that I'm quoting the minimum fares. If you book last minute, these can be much higher. All data are valid for either direction.
For further information and other connections, go to the national train company's website. There you can also buy your tickets online.
Table of Distances and Fares
| From | To | Trip Length | Fare 1st Class | Fare 2nd Class |
| --- | --- | --- | --- | --- |
| Fez | Meknes | 35 minutes | 30 Dirhams | 28 Dirhams |
| Fez | Rabat | 3 hours | 120 Dirhams | 94 Dirhams |
| Fez | Marrakech | 6.5 hours | 290 Dirhams | 215 Dirhams |
| Meknes | Rabat | 2.5 hours | 95 Dirhams | 77 Dirhams |
| Meknes | Marrakech | 6 hours | 266 Dirhams | 198 Dirhams |
| Rabat | Marrakech | 3.5 hours | 197 Dirhams | 152 Dirhams |
I took the train a couple of times. The difference between 1st and 2nd classes is the size of the seats: In 1st class, three people sit in one row and have a bit more space since, in 2nd class, it's four. Also, 1st class is more climatized which in November was not really an advantage. In summer, however, this might make a truly dramatic difference.
During my trip, I did not experience even the slightest delay. Although the trains are not squeaky clean, they are okay. There is a guy selling refreshments, and assigned numbered seats in 1st, as well as 2nd class, are another convenience. All in all, travelling by train was very reliable and comfortable.
Bus
Overland buses are very popular in Morocco since they are dirt cheap. There are bus connections between virtually all major cities. However, the standard between the different bus companies can largely differ.
Travellers who can afford a higher fare usually opt for the CTM bus company. It's reliable and the coaches are clean. However, the trips are about double the fare of standard local overland buses. You can check out CTM's itineraries and prices online where you can also book your trip right away.
If you don't obtain your ticket online, you should go to the station in the morning to book your trip for the afternoon or the next day. Don't just show up at the last minute as they might leave you behind.
Shared Cabs
Travelling by so-called Grands Taxis is very popular among Moroccans and a viable alternative to trains and buses also for visitors. Spots in the taxis are sold individually. Mind you they usually carry four passengers in the rear and two in the front. To have more space, you can purchase more than one seat. This being pointed out, I personally find it underlines the economic and social differences, but that's a very subjective view.
Keep in mind that these fares are regulated, hence, it's worth checking the official rates with the tourist board or another reliable source.
Grand Taxi stations are mostly next to the train stations and central bus stations.
How to Get Around
In the narrow and oftentimes very crowded streets and alleys of the old towns, the so-called Medinas, walking is your only option. Which doesn't hold local guys back from racing through the lanes on bicycles and even motorbikes. Also, a mule pulling a huge cart might suddenly cross your way.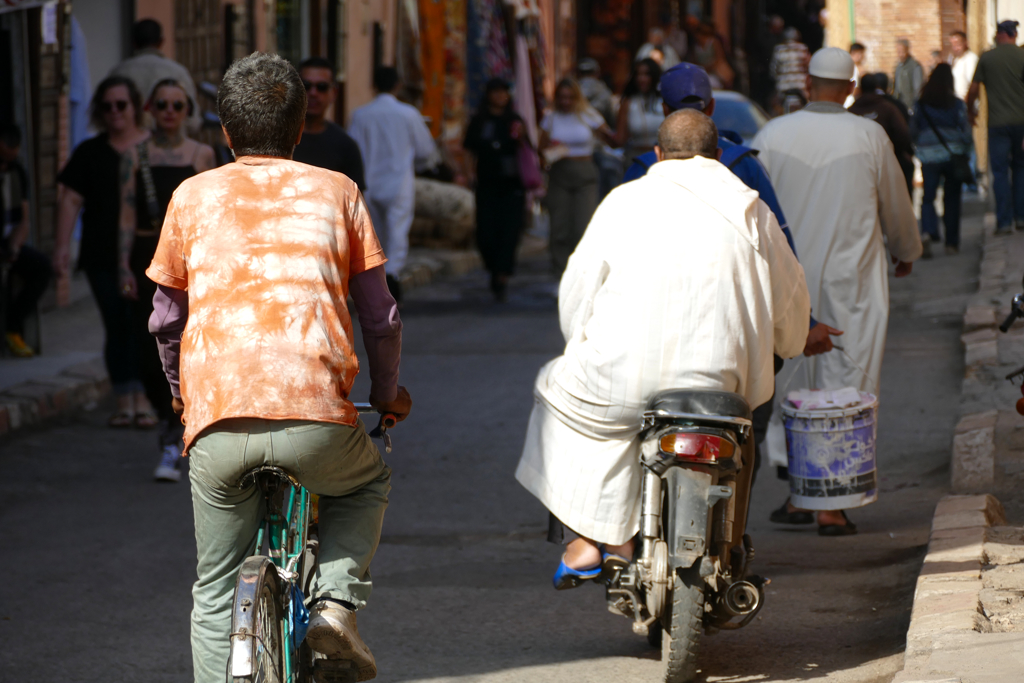 Outside the Medina, the cities have a good system of public buses, Rabat even has two tram lines. Unfortunately, google shows you bus connections only when searching for routes in Marrakech. It is a great tool to get from A to B. On the other side, in Rabat, google maps gives you at least the tram connections, but it doesn't show any bus connection in either the capital or Fez or Meknes. However, I was able to include a bus map in my post on Rabat, this might help a bit.
Depending on the city, bus fares are between 4 and 5 Dirhams for an unlimited journey as long as you don't get off. A tram ticket in Rabat costs 6 Dirhams.
Petit Taxi – Grand Prix
The local Petits Taxis should be metered, but the drivers tend to forget this handy feature. And if you remind them, they might overtly refuse to turn it on. Hence, you need to negotiate the fare by trying to push the initially quoted price down to about half.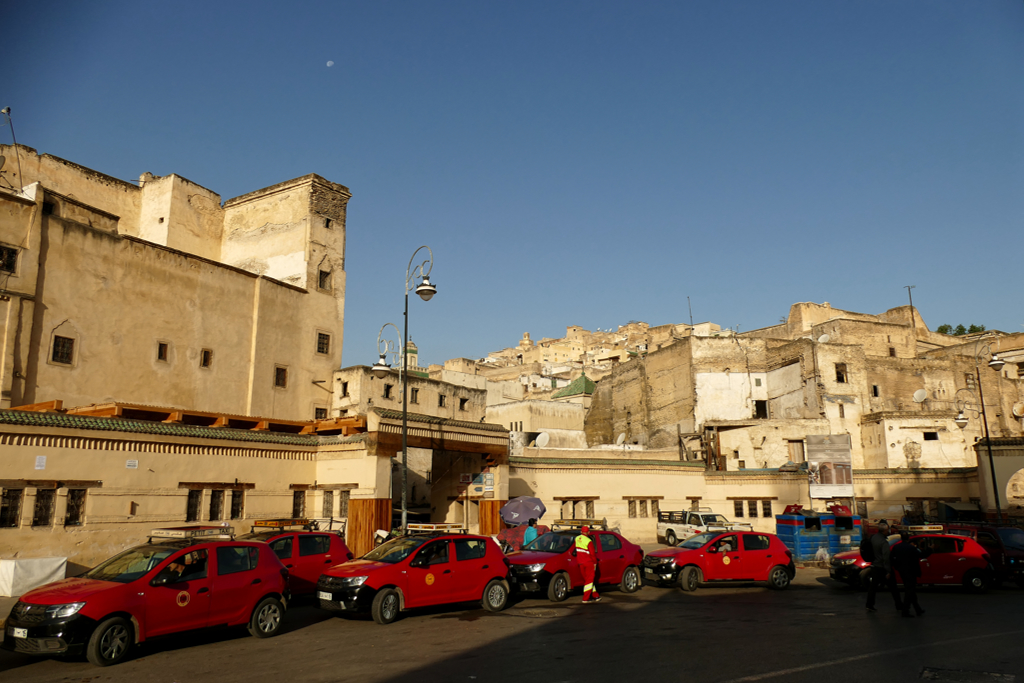 And this, ladies and gentlemen, is the reason why I prefer taking the bus over taxis.
Organized Trips
Before getting to Morocco, I was petrified that I might get lost forever in one of the Medinas. Yet, orientation is not the only reason why at least one tour in the company of a knowledgeable and trustworthy guide is highly recommended. You'll miss out on so much if you don't have that local person that brings you into the loop of 1001 stories'n'secrets that hide behind those high walls of the Medina.
Hence, for me as a slightly nervous solo traveller, a first walk through the Medina in the company of an experienced guide braced me for exploring the rest of the city by myself.
Also, especially as a solo traveller, it's sometimes nice to join activities and get to meet other visitors. Therefore, I recommend joining one of these tours preferably at the beginning of your stay – I promise, you won't regret it*:
Where to Stay
When it comes to accommodation, I recommend considering two aspects: I would always stay right in the Medina or at least on the very outskirts. I stayed at the Riad Ibn Khaldoun* in Fez, the y Riad Menthe et Citron* in Meknes, and Riad Sidi Omar* in Marrakech. Since I took Arabic classes in Rabat, it came with a homestay that I sadly cannot recommend.
Riad – that's the other thing I'd urge you to book: Don't stay at a regular hotel but enjoy the mesmerizing atmosphere and personal service of a so-called Riad.
Yes, Riad is also the capital of the Kingdom of Saudi Arabia. But more importantly, in Morocco, Riad is a traditional house or palace with an inner courtyard. You wouldn't expect the austere, windowless outer walls hiding lavishly decorated rooms around a courtyard. The internal space is lit and ventilated through the roofless yard. This architecture offers the inhabitants protection and privacy.
Today, many owners transform their Riads into guesthouses, conserving the original style and creating a very personal atmosphere. Staying at a Riad takes you closer to the Moroccan way of life.
Below, you can check out the availability and prices of some suitable lodging*:
What to Eat
Moroccan cooking is influenced by various cultures. Most dishes contain at least a little meat, but also different vegetables and rice or couscous.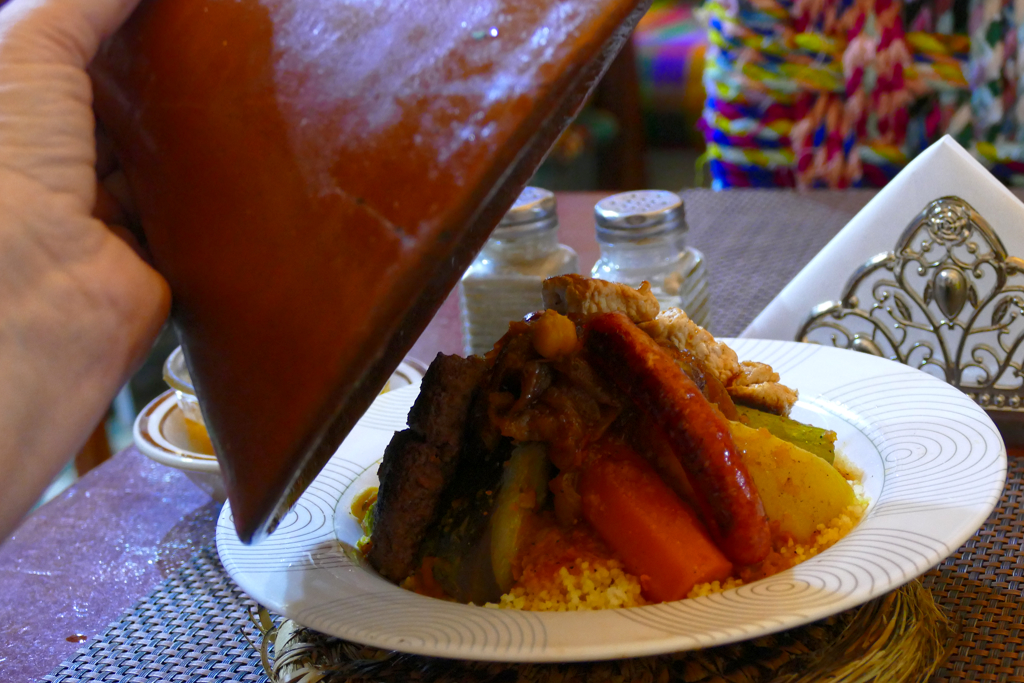 A big meal starts with a series of hot and cold salads, the so-called Mezze. Also, salads are served with meals in most restaurants. I never had any problems with food whatsoever, still, you might want to refrain from eating raw salad and veggies if you have a sensitive gut.
The main course is often Tagine – whereby Tagine is the name of a clay cooking tool as well as of the dish you prepare in it.
In a clay dish, couscous, potatoes, vegetables, and meat are stewed in their own juices. For the delicious oriental taste, caramelized onions, raisins, plums, almonds, boiled eggs, and pickled lemons are added. Obviously, there are also purely vegetarian tagines.
Another staple is couscous. Couscous is the name of rolled durum wheat as well as a dish based on this semolina topped with various kinds of vegetables and meats.
Due to the long cooking times, Tagines and Couscous are safe even for sensitive foodies.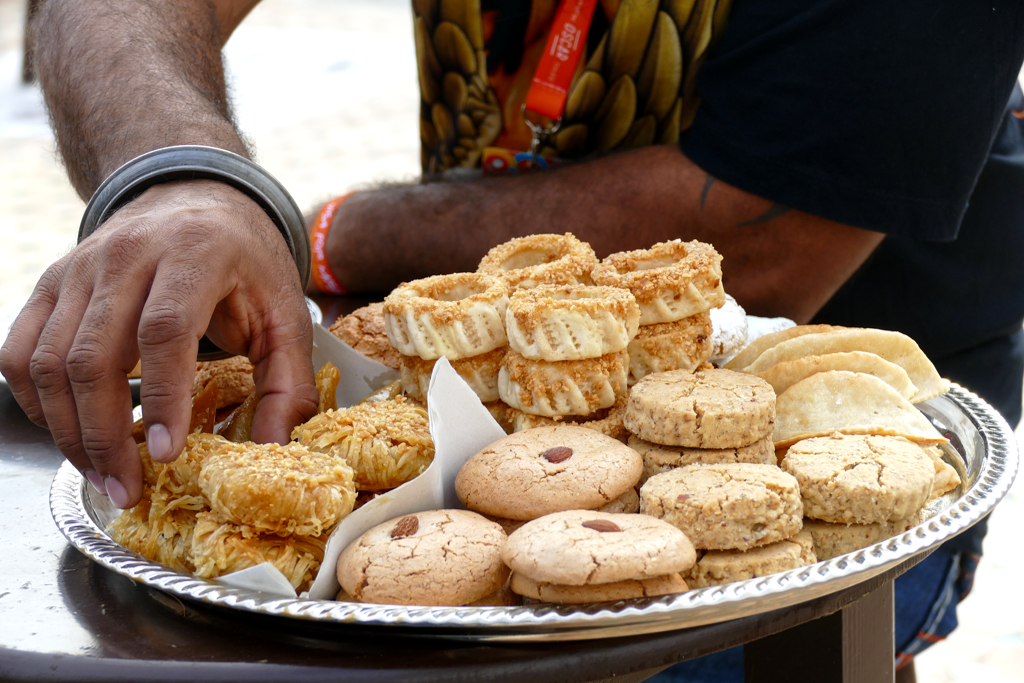 Traditionally, Moroccans eat with their hands and use bread to get the food into their mouth. As a visitor, you'll be challenged to do so, too, only when you're having street food. Otherwise, restaurants automatically supply their guests with cutlery.
Drinks
The most popular drink in Morocco is mint tea. If you don't want it too sweet, you better order it without sugar. You always get the sugar on the side.
Another real treat is the excellent freshly squeezed fruit juices like orange or pomegranate juice. However, don't buy them just anywhere but take a closer look if the shop is clean.
There is Moroccan beer and Moroccan wine which you can mostly enjoy only in certain especially licensed bars and big international hotels. Also, those are quite expensive by international standards as they are heavily taxed.
Cash And Cards
The Moroccan Dirham is the country's official currency. It is abbreviated MAD and subdivided into 100 santimat.
The exchange rate is 1 US$ = 10.70 MAD and 1 €UR = 11.10 MAD as of January 2023. However, you can check the conversion rate to US$ on this page and to €uros on this page.
Even some small businesses and stands in the old souks accept credit cards. However, not all of them do and not everyone is happy if you pay with plastic. On the other hand, I've stayed in Riads where I had to pay cash for a three-night stay.
In any case, you should have cash on you. On the other hand, there are so many ATMs around that you'll have always access to some cash if necessary.
Language
Although the two official languages are Arabic and Amazigh, most Moroccans are fluent in French since that's the first foreign language they teach at local schools. Also, it's Morocco's primary language of commerce and economics, culture and sciences.
Spanish is spoken by many Moroccans, particularly in the northern regions.
I came to Morocco to brush up on my rudimentary Arabic skills at a language school in Rabat. If you happen to speak some Arabic, too, beware that Moroccan Arabic, the so-called Darija, is very different from the standard Arabic also referred to as Modern Standard Arabic (MSA) or Al Fusha. Nevertheless, Fusha – which is pronounced Fus-ha and not like Shisha – is used in books, newspapers, TV news, and political talk shows
I've found this really great App to broaden my Arabic vocabulary and practice what I've learned. It's called Lingohut and it offers an amazing choice of more than 45 languages! Hence, if you feel more comfortable communicating in French, you'll find it there, too.
However, due to international tourism, most people working in tourism and gastronomy speak quite decent English and very often also other languages such as Italian or German.
Connection and Communication
Since international roaming is still terribly expensive, you better get a Moroccan SIM card as soon as possible. You can get one for 20 MAD or 50 MAD from Inwi or one for 30 MAD from Maroc Telecom and Orange. They are sold either in their respective stores, at some Moroccan airports, and in many kiosks and convenience stores nationwide. Normally, you should be asked to show some ID, however, I got mine at the train station in Salé outside of Rabat no questions asked.
Obviously, you can also use free Wifi in many places in Morocco. Basically, every mall, museum, eatery, accommodation, train station, and even the tram in Rabat offers free Wifi.
In Morocco, they use plug types C and E. Their voltage is 220 V and the frequency 50 Hz. Whereby, as nowadays all these chargers have integrated adapters, the voltage and frequency don't really matter.
By the way, you'll find comprehensive travel info in my post World's Most Complete Travel Information – an indispensable globetrotter-classic.
Places to See
Below you find links to posts on Morocco's Royal Cities. In each of those posts, you'll read inspiring stories and get valuable information that will make your own trip smoother and more enjoyable.
Pinnable Pictures
If you choose to pin this post for later, please use one of these pictures:
* This is an affiliate link. If you book through this page, not only do you get the best deal. I also get a small commission that helps me run this blog. Thank you so much for supporting me!