A circular hiking trail that starts and ends at Puigpunyent, a picturesque village located about 16 kilometers west of the island's capital Palma, is one of Mallorca's most intriguing yet easiest hikes.
In some aspects, I'm kind of a traditionalist. For instance, I do like the idea of a classic Sunday outing to the countryside. Wandering through beautiful sceneries, whistling a joyous tune, having a cheerful dialogue with birds and beasts.
Yes, you basically do find all that around Puigpunyent, but before I get carried away by my own cheesiness, let me introduce the real thing – which is charming enough even without my sugarcoating.
Puigpunyent
The village of Puigpunyent is only a short drive west of Mallorca's capital city Palma. It lies between mountains covered in pines, and oaks, as well as olive, almond, and carob trees on the west side of the Tramuntana mountain range. The village is surrounded by large country houses and grand estates. These are stemming from the heyday of agriculture and cattle farming.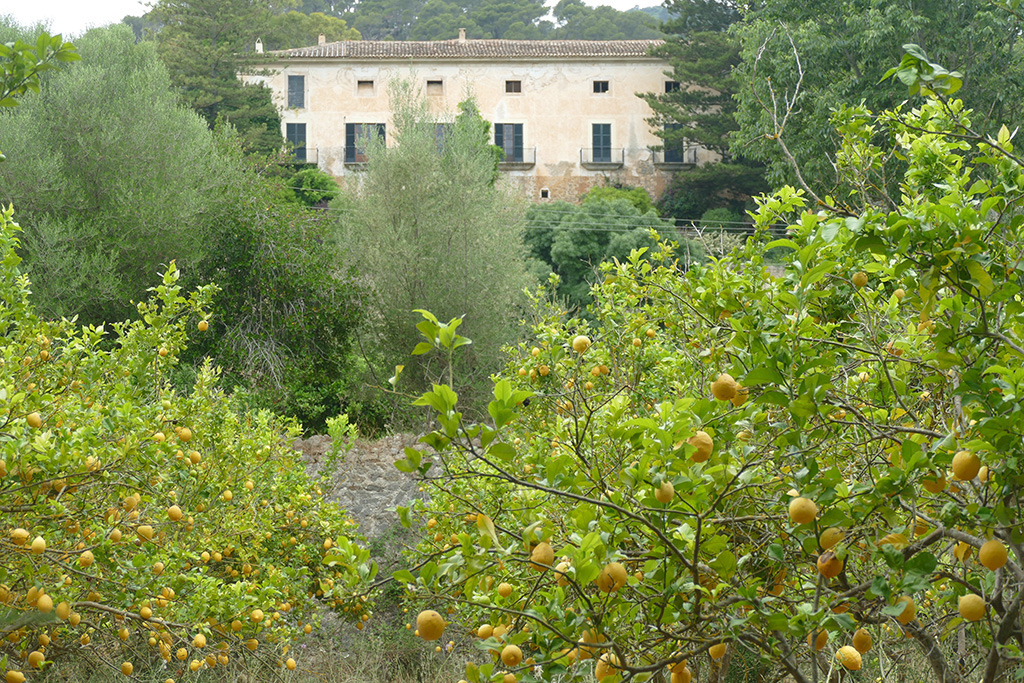 As a matter of fact, the valley of Puigpunyent was one of Mallorca's first inhabited regions. Iconic Talayots, thick-walled rock towers built around a central chamber, are still proof of it.
During the Muslim hegemony from 902 to 1229 AD, the Moors built canals and watermills, fountains, ponds, and reservoirs.
In the 13th century, the Catalans reclaimed the island. It was then that the island's first church was built in Puigpunyent and authorized by Pope Innocence III in 1237. Also, the cultivation of vines and olive trees increased and brought the region significant wealth.
However, today, Puigpunyent can be seen as a kind of a satellite town as most of the inhabitants work either in Palma or on the coast further west. Also, due to the high standard of living, there is a significant ex-pat community at Puigpunyent.
Although Puigpunyent is not that famous, due to its scenic beauty, it should be on every visitor's list. Right downtown you'll find a good map tracing some great hiking trails – and I opted for the circular route that locals used to walk barefoot in order to keep their shoes from wearing down quickly. This is a tradition you should definitely refrain from.
You dedicated mountain lovers might also want to climb the Puig de Galatzó which is not that difficult and grants even more spectacular views of the surrounding mountains and valleys.
Another hiking option is the short way to the small and charming medieval town of Galilea – for the name alone. Actually, it's not that far – only about an hour's walk – so you can walk there even after your circle hike and then take the bus back to Palma from there.
On the Barefoot Trail of Puigpunyent
The traditional Barefoot Trail of Puigpunyent is approximately ten kilometers long, and I don't recommend walking it barefoot, obviously. The altitude difference is about 400 meters in total, hence, the net walking time should be about three hours. Since I'm not a fast hiker and also wanted to take many pictures, I needed around 3.5 hours. I made it in time for the bus at 4.50 p. m. – see below – but it was really tight.
The walk is quite easy and the trails are in good condition, hence, good sneakers with a profiled sole should do. However, quality hiking boots that also stabilize your ankles are always a better choice.
During your hike, every time you're in doubt about which way to go, there will be either a red dot, a directional arrow, or even a real sign – it's almost like magic.
The hike begins at the northern side of Puigpunyent at the Carretera Esporles. Here you can walk up the Ma-1101 road following the signs Es Grau and Esporles. In a left bend, you will turn right onto a stony footpath at the sign Es Grau. This leads slightly up to a larger property.
Follow a red dot straight ahead at the property and continue up the path through a sparse pine forest. Eventually, the route continues upwards partly on the road and on stony paths that branch off from the Ma-1101 several times – mind the arrows. Hiking on the road, be prepared for some really crazy drivers – that you normally can already hear coming roaring from afar. Still, be careful.
Finally, after around 35 minutes past the property, you will reach the Coll des Grau. There you hike down about 100 meters and turn left at the sign Puigpunyent, Son Fortesa.
You enter the property through an iron gate and later you'll also pass the entrance gate of the Sa Comuna de Superna. Now follow the sign Sa Campaneta and after about ten minutes, you'll see the entrance gate of the homonymous estate. Don't worry about the signs Propiedad Privada – private property – and Camí Particular – private road – access is allowed.
Hike with a View
This will probably be your first extended photo stop since the view here is impressive. On the right, the panorama sweeps from the Serra des Puntals over the Mola de Son Ferrandell the Talaia Vella near Valldemossa to the Teix massif. The Puig de Galatzó and the Puig de na Bauçà rise to the left. You can even spot the sea at Santa Ponça.
Continue on the wide slope which ascends moderately. At a bifurcation, follow the directional arrow, pass a wall passage, then an open iron gate, and turn left at the sign Puigpunyent, Son Fortesa. A little later, there is a left turn at a post arrow and a red marking.
A paved path now leads up to a larger plain on the right of the path and later to a wall passage.
Behind the breach, there is a forest path going downhill. A sign indicates that you are now in a hunting area.
At a bifurcation, follow the arrow, and about ten minutes after the breach in the wall you'll get to a place where a stone pyramid and a red arrow point to a path to the left. This trail leads to the Ermita de Sant Onofre.
Remnants from the Past
The hermitage, which today is in ruins, was built in 1660. For about 30 years, monk Jaume Català lived at the Ermita. Eventually, farmer Francesc Llinàs lived here from 1917 to 1934 and worked the terraces around the Ermita with his parents.
Now go back to the main path and turn left. The slope then leads past a lime kiln. At a later fork in the road, turn left – according to the arrow – and you reach the Trescollet saddle.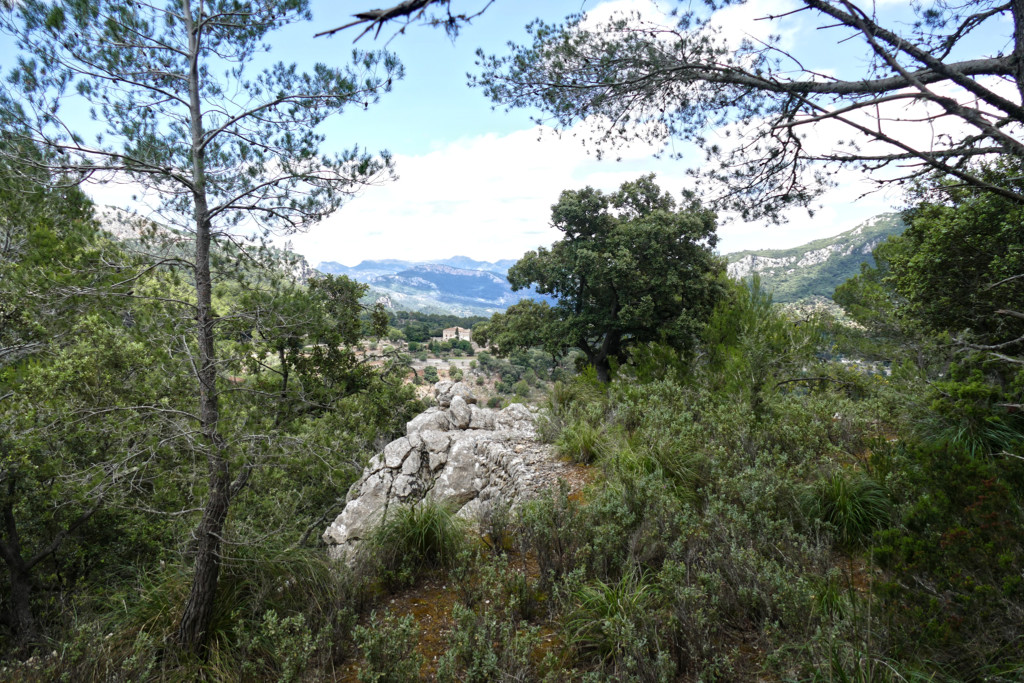 There is a plaque on the saddle showing the old path from Estellencs. Until 1913, this Camí Vell d 'Estellencs was the only connection between Estellencs and Puigpunyent.
From the Trescollet saddle, continue straight on the wide slope that ascends into the valley. As you reach crossings, you follow the cairns, arrows, and red dots. You'll pass a gap in the wall and then another wall passage. Here you continue straight, and a bit later you pass the former mountain Finca Sa Muntanya. Following the arrow, you'll get to the old Sa Teulera brickworks.
An arrow shows you where to turn right onto a shortcut trail that leads back to the main path. Descending, you get to a fence, and turn left. About 100 meters further, a slatted frame to your right serves as a gate. Climb through it and close it after yourself – yes, even a little sign tells you so…those Mallorquins are rustic yet thorough – and you find yourself on the road to the Possessió Son Fortesa.
Keep on walking on the comfortable road and you'll get back to the northern tip of Puigpunyent where your beautiful hike began.
Once you're back at the village, you either hop on the next bus back to Palma. Or you enjoy some local refreshments at one of the cozy little restaurants in the center of the town. As I suggested above, you can also continue for one hour to picturesque Galilea and take the bus back from there.
How to Get There
As I wrote in the introduction, I chose the hike around Puigpunyent for a classic Sunday trip. While some places on the island of Mallorca cannot be reached on Sundays, there is an undisrupted bus service between Palma and Puigpunyent, albeit a bit limited.
There is bus #201 in the morning at 9.15 a. m. from Palma's Estació Intermodal so that you arrive in Puigpunyent at 9.40 a. m. The first opportunity back to Palma is then at 1.15 p. m.
They say that the hike takes about three hours so you should be fine. Nevertheless, if you take a longer break or too many photo stops, it can get really tight, and if you miss this one, you have to wait for the next one for three and a half hours till 4.50 p. m.
Therefore, if it's not too hot, I'd suggest you take the #201 to Puigpunyent at 12.45 p. m. so that you start your hike there at 1.10 p. m. This way, you have almost four hours to make it back by the bus at 4.50 p. m. And even if you miss that one, the following one leaves at 6.15 p. m. so that your wait will be just long enough for a refreshment at one of Puigpunyent's cute cafés or bars.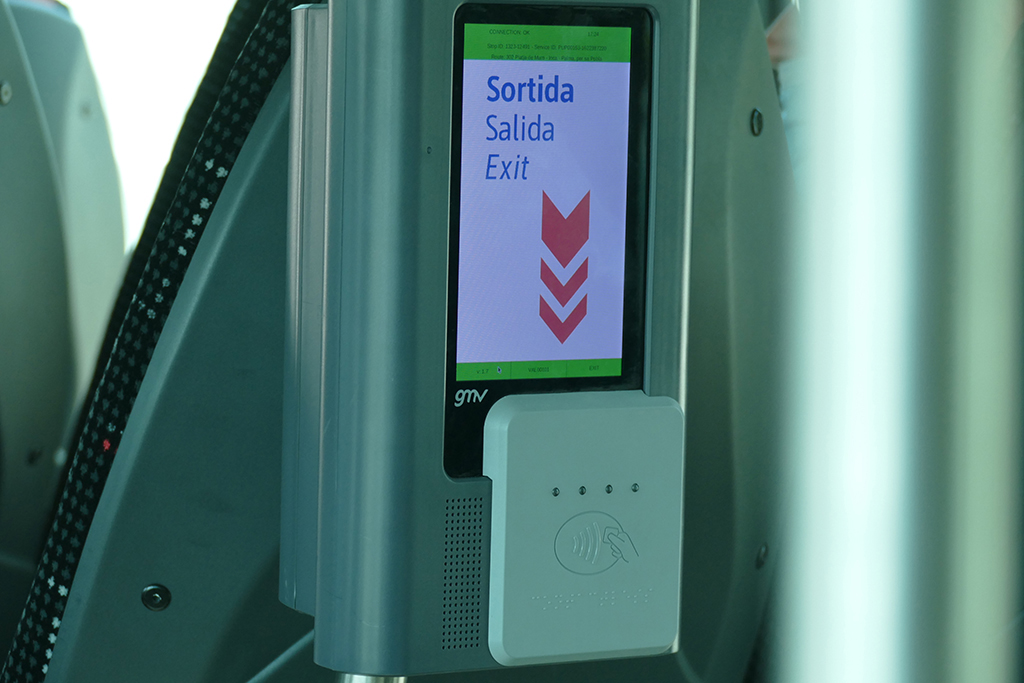 If you go on a weekday, your planning will be much easier since the coaches are going approximately every 90 minutes. A single ride costs 3 €uro if you pay cash on the bus. As you pay with your credit or debit card, you get a little discount of 10%. However, if you are planning on taking the bus more often, paying by card will actually save you a lot of money since discounts go up to 60% depending on your route.
In case your card is not equipped with Near Field Communication – short NFC – you can simply obtain a so-called intermodal card for instance at the Estació Intermodal in Palma and just charge and recharge it as needed. This way, you'll get the same discounts.
Not only is the network of public transportation comprehensive, comfortable, and reliable, the CTM company also has a very informative website in five languages.
Well-Organized Activities
Although I'm an avid solo-travelling woman, I sometimes like to join organized tours. Not only are they a valid option to go to remote places since I'm not driving. They also allow me to meet fellow travellers – for just a short moment or a lifelong friendship.
Therefore, here are some great ideas of what to do when visiting Mallorca. Especially during high season, pre-booking online will guarantee your place at the activity of your choice*:
My half-day trip to Puigpunyent was only one of many amazing tours during my nine days on the island of Mallorca. To read about the others, go to this post and take your pick!
For general information on Spain, go to the main post. There, you'll find information and tips that will make your trip much smoother and more enjoyable.
Are you a passionate hiker and wonder which other trails there are to explore on the island of Mallorca? In my post MALLORCA – the best easy hikes, I've put together…well, the island's best easy hikes.
Map
This map shows you the hike in detail:
Pinnable Pictures
If you choose to pin this post for later, please use one of these pictures:
Did You Enjoy This Post? Then You Might Like Also These:
* This is an affiliate link. Hence, If you book through this page, not only do you get the best deal. I also get a small commission that helps me run this blog. Thank you so much for supporting me!