Since after almost an entire week in Tenerife, I hadn't been to the beach, I urgently needed to add some lazy hours of sweet nothing. After having explored the island's northern hinterland, I really didn't feel like letting the tourist ghettos on the south coast put an ugly stain on the positive'n'pure impression Tenerife had made. Fortunately, the wind blew me to a small surfer town on the east coast, and although I'm not a surfer, El Medano with its beautiful coastline, laid-back atmosphere, and great fish restaurants actually did blow my mind.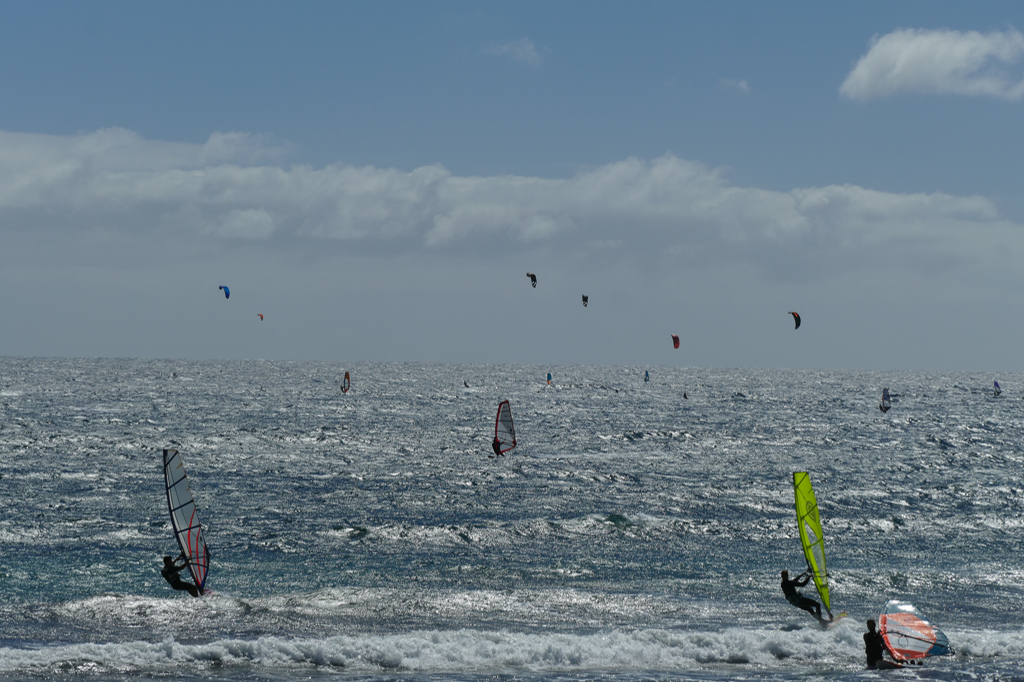 Leaving Paradise
Yes, Tenerife is definitely a microcontinent and this is clearly reflected in the different climate zones. The north is much cooler, there are more rains which makes the land rich, fertile, and beautiful. Tenerife's north is a spectacular garden of Eden. However, as a visitor, you have to pay the price of chilly temperatures and occasional showers if not heavy rains. Also, the waters on the northern shores can get really rough so that even the natural pools where normally bathers are sheltered from the forces of the sea have to close down.
I enjoyed my stay in Tenerife's north a lot. However, now that my trip to the Canary Islands got to an end, I realized that I hadn't spent one single day on the beach. Obviously, I still had a couple of days left, but for over the past few days, the sea had gotten really rough. Not only was it dangerous to take a dip, the waves also washed over the beaches so it wasn't even possible to lay on a sunbed. I checked the weather online. Tenerife's south coast looked much better. Also, my flight would be from the Reina Sofia airport.
I had to go south.
Surfin'
Since the bus driver left me at the curb of a supermarket and my hotel was on the opposite side of town, I had to drag my suitcase down the promenade alongside the beach. As I pulled the bag over the bumpy wooden planks, I got a first impression of the town.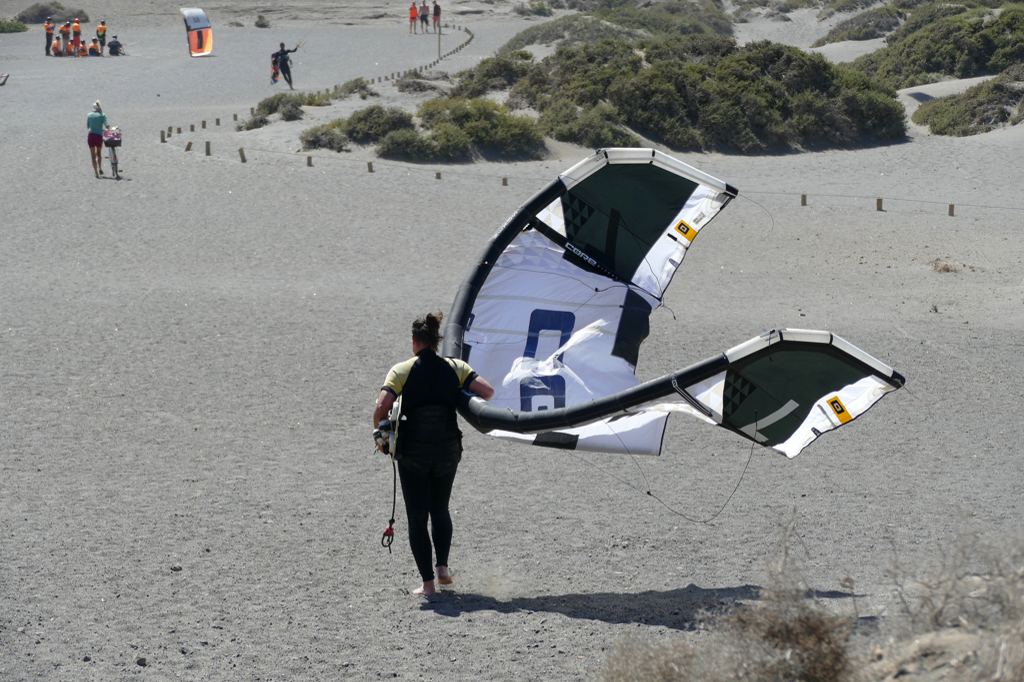 And this impression was good. Very laid back. Touristy, but a totally different clientele than at the larger resorts in Puerto de la Cruz where I just came from. Here, half of the tourists were wearing wetsuits instead of sensible capri pants. They carried surfboards or fought with tangled ropes of their kiteboards. There was a strong wind blowing and the waves were also pretty high. There was a vibe of fun and power and the freedom of an endless summer. I'm not surfing and I'm definitely not kiteboarding, but I would find my jam, I was sure.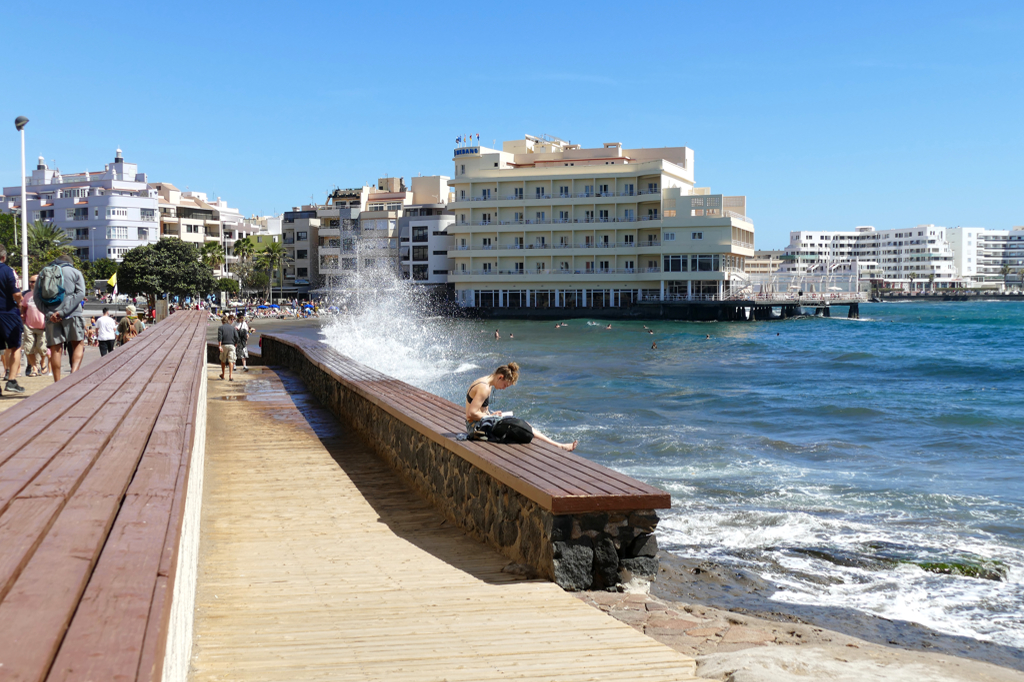 Compared to the tourist machineries of Los Cristianos and Las Américas on Tenerife's south coast, El Médano is rather serene. Nevertheless, there is a great tourist infrastructure especially when it comes to water sports. But you can also go hiking, biking, or just relax on the beach.
El Médano
El Médano is Spanish for The Sand Dune – and also the name of a pleasant little town just a few kilometers east of Tenerife South Airport. Although the town is located in a small bay, it's not really sheltered against the strong winds which makes it a popular holiday destination for windsurfers.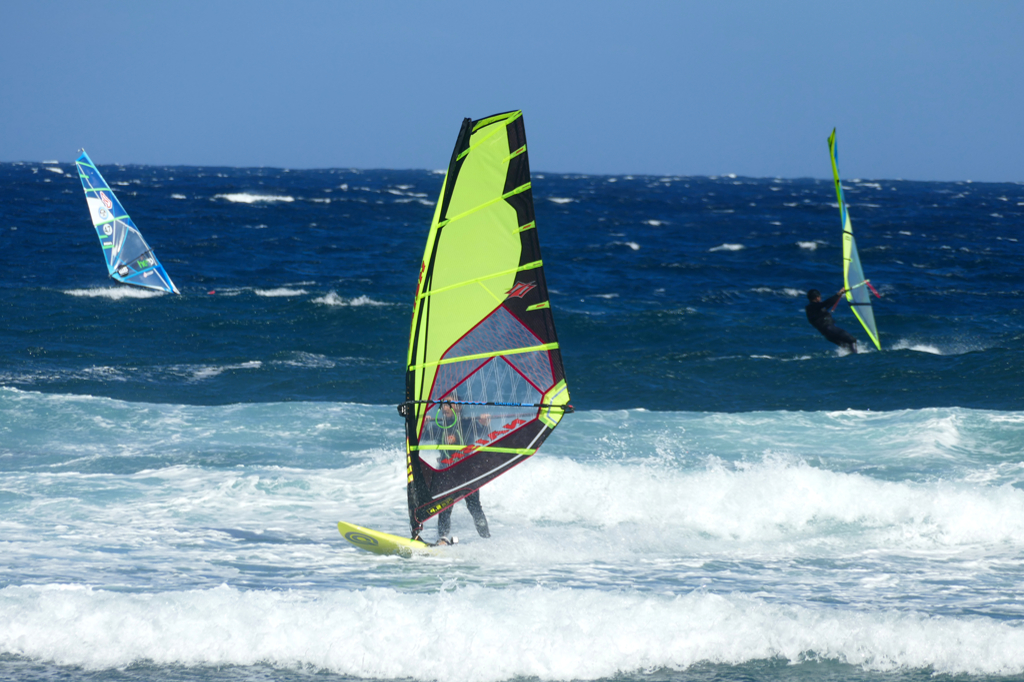 At the former fishing village, water sportsmen and women find year-round pleasant temperatures and most importantly a constant breeze, hence, the perfect conditions for surfin'n'kitin and whatnot.
There are surf rentals and surf shops and surf schools. Hence, you can learn or train or fine-tune. All the accommodations have space for surfing equipment.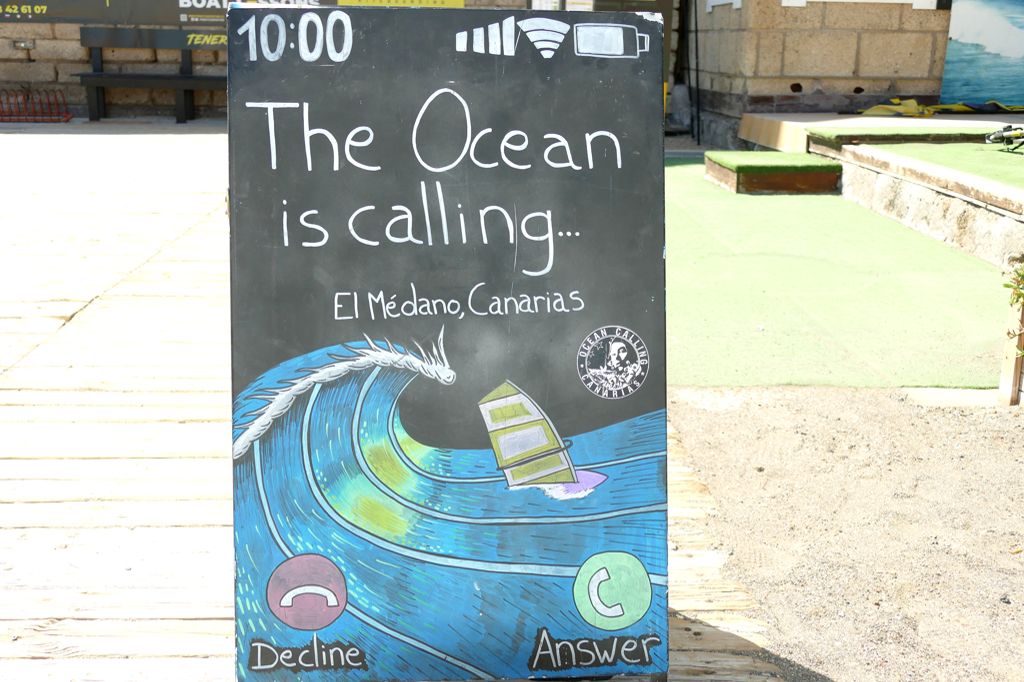 If you want to see professionals surfing, you have to come back for the World Cups. Regularly, professional surfers come to El Médano to put those tourists to shame.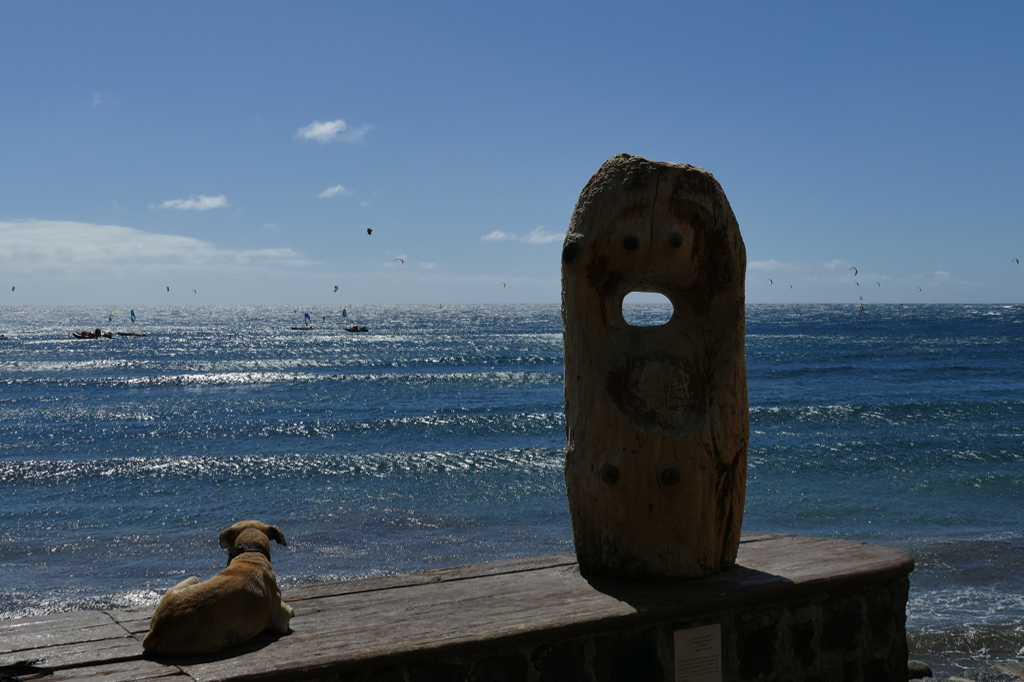 However, El Médano is also a good place for snorkelers and divers although you cannot explore the underwater world right from the shore, obviously. But there are diving schools that will take you to calmer spots where you can enjoy the underwater world without colliding with a surfer.
Beaches
Although the town beach is mostly frequented by surfers, there are small bays where sunbathers spread out their towels.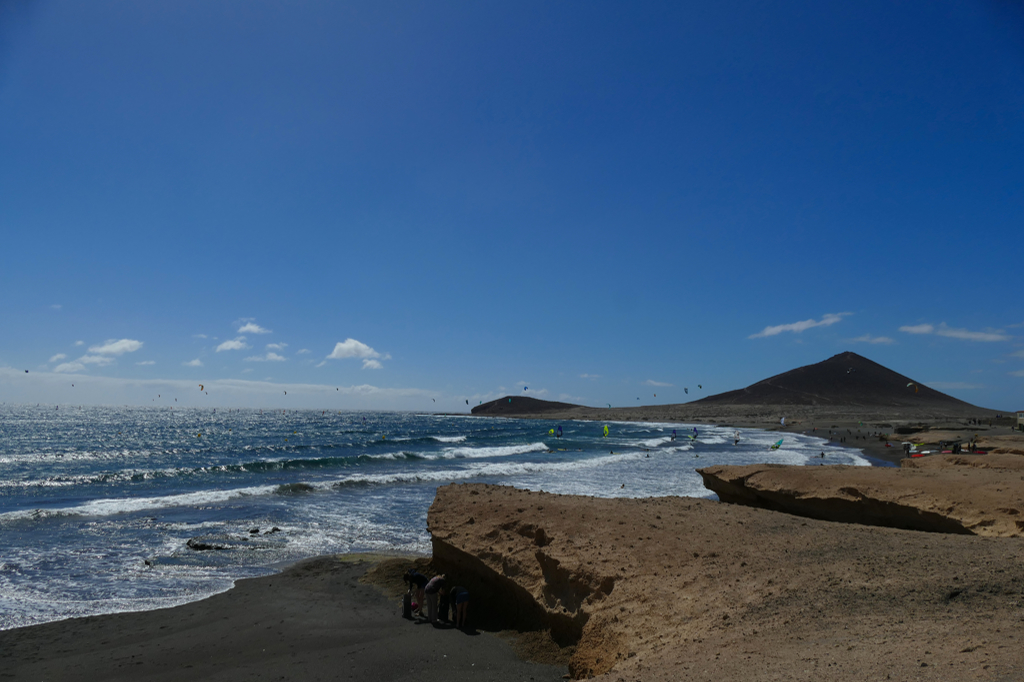 On the northern tip of the town beach is even a reserved area where you can rent sunbeds and umbrellas. But I won't lie to you: While this is okay, it's not really great. To relax on a great beach, you have to walk for a bit.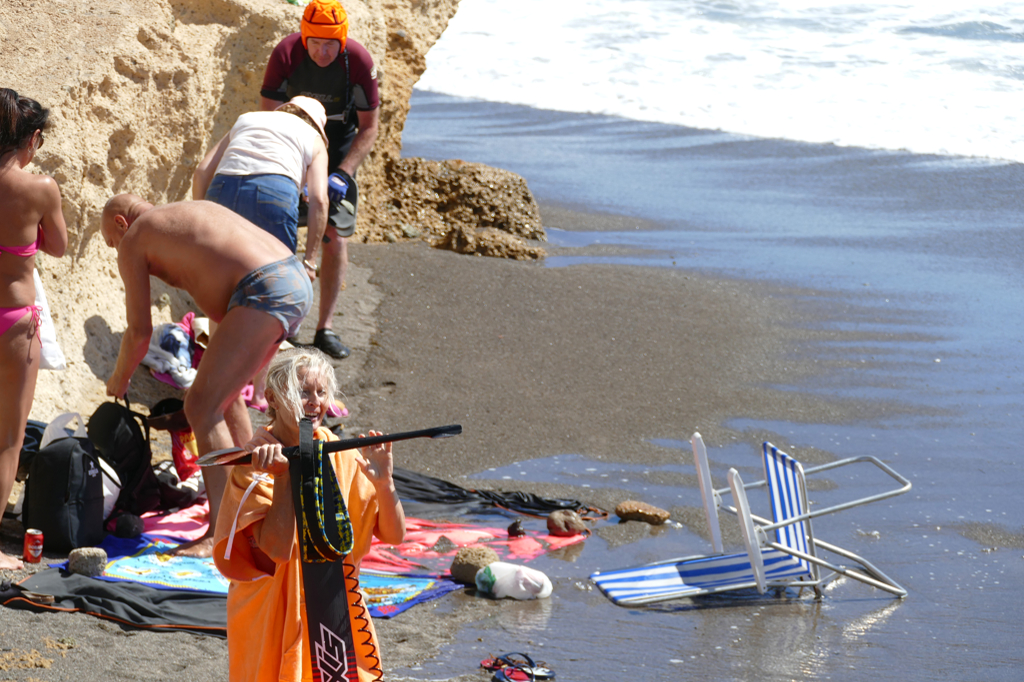 While the beaches north of the town are beautiful, they are not sheltered at all. Therefore, there is a strong wind blowing which makes them ideal for – yes, you probably guessed so: surfing. If you lay down, you'll be sandblasted within minutes – especially since there is hardly any infrastructure. However, the northern part of town is very nice for a long walk.
What you will notice is that the beaches in the area are neither of the black color so common for Tenerife nor golden yellow. El Médano's beaches have a peculiar silvery shimmer. But why is that? Well, the constant wind blows the sand all the way from the Sahara to Tenerife's coast. Here, it then gradually mixes with the local fine black sand to a new shade of silver grey.
Move Every Mountain
Now, to make El Médano the perfect beach place for everyone, God built a mountain, namely the Montaña Roja with a surrounding nature reserve. West of town, the beach stretches for three kilometers towards the red cone.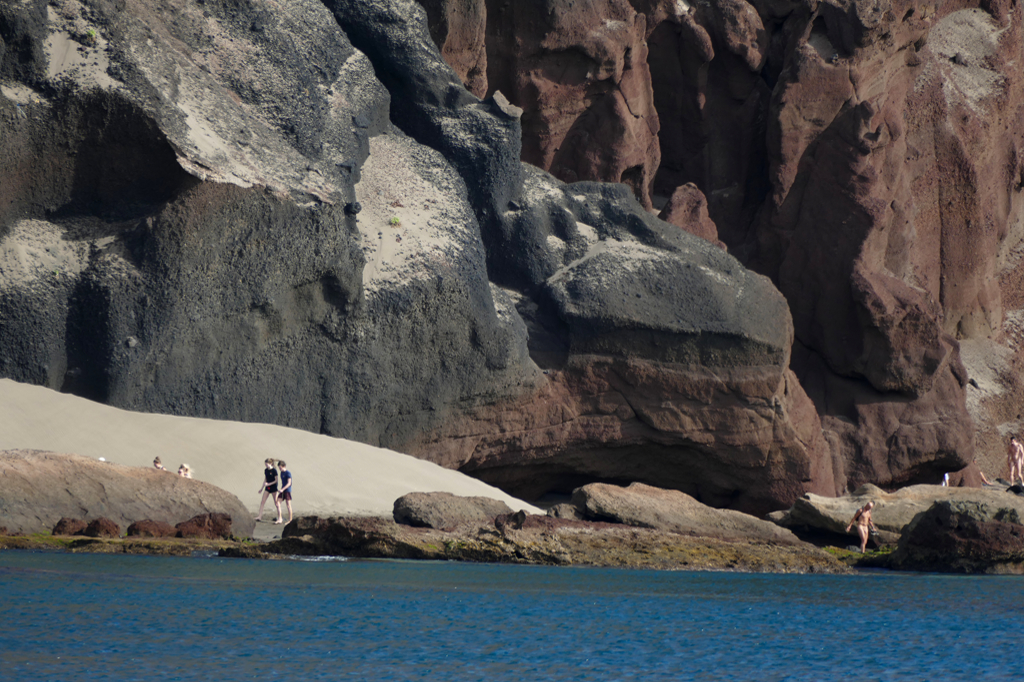 Obviously, you can climb the 171 meters to the summit for a fantastic panoramic view of the sea. However, you can also walk around it to the adjacent Playa La Tejita.
Now, this beach is perfect for a relaxing day of sea'n'sand. Sheltered by the elevation, there might still be a light breeze but nothing compared to the winds on the other side of the mountain. Also, the waters are much calmer in this bay and just perfect for swimming.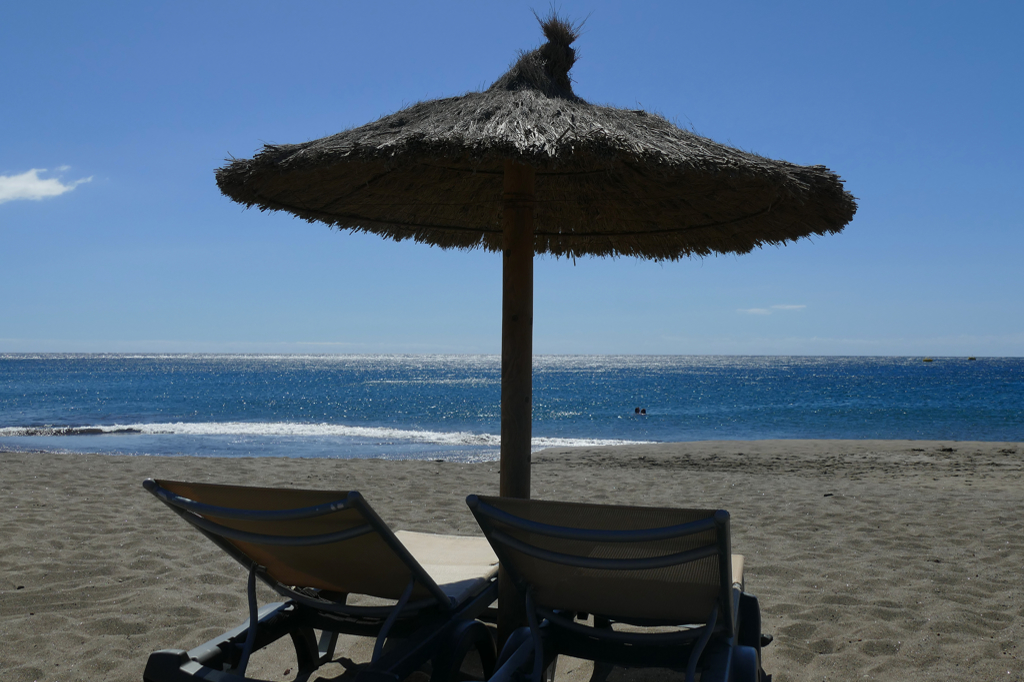 On the beach are sunbeds and umbrellas – however, that's it. You have to bring everything you need, for instance, snacks and drinks, with you. Or you have to walk for another twenty minutes west to the Playa del Confital. There you'll find a small makeshift bar called Chiringuito Pirata where they serve drinks and a small choice of local snacks.
Piscinas Naturales Los Abrigos
I've introduced this wonderful natural phenomenon in some of my posts on Gran Canaria where I experienced a refreshing bath in what's called Charcones in Spanish for the first time. And luckily, also Tenerife has a number of natural pools and puddles.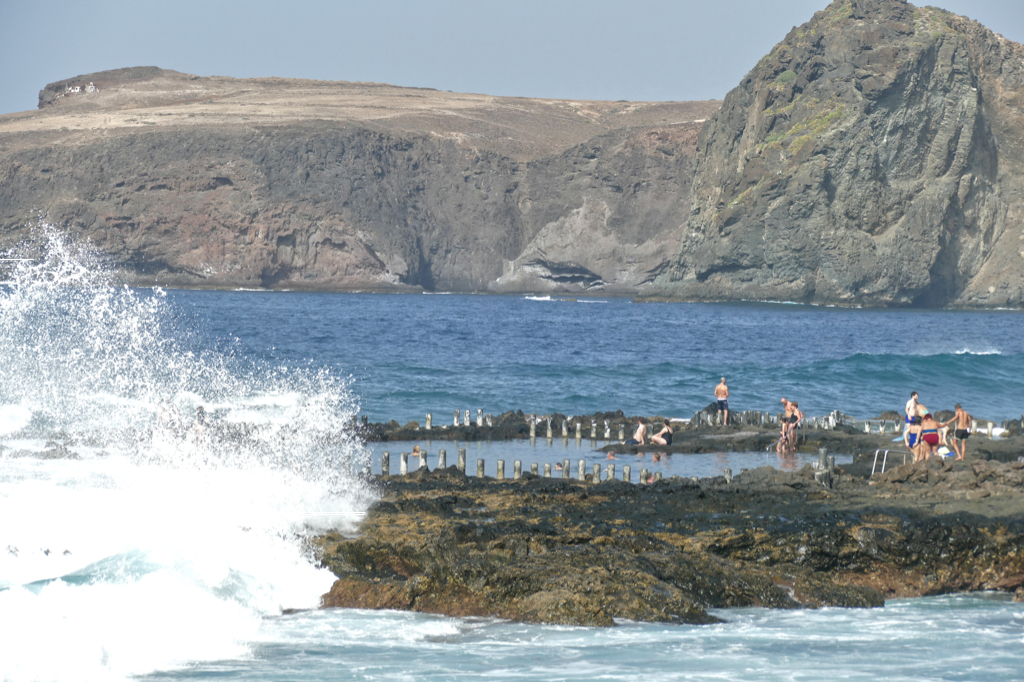 Thousands of years ago, volcanic lava set into a solid state and thusly, created pools. The natural pools of Los Abrigos are within walking distance from El Médano. However, you can also take bus #470 which takes you there in less than 15 minutes.
First, cross the natural reserve to the Playa La Tejita and from there, you just walk on the unmarked dirt road alongside the shore. You'll pass Playa del Confital, Playa El Horno, and Playa Las Maretas before you finally spot the rocky surroundings of Charco de Los Abrigos.
Practical Information
How to Get There
By Plane
The fact that I was looking for a place where I could spend a couple of days on the beach was actually only one reason why I had chosen El Médano for the beach part of my trip. The other reason was its location merely five kilometers from Tenerife's southern airport Reina Sofia, also known as Tenerife Sur.
Far more international tourists proceed through the island's southern airport Tenerife Sur Reina Sofia which was opened only in 1978. In charter traffic, mainly Spanish, German, British, and Scandinavian destinations are served.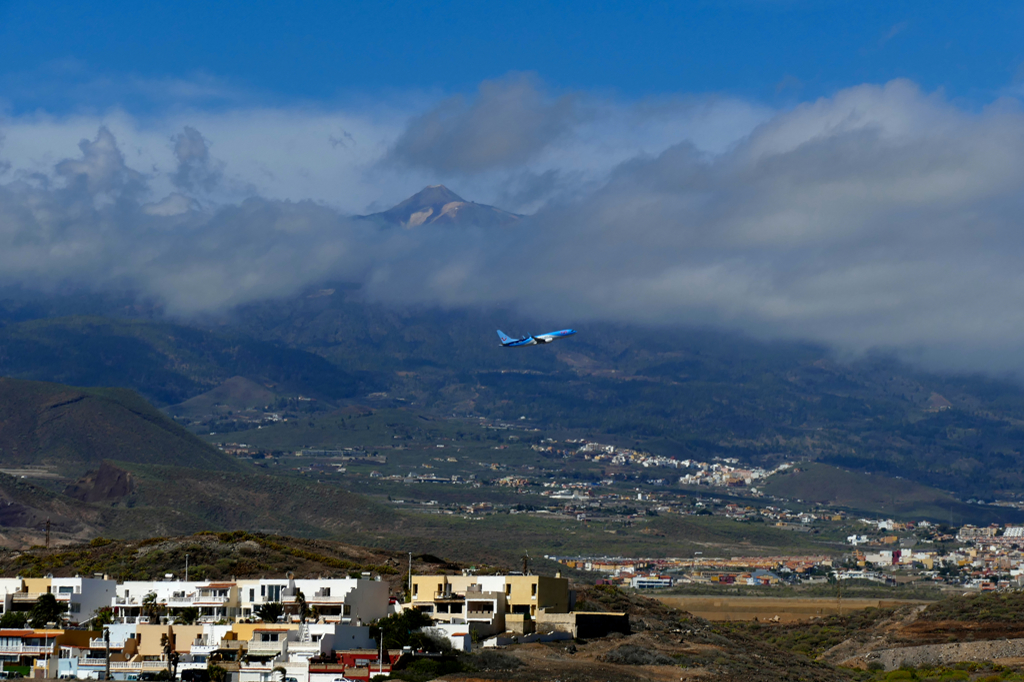 In scheduled services, there are also quite a few low-cost airlines such as Eurowings, Iberia Express, and Ryanair serving European destinations as well as the Spanish hubs Madrid and Barcelona.
El Médano is just about five kilometers south of Tenerife Sur. Although you could go there by public bus, in relation to the short distance, it's far too complicated. Hence, you should opt for a cab which will cost only a couple of €uros.
By Ferry
There are regular ferry services to Tenerife from the other Canaries as well as from Huelva and Cádiz on the Spanish mainland throughout the year. Whereby trips from Huelva are usually faster than those from Cádiz. Nevertheless, the trip takes between 30 and 40 hours – mind you, Spain is very far away, not only geographically speaking.
From Santa Cruz de Tenerife's port, Olsen Express and Naviera Armas grant regular ferry services to Puerto de las Nieves in Gran Canaria, Morro Jable in Fuerteventura, and Arrecife on Lanzarote. To get to the island of La Gomera, you need to get on board in Los Cristianos.
Taking the ferry is not necessarily cheaper than going by plane. Yet, it is a more eco-friendly way of travelling. Also, it is the only option if you have to take your car across the sea.
However, my trip from Gran Canaria to Morro Jable in the south of Fuerteventura took about 2.5 hours, and I paid over 50 €uros, which is by no means a bargain.
If you're on a flexible schedule, you should check thoroughly the prices at different times of the day as well as between the individual companies as they can differ a lot. Also, just like the airlines, the ferry companies grant residents of the Canary Islands a considerable discount.
Land Transport
If you haven't booked a package where the travel company arranges the shuttle from the airport or jetty to your hotel, you have different options for how to get to your final destination. The most comfortable option is taking a cab, obviously.
However, you save lots of money by taking one of the public buses.
From Tenerife Norte, bus #30 shuttles travellers to and from Santa Cruz de Tenerife as well as San Cristobal de la Laguna. #20 goes to and from Puerto de la Cruz, and #343 goes south to Los Cristianos and Costa Adeje but also connects the two airports.
If your flight is to or from Tenerife Sur, you can take bus #40 to Los Cristianos and Costa Adeje, #111 or #711 to Santa Cruz de Tenerife. #343 goes north to Puerto de la Cruz as well as to Tenerife Norte.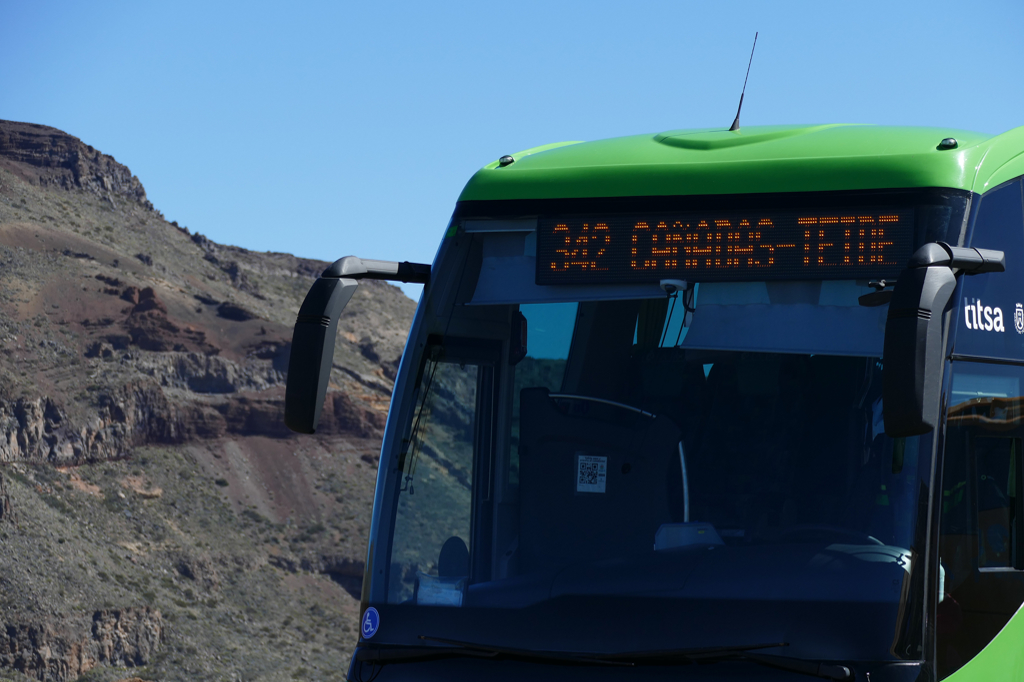 As there are many more connections to the different towns around the island, you better check out the website of TITSA, Tenerife's local bus company.
By the way, just like on the other islands, locals call buses la guagua.
I'm not driving, but if you want to rent a car, you can do so right at the arrival hall. There are different car rental companies to choose from.
Getting Around the Easy Way
So yes, exploring the island by public bus is highly recommended. You spare yourself the terrifying narrow roads in the mountainous hinterland. You don't need to look for a parking spot in cities like Santa Cruz. It's comfortable, it's reliable, it's cheap – what's not to like?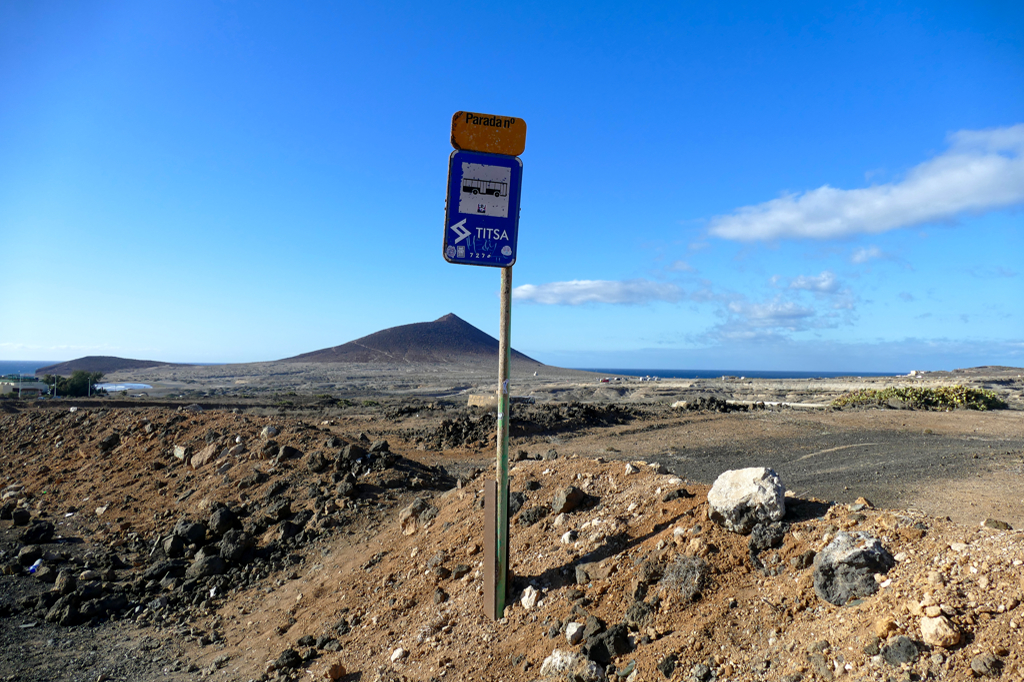 To take the bus, you can always obtain a ticket from the driver. Prices depend on the distance, obviously, and you can pay cash or by a bank card that's equipped with NFC. You save 10 percent of the single ticket price if you buy a round-trip for the same day.
TITSA, the local bus company, has a great website where you'll find all the connections and prices, and everything you need for an easy trip. There is even a section that's especially catering to tourists.
However, in my general post on Tenerife, I'm supplying you with some good tips on how to travel by public bus even cheaper and more smoothly.
Where to Stay
Tenerife has been a popular tourist destination for decades. Although El Médano is not as overrun by visitors as the beaches on the south coast, it still is a touristy place so you'll find a wide choice of hotels and self-catered apartments there, too.
I stayed at the Hotel Playa Sur Tenerife* on the southern tip of town. And while it was not bad, you might find a nicer lodging option on this map*:
Where to Eat
Since El Médano is a small yet pretty touristy place, things are a bit different when it comes to gastronomy. Not only is there a wider choice of international cuisines due to ex-pats who opened eateries and bars in the town. Contrary to genuine Spanish eateries, you'll be able to obtain food throughout the day and don't need to stick to those terribly late Hispanic meal times.
While you'll find rather mediocre snack bars alongside the main promenade Paseo Nuestra Señora de las Mercedes de Roja, things are getting much better on Paseo Amalia and Paseo Marcial Garcia east of the town center.
Looking for a good breakfast at a reasonable price? Crepería La Bohême will certainly satisfy your cravings with their wide choice of sweet'n'savory crêpes and excellent coffee.
When it comes to lunch or dinner, there is an entire row of restaurants facing the Atlantic – and serving the best the sea has to offer at reasonable prices. My favorite restaurant is actually a place run by Cubans called Varadero Viejo. Their fish and seafood platters are just delicious, the views are amazing, and the service is attentive and very friendly. They are open every day from 10.30 a. m. to 10 p. m.
If you are renting an apartment and want to do your own cooking, you'll find everything you need at the SuperDino supermarket. It might come to your surprise that this is also a great place if you are looking for unique souvenirs. Make sure to check out their spice mixtures for mojos, roasts, and salads, and take some rays of Spanish sunshine home with you.
Cash and Cards
Until now, 20 European countries replaced their former local currency with the €uro starting in 2002. Obviously, Spain is one of them. The exchange rate is 1 US$ = 0.94 EUR as of January 2023. However, you can check today's conversion rate on this page.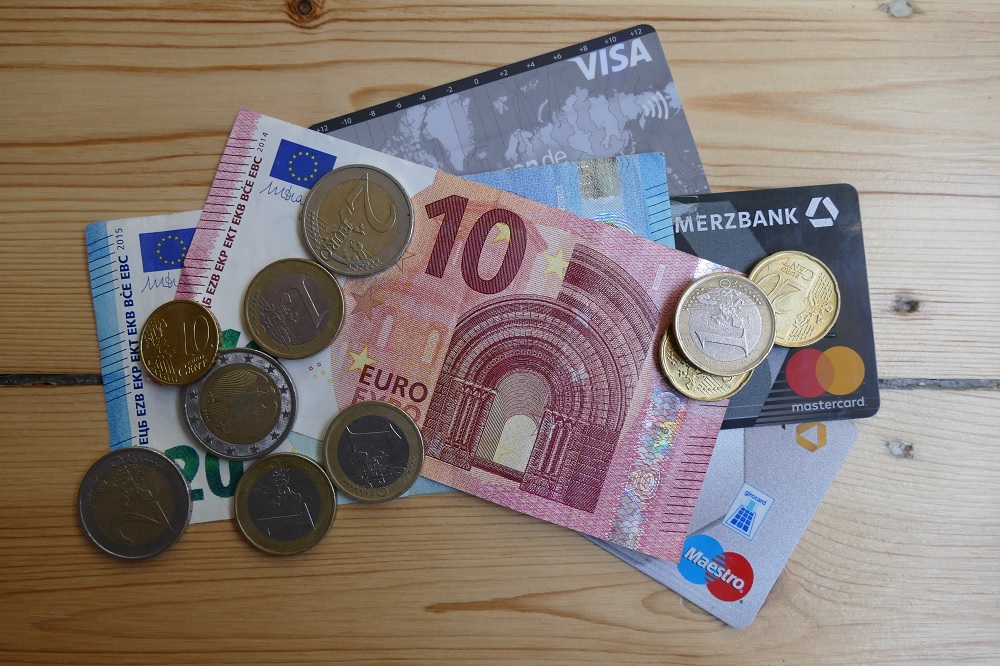 Especially due to the Covid pandemic, even small businesses prefer that you pay by credit card, and preferably contactless.
Language
Before the Spanish conquest, each Canary Island spoke its own type of the Guanche language. Due to the systematic pushback of the local culture by the Catholic conquerors, only fragments of the language exist to this date. You mostly find those traces in the names of places.
Today, the official language is Spanish, obviously. If you want to learn some basic Spanish or just brush up on your knowledge, there are various apps and online tools. I personally like to practice with babbel. However, due to international tourism, most people working in tourism and gastronomy speak at least some rudimentary English and very often also German.
Nevertheless, here are some ground rules for Spanish pronunciation since saying for instance city names wrong can cause some problems. If people don't understand where you want to go, they won't be able to give you directions.
Say It Right
The good news is, that in general, you read Spanish the way it's written. Although, the letter C is a bit tricky for foreigners. Placed before an A, O, or U, it's hard and pronounced as K. Followed by E or I, it is pronounced like an English the. Now, if you want that th-sound in combination with A, O, or U, the letter Z comes into the picture. So you have to pronounce Canaria Kanaria, and Plaza Platha.
On the other hand, if you want C to sound hard in combination with E or I, you make it a QU – but you don't hear the U. Fine example: Tequila, that you pronounce like Tekkila.
This applies also to the letter G. If it's followed by A, O, U, or a consonant, it's pronounced like the G in guitar or Gran. To make a G sound hard before an E or an I, they squeeze in a mute U – like in guilt. If G stands before an E or an I, it is rather breathed than pronounced – a bit like the H in house.
The same applies to the letter J. You always pronounce it like the H in house. Hence, Playa de la Tejida is Playa de la Tehida and by no means Teshida or Tedgida. Also, Montaña Roja is Montaña Roha, not Rosha or Rodja. Actually, for Germans, Dutch, and others: It's Rocha, but English speakers have it difficult to pronounce this CH, hence H is the next best way to say it.
The last trap is double L which is not pronounced like an L but like a Y in yellow. So it's not Malorca, but Mayorca. When a word is written with just one L like Tequila, it's a simple and innocent L.
Connection and Communication
Since June 2017, no roaming charges apply within the EU with a European mobile phone contract. This applies in all 27 countries of the European Union as well as in Iceland, Liechtenstein, and Norway. It pertains to all contracts.
When roaming is not available, you can connect to the internet at basically every museum, eatery, and, of course, hotel.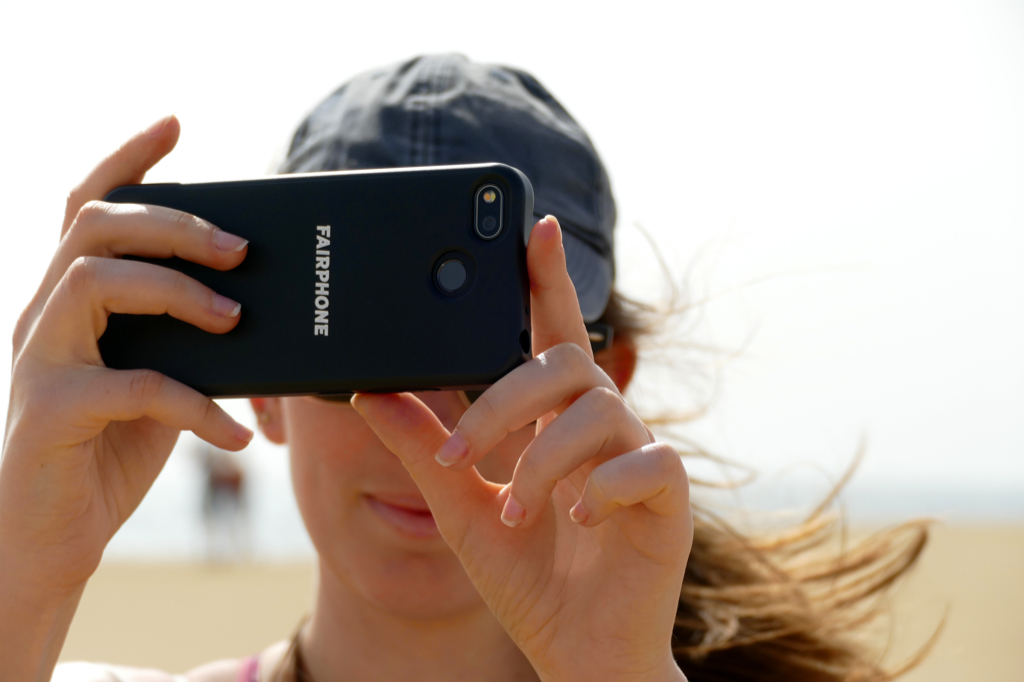 If you insist on being online 24/7, you can get a SIM card. The cheapest one would be Lycamobile while Orange Tu Mundo has the widest coverage.
In Spain, they use plug types C and F. Their voltage is 230 V and the frequency 50 Hz. Whereby, as nowadays all these chargers have integrated adapters, in general, the voltage and frequency don't really matter.
By the way, you'll find comprehensive travel info in my post World's Most Complete Travel Information – an indispensable globetrotter-classic.
El Médano was the last of many amazing places I visited during my trip to the island of Tenerife. To read about the others, go to this post and take your pick!
For general information on Spain, go to the main post. There, you'll find information and tips that will make your trip much smoother and more enjoyable.
Map
On this map, you can see where all the wonderful places I'm introducing in this post are located. This way, you can plan your itinerary accordingly.
Clicking on the slider symbol at the top left or the full-screen icon at the top right will display the whole map including the legend.
Pinnable Pictures
If you choose to pin this post for later, please use one of these pictures:
Did You Enjoy This Post? Then You Might Like Also These:
* This is an affiliate link. If you book through this page, not only do you get the best deal. I also get a small commission that helps me run this blog. Thank you so much for supporting me!