Everybody who has been to Croatia is just raving – about the food in general and the special treats such as extra virgin olive oil and big, aromatic truffles in particular.
About the beautiful sceneries and the clear waters that are one of Europe's last dolphin refuges. But I was stubborn. When everybody tries to talk me in one direction, I turn my head and walk the other way. My mental age is 13.
And then, I had to face a very stressful Autumn and therefore, I needed a destination somewhere in Europe. A place that would save me from culture shock. Hence, I renounced my plans on going around half the globe to Japan and decided to spend September in Croatia.
Since it's much closer. Since it's much cheaper. And a teeny tiny bit since everybody who has been there being just raving about it.
Guess what – now I'm one of them! I'm one of those who are raving about Croatia's food and sceneries and clear waters – and I wrote a complete guide about my trip from Porec in Istria to Dubrovnik, the pearl of Dalmatia as well as all the mesmerizing stops on the way. And I urge you: Don't turn your head – go to Croatia!
A little bit of history
I had planned on meandering leisurely from town to town, from beach to beach once I reached Croatia. The country has a size of only 56.594 km² – that's only a fifth of Italy.
Talking 'bout Croatia, why does immediately Italy come to mind?
Because a mutual history connects both countries tightly.
As a matter of fact, in the region close to the Italian border, people still speak also Italian, there are Italian schools and a short look at the cities' architecture and a quick peek into local pots and pans leave no doubt about some close Italian connection.
Located in southeast Europe, over the centuries Croatia had many connections and rulers – there were the ancient Greeks, the Romans – the most admired structure in Split is Diocletian's palace, after all – the Byzantines, and many more.
And Then Came Tomislav
In 925, Tomislav became the first king of Croatia. But mind you, this was only partly what Croatia is today. Istria in the North was mingling with Austria and Bavaria. On the other hand, Tomislav's reign included also what today are Slovenia and Bosnia.
In 1102 Croatia united with Hungary. Later, the Ottomans overran major parts. After the Napoleonic wars, it became part of the Austro-Hungarian Monarchy. This Empire fell apart with WWI and Croatia became part of the State of Slovenes, Croats, and Serbs.
After WWII – when Croatia became a vassal state of Nazi Germany – an extremely inglorious chapter of its history – they added a couple more countries such as Bosnia, Montenegro, Macedonia, and – whoomph! – Yugoslavia was created. It was a socialist yet in comparison pretty liberal state of various ethnicities, led by Josip Broz Tito till his death in 1980.
After his death, slowly, some of the states – like e. g. Slovenia and Croatia – preferred to become independent which lead to a series of some of the most violent and barbaric military conflicts of the 20th century. The war in Croatia lasted from 1991 to 1995.
Money
In 2013, Croatia became the 28th member state of the European Union. Only since 2023, Croatia has been part of the Schengen Area. The same year, it became the 20th European country to replace its former local currency with the €uro. The exchange rate is 1 US$ = 0.94 EUR as of January 2023. However, you can check today's conversion rate on this page.
Language
Croatia's only a little over 4 million inhabitants speak – obviously – Croatian. It is a Slavic language so that those familiar with any other tongue from this family should be able to understand a tiny bit and read many of the signs or writings on goods.
Many people speak at least rudimentary English and German, young people often have a great command of English. By the way, American TV shows are not dubbed.
In this guide, I'm writing out some of the Croatian names of brands and places and you will notice that there are letters that might not exist in other languages. First of all, c is never pronounced k, it is pronounced like the ts in Tsar. So it's 'Ulitsa', not Ulika, and 'Tsres', not Kres.
Only when c is written č, it is pronounced like a ch: 'Korchula'.
The same goes for s: written š, it's pronounced sh. But only then. The letter ž is pronounced more or less like j, but rather the French way – as in jour. People tend to overdo it with the ch and the sh. It's so simple: if there is no accent, it's a simple c or s, no crackjaw there.
Getting There and Around
I took advantage of the relative proximity and came to Croatia all the way from Northern Germany by train. On the way, I had stopovers in Munich and Ljubljana.
While due to the mountains, train connections in Croatia are not very good, going by bus is just great. Busses were always fast, punctual, and reliable – I cannot recommend bus travel in Croatia enough.
Bus stations are always close to the city center. They grant good service and are clean and not sketchy at all. Tickets can be bought on the spot or very easily online. If you are looking for a relaxed, carefree way of travelling – wait at the bus stop.
Where to Sleep
Croatia is a very touristy destination hence you'll find accommodation for every budget. There are cozy local guesthouses as well as big, internationally operating hotel chains.
I have to admit that I'm a bit cheap when it comes to accommodation: While I don't like to spend too much money on a place where I lay my hat and head for a couple of hours, I really like clean and comfortable. In Croatia, it is very common to book yourself in a privately run Sobe – which is a room – or an Apartman – which is, obviously, an apartment.
Home Away From Home
This kind of accommodation is perfect for me. Not only are they reasonably priced. I also found all the privacy, tranquility, and comfort I could have asked for. Usually, I had at least one bedroom, a spacious bathroom, and a kitchen with a comfortable sitting area.
All the hosts got out of their way to make me feel at home. If the bus stop or the jetty was not a stone's throw from the Apartman, they usually offered to pick me up.
Yes, this lodging option obviously comes without board. But even in the smallest village, there is a grocery store, often a bigger market, and in the outskirts even a huge supermarket where you can get some groceries and prepare your own food if you please.
I booked all the apartments through booking.com.*
I honestly recommend checking out their offers. As a matter of fact, their wide range of accommodations as well as the procedure and good services were very satisfying.
Where to Eat
If you want a quick bite, you came to the right country. There are uncountable bakeries selling sweet pastries and savory snacks like sandwiches and burek, phyllo filled with cheese, spinach, potato, or beef. Mmmh, delish and the perfect breakfast if you're in a hurry.
It won't surprise you that there are restaurants in Croatia – serving all sorts of cuisine. But you'll probably go for local. Interestingly, that would be mostly seafood Italian style or Balkan-infused hearty, heavy dishes with lots of meat. The latter might not be healthy, but it's definitely very good.
It took me a while to find bottled water that I liked. Most brands taste a bit bitter and salty. Then I found Jamnica and stuck to it.
Croatia is also known for wine. I didn't try any that overwhelmed me, though.
Although I'm based in Germany, I'm drinking beer only when I travel – and even then I mix it with Sprite. In Croatia, I liked to mix Karlovačko which is only the second most popular beer in Croatia. Numero uno is Ožujsko I never tried.
This is the route I've travelled….
…and these are the places I've visited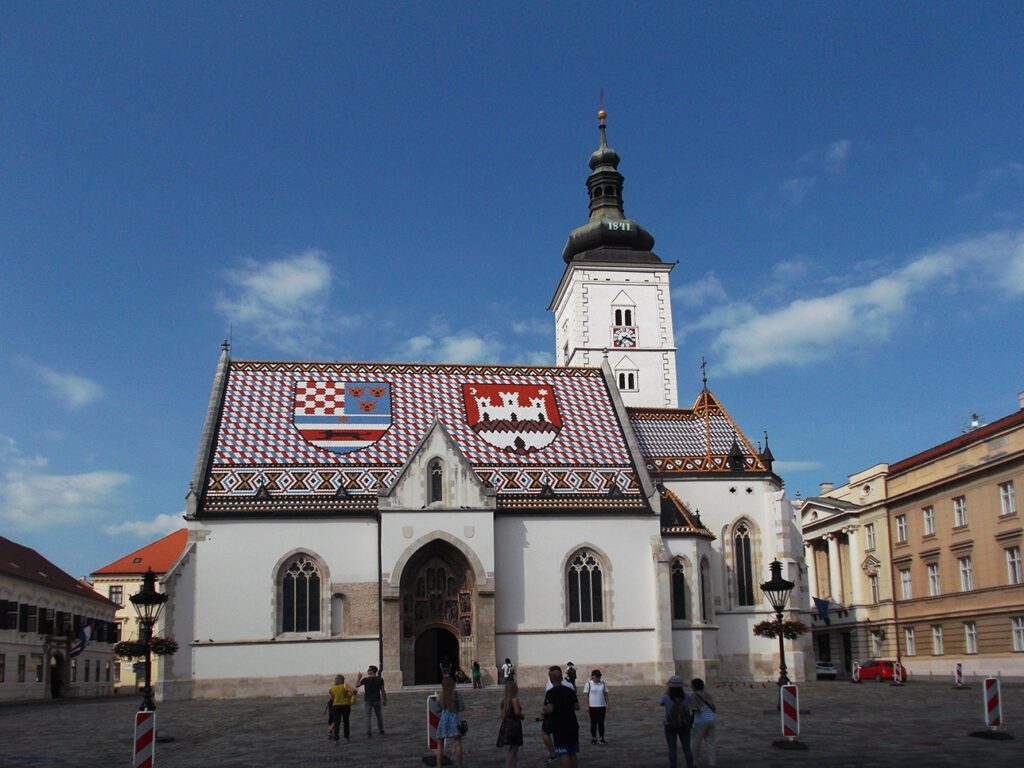 Pinnable Pictures
If you choose to pin this post, please use one of these pictures:
Note: I'm completing, editing, and updating this post regularly – last in January 2023.
Did You Enjoy This Post? Then You Might Like Also These:
* This is an affiliate link. If you book through this page, not only do you get the best deal. I also get a small commission that helps me run this blog. Thank you so much for supporting me!