While Aruba is famous for its beaches, far too few people venture to the hidden gem San Nicolas in the south of the island where you get to see some of the most powerful murals.
In this post, I'm introducing some of San Nicolas' most impressive pieces that you can explore self-guided or on an organized tour.
Aruba
Aruba is the A in the so-called ABC-islands which also consist of Bonaire and Curaçao. The island is the most touristy one of the three and is mainly famous for its endless white beaches alongside calm turquoise waters.
Also, the ABC islands are part of the leeward Antilles and therefore outside of the hurricane zone which makes travel planning a lot easier. Therefore, it's no wonder that Aruba has been one of the tourist hotspots in the Caribbean for many decades.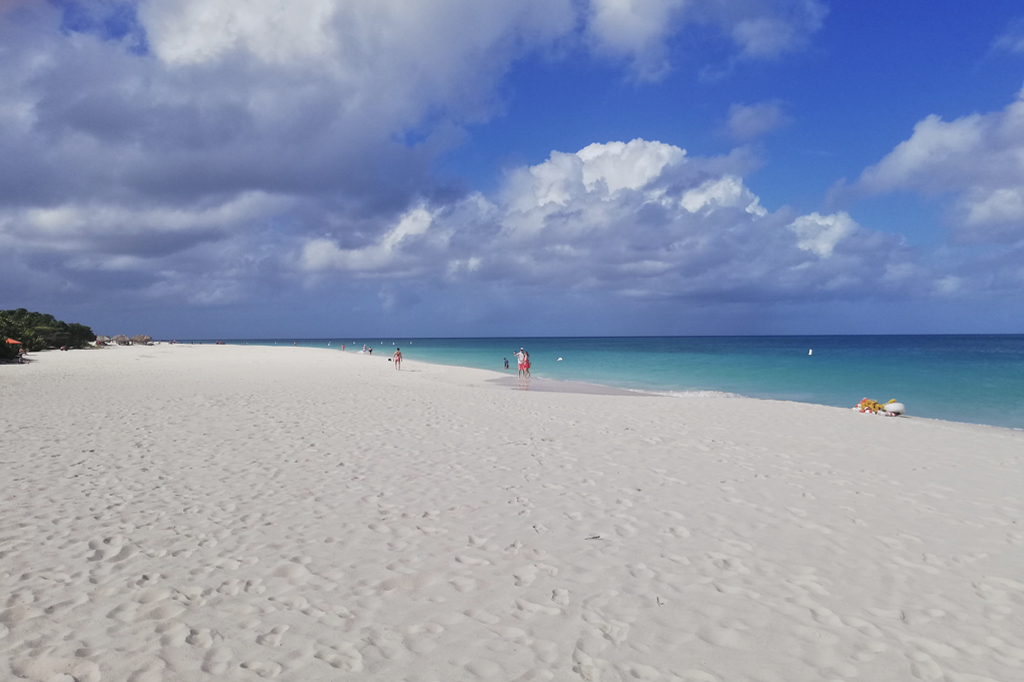 Back in the day, native Americans inhabited the island for thousands of years. Then, in 1499, the Spanish explorer Alonso de Ojeda discovered the islands that are now called Aruba, Bonaire, and Curaçao. Initially, the Spanish conquerors expected no profit from what they called Islas Inútiles, hence, the useless islands.
In 1633, the Spaniards conquered Sint Maarten from the Dutch. In return, the Dutch West India Company took Curaçao from Spain in 1634. At the same time, they colonized Aruba and Bonaire. As a matter of fact, Peter Stuyvesant was the first island governor. Later he became the governor of New Amsterdam which is now New York, obviously.
From the 17th century onwards, Great Britain, France, and the Netherlands took turns in ruling over the islands with varying frequency. According to the British-Dutch treaty from 1814, the islands finally came into Dutch possession in 1816. And they remained part of the Netherlands ever since, albeit with different statuses.
Aruba is only 25 kilometers north of Venezuela, yet it is a territory that belongs politically to the Kingdom of the Netherlands. Although it has its own constitution, government, and currency, it is not a sovereign state. Also, Arubans hold Dutch passports.
San Nicolas
"This octopus is actually a tribute to Tito. All those tangled arms represent his many ideas and activities", explains Jean during a tour through San Nicolas. The town is Aruba's second-largest settlement after the Oranjestad and is located about 25 kilometers south of the capital.
San Nicolas gilded age began back in 1924 as crude oil was brought from Lake Maracaibo in Venezuela to the Lago refinery in Aruba. In its heyday, the refinery employed over 10,000 people of whom about a thousand were immigrant workers. In 1985, Exxon closed the refinery down.
With that, the town faded into insignificance, obviously.
Phoenix From the Ashes
Thirty years later, Tito Bolivar, one of San Nicolas' most energetic sons, visited Colombia. It was the impressive street art scene in Bogotá that inspired him to breathe new life into the dull streets of San Nicolas. Aruba's motto is One Happy Island, but at that point, its second-largest town was very far from happiness. Tito's mission was to change that. His plan was to transform the post-industrial ghost town into a dynamic and creative art district. Hardly sooner said than done, he organized the first Aruba Art Fair in 2016.
As they say, behind every successful man there is a strong woman. In Tito's case, it's co-organizer Diana Croes who also happens to be his mother.
Ever since the first Art Fair, artists from all over the world as well as upcoming local masters participated in the yearly event, leaving their colorful traces on the town's walls and buildings.
Street Art
There aren't just a couple of terms that can define street art in all its shapes and forms. As a matter of fact, the art of sketching and painting on walls goes way back to the cavemen, to the era of the Pyramids in Giza, as well as the Roman Empire.
In many cities around the world, the contemporary graffiti movement started in the 1960s as a claim of urban territory by gangs but also as a response to political and social injustice. Graffiti developed from the so-called tagging, hence writing names'n'slogans in a more or less artsy way.
On the other hand, larger than life wall-paintings are rooted rather in murals from Latin America. The most famous muralist was probably Frida Kahlo's husband Diego Rivera. Albeit, he rather depicted and honored the Indigenous heritage and culture than expressing social problems and protest.
I've seen a lot of great urban art in my days and what impressed me the most about the murals I got to see in San Nicolas are the deep socio-political messages expressed in amazing paintings created by highly talented artists. Or, if you prefer, I enjoyed that gifted muralists used their voice paintbrushes to make you think and not only applaud.
This is in stark contrast to the creatively wonderful urban art project Jidar that I've recently introduced on this blog. Said art festival takes place in Morocco's capital Rabat and lacks any kind of the slightest political message.
In San Nicolas, both are combined to perfection.
Aruba Art Fair
So as Tito was planning the Aruba Art Fair back in 2016, he also commissioned murals that would still be there once the actual event was over. Actually, while the official event lasts for three days, the results can be enjoyed for years.
Hence, even if you cannot visit San Nicolas during the Aruba Art Fair, you should still go on a mural tour to see them all and to get the inspiring stories behind them.
There are different packages: You can come to San Nicolas on your own – a public bus leaves Oranjestad every half an hour – and then join the tour. However, you can also book a shuttle to and from town which can even be combined with a trip to Baby Beach.
The tours start at 9.30 a. m. at the ARTISA Gallery on Bernard van de Veen Zeppenfeldstraat 6 in San Nicolas. It takes about two hours and prices start at 15 US$.
You can check out further options on their website.
Either way, I must say that the visit to San Nicolas and the mural tour were definitely one of the highlights of my trip to Aruba and if you have the chance, don't miss it.
The 6th Aruba Art Fair will take place from September 8 to 10, 2023. For more information, go to their website.
The Artists
"Google is my best friend", claims Tito when asked how he finds all those wonderful muralists. While in the beginning, he was searching for like-minded artists to help him convert his hometown into kind of a Caribbean Greenwich Village, today, he can hand-pick the best of the best as muralists from all over the world follow his open call.
Below, I'm introducing some of the currently most iconic pieces that you'll find on San Nicolas' walls'n'houses. I emphasize currently since sadly, urban art is prone to decay. Murals have to withstand heavy rain and merciless sunshine. There are vandals who smear what they consider their so-called tags across beautiful paintings. And sometimes a wall simply has to be torn down.
So if you want to see the works introduced below, you should hurry to San Nicolas the sooner the better. But even if one of those pieces should be gone by the time you make it there, it will certainly be replaced by an equally beautiful and meaningful one, I'm absolutely sure about that.
As always, you'll find the artists' Instagram accounts at the end of the post so you can check out other traces they left on walls around the world.
Jorit Agoch
Italian artist Agostino Chirwin, better known as Jorit, has been recognized by international experts as one of the best muralists in the world.
In 2005, he began with a series of graffiti in the northern suburbs and in the historic center of Naples. These first works were still in the usual style of traditional graffiti. Also, in his early years, Jorit created numerous illegal murals in various European countries.
Over the years, he developed an iconic style of hyperrealism expressing clear political and social messages. He portrays local people. As he marks them with two red stripes on the cheeks, he makes them part of the Global Human Tribe.
In 2018, Jorit – alongside fellow artist Salvatore Tukios – was detained for three days for portraying a female Palestinian activist Ahed Tamimi. Tamimi is sort of an icon among Palestinians as he slapped an Israeli soldier outside her home in the West Bank.
Apart from street art, Jorit's works were shown at the MAGMA Museum and at the P.A.N. in Naples, the MACRO in Rome as well as in galleries in London, Berlin, and Sydney.
Carlos Callizo
Spanish artist Carlos Callizo graduated from the University of Murcia as a doctor cum laude in fine arts. Today, he is a professor at the very faculty of Fine Arts in Murcia. Over the years, he received various prestigious art awards.
Since 2017, you can admire his large-scale paintings at the hotel Nelva de Murcia.
Despite all his artistic achievements, Carlos Callizo's greatest passion is urban art.
ChemiS
Dmitrij Proškin aka ChemiS was born in Kazakhstan and raised in the Czech Republic. At the age of 16, he began to spray graffiti and quickly developed his iconic style of photorealism and painting in 3D.
Today, ChemiS is a recognized street artist not only in the Czech Republic, but in many European countries. Getting to explore places, painting, and filming in cooperation with human rights organizations are vital parts of his artistic career.
Claiming his goal is to change the world into a better place, he depicts topics dealing with equality and human rights.
His greatest artistic achievement, however, was the invitation to paint the main wall of the New York Hall of Fame, the place where the art of graffiti was born.
dopie.dsk
dopie.dsk has been known for about twenty years as one of the best street artists in Amsterdam. Born in 1983, he started urban art by spraying his tag on walls and trains. Over the years, he refined his technique and developed his characteristic photorealistic style. Most of his creations are a mix of hyperrealistic paintings and classic graffiti. He is known for depicting a wide variety of animals in vibrant colors.
In 2004, dopie was finally able to turn his skill into a career. Today, his work can be found in many places as well as in books and magazines.
Armando Goedgedrag
Born in the Netherlands, Armando Goedgedrag grew up in Aruba. After graduating from the college on the island, he went back to the Netherlands where he achieved a bachelor's degree in communication and multimedia design as well as a master's degree in animation.
Back in Aruba, Armando Goedgedrag works as a painter, photographer, and multimedia artist.
In his art, he gets inspired by the island's nature. In his vibrant paintings, he depicts nature's beauty in lively colors. At the same time, he stresses its vulnerability a raises awareness for ecological issues.
Ice One
Ice One is from Argentina where he studied fine arts and graphic design. His murals were initially influenced by letter-based graffiti.
Over time, his artwork developed toward a wide range of motifs like portraits, wildlife, and sceneries.
Apart from Argentina, Ice One has created murals and led workshops in Brazil, Chile, Paraguay, Peru, and Uruguay.
In San Nicolas, he celebrates the beauty of local wildlife in huge murals.
Insane51
Insane51 is a muralist from Athens where he studied fine arts, graphic art, and applied arts. He is most famous for a style called Double Exposure 3D which consists of photorealism and overlaying images.
To gain the desired effect, he overlaps two images in both red and cyan which creates a three-dimensional illusion. To get a clear view of the two layers, you have to use 3D goggles.
Actually, Insane51's pieces might not be my favorite murals from an aesthetic point of view. Yet, the concept, the technique, and the result just blow me away.
LEHO
LEHO was born in Taiwan in 1995 where he currently resides. During his studies of industrial design, he came in touch with street art for the first time. After years of examination, exploration, and participation in the realm of urban art, he has participated in various street art festivals, and his pieces can be found in many places around the world.
The centerpieces of most of his murals are different animals – birds, cats, deer, and many others. In contrast to all the expressive murals in strong colors, LEHO's works appear like delicate and almost fairytale-like watercolors. His depictions of animals are clearly rooted in the fine and precise style of Asian ink drawing.
Garrick Marchena
Garrick Marchena was born in Aruba in 1966. Based in Curaçao, he is one of the most skilled mural artists on the islands.
Although he had shown great artistic talent already as a child, he first studied civil engineering at the University of Pittsburgh on his father's advice. After his bachelor's degree, he actually began working as an engineer but quickly resigned. Marchena preferred working as a freelance graphic designer in his younger brother's company.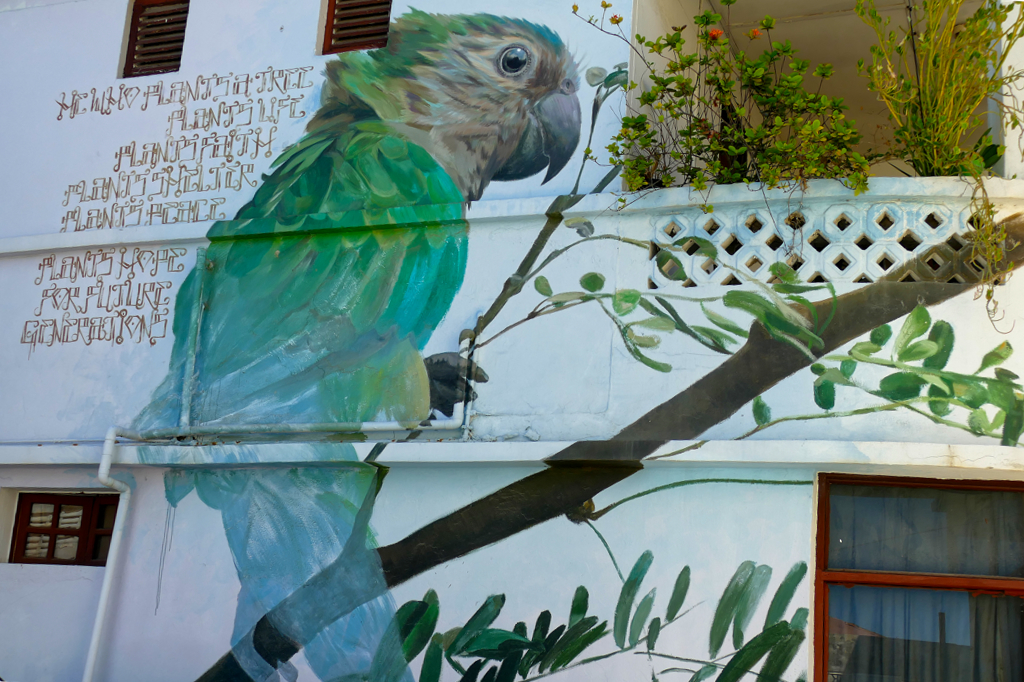 In 2009, he created his first mural Urban Angel. This work is actually said to be Curaçao's very first large-scale mural. Since then, he created many wonderful portraits mainly in Curaçao but also in Aruba.
While technically speaking, Marchena's first works were illegal, he now is regularly commissioned to create murals. His favorite subjects are children and animals. Also, many of his murals include birds as a symbol of innocence and freedom.
Whenever in doubt if a mural is by Marchena, look for his self-designed font inspired by the Native American petroglyphs, combined with Californian Cholo font from the 1950s. This iconic lettering will definitely give him away.
Mr Dheo
Mr Dheo is a famous muralist from Porto who left his amazing traces also in metropoles such as Miami, São Paulo, and Johannesburg, to name just a few. In total, you can admire his pieces in more than 50 cities around the world.
He developed his own techniques already as a child. Remaining an autodidact, the first came in touch with graffiti at the age of fifteen. Not much later did he create his first street painting.
From the beginning, Mr Dheo liked to collaborate with other artists. He mostly creates in a hyper photorealistic style by adding some graphic components.
Although by now, Mr Dheo has worked for well-known international brands and companies, he still enjoyed working on the streets the most.
Mr Lowe
The amazingly talented Rasheed Lowe – aka Mr Lowe – was born in Aruba in 2004. In 2016 – correct, that's only twelve years later – he has been one of the most promising street artists presented at the Aruba Art Fair.
Although he's still a teenager, he's by now one of the most represented muralists in San Nicolas.
Among his most impressive portraits of black icons are murals depicting Mohammed Ali, Malcolm X, and Nelson Mandela.
Odeith
Sérgio Odeith was born on the outskirts of Lisbon in 1976. In the mid-1990s, Sérgio began to paint illegally on the walls and mostly on the railway lines of the Sintra line. Practice makes perfect, and his dedication quickly improved his style.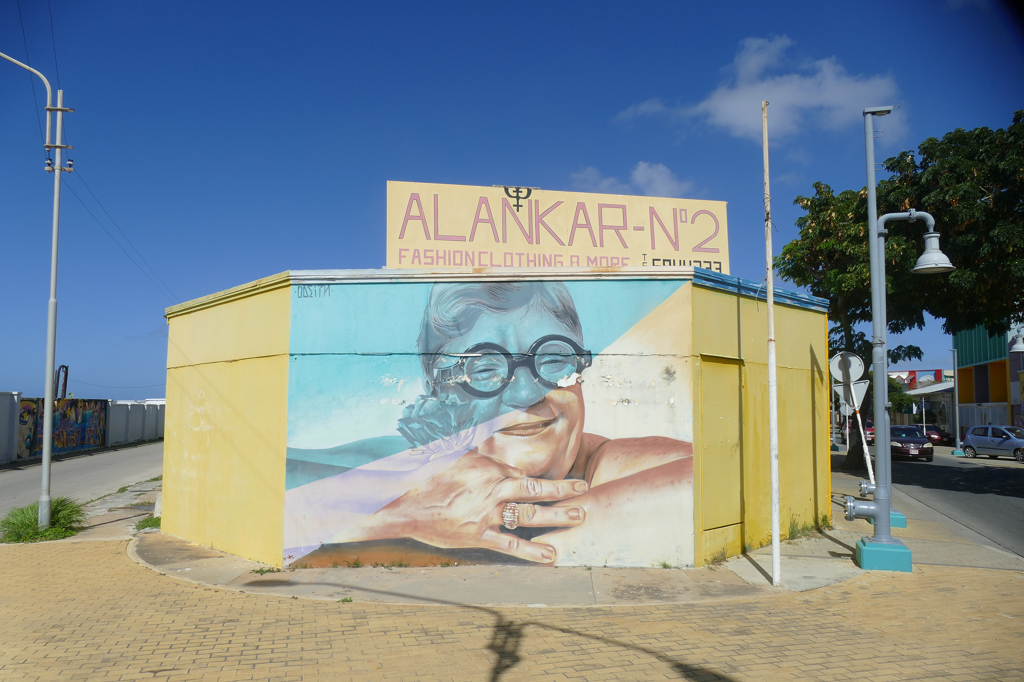 At the age of 15, Sérgio dropped out of school. Without any formal art training, he kept painting murals for several years. Finally, he became internationally recognized for his innovative anamorphosis technique in 2005. Most of Odeith's pieces are painted on 90 degrees corners to create a 3D illusion.
Isidora Paz Lopez
Isidora Paz López was born in Chile where she studied art. After she graduated in the field of ceramics, she created sculptures and explored different forms of making art. Her first mosaic work was actually a piece of ​​150 square meters in a stadium in Santiago
Then, the former mayor of the Chilean town of Puente Alto commissioned her to embellish an entire four-kilometer-long metro line with mosaic artwork. Hence, Isidora Paz López together with 80 fellow artists covered 83 pillars and four stations with colorful shiny little mosaic pieces. This equals 4,000 square meters, just so you have an idea. It took them about two years to finish this ambitious task.
Isidora Paz López is internationally recognized and her works can be seen in many places. She's currently living in Germany.
Farid Rueda
Farid Rueda was born in the Mexican town of Morelos in 1986. In his home country, murals have been a medium dating all the way back to pre-Hispanic times. You will certainly recognize traces of these classic elements in Rueda's work which consists of motifs from nature and spirituality. Bold colors and totemic ornaments define his iconic style.
After he dropped out of art school, he joined an artist group called No Colectivo. Farid Rueda was repeatedly listed as one of the best Mexican street artists. Also, he has left his colorful traces in many places around the world.
Jenna Schwartz
After studies of creative arts and human relations, Canadian artist Jenna Schwartz got more and more involved in urban art. Actually, the artist is combining her social conscience with her artistic skills. She has a strong passion for portraits and is best known for her works around Montreal.
With her pieces, Jenna Schwartz intends to inspire new ways of thinking and intellectual exchange. In her murals, she depicts human sentiments and celebrates the togetherness of all kinds of people. Her goal is to have a positive impact on communities.
SEPC
Sebastian Jiménez aka SEPC first painted the walls of his hometown Manizales in Colombia about 12 years ago. However, at that time, he couldn't imagine what an impact urban art would have on his life in the future.
After having studied visual arts at the University of Caldas, he went on an artistic journey from classic illustration to different techniques such as photorealism.
Today, hyperrealistic portraits are his signature works.
Fio Silva
Argentine muralist Fio Silva was born in Buenos Aires. She depicts gigantic birds, and with elements like wind'n'water, she combines them into powerful and fantastical murals.
Today, her works decorate walls in many countries around Europe, Asia, and the Americas.
Omaira Silva
Omaira Silva is an Aruban native and focuses her creative and colorful activities on the interest of the community. In 1996, Omaira Silva went to live in the Netherlands where she got more seriously involved in the art of mosaics.
After Omaira came back to Aruba in 2004, she opened her mosaic art studio. But it was only in 2016 that she became really famous as she participated in the first edition of the Aruba Art Fair.
On this occasion, Isidora Paz López – I've introduced her above – needed help with her Carnival Nymph mosaic. Hence, Tito Bolivar called Omaira who was thrilled to help her idol with her project. In four days, the two artists arranged tons of small shards until they had put together the Nymph.
Eventually, Tito encouraged Omaira to contribute her own work to the Art Fair. This is how she came up with the intriguing angel wings made from seashells. With these wings, she created one of the most eye-catching pieces of urban art just across the street from the ARTISA Gallery on Bernard van de Veen Zeppenfeldstraat.
Francis Sling
Francis Sling was born in Curaçao in 1979. He studied graphic design in Amsterdam and works now again on his native island.
He's a self-proclaimed poet who uses the paintbrush to immortalize his colorful poetry on canvasses and walls.
Francis Sling works in visual arts with different media. In addition, he has a passion for music, hence, he is composing and texting.
He won prestigious art awards and participated in major art events like the Kaya Kaya Festival in Curaçao's capital Willemstad.
Juandrés Vera
In 1980, Juandrés Vera was born in Mexico where he achieved a bachelor's degree in visual arts.
Having painted walls in places around Argentina, Belgium, Chile, Croatia, Germany, his home Mexico, the Netherlands, Spain, the US, and many more for over 10 years, he is one of the leading artists in the world when it comes to street art in 3D.
Juandrés Vera currently resides in Barcelona.
WD Wild Drawing
WD aka Wild Drawing was born on the Indonesian island of Bali. He currently resides in Athens.
WD has degrees in fine and applied arts and began to create murals in the year 2000. Since then, he has mainly painted outdoors, however, he never gave up working in his studio.
Wild Drawing presented his work in solo exhibitions as well as in group shows and festivals in his home country Indonesia as well as in many countries around the world.
In his masterful murals, he combines the roller technique with spray paint. The trompe l'oeil in his paintings are pretty ingenious: If you look at this façade a little longer, it really seems like an open space.
WD enjoys expressing his ideas and sharing his thoughts about the big issues of life with people by painting them in urban spaces.
I've already introduced him in my post on The Amazing Murals of the Hotel Ruins of Alyko – you might wanna check it out.
On Instagram
Like in all my posts on urban art, I'm linking the artists' Instagram accounts below. This way, you can check out all the other murals they created around the globe.
Aruba Art Fair
Jorit Agoch
Carlos Callizo
ChemiS
dopie.dsk
Armando Goedgedrag
Ice One
Insane51
LEHO
Garrick Marchena
Mr Dheo
Mr Lowe
Odeith
Isidora Paz Lopez
Farid Rueda
Jenna Schwartz
SEPC
Fio Silva
Omaira Silva
Francis Sling
Juandrés Vera
WD Wild Drawing
Although the murals decorating San Nicolas are excellent, they are not the only attraction Aruba has to offer, obviously. To read about other great activities on the islands, go to my post What Not to Miss in ARUBA, the Caribbean A-Lister, and take your pick!
Pinnable Pictures
If you choose to pin this post for later, please use one of these pictures:
Note: I'm completing, editing, and updating this post regularly – last in May 2023.
Did You Enjoy This Post? Then You Might Like Also These: