Whether you get to the top hiking or if you opt for a ride on the cable car: Mount Teide is definitely a highlight of every visit to Tenerife. In this post, I'm introducing various ways how to visit this majestic mountain.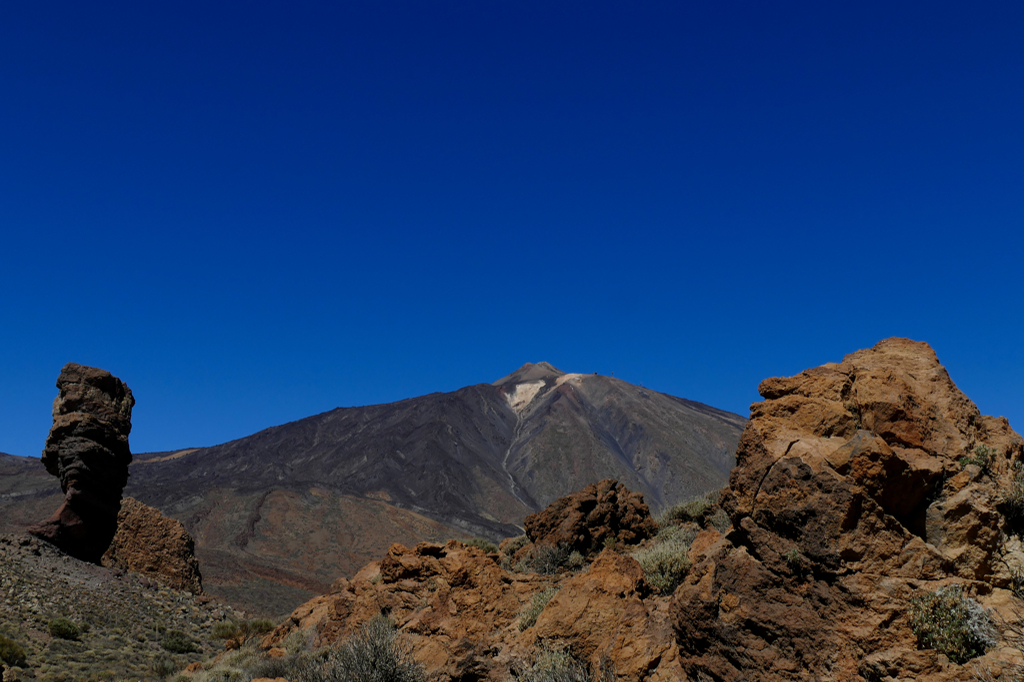 Mount Teide
Mount Teide reminded me a bit of Mount Fuji. And not only due to the conical shape. There is something symbolic and mystic about both these mountains.
Puerto da la Cruz, La Orotava, Icod de Los Vinos, El Médano – basically everywhere I went, I go a glimpse of Mount Teide. Sometimes, he was covered in snow, at times he played peek-a-boo between the clouds. But he was always there, like a friendly giant watching over me.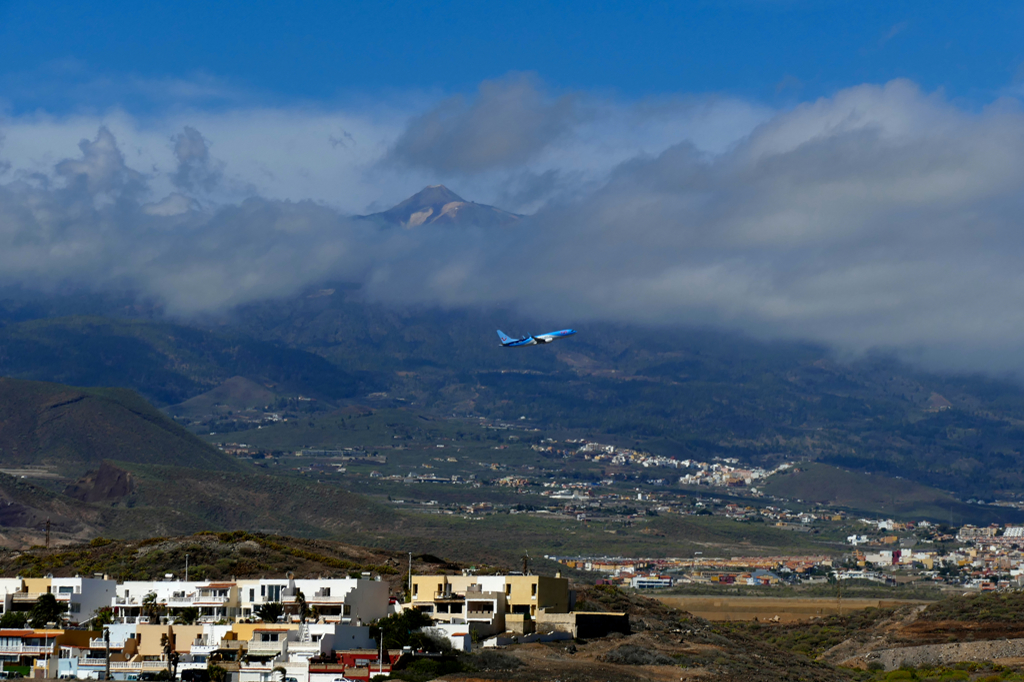 With its proud 3,715 meters, the Pico del Teide is the highest mountain not only in Tenerife but also in all of Spain. The mountain is a stratovolcano, hence, a conical volcano built up by many layers of hardened lava and tephra. It rises from a caldera 17 kilometers in diameter. Also, 18,990 hectares of the mountain region are designated as a national park. In 2007, UNESCO added this national park to the World Heritage List. As a matter of fact, it's the world's sixth most visited national park.
The last eruption on the Teide massif took place on November 18, 1909
Roques de García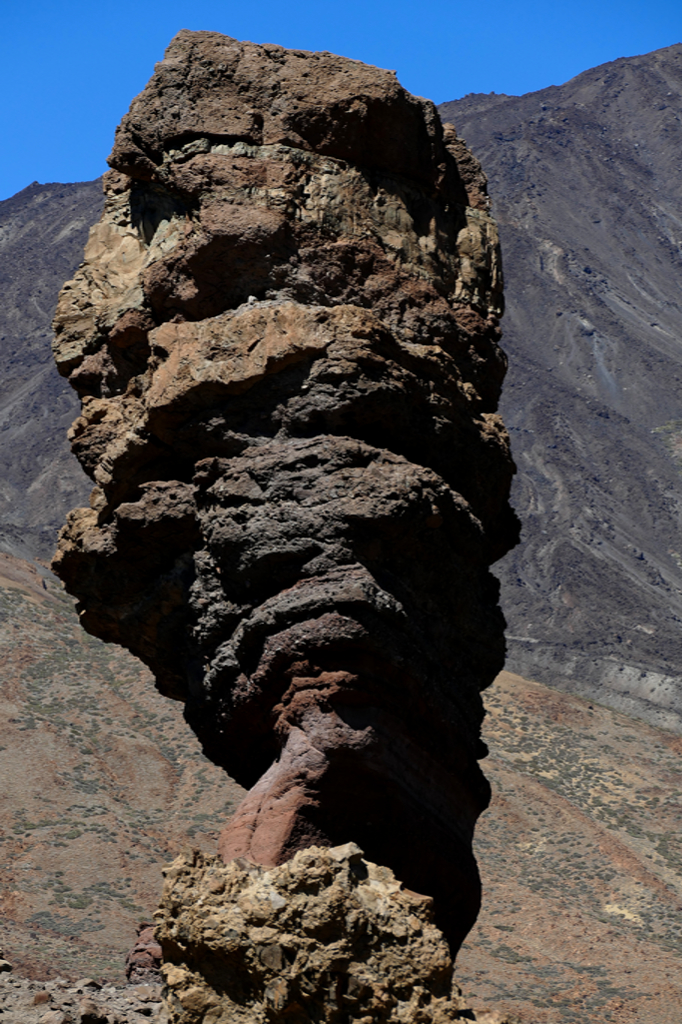 About five kilometers south of the summit of Mount Teide respectively three kilometers of the valley station of the cable car are the Roques de García. Apart from the mighty Teide himself, this ensemble of multicolored rock needles is one of the reserve's most iconic sights. The most famous of these rocks is the so-called Roque Cinchado, also known as the Stone Tree or Finger of God.
The rock formations are remnants of the foremost volcano. Going from northwest to southeast, you'll see the Roques Blancos, El Callejón, El Queso, Rincón Amarillo, Placas de Guillermo, El Tripi, Macumba, Roque del Burro, Méndez, América, and Torrotito. The most iconic of these rocks, however, remains Roque Cinchado. A bit further southwest of this group are the rocks of La Catedral and the Roque Las Cuevas.
Mirador de las Narices del Teide
Apart from the main mountain, the rock formation, and the extensive Caldera Las Cañadas, there are some more points of interest at the Teide National Park.
For instance, the Teide's nostrils, in Spanish Los Narices del Teide. The elevation with this fun name is the highest point that can be accessed coming to the caldera from the western coast of Tenerife.
A field of cooled lava surrounds the so-called Pico Viejo, hence, the old ridge, on the west side. It stems from an eruption that lasted from June 9th to November 8th, 1798, making it the longest-known eruption in Tenerife's history. From an altitude of approximately 2,500 meters, magma flowed out of the volcano for several months.
To enjoy a spectacular view of the islands of La Gomera, El Hierro, and La Palma, you can hike up a trail to the Pico Viejo Viewpoint.
Mirador Piedra La Rosa
There are many so-called Miradores, outlooks in English, from where you have amazing views of the island as well as the waters. The Mirador Piedra La Rose is unique since it's located in the very vicinity of a unique rock formation in the shape of a giant rose. To get from the mirador to the stone rose, don't just cross the road but walk through the underpass.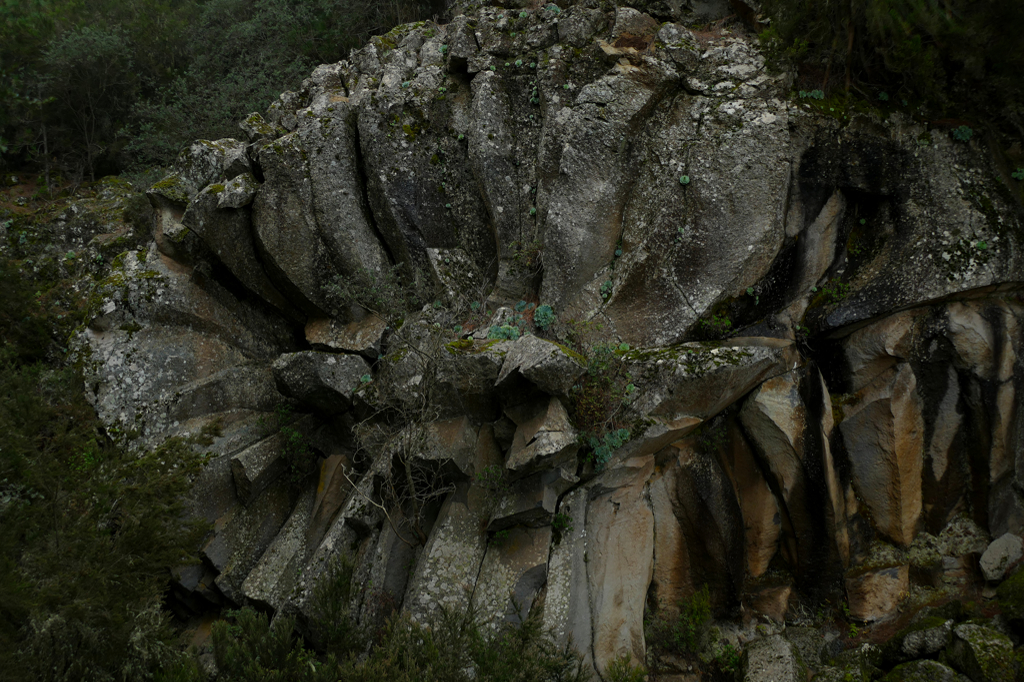 At this vantage point, you also have an exquisite view back to the Teide and over the lush Orotava valley. If the sky is clear and there is good visibility, you can make out the silhouette of the neighboring island of La Palma.
Visiting Mount Teide
No matter if you are an avid mountaineer or just an unambitious vacationer, you'll definitely enjoy a tour to mount Teide to the max. Difficult to say what's more impressive – the view of the Teide or the view from its top.
Let's first deal with the latter one.
First, you need to get to the mountain station La Rambleta which is at 3,555 meters above sea level. As I pointed out, this is a mountain station, not the very summit.
However, already from the La Rambleta, you have a great view of the Siete Cañadas, the seven gorges.
There are two options to get to the station. You can either hike there or just hop on a cable car that takes you there in eight short minutes.
Keep in mind that pregnant women, small children 3, and people with cardiovascular conditions are not allowed to use the cable car. Also, persons with reduced mobility or special needs are not allowed to use it. The reason is simple: In the unlikely event of an operative failure, everyone has to descend from La Rembleta down a steep hiking trail.
Going All the Way
As I mentioned above, there is also a 10-kilometer-long hiking trail to La Rembleta, starting at Montaña Blanca. The ascent takes about 6 to 7 hours and is not just some walk.
Then, if you want to continue to the summit, there are three routes.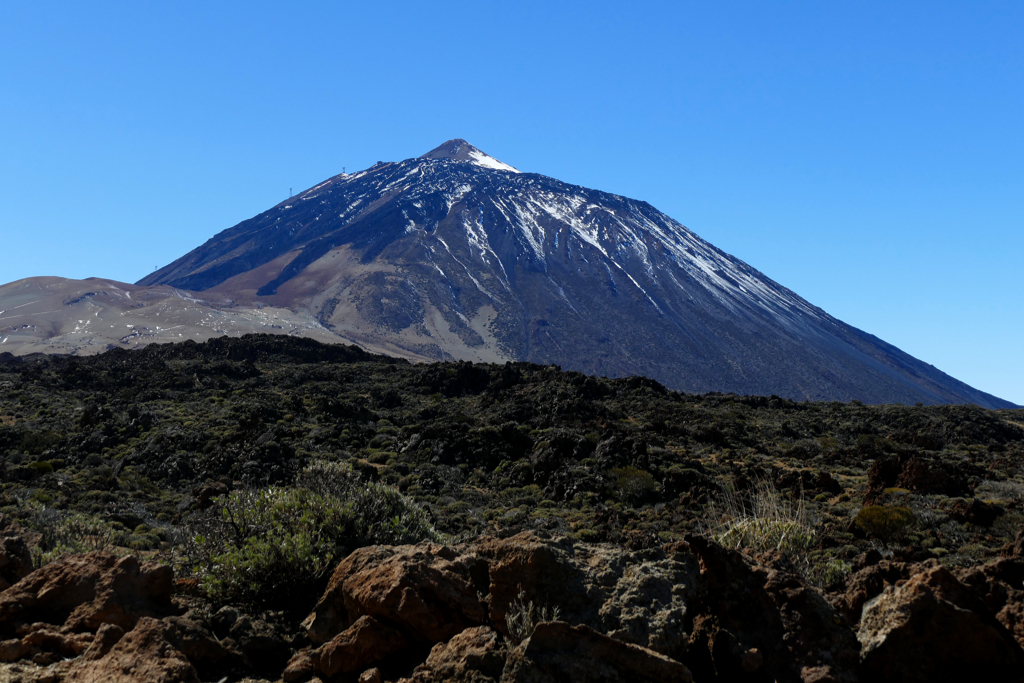 To ascend the Teide crater, you have to hike trail #10. You will get to Spain's highest peak from where you'll have one of the most spectacular vistas in the world, obviously. However, for environmental reasons, to access the summit, you need a permit from the park administration. The permit can be obtained online and is free of charge. Although this sounds very easy, it can be a bit tricky due to the weather conditions and the strictly limited number of passes. I'll get to that below.
If you opt for trail #11, you'll get to the viewpoint of Mirador de la Fortaleza. From here, you see the north coast of the island, hence, the lush Orotava valley, the forested hills of Esperanza, and the mesmerizing Anaga mountains.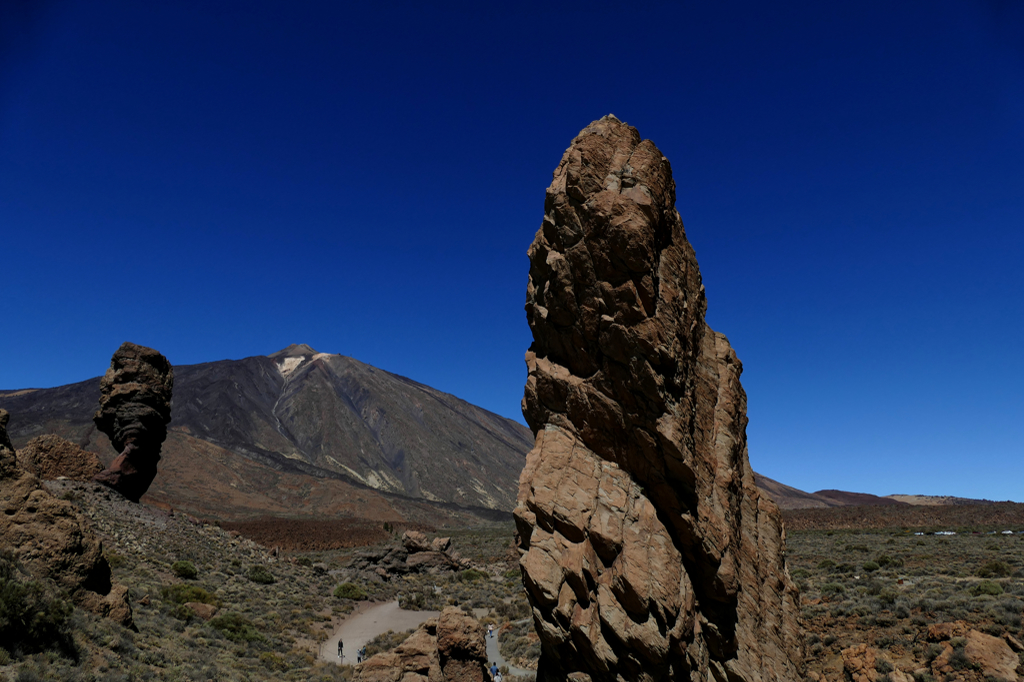 The third trail, #12, gets you to the viewpoint of the Pico Viejo. From here, you see the huge volcanic basin, the Caldera Cañadas del Teide, as well as the southern coast of the island behind the rock formations Roque de García and the Montaña Guajara.
Legalize It
No matter what, don't expect to get a permit for the next day or even next week. Keep in mind that only 200 permits are issued per day. Obviously, demands vary from season to season. Supposedly, they can be booked out for up to three months in advance.
Therefore, and obviously, for safety reasons, it is recommended to book an organized excursion to the top of mount Teide. An agency gets your passes and books the cable car tickets. Then, you'll ascend in the company of an official guide of the national park. This knowledgeable mountaineer will introduce you to all of nature's amazing features.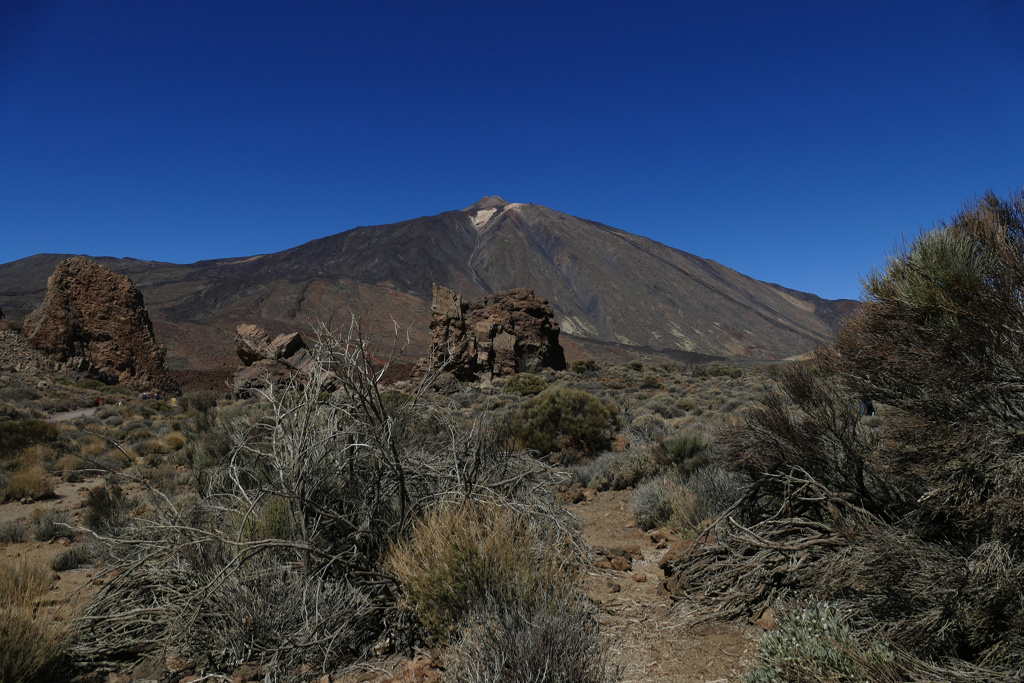 Experienced agencies offer various group tours in the morning or afternoon. Also, there are hikes into the sunrise as well as the sunset.
A great way to sneak around the whole permit thing was spending the night at the hostel Altavista. Guests were able to cherish the most wonderful sunrises after enjoying a good night's sleep. If they started their ascent before 9 a. m., they didn't need a permit.
Although the hostel Altavista is just a simple lodging option where there are for instance only toilets but no showers, it was a great alternative just the same. Sadly, at this moment, as of December 2022, it is temporarily closed and a reopening is not yet foreseeable. Obviously, I'll update this post as soon as the Altavista gets into operation again.
Stargazing
If you are interested in astronomy – no, that has nothing to do with your zodiac sign – there is a special excursion for you nerds lovers. On that tour, you will enjoy the volcano as the sun goes down. Eventually, an expert guides you on a visit to the Teide Observatory where you can check what's written in the stars.
However, there is also an afternoon tour where you'll see a professional telescope, learn about current projects, and then watch the sun through portable telescopes.
Check out this great option on this site*.
What (Not) to Do
Plan your visit in advance to avoid unpleasant surprises. Check the weather forecast and find out about the services offered, such as the cable car and the open hiking trails.
Therefore, it is very important that in case of any physical ailments you contact your doctor before planning your visit to Mount Teide.
But even if you opt for an organized, guided tour, there are some things you have to take care of yourself. First of all, your gear, obviously.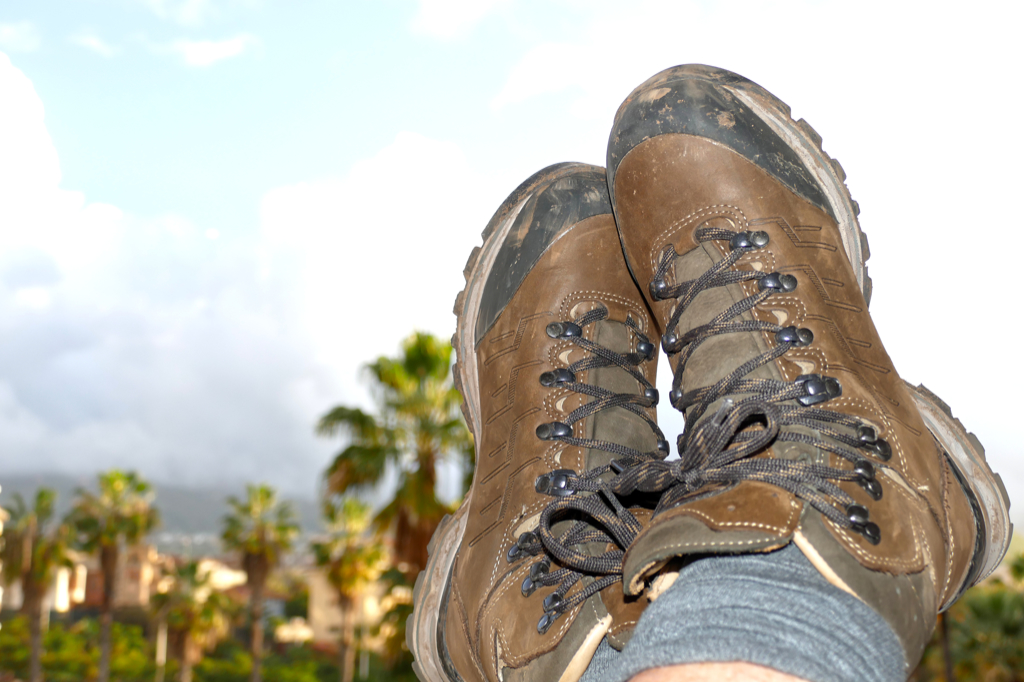 First of all, you need suitable boots for hiking on rocky ground. You should dress in layers and preferably wear functional clothing. Also, you might want to take a hat and sunscreen with a high SPF. Then, don't forget to bring good sunglasses that will protect your eyes from the highly intense light. Finally, make sure to bring a water bottle that you'll be able to fill on the way.
All these recommendations are valid year-round.
No matter how you get there and what you do, you should contribute to keeping the national park clean. Hence, never throw rubbish on the ground, and also always put out your cigarettes responsibly.
Never leave the designated trails. This way, you don't only avoid damaging the environment but you also avoid hurting yourself.
Look But Don't Touch
Enjoy the flora and fauna without intruding. Do not touch or even remove plants, and never feed the animals. This would disturb the delicate balance of the habitat
Also, do not pick up stones as a souvenir. Even the smallest and most unnoticeable stone is an important part of this natural treasure. And if you don't do it out of the goodness of your heart, keep in mind that you might get fined for doing so.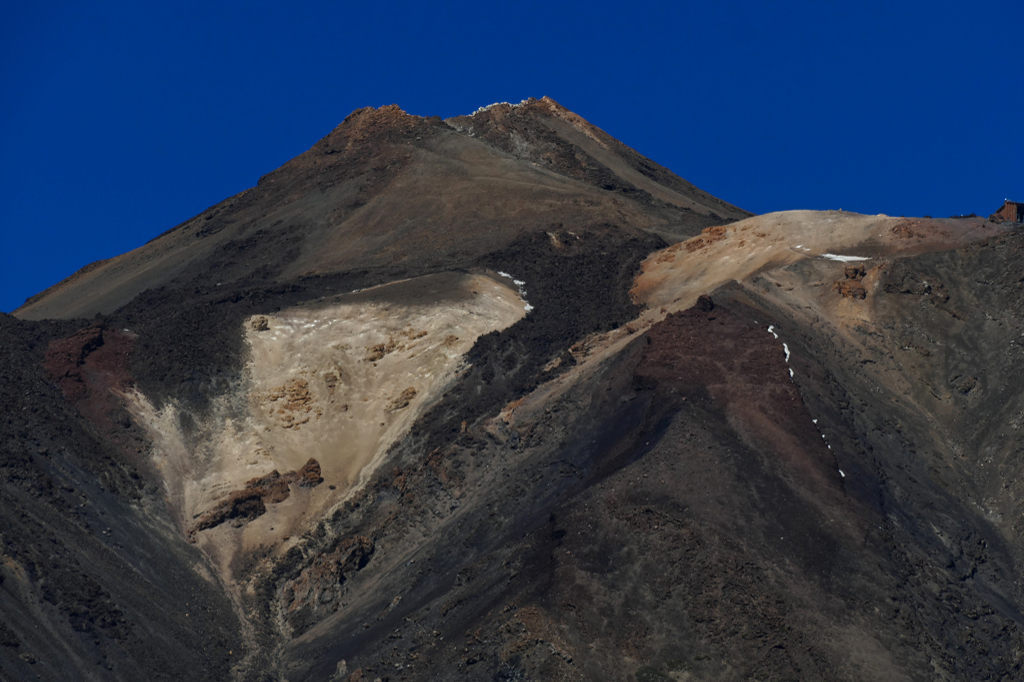 If you're coming for a late-night visit, turn off your headlights once you've parked. The darkness is essential for the well-being of the local creatures and also necessary for you to enjoy one of the most beautiful starry skies in the world.
How to Get There
Obviously, getting around by car is a bit more flexible than taking the bus. Nevertheless, visitors are highly encouraged to opt for public transport.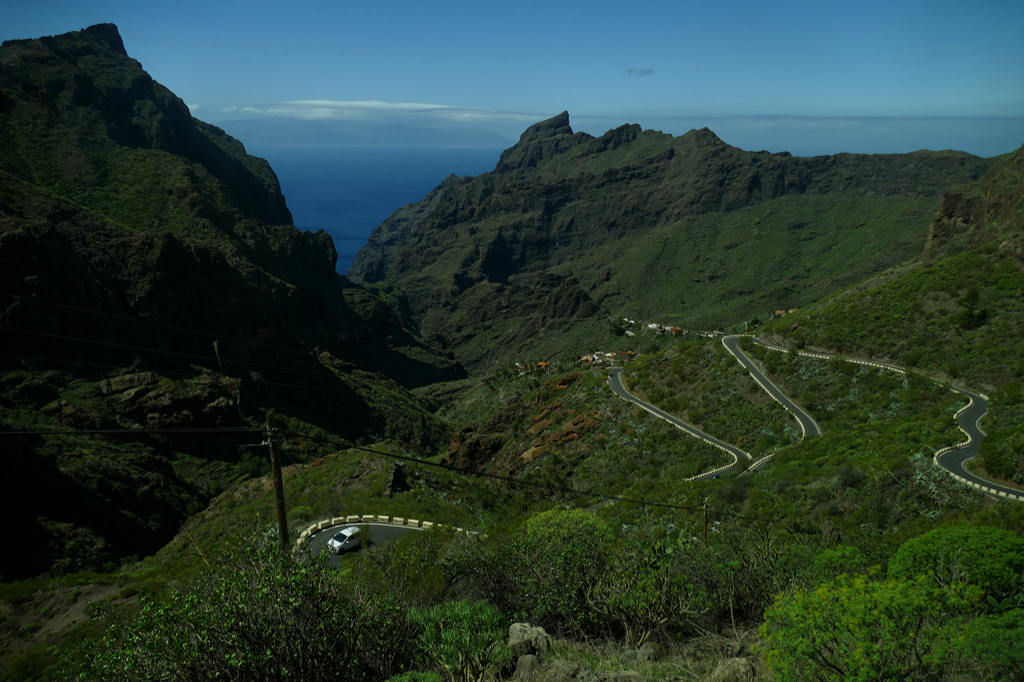 As a matter of fact, especially the route from Masca will make your blood freeze. Sitting on a bus, I saw those panic-stricken eyes of the drivers in the oncoming cars. The road is extremely narrow and the abyss scarily steep. Seriously, those drivers were just petrified. Do you really need that thrill?
Also, especially during high season, the parking lots at the reserve tend to fill up pretty quickly – and what then? It is an environmental-friendly measure that the car parks are not that large, and they certainly won't be expanded.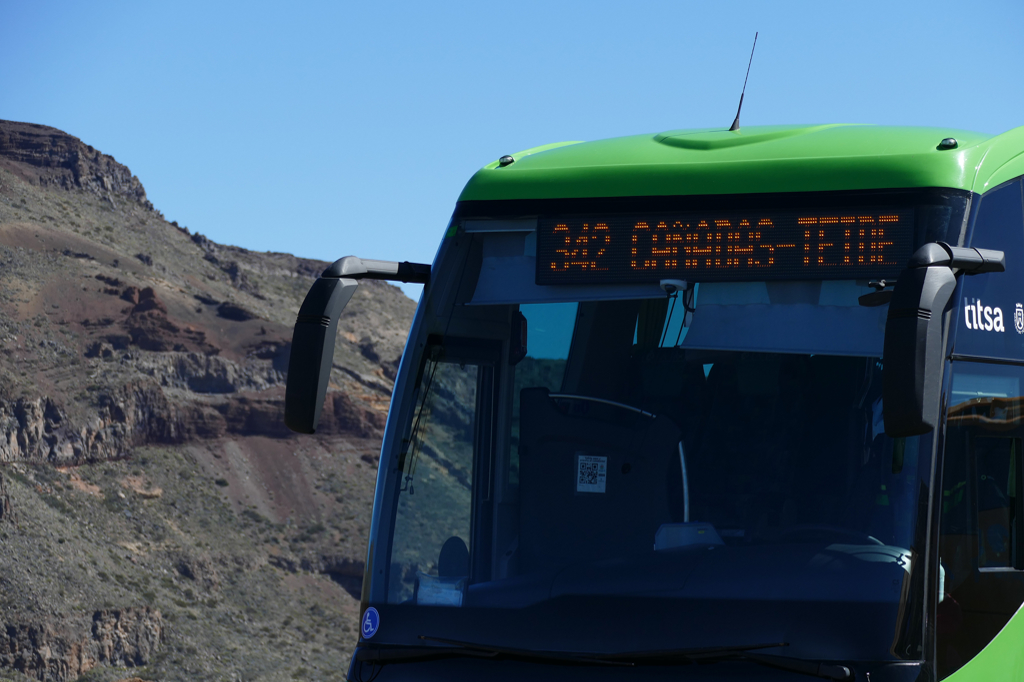 However, if you cannot avoid getting there by car, you should at least consider arriving after 1 p. m. when many of the day trippers are gone.
You can get to the natural park by public transport from Puerto da la Cruz by bus #348 and Costa Adeje by #342. A return ticket cost about 11 €uros.
TITSA, Tenerife's local bus company, has a great website where you can verify the connections and prices, and everything you need for an easy and comfortable trip. There is even a section that's especially catering to tourists.
My tip:
Tenerife's bus system is great, however, buses between popular spots'n'towns tend to get really, really packed. The drivers make sure to leave nobody behind. However, I witnessed people standing on the bus for an entire one-hour ride. Therefore, don't come waltzing to the stop three minutes before the scheduled departure. If you are riding the bus on popular routes, make sure to be at the stop at least 15 minutes before departure time. Normally, there is a queue, hence, don't just linger at the station but get in line as soon as you can.
Feliz viaje!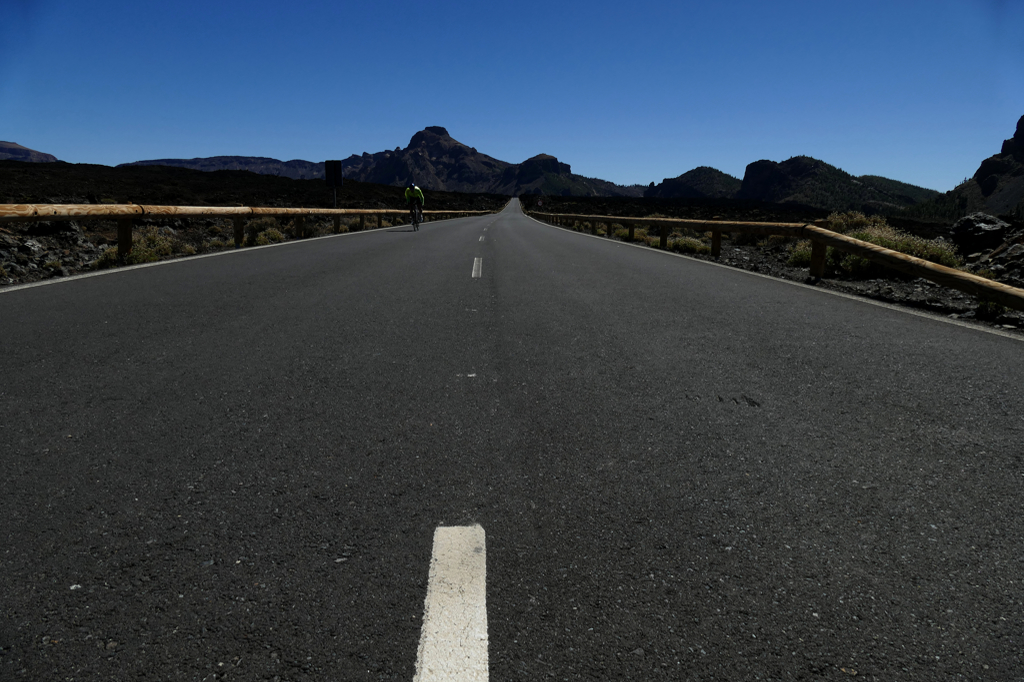 Where to Eat
You can bring some snacks and a picnic with you, obviously, but make sure not to leave any trash behind, even not the smallest piece of wrapper. However, there are a couple of eateries at the park. On the southern part of route TF-21, there is the Parador de Cañadas del Teide across from Mirador de La Ruleta and the Restaurante Teleférico del Teide at the lower terminus of the cable car.
On the northern part of TF-21 are the restaurants Papillon and Bamby.
Don't worry, all these places are close to public bus stops. Nevertheless, if you're not too hungry, I'd recommend eating somewhere else since these eateries are not very good an quite pricey.
Organized Trips
As I explained above, mount Teide can be visited by public transport. However, in certain cases, it can still be a good idea to join an organized tour, especially if you have only a limited amount of time. Also, if you are happy with visiting the foot of the mountain and enjoying its majestic sight, an organized tour is a great option.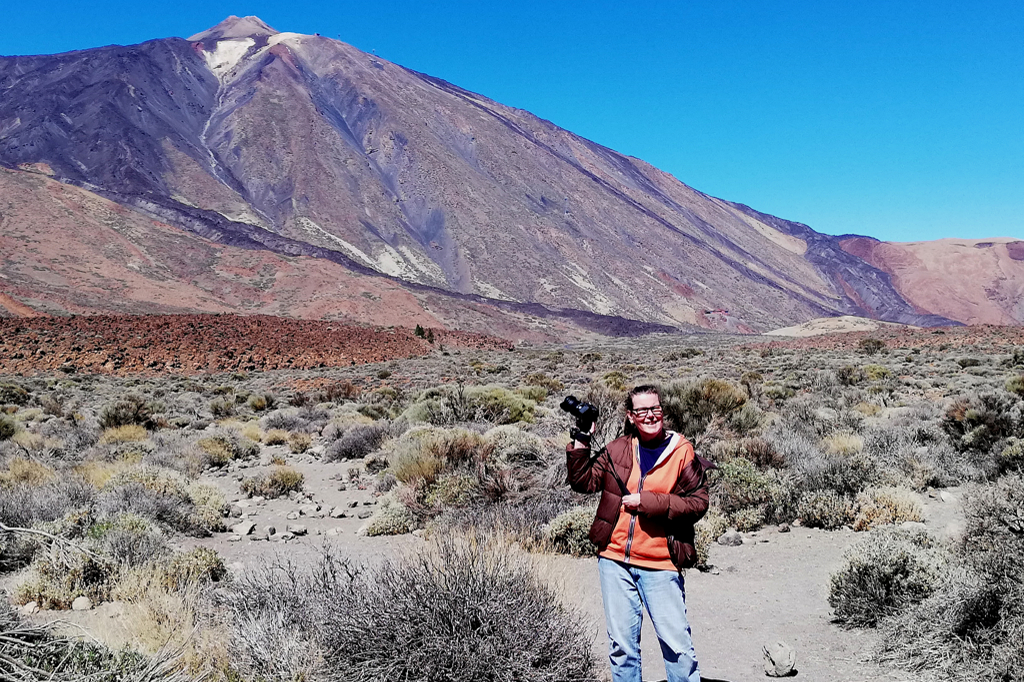 For instance, I wanted to see some of the most idyllic villages along the north coast which is absolutely possible by bus. But I also wanted to take a tour to the Mount Teide National Park. At the end of the day, I was very happy to find a tour that included both: I went with them comfortably to all the lovely villages without constantly checking the time and the bus schedule, and eventually, we went to the most alluring spots at the national park before they safely drove me back to my hotel.
Will say, the pure fact that you can visit places self-organized doesn't necessarily mean that it is the most convenient option. Therefore, when planning your trip, make sure to check out these great tours of Mount Teide:
The day trip to Tenerife's most iconic landmark Mount Teide was just one of the highlights – in every sense of the word – during my week on the island. To read about the others, go to this post and take your pick!
For general information on Spain, go to this post. There, you'll find information and tips that will make your trip much smoother and more enjoyable.
Pinnable Pictures
If you choose to pin this post for later, please use one of these pictures:
Did You Enjoy This Post? Then You Might Like Also These:
* This is an affiliate link. Hence, If you book through this page, not only do you get the best deal. I also get a small commission that helps me run this blog. Thank you so much for supporting me!