There are some travel tools and useful gadgets that over the years became indispensable for me.

But seriously, what is it that you really need to take with you on your trip? Actually it's your passport, your vaccination record, a credit card and your phone with all that matters on it.
Everything else such as clothes, toiletries, or sun gear can be replaced. You can buy almost everything in almost every country in the world. Maybe not in the desired quality, but still.
I'm by no means an advocate to buy constantly everything – and, as a matter of fact, I hate shopping.
All I'm saying is that it's neither the end of the world nor the end of a happy vacation if you forget something.
However, there are certain things I make sure to have with me. Because they make travelling so much easier and much more comfortable.
I put together a list of what those are. Maybe they'll inspire you. And if you have something to add, share it in the comments below. This way, I and all the other readers can benefit from your experience.
Peace and Quiet
Earplugs
There is a reason why earplugs are on top of my list.
They are not only sleep saving at hotels with paper-thin walls and noisy neighbors. They are also the perfect cure against notorious talkers on bus and train rides and even on the beach.
Plug them in and leave the world behind.
Sleeping Mask
With earplugs comes for many people a sleeping mask.
I do not really need them to protect me from the light. However, I sometimes like to wear them to give me the feel of escaping.
Thus, I'm getting this feeling even better by pulling a hood over my head and into my face. My hoodie is my castle.
Travel Pillow
Evidently an inflatable pillow completes your peace and quiet setting. If you choose one with a removable and washable cover you can also use it e. g. on the beach.
Melatonin
Still cannot sleep? Jet lag is raging? For me Melatonin is key.
Normally, I avoid taking medication. Nonetheless, a week without a good night's sleep cannot be less harmful to me than a couple of Melatonin pills.
The times when Europeans had to stock up in the US are over. You do get Melatonin at many pharmacies and drug stores.
Usually, I need to take them for three, four nights max until my body adapts to the local time.
However, before you pop it like candy, get some info first.
Dry And Warm
Recommending the next three items, I'm thinking of trips to regions with at least 65° F resp. 18° C, not a trip to Alaska in wintertime. Because especially we northerners tend to feel like, yeyiii, I'm going to the tropics, I'm going to South America – must be very hot there 'cause it isn't called 'South' for no reason.
Yeah well, it's not that easy. Actually, in the coastal regions and valleys, it might be very warm. However, as soon as you get higher you will see that South is just a five-letter word.
Never in my life was I freezing more than on the way to the Colca Canyon in Peru. Just to make sure: It's in South America!
Foldable Jacket
Since you do not need warm clothing all the time, it's sensible to choose a foldable version. There are jackets that look metaphorically cool and are literally the exact opposite: super-snug. You should have them on you also in tropical cities.
My Spanish teacher used to say that in German winter you do not suffer from the cold but from the heat. That's because people go crazy with the calefaction.
You can turn this around: In tropical countries, people turn busses, supermarkets, and other public areas into freezers with their stupid air condition.
By the way, here's a little story about how I handled an air-con.
Therefore it's always advisable to have a warm jacket on you – yes, in the tropics.
By the way, I need it in addition during the journey – when leaving in wintertime for a warm destination, I wear it to the airport; and on the flight, too.
Foldable Raincoat
I'm also taking a foldable raincoat. There's nothing more annoying than spending the day at your guesthouse because you cannot go outside without getting soaked. Pick a preferably quite long and wide kind – it will look ridiculous, anyway, so let it at least be useful.
Foldable Flats
A last foldable thing you should have in the deep of your daypack is a pair of foldable flats. Even if it's hot and you're wearing comfy sandals or flip flops. Their straps can become very painful especially when your feet swell due to the heat.
What a heavenly relief when you can slip into soft, flat shoes with no straps.
Beach And Boat
I have two Ocean Packs – a large one that I use as a beach bag mainly against the sand and a smaller one to store my stuff when going e. g. snorkeling.
In addition to that, I have a waterproof smartphone bag that is transparent so you do not have to open it every time you need to use it.
A thing that I do not like to rent or buy on the spot is a mask and a snorkel. They are either disgusting or half-broken. When you buy them close to the beach, even the crappy ones are much more expensive.
So I like to have my own.
Utensils and Rugs
Versatile Tool Set
Although I leave my kitchen sink at home, I always have a set of useful utensils that can be cleverly put together in one handy piece. It unfolds into a bottle opener, a corkscrew, scissors, spoon, knife, and fork all made of stainless steel. However, make sure you don't put it in your hand luggage – it makes a powerful weapon, too.
I think I don't need to explain what it's good for: for basically everything.
Padlock
Another little helper is a spare lock. It will certainly not save you from armed robbery, but it might prevent the quick and dirty pickpocketing.
When my hotel room doesn't have a safe, I keep my valuables locked in my suitcase. Obviously, if someone wants to rob me, he can take the whole suitcase. But normally, we are dealing with petty pickpocketing, and in that case, it does help.
Cotton Wrap
Besides a thin spare towel, I always take a large pareo, sarong, wrap … whatever you name a large piece of fabric. It covers my head in Muslim countries, my shoulders in catholic churches, my legs in Hindu sites. I wrap it around my shoulders when there's a nip in the air. I spread it on a lawn or on the beach and tie it into a sack when I need one. How can people travel without a … whatever you name it?!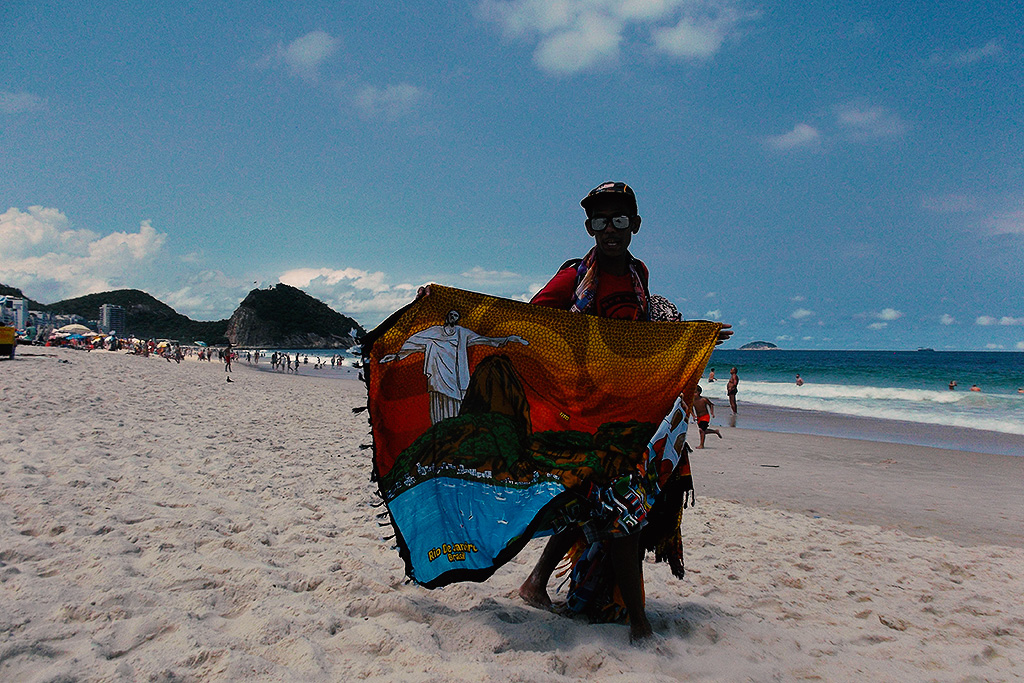 So these are the things that I'm taking with me to be even more comfortable. Even if you can get certain things on the spot, sometimes it feels nice and homey to have your own, already a little worn stuff.
Packs And Bags
I'm not doing backpacks. Never got the hang of it. I don't find them practical unless you follow Indiana Jones through the jungle or cross the desert walking.
Everywhere else you can pull your luggage instead of carrying it.
I'm old. I'm lazy. I don't like to schlep. I want a cart and a donkey. Or at least luggage with wheels.
Generally, I prefer travel bags over suitcases. Because in a situation where you cannot pull them you still can slide the handles over your shoulders and carry it like a backpack.
Although not very comfortable, still a compromise.
Another reason for my dislike of backpacks and daypacks and knapsacks and all the other …acks is that everything disappears into their deep.
Eventually, I'm digging in the dark and I'm getting all worked up about having lost something. Also, while I don't care about wrinkles in my face, I hate my clothes getting them from being stuffed in a backpack.
Hand Luggage
So we are reaching the last – for me by now crucial – recommendation: Don't underestimate hand luggage.
After various airlines managed to get me to my final destination long before my luggage arrived, I always pack everything I might need during the first 48 hours in my hand luggage.
I'm packing like for a weekend trip. Pajamas, underwear, a light dress, two t-shirts, an extra pair of sandals, toiletries.
By the way, you do not have to buy extra travel sizes, though. You'll probably get shampoo and shower gel at the hotel, anyway. Facial creams, toothpaste, etc. are usually in containers under 3.4 oz / 100 ml, so there shouldn't be a problem.
This way, while waiting all jittery for my luggage to finally join me, at least I don't stink.
Further Tips
Actually, I find hand luggage so important that I have written a post on how to pack it. Also, there is a post on how to travel light yet in style with hand luggage only.
While basically every item and gadget might be replaced practically all over the world – or is a dispensable luxury, anyways – your documents should be in order and some other precautions taken.
Therefore, I've put together info and links on the most important travel-related topics in my World's Most Complete Travel Information.
And now it's your turn: What are your personal travel treasures? Come on, write me, I'd love to learn a thing or two!
Pinnable Pictures
If you choose to pin this post for later, please use one of these pictures: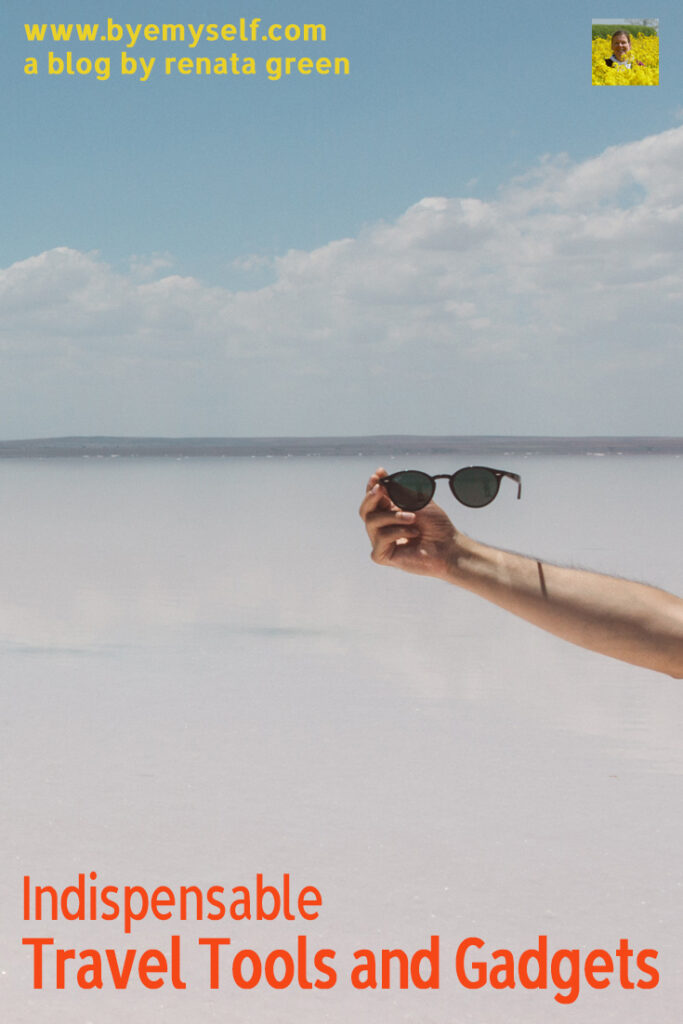 Did You Enjoy This Post? Then You Might Like Also These: