Grand buildings and a rich past: Vietnam's imperial city and former capital Hue has just enough history and majesty to keep up with highly famed Hội An.
The Lý Dynasty
Huế is idyllically located on the so-called perfume river Hương Giang not far from the sea. In the city's backdrop is a picturesque hilly and mountainous scenery.
Around 111 BC, major parts of northern Vietnam were ruled by the empire of the Chinese Han dynasty.
In the year 39 AD, the noble sisters Giao Chi and Cuu Chan successfully resisted the increasing Chinese colonization. Other uprisings against Chinese supremacy followed – partly with the support of the Cham.
In 1009, Lý Thái Tổ achieved independence from China. He was the progenitor of the Lý dynasty, which then ruled the kingdom of Dai Viet for about 200 years. Under this rule, the capital Hanoi was founded in 1010 and the first university, the so-called Temple of Literature was installed there. Buddhism, Confucian, and Taoist teachings merged.
Lý Thái Tổ initiated reforms and successfully defeated attacks from China as well the Cham and the Khmer.
From the Trần Dynasty to the Nguyễn Dynasty
In 1226, the rebellious Trần dynasty replaced the Lý dynasty.
In 1400, the regent Hồ Quý Ly took power and established the Hồ Dynasty. Local enemies colluded with the Chinese Ming dynasty, who then occupied Dai Viet for 14 years. During the so-called Lam Son uprising in 1418, the Lê Dynasty defeated the oppressors. The first ruler was Lê Lợi, who proclaimed himself emperor in 1428
Actually, the Lê Dynasty remained the most enduring dynasty in Vietnam's history. Their reign lasted until 1788.
In the 17th and 18th centuries, the Trịnh lords and the Nguyễn dynasty divided today's Vietnam between them – still, under the nominal suzerainty of the Lê dynasty.
Huế was the capital of Vietnam under the Nguyễn dynasty from 1802 to 1945. The summer palace of Bảo Đại, the last emperor of the Nguyễn dynasty stands in Đà Lạt and can be visited on a guided tour.
During the Vietnam War, the border between the north and the south ran just north of the city. Nevertheless, this so-called demilitarized zone experienced the heaviest combats during the Vietnam War.
From Hội An to Huế
To get from Hội An to Huế, I had booked a shuttle that included a couple of stops. Actually, only two of them were really worth it.
First, we went to the so-called Marble Mountain. It is a spiritual pilgrimage site, consisting of several Buddhist pagodas and caves. This group of five mountains from marble and limestone represents the five elements.
The other grand and exciting place was the Bach Ma National Park, way up high in the mountains. Within minutes, we got wrapped in clouds – a beautiful and mystic experience.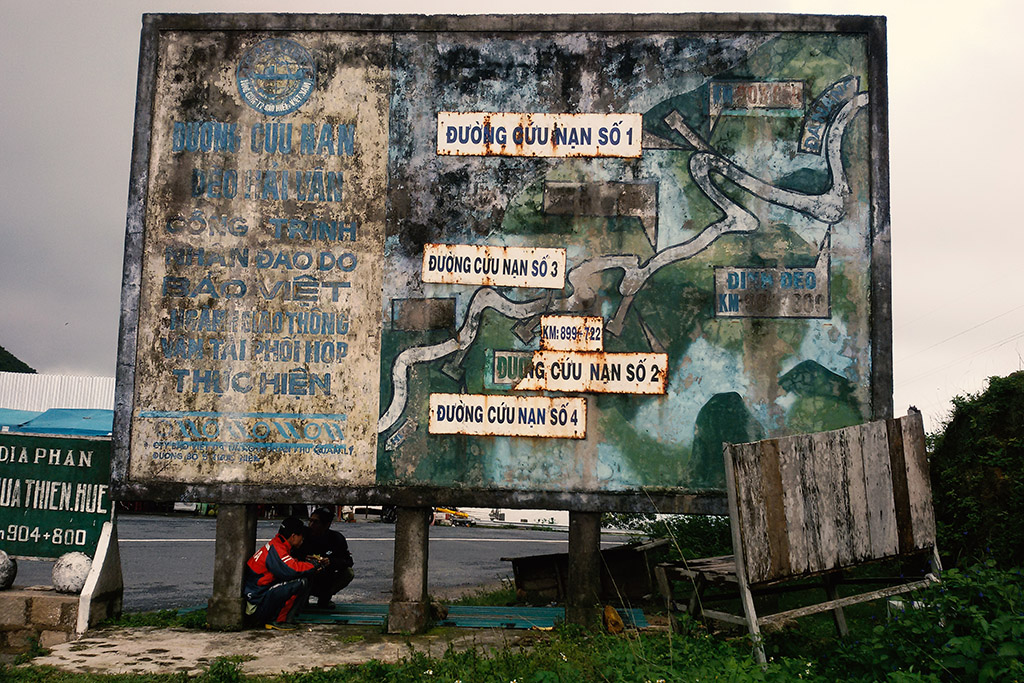 The best thing about having chosen this travel option was that there were only two of us in the car. A female fellow-traveller from Estonia and I.
Luckily we clicked immediately and didn't spend only the trip to Huế together. In the evening, we went for a delicious Indian dinner and also did the sightseeing tour on the following day together.
The next day, our bus tour took us first to the famous Đại Nội Citadel. It houses the ancient imperial city with its large courtyards surrounded by beautifully decorated pavilions. Here, we got an idea of how powerful the emperors must have been – until they made themselves the French occupants' puppets.
Visiting Huế's Citadel
Gia Long, the founder of the imperial Nguyễn dynasty, commissioned the Đại Nội Citadel from 1804. Gia Long took the Chinese Ming Dynasty's Forbidden City as a model.
Thousands of workers built a 10 kilometers long earth wall around an almost square area. It was later replaced by a stone wall. It's also surrounded by a moat more than 20 meters wide. Over the years, further buildings, courtyards, and gardens were added
Unlike the Forbidden City in Beijing, the Đại Nội Citadel is not laid out towards the south. It rather runs from northwest to southeast towards Mount Ngu Binh, following the course of the adjacent Perfume River.
Three bridges lead to the Meridian Gate, the main entrance gate. The middle bridge and the middle entrance were reserved exclusively for the emperor.
The complex contains reception halls and temples. Another wall delimits the innermost part, the Forbidden Purple City. The rulers and their families used to live and work in this section.
Obviously, Vietnam's feudalistic heritage was rather dismissed during the strict communist era. However, in 1993, the most important, now renovated complexes made it onto the UNESCO's World Heritage List.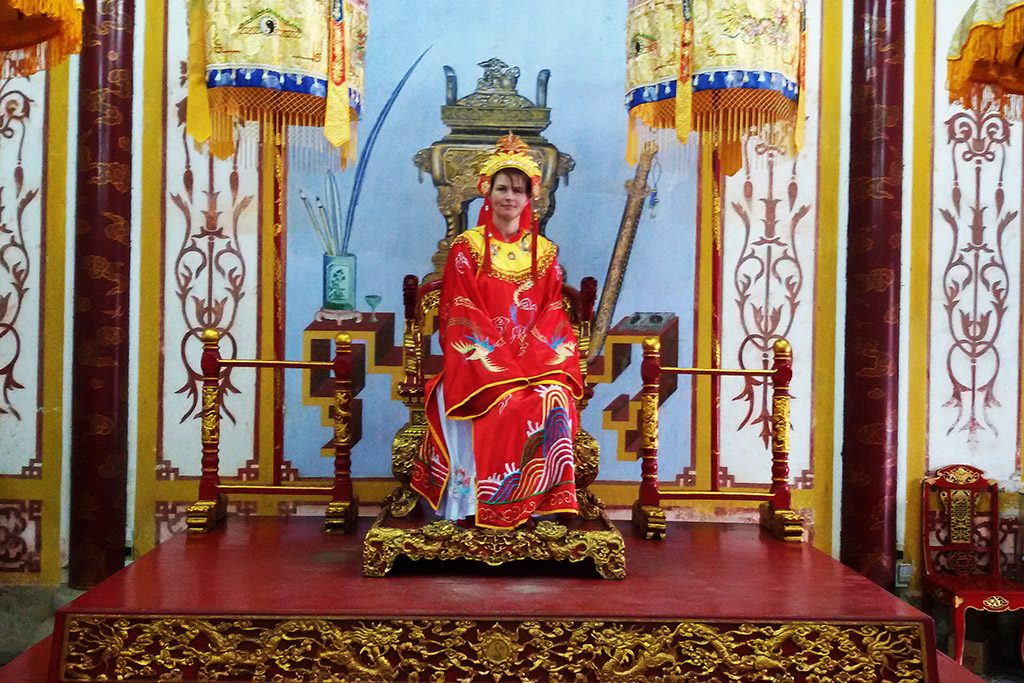 Not far from the Citadel is the posh neighborhood Kim Long, famous for its beautiful garden houses. This is where the Concubines, Mandarins, and Statesmen resided.
Thiên-Mụ-Pagoda
Before going to the famous emperor's tombs, we made a short stop at the Thiên-Mụ-Pagoda on the Northern banks of the Perfume River. With its seven storeys high Phước Duyên tower it's Vietnam's highest pagoda.
Nguyễn Hoàng, the originator of the sovereign family of the Nguyễn, commissioned the Thiên-Mụ-Pagoda in 1601 after he had moved the capital to Phu Xuân, today's Huế, one year before in 1600.
In 1665, the structures were renovated and expanded under Nguyễn Hoàng's third successor, Nguyễn Phúc Tần. His son, Nguyễn Phúc Chu, had a 3,285 kilograms bell cast for the pagoda in 1710.
It is now one of the most important sights in Vietnam.
The adjacent monastery also has a rather unusual sight. It's an old Austin. On the windshield is a photo that caused horror as it went around the world in 1963. It shows the self-immolation of the monk Thích Quảng Đức on June 11, 1963 in protest against the persecution of Buddhists and the oppression by the Catholic dictator Ngô Đình Diệm. I've mentioned this in my post on Ho Chi Minh City where this tragedy took place.
Visiting the Imperial Tombs on the Outskirts of Huế
Although there are seven royal tombs, only three are significantly more visited since they are in better condition and closer to the city. These are the tombs of Lang Minh Mang, Lang Tu Duc, and Lang Khai Dinh.
If you are on a tour and do visit not only the Đại Nội Citadel but also the three tombs, you might want to buy a combined ticket for about VND 360,000.
Lăng Minh Mang
The oldest tomb is Lang Minh Mang. Minh Mang's Tomb is located about 12 kilometers from Huế on the west bank of the Perfume River.
Ming Mang was the second emperor of the Nguyễn dynasty and reigning from 1820 until 1840.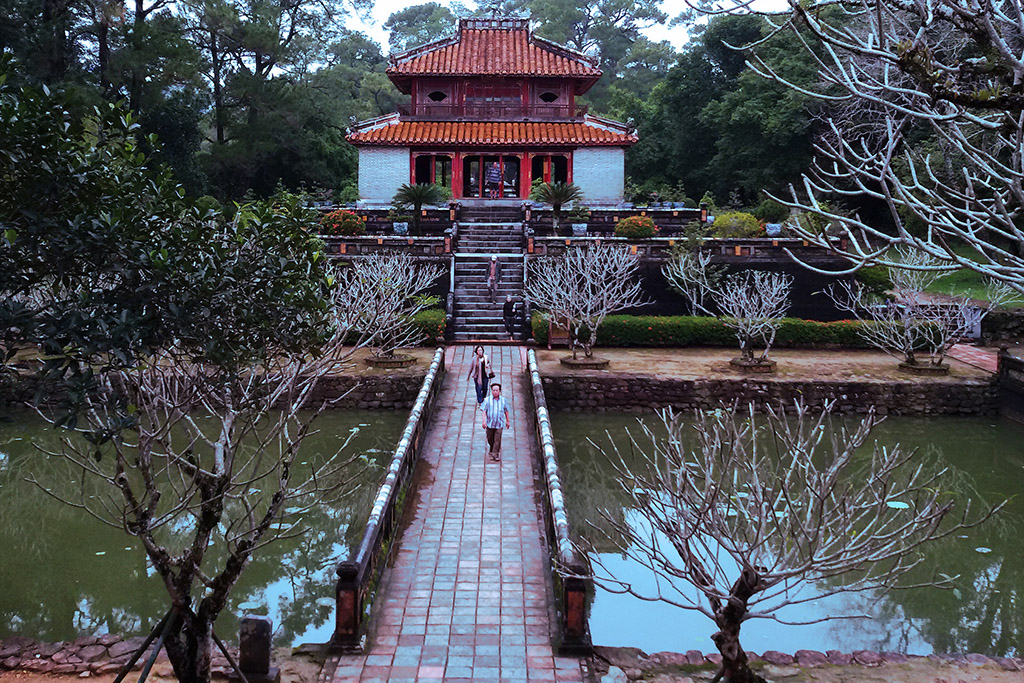 King Minh Mang began the construction of his tomb in September 1840. The king passed away in January 1841. His successor Thiệu Trị continued this work so that in August 1841, the king's remains were buried here. However, the tomb was not fully completed until 1843.
The tomb of Emperor Minh Mang is an architectural ensemble of 40 palaces, pavilions, and temples. They are symmetrically arranged on an axis going from the Dai Hong Gate to the foot of the La Thanh wall behind the royal tomb.
The main door was only opened once for the royal coffin. Since then, it has remained permanently closed.
Today, you have to go through one of the two side doors.
Lăng Tự Đức
Lăng Tự Đức was built from 1864 to 1867, hence, twenty years before the emperor's death.
The complex also served as Tự Đức's country residence. Here, he liked to write poems, relax and meditate. Tự Đức had more than a hundred wives and concubines. Still, he couldn't procreate a direct heir since he was sterile due to the smallpox he contracted in his youth.
Lăng Tự Đức is in a narrow valley which was part of the Duong Xuan Thuong village. It's located in the middle of a huge pine forest, 8 kilometers southwest of the center of Huế. Ponds and beautiful trees like frangipani embellish the grounds.
Tự Đức settled here ten years before his death. After a tax increase, a palace revolution had taken place in Huế in 1866. It had almost cost the king his throne.
Lăng Khải Định
Lăng Khải Định is the newest of the tombs. Built from 1920 to 1931 in an eclectic style mix, it's clearly influenced by French fashion.
It is the burial place of the penultimate emperor of Vietnam Khải Định. He reigned from 1916 to 1925.
Khải Định had visited France in 1922 and admired western style architecture. He also totally redevelop the Kiến Trung palace at the Forbidden City by mixing the local design with a neo-renaissance style.
Ascended to the throne in 1916, King Khải Định chose the slope of the Chau Chu mountain to build his tomb about 10 kilometers from Huế. It's overlooking the perfume river. The most beautiful details are the man-high statues of animals and men on the first level.
It is the last of its kind to have been built for a member of the Nguyễn dynasty.
Khải Định died of tuberculosis at the age of forty. His son Bảo Đại had then the mausoleum completed.
Different Pop-Culture
I cannot say for sure where it was, but at one of the tombs was a huge group of teenage girls, completely oblivious to the ruins, all hyper because of a young man in a traditional Vietnamese outfit.
While the teenage crowd was standing in line for selfies, an obviously professional photographer was patiently waiting for his turn. Eventually, the young man and his entourage including the photographer left leaving a screaming teenage crowd behind.
The funny thing is, that if there haven't been the hyper teenagers, I would have never known that this young man is obviously a big shot megastar in Vietnam.
We Westerners believe to rule the world not only economically, but also culturally, completely ignoring the fact that there is a huge entertainment market being occupied by big local stars.
Practical Information
How to Get There
The Phu Bai Airport is about 15 kilometers south of Huế. Travelling from the airport to the center, there are two options. Either you can take a cab or you opt for the shuttle bus. While the cab will set you back about 250,000 VND, the bus costs only 50,000 VND. Both options take about 30 minutes.
Some major hotels offer a free shuttle. But beware that if the shuttle is not complimentary, you'll probably overpay. This being said, it's wiser to overpay for a safe trip than to risk your well-being on arrival. You'll find more on this – and other relevant travel topics – in my post Keep Calm and Travel Solo as well as other articles in the Tips & Hacks section.
Since Vietnam stretches on the north-south axis on about 1,650 kilometers and Huế is pretty much halfway between Ho Chi Minh City and Hanoi. So if you aren't meandering from spot to spot by bus, you'll probably fly to either city. Direct trips would take really long.
Nevertheless, bus lines connect Huế with cities across the country like for instance Hội An. But even this trip takes basically one day. There are also regular bus connections to Laos.
Also, a railway line connects Huế with Hanoi in the north and Da Nang and Ho Chi Minh City in the south.
How to Get Around
Although they are very cheap, inner-city bus travel can be a bit confusing and intimidating. Ask for directions at your hotel's front desk – and then keep asking like a moron until you reach your final destination.
Apart from buses, cabs are very cheap to European or American standards. As long as you get a reputable company that is. Hence, look for cabs like Mai Linh or Vinasun and insist that the driver turns on the meter.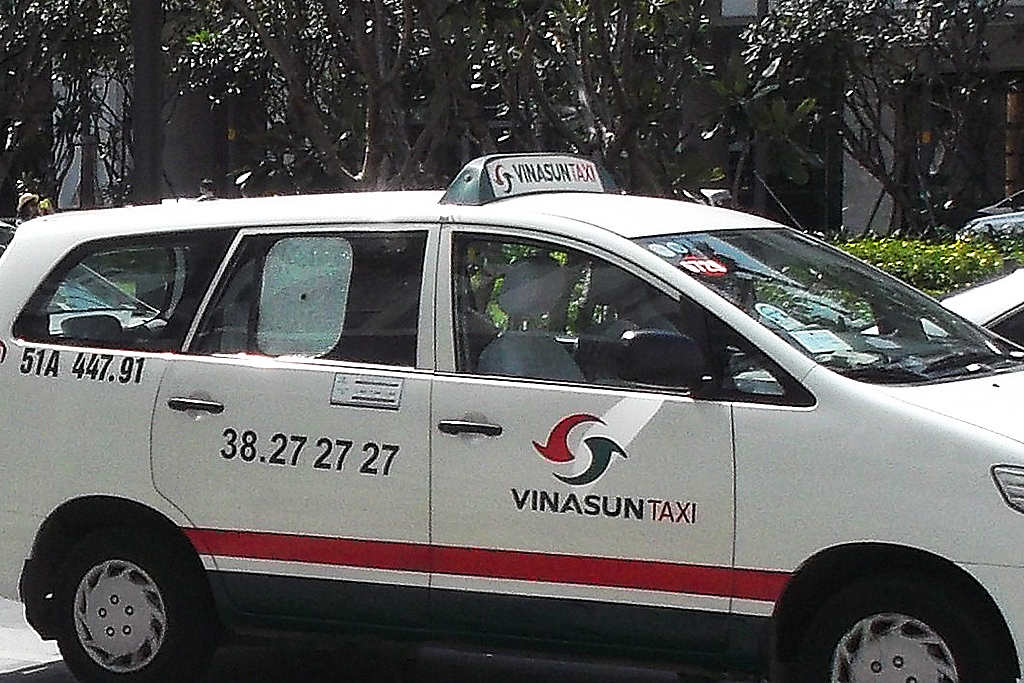 Besides, beware of cabs resembling those of trustworthy companies. Some scammers copy the famous names and just alter them a little bit. Then, they charge ridiculously high fares.
Be particularly cautious when hiring a cab in big cities like Hanoi and Hồ Chí Minh City.
However, to visit the sights in the city and on the outskirts, you better join an organized day trip. To help you find the best option, I'm including some tour offers in the What to See section below.
Where to Stay
I mentioned a couple of times that accommodation in Vietnam is reasonably priced. So if you want to splurge from time to time, it's a good place to do so. Therefore, I treated myself to a night at the Huong Giang Hotel Resort And Spa*, certainly one of the best places in town. Also, you reach many of Huế attractions within minutes.
Yet, if you want to check out other convenient lodging options, you can do so on this map*:
What to Eat
While you'll find restaurants for every taste in Ho Chi Minh City and other big, touristy places, in smaller spots, you'll get mostly Vietnamese cuisine, obviously, and that's totally fine.
Vietnamese cuisine is historically strongly inspired by Chinese food. In the south, there is also influence from Thai, Khmer, and even Indian cuisine. However, staple foods are rice and rice noodles and a large number of different vegetables.
Vietnam is also known for spring rolls, which are eaten raw, fried, or deep-fried and sometimes wrapped in lettuce leaves. The fillings vary from region to region and season and range from sweet to spicy and savory.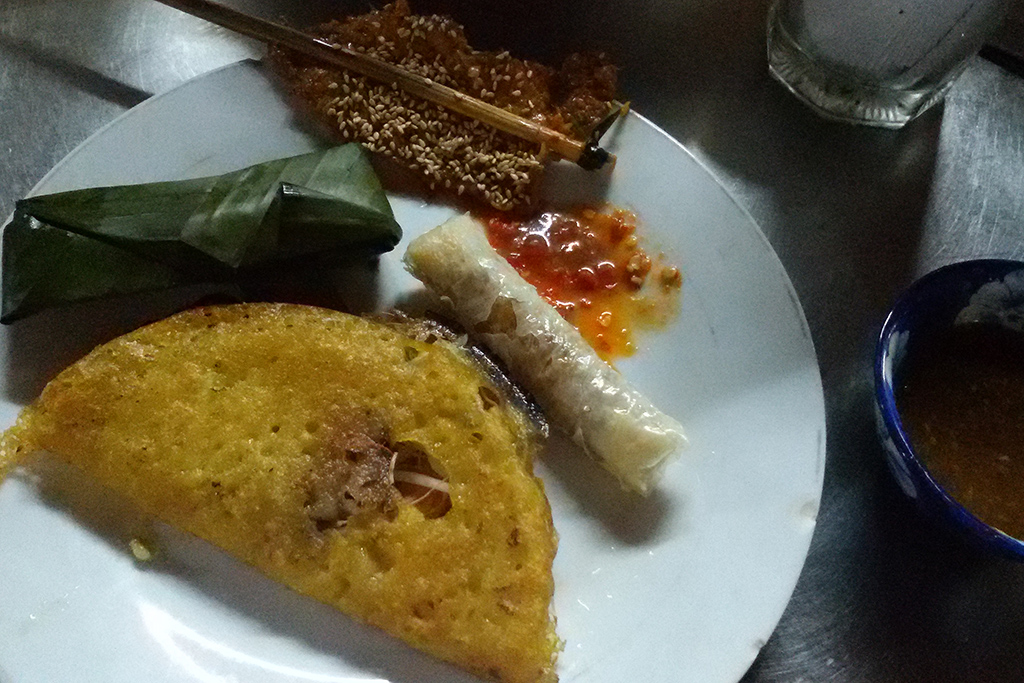 I particularly enjoyed rolling ingredients in rice dough sheets – which is a popular way of eating. There are herbs, lettuce, rice noodles, vegetables, and pieces of fish or meat that you wrap in a crispy, thick pancake. Fun and delicious!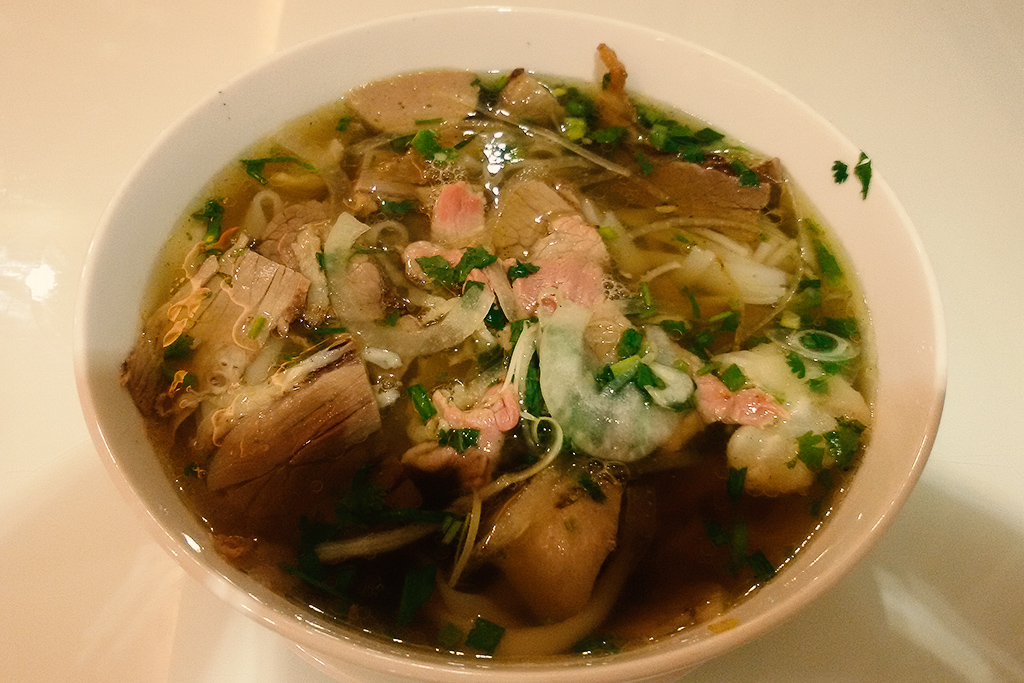 Another iconic specialty of Vietnam is Pho. The basis for this rich dish is beef broth with rice noodles. Then, thin slices of beef or chicken are added. Vietnamese eat Pho as a snack, for breakfast, or even as a whole meal.
Still, in Huế, I had excellent Indian food at the Ganesh Indian restaurant on 34 Nguyen Tri Phuong Street.
What to See
I'm an avid solo-travelling woman. Since solo-travel doesn't equal solitude, I love to join organized tours here and there. They allow me to meet fellow travellers – for just a short moment or a lifelong friendship. The ride from Hội An to Huế was the perfect example how this can work out.
Therefore, here are some great ideas of what to do during your stay in Huế. Especially if you have only a short time to stay, they'll enable you to make the best of it*:
Cash And Cards
Vietnam is getting more and more touristy, hence, credit cards are widely accepted. Huế is not only touristy, but a bustling middle-sized city. Therefore, there are banks and you can get cash from ATMs.
One US-Dollar equals 23 Dong (VND) and one €uro 24 Dong (VND) as of March 2023. However, here you can check the current rate.
Hue was just one stop on my exciting visit to Vietnam. Go to the main post to check out all the other destinations.
Pinnable Pictures
If you choose to pin this post for later, please use one of these pictures:
Note: I'm completing, editing, and updating his post regularly – last in March 2023.
Did You Enjoy This Post? Then You Might Like Also These:
* This is an affiliate link. If you book through this page, not only do you get the best deal. I also get a small commission that helps me run this blog. Thank you so much for supporting me!