Although Soller, Deia, and Valldemossa are three of the most beautiful towns and therefore secondary residences of many rich and famous, they can be conveniently visited on a self-guided day trip by public bus. All you need is an elaborate timetable which I put together for you in this post.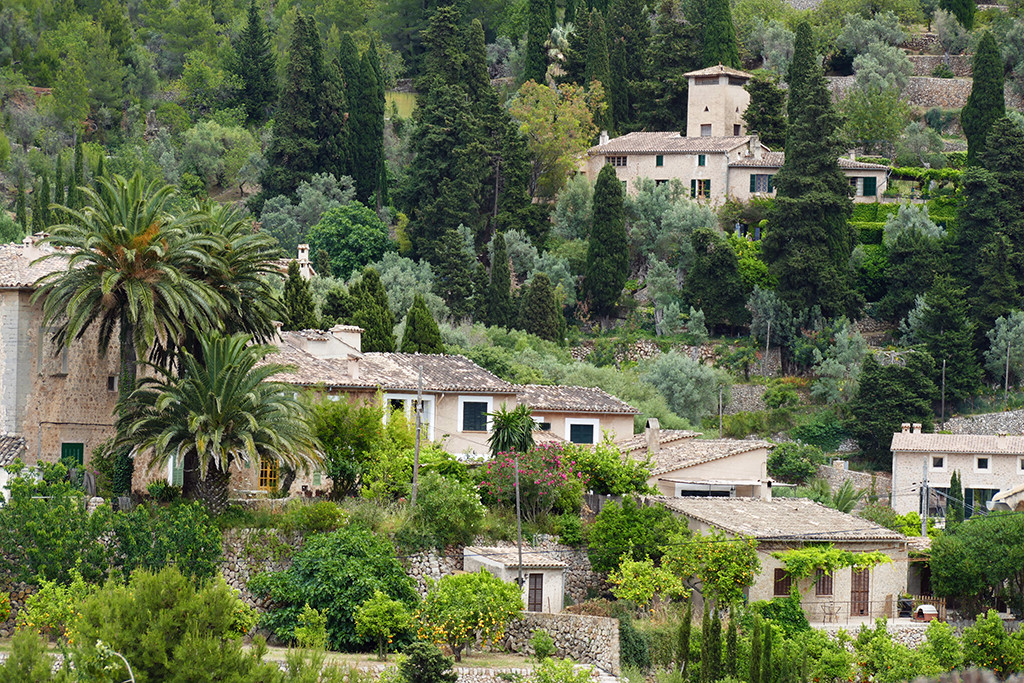 As a matter of fact, there are two versions: One includes a ride on the historic Tren de Sollér, and the other one even a couple of relaxing hours on the beautiful beach of Port de Sollér. All that's left to do for you is to choose.
The Other Side of Mallorca
As I pointed out in my post on Mallorca to those who didn't know, the island has a fishy reputation for being a terrible party place where there's hardly any Spanish culture or tradition. Well, firstly, that's not true at all, you just have to stay away from those party hellholes and you'll experience a wonderful, very cultural place – just read my post on Mallorca's capital Palma. Because secondly, there is a lot of culture and tradition, only that many tourists simply don't care.
However, an exception to this unfortunate rule might be a day trip to the towns of Sollér, Deià, and Valldemossa. During high season, there are many organized tours shuffling people from their beach resorts to these three architectonic and historic jewels in the Tramuntana mountains.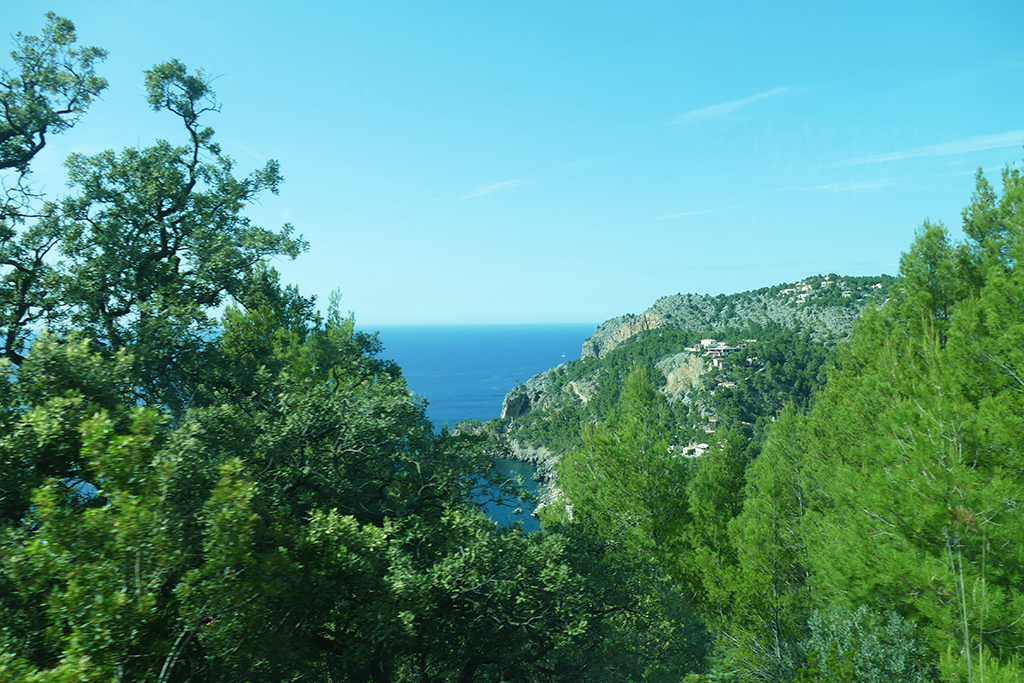 But don't you worry: With this guide, you can beat the crowds and go by yourself. Going by public bus from Palma, it's really easy, more relaxed, and far cheaper, obviously. You can choose your own route, your schedule, and even your mean of transportation. This way, you'll experience Mallorca's most precious gems at your own pace and off the beaten tracks. Hence, if you are planning on going to Mallorca, make sure to have this post on hand.
Tren de Sóller
We need to talk – about the Tren de Soller, supposedly one of Mallorca's most popular tourist attractions. It was actually the only very touristy activity I did during my stay – and the only one I kinda regretted; albeit, I usually don't regret activities since there is no way of knowing beforehand.
But back to the Red Lightning as German tourists call the tren.
Firstly, the schedule is quite limited, you cannot leave Palma before 10 a. m. which shortens your day significantly – check the itineraries below. Nevertheless, you should be at the station well before departure time to get a seat. Then, you share a big wagon with large groups of tourists – something I presume no one likes.
As a matter of fact, the only fun part is the bit between the station and the city limits as you see the city from the rattling train and people are waving back at you. Once the train leaves Palma, neither the experience nor the views are outstanding. Also, make sure to sit at the windows to the left, otherwise, you get to see basically nothing spectacular. And even then the views are not more spectacular than what you'll get to see later on your way from Sollér to Deià and Valldemossa.
This being said, note that you'll pay for the Tren de Sollér 18 €uros one way – payable on the train in cash. If you take the bus – either #203 or #204 – you'll pay 7.50 €uro if you pay the driver in cash. If you pay by card, you are granted a 40% discount, hence, you'll pay 4.50 €uro for the trip; quite a difference.
The route of bus #204 is shorter, hence, faster while the one of #203 is more scenic as it goes through the mountains.
The Red Lightning
The rail route from Palma to Sollér is almost 27.5 kilometers long, hence, the lightning takes about an hour. It leads through orange and lemon plantations, over high viaducts, and through 13 tunnels.
The ride starts across from Palma's Plaça Espanya at the train station next to Carrer d'Eusebi Estada. Three chimes, a horn, and a whistle announce the start of the journey. In the beginning, the train rumbles on the median of the streets to the suburbs from Palma. After three kilometers, however, he reaches his own route which leads through an industrial neighborhood out into Mallorca's countryside. From there, you travel between endless olive and almond tree plantations steadily uphill.
There are small stops at Son Sardina, Son Reus, Santa Maria, and Caubet, and then a slightly longer stay in Bunyola. Here, more passengers can board the train.
The most scenic part – namely the Serra de Tramuntana – begins behind Bunyola. It was declared a World Heritage Site by UNESCO in 2011.
The rails wind up gently to the Túnel Major, a 2,876 meters long apex tunnel at a height of 230 meters.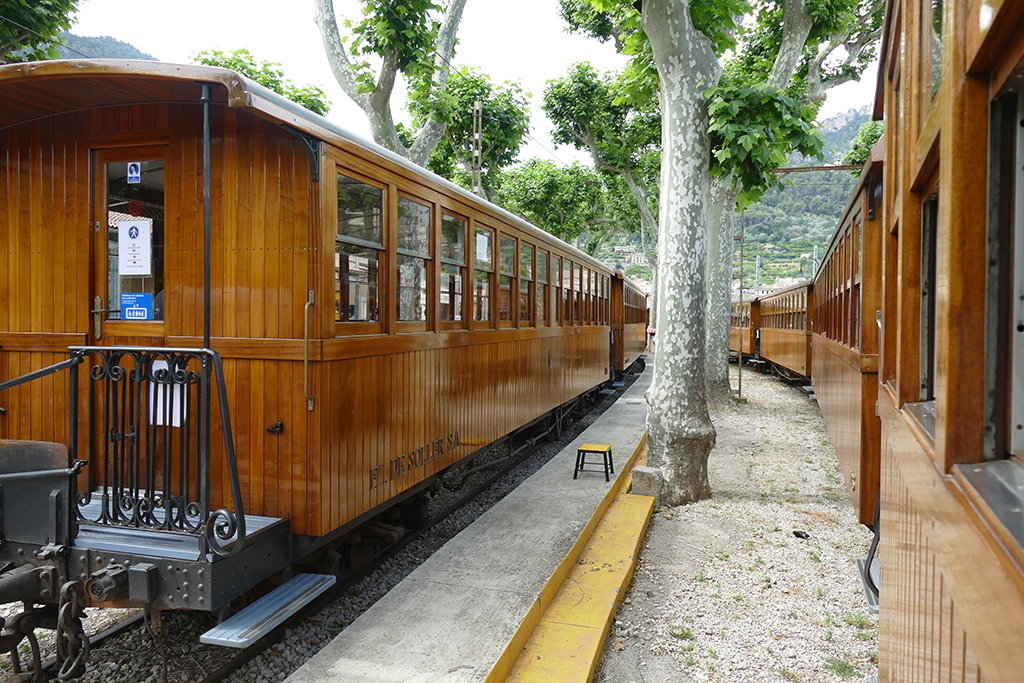 Normally, the train should stop at the Mirador del Pujol d'en Banya so that you get a grand view of Sollér, the surrounding orange valley, and the mountains in the backdrop. Nevertheless, on our trip, it did not stop at all but went straight to the final stop in Sollér.
Sollér
The small yet famous town of Sóller is located in the Tramuntana Mountains. Here, the extremely fertile soil allows the cultivation of citrus fruits, almond and olive trees, figs, and apricots. Also, the Serra de Tramuntana landscape zone was added to the UNESCO World Heritage List in 2011.
In early spring, the blossoms of the almond trees bloom in red and white. Later the ripe oranges make the entire valley shine in a soft orange tone in late summer. However, the valley owes its nickname Valley of Gold to the olive oil production – the liquid gold of the Moors.
The outbreak of the French Revolution in 1789, however, caused numerous French winemakers, farmers, and traders to leave their home country. Many made it to the fertile valley in the northwest of the Tramuntana where they began to grow citrus fruits on a large scale. The oranges were shipped to France via the Port de Sóller, which helped the city to prosper, obviously.
It's in the Mix
Later, immigrants from mainland Spain settled in Sóller at the beginning of the 20th century. They brought the architectural style of Catalan Modernism, the Spanish variant of Art Nouveau, to the island. Therefore, numerous town villas from that time are now in Sóller's center, the most impressive one being the Banco de Sóller, designed in 1889.
Banco de Sóller was founded in 1899 by Spanish entrepreneurs returning to their homeland from France and Latin America. The modernist bank building on the Plaça de sa Constitució was designed by the Catalan architect and Gaudí student Joan Rubio i Bellver. It stands right next to Sant Bartomeu, St. Bartholomew's Church, and the façades show the same rustic stone texture as the adjacent church, whose neo-Gothic façade is also by Rubio. Sant Bartomeu was built in 1236 after the Moors were driven out.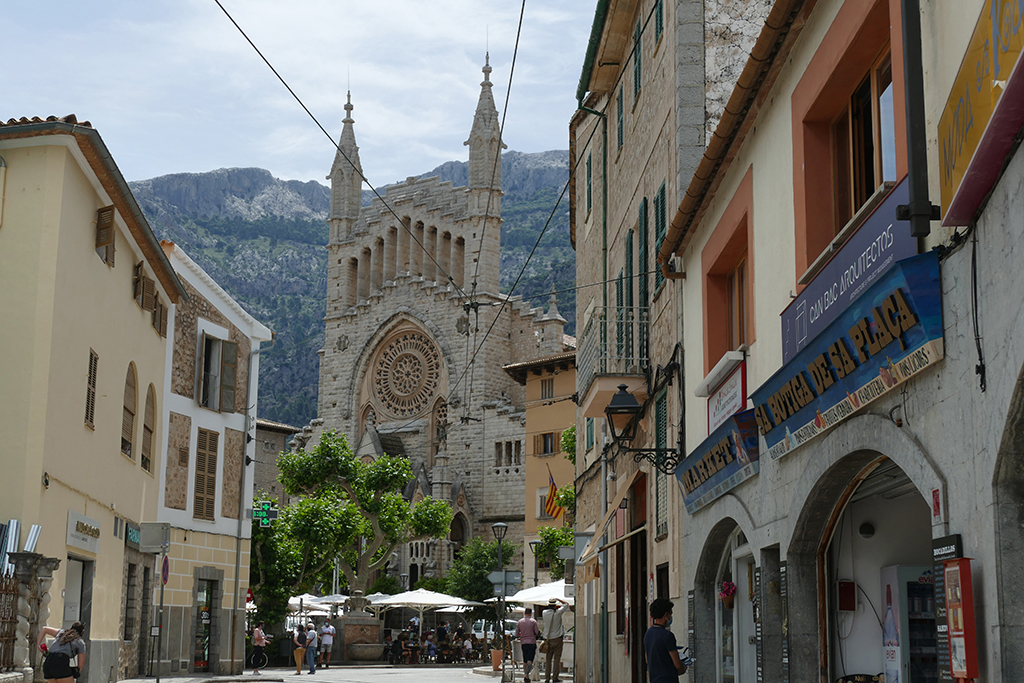 Also, as you walk towards the main bus station on Carrer de Cetre, you should walk along Gran Via since this is where most of the buildings in the Caribbean colonial style can be admired.
Apart from just strolling through narrow streets and admiring Sóller's beauty, there is also an interesting museum, the Museu de Sóller, and a small botanic garden, the Jardí Botànic de Sóller, to visit. But note that both sites are open only in the morning till about 2 p. m.
Port de Sollér
Port de Sóller, or Puerto de Sóller in Spanish, is located about three kilometers north of the main town. Here, you'll find the Badia de Sóller, hence, the Bay of Sóller, which is actually the only protected port on Mallorca's north-west coast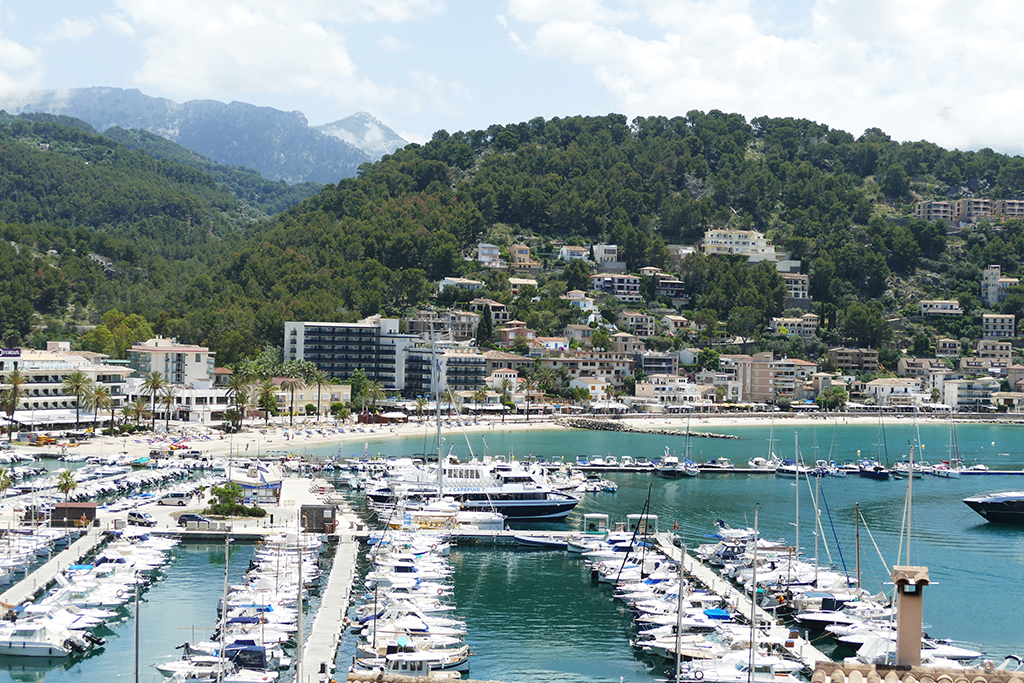 There are hotels, restaurants, and bars as well as almost 500 boat berths. And there are the two beaches Platja des Través and Platja den Repic where you can spend a couple of hours sunbathing and enjoying refreshing dips before heading to Deià and Valldemossa.
In addition to the road connection, the Sóller tram has existed since 1913. While I cannot really recommend the train ride from Palma to Sóller, the tram is actually really nice and with 7 €uro for a single trip absolutely worth it. The tram connects Sóller and Port de Sóller along the course of the old country road as it runs through orange and lemon groves. For this reason, you can actually touch the fruits from your seats – it's as if they are growing right into your mouth.
Once in Sóller, you can hit the beach, obviously. However, I urge you to overcome your laziness and walk the narrow alleys up to Plaça de Santa Catarina from where you have a spectacular view over the Mediterranean sea.
Next to the Plaça is also the Museu de la Mar, Sóller's maritime museum. But note that it's only open from Thursday to Sunday between 10 a. m. and 3 p. m.
I have the feeling not many people come to Port de Sóller for a museum visit.
Deía
After having seen the beautiful town of Sóller, evidently, you might think it cannot get any better. Well, you'll stand corrected. Because just a short twenty minutes drive from Sóller, directly at the foot of the Tramuntana mountains, is the small, dreamy village of Deiá.
Narrow, picturesque streets are winding their way up between lush Mediterranean vegetation with fragrant wildflowers, olive groves, bougainvilleas, and palm trees. These picturesque sceneries, the seclusion, and the uniqueness were undoubtedly the main reasons why the bohemians settled here in the early 20th century. Among them many famous painters, poets, and actors.
It all began with the Austrian Archduke Ludwig Salvator von Habsburg-Lothringen as this nobleman moved to Deià for her wild beauty.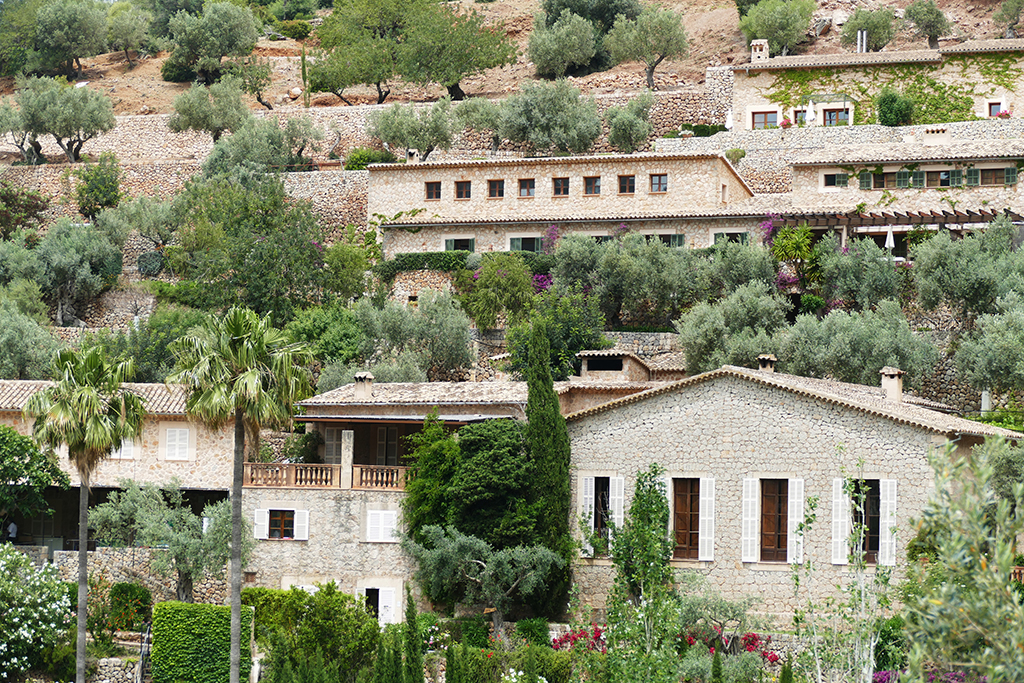 Then, in 1929, the British poet Robert Graves moved to Deià with his American wife and writer Laura Riding. They made this enchanting place known – and popular. Deià slowly morphed from a secluded rural village to a hotspot of international celebrities. For instance, Hollywood diva Ava Gardner wrote about her visits to Graves in her memoir.
Robert Graves died in Deià in 1985. His house was acquired by the Fundació Robert Graves. After refurbishment, La Casa de Robert Graves opened to the public in 2006.
The museum can be visited during the high season from April to October from Monday to Friday between 10 a. m. and 5 p. m., Saturdays only till 3 p. m.
During the winter season, the museum is open Monday to Friday from 9 a. m. to 4 p. m. and Saturdays only till 2 p. m.
The general admission is 7 €uros.
In with the In-Crowd
But Graves wasn't by far the only notable person paying Deià a visit. Famous Spanish painter Pablo Picasso also enjoyed staying in Deià and so did actor Sir Peter Ustinov.
Musicians such as Andrew Lloyd Webber, Mike Oldfield, Bob Geldof, Pierce Brosnan, and Eric Clapton sought relaxation and inspiration at this marvelous place. Finally, Hollywood star Michael Douglas bought Finca S'Estaca where once Empress Sissi used to stay.
Obviously, all this brouhaha changed the life of Deià's original residents. Today's 850 inhabitants are mostly wealthy foreigners.
Nevertheless, Deià is still referred to as the artist village and apart from natural beauty, you find many cute workshops and specialty stores.
Son Marroig
Less than half an hour by bus from Deià is the mighty Son Marroig estate. The oldest buildings date from the 15th and 16th centuries and were built in the Renaissance style. The above-mentioned Austrian Archduke acquired the property in 1870. Eventually, he commissioned a stately Mediterranean garden and a white marble pavilion on the cliffs above the sea. Not far from the estate is the Miramar Monastery, which was one of the Archduke's favorite places.
The Son Marroig estate has been open to the public since 1927. There is a museum on the life and work of Archduke Ludwig Salvator von Habsburg-Lothringen. Apart from the historic furniture, the rooms were decorated with works of art and contemporary furnishings.
You can hike from the garden of San Marroig all the way down to the coast. Plan at least half an hour for each way. Since the descent is on stony paths, you should wear good and sturdy shoes.
Valldemossa
It's only twenty minutes by bus #203 to the next and final stop which is glorious Valldemossa.
The Mallorcan Kings favored the place for its pleasantly mild climate.
However, the town became truly famous after a pair of lovers spent the winter of 1838/39 at Valldemossa's Charterhouse. Those two lovebirds were Polish-born composer Fréderic Chopin and his partner, French writer George Sand.
The Charterhouse of Jesús de Valldemossa was founded in 1399. For this purpose, King Martín donated the then-disused royal palace that he had in Valldemossa. Although the monks did not have the cell spaces required by the customs of this order, they adapted to the royal residence.
A Winter on Majorca
Who did not adapt that easily, were the famous guests I've mentioned above. Chopin and Sand had underestimated the winter days on the island. Obviously, wintertime way up high in the mountains can be quite uncomfortable. Especially Chopin suffered since he already had a lung disease. His health deteriorated over the three months of his stay in Mallorca.
The couple's accommodation was a cell in the Charterhouse of Valldemossa. The Carthusian cell was as big as a house. They had a small front garden and a view of the valley. Here, Georg Sand wrote the novel A Winter on Majorca while Fréderic Chopin composed the well-known Raindrop Prelude.
Apart from the couple's former accommodation, you should visit the old monastery pharmacy, the monastery garden, and the Museo Municipal, where you can admire works by Joan Miró and Pablo Picasso, among others.
Valldemossa is also the birthplace of Catalina Thomás, the island's only saint, born in 1531. Almost every house in the village has a tile with motifs from the life of the saint next to the entrance. Her birth house was converted into a small chapel and can be found on Carrer de la Rectoria. Her body, however, is laid out in a glass coffin in the Church of Santa Maria Magdalena in Palma.
Finally, I'd like to point out a culinary specialty from Valldemossa, the so-called coco de patata. You can get this potato pastry at every bakery and you absolutely have to try it when visiting this charming mountain village.
Route And Schedule
Including the Tren de Sollér
If you want to go to Sollér by the historic train, your day starts a bit later so that you won't be able to spend time on the beach. Also, you won't be able to take the train back to Palma if you visit also Deià and Valdemossa, obviously.
Your itinerary should look something like the below schedule. However, you can adjust it and skip individual spots. For instance, you can skip Son Marroig and go straight from Deià to Valldemossa to have more time there.
| | | | |
| --- | --- | --- | --- |
| Departure | Arrival | Transport | Route |
| 10:00 a. m. | 11:00 a. m. | Tren de Sollér | Palma to Sollér |
| 12:00 p. m. | 12:15 p. m. | Tram de Sollér | Sollér to Port de Sollér |
| 2.03 p. m. | 2.40 p. m. | Bus #203 | Port de Sollér to Deià |
| 4.14 p. m. | 4.41 p. m. | Bus #203 | Deià to Son Marroig |
| 5.30 p. m. | 5.50 p. m. | Bus #203 | Son Marroig to Valldemossa |
| 7.20 p. m. | 8.33 p. m. | Bus #203 | Valldemossa to Palma |
Including a Morning on the Beach
To explore Port de Sollér a bit more and spend a couple of hours on the beach, just follow the itinerary below. Obviously, you can adjust this schedule to your liking respectively skip individual spots. For instance, you might want to skip the stop at Son Marroig and go straight from Deià to Valldemossa. That will make your otherwise very long day a bit shorter.
| | | | |
| --- | --- | --- | --- |
| Departure | Arrival | Transport | Route |
| 8:30 a. m. | 9:26 a. m. | Bus #204 | Palma to Port de Sollér |
| 12:45 p. m. | 12:50 p. m. | Bus #203 | Port de Sollér to Sollér |
| 2.20 p. m. | 2.40 p. m. | Bus #203 | Sollér to Deià |
| 4.14 p. m. | 4.41 p. m. | Bus #203 | Deià to Son Marroig |
| 5.30 p. m. | 5.50 p. m. | Bus #203 | Son Marroig to Valldemossa |
| 7.20 p. m. | 8.33 p. m. | Bus #203 | Valldemossa to Palma |
Note that based on the above itinerary, you won't be able to visit the Cartuja de Valldemossa, the grand old monastery and former royal residence where Chopin and George Sand used to reside since this landmark closes already at 2:30 p. m. So if you don't want to miss out on this visit, you might travel the route the other way around based on this bus schedule, ending it at Port de Sollér.
How to Get There
Above, I put together complete itineraries for your day trip – whether you go by bus or prefer to experience the train ride.
In both cases, you'll leave Palma from either station across from the Plaça Espanya.
If you go by bus, you can take #204 straight to Port de Sóller. Note that the bus stop Port de Sóller Nord is at a roundabout about ten minutes north of the beach – walking, that is.
On weekdays, the first bus #204 leaves Palma at 6.30 a. m. and reaches Port de Sóller in about an hour. Until 9 p. m., buses are going every half an hour respectively after 6 p. m. by the hour.
While from Port de Sóller to Sóller, you can take basically every bus, you have to switch to #203 to continue to Deià and Valldemossa since that's the route through the mountains.
Cash or Card
A single ride from Palma to Port de Sóller costs 7.50 €uro if you pay cash on the bus. As you pay with your credit or debit card, you get a discount – in this case, you pay 40% less. The following rides are shorter and therefore cheaper, something between 3 €uros and 6 €uros. Consequently, the discount is smaller. Nevertheless, the whole tour by bus won't set you back more than 20 €uros in total – and you'll get to see and experience a lot!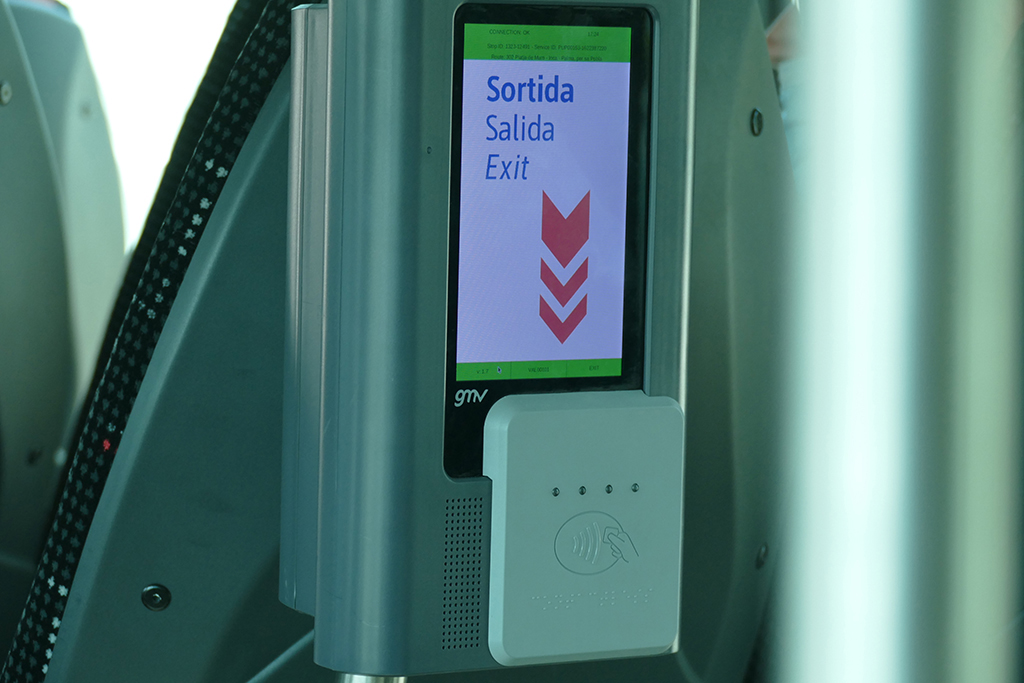 In case your card is not equipped with Near Field Communication – short NFC – you can simply obtain a so-called intermodal card for instance at the Estació Intermodal in Palma and just charge and recharge it as needed. This way, you'll get the same discounts.
Not only is the network of public transportation comprehensive, comfortable, and reliable, the CTM company also has a very informative website in five languages.
Well-Organized Activities
Although I'm an avid solo-travelling woman, I sometimes like to join organized tours. Not only are they a valid option to go to remote places since I'm not driving. They also allow me to meet fellow travellers – for just a short moment or a lifelong friendship.
Therefore, here are some great ideas of what to do when visiting Mallorca. Especially during high season, pre-booking online will guarantee your place at the activity of your choice*:
My day trip to Sóller, Deià, and Valldemossa was only one of many amazing tours during my nine days on the island. To read about the others, go to this post and take your pick!
For general information on Spain, go to the main post. There, you'll find information and tips that will make your trip much smoother and more enjoyable.
There is another great trip from Sóller to the mesmerizing village of Fornalutx. You can get there either by bus from Sóller or Port de Sóller or you can also hike your way up. Either way, check out my post on this fabulous place that was elected Spain's most beautiful village twice!
Map
This map should help you to find all the wonderful places I'm introducing in this post. This way, you can plan your itinerary accordingly:
Pinnable Pictures
If you choose to pin this post for later, please use one of these pictures: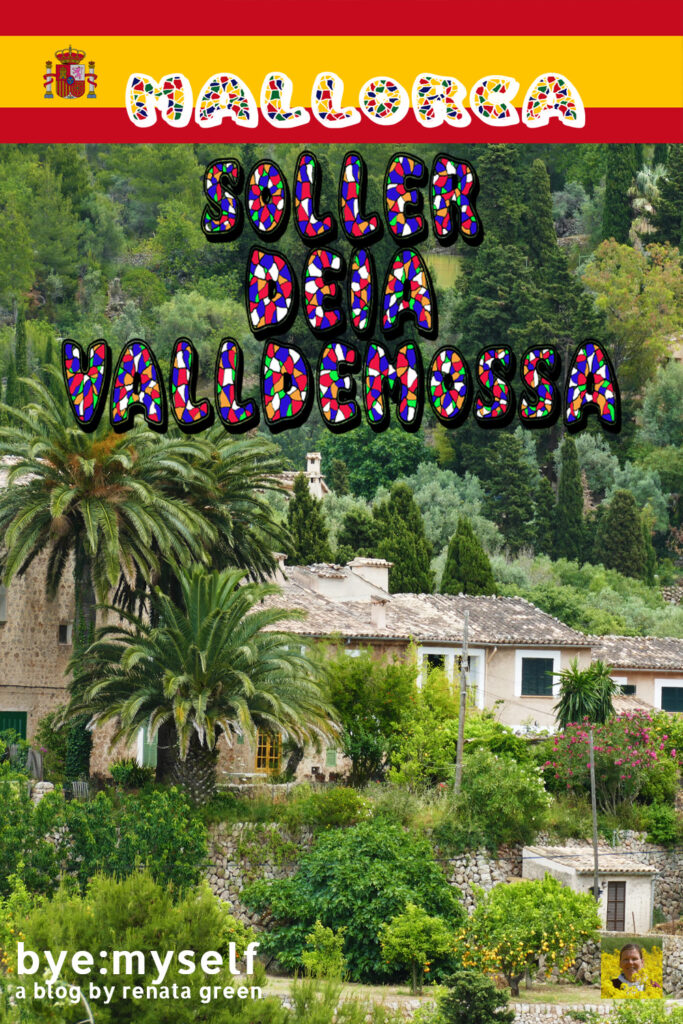 Did You Enjoy This Post? Then You Might Like Also These:
* This is an affiliate link. Hence, If you book through this page, not only do you get the best deal. I also get a small commission that helps me run this blog. Thank you so much for supporting me!