Far too few foreign travellers find their way to Mallipo Beach with the Chollipo Arboretum just a comfortable walk away. So if you need a break from Seoul's hustle and bustle and you are looking for a truly Korean vacation experience, don't look any further: Hop on the next bus to Taean and take a breather like the locals do.
I Don't Understand
After two long days packed with excitement in Korea's capital Seoul, it's time to hit the lesser-beaten paths. I chose the Taean area about two hours west of Seoul. This region is mainly popular with local tourists for its beautiful beaches and amazing natural wealth.
While taking the bus from Seoul's Express Terminal is still quite easy, the fact that apart from annyeonghaseyo which means hello, and gamsahamnida which translates to thank you, my Korean is non-existent makes a trip outside of the global comfort zone a bit challenging.
Standing at the ticket counter of Taean's central bus station, I'm staring at a huge board full of pretty signs and many numbers. "Annyeonghaseyo! Mallipo Beach?" I hope the lady behind the glass shield understands the destination despite my accent. Also, I've seen this beach resort written Maripo as well as Manripo, so I can just count on her imagination. But yes, she seems to understand where I want to go. "12.20 gate 11" is her very brief info. Fair enough, our mutual communication skills aren't sufficient for pleasantries, anyway.
So, gamsahamnida.
Lost in Language
I have to wait for almost an hour and not only am I by far the youngest traveler despite my advanced age, I am also by far the least Asian one. I feel my fellow-travellers inconspicuous glances all over me. Seems like today, Taean's travellers are clearly in for a minor attraction while waiting for their bus.
My bus turns into curb number 11 at 12:10 p.m. While waiting, I learned the Korean characters for Ma, Ri, and Po from the large sign hanging above the curb. Also, I now can identify the word Taean when I see it. Not bad for two days in Korea.
But my enthusiasm and confidence are soon nipped in the bud.
Half a dozen elderly ladies get on the bus before me. As I try to pay with my T-Money card at the machine next to the driver's seat, all of them are shouting some certainly useful information at me. Sadly, they are shouting in Korean. And because I don't understand anything and try again to get an appreciative beep from the stupid machine, they laugh and keep hollering. By now they should realize that I don't understand anything, hence, they repeat their orders louder and louder. Well, ladies, that's not how it works. Unfortunately, if someone doesn't speak a language, simply repeating what has been said over and over again and louder and louder is of no use.
Only when the bus driver explains to me with some gestures and two words that sound close to English that I only need to beep at the end of the journey do I understand and I sit down in an empty seat and half a dozen old ladies now also lean back and relax.
Their mission seems accomplished.
Mallipo Beach
There is a thick layer of haze over the water at Mallipo Beach, giving the beach and the entire landscape a soft-focus effect. Also, it's a Monday in September so only a handful of people can afford to frolic on the beach. Most of the slightly run-down hotels are closed. A melancholic charm of a faded summer is in the air. I'm loving it!
Mallipo Beach is located 18 kilometers away from Taean and consists mainly of a three-kilometer-long and quite broad sandy beach. Alongside this beach runs a lovely promenade which in part is lined by convenience stores and restaurants and surf shops.
Korea has a relatively short surfing history. The very first surfing club opened on Jeju Island in Korea's south only in 1995. It took a while for the sport to really become popular, but today, surfing is also prevalent for instance on Seongjeong Beach in Busan. However, its combination of a long coastline, shallow waters, and warm currents has earned Mallipo the whimsical nickname Mallifornia.
Just Relax
You may now be wondering what I do on a surf beach.
The answer is simple: nothing.
Or almost nothing.
After strolling leisurely first up and then back down the beach, I get my beach towel and my book from my little wooden Seagull house. I spread the towel out in the shade of the wooden boardwalk right below my accommodation.
First, I listen to some music, then I read, then I listen to some music again until I finally nod off.
When I wake up again, the sun is much lower, and only my upper body is still in the shade. It doesn't matter, the sun has now lost its force, so I can safely enjoy the September rays. Another hour and it's getting cooler and I also start to feel hungry.
I think it's time to call it a (beach) day.
Chollipo Arboretum
New day, new beach. Just about two kilometers north of Mallipo is another beautiful beach called Chollipo. Since there is nothing much going on, it's even quieter than Mallipo and perfect if you really want to get away from it all.
But Chollipo has also another attraction in store.
The main reason I squeezed a detour to Mallipo Beach in my super-tight Korea itinerary was actually the Chollipo Arboretum. A year ago, Mimi – loyal readers know that she is my wonderful daughter – gave me a guide to South Korea for my birthday. In this book, the author marked a couple of allegedly not-to-be-missed places, and one of them was the Arboretum.
Chollipo Arboretum is a private botanic garden established in 1979 by US-born Carl Ferris Miller who became a Korean citizen in the same year.
It contains the most significant number of plant species in all of Korea. Obviously, there are native shrubs and trees, but also species that were collected from all over the world.
For the first 40 years, Chollipo Arboretum was closed to the public. Only special guests like scientists as well as sponsoring members were admitted. This was in order to protect the plants, obviously. However, they eventually decided to open it to the public to teach more people the importance and great value of nature. In 2009, one of the seven zones was made publicly accessible.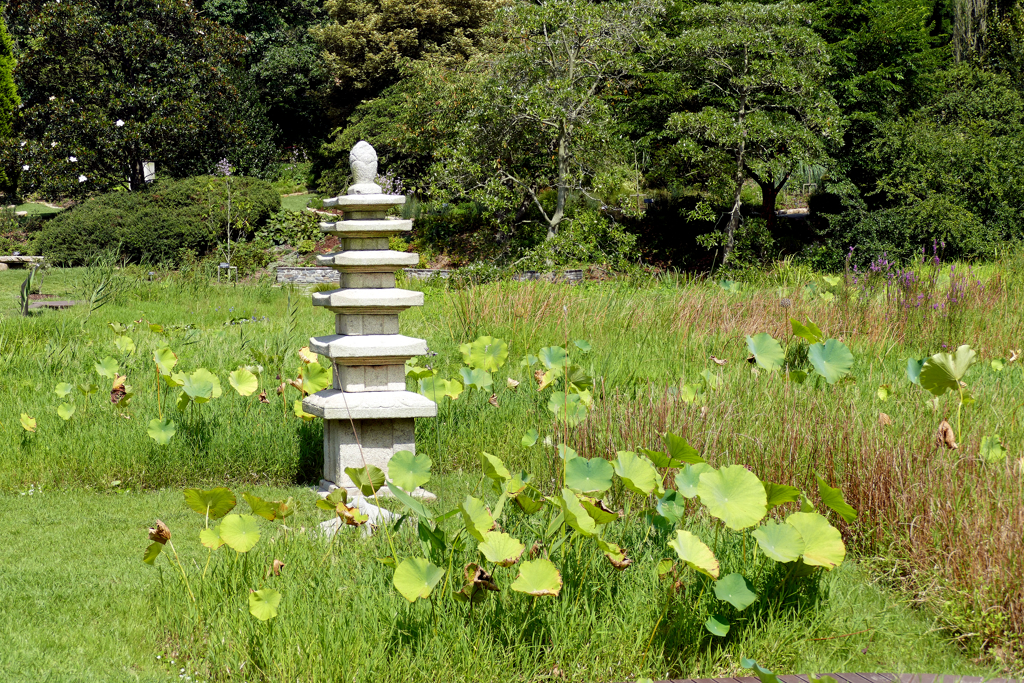 After having visited the Chollipo Arboretum, I'd like to inform you that it most definitely is not one of Korea's not-to-be-missed places. There are many others that come first.
So, was it still worth the trip to the coast?
Hell yeah!
I wouldn't spend there more than two days if you have a limited time in Korea. But those two days will be a wonderfully relaxing break, especially after a couple of days amidst the hustle'n'bustle of Seoul.
How to Get There And Around
Above, I already described a bit of how it is to travel in a country where not only the language is foreign, but the writings are indecipherable. Now, here comes the practical helpful part.
Actually, getting from Seoul to Mallipo or straight to Chollipo is not complicated, however, it takes surprisingly long. At least far longer than the before-mentioned guidebook suggested.
First, you need to take an Express bus at the Seoul Express Bus Terminal in Gangnam to get to Taean. There you change to one of the regional buses. The best way is to ask one of the ladies at the ticket counter. Buses usually go to Mallipo as well as to Chollipo, and the whole trip takes about three to four hours door to door depending on your connection.
You can pay for both trips in cash or with your T-Money card. But you can also pay the leg from Seoul to Taean by credit card.
T-Money Card
But what's a T-Money Card, I hear you asking. Well, it's a very Korean means of payment. It's basically a debit card that you have to purchase for an initial price of KR₩ 2,500. You can get the basic T-Money Card at any subway- and train station as well as at convenience stores around the country. However, you can get a free card for instance when buying a SIM Card* or obtaining a Discover Seoul Pass*.
Eventually, you have to charge it with the amount of your choice either at a ticket vending machine or a convenience store. You can top-up the card in units of KR₩ 1,000 up to KR₩ 90,000 at a time. The total deposit cannot exceed KR₩ 500,000. It's important to know that you cannot top-up by credit card, you have to use cash. Also, I'd recommend topping it up with smaller amounts in case you lose it.
If you don't use up the credit on your card by the end of your trip, you get a refund at all retail locations. However, they won't refund the initial price as well as an additional service fee of KR₩ 500.
As I needed both, a SIM card and T-money, I obtained a combined card through GetYourGuide* and picked it up at Incheon International Airport on arrival. Obviously, you can use the T-Money card even after the SIM card expires.
Where to Stay
While it is absolutely possible to visit the coast on a day trip from Seoul, I would recommend spending at least one night. Otherwise, your detour won't be relaxing but rather stressful.
However, that's a little easier said than done. As I explained, the beaches in Mallipo and Chollipo are resorts primarily frequented by Koreans. Although there are a lot of accommodations – from beach hotels to campsites – they are not easy to book online because the sites are in Korean and Korean only. Also, it's often not possible to pay with foreign credit cards – it's pathetic.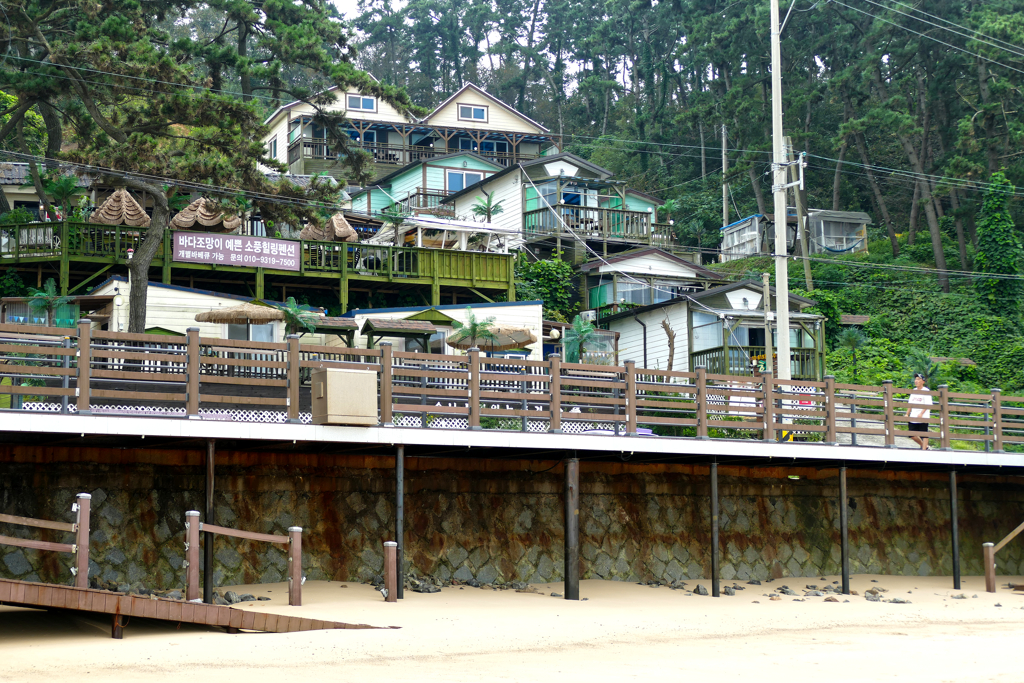 Fortunately, you can find one of the nicest accommodations on international hotel portals, and this way, I ended up at the Taean Manripo Picnic Pension.
The resort is located right across from the beach on a very steep slope. The rooms – which are charming little cabanas – can only be reached via high stairs or a steeply sloping side street. It is therefore advisable to travel light. But this is generally recommended, and if you need instructions and advice for this, I recommend that you read my post Packing Light Yet Travelling in Style.
Glamping
The Taean Manripo Picnic Pension consists of many small wooden bungalows. Since there is no real reception area, on arrival, I wandered around a bit lost between the houses until I ran into a cleaning lady.
Using my translation app, I was able to make it clear to her that I had reserved room Seagull, which is one of the smallest units yet perfectly equipped even for a longer stay. It has a fully furnished kitchen, a small living-bedroom-combo, and a bathroom, which at the same time is the shower cubicle. Simply showering right in the middle of the bathroom is quite common in Korea. Therefore, you should definitely remember to put the towels and your toiletries away before taking a shower!
All bungalows at the Taean Manripo Picnic Pension have their own small terrace, but there are also spacious communal decks with garden furniture and charcoal grills. The whole thing has more of a glamping vibe than a hotel feel, and I really liked that.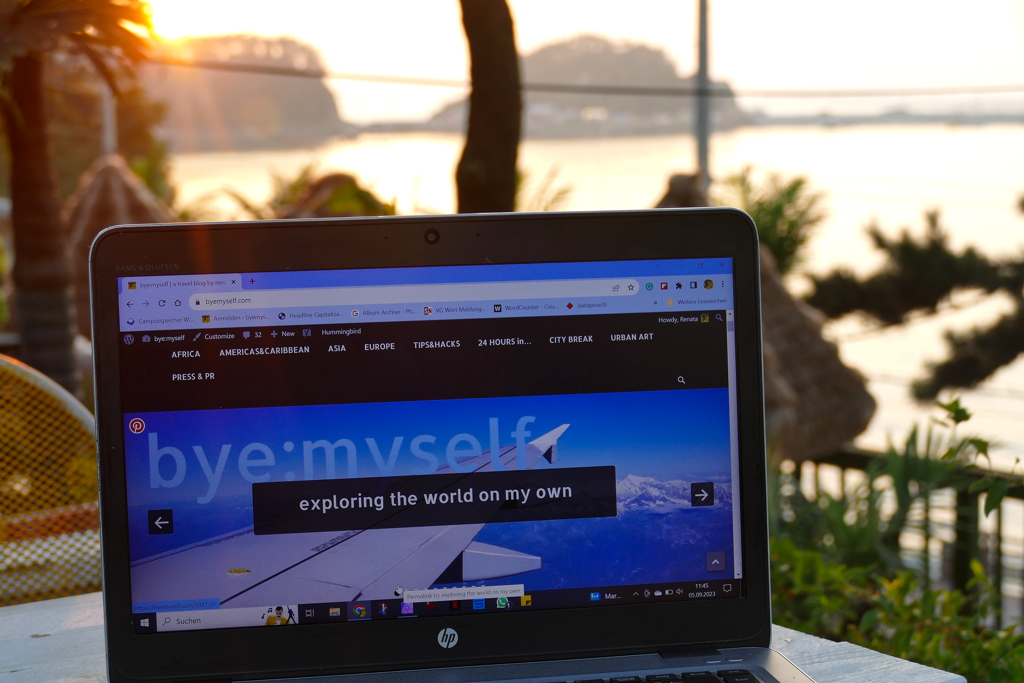 But if you want to try your luck at finding another accommodation in Mallipo or Chollipo, you can do so on this map**:
What to Eat
Mallipo is on the coast, and locals and visitors alike are fishing from the boardwalk, from rocks, or the seashore. Consequently, the number of seafood restaurants is endless. You can order vast platters of grilled eel, fried prawns, or gaenggaemi muchim, hence, seasoned skate wings everywhere. It doesn't get any fresher.
And which option have those who love the sea but don't like the fish?
Quite simply, they go to BBQ Chicken And Pizza. They serve pizza and fried chicken. And before anyone turns up their nose and says it's not authentic, let me tell you that Korean fried chicken is one of the most important staple foods in the country. So keep your hasty judgment to yourself!
Not only is the chicken at BBQ Chicken And Pizza incredibly good and fantastically seasoned, it also comes in huge portions! Without exaggeration, my portion would have fed four hungry eaters. I was hungry, but only one single eater, so I packed three-quarters of my portion to take away. Not only did the friendly cook willingly pack up the mountain of chicken parts. He also put a portion of pickled radish and a small can of Coke in the bag. Just out of kindness.
I've told you you should definitely give BBQ Chicken And Pizza a try!
Cash And Cards
The currency in Korea is called ₩on and abbreviated KR₩. There are bills of 1,000, 5,000, 10,000, and 50,000 and coins of 10, 100, and 500 ₩on.
As of November 2023, the exchange rate is 1,000 KR₩ = 0.75 US $ (current rate) respectively 1,000 KR₩ = 0.70 €uro (current rate).
Most of the time, you can pay with either cash or card in Korea. However, some businesses accept only cash while others take only cards. Although payment goes smoothly most of the time, you might encounter some hurdles here and there.
In Korea, they draw a not-so-fine line between local cards and international cards.
Therefore, it happens that certain readers are only suitable for cards issued in Korea. More importantly, you can get only money from ATMs that are suitable for so-called global credit cards.
Either way, it's recommended to have always at least a small amount of cash on you as international cards may decline for no apparent reason.
Language
With over 78 million native speakers, Korean is one of the 25 most spoken languages ​​in the world. And let me tell you, it's basically all Koreans do speak. I was told only the older generation wouldn't speak any English, young people would. According to my experience in roughly a dozen places in Korea – from big cities to hidden beach destinations like Mallipo – this is not the case. Contrary to older people, young Koreans know some English words. That doesn't make them English speakers even of a rudimentary kind.
But fear you not, streets, stations, and many signs are written in English, so you won't get lost. In Seoul's subway and in many buses the stops are also announced in English. Some restaurants do have English menus, however, when you order the dish, the waiting person might not understand what you want unless you point at the Korean version. Happened to me on various occasions.
All this makes travelling through Korea possible even if you don't speak the language and you're not familiar with Hangul, the Korean alphabet. However, your interaction with locals will remain extremely limited, to say the least.
Howsoever, I recommend memorizing at least this short list of some of the most common courtesy expressions:
| | | |
| --- | --- | --- |
| English | Korean | Pronunciation |
| Hello | annyeonghaseyo | anyonghaseo |
| Bye bye | annyonggiseo | anyonggiso |
| Thank you | gamsahamnida | kamsamida |
| You're welcome | cheonmaneyo | chonmaneo |
| Please | juseyo | djuso |
| Excuse me | jeogiyo | djokiyo |
| Sorry | joesonghamnida | djusohamida |
| Yes | ne or ye | ne resp. ye |
| No | aniyo | anyo |
Useful Apps
You don't always have to depend on the internet and you don't need an app for every single move. Nevertheless, at least a smoothly functioning map and a good translation app are not only helpful but downright indispensable. I think I have clearly demonstrated this above with my personal experiences. Here, I would like to introduce you to the two apps without which my trip through Korea would certainly not have been so pleasant and smooth: Naver Maps and Microsoft Translator.
Naver Map
First things first: It's incorrect that Google Maps doesn't work in Korea. You can open the App and see where places are. However, it doesn't give you useful information on public transport and it doesn't suggest routes. Yet, it recognizes who you are: The blue dot. So while you can check where you are at that very moment, you cannot plan out routes.
Fortunately, there are two other Apps in Korea, namely Kakao Map and Naver Map. Since I had tried out the latter and was happy with it, I stuck with it without even giving Kakao Map a try.
How to Use It
As you can see in the pictures below, Naver works basically just like Google Maps: You type in from where to where you want to go, specify the date and hour, and choose the means of transportation. Then, Naver does the magic and suggests various options.
However, Naver tends to be patriotic and sometimes transcribes destinations into Hangul so you cannot check that it actually found the place you were looking for. I solved this problem by verifying Naver's suggestion on Google Maps.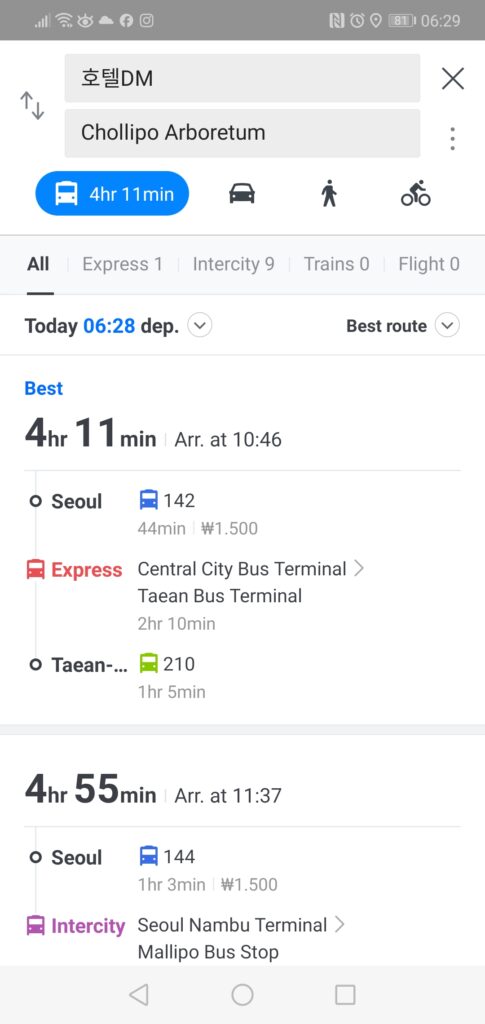 Also, Naver sometimes didn't show any search results. For instance, if I wrote XYZ restaurant instead of restaurant XYZ. In these situations, I first looked it up on Google Maps because like I said, it does work insofar as it finds places. Then searched for the spot right on Naver's map. As I found it, I tapped on it on the screen and saved the result for future reference.
To be able to save my search results, I set up a free account. I organized them in folders, you can see them in the second picture.
When Naver showed the result in Hangul, I wrote the Latin equivalent in the field for notes before saving. This way, I had the places once and for all in Roman letters, and they also appeared on the map. Eventually, I planned my routes by simply tapping on two marked spots on the map.
You can download the Naver App for Android and for iOS
Microsoft Translator
Just like it's a personal preference if you search your way with the help of Naver Map or Kakao Map, it's totally up to you which translation App you're using. And even if you don't choose any of these, most Koreans do have a translator on their phone when they have to deal with foreigners on a regular basis.
I used the Microsoft Translator and was quite happy with it. It offers the same kind of assistance as most other translation Apps, too: You can speak, write, or take a picture of a script and the App will translate it.
You can download the Microsoft Translator for Android and iOS.
Connection and Communication
You can connect to the internet without any issue at basically every museum, eatery, café, and hotel, obviously, as well as to open Wi-Fi in many public areas.
As I depended so much on a reliable internet connection during my trip through Korea, I highly recommend getting your personal data either by a mobile router or a local SIM card. I kid you not, the few moments I for some reason didn't have an internet connection, I felt like travelling blindfolded.
There are prepaid SIM cards by various companies such as KT Corporation, SK Telecom, and LG U+. I got my card from the latter and loved it. LG U+ offers SIM cards, eSIM, as well as portable Wi-Fi. My card came with a T-money card. I obtained it through GetYourGuide* and picked it up at Incheon International Airport on arrival. For unlimited data, they charge between KR₩ 27,500 for 5 days and KR₩ 99,000 for 40 days. I had the 20 days-version for 60,500 ₩on*.
In South Korea, they use plug types C and F. Their voltage is 220 V, and the frequency is 60 Hz. Whereby, nowadays, in general, all these chargers have integrated adapters so that the voltage and frequency don't really matter.
By the way, you'll find this information and many more comprehensive travel tips in my post World's Most Complete Travel Information – an indispensable globetrotter-classic.
Map
On this map, you can see where all the wonderful places I'm introducing in this post are located.
Clicking on the slider symbol at the top left or the full-screen icon at the top right will display the whole map including the legend.
Mallipo Beach and Challipo Arboretum are only one of three amazing day trips you can easily take from Seoul. I also paid Korea's only Chinatown in Incheon a visit and took a wonderful hike on the old city wall of Suwon. However, to read about other great places I've seen on my tour around South Korea, go to the main post and take your pick! There, you'll also find further valuable general information that will make your trip to Korea smoother and much more enjoyable.
Pinnable Pictures
If you choose to pin this post, please use one of these pictures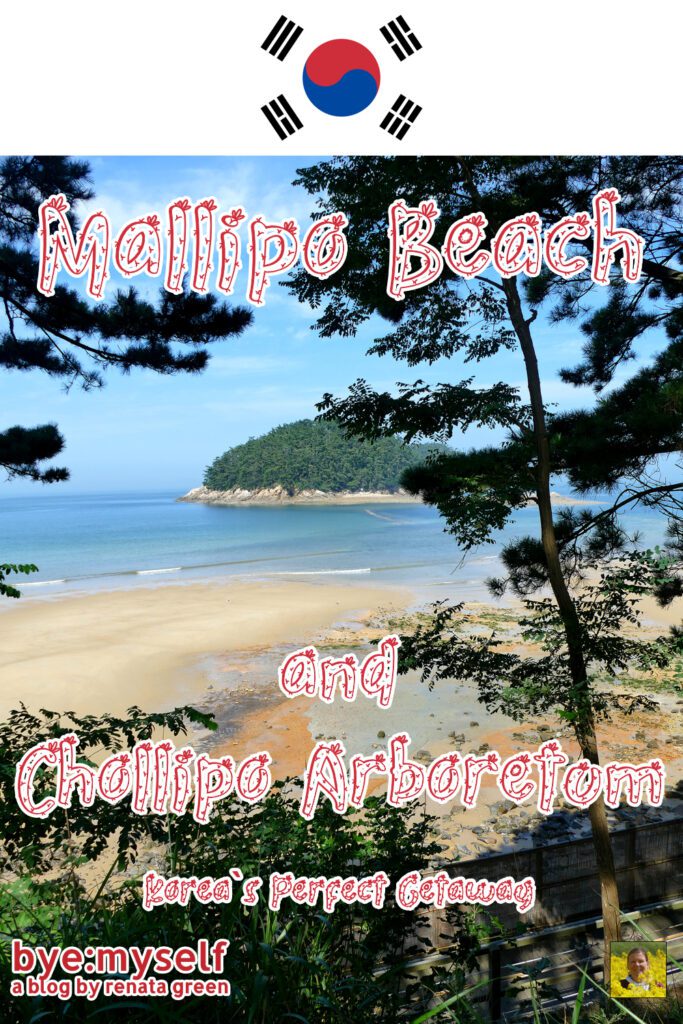 Did You Enjoy This Post? Then You Might Like Also These:
* I received this service free of charge as part of my affiliate cooperation with GetYourGuide for participating in a special promotion. The recommendation of this service is based on my own experience and was in no way influenced by my cooperation partner.
** This is an affiliate link. Hence, If you book through this page, not only do you get the best deal. I also get a small commission that helps me run this blog. Thank you so much for supporting me! All other links are a free service to my readers and were in no way remunerated.