Who needs an expensive hop-on hop-off bus? Follow my guide to Berlin and you'll get to see most for less by taking the city bus 100.
In conclusion, all you need is a cheap WelcomeCard that allows you to explore Germany's capital on your own. Oh, and of course this guide.
Berlin by Bus 100
Talking 'bout getting the most. In case you actually get off at every attraction that I am introducing, you won't be able to do the tour in one day. In one go, it actually doesn't take much longer than half an hour.
Nevertheless, already the Museum of German History is worth a visit of a couple of hours.
But take it as a golden thread and follow the route in legs depending on how many days you have and what's most interesting for you.
But now: Come on, hop on and let's start at the stop Alexanderplatz and go towards Zoologischer Garten.
The Grand Tour of Berlin by Bus 100
Spandauer Straße / Marienkirche
Towers of Power
Found a good seat? Hm, too bad because already two minutes later you should get off to see the first great attractions.
You will notice the first two 'high' lights right away. There is the legendary TV tower next to the Weltuhr, the Urania World Clock, a remnant from GDR times.
And a leftover from the GDR-times is also the TV tower. Its platform grants you a great view of Berlin. You will enjoy it even more when having a drink at the bar or a good meal at their restaurant.
The tower is certainly a great spot to start – or finish – this Grand Tour of Berlin.
Opening hours:
March to October from 9 a.m. to midnight
November to February from 10 a.m. to midnight
However, there is a great alternative to see Berlin from above right next to the TV tower. The Park Inn* hotel on the Alexanderplatz is not only one of Germany's largest hotels. They also have an amazing rooftop terrace. It is accessible right from the hotel lobby on the ground floor. Nevertheless, you need to climb the last five floors on foot.
There is an entrance fee of 6 €uros. While between April and September, they are closing at 10 p. m., from October to March, they are open only till 6 p. m. Also, the roof terrace is only open when the weather conditions permit.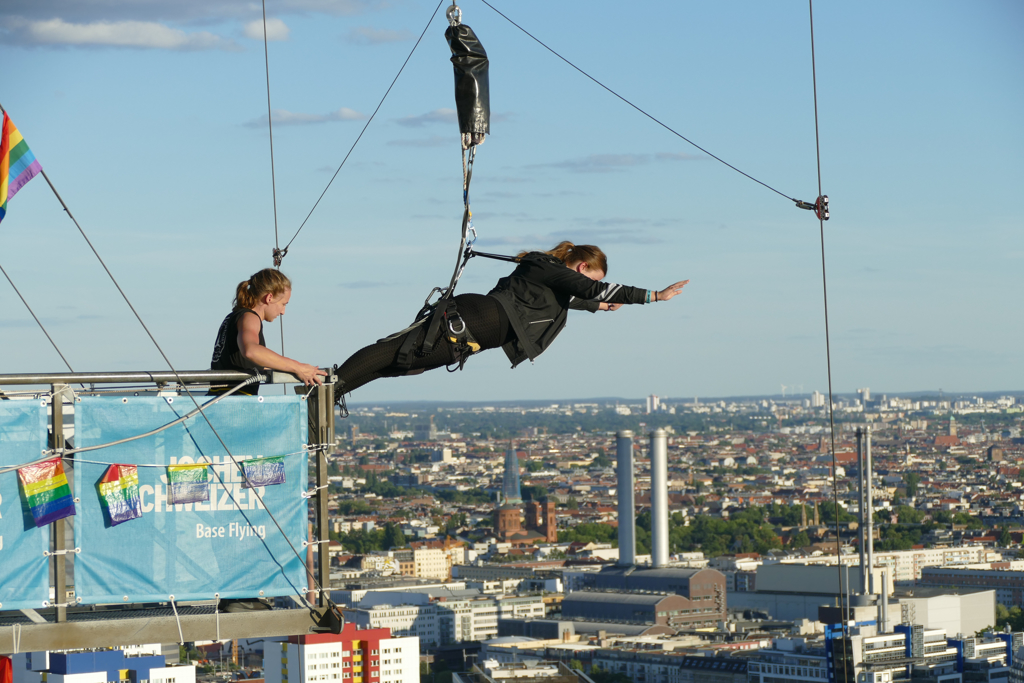 In the tower's vicinity is the Marienkirche. St. Mary's church, was built as a Roman Catholic house of worship in the early 13th century. Since the Protestant Reformation, however, it has been a Lutheran Protestant church.
Neptun's Fountain
South of the church behind Luther's back, you get to the Neptunbrunnen, Neptun's fountain. Four women around the God of water are representing Prussia's main rivers.
And behind them, you'll spot the Rotes Rathaus, the red town hall. In this case, this building owes its name to the color of the clinker bricks. Nonetheless, it used to be the town hall of the former socialist, hence 'red', half of Berlin.
After the reunification, it has housed Berlin's administration since 1991.
Turn right and walk one block towards the Nicolaiviertel, hence, in one of Berlin's cutest historic parts.
Here the spirit of the turn of the 20th century is still alive.
Heinrich Zille's Berlin of the Small People
Firstly, learn about famous illustrator and photographer Heinrich Zille who portrayed the common and proletarian people in their impoverished tenements.
As a matter of fact, one can compare his work about this neglected group of citizens to Jacob Riis' documentary work How the other half lives.
So a visit to the Zille Museum is proof that Berlin was not all Palais this and statue that. There had been social conflicts and problems just like in any other big European city during the great depression.
Zille Museum
Propststraße 11
10178 Berlin
Open daily from 11 a. m. to 6 p. m.
A Progressive Era
Getting hungry? Then you came to the perfect place since only two blocks from the Zille Museum is the restaurant Zum Nussbaum. During Berlin's fresh'n'wild era between the two world wars, this joint was the place to be. It was frequented by famous local artists like Zille and cabaret singer Claire Waldoff.
Waldoff was famous for her rough and tough humor – and also for not making a big secret of her sexuality. Today, she'd probably be an iconic figure in the LGBTQ movement.
To this date, the Nussbaum keeps up the curious habit of selling a glass of beer or Fassbrause, some homemade lemonade, through a window opening to the side.
But of course, you can sample much more than just a drink. Actually, they serve really good local cuisine such as liver Berlin style or Bulette, which is local slang for a Hamburger.
Zum Nussbaum
Am Nußbaum 3
10178 Berlin
The Bourgeois Life
Across from the Nussbaum is the Nicolaikirche, St. Nicholas' Church, which obviously gave this quarter its name. Built in the early 13th century, it is Berlin's oldest church. Originally Roman Catholic, eventually, it converted to Lutheran after the Protestant Reformation.
Next to the church, you will notice an elegant three-storey house, built in late baroque style. That's the Knoblauchhaus that got its name after contractee Johann Christian Knoblauch.
Today, it houses a museum. Here you can experience how the wealthy Jewish bourgeoisie used to live during the Biedermeier period in the early 19th century.
Museum Knoblauchhaus
Poststraße 23
10178 Berlin
Open Tuesday to Sunday from 10 a. m. to 6 p. m.
Ephraim Palais
There are many beautiful old, well-preserved buildings to be admired in this neighborhood. Albeit, one of the most grandiose ones is the Ephraim Palais.
Built in the 18th century in a sumptuous Rococo style by Veitel Heine Ephraim, Frederick II's court jeweler, it today houses one of my favorite museums in Berlin. On three floors, they organize Berlin-related, temporary exhibitions.
A fun and inspiring way to learn about the city's changing and colorful past over the last 800 years.
Ephraim Palais
Poststraße 16
10178 Berlin
Open Tuesday to Sunday from 10 a. m. to 6 p. m. (Wednesday noon to 8 p. m.)
Communist Reminders
To continue our tour, walk back from the Palais across the Nicolaiviertel towards the main street where we came from.
Walking straight across Memorial Park along the river Spree, to your right, you will spot the Karl-Marx-Forum. This unusual site memorizes the two philosophers and authors of The Communist Manifesto from 1848 Karl Marx and Friedrich Engels. To honor these two communist theorists, the GDR government installed this educative memorial in 1986.
How the Other Half Lived
Once we're on it: No visit to Berlin would be complete without learning about life in the Eastern part of the city before the wall was torn down in 1989.
To do so, just cross the Liebknechtstraße to visit the DDR Museum.
Here you can learn about everyday life in the former socialist republic – and all the peculiarities of that system.
By the way, Karl Liebknecht was – together with Rosa Luxemburg – the co-founder of the Communist Party of Germany.
DDR Museum
Karl-Liebknecht-Str. 1
10178 Berlin

Open every day from 10 a. m. to 8 p. m., Saturdays to 10 p. m.
Lustgarten
Coming from the DDR Museum, you just have to cross the Liebknecht bridge and you find yourself on the Museumsinsel, the Museums' Island.
The Cathedral
This complex consists of a group of fantastic museums, thoroughly renovated after the German reunification. After all, the ailing government of the GDR simply didn't have the means to maintain this kind of 'follies'.
As you cross the Liebknecht bridge, you'll spot the Berliner Dom, the Berlin Cathedral, to your right. It was built in the early 20th century in a historicist style.
They call it Cathedral, which technically is wrong since it has never been the bishop's seat. However, there are services taking place – and off service hours, the Cathedral can be visited.
Altes Museum – Old Museum
The first of the five museum island's venues you'll notice, is the Altes Museum, the Old Museum.
Built in 1830, it houses a collection of antiques from different ancient cultures. Especially remarkable is the classicist building's rotunda – inspired by the Pantheon in Rome.
Please notice the large granite bowl by Christian Gottlieb Cantian in front of the entrance. It was meant to decorate the rotunda. But with a diameter of almost 7 meters, it was too large and hence banished to the Lustgarten.
Alte Nationalgalerie – Old National Gallery
As you walk around the right corner of the building, you'll get to the Alte Nationalgalerie, the Old National Gallery. Beautiful arcades surround this Palace from 1876.
This museum houses a rich collection of sculptures and paintings from the 19th century. You'll get to see some of the greatest works by romantic Caspar David Friedrich as well as Adolph von Menzel who depicted countless scenes from Frederick the Great's life.
In my post on Potsdam, I've introduced this great Prussian ruler. Potsdam, by the way, is less than half an hour east of Berlin and makes a great day trip.
Neues Museum – New Museum
Right next to the national gallery is the most famous of these venues. The Neues Museum, New Museum, was initially finished in 1859. Since it was destroyed in WWII, it had to be rebuilt and finally re-opened in 2009.
Not only does it house the world-famous head of Nofretete – along with other treasures from the Egyptian Museum of Berlin. I particularly love to go there for the daring, modern architecture.
In his design, English architect David Chipperfield combined in a unique fashion the old, partly run-down parts of the building with harsh, sober elements like undressed stone and concrete.
It's one of these pieces that you either hate or love. I opt for the latter.
Pergamonmuseum
The New Museum and the next venue are standing back to back. You just have to go around the building to enter the Pergamonmuseum.
Now, this exhibition is just incredible. It actually consists of parts from ancient cities such as the Pergamon Altar, the Ishtar Gate of Babylon, and the Marketgate of Miletus.
Next time when you wonder if you are bringing too large a souvenirs from your trip, just remember that others did bring a gate back home.
Don't miss the museum's upper part which focuses on Islamic Art.
Bode Museum
Last – but by no means least – is the Bode Museum on the island's northern tip right next to the Monbijou Bridge, a two-part pedestrian bridge crossing the Spree as well as the Kupfelgraben. The Bode Museum was the last of this complex that was opened. Since 1904, it has housed exhibits of sculpture collections and late Antique and Byzantine art. I find especially impressive the artistic miniature ivory carvings; and yes, I know that making things from ivory is a terrible thing – but these are from the 17th and 18th centuries. I would not praise an artist that works with ivory today.
Opening Hours and Deals
All galleries on the Museumsinsel are open from Tuesday to Sunday from 10 a. m. to 6 p. m., on Thursdays till 8 p. m. with the exception of the Bode Museum. As you'll spend the entire afternoon here visiting also the other galleries on the Museumsinsel, you should opt for the Museum Island Ticket that sets you back 19.00 €uros. This pass already pays out if you visit only two museums.
However, before you do so, check other options to save money on Berlin's attractions in the info section below.
Staatsoper
At the next stop, you'll get to see some of the old, partly re-constructed buildings from the glorious Neo-Classicist era of the 18th century.
The first building behind the Schlossbrücke, the Palace Bridge, to the right is the Zeughaus, the oldest building on the prestigious promenade Unter den Linden.
German History in a Nutshell
Built as an artillery arsenal in the late 17th/early 18th century, It's been housing the Museum of German History since 1952, today it's the German Historical Museum.
Why this petty change of name? Well, don't forget that the part of the route between the Alexanderplatz all the way to the Brandenburger Tor used to be East Berlin, hence there was another political system and a different view of things – so especially historical facts were presented quite differently than they are today.
Anyway, this is one of my favorite museums in all of Germany: All the fascinating details on the development of not only German but also European society, since everything was connected; as it still is. If you really want to take your time seeing not only the permanent collection but also the fascinating temporary exhibitions, plan at least three to four hours for your visit Also, they have a nice café where you can take an agreeable break.
Deutsches Historisches Museum
Unter den Linden 2
10117 Berlin
Open daily from 10 a. m. to 6 p. m. except December 24
Guards of the Past
Next to the museum is another elegant building, the Neue Wache, the New Guardhouse, which was inaugurated in 1818 on the occasion of Tsar Alexander I of Russia's visit.
Today, it serves as a memorial for the victims of war and dictatorship. In its center, there is only one statue, an enlarged version of Käthe Kollwitz's sculpture Mother with her Dead Son.
Her whole life, German artist Käthe Kollwitz dedicated her artistic work to raising awareness of the destruction and pain caused by war.
Humboldt University
The next structure on this side of the street is the main building of the world-famous Humboldt University. Named after Wilhelm von Humboldt, Alexander von Humboldt's older brother, it was opened in 1809 and is, therefore, the oldest of the four universities in Berlin.
Obviously, the list of famous students is long and impressive. Karl Marx and Friedrich Engels, poet Heinrich Heine and writer Alfred Döblin (Berlin Alexanderplatz – a must-read when in Berlin), German politician Otto von Bismarck, African-American poet and activist W. E. B. Du Bois (Porgy and Bess), to mention just a few.
Here you should cross the street. However, stop to admire the impressive equestrian statue of Frederick the Great, designed by Christian Daniel Rauch and unveiled in 1851.
Bebelplatz
So across the street from Humboldt University is the Bebelplatz. This grand square is named after August Bebel, a founder of the Social Democratic Party of Germany.
The most imposing building is certainly the Staatsoper, the State Opera. Like most of these grand structures from the Prussian era, the former socialist government neglected this building, too. Since 2009, considerable renovation work was taking place, so the Opera was re-opened in 2017.
All the way back on the square is the Roman Catholic St.-Hedwigs-Kathedrale, St. Hedwig's Cathedral, the seat of the Archbishop of Berlin. The inside of this building from the 18th century, which was severely damaged in WWII and rebuilt by the GDR government, was recently renovated and is certainly worth a visit.
Hidden Gem
East of the Cathedral is my favorite church in Berlin, namely the Friedrichswerder Kirche. I love the clean, sober architecture by Karl Friedrich Schinkel, designed in the early 19th century.
It houses part of the sculptures belonging to the Alte Nationalgalerie. As you step into the church building, the sight of all those white Neo-Classicist statues will just blow you away.
You can visit the church free of charge from Tuesday to Sunday between 10 a. m. and 6 p. m.
Sad Reminders
Before we continue, I'd like to point out the Memorial to the Nazi Book Burning that took place on May 10, 1933, in many places in Germany.
I guess this is one thing that you will notice basically everywhere in Germany. There are all kinds of plaques and statues and memorials remembering the Nazi barbarism everywhere. From the small Stolpersteine to the huge Memorial to the Murdered Jews of Europe as well as the Orte des Erinnerns, the Spaces of Remembrance. Of course, in Berlin it's just overwhelming, but also other cities and towns make sure that the horror of fascism is not forgotten and raises awareness among the younger generations.
Unter den Linden / Friedrichstraße
However, Berlin is basically breathing history; because at the next stop, you'll be confronted with the separation of Berlin – technically a result of WWII, too.
The subway station Friedrichstraße played an important role for citizens of Berlin to keep in touch with friends and relatives behind the 'iron curtain'. It was not only a transfer station for ordinary people. Since it was sort of a leak, it was also used as a loophole by secret services on both sides.
Today, there is McDonald's and Starbucks.
But if you are interested in learning more about this crazy Cold War Phenomenon, there is the exhibition at the Tränenpalast, the Palast of Tears, getting into detail.
Tränenpalast
Reichstagufer 17
10117 Berlin

Open Monday and Wednesday to Friday from 9 a.m. to 7 p. m. and weekends from 10 a. m. to 6 p. m.
Souvenir, Souvenir
On this part of Unter den Linden are a couple of souvenir stores of the typical touristy kind. Here you find T-shirts, caps, mugs, ashtrays, postcards….whatever the average tourist likes to send or take home.
Not far from the Friedrichstraße on the right at Unter den Linden 28 is a Nivea-flagship store where you get the whole range of their products including some specials.
Although Nivea is originally from Hamburg, it might make a nice souvenir even from Berlin.
Komische Oper
If you are looking for some evening entertainment, I recommend one of the shows at the Komische Oper. Although the name can be translated to funny opera which I've always found quite offputting. Sounds like some cheesy comedy club, but is actually a marvelous'n'modern musical theater.
But as a matter of fact, it's a real opera with the standard repertoire, only that they really achieve to show the old stories in completely new settings and even contexts. Some of their productions can be pretty bizarre and daring – such as their quite pornographic The Abduction from the Seraglio, set in a whore house, others are just mind-blowing and not to be missed – like The Magic Flute, set in the aesthetics of a silent movie. Consequently, I really urge everybody to see this one!
Komische Oper Berlin
Behrenstraße 55-57
10117 Berlin
Brandenburger Tor
Yes, we are slowly getting there, to the iconic building of Berlin, the Brandenburger Tor, the Brandenburg Gate.
But before you stride through this historic gate, there are some attractions you should at least know about.
If you are interested in the history and architecture of the Brandenburger Tor, the Brandenburg Gate, then I'd like to suggest that you visit the museum at the North-East corner of the Pariser Platz – which unfortunately is open only on weekends from Friday to Sunday between 10 a. m. and 6 p. m.
Brandenburger Tor Museum
Pariser Platz 4A
10117 Berlin
Hotel Adlon
Want to take a break in a really, really posh and traditional setting? In 1997, in the 1920th world-famous hotel Adlon – practically Berlin's Waldorf Astoria – re-opened for its rich'n'famous guests and is, therefore, the perfect place for an elegant tea-time or coffee break.
Even if you come just for coffee, you'll feel the old-world charm coming alive.
Hotel Adlon Kempinski
Unter den Linden 77
10117 Berlin
Akademie der Künste – Academy of Arts
One block further, on the Southside of the Pariser Platz, you'll find the Akademie der Künste, the Academy of Arts.
Founded in 1696 by Frederick I., you wouldn't believe how trendy and hip today's exhibitions are.
The Akademie der Künste is also the central point of the Berlin Biennial. Read my review in a nutshell in this post.
Akademie der Künste
Pariser Platz 4
10117 Berlin
The Academy is open daily from 10 a. m. to 8 p. m.
Please note that they have another branch on Hanseatenweg 10 – see also my map at the end of this post.
Brandenburger Tor – Brandenburg Gate
And now is the big moment that you can walk through the Brandenburg Gate – an arch that marked during the division of Berlin the frontier between East and West.
Whereas today, a lot of people try to make a €uro by posing as Soviet or GDR soldiers with tourists.
Anyway, there is a lot of brouhaha going on here, so be a bit careful with your belongings – it is a tourist point and therefore also a tourist trap.
The gate itself was commissioned by Frederick William II and built between 1789 and 1793 in neo-classicist style. Its main decoration is, of course, the Quadriga. This carriage is a work by sculptor Johann Gottfried Schadow. In addition, more of the master's art can be admired at the Alte Nationalgalerie. Of 18 city gates, the Brandenburg Gate is the last existing one.
Besides having been an important symbol for many epochs of German history, yes, also the very dark ones, it is a fantastically adorned structure. For example, notice the wonderful reliefs and friezes.
Denkmal für die ermordeten Juden Europas – The Memorial to the Murdered Jews of Europe
Talking about the dark years in Germany's history: Before you continue to the next stop on the route number 100, you should turn left after the gate and walk one block to the Denkmal für die ermordeten Juden Europas, The Memorial to the Murdered Jews of Europe.
Most people just walk between the 2,711 columns forming a vast maze. However, some do jump around on them, taking a little rest, or having a short picnic. Obviously, all their activities are quite inappropriate on a site commemorating about 6 million murdered humans.
Sadly, many visitors just come here to take pictures – yes, selfies making a duck mouth, too – and do not visit the exhibition in the galleries underneath the steles.
Denkmal für die ermordeten Juden Europas
Cora-Berliner-Straße 1
10117 Berlin
The exhibition is open Tuesday to Sunday 10 a. m. to 8 p. m.
And now back on track – back to the Grand Tour by bus number 100.
Reichstag / Bundestag
The Reichstag is the seat of the German Parliament. The building is designed in a neo-renaissance style and was constructed between 1884 bis 1894. Its decorations like sculptures and reliefs symbolize German regions, rivers, crafts, and trades.
While the Reichstag, of course, symbolizes political power, it is also a tourist attraction. Already in the Summer of 1995, before the first assembly, after the restoration took place, Christo and Jeanne-Claude realized their art project Wrapped Reichstag and enveloped the building in silver fabric, held together by blue cords.
By now, the building is unwrapped again and still a tourist magnet. From its huge glass dome, you have a great view of the adjacent sights – and can look into the debating chamber below.
Visiting is much less complicated than you'd think: You can book a visit online where you have different options for guided tours. If you are a rather spontaneous person, you always have a good chance to get a ticket about two hours before your visit. Just inquire at one of the service points outside the building. Remember to have a valid ID on you.
Deutscher Bundestag
Platz der Republik 1
11011 Berlin
The dome can be visited daily from 8 a. m. till midnight.
Haus der Kulturen der Welt
I bet you cannot name one kind of art that is not performed or exhibited at this extraordinary place. Whether visual art, performances such as theater or ballet, lectures, concerts – everything is taking place at the House of the Cultures of the World.
An equally fascinating aspect is the building's story. It was designed in 1957 by the American architect Hugh Stubbins as a gift by the USA to Berlin – and it was here where John F. Kennedy spoke during his visit to Berlin in June 1963 and said the unforgotten words Ich bin….shucks, can you remember what he said again?
Haus der Kulturen der Welt
John-Foster-Dulles-Allee 10
10557 Berlin
Schloss Bellevue
Nope, Germany is not a monarchy, and yet the President – currently Mr. Frank-Walter Steinmeier – resides in a Palace, namely Schloss Bellevue. But actually, he does not really live there.
Nonetheless, the neoclassical palace, built in 1786, is his official seat and can be visited on appointment in groups of up to 25 participants. However, you have to apply for the visit about nine months in advance.
Schloss Bellevue
Spreeweg 1
10557 Berlin
Gaslaternen-Freilichtmuseum – Gas Lantern Open-Air Museum
Crossing the Tiergarten park from Bellevue South towards the Straße des 17. Juni, you can enjoy the sight – and depending on the hour, also the light – of 90 ancient gas lanterns. This historical art project was completed in 2009.
By then, the collection of the Gaslaternen-Freilichtmuseum (the gas lantern open-air museum) consisted of 90 specimens from 25 German cities as well as eleven Europen such as Dublin, London, Zurich, Copenhagen, and Amsterdam.
Großer Stern
Next stop – more Prussian history. Or, if you are a house-music and love parade fan, an icon of the parade that took place in Berlin almost every year between 1989 and 2006.
I'm, of course, talking about the famous Siegessäule, the Victory Column.
Located in the very center of the Tiergarten park, facing the Brandenburger Tor to the East, the 67 m / 220 feet-high gilded column commemorates the Prussian victory in the Prussian-Danish war in 1864.
The observation deck is another great opportunity for a city break with a view.
Going up the Siegessäule is free of charge.
Nordische Botschaften / Konrad-Adenauer-Stiftung
On this part of the route, you can finally just sit still and peak over the high fences of the Scandinavian embassies on your right. Norway, Finland, Sweden, Denmark, and Iceland are united on one clod.
To get more information on these countries, to see an interesting exhibition, or to sample a local delicacy, you might want to visit the pan-nordic Felleshus.
Felleshus
Pan-Nordic Building
Rauchstraße 1
10787 Berlin
But if it's only for the delicacies, I've got an even better idea: Walk about ten minutes West – either on along a trail in the park or on Thomas-Dehler-Straße, walk around the Spanish embassy, and you'll get to one of my favorite restaurants.
Whether in the rustic setting inside or on warm days in their huge beer garden overlooking the lake, here you can rest and recharge your batteries for more shenanigans.
Café am Neuen See
Lichtensteinallee 2
10787 Berlin
Opening hours restaurant daily from 9 a. m., beer garden Monday to Friday from 11 a. m., weekends from 10 a. m.
Lützowplatz
Close to Lützowplatz used to be a museum housing an archive of the most innovative and daring art movements stemming from Germany: The Bauhaus. Unfortunately, they had to close it for renovation but will re-open it at another place.
But it's still worth it to get off at Lützowplatz if you are interested in the history of homosexuality in Berlin.
After all, physician and sexologist Magnus Hirschfeld used to live and work in Berlin. He was an early advocate for sexual minorities – aka the LGBTQ community. If that was last year? Nope, this was already at the turn of the 20th century!
Yes, before the Nazis destroyed everything, we already used to be much further. So anyway, a visit to the Schwules Museum does not only trace the history of homosexuality but organizes temporary exhibitions, too. They also welcome you at their cozy little café.
Schwules Museum
Lützowstraße 73
10785 Berlin
Schillstraße
Getting off at Schillstraße, walk down An der Urania and turn right into Kleiststraße. At the square Wittenbergplatz, you have a good opportunity to enjoy a snack at one of the restaurants – or sample a real Berlinese Currywurst.
This is also the perfect place to do some upscale shopping, for instance at the traditional concept store Kaufhaus des Westens – short KaDeWe. Here you can get all the big, expensive brands; and on the two upper levels, you can shop for some gourmet foods – or enjoy them right on the spot.
It's a grand store – but certainly not more impressive than Harrod's, Saks Fifth Avenue, or Galerie Lafayette which, by the way, has a branch at Friedrichstraße.
Bayreutherstraße
As you get off at Bayreutherstraße, just walk down to the Olof-Palme-Platz and you stand right in front of the gate to Germany's oldest zoological garden and home to the world's largest variety of species.
Among the 1,400 species, you find also gorillas and Germany's only giant panda. Especially if you are travelling in the company of children, the Berlin Zoo is one attraction you shouldn't skip.
Zoologischer Garten
Hardenbergplatz 8
10787 Berlin
Please check their website for opening hours since they literally change every two months. Except for December 24 and 31, they are open every day, but the hours vary.
More animals? Right next to the Zoo is Berlin's wonderful Aquarium with exciting extras like snakes, iguanas, a jungle, and a crocodile hall. If you have a thing for these critters or for the mysterious underwater world, this is a place you definitely should visit.
Aquarium Berlin
Budapester Straße 32
10787 Berlin
Phone: + 49 – 30 – 254010
Open daily from 9 a. m. to 6 p. m. (on December 24 and 31, the aquarium stays open till 2 p. m.)
Breitscheidplatz
The Breitscheidplatz, named after social democrat Rudolf Breitscheid who died at the concentration camp Buchenwald in 1944, used to be just another of these big squares with restaurants and shops that you find all over Berlin.
Until December 19, 2016, when an asylum-seeker from Tunisia, driving a stolen truck, scorched into the Christmas market. 12 visitors were killed and 56 injured. It was one of the – thank God – very few terrorist attacks that Germany had to suffer.
Besides the recently installed memorial for the victims of the attack, there is an old memorial here, too. The Kaiser-Wilhelm-Gedächtnis-Kirche, Kaiser Wilhelm Memorial Church, is a protestant church built around 1890. In 1943, the original church was damaged in a bombing raid. As in 1963, a new church building was finished, the remains of the original building were left unrestored as a symbol against war and destruction.
The Gedächtnis-Kirche has been one of the most iconic buildings of West Berlin and can be visited.
Kaiser-Wilhelm-Gedächtnis-Kirche
Breitscheidplatz
10789 Berlin
The church is open daily from 9 a. m. to 7 p. m.
Trendy Shopping
If you'd like to sprinkle some shopping on your Berlin itinerary, just across from the Memorial Church is one of Berlin's newest malls, the Bikini Berlin.
It's a concept mall with some original, trendy stores and pop-up boutiques, all housed in a landmarked building that used to house garment-producing companies, whole-sellers, and retailers.
Bikini Berlin was opened in 2014, and what can I say – it's a mall (it might dawn on you that I'm not a shopaholic).
Shopping Mall Bikini Berlin
Hardenbergplatz 2
10623 Berlin
Zoologischer Garten
Remembrance wafts through the air around the station Zoologischer Garten. In Erich Kästner's children's book Emil and the Detectives, the adventure begins right at the Bahnhof Zoo as Emil realizes that he got robbed. A very recommendable read – such as any other book by Kästner, for that matter
In the 1970s, the Bahnhof Zoo, which used to be Berlin's most important long-distance train station until 2006 when the new station right next to the ministries and the Reichstag was inaugurated, became worldwide infamous by the shocking report Christiane F. – We Children from Bahnhof Zoo where a teenager describes the life of juvenile drug addicts hanging out and turning tricks around the station.
Since the station doesn't serve the long-distance lines any longer, it's pretty calm around here.
Great Photo Spots
However, on the backside, there are two great galleries not to be missed: The C/O at the Amerika House showing temporary exhibitions of photo-related art, and of course, the Helmut Newton Museum, honoring one of Berlin's famous sons; yes, Newton was born as Helmut Neustädter in Berlin in 1920. Being Jewish, he migrated in 1938 first to Singapore and eventually to Australia.
The museum houses a vast collection of his photographs, but also works by his wife June (aka Alice Springs) as well as changing photo exhibitions.
C/O Berlin Foundation Amerika Haus
Hardenbergstraße 22-24
10623 Berlin
The exhibition can be visited daily from 11 a. m. to 8 p. m.
Helmut Newton Museum
Jebensstrasse 2 d
10623 Berlin
The museum can be visited Tuesday to Sunday from 11 a. m. to 7 p. m., Thursday to 8 p. m.
Although at the Bahnhof Zoo you don't get far by train anymore, it might be the first step of a long journey since the buses to Tegel airport leave here.
And that brings me to all the practical information you might need when visiting Berlin, especially for the first time.
Berlin and Beyond
Just can't get enough of this exciting city? To dig deeper into Berlin's former Eastern half, check out my guide to Berlin's wild, wild East.
Do you have enough time to go on a really fascinating day trip? Then hop on the S-Bahn and spend the day at the historically exuberant city of Potsdam.
Practical Information
Getting there
…by plane
The international Berlin Brandenburg Airport Willy Brandt replaces the former three airports Tegel, Tempelhof, and Schönefeld. It is the single commercial airport serving Berlin and the surrounding Federal State of Brandenburg.
This brand new airport is about 25 kilometers south of Berlin's city center. Therefore, taking a cab might get quite expensive. Fortunately, BER is well connected with the city by public transport, too.
Firstly, there are various connections by the Airport Express FEX as well as the regional trains RE7 and RB14 between the central station and terminal 1 and 2.
The commuter trains S9 and S45 travel every 20 minutes, serving terminals 1 and 2 as well as terminal 5.
Important: Take the trip from and to the airport into consideration when buying tickets like e.g. the WelcomeCard – see info section below.
…by train
Going by train is fast – and depending on when you are booking your ticket – even not expensive. Depending on the season, one-way tickets from other German cities start at €uro 19 one trip.
Although Germany still has the reputation that everything is so perfect and reliable, sadly it's not entirely true. Especially the Deutsche Bahn is often criticized for being late and unreliable.
I personally find that it's not that bad, but I also witnessed a couple of times people freaking out on trains since they had to reach an airport on time and there was no chance.
Actually, I would always rather spend the last night before a flight in the same city and not rely on the Deutsche Bahn.
Other than that, usually, it's not that bad.
To check schedules and prices and book your ticket, go to their website.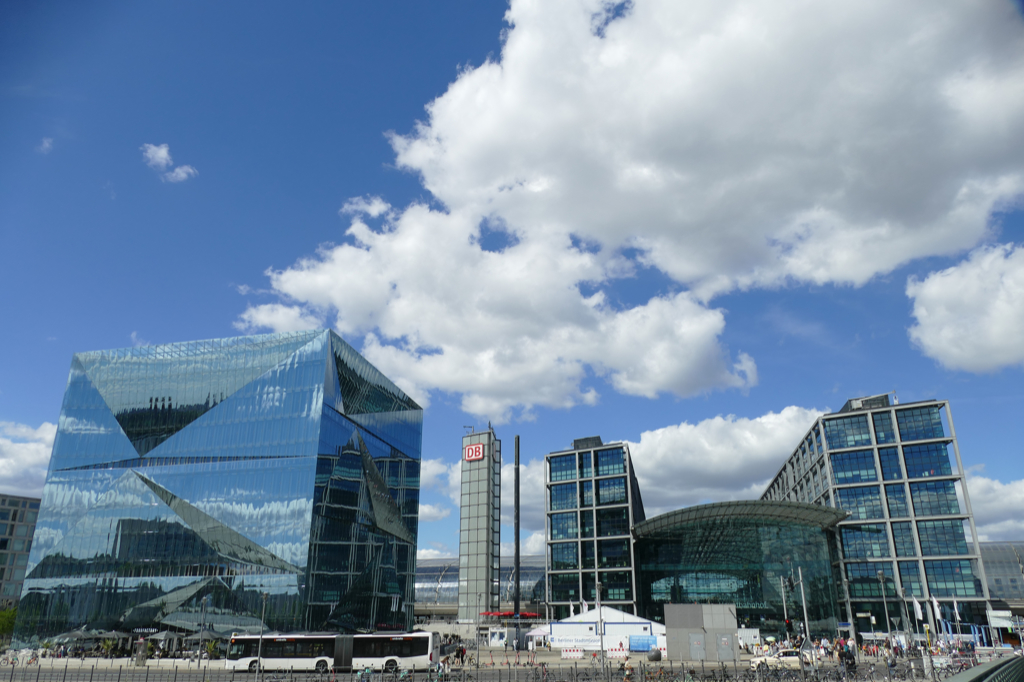 In Berlin, you'll probably arrive at Hauptbahnhof, the main station in the vicinity of the Reichstag. Yet, there are other stations like Spandau and Ostbahnhof, so you better check where you have to go first on arrival so that you can choose the most convenient train station.
At Hauptbahnhof, you have a connection to a couple of S-Bahn lines and a completely useless U-Bahn line that takes you practically nowhere.
To get to bus number 100, you have to cross the Moltke bridge to get to the government quarter where you can hop on at the Reichstag / Bundestag stop.
…by bus
All across Europe, travelling long distances by bus is getting more and more popular; which does not make it faster, but more comfortable and most of all really cheap. Hence the main bus station in the Western part of Berlin, close to the convention center and the Western TV tower, is an extremely busy place.
If you arrive at this bus station, make sure to check out the small visitBerlin counter. They can give you a free map and some brochures and you can also buy one of the tourist cards that I'll introduce in the section below.
There are also buses going to other stops like Ostbahnhof and Alexanderplatz which might be more convenient since they drop you off right at the city center – where you can start the above sketched Grand Tour right away.
A very popular, reliable company serving many parts of Europe is Flixbus. From Hamburg, it's about three hours, from Prague less than five. Even if it takes much longer than travelling by express train, it is very cheap. Hamburg to Berlin starts at about five €uro per trip!
Tourist Information and Deals
Berlin is constantly packed with tourists – national and international alike. However, the tourist board offers amazing discounts to its visitors. They are very efficient, you'll find tons of information already on their website – and once you get to one of their offices, very knowledgeable staff will help you with the planning of your itinerary – unless you follow my lead, then, of course, you won't need any further assistance…just kidding.
They have info centers at Tegel airport but also at the main station, the Central Bus Station ZOB, the Brandenburg Gate, Alexanderplatz, and the Europa Center at Breitscheidplatz. And, of course, they have a great Website with lots and lots of the latest info.
Depending on what you are interested in and what your plans are, there are different options to save quite a lot of money.
Museum Pass
If you are a museum-maniac like me, your best bet will be to get a Museum Pass. On three consecutive days, you can visit more than 30 of Berlin's fantastic – at a flat rate of 29 €uro for adults resp. 14,50 €uro for e.g. pupils, students, unemployed, and disabled. All you need now is a day ticket for the public transportation that you can buy at every station – or on a bus from the driver – and you're all set for three days of museum madness.
Public Transport Day Passes
You'll probably do a lot of walking or might even want to do some cycling, but I assume that you'll go by public transport, too, and the best deal here is a day ticket, in German Tageskarte, for 8,80 €uros. Kids between 6 and 14 pay only 5,60 €uros and up to three kids under 15 travel for free with one adult on his day ticket.
If you need a day pass that includes rides to or from the airport, Potsdam, or other places on the outskirts of Berlin, you better opt for a day pass including zones ABC. It costs 10 €uros. Don't forget to validate your ticket at one of the orange machines on the platforms. Otherwise, your ticket isn't valid and you'll be fined.
If you stay longer, a 7-day ticket for 36 €uro will take you further – literally. These prices are for the city center. If you are travelling with others, a group ticket for €uro 25,50 for up to five people might be a more attractive option.
Need more info? The BVG, Berlin's transport company, has a really good website where you can even order tickets online before you go.
WelcomeCard
But if you want to have a more varied program and get to see some of the attractions apart from museums and exhibitions, then the WelcomeCard is probably a much better choice. With two exceptions, it does not come as a flat-rate card, but you get reasonable discounts on tours and entries, but also on food and drinks at selected restaurants and shops. It also includes unlimited rides on all public transport. So this card grants you a far more complete and diverse program.
Since there are so many variations of the WelcomeCard, I made a list and give you some additional explanations. This way, you can easily pick the most convenient one.
* and three children between 6 and 14
** including Airport Berlin Brandenburg and Potsdam (also museums at Potsdam) (Berlin area ABC)
*** including free admission to the museums on the Museumsinsel, the Museum Island
You can buy the WelcomeCard – which comes with a small guidebook and a great map – not only at the visitBerlin posts but also at any ticket machine or from a bus driver. In this case, you have to pick up your guidebook and map either at a subway station or at a visitBerlin counter.
Visiting Organized
If for whatever reason, you do not want to explore the city just on your own or if you are looking for specific activities, here are some great ideas of what to do during your stay in Berlin. Especially if you have only a short amount of time, they'll enable you to leave the planning and organizing to others and just enjoy the city to the max*:
Where to Sleep
Bahnhof Zoologischer Garten
Especially if you are following the route of bus number 100, you'll arrive totally exhausted from all the fun and inspiration at Bahnhof Zoo. Here, after a short walk, you can crash right away. Alternatively, you take a swim and a schwitz at their pleasant SPA. Or relax over a nightcap at the bar.
Whatever tickles your fancy, you find it at the luxurious Pullman Schweizerhof*. This hotel is located within walking distance of the Berlin Aquarium.
This is really the perfect spot for exploring the city, but the hotel offers also the perfect setting for recharging the batteries for the next day.
Pullman Berlin Schweizerhof
Budapester Strasse 25
10787 Berlin
You can check their prices and availability here.*
Alexanderplatz
If you travel the route the other way around, hence, starting at Bahnhof Zoo and ending at Alexanderplatz, you might prefer looking for accommodation there.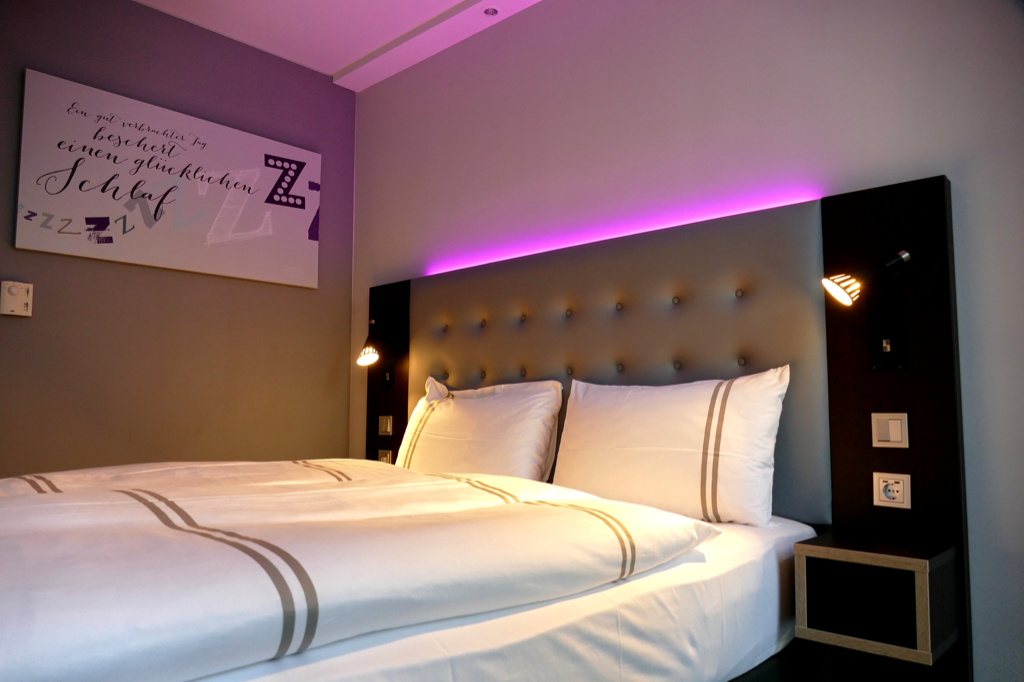 In this case, I'd recommend the hotel Premier Inn. It is just a few steps from the Alexanderplatz and offers modern, comfortable rooms at a reasonable price.
Premier Inn
Theanolte-Bähnisch-Straße 2
10178 Berlin
If neither of these hotels is available, you can check more convenient lodging options on this map*:
Money
Until now, 20 European countries replaced their former local currency with the €uro starting in 2002. Obviously, Germany is one of them.
The exchange rate is 1 US$ = 0.94 EUR as of March 2023. However, you can check today's conversion rate on this page.
Communication And Connection
Since June 2017, no roaming charges apply within the EU if you have a European mobile phone contract. This involves all 27 countries of the European Union as well as Iceland, Liechtenstein, and Norway.
The EU roaming regulation applies to all contracts.
In case European roaming is not available, you can connect to the internet at museums, eateries or cafés, and, of course, hotels. This being said, in comparison to many other lands, Germany is a developing country when it comes to the internet. There are annoyingly many dead zones and many places do not offer free Wifi connection.
So if you depend on a reliable online connection, you should opt for a SIM card. Whether phone companies such as O2 or Vodaphone or supermarkets like Lidl and Aldi – there is a wide choice of providers of prepaid cards.
The standard voltage in Europe is 220 V and the frequency is 50 Hz. In Germany, they use the plug types C and F.
Whereby, nowadays, all these chargers have integrated adapters, in general, the voltage and frequency don't really matter.
By the way, you'll find comprehensive travel info in my post World's Most Complete Travel Information – an indispensable globetrotter-classic.
Say It Right
In Germany – and especially in multi-cultural Berlin – most people speak pretty decent English. Nevertheless, for some useful words and phrases, you might want to practice a little with the help of e. g. Babbel. Also, the first lesson is free and already supplies you with a useful basic vocabulary.
In this post, I'm writing out some of the German names of brands and places. Obviously, you will notice that there are letters that might not exist in other languages.
Firstly, there is the letter ß which exists only in the German alphabet. It's by no means a B – it's a so-called sharp S. You pronounce it like the double S in kiss. So although the German word for street, Straße, looks quite exotic, it is simply pronounced Shtrasse. Mind you, when an S stands before a T, it becomes sh instead of s.
Then, there are three more vowels, ä being the easiest one since it's pronounced like an open e as in head.
For some foreigners, ö and ü might be a bit tougher. Ö is pronounced more or less like the e in her. Finally, Ü sounds a bit like the u in huge.
Map
Here you can trace the tour on a responsive street map. Click on the slider symbol at the top left or the full-screen icon at the top right. This way, you'll see the whole map including the legend.
Getting ready for your first trip to Germany?
I've put together a complete list of what to know before you go. Altogether, with these info, your stay in Germany will be a most enjoyable one!
To learn about some of Berlin's more hidden gems in the former Eastern part of town, check out my post Berlin – a Guide to the Wild Wild East. In the post Best Street Art in Berlin I'm introducing you to the city's most intriguing urban art.
Pinnable Pictures
If you choose to pin this post, please use one of these pictures:
Note: I'm regularly completing, editing, and updating this post – last in March 2023.
Did You Enjoy This Post? Then You Might Like Also These:

*The Pullman Hotel Schweizerhof as well as the Premier Inn invited me to stay with them. The Tourist Office visitBerlin supported my blogger trip by supplying me with a WelcomeCard and a Museum Pass. However, all opinions on these services are mine and weren't by any means influenced by my cooperation partners.
This post contains affiliate links. By purchasing items or making a reservation through those links on my site, not only do you get the best rate. I will receive a small commission that helps to run this blog. Thank you so much for supporting me!