South Korea's famous green tea grows on lush plantations in the area around Boseong. As a visit is a feast for the palate and the eyes, it's definitely worth the short detour.
Tea
It was the Buddhist monks who started the extensive, organized planting of Chinese tea bushes in Korea. Therefore, some of the earliest Buddhist temples in the country, such as Bulgapsa and Bulhoesa, claim to be the cradle of Korean tea culture. Extensive importation of Chinese tea products, however, began during the reign of Queen Seondeok of Silla in the mid-7th century. Two varieties of tea bricks were imported from the Tang Empire, namely Jeoncha and Dancha.
Eventually, when King Heungdeok received seeds of the Camellia Sinensis tea bush from the Tang Empire in 828, the Korean elite quickly embraced a sophisticated tea culture. Proof of the high value attributed to tea is that it was served to the Buddha and the spirits of deceased ancestors.
During the Goryeo Dynasty, tea culture continued to flourish and tea ceremonies became an important part of major holidays. Thus, tea towns were founded around many temples. Philosopher and poet Jeong Mongju and other scholars enjoyed tea ceremonies in each other's company. Even an envoy from the Chinese Song Dynasty reported to his homeland in 1123 what passionate tea drinkers the inhabitants of the Goryeo Empire were.
Let Them Drink Tea
Later, during the Joseon Dynasty, Korean tea culture experienced secularization. The royal family and other aristocrats enjoyed elaborate tea rituals. Only towards the end of the Joseon Dynasty did even ordinary citizens use tea for their ancestral rites. Tea offerings were also an integral part of wedding ceremonies. The custom of packing tea in small cakes lost popularity in China as early as the 14th century. In Korea, however, it continued until the 19th century.
By the end of the 19th century, many grocery stores added tea rooms in outbuildings to their businesses. Yet, the first modern teahouse opened only in 1924. Merely the best water was used for the preparation of tea. Some teahouses even had their own small springs!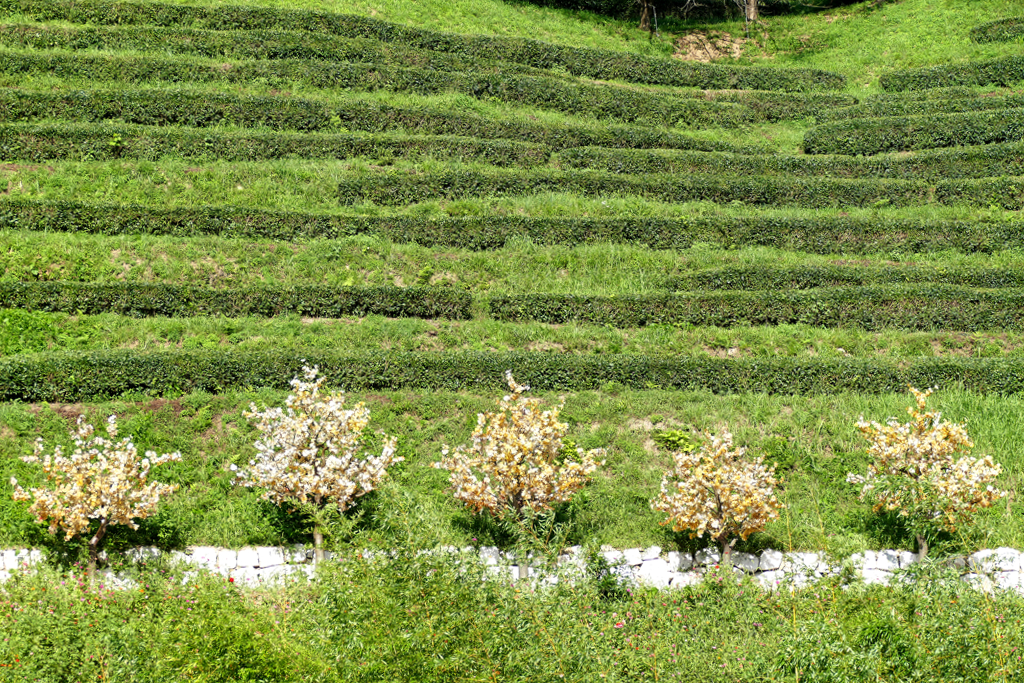 To this day, the Confucian principles of harmony, respect, and gratitude are an integral part of Darye, the Korean tea ceremony. Guests in formal Hanboks meet in a traditional Korean house to celebrate the rite. At Darye, the focus is not only on the preparation but also on the presentation of tea. This way, Darye promotes harmonious coexistence by appreciating the quality of the tea, engaging in deep conversations, and feeling respect and gratitude.
As a matter of fact, the host serves tea to guests in order of their importance.
Nevertheless, a modern coffee culture clearly predominates, especially in the larger cities. Not only do you find far too many Starbucks branches. There are countless cafes where you can study, work, or just relax while enjoying a house specialty. If you're in a hurry, grab a coffee to go at one of the countless hole-in-the-wall coffee stands. Yes, the – admittedly quite sophisticated – coffee culture is in the process of replacing the classic Korean tea tradition.
If you need a guide to the most unusual and beautiful coffee houses in Busan, go to my post Best And Most Beautiful Coffee Houses in Busan. On my trip through Korea, Busan was the next stop after Boseong.
Boseong
Now that we've clarified how tea got to Korea, it's time to clarify how I got to the tea plantations.
Boseong County is located in Jeollanam-do Province close to Korea's southern coast. As I was travelling from Jeonju to Busan, it lay just a little bit off the shortest route. However, the pictures I had seen convinced me the detour would be totally worth the hassle. Since I had a pretty tight itinerary, I spent only one afternoon and the night at a rustic resort next to the Daehan Dawon Tourist Tea Plantation. However, if you have more time to spare, I would definitely recommend staying for at least two or three days. Boseong offers several hiking trails through lush forests and the panoramic views along the tracks will just blow you away!
Nevertheless, Boseong is one of Korea's rainiest areas. This, of course, is ideal for growing an outstanding green tea with a distinctive taste and aroma. The humid climate together with excellent soil conditions made Boseong the green tea capital of South Korea.
Although Boseong is synonymous with endless fields of tea shrubs, it actually is a real city, and with around 10,000 inhabitants, it is the administrative center of the same-named county. Since the opening of the Gwangju Line in 1930, Boseong has been an important transportation hub for the supply of agricultural as well as marine products.
Despite all this, hardly any visitor gets to see the city, but heads immediately into the surrounding hills covered by trees, rice paddies, and tea fields, obviously.
Daehan Dawon Tea Plantation
As I said, Boseong is a green paradise with many green tea farms in the area. The largest and most famous one is the Daehan Dawon Tea Plantation. It's arguably the primary tourist attraction in Boseong County and worth the visit year-round.
Founded in 1957, the Daehan Dawon is one of the largest privately owned green tea plantations in all of Korea, albeit, it's significantly smaller than the tea fields I visited in the Cameron Highlands of Malaysia or around Nuwara Eliya in Sri Lanka.
Yet, as the bushes are planted in elegantly bending rows arranged on terraces almost like a natural amphitheater on a moderated slope up the mountainside, they are an unforgettably mesmerizing sight.
Obviously, to get the best panoramic views from above, you need to climb the mountain. It might seem a bit tiring, especially in the noonish heat, but it's frankly not too bad. From the highest point, you have a view of the tea terraces, pine tree forest, and even the sea as Yulpo Beach is actually just a short drive away. I'll get to that below.
However, I didn't make it all the way up since the last part of the trail consisted of dust and loose gravel. Although I was wearing comfortable sneakers, I didn't want to climb on such uneven ground without hiking boots. It might seem a bit exaggerated, but ever since I broke a leg hiking by myself in a gorge in Gran Canaria, I tend to be overcautious.
Beyond Tea
Nevertheless, I could spend hours just walking between the lush bushes admiring the beautiful layout of nature. And still, there is more to see than just green tea terraces at the plantation. Make sure to grab a free map at the entrance gate so you don't miss out on anything Daehan Dawon has to offer.
Not only are there lovely junipers, cypresses, ginkgos, chestnut and maple trees, as well as camellias scattered between the tea bushes. On the west side of the property is a cedar grove granting cool shade during a pleasant walk. This grove then leads into a gorgeous bamboo forest.
Despite all these glories, I need to point out a small drawback: Especially in the cedar grove, there were countless and extremely biting-friendly mosquitoes. So if you want to enjoy the forest in a relaxed manner, you should cover yourself with a powerful repellent.
As expected, there is a large gift shop on the property that, in addition to countless types of tea, also offers cosmetics and everything else that can be made from green tea. They also have a restaurant at the foot of the tea hill.
Like basically all beautiful places around Korea, the plantation is featured in K-dramas such as Summer Scent, Legend of the Blue Sea, and The Rebel.
The Daehan Dawon Tea Plantation is open from March to October between 9 a.m. and 6 p.m. and in winter until 5 p.m. The regular entrance fee is KR₩ 4,000. Although you can visit the plantation year-round, I'd try to skip wintertime since the colors are far less vibrant than during the other seasons. The most alluring yet also the busiest time of the year, however, will be in spring when the cherry trees are covered in tender blossoms.
Celebrations
If you're not afraid of large crowds, one of the most rewarding times to visit the plantation is during the Boseong Green Tea Festival which is typically held in May. This festival has celebrated Boseong's green tea for 40 years with introductions, demonstrations, games, and many more activities for the entire family. On the other hand, you might want to avoid exactly this period of time if you aren't that much into large noisy groups.
Another perennial celebration is the Boseong Tea Plantation Light Festival which takes place from the end of November to the beginning of January. During that period, you get to see tons of holiday decorations and lights illuminating the premises from 6 p.m. to 10 p.m.
Still aren't tired of tea? Then you might want to visit the Tea Museum of Korea. It is just around the corner from the Daehan Dawon Tea Plantation on the way up to the Boseong Green Tea Resort. The museum was founded to inform about the history of Korea's tea culture. Each of its three floors focuses on a different factor – from cultivation to preparation, from tools to the finest tea sets. Also, there is a section comparing the various tea cultures in China, Japan, and Europe. And finally, you can even join a tea-making workshop.
Just like the Daehan Dawon Tea Plantation, the museum is open from March to October between 9 a.m. and 6 p.m. and in winter until 5 p.m. The regular entrance fee is KR₩ 1,000.
There Is More
Across the highway is another, much smaller plantation, and next to it is the Botjae Green Da-hyang. It is a cafe located on the upper floor of the Botjae Green Tea Market building from where you have yet another majestic view.
They also have a gift shop which is slightly cheaper than the one at Daehan Dawon. The restaurant offers all kinds of tea specialties as well as a wide variety of green tea-flavored desserts. Nevertheless, their choice of hearty snacks is very limited – I ended up with a mediocre croque monsieur.
While the Botjae gift shop is open from 10 a.m. to 6 p.m., the café closes only at 9 p.m.
If the skies are halfway clear, you can see from the Botjae Green Da-hyang all the way to the sea. There is Yulpo, a seaside town just down the mountain from the Boseong tea area. Not only can you jump into the ocean. No, there are also hot springs where you can soak in a green tea bath. Various public buses take you there in less than half an hour!
Fun Fact
After Boseong green tea passed the strict quality test of the Russian medical biology laboratory, the drink is officially considered a suitable part of the special diet for astronauts.
Practical Information
How to Get There
The Boseong Train Station is served by the charmingly old-fashioned and a bit less charmingly slow Mugunghwa Train. Therefore, you'll probably always have to change trains – either at Gwangju if you are coming from Seoul or at Suncheon if you are coming from Jeonju like I did.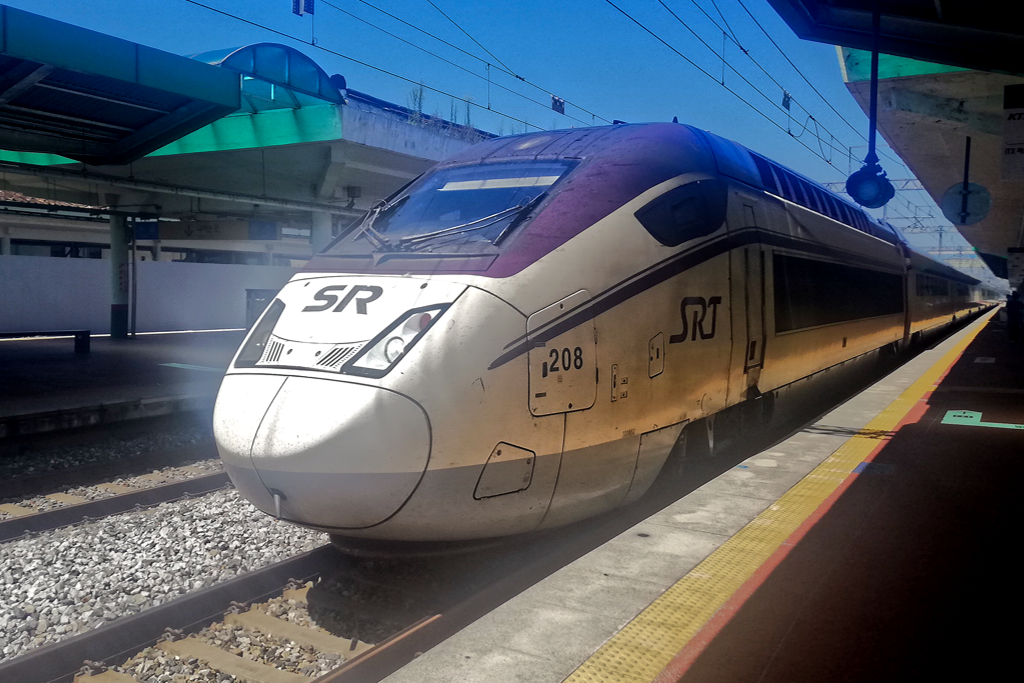 You can buy tickets at the railway station from vending machines as well as real people and supposedly on the internet. Nevertheless, some fellow travellers told me that they couldn't pay with their international credit cards. I don't know since I always bought my tickets before departure at the station.
If you are coming from Busan, it's better to take the bus. As a matter of fact, my trip from Jeonju to Boseong was one of only two train rides during my entire three weeks in Korea. In general, the bus stations were more conveniently located. Also, I went to places where there were no train stations.
For travel between cities, towns, and villages, so-called Express and Intercity buses are a great option. They are fast, clean, and comfortable and unless you take the KTX, there is hardly any price difference. At the bus terminal in Boesong was only a vending machine, and everything was written in Korean. Grief! A shoutout to the resolute elderly gentleman who bought for me the correct ticket and manoeuvered me to the right bus – despite his total lack of English.
Naver is a Saver
You've probably heard it before: Google Maps doesn't work properly in Korea. Obviously, you can see where places are and you are still the blue spot on the Blue Planet, however, it's not possible to check distances and create proper routes. That's a huge handicap, especially in a country where not only you don't speak the language, but you aren't even able to figure directions out with the help of names on signs.
Therefore, you better not start even planning on going to Korea if you don't have either Kakao Map or Naver Map. That I picked Naver was a totally random choice: I tried it first, liked it, hence, stuck to it.
Naver knows where I am and when I tell Naver where I want to go, the App designs various convenient routes. Naver is a great travel partner, I definitely couldn't have done without it, whether within the city limits or during my travels across the land.
While Naver is great, it is not perfect. Sometimes, it suggests a far too complicated connection. As I got to the bus terminal in Boseong, everything was written in Hangul. I was totally lost. All I had was my phone with a connection I wasn't able to verify.
I stood at the ticket machine completely helpless. I could have literally pressed randomly any of the buttons – I had no idea what it said. A somewhat grumpy older gentleman aproached me and mumbled something. I had a premonition that he might want to know what my destination was. Busan, I said sheepishly and showed him the Naver connection on my phone. He shook his head dismissively, pointed to a bus, and said Jinju.
No, no, Naver had picked out another connection for me.
No, no, the gentleman insisted, I should go to Jinju and from there to Busan.
And to prevent further discussions, he pressed a button on the machine. Then he held out his hand, into which I obediently placed some bills. He stuffed them into the machine. The machine hummed and processed the order. Then, it spat out some change. And a ticket. To Jinju.
How to Use It
Yes, it was fantastic that the gentleman at the bus terminal in Boseong suggested a more convenient route. Nevertheless, Naver Map remains your best travel buddy when touring Korea.
Naver works basically just like Google Maps: You type in from where to where you want to go, specify the date and hour, and choose the means of transportation. Then, Naver does the magic and suggests various alternatives. And with very few exceptions, those are actually the best options.
However, Naver sometimes transcribes destinations into Hangul. I solved this problem by verifying Naver's suggestion on Google Maps.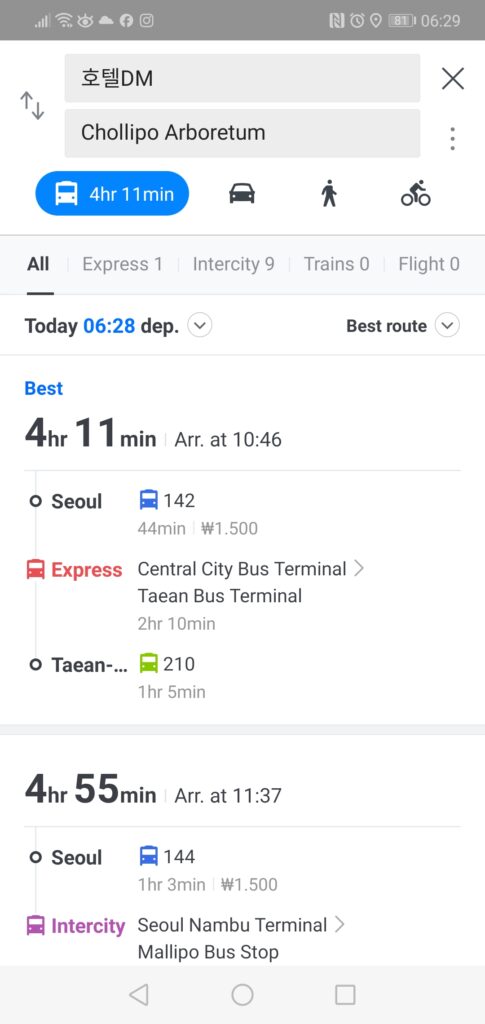 Also, Naver sometimes didn't show any search results. For instance, if I wrote XYZ restaurant instead of restaurant XYZ. In this case, I first looked it up on Google Maps and then searched for the same spot right on Naver's map. As I found it, I tapped on it on the screen and saved the result for future reference.
To be able to save my search results, I set up a free account. I organized them in folders, you can see them in the second picture.
When Naver showed the result in Hangul, I wrote the Latin equivalent in the field for notes before saving. This way, I had the places once and for all in Roman letters, and they also appeared on the map. Eventually, I planned my routes by simply tapping on two marked spots on the map.
You can download the Naver App for Android and iOS
How to Get Around
Now, like anywhere else in Korea, regional public transport in Boseong is amazing. Although you are basically going into the wilderness, there will be two to three buses per hour between the city and the countryside. In the city of Boseong, they'll pick you up or drop you off at the train station as well as at the central bus station.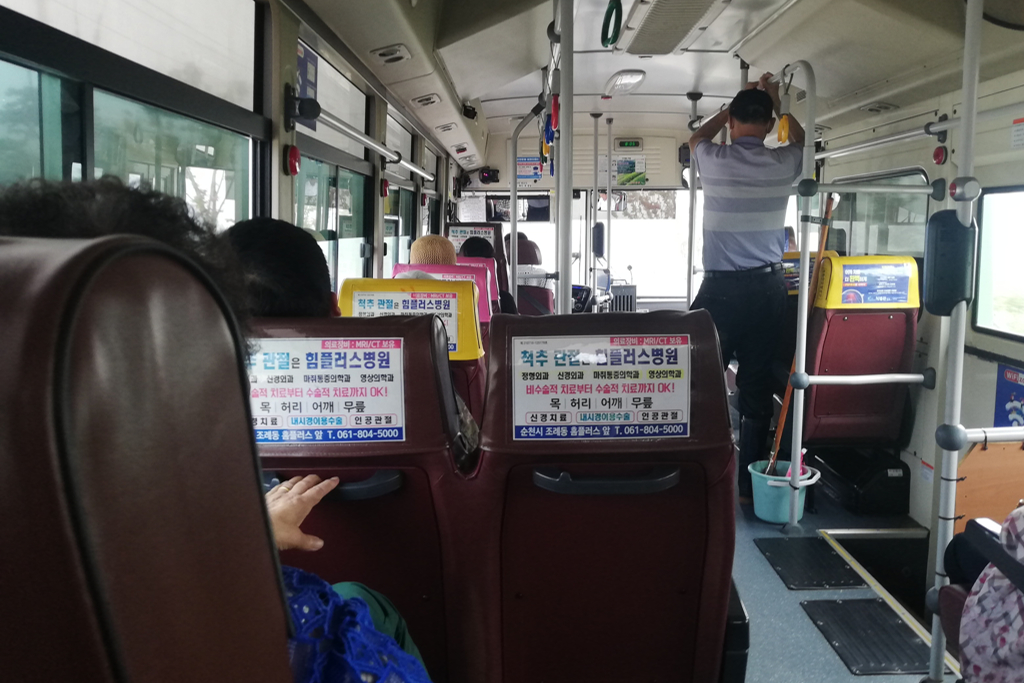 Obviously, you can check suitable connections on Naver Map. However, some good people have also posted a precise timetable on the small wooden bus stop located between the Daehan Dawon and the Botjae plantations in case you'd like to double-check.
Visiting Organized
Although I'm an avid solo-travelling woman, I sometimes like to join organized tours, especially in a country like Korea where I didn't have many opportunities to interact with locals or even other travellers.
Therefore, here are some great ideas of what else to do when visiting Boseong – particularly if you just want to go there on a day trip. Especially during high season, pre-booking online will guarantee your place at the activity of your choice*:
Where to Stay
While you can visit Boseong and the tea plantations easily on a day trip even if you travel on public transportation, I would recommend spending the night. This way, you are rewarded by the magic sight of the woods and tea fields in the early morning mist. Actually, I was planning on getting up right after sunrise to see the lush surroundings bathed in dreamy veils of haze. But as I opened the door of my cozy mountain cabin, all I was faced with was an impenetrable wall of fog.
Okay then, back to bed for another hour of sleep.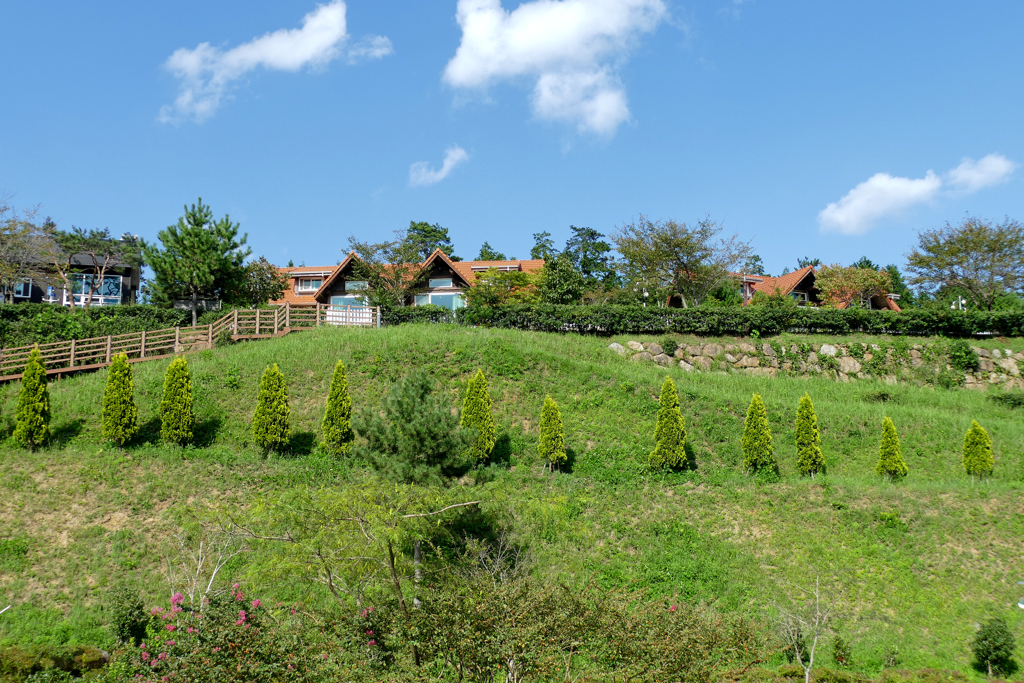 It wasn't until around eight o'clock that the fog slowly began to sink, revealing the veiled tea fields. What can I say: For this scenario alone it was worth spending the night in the middle of the fields'n'forests.
There aren't that many options to stay overnight in the area. The most beautiful one is definitely the Boseong Green Tea Resort atop a mountain next to the tea museum. From there, it's a ten-minute walk to the Daehan Dawon Tea Plantation. Also, the bus stop is just a couple of minutes downhill.
What to Eat
There are tons of must-eats in the Boseong area, and all they have in common is that they contain green tea in any shape or form. For instance, there is nokcha-bap, green tea rice, and there are green tea noodles that grant a unique culinary experience.
And there is the legendary green ice cream. After I had some super-tasty matcha ice cream in Miyajima on my last trip to Japan, I was expecting something at least as delicious on a tea farm. While this treat frankly does look very tempting, I hate to admit that the taste was rather disappointing. It didn't taste bad, not at all. Actually, the not-at-all part is exactly the issue: There wasn't any distinct taste at all. It was a bit creamy and very cold.
However, it had a pretty color and looked really nice in my pictures.
At times, you can't have it all, I guess.
Finally, I would like to expressly emphasize that there are shops within walking distance where you can buy small snacks and drinks as well as some eateries. Before I came to the Daehan Dawon Tea Plantation, I had searched online for a reliable indication as to whether I had to stock up on snacks so I wouldn't starve and die of thirst. Nope, to be clear once and for all: No one has to go hungry or thirsty. Nevertheless, you should make sure to grab dinner by 8 p.m. latest.
Map
On this map, you can see where all the wonderful places in the area are located.
Clicking on the slider symbol at the top left or the full-screen icon at the top right will display the whole map including the legend.
The Tea Plantation was only one of many amazing places I've seen on my tour around South Korea. To read about the others, go to the main post and take your pick! There, you'll also find further valuable general information that will make your trip to Korea smoother and much more enjoyable.
Pinnable Pictures
If you choose to pin this post, please use one of these pictures
Did You Enjoy This Post? Then You Might Like Also These:
* This is an affiliate link. If you book through this page, not only do you get the best deal. I also get a small commission to run this blog. Thank you so much for supporting me!