Yes, I've travelled the seven seas – at least metaphorically – but only recently I visited Athens for the first time. This is ironic since basically all of Greece is located on the seaside. With 13,676 kilometers of coastline – that's roughly the little something of 8,498 miles – and 3054 islands and islets, Poseidon definitely is boss.
Not the only amazing facts. Next to Golgota and the Capitol, the Acropolis is one of the hills on which Europe was founded. So there is no excuse that I haven't visited the cradle of our civilization before.
So as we got nearer to Christmas and the holy days became holidays, the question of where I would spend them was quickly answered. Athens – for the first time.
The Belly of Athens
I won't lie to you – the first day, I had mixed feelings. Walking the area between shady Omonia Square where my hotel was located, Syntagma Square, infamous for the austere protests of the anti-austerity movement between 2010 and 2012, and Monastiraki Square, where the show goes on around the clock, Athens was intimidating. Even for a die-hard urbanite like myself.
It was an early winter evening when it's getting dark already around five o'clock.
Nonetheless, the streets were still busy, bursting with people. People rushing, pushing impatiently. People standing, observing. Between them, street musicians playing sad stubborn tunes. Hawkers selling huge colorful balloons, sesame pastry, leather belts, raffle tickets. To both sides of the streets the usual chain stores like Zara, Sephora, Tezenis. Yet, between them, many empty, abandoned buildings covered in graffiti – the wild, angry kind.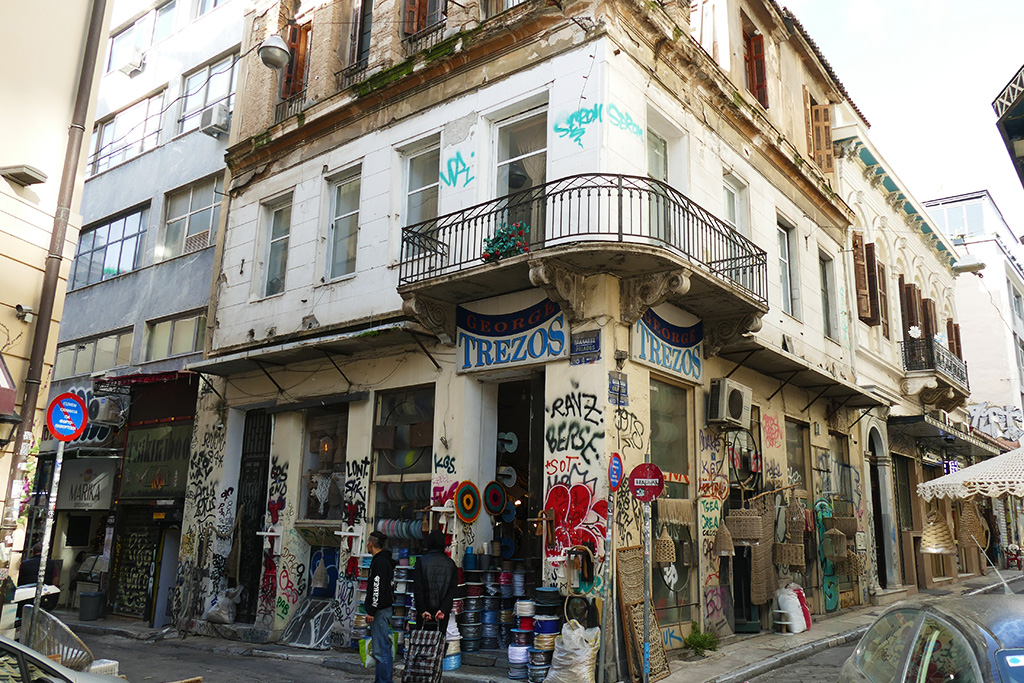 The entrances of these rundown structures are granting shelter to a disturbing number of homeless. But also other individuals who might have their reason to stay in the dark.
Who is just poor – and who might be a threat?
Sadly, we often perceive both as one.
Yes, as I arrived, Athens was standing before me, she moved a bit too close so I could smell her breath and feel her energy. She looked me in the eye – a long, hard stare. I didn't drop my gaze.
Finally, she gave me an ambiguous, slightly condescending smile and opened her strong arms to pull me in. She had my back.
With a Local
After the whirlwind of impressions and emotions of the first evening at this metropolis that can definitely be a bit rough around the edges, it was good to meet with an Athenian the next morning. Someone who was born and raised in this city. Someone who would take me to places but most importantly someone who could answer all the questions I had and put things in relation. This someone was not just anyone, this someone was Spyridon. Spyridon has already done a complex mix of different jobs before he became the manager of the wonderful project This is Athens with a local.
On their page, you can choose from themed walks such as street art, architecture, food, LGBTQ, or whatever is of interest to you. You book a tour and then a local volunteer guides you around and shows you his or hers Athens. Although – or maybe because – they are no professional tour guides, you'll have the great opportunity to experience the real, everyday Athens. Since the city of Athens supports this project, the tours are free.
Changing of the Guards – Changing of Viewpoints
We start our walk with the most pointless, however, very picturesque spectacle Athens has to offer. It's the change of the guards in front of the parliament building on top of Syntagma Square. While those two guards are performing their little choreography, kicking the air with their pompom shoes and letting their little mini-skirts swirl, Spyridon starts to tell me all about Athens – today's Athens. The old historic stuff I can do on my own.
Spyridon navigates me to the wealthy neighborhood of Kolonaki as well as to the bohemian-shabby district of Psirri.
Beyond Pretty
We are visiting the overwhelming municipal market and as, oddly enough, the cut off pig heads hanging on the wall and the baskets full of skinned sheep heads make me giggle in distress, Spyridon puts his arm around me "It can be a bit too much for everyone", he says and ushers me towards the exit.
Not far – just behind the commercial streets where many of the Armenian emigrants fleeing the genocide in Türkiye had settled in the early 20th century – he shows me around the neighborhood where nowadays refugees from the Middle East, Pakistan, and Bangladesh found a new home and opened oriental shops and restaurants.
For more than three hours, Spyridon guides me through his hometown. He points out apparently pointless spots, explains the to the foreigner's eye unexplainable, is caring, charming, and fun.
As in the early afternoon, we part at Athens' busy Monastiraki square, we're friends.
The Antique Athens
Acropolis
As I said, for the ancient parts of Athens, I don't need a guide. I'll find all the info in my guide book. Also, at the sites, there are explanatory boards. Plus, it's so much overwhelming information, that I immediately forget half of it, anyway.
However, the idea of walking where Socrates used to walk, standing where Plato used to hang out with his buddies, all those smart cookies such as Aristotle, is quite impressive. Actually, this fascinating heritage is the main reason I came here – and supposedly everyone else does, too.
I'm starting at the Acropolis where it all began.
Acropolis translates to the upper town, and way up high it is, so prepare for a little climbing.
Athens' Acropolis is a large castle hill dedicated to the city goddess Athena. In the Mycenaean period in the 14th century BC, it was the seat of the king. Eventually, in democratic Athens, it was promoted to become the temple area and set of the Gods.
After having defeated the Persians, Athens became the supreme power of the Attic League from 448 BC. The glorious structures symbolize this power and wealth.
Going up, you get to see more and more of the city in the farther distance and catch some grand views of what lies to your feet – like the Dionysostheater and the Odeon of Herodes Atticus.
Temples'N'Treasures
The main temple is the iconic Parthenon. Shockingly, to admire the breathtakingly beautiful marble frieze, you have to travel to London. In the early 19th century, Scot Earl of Elgin removed it together with sculptures from the Propylaea and the Erechtheum. Eventually, he brought them to merry old England. Finders, keepers: To this date, the British Museum denies restitution of these cultural treasures.
By the way, the Erechtheum, located on the north side of the Agora, is the second-largest of the temples. It's dedicated to several gods as well as mythical heroes of the city.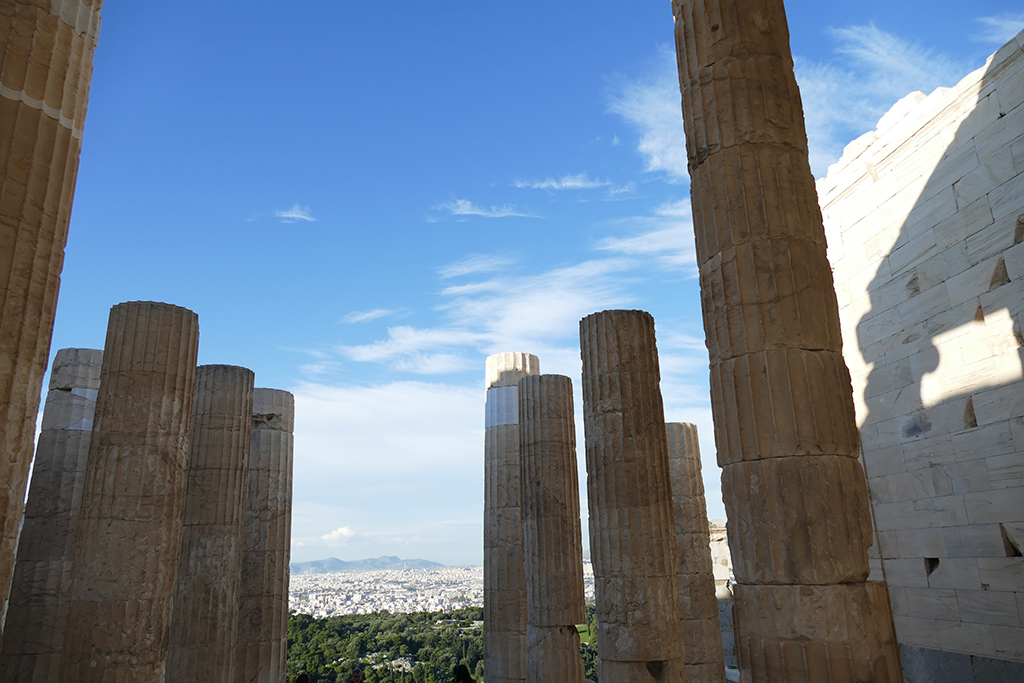 The most famous wing of the Erechtheion is the caryatic porch where a group of caryatids functions as columns.
Note: Be there as early as you can! You read this everywhere, however, as I got there at 8.30 a. m., i. e. half an hour after opening, there were maybe a dozen people. Which, of course, was great, albeit not understandable. When I left around 10 a. m. the queue was winding down the street. Why don't people follow the simplest advice?
Anyway, here – and hear – again: Be there early, your visit will be so much more enjoyable!
Acropolis Museum
Of course, the caryatids are also one of my favorite features on the Acropolis. However, what you get to see on the spot are copies. The originals reside at the adjacent Acropolis museum – together with lots and lots of other precious artifacts.
The museum is just fantastic not only for all the stuff that's inside, but also for what's around. The clever architecture grants fantastic views of the Acropolis as well as the surroundings.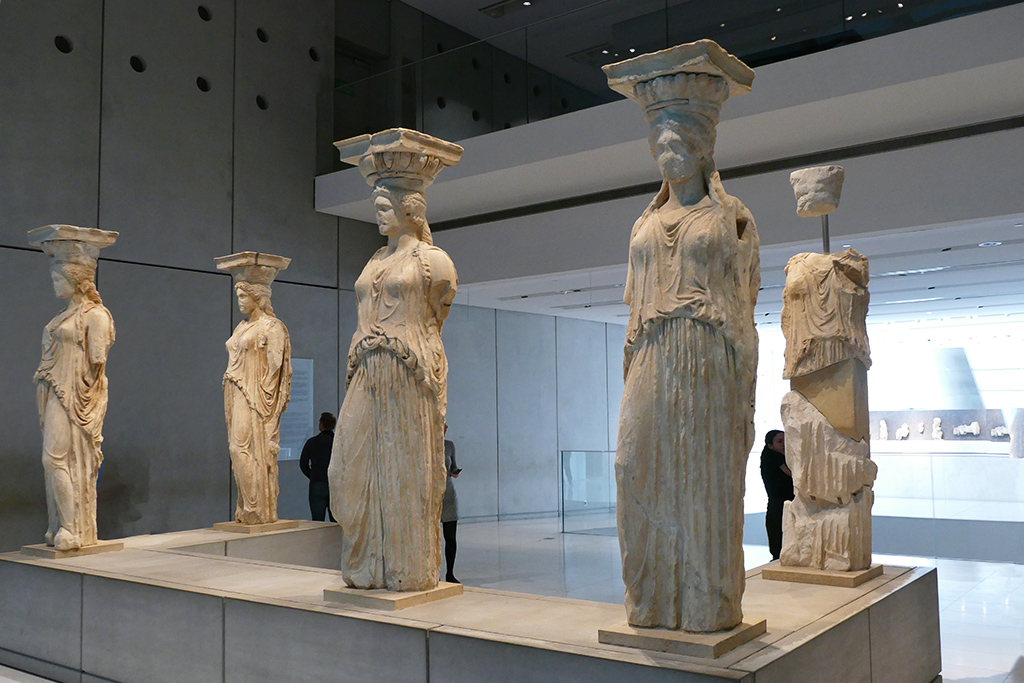 You shouldn't miss the video shown on the top floor. There is also a lifesize model of the Parthenon's frieze that allows you a closer look, showing many details and pointing out many fascinating facts.
To check their opening hours, please visit their website since those vary according to tourist seasons. However, in winter, the entrance fee is about half of what you pay in summer.
Acropolis Museum
15 Dionysiou Areopagitou Street,
Athens 11742
Phone: +30 210 900 09 00
Email: info@theacropolismuseum.gr
Arch of Hadrian and Temple of Olympian Zeus
Just a stone-throw from the Acropolis is the Arch of Hadrian. Besides being an impressive symbol of glory, it is also a good orientation spot. Across the street is one of the important spots of the Gray Line hop on hop off bus. We'll get to this perk below in the Tourist Information and Discount section.
Behind the arch, going towards the National Garden, is the Temple of Olympian Zeus. The Temple, built in the 6th century BC, must have have been gigantic and beautiful. However, what's left today are just some of the once 104 columns and stones scattered on the premises.
Roman Agora, Hadrian's Library, and Tower of the Wind
Have you noticed the temple nestled in lush greeneries, seen from the Acropolis in the picture above? Well, that's the Temple of Hephaestus, located on the site of the Ancient Agora, by the way, my favorite archeological site in Athens. It's located about half a mile north of the Acropolis and on the way you can pay the Roman Agora as well as Hadrian's library a visit.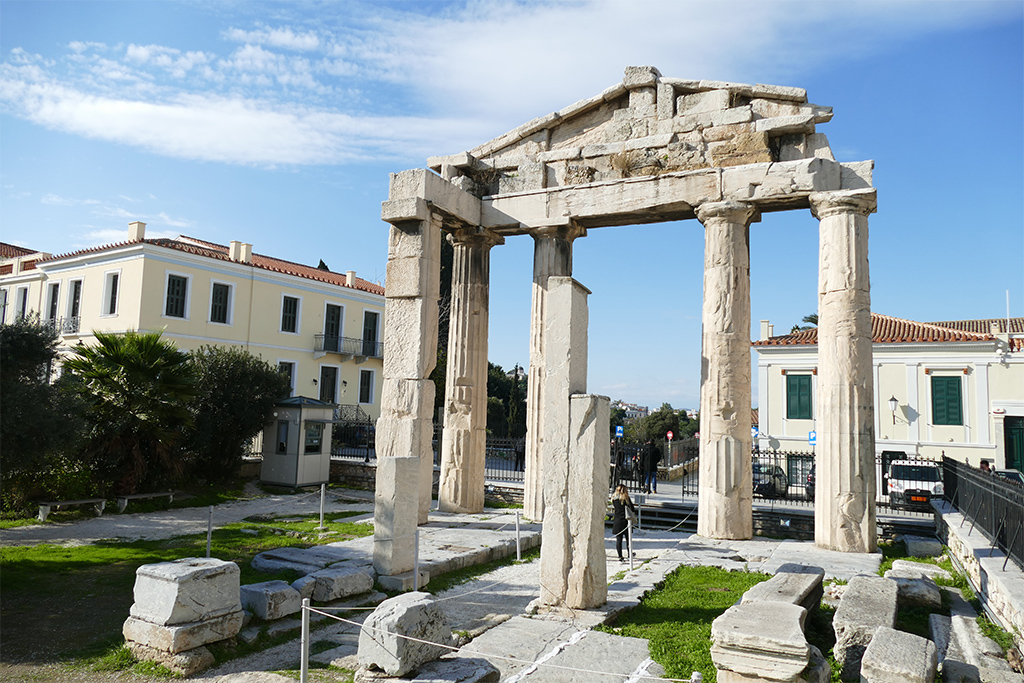 Entrance fees to these sites are quite cheap – 5 respectively 3 €uros and included in the combi ticket that I'm explaining below. Anyway, if you mainly want to shoot pictures and don't feel the need for getting close to the ancient stones, just rock on. You can take perfect pictures through the fences.
Ancient Agora
As a matter of fact, this site was my favorite landmark of classical Athens. White statues under the blue skies, surrounded by olive trees, blooming bushes, and wildflowers. The well-preserved Temple of Hephaestus on the Agoraios Kolonos, the market hill, from where you can overlook the entire locality and have a grand view of the Acropolis.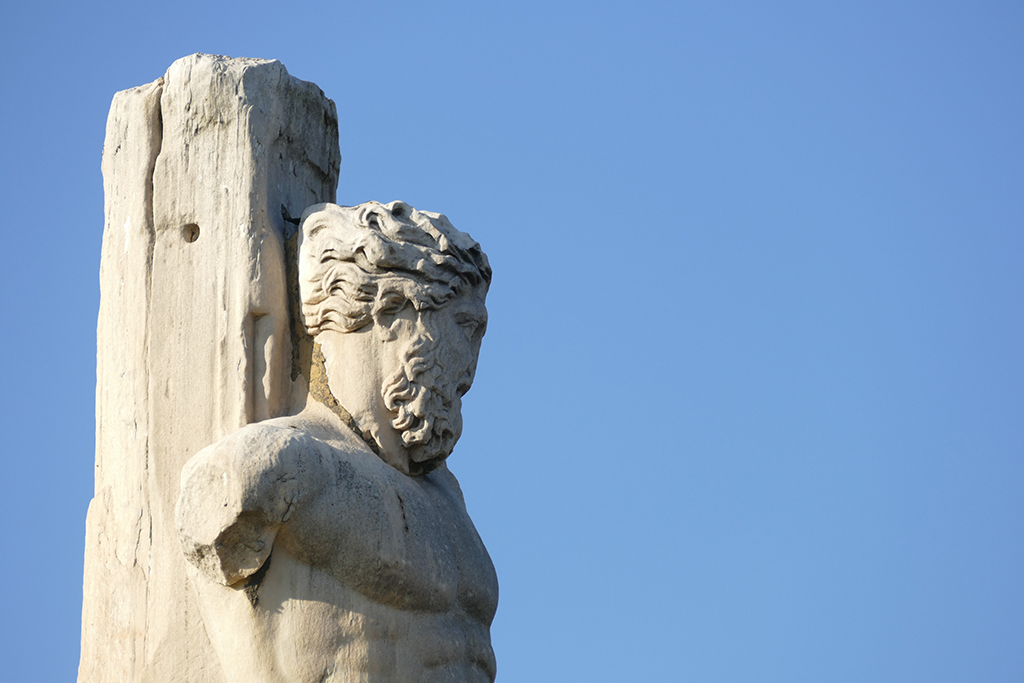 The Ancient Agora is the best-known of the ancient Greek agoras. Those were commercial sites, places of assemblies, and spots for local gatherings.
At the Roman Agora that I mentioned above, you can actually still trace the remnants of the hawker houses and shops.
While at these designated archeological spots you find the highest concentration of antique treasures, there are many great buildings scattered around the center.
The Trilogy
One of the most impressive complexes is the triptych of the old university building. It's built in the neoclassical style and flanked by the Academy of Athens and the National Library of Greece.
Funny enough, these palaces were designed by Danish architect Theophil Hansen. However, it certainly is a bit bizarre assigning a Dane to built references to those proto-Greek ideas and ideals.
This group is standing on the Panepistimiou boulevard and very worth the visit.
Shopping Temples and other Houses of Worship
Especially if you are a sports fan and fascinated by the Olympic games, a visit to the Panathenaic Stadium will be indispensable. Talking 'bout sports – you can walk there in about 30 minutes, admiring a handful of amazing buildings on the go. Start at Monistiraki Square, dominated by the Tzistarakis Mosque built in 1759. Today, it is an annex of the Museum of Greek Folk Art.
Churches
Walking eastwards on Ermou pedestrian street, not only do you pass many of those global chain-stores, but also the Church of the Assumption of the Virgin Mary, one of the city's oldest Orthodox churches built in Byzantine style.
One bloc up, at Evaggelistrias, turn right to get a good look at the Metropolitan Church of Athens Evangelismos Theotokou which is actually, the Cathedral of Athens. It was built in the 19th century. Next to it stands its much older sister, the historic Church of Virgin Mary Gorgoepekoos and Saint Eleutherius from the Byzantine-era in the 12th century.
David Against Goliath
If you don't continue your walk on Ermou but keep on walking on Mitropoleos, you'll get to one of Athens' quirkiest churches, the tiny Ekklisia Agia Dynami. This little gem has been there since the 16th century and is under monument protection. Hence, they had to build the huge hotel and shopping complex around it. David versus Goliath: Although the new building is much bigger, somehow it looks more out of place than the tiny old lady – which, by the way, serves as a shrine for pregnant women.
And then you get to the famous Syntagma square where in good times happy people stroll around, relax on benches, and enjoy life. In bad times, however, unhappy protesters express their thoughts and feelings in many different ways.
On the eastern side is the parliament as well as the Monument of the Unknown Soldier. Two guys in costumes uniforms that change their shift on the hour are looking after it.
I've mentioned this spectacle above. If you're around, it's a nice show for pictures, if you miss it, you can still have a meaningful life.
Not far from the parliament is the entrance to Athens' National Garden, a greenery that's probably more significant to locals than tourists because apart from being a small green lung in this busy metropolis, it is not particularly alluring.
The Zappeion and the Panathenaic Stadium
Towards the south, however, is the beautiful Zappeion. This palace's purpose was to revive the Olympic Games in the modern world. Hence, during the 1896th Summer Olympics, it served as the main fencing hall.
Today, it serves as a Conference and Exhibition Center.
Today a multi-purpose stadium, its history goes way back to 330 BC when its predecessor was built as a racecourse for the Panathenaic Games.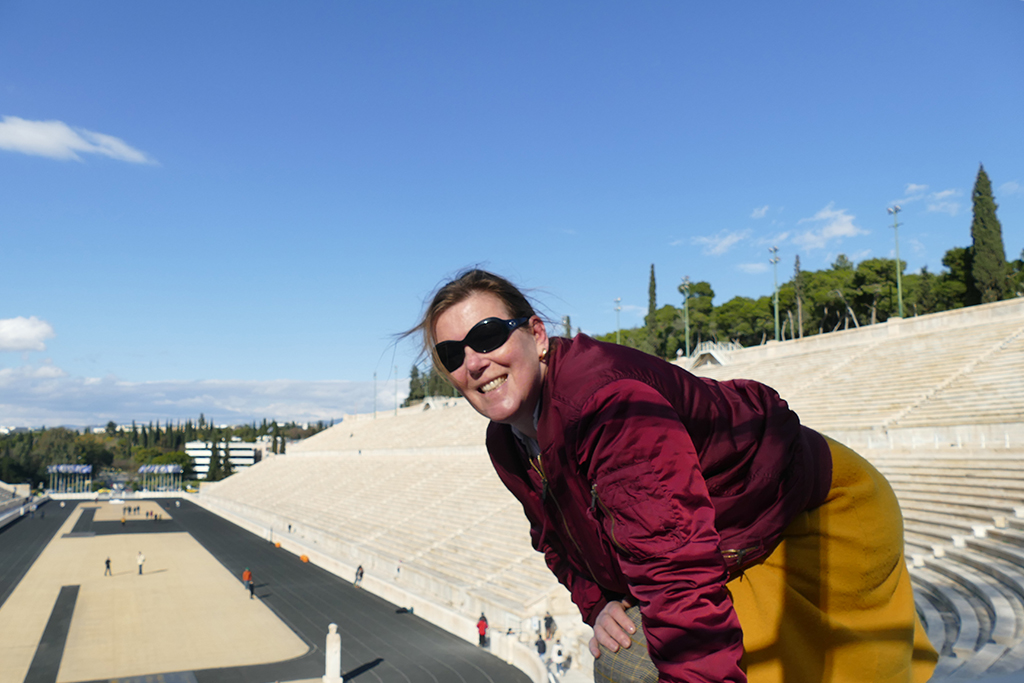 It was then rebuilt several times, i. a. in 144 AD by Roman senator Herodes Atticus. In 1896, it hosted the opening and closing ceremonies of the first modern Olympic Games and was also used for the games in 2004. It's also here where the Olympic flame is being handed over to the respective host nation.
Besides walking around and taking in this dignified and beautiful venue, there is also a nice little museum with all the placards. Also, some of the torches can be admired.
National Archeological Museum
You've visited the Acropolis Museum and think you've seen it all? You are so wrong, and if you don't visit the old Archeological Museum, you've missed one of the nicest things to do in Athens.
This museum houses many of what is considered to be the most important artifacts from various locations around Greece from prehistory to late antiquity alike. It is divided in a Prehistoric section where i. a. the funeral mask of Agamemnon from around 1500 BC is exhibited. Then, there are a sculpture collection, a collection of vases and minor objects, rooms with frescos from Santorini, a metallurgy section, a collection of Egyptian and Middle Eastern artifacts as well as a huge epigraphical collection.
Since I had taken the wrong bus and the stupid museum closed at 4 p. m., I sadly missed some of the important exhibits. But, as you know, Athens and I are good buddies now, so I'll be back as soon as I can.
A German King
The museum building, by the way, was designed in the second half of the 19th century in a neo-classical style. Two of the participating architects, Ludwig Lange and Ernst Ziller, were German. You might be surprised how much German influence there is especially in the architecture from that period.
Fact is that in 1832, Otto Friedrich Ludwig von Wittelsbach – aka Otto of Greece – became the country's first King while still a minor. He reigned until 1862 and, obviously, left some traces.
National Archaeological Museum
44, 28th of October Street
Athens 10682
Εmail: eam@culture.gr
Phone: +30 – 213 – 214 4800
The museum hours differ according to the tourist season – and, fair enough, the entrance fee differs, too, so make sure to check out their website when planning your visit.
The 20th Century
And yet here we are amidst the younger history which for the Greek people was far less glorious than the Antiquity.
Actually, I don't know why it is that everyone knows about the Young Turks attempting to eliminate the Armenians, few people are aware of the persecution and pogroms against Greeks in Türkiye during and after WWI. These horrific events are referred to as the Greek catastrophe of Asia Minor when about half a million people were killed and those who survived had do flee.
And then Nazi Germany occupied Greece, terrorized and starved its people. Albeit, after WWII, the nation was divided into those who under the trauma of fascist terror opted for a leftist government, and those who, supported by the Americans and mainly by the British, were keen to defeat communism. This resulted in a civil war that lasted from 1946 to 1949. Beats me why everyone is aware of the Spanish civil war and only a few know that there was one in Greece; cannot be only due to Picasso's Guernica!?
Ghika Gallery
Of course, there were artists active during that time and also during the military dictatorship having a grip on the country from 1967 to 1974 – only that many of them aren't internationally as famous as Picasso.
However, you can see their work and learn through it about these what is called euphemistically the difficult years at the former home of Greek artist Nikos Hadjikyriakos-Ghika.
Not only can you admire Ghika's great taste and unique way of furnishing his house on the top floor, but you also get to know many interesting artists and intellectuals through their work that's on exhibit on various floors.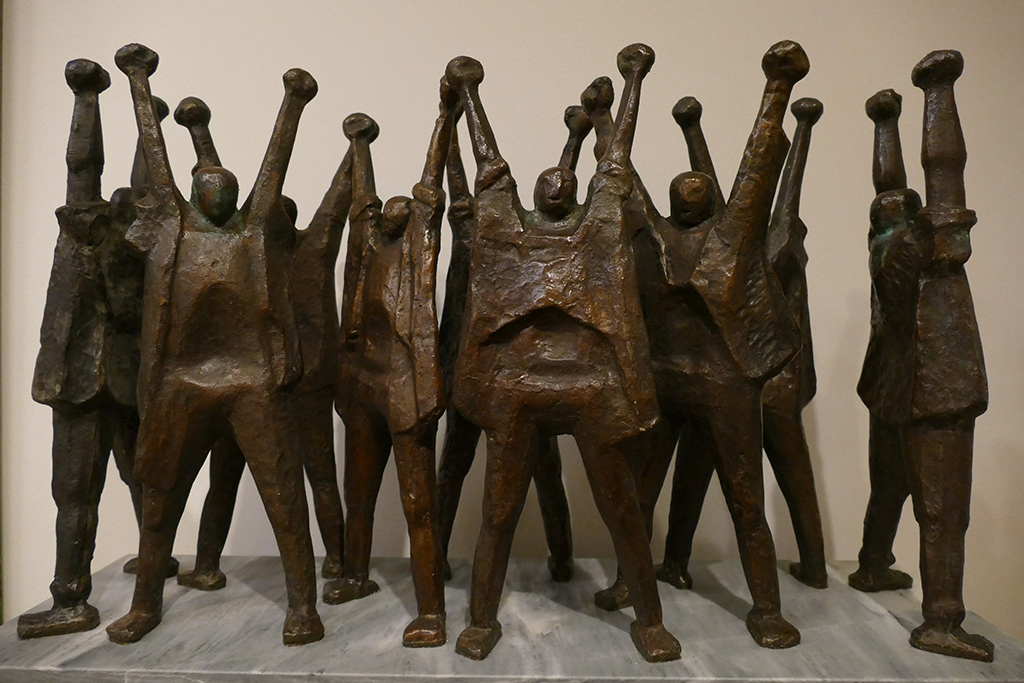 There is everything – books, records, films, paintings, and sculptures. Beautiful and educational – what more can you expect? So if you have the time and like to learn about those for some reason a bit forgotten years, pay the Ghika a visit, it's totally worth it.
Ghika Gallery
3 Kriezotou St
10671 Athens
Phone: + 30 – 210 – 361 57 02
Email: ghika_gallery@benaki.gr
The Ghika Gallery's opening hours are very limited. Actually, it can be visited on Fridays and Saturdays from 10 a. m. to 6 p. m.
Reading Tip
British author Sofka Zinovieff, married to a Greek and living partly in Greece, has written a gripping novel where along with the protagonists' faith, you can trace the country's history over the 20th century. The House on Paradise Street is a captivating read. It will enrich your visit to Greece with much background info and history in an entertaining way.
The Ghika Gallery is one of the venues of the Benaki Museum – in total, there are like ten of them. The Benaki Museum is named after Antonis Benakis, son of Emmanouil Benakis who was a businessman and politician and even the mayor of Athens for a couple of months in 1919. So his son Antonis was, as far as I know, exclusively an art collector; and I envy him a lot – I also wish my father was a wealthy businessman I could dedicate my time to shopping – art like Antonis did, not shoes and bags and other nonsense like most of those other rich kids do.
However, it is thanks to rich kid Antonis that we can visit ten wonderful museums in Athens – fair enough.
But Antonis is by far not Athens' only benefactor, there is also Stavros Niarchos: Mr. Stavros Spyros Niarchos, born in 1906 and deceased in 1996, was a multi-billionaire shipping tycoon. Next to him, Onassis was just a mediocre peddler – Niarchos' fleet consisted of the world's biggest supertankers.
Stavros Niarchos Foundation
In 1996, a Stavros Niarchos Foundation was established. It is a philanthropic trust, supporting the arts and culture.
On the bay of Faliro, since 2015, there is the Stavros Niarchos Foundation Cultural Center. This venue is housed in an amazing building, designed by no less an architect than Signore Renzo Piano. Sounds familiar? He's the genius that also designed, for example, the Centre George Pompidou in Paris and a major part of the Postdamer Platz in Berlin.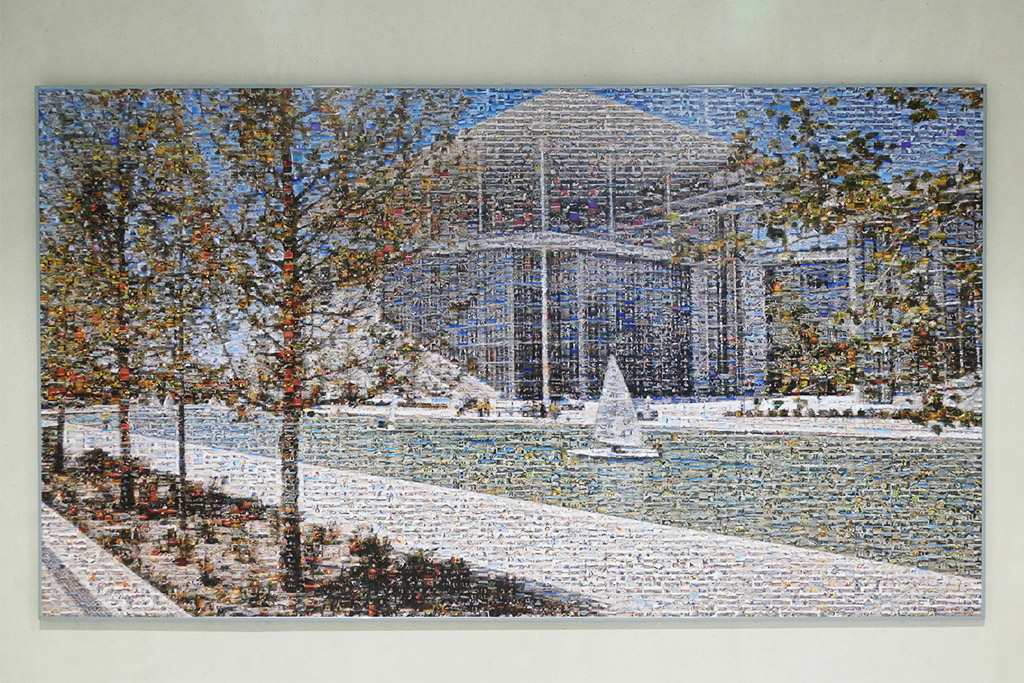 Today, the facilities, as well as the 210,000 m² large park, are open to the public for free.
Get a Guided Tour
You can even join a guided tour through the center that houses the National Library of Greece and the Greek National Opera which I would totally recommend.
Our wonderful guide Vassilis, according to his youth in combination with his knowledge probably an A-student, explained in a very captivating way the thought-out concept and humanistic philosophy behind the structures, the sections, and all the fascinating details. Our group was guided for about 90 minutes through all the different halls, following Vassilis' explanations in a pretty sophisticated English. This young man proved that you don't have to be a stage hog showering your audience with silly jokes and remarks to captivate their attention. Very well done.
You don't need to take the tour to visit and enjoy the SNFCC, however, only on the guided tour you have access to the backstage of the opera – and, of course, only with a knowledgable guide, you get to understand the philanthropic ideas and genius concept behind the unique building.
Practical Information
There are three tours per day which are free of charge. Only the one at 10 a. m. is in English, those at 12 p. m. and 4.30 p. m. are in Greek. Since there is a limit of 25 participants per tour, I'd recommend making online reservation well ahead of your visit.
Stavros Niarchos Foundation Cultural Center
364, Syggrou Avenue
176 74 Kallithea
Phone: + 30 – 216 – 809 10 00
Email: info@snfcc.org
Since the opening hours of the park, the library, and the visitors' center differ, please check them on their website. The easiest way to get there is by subway to Syngrou Fix station and from there by bus number 10 to 2i Katsoni – follow my example and ask the driver to kick you out there.
Broke City full of Million-Dollar Views
The view from the SNFCC's terrace is amazing, right? But it gets even better. Just like Rome, Athens is built on seven hills – which grants spectacular views from all different angles. However, I will not lie to you, you have to earn them. Even when I wanted to skip the exercise part and opted for the funicular to get to the Lycabettus hill, I broke a sweat from walking uphill and climbing all those stairs just to get to the station. Sweating'n'swearing I asked myself what this funicular is good for since I had to clamber up that stupid hill, anyway. Only as I finally got to the lower station I realized that the steepest part still lied ahead. The investment of 5 €uro for the cute little train was a no-brainer.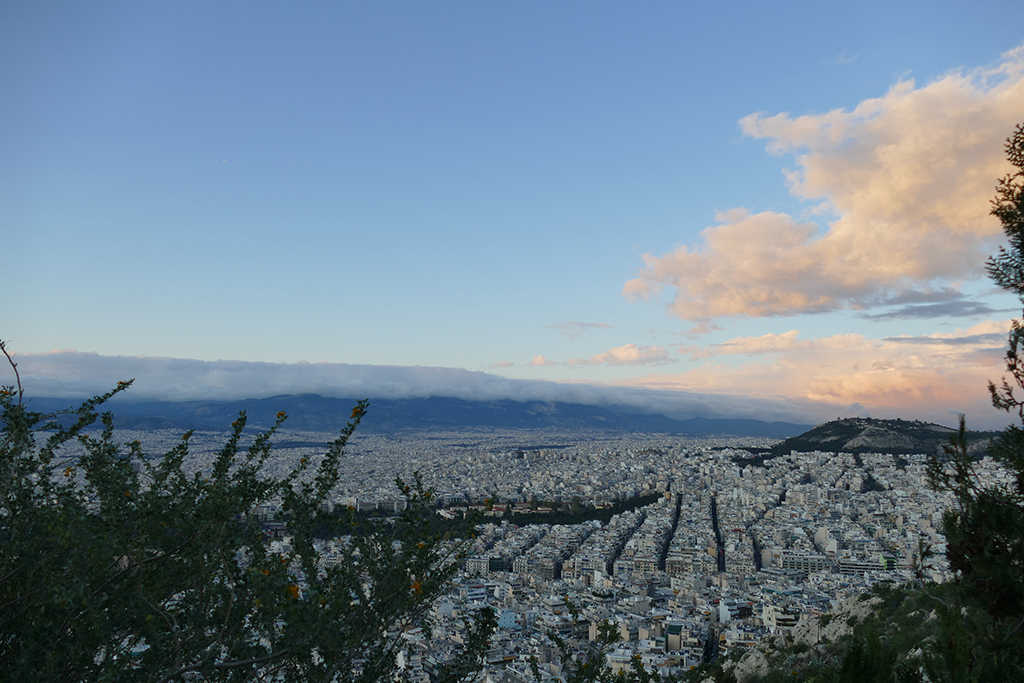 On the top, there is a restaurant and the Greek Orthodox Church of Saint Isidore – and most of all a grand view in all directions.
To go back, you can either take the funicular again – I hope you were prudent enough to have bought a round trip for 7 €uro. Or you walk downhill and then keep walking west towards the Syntagma Square and into the night and into Athens' powerful arms.
Tell her, I'm saying Αντίο, promising her to be back!
Practical Information
How to Get There
By Air
Just like any other European city, there are flights with regular and low-cost airlines like Vueling, Ryanair, and Eurowings heading for Athens. Especially the national airline Aegean offers a quite good cost-service ratio. You even get a snack and can check your luggage for free.
Since Greece's capital is on the mainland, you can also get there by train for instance from Vienna – albeit visiting Hungary, Romania, and Bulgaria on your way which takes in total 40 hours; but totally okay if you're in for a railroad trip across the Balkans. Also travelling by long-distance bus might be an option – from Vienna less than 30 hours. As I said, this might be a really inspiring trip where you get to see various interesting southeast European cities on your stopovers. But, obviously, not an option if you're coming for a long weekend.
Athens International Airport Eleftherios Venizelos is located 28 kilometers east of the city center. You can easily get there by subway line M3. However, if your flight is very early or very late or on a holiday, check the frequency. I had a quite early flight and the trains went only every 30 minutes which is totally fine, but you have to be aware of that. Also, remember that although you're riding an almost regular metro, the ticket from and to the airport is 9 €uro.
By Land
The main train station is about 5 minutes from the Syntagma square, the adjacent metro station is Larissa. It's also at the Larissa bus station where you can board buses to neighboring European countries like Bulgaria, Serbia, or the Czech Republic.
Greece has always been famous for shipbuilding and ports such as Piraeus and kisses that taste of the sea, salt, and tar – okay, the last is a quote from the German version of Never on Sunday. And Never on Sunday is a movie from 1960, starring Melina Mercouri, actress, singer, and subsequently Greek Minister of Culture and Sports. You can learn more about her at the Ghika Gallery that I'm introducing above.
Now back to the point: So since Greece is all about seafaring, you can, of course, also get to Athens by cruise liners – and ruin our planet – or ferry. The harbor is located in Piraeus about ten kilometers south of the city center. It is the final stop of the subway M1.
How to Get Around
Although public transportation in Athens is really good – reliable and fast and taking you everywhere, prepare for still walking at lot: The stops are often remarkably far from another, so do not expect to get off the bus or train right at your final destination. Walking half a mile from the stop will be no exception.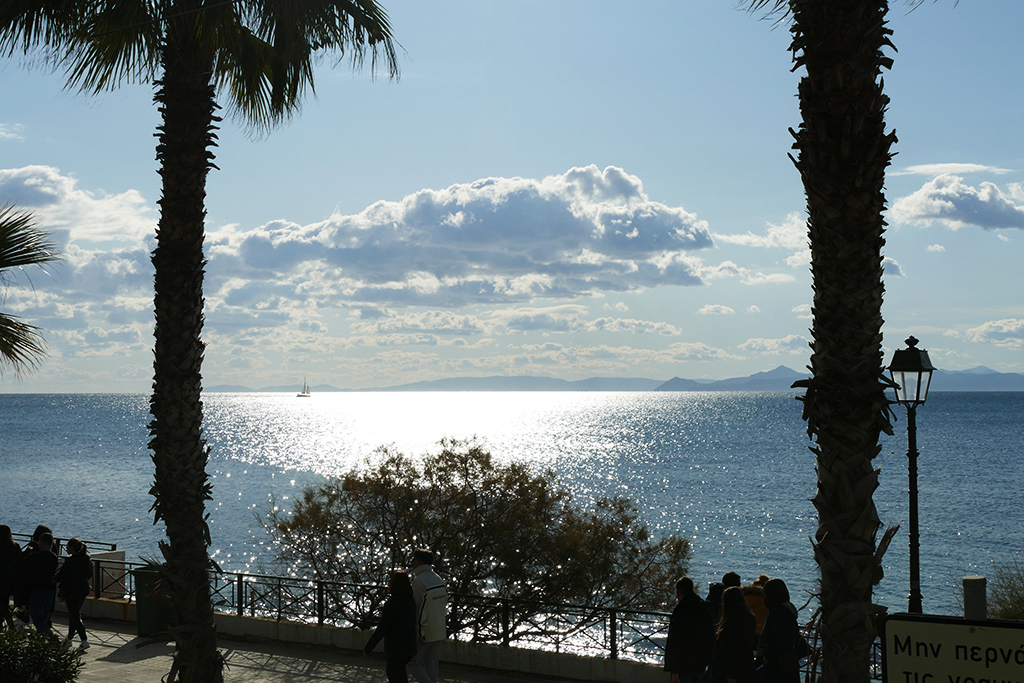 Anyway, especially the three subway lines are amazing and seem to cover not only the entire city center, but take you also to the port of Piraeus and to the beautiful beaches in the southern outskirts, the so-called Riviera.
Albeit, the tram goes even closer to the waterfront, so you might want to opt for that.
Public transportation runs from 5.30 a. m. till past midnight.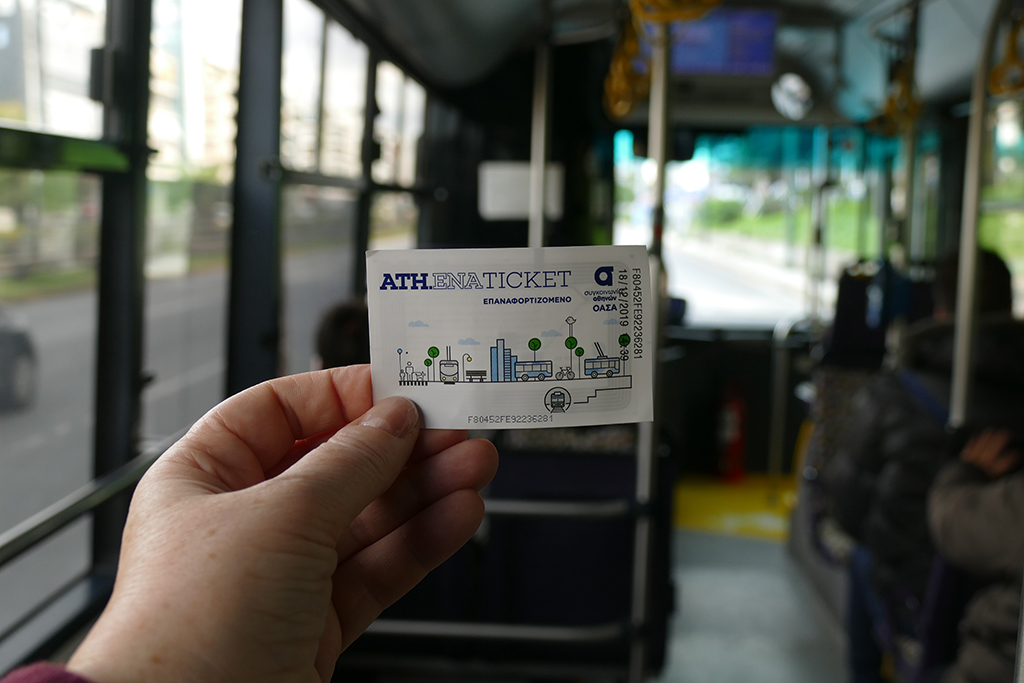 Tickets And Passes
A single ticket is valid 90 minutes and costs 1,40 €uro, 2 single tickets cost 2,70 €. For visitors, the 24 hours day pass for € 4,50 is a great deal – mind you, it's valid for 24 hours, not the day. However, if you stay only two days – or, of course, even longer – the 5-day ticket for € 9 Euro pays pretty fast. Mind you, it does not include the ride from and to the airport.
If you are staying up to three days in Athens, the Three-Day-Tourist ticket might be your best choice: For 22 €uro, you can travel for 72 hours after your first use – and it includes a roundtrip from and to the airport.
The best way to buy your ticket is from the vending machines at the stations – using either cash or cards.
You'll find all info on public transportation on this very comprehensive page.
Where to Stay
I stayed at two different hotels, both were close to the infamous Omonia station. Before going, I've read terrible reviews about the surroundings. However, once I got there, I wondered where the people that wrote those reviews live. They must be from some idyllic mountain villages. Because what's going on around Omonia is going on in every big city in the not so bourgeois neighborhoods.
Yes, Omonia is a bit shady, there are all kinds of people. After all, it's an important transportation hub. Hence, you probably shouldn't go for drinks with just anybody hanging out there. Or flash your cash. However, as you know, I'm a female solo traveller and I was fine. Even at 5 a. m. when I had to catch the metro to the airport and had all my precious belongings with me.
The neighborhood is not exactly scenic, I give you that. But especially the second hotel I stayed in, Ambrosia Suites & Aparts, was at a fabulous value-for-money ratio. I got a spacious, squeaky clean room with a large bed and all that stuff you expect to find in a hotel room. There was a TV, a fridge, a desk, etc. – and even a large balcony. Even breakfast was included. Certainly not a gourmet breakfast, but an okay breakfast with cereals, baked goods, eggs, and all sorts of drinks.
Oh, and the staff is super-nice, too.
However, if you prefer to stay in a different area, here are some good options*:
Where to Eat
Where to eat – good questions. And easy to answer: Basically everywhere. Especially around Monastiraki Square and the adjacent Plaka neighborhood, you'll find an amazing number of restaurants and eateries. They all serve basically the same food and they serve it in large quantities. And it's very meat-based. It's rather food than cuisine.
I should add that I'm based in a country where every remote hamlet has a Greek restaurant. I'm not exaggerating – in Germany, Souvlaki, Moussaka, Gyros, and Co. are just like Mexican food in California – it's not special. So while it didn't impress me, it still might impress you.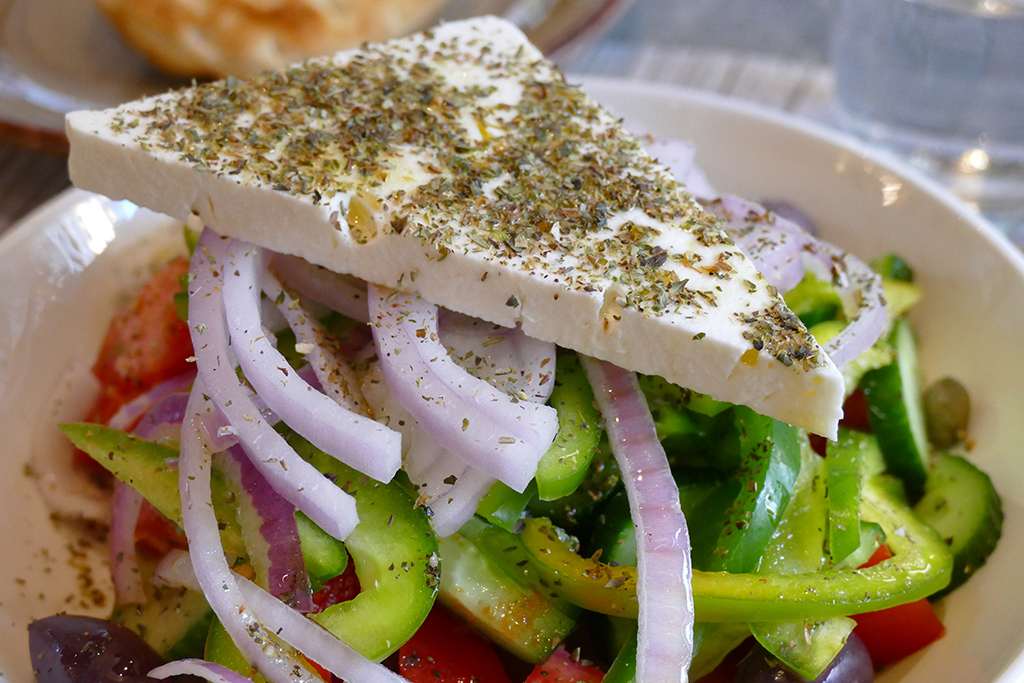 During my stay, Greco's Project at the corner of Ermou and Evvagelistrias became my favorite place. They have great salads. If you have it as a starter, the small one will do and set you back less than 5 €uro. Eventually, you can have a gyros stuffed pita for less than 4 €uro or a meal for about 10.
With your check, the very friendly waiter brings you a tasty dessert – I had two small pieces of different pies. Nonetheless, as I ordered a small espresso with a little milk to have with my treats, I was a bit disenchanted. They charged 3 €uros for it! No, as far as I could see, they hadn't stirred gold in it. So – don't order coffee and you'll be fine.
Greco's Project
Evagelistrias 9 & Ermou
Athens 10563
They have to other branches – one at Syntagma Square and one at Monastiraki Square.
Language
Not all Greek people have a great command of the English language. However, most speak it pretty well, especially the younger folks.
You know that Greek is written in Greek letters, right? Fortunately, most relevant signs are also in Latin letters. Nevertheless, I did come across some stuff that was exclusively in Greek. Therefore, it doesn't hurt to familiarize yourself at least with the greek capital letters. And, of course, a translator app will save you.
However, it is a friendly gesture and everyone will appreciate it when you are able to say good day – kalimera, good afternoon – kalispera, hello – yassas, thank you – efcharisto, and please respectively you're welcome – parakalo. Fun fact: Ne means yes, although it sounds like a casual no. No, however, would be ochi. By the way, it's pronounced rather like ohi, by no means like oshi.
Cash And Cards
Until now, 20 European countries replaced their former local currency with the €uro starting in 2002. Obviously, Greece is one of them. The exchange rate is 1 US$ = 0.94 EUR as of January 2023. However, you can check today's conversion rate on this page.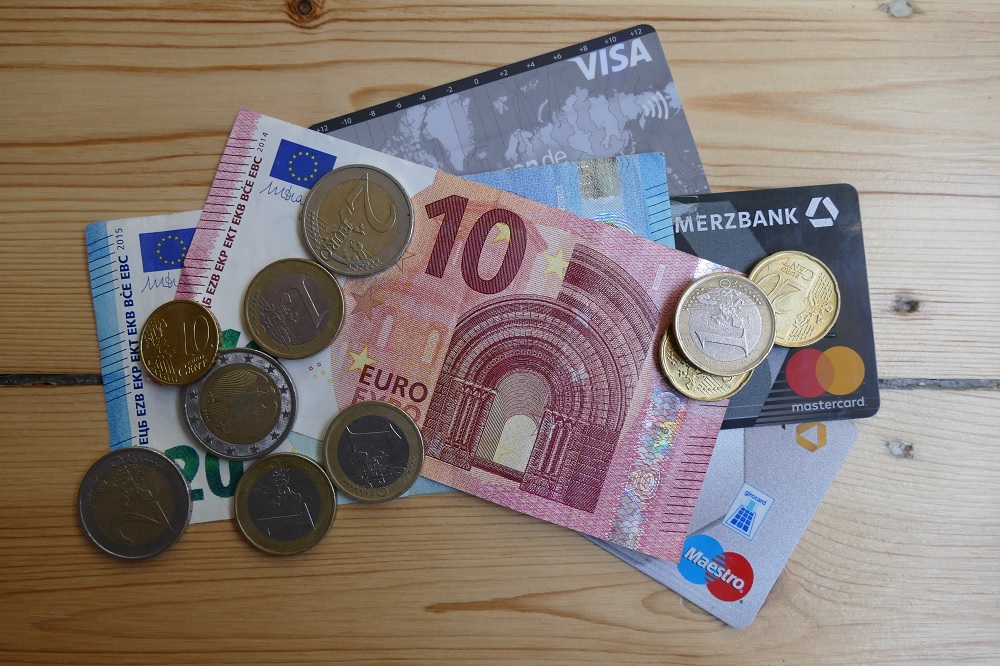 Tourist Information and Deals
There are various companies catering to tourists, and this might be the best one. Not only do they have a very informative and modern website helping you plan your stay. They also have some stands for instance at the airport and at other centrally located spots like Syntagma square.
On their website, you also find the really outstanding project With a local where you can book a free tour with….yes, a local. A great experience that will add so much more insight into your trip.
Deals And Discounts
Since I was in Athens at Christmas – so definitely not the high season – I didn't have to face any significant queues. However, if you want to make sure to skip possible lines, you can buy tickets to all the archaeological sites online. It's the Archaeological Resources Fund of the Greek Ministry of Culture and Sports that grants this great service.
Choosing a day and a timeslot, you can purchase individual tickets. Or you opt for a combi ticket that includes the Acropolis, the Ancient and the Roman Agora, Hadrian's Library, Olympieion, Kerameikos, and Aristotle's School at only 30 €uro. This ticket is valid for five consecutive days.
If you want more variety in your sightseeing and still get a great deal on the attractions, you might prefer the iVenture Card. There are so many options and varieties that I cannot list them all in detail. However, in general, there are two types. The Unlimited Attraction Pass for one to seven days at 79 to 329 €uros. If you buy the pass for at least three days, there's even a day tour to either Delphi or Epidaurus and Mycenae included or a Poros-Hydra-Aegina cruise.
A much slimmer version is the Museum Pass which includes visits to the Acropolis site and museum, the Ghika, the Panathenaic stadium, and many more. It also includes a 48 hours ticket for the Gray Line hop on hop off tours. Amazingly, there are three of them: the city tour, the Piraeus tour, and the riviera tour. This pass is good for three days and costs 55 €uro. Mind you, the bus tours alone would set you back 26 €uro! So if you want to see Athens beyond the archaeological sites, this might be your best bet.
Map
On this map, you'll find all the wonderful places I'm introducing in this post.
Clicking on the slider symbol at the top left or the full-screen icon at the top right will display the whole map including the legend.
Pinnable Pictures
If you choose to pin this post for later, please use one of these pictures: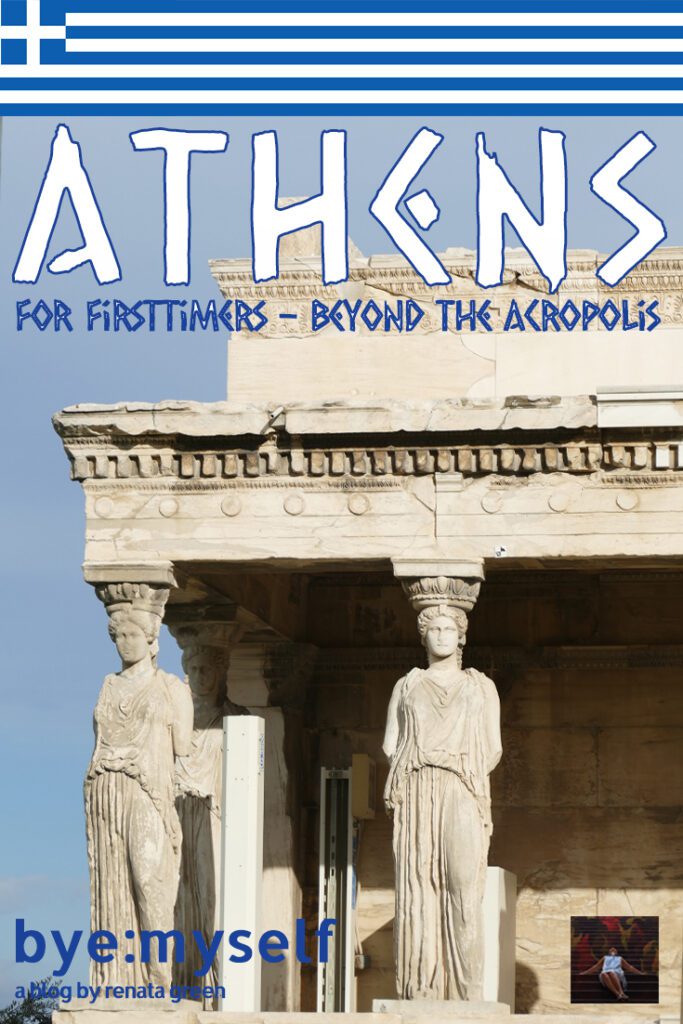 Note: I'm completing, editing, and updating this post regularly – last in January 2023.
Did You Enjoy This Post? Then You Might Like Also These:
* This is an affiliate link. If you book through this page, not only do you get the best deal. I also get a small commission that helps me run this blog. Thank you so much for supporting me!
This is Athens supported my trip. They supplied me with an iVenture Card and a 3-Day-Tourist ticket. However, all opinions on these services are mine and weren't by any means influenced by my cooperation partner.