Tradition and modernity in social graces, grand culture, and inspiring architecture are the reason you should definitely visit Bangkok for more than just one night.
A visit to the vibrant capital is a must on every trip to Thailand. Therefore it's very convenient, that most individual travellers are landing at one of Bangkok's airports, anyway.
Bangkok's History
Bangkok was originally just a small fishing village on the eastern bank of the Chao Phraya. It was first recorded on a Portuguese map in 1511. But only during the historical era of the Kingdom of Ayutthaya, the place developed into a sizeable and important trading port along the water route to the former capital.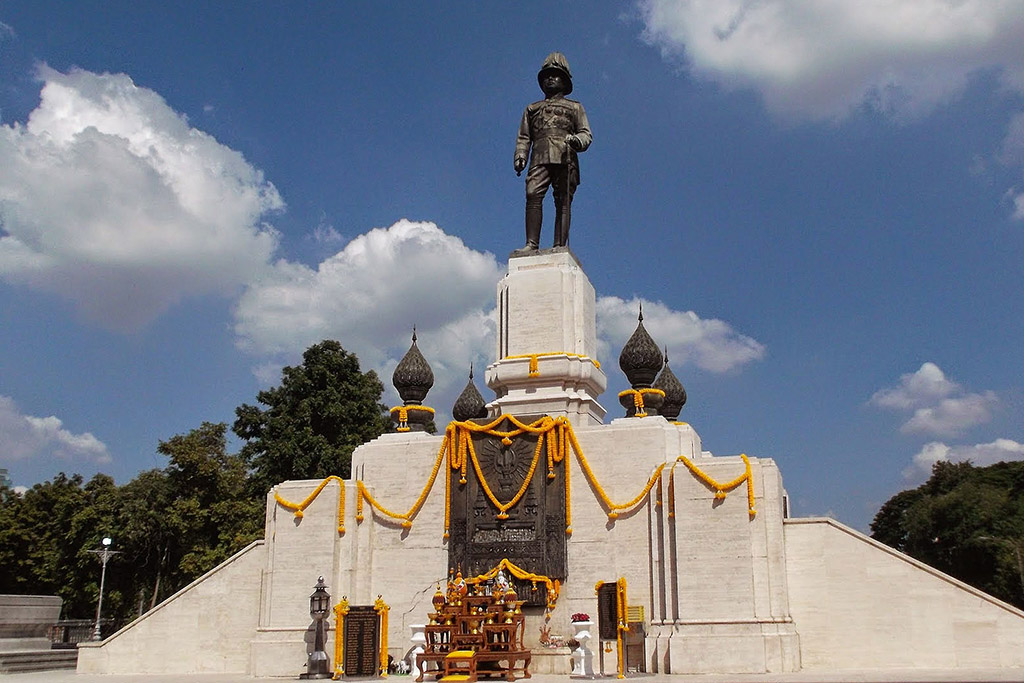 The origin of today's Bangkok lies in the small town Thonburi. Meanwhile, it's just one part of the capital on the western bank of the Chao Praya river. King Taksin made Thonburi the new capital in 1772. This was after Burmese troops had largely destroyed the capital of the Kingdom of Ayutthaya in a war in 1767. Ten years later, the new King Rama I moved the seat of the government to the eastern bank to the village of Bang Kok. King Rama I founded the Chakri dynasty, which today still is in power.
The City of Canals'N'Creeks
So why was Bangkok called the Venice of the East?
Well, in the past, a dense network of canals called khlongs crisscrossed the whole city. Most traffic was moving on these creeks. Even the shopping happened on the water at floating markets. There were hardly any roads.
In the 19th century, most of the waterways were filled in to create more space for the steadily growing traffic.
Hence, in 1863 the city's first paved road was Thanon Charoen Krung which prognostically translates to Road to the Enlargement of the Capital.
King Chulalongkorn, aka Rama V, commissioned a railway line connecting Bangkok with the north of the country at the turn of the 20th century.
Bangkok Today
Bangkok has been the capital of the Kingdom of Thailand since 1782.
With 15.5 million inhabitants, Bangkok is not only Thailand's largest city. It is also the political, economic, and cultural center with universities, colleges, palaces, and over 400 Wats, hence Buddhist temples and monasteries.
Since 2016, Bangkok has been the most visited city in the world with over 20 million tourists annually.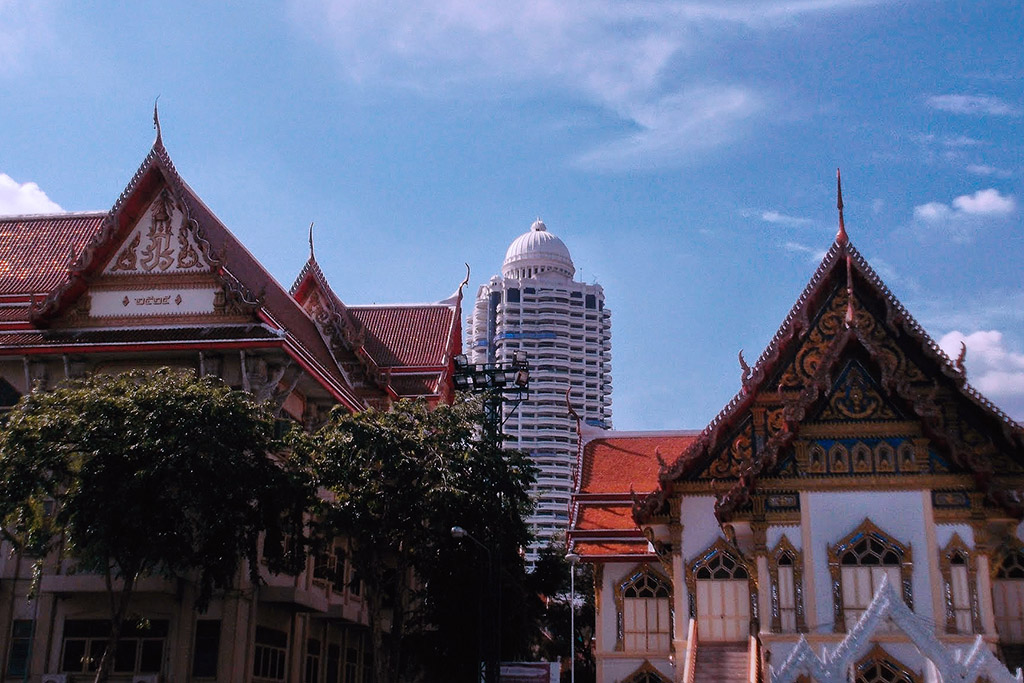 The city has neither a clearly defined center nor a central business district. Businesses and administrations are actually spread over several quarters.
In the second half of the 19th century, the Chinese quarter in the Samphanthawong district developed into the city's central business area. From the 1950s, banks and large law firms settled along Silom, Surawong, and Si-Phraya Streets in the Bang Rak district.
Since the 1990s, high-rise office buildings were built in the Sathon district all the way up to the Pathum Wan district. There, you'll find many of those large shopping centers making Bangkok a shopping paradise.
The establishment of the two mass transport systems Skytrain (BTS) and U-Bahn (MRT) has increased the expansion of the areas with a central business function.
Glorious Bangkok
Besides these thriving parts of the city, there is still lots of ancient glory.
Actually, Bangkok prides itself to have over 400 Buddhist temples called Wat. The most important is Wat Phra Kaeo. It's part of the Imperial complex on the city's Rattanakosin Island. Apart from many other treasures, it also houses the so-called Emerald Buddha. This small statue is highly revered across the country.
The Royal Palace on the banks of the Chao Phraya is Bangkok's most important landmark, obviously. It consists of over 100 buildings in different architectural styles. A 2-kilometer-long crenelated wall encloses the entire area of 200,000 square meters.
However, Bangkok is also home to the National Museum of Thailand, the National Gallery, the National Library, and the National Theater.
And before we start our walk through Bangkok, one last thing. Obviously, all names of the places are originally in Thai. This leads to minor spelling variations when transcripted into Latin letters.
The Grand Palace
After the Burmese had destroyed the old capital Ayutthaya, King Rama I decided to lay the foundation stone for a new palace on the eastern bank of the Chao Phraya River in 1782. The entire complex of the old royal palace matches pretty much the blueprint of Wang Luang, the royal palace of the Kingdom of Ayutthaya.
Henceforth, the Grand Palace was the official residence of the kings of Siam from the end of the 18th until the middle of the 20th century.
After King Ananda Mahidol, aka Rama VIII, died in 1946 in the Borom Phiman Palace, King Bhumibol Adulyadej, hence Rama IX, decided to move the residence to the Chitralada Villa. This neighborhood, about four kilometers north of the Royal Palace, is actually a traditional Imperial area. After all, not far from the Chitralada Villa is the Vimanmek Palace.
This mansion was previously the royal residence. It is made entirely of teak wood. With its 81 rooms, it is probably the world's largest teak building. Today, it is a museum and can be visited.
This being said, I would only venture up there if I had more time to spend in Bangkok. Despite its historic significance, it is not the most impressive place to see.
And this brings me to the really mesmerizing places in Bangkok, namely
Wat Phra Kaeo
Exploring Bangkok – there are oodles of Wats to admire. Beautiful, colorful, gold-plated Buddhist temples.
The biggest and most important one is Wat Phra Keo located right next to the Royal Palace.
The entrance fee to the entire complex is quite high – 500 Baht for farangs, which translates to foreigners. However, with your ticket, you can visit the textile museum. Here you can admire the late Princess Sirikit's lavish wardrobe.
During one of my visits to Bangkok, I even had the chance to admire Princess Sirikit in person, but we come to that later.
A special gem at Wat Phra Kaeo is the Emerald Buddha, the most revered statue in Thailand.
After visiting Wat Phra Keo you can take a relaxing stroll around the Royal Palace's garden.
Wat Pho
This Temple of the Reclining Buddha is a vast temple complex directly south of the Grand Palace.
The most important feature is a huge 46 meters long and 15 meters high statue of a reclining Buddha covered with gold leaf. His soles are inlaid with mother-of-pearl.
Wat Arun
This so-called Temple of Dawn is an impressive structure and the symbol of Bangkok opposite the Grand Palace on the other bank of the Chao Praya.
Porcelain tiles cover the about 75 meters high pagoda. They gracefully sparkle in the sun.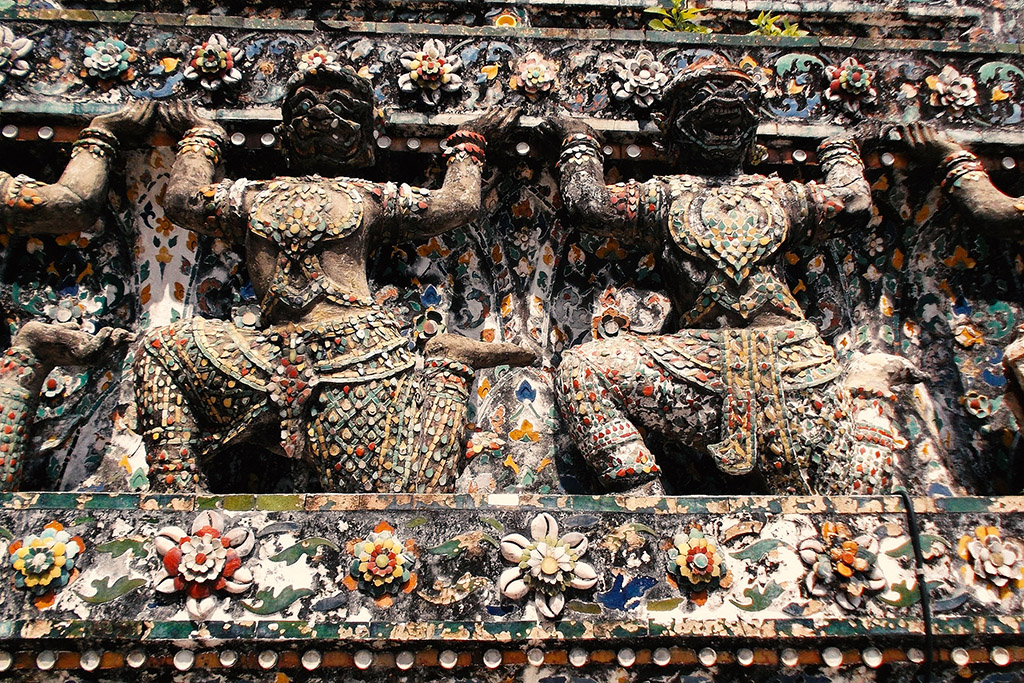 Wat Prayun
King Nang Klao, aka Rama III, commissioned this temple.
He was the king of Siam from 1824–1851 and fertile King Mongkut's older brother. The latter became famous beyond Thailand after being portrayed in The King and I.
A replica of the cosmic mountain Mount Meru is located in the middle of a large pond. It is probably the largest and oldest replica mountain in Thailand. Turtles live in the pond. For this reason, the temple also goes by the unofficial name of Wat Khao Tao, which translates to Turtle Mountain Temple.
Wat Trimitr
It was at this Temple of the Golden Buddha where I basically ran into the now-late Princess Sirikit.
Wat Trimitr is not only worth a visit due to its perfect location next to the Hua Lamphong train station and the Chinese gate. There is actually a three-meter-high Buddha made of five and a half tons of solid gold.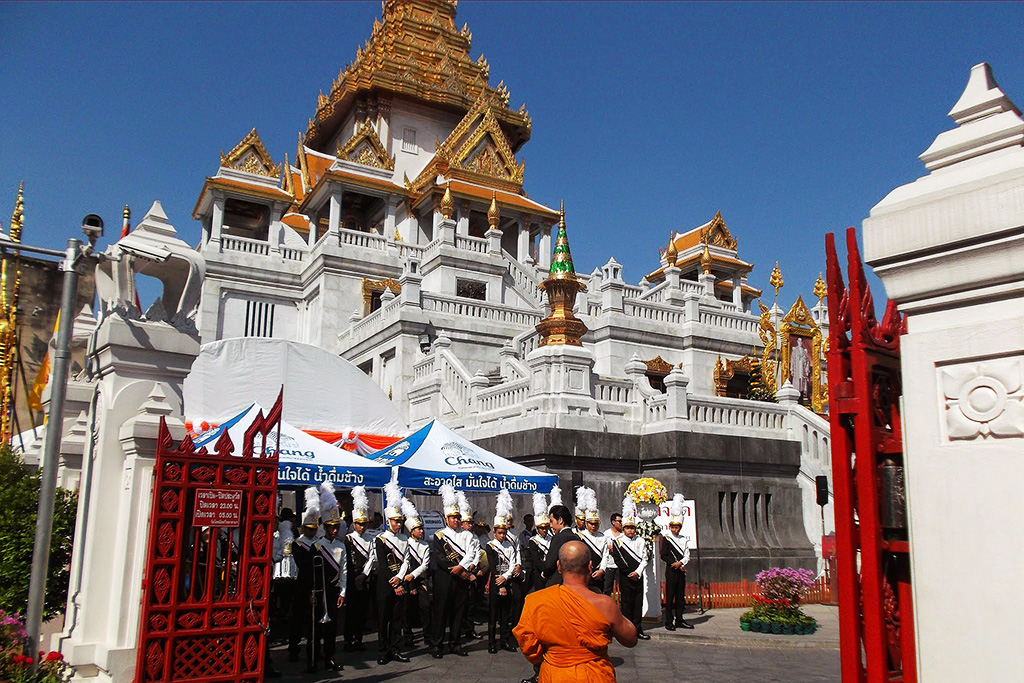 As I got there on my first visit to Bangkok, there were hundreds of people. Stewards and marshals ordered them to take their sunshades off and forbade them to take pictures. Obviously, that was a big disgrace since everybody would have loved a Selfie with Princess Sirikit, obviously. It was actually her we expected any minute and whom this brouhaha was about.
So damaging my shadeless eyes by the glaring sun, not taking Selfies, I awed at the princess.
Wat Chakrawatrachawat Woramahawihan
This Wat – also referred to as the crocodile temple – is one of the most unusual temples of the capital. It is not overwhelmingly beautiful or large and is consequently not very famous.
Considering that there are only four crocodiles living here, I find the nickname a bit boasted. Also, I didn't find the reptiles particularly jolly.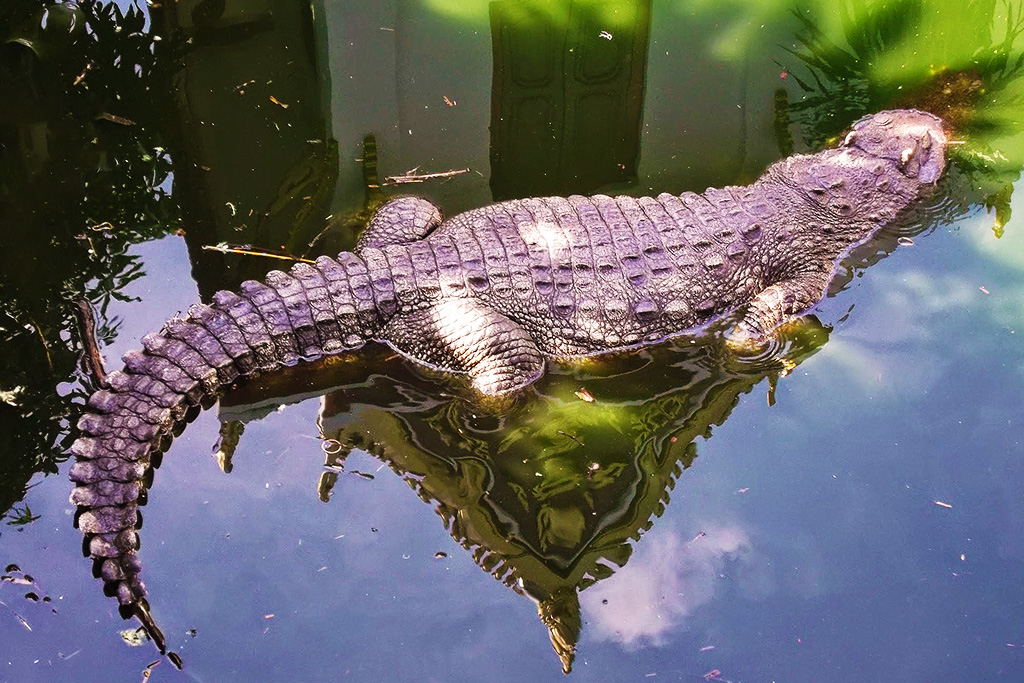 Although the monks feed them every day at 5 p. m., they would probably be happier on the shores of a river. I'm talking about the crocs, obviously, not the monks.
Wat Benchamabophit
This so-called Marble Temple is next to the Chitralada Palace, hence King Maha Vajiralongkorn's residence, and one of the newest temples in Bangkok.
It was built from white Carrara marble during the reign of King Rama V at the turn of the 20th century.
It shows also elements adopted from sacred architecture in Europe such as stained glass windows. On the walkway around the Ubosot is a vast collection of bronze Buddha statues in many artistic styles.
Wat Yannawa
Wat Yannawa is a little south of the Taksin Bridge. It is within walking distance of the Taksin Bridge BTS station. After your visit, you can hop on a ferry to go up north on the Chao Phraya River.
King Nang Klao, aka Rama III, commissioned this complex with Chedis in the shape of a Chinese junk in 1835. By honoring these old ships, he acknowledged the wealth they brought the kingdom.
Wat Suthat
This temple complex is known for its exquisite wall paintings from the 19th century.
On the occasion of Bangkok's 200th anniversary, the Federal Republic of Germany helped financially renovate this site.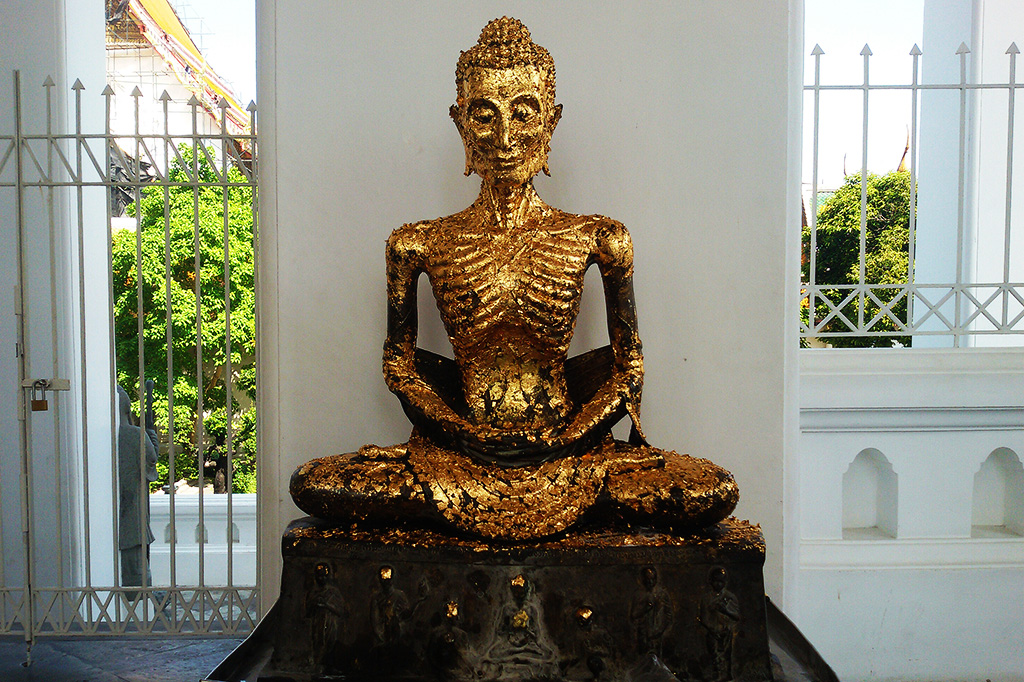 The giant swing Sao Ching Cha in front of the temple was used for Brahmin rituals a long time ago.
Loha Prasat
Wat Ratchanatdaram Worawihan is the other name of this Buddhist temple located at the intersection between Ratchadamnoen Klang and Maha Chai Road.
King Nang Klao, aka Rama III – see above, commissioned the temple for his granddaughter Princess Somanass Waddhanawathy in 1846.
Loha Prasat, which translates to iron monastery consists of five towers with high black iron spears. The 37 virtues that are required to reach enlightenment are signed by 37 golden spears.
Previously existed similar structures, one in India and the other one in Anuradhapura, Sri Lanka.
The design of Loha Prasat almost deems Burmese. In fact, it is a copy of old Buddhist designs found in Sri Lanka.
Wat Saket
The Golden Mountain is an unmissable site to be visited.
The golden Chedi, which crowns an artificial hill, houses Buddha's relics.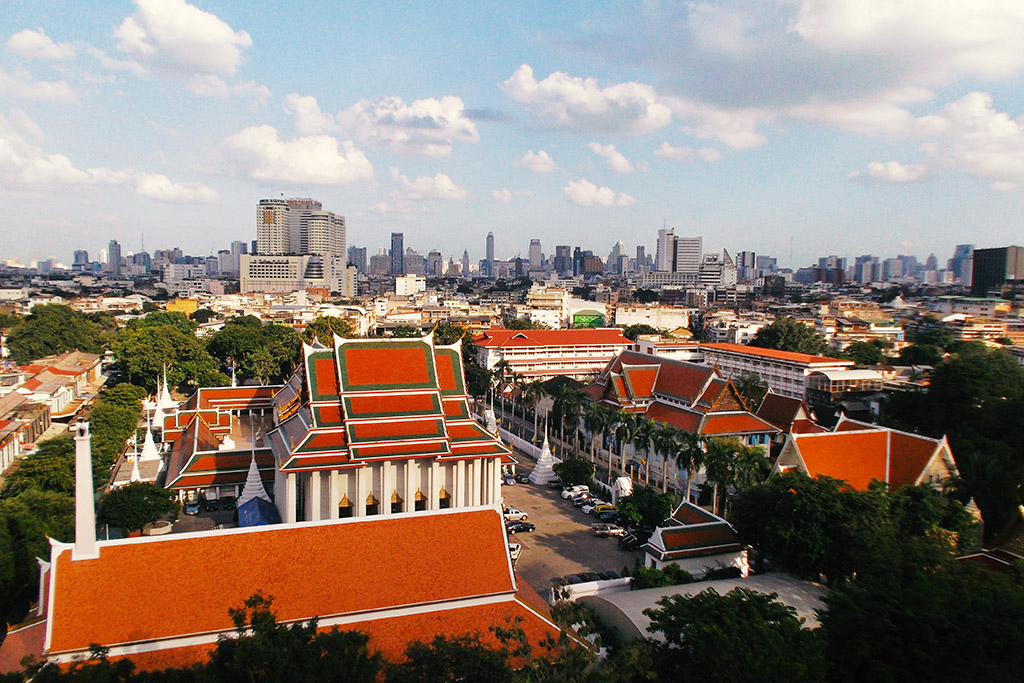 Wat Saket grants a fantastic view of Bangkok.
Wat Bowonniwet
Wat Bowonniwet is the center of the Thammayut-nikai, one of the two orders of Theravada Buddhist monks in Thailand.
It is a First Class Royal Temple under the patronage of the Chakri Dynasty. Hence, Prince Bhikkhu Mongkut entered this temple as a monk in 1836. His great-grandson King Bhumibol Adulyadej was also ordained at Wat Bowonniwet for 15 days after he had already been crowned king. Also, his son, the present King Maha Vajiralongkorn, spent 15 days at Wat Bowonniwet in 1978.
The temple's most important Buddha statue Phra Phutthachinasi was made in Sukhothai style in 1357.
Also, the headquarters of Mahamakut Buddhist University is located on the premises.
Wat Tridhosthep Worawihan
Quite honestly, a visit to Wat Tri Thotsathep Worawihan is only worth your time if you are in the neighborhood, anyway.
King Mongkut, hence Rama IV, commissioned this temple in the first half of the 19th century. Since Prince Supradit and Prince Nopphawong initially planned this Wat, it goes by the name Built by Three Gods. These princes were only two of the King's 82 children…
But why three Gods?
Well, in Thailand, revered Kings are respected as Gods.
The Wat is built from marble and granite.
Wat Intharawihan
Also Wat Intharawihan was already built during the late Ayutthaya period. Bangkok's founder King Rama I had Laotian prisoners of war settled in this district. Among those settlers was also Chao Inthawong, a son of the Laotian King Bunsan. He had the temple restored, which was then renamed Wat Intharawihan in his honor.
In the 19th century, Somdet Phra Phutthachan, one of the most revered monks in Thai history, initiated the construction of the giant standing Buddha statue. As the statue was completed in 1928, the monk had already passed away, actually in 1872. Therefore, to this date, the faithful worship this prominent Buddhist at this temple.
The Buddha here is tall, actually 32 meters high. The most imposing part are the enormous feet. He could easily stamp the people placing their donations around into the ground. But of course, he doesn't because he's Buddha, a famously good person.
Shopping in Bangkok
Bangkok is also famous for mind-blowing – and I'm choosing this adjective on purpose – shopping malls. They deem a world of their own, especially since they are all connected by long tunnels and bridges. As a matter of fact, you don't have to leave this perfect consumer's paradise.

There is 1. Siam Paragon, 2. CentralWorld, 3. MBK, 4. Siam Discovery, 5. Siam Center, 6. Terminal 21, 7. Platinum Fashion Mall, 8. Pantip Plaza…do you really want me to go on?!
Once you're there, it's worth it to have a meal at their food court since they have an incredible range of Asian and Western food at good prices. I'm explaining this in the What to Eat section below.
I must say that I liked much better hanging out – or being shoved – on the local markets such as Chatuchak Weekend Market. Other impressive if not overwhelming markets are the Sampeng Market and the Pahurat Market in Chinatown West of Hua Lamphong station. However, these are definitely not for claustrophobic people. Aisles are extremely narrow and stuffed. To make matters worse, they are also partly covered with some plastic plane.
Khaosan Road
And at the end of our little Bangkok stay we are getting to the Khaosan Road which has been known for the hippie backpacking crowds forever. Then, it became hyper-famous through the movie The Beach starring Leonardo de Caprio and my darling Tilda Swinton.
It's ironic that the formerly most off the beaten tracks individual backpacker road became a heavy touristy point with all sorts of stores and bars and Ronald McDonald putting his hands together in prayer.
Nuff said?!
Building From Silk
Not far from the malls at National Stadium BTS station is Jim Thompson's Thai paradise.
Jim Thompson came to Thailand towards the end of WWII and fell in love with the country. He admired the old silk craft and made a fortune reviving it.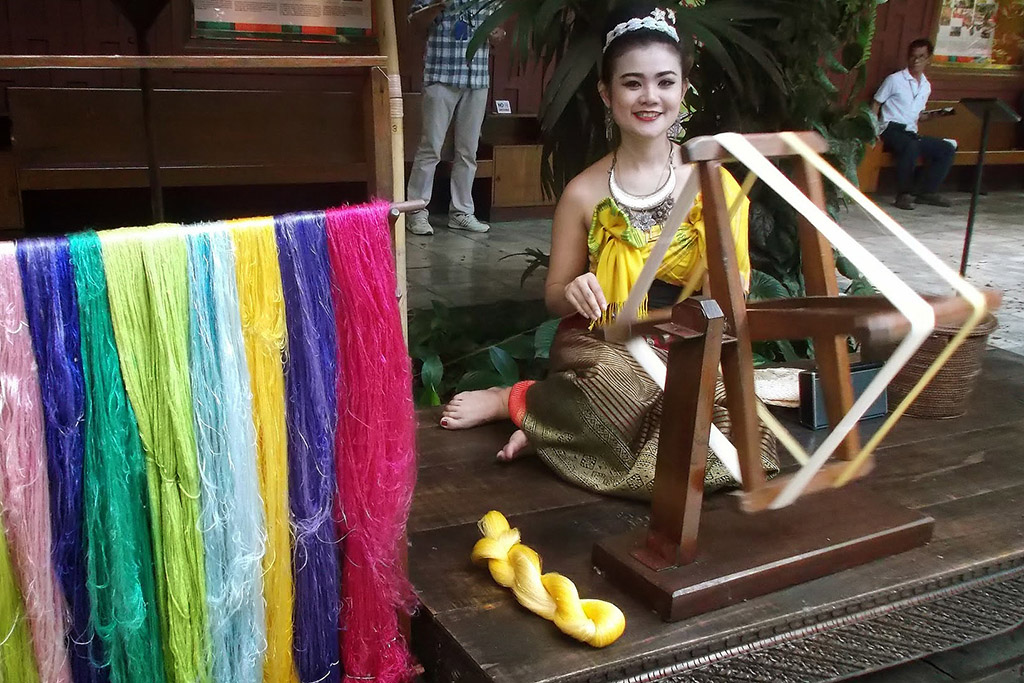 In the 1950s and 1960s, he brought together six traditional Thai houses and made them his private home. He demounted and reconstructed them on his property. Some of them were over two centuries old.
Today, they are a nice museum and open to the public. Of course, there is also a spacious gift shop.
Jim Thompson disappeared during a vacation to the Cameron Highlands in Malaysia. Spoiler alert – you will learn everything about him during the guided tour through his property.
If you have only a limited amount of time to spend in Bangkok and have to choose what to visit, I would rather visit Jim Thompsons' estate than the old Vimanmek Teakwood Mansion.
On Bangkok's Waters
As soon as a city has rivers and creeks, there are touristy boat rides taking place. Also, people – or probably only guidebooks – tend to call it the Venice of…whatever.
I'm based in Hamburg. We don't have only Europe's third-largest harbor – after Rotterdam and Antwerp, in case anyone cares. There is also a lake and river Alster and supposedly, we have more bridges than Venice. However, we're talking quantity, not beauty here.
Hence, I've had my share of Venice of….whatever.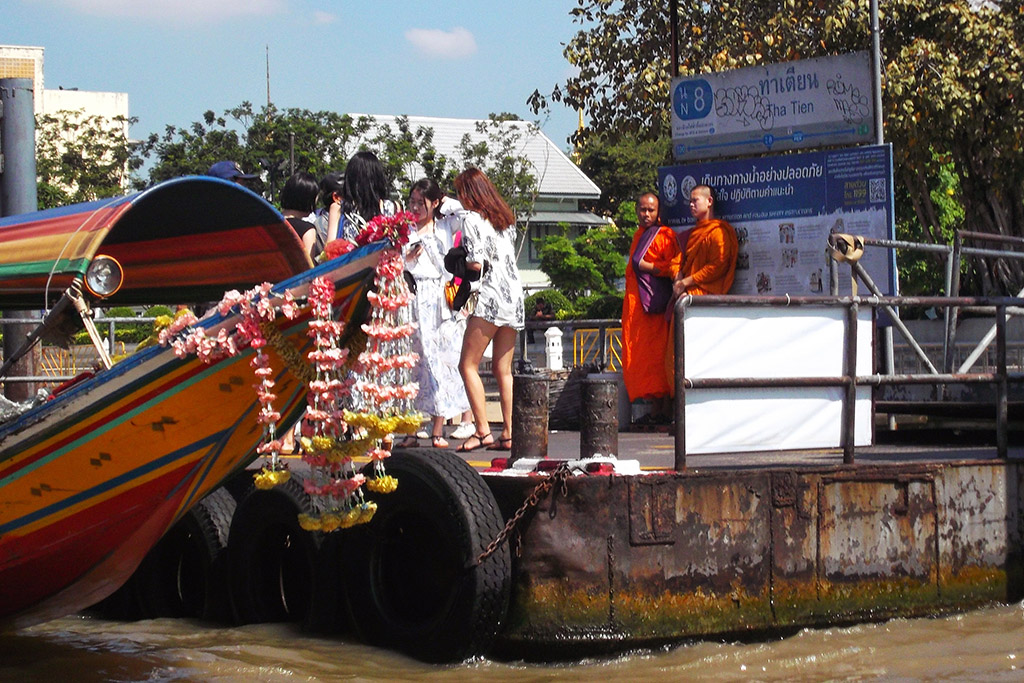 This being said, exploring Bangkok from the rivers and canals is a big thing among tourists. If you want to join them, you should rather take a local express boat than the Chao Phraya Tourist Boat.
Another Venice of the East experience is the khlong tour through the old neighborhood of Thonburi.
Map
Here is a map that will certainly help you find all those mesmerizing places I'm introducing above:
Practical Information
How to Get There
Suvarnabhumi International Airport
Most international visitors will arrive at the Suvarnabhumi International Airport 30 kilometers east of the city center. By the way, Suvarnabhumi translates to the golden land – what a warm welcome!
Some major hotels offer a free shuttle. But beware that if the shuttle is not complimentary, you'll have to pay much more for transport that they send than if you arrange your transport yourself. This being said, it's wiser to overpay for a safe trip than to risk your well-being on arrival. You'll find more on this important topic in my post Keep Calm and Travel Solo.
There is an official taxi rank is outside the arrivals hall. As at the old airport Don Mueang, drivers are not allowed to pick up passengers in other areas of the airport.
If you're not tired, as it's not after dark, and, most importantly, if you know where you're going, the Suvarnabhumi Airport Rail Link is a great and cheap option. It connects the airport with downtown Bangkok. Express trains run non-stop to Makkasan Station where you can change to the Bangkok Metro. Also, there was a City Air Terminal with in-town check-in for all major airlines in Makkasan.
Don Mueang Airport
Since 2012, Thai AirAsia and Nok Air have had a hub in Don Mueang and fly from there to numerous destinations in Thailand and other Asian countries. Don Mueang is north of the city center.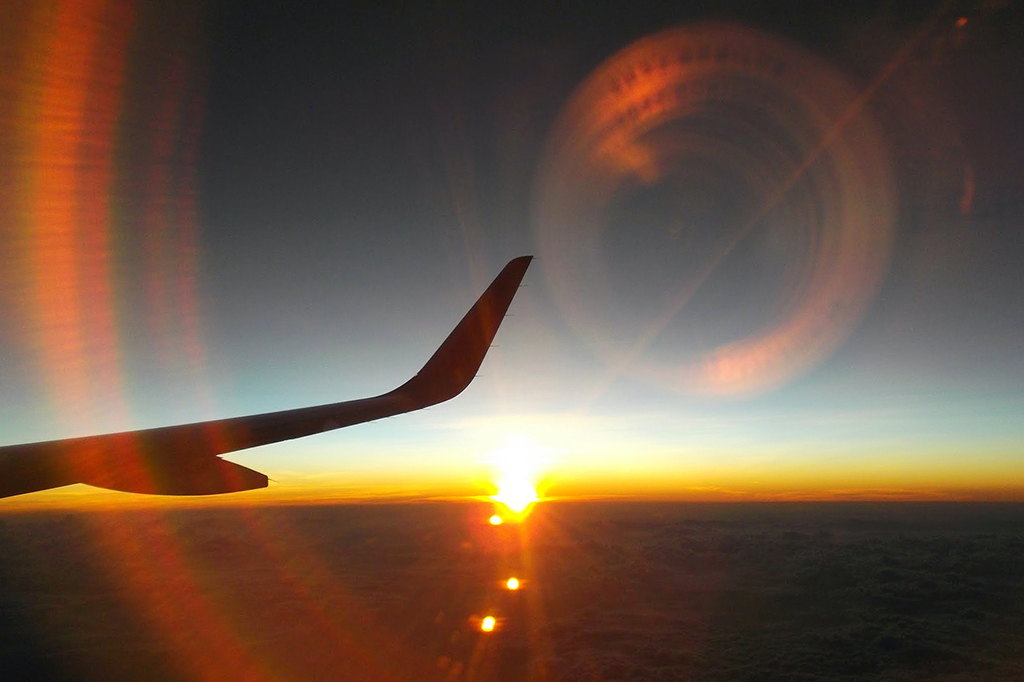 If you want to save on a cab, there are good options to go downtown by public transport. But here, too: Don't be cheap when it comes to your personal safety. If in doubt, rather take a cab.
You'll find more on this – and other relevant travel topics – for instance in my post Keep Calm and Travel Solo as well as other articles in this blog's Tips & Hacks section.
Land Travel
If you already are on the Asian continent, you can travel to Bangkok by train or by long-distance bus, obviously. Today most passenger trains run from Hua Lamphong, Bangkok's main train station, to the north, northeast, east, and south. If the trains start from the New Station, a free shuttle will take you there in just five minutes.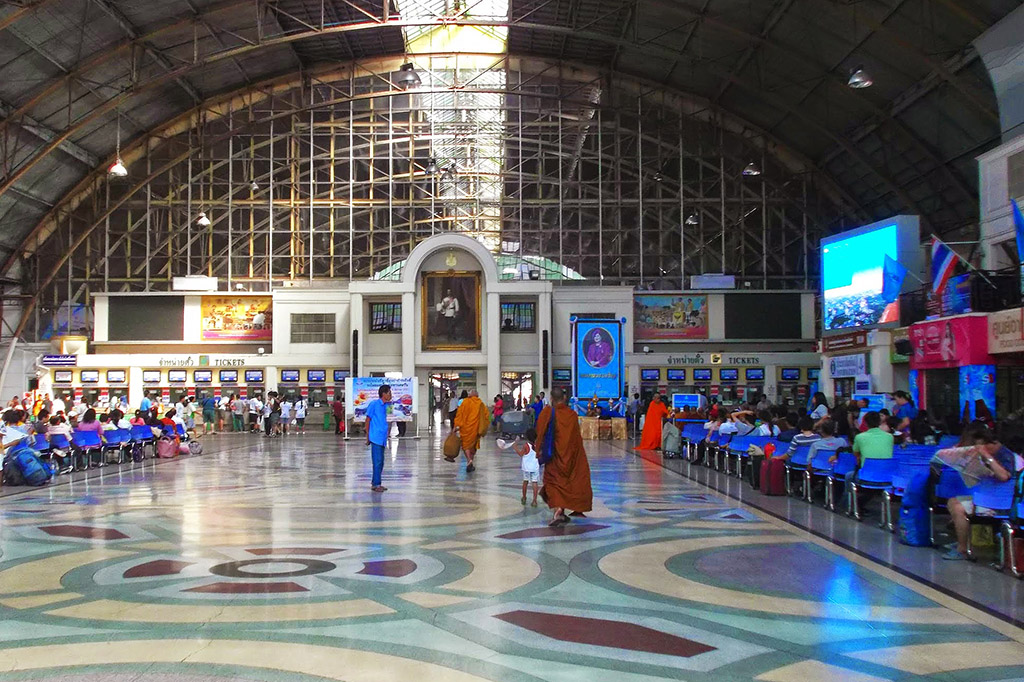 Bangkok has three long-distance bus stations. Buses towards the east coast leaving from the Thanon Sukhumvit station. The very large station Mo Chit is in the north on Thanon Kamphaeng Phet 2 in the Chatuchak district. Finally, the southern bus station Sai ​​Tai is at the driveway of Thanon Borommaratchachonnani.
Sleeper Train from South to North
The net of long-distance buses is far more comprehensive. Coaches take you even to Thailand's most remote corners. Nevertheless, going northwards to Chiang Mai by train is an unmissable travel adventure. The train also calls at Ayutthaya, Lopburi, and Phitsanulok, among other places.
To save time – and money for accommodation – you can take the night train. This train leaves Bangkok in the evening and takes various stops before arriving in Chiang Mai around 8 the next morning.
There is a limited number of single compartments that book out pretty fast. I actually wasn't able to get one anymore. The idea to sleep with about 40 people in one large compartment freaked me out a bit. Finally, it turned out to be super nice. Everyone gets a nice, clean bunkbed. As soon as you close your curtains, you can actually immerse yourself in the privacy of your cot. The rattling of the train will rock you to sleep.
Still, I have two tips for you: If possible, choose the lower bunk. There's more space, and the ride will be smoother. Also, you might want to bring earplugs. Plugs are on my list of indispensable tools and gadgets, anyway. Let my list of what makes my travel more comfortable inspire you.
How to Get Around in Towns And Cities
Bangkok is Thailand's only city with a subway net. Apart from the MRT subway, buses handle public mass transportation. Although they are very cheap, bus travel can be a bit confusing and intimidating. Ask for directions at your hotel's front desk – and then keep asking like a moron until you reach your final destination.
Hey, looking stupid is part of the globetrotter's glory, after all.
However, numerous cabs, motorcycle taxis, as well as iconic tuk-tuks handle the individual traffic. Taking these vehicles, you have to haggle – which can be a bit nerve-wracking.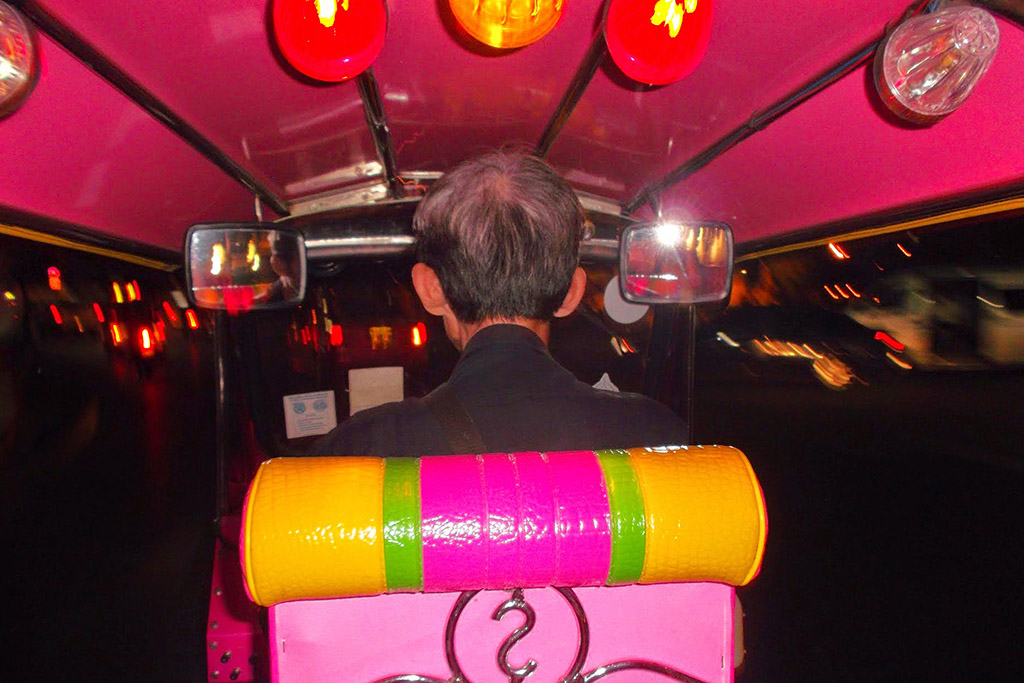 In Bangkok, cabs are metered. To get a fair price, the meter has to be on, obviously. If the driver refuses to put the meter on, just get out and get another cab.
Where to Stay
What can I say – one of my favorite hotels in the whole wide world stands right in the heart of Bangkok, precisely in Chinatown. It's the Shanghai Mansion*
If you manage to leave this wonderful place – which is not easy since the Shanghai Mansion* is just mesmerizing, you are right in the center of the action. Not only the Hua Lamphong station is just around the corner. Also, you reach many of the major attractions by walking.
If the Shanghai Mansion* should be booked out or you simply want to check out further options, here is a map on which you see the location but also the rate*:
In case you get to Bangkok on a very late flight or you travel outbound really early, it's a good idea to stay close to the airport and take it from there.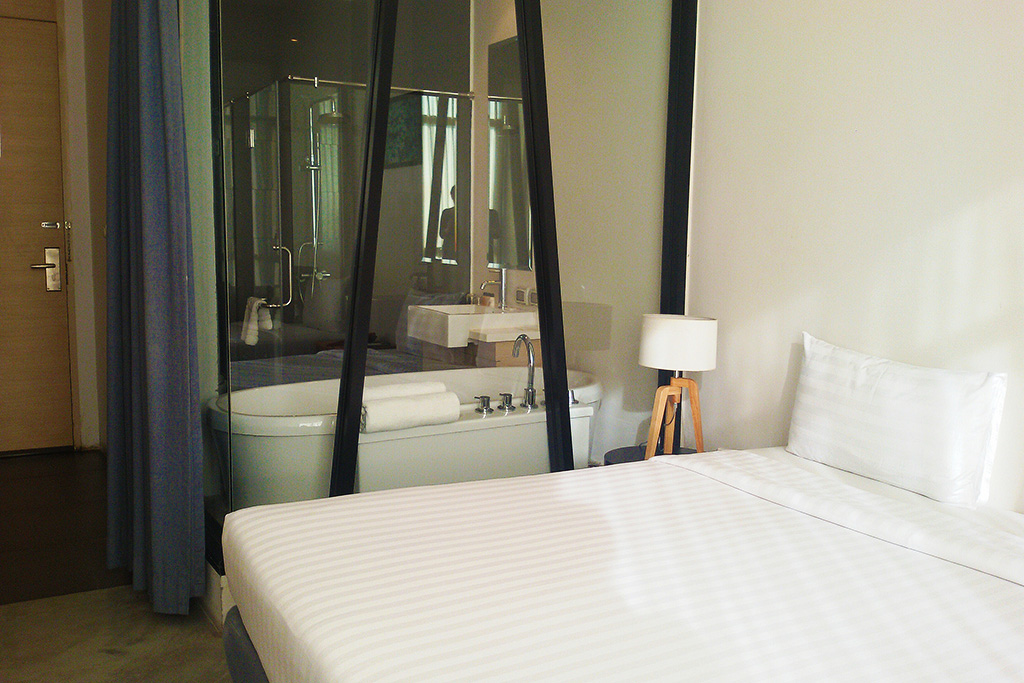 On my last trip, I stayed at the Vismaya Suvarnabhumi Resort just a ten-minute drive from Suvarnabhumi International Airport. They offer free airport pickup for arriving passengers. The trip to the airport is around 200 Baht. There is a restaurant and an outdoor pool at the hotel, and a convenience store is within walking distance.
Vismaya Suvarnabhumi Luxury Resort
98 Moo15 Soi King Kaew 43, King Kaew Rd, Rachateva, Bangpee Samutprakran 10540
Phone: + 66 – 2 – 738 49 88
Email: contact@thevismaya.com
What to Eat
There are restaurants in Bangkok for practically every taste. There are restaurants offering all major European, Middle, and Far Eastern cuisines in gourmet quality.
Apart from western-style restaurants, you'll see food stalls and market stands practically on every street corner in Bangkok. There, you can eat amazingly inexpensively. However, you might have to compromise on comfort and hygiene. The food from these open-air kitchens has become an integral part of the daily life of many Thais.
I actually love eating at food courts. In Asian countries, these are often in the basement or on the top floor of a large shopping center or supermarket. Every stall offers different cuisines. Hence, at Bangkok's malls, you can eat Indonesian, Chinese, Indian, and – yes, also Thai.
You don't pay by cash or credit card, but with coupons or chip cards that you have to buy at the entrance. Obviously, you get back what you don't use.
What to See
I'm an avid solo-travelling woman. Since solo travel doesn't equal solitude, I love to join organized tours here and there. They allow me to meet fellow travellers – for just a short moment or a lifelong friendship.
Therefore, here are some great ideas of what to do when visiting Bangkok. Pre-booking online will guarantee your place at the activity of your choice*:
Cash And Cards
In Thailand, you pay in Baht. Banknotes are 20, 50, 100, 500, and 1000 Baht and coins are 1, 2, 5, and 10 Baht.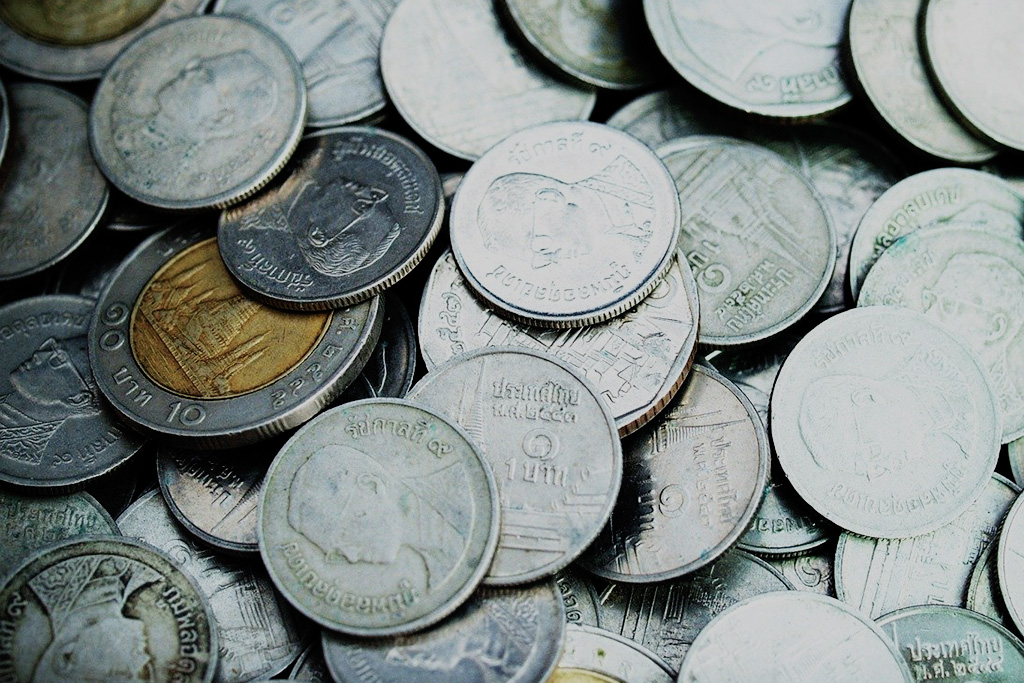 It's a very touristy country, hence, credit cards are widely accepted. Obviously, you can get cash at ATMs. Beware that not every ATM works with every international card. Don't freak out, just try a teller from a different bank.
One US-Dollar equals 38 Baht (THB) as of November 2022, but you can check the current rate on this page.
Language
You probably guessed so, Thai speak Thai. The language is actually mutually intelligible with other Asian languages. The Thai alphabet has 44 consonant symbols and 16 vowel symbols that combine into more than 32 vowel forms. The Thai language has a difficult orthography with a system of markers. Therefore, signs in public places such as airports and stations are in Latin letters, too. This goes also for signs and street names in major tourist places. However, in rural areas off the beaten tracks, you might find only writings in Thai.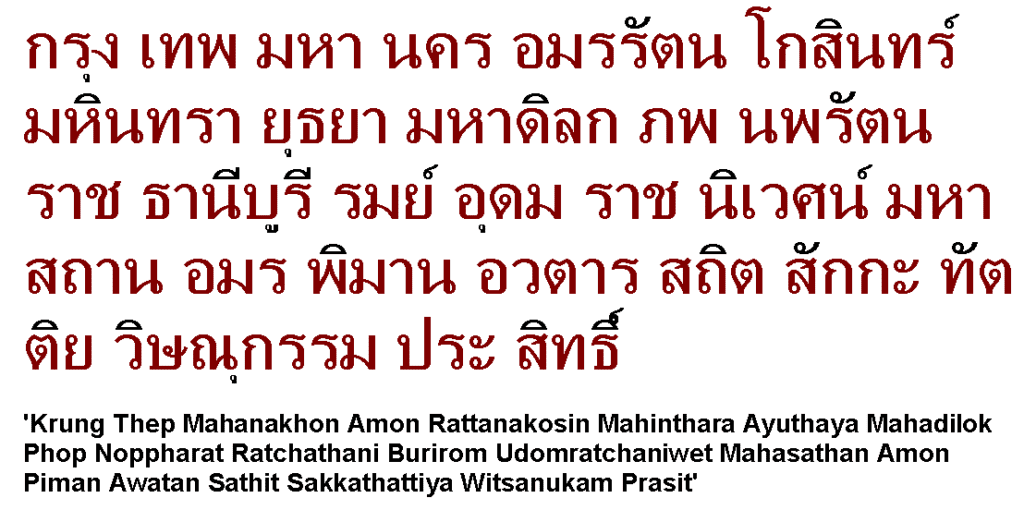 This being said, I don't presume that you'll learn this complex language just to go on a vacation. However, it's a nice gesture to say at least the greeting Sawasdee Kha and Sawasdee Khun as well as Khop Khun Kha respectively Khop Khun Khap. Kha is a suffix used by women, men are using Khap.
Lost Without Translation
Since Thailand is so over-touristy, I thought everyone – at least in the tourist industry – would speak English more or less fluently. Well, you do find quite a few people who have at least a rudimentary command of the language in Bangkok. However, sometimes their accent is so peculiar that you won't understand them. Also, they might not really understand what you are saying but just grasp the supposed meaning from one or two words they got from your sentence. Hence, prepare for some hopeless explaining, quirky conversations – and many bright smiles.
Communication and Connection
Like during most of my trips where European roaming is not available, I did not get a national SIM card. I rather used free WiFi. There was a connection to the internet without any issue at basically every eatery or café and, of course, hotel. Worked like a charm.
But if you insist on being online 24/7, you can get a national SIM card.
In Thailand, plug types C and O are the official standard. However, you'll also find types A and B.
The standard voltage is 230 V and the frequency 50 Hz.
But as you know, nowadays, all these chargers for phones and readers and computers have integrated adapters so that different voltages and frequencies don't really matter.
Gone are the days when you blew your electric appliances since you forgot to switch them from 110 to 220…good times.
By the way, you'll find this kind of practical travel info in my post World's Most Complete Travel Information – an indispensable globetrotter-classic.
Bangkok was only the first stop of my exciting visit to Thailand. Go to the main post to check out all the other destinations. You'll also find valuable general information that will make your trip smoother.
Pinnable Pictures
If you choose to pin this post for later, please use one of these pictures:
Note: I regularly complete, edit, and update this post – last in November 2022.
Did You Enjoy This Post? Then You Might Like Also These:
* This is an affiliate link. If you book through this page, not only do you get the best deal, I also get a small commission. That helps me run this blog. Thank you so much for your support!