Spending your entire trip to the largest of the Canary Islands just on one of the – admittedly fantastic – beaches would be such a waste of time – hence, here are the best things to do in Gran Canaria even if you have only one week.
After a bumpy start on my first trip to the island, I came back a couple of months later and can now happily show you around, lead you away from the tourist ghettos on the southern shores to some fantastic gems in the mountainous hinterland as well as the very pleasant capital Las Palmas. By the way, she's not only the largest city of all of the islands, but she's also surrounded by some of Gran Canaria's best beaches.
Second Chance
It was last June, Europe's borders were slowly opening and the Canary Islands lost their high-risk status. I finally had the chance to book a flight, look for accommodation, plan a trip. Life like it used to be in the olden days.
It was on a Wednesday that I landed at Gran Canaria's international airport south of the capital Las Palmas. This city would be my base, however, it had to wait another night for me. The first day was dedicated to Agüimes, a small town about 30 minutes inland at the foot of the island's famous mountains.
Agüimes is very picturesque, however, there is not that much to do. I spent the afternoon walking around, awing and taking pictures of alleys and well-maintained houses and many statues telling stories about the town's history and culture. Then, the next morning, I wanted to walk to the famous Barranco de las Vacas, a gorge with rock formations as beautiful as in Utah.
And then it happened. I broke a leg.
Where Am I?
The next morning, I headed for the Barranco, located about 3 kilometers from Agüimes. Totally walkable. Yet, I took a cab since it was hot and I needed to be back on time for an appointment. But instead of dropping me off at the lower entrance into the canyon, the driver left me way up high right next to a speedway. Not a good place to linger.
Hence, I started my descent. For hours, I walked on really sketchy, scary trails, seeing the barranco below. I lost my way. Then I found a different one. But that one only lead me to another lost place. Trying to find the right way, I climbed through bushes and over rocks. I wanted to avoid climbing back uphill to the freeway in the Spanish heat at noon.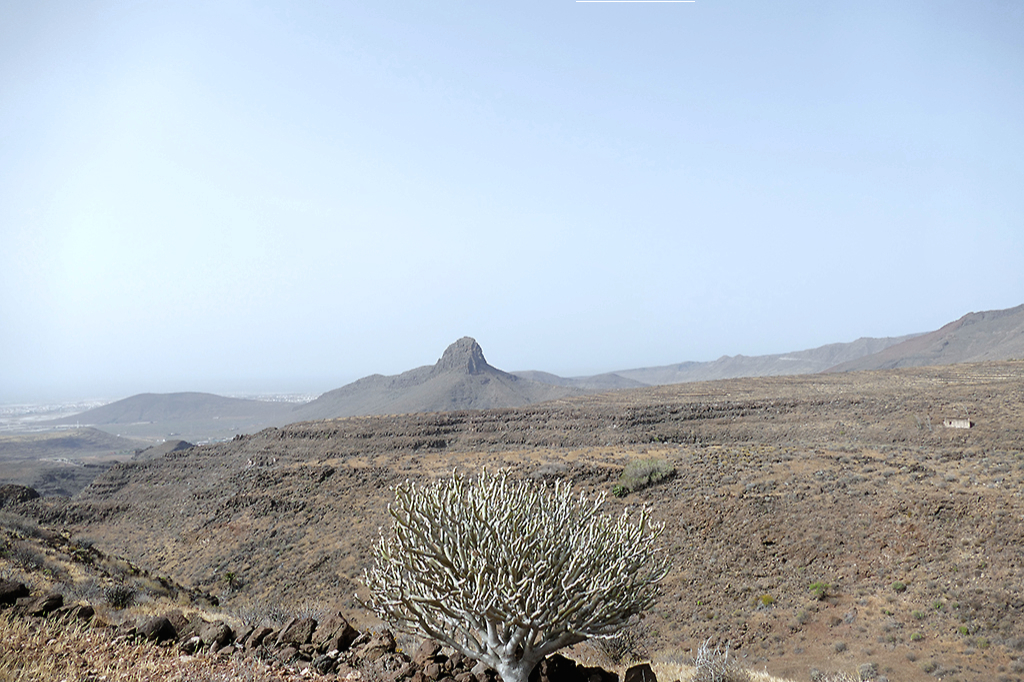 On an extremely rocky spot, sliding down a huge rock, I landed at a twisted angle. I knew that something was very, very wrong as I saw a broken bone sticking out just above my ankle.
The horror!
But even more horrific was the fact that there was no connection whatsoever. I was sitting in the middle of a deserted canyon with a broken leg and no way of calling for help. My only chance was to find a spot with a connection. I started to crawl. I placed my broken foot in front of me and shuffled my butt forward. And repeat. And repeat. It was hot, I had no water left. The rocks and the gravel that I advanced on were hot and rough and stripped the skin from my butt cheeks. Every three to five meters I had to rest. I was completely dehydrated. But moving on was my only option.
A Signal
This went on for eight long hours. Then I realized that I had received a whatsapp from my hotel. So there must have been very brief moments of connection. I wrote the hotel my approximate position and the condition I was in. The message did not get through. But there would be a spot, a spot where for a split second would be an internet connection. A spot that would save my life. I only had to crawl on, following my broken foot that I kept placing in front of me. No matter how exhausted and dehydrated I was, I had to find that one spot.
And then there was the one sound that announced that I had a message. Telling me that the police had been informed and a rescue team was on their way. It was eight in the evening. I had left my hotel almost twelve hours ago. I had been crawling behind my broken foot for seven hours. And finally, there was this moment where I could let go. People knew that I was lost. That I was injured. But alive.
For the first time in seven hours, I laid myself to rest on the hot and rough rocks and gravel to rest. I didn't need my force anymore, they would find me.
Come to My Aid
After having spent long hours all by myself in fear no one would find me in time, all of a sudden, the barranco filled up with people. There were police officers, paramedics, as well as firefighters getting busy with me. It still took a while till they could get me to the hospital since – I kid you not – they had to maneuver me over a ten-meters-high dam.
Meanwhile, it must have been around midnight, it was pitch dark and a breeze came up so it was a quite dangerous undertaking – especially for the firefighters standing unsecured on top of the dam.
An Unexpectedly Short Trip
My vacation had lasted only 23 hours: I landed on Wednesday at two and broke my leg in the gorge the next day at what must have been around one.
Eventually, I spent one week at the hospital in Las Palmas before they flew me out to Germany.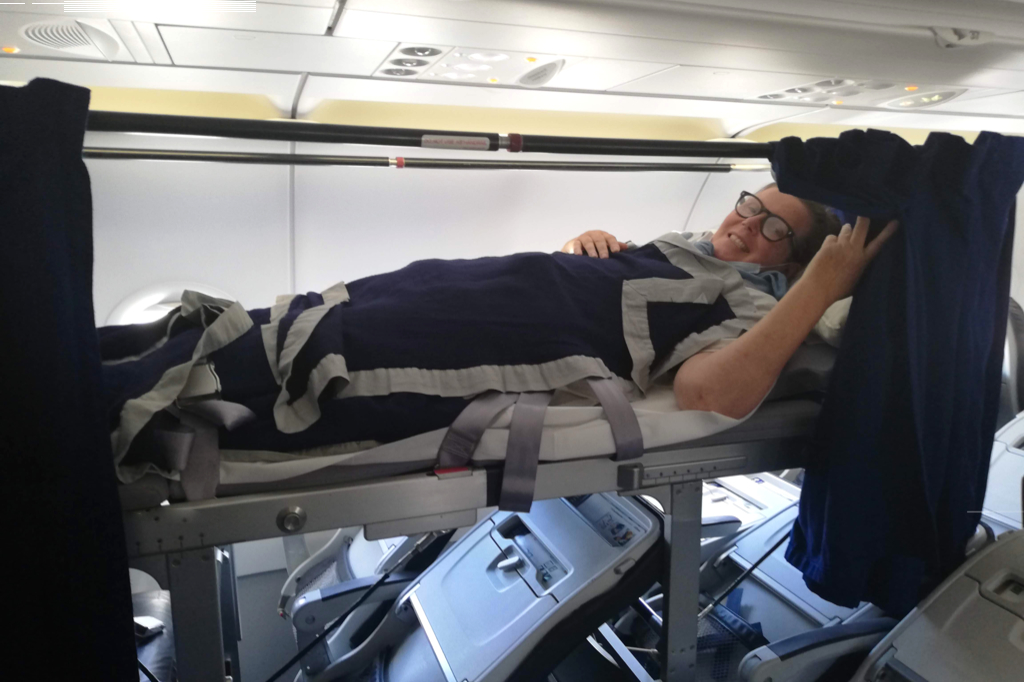 So that was it for me with Gran Canaria. But only for this time.
I would come back!
And I did. Few months after this horrific accident, I booked another flight to Gran Canaria.
An accident like mine has actually not much to do with the Canary Islands since this can happen to you everywhere in the world where there is a gorge. There are many mesmerizing places on the islands, bewildering and wild, hence, you have to be well-equipped and prudent when exploring, obviously.
Only a couple of months later, Gran Canaria and I gave each other a second chance. And what can I say, we became best of friends.
This guide will show you why you should befriend this mesmerizing island, too.
One Week In Gran Canaria
Yes, this is a very scary story, but the fact that I made it with my escapade in the local news should show you that it is a big exception to the rule. Gran Canaria is by no means a dangerous island. In fact, every year, millions of visitors mainly from Germany, England, and Sweden spend fantastic holidays there.
This, by the way, was the reason I haven't made it to Gran Canaria before. I thought it was tourist hell. But just like I learned on my trip to Mallorca that as long as you stay away from those touristy epicenters, you have a truly wonderful time, Gran Canaria convinced me to be a unique place.
Microcontinent
Due to its climatic and geographical diversity as well as differentiated flora and fauna, Gran Canaria is defined as a microcontinent. As a matter of fact, the island has incredible 14 climate zones. In one single day, you can tan on one of the endless sand beaches before going up to the mountain summit where you might find snow. On the way, you pass through the dry area around Agüimes that will remind you of northern Africa. Or you choose the route through the leafy fields of Vega de San Mateo and Santa Brigida. There, lush meadows and a fantastic number of palms, trees, bushes, and flowers are pleasing the eye.
However, for visitors, this can be quite tricky: You leave the sweltering heat of Las Palmas and only 45 minutes later, you freeze your butt off in Santa Brigida. Take it from me, I experienced this phenomenon. Therefore, when going on a day trip, you should always have a swimsuit as well as a warm sweater and a rain skin with you.
I Want It All
So yes, Gran Canaria is so varied that each and everyone finds something to enjoy. And if you are like me, you don't pick just one or two favorite things to do, but you experience and relish it all.
If you follow my example and partake in the entire range of activities, I recommend looking for accommodation in Gran Canaria's capital Las Palmas. It's not only the largest city on this island, but of the entire archipelago. There are a couple of lovely city beaches, a picturesque old town, and all those amenities that come with a big city like a wide choice of bars, restaurants, and amazing shopping options. Also, Las Palmas is the perfect hub to explore the entire island on day trips.
During our week on Gran Canaria, we've visited ten towns'n'villages that I'm introducing in individual posts. As I pointed out above, it's possible to visit two or even three of those places in one day without getting stressed out. However, visiting them one by one will be more relaxed. You can for instance spend the morning on the beach and go to the mountain village of Tejeda in the afternoon. Or to Puerto de Mogán on the south coast where you enjoy a lovely fish dinner while watching the sunset.
Whatever you choose to do, I can guarantee that you'll have an inspiring visit and a fantastic time.
Canary Islands
The Canary Islands are an archipelago in the Atlantic, approximately 1000 and 1500 kilometers from mainland Spain and between 100 to 500 kilometers off the coast of Morocco. So while the Canaries belong politically to Spain, they are geographically definitely part of Africa. Also, they belong to Macaronesia, just like the Azores, the Madeira Archipelago, and Cape Verde. And indeed, the resemblance of the sceneries is pretty amazing.
The Canaries consist of seven islands with their own regional government. However, there is yet another inhabited island called La Graciosa as well as many small uninhabited rock isles.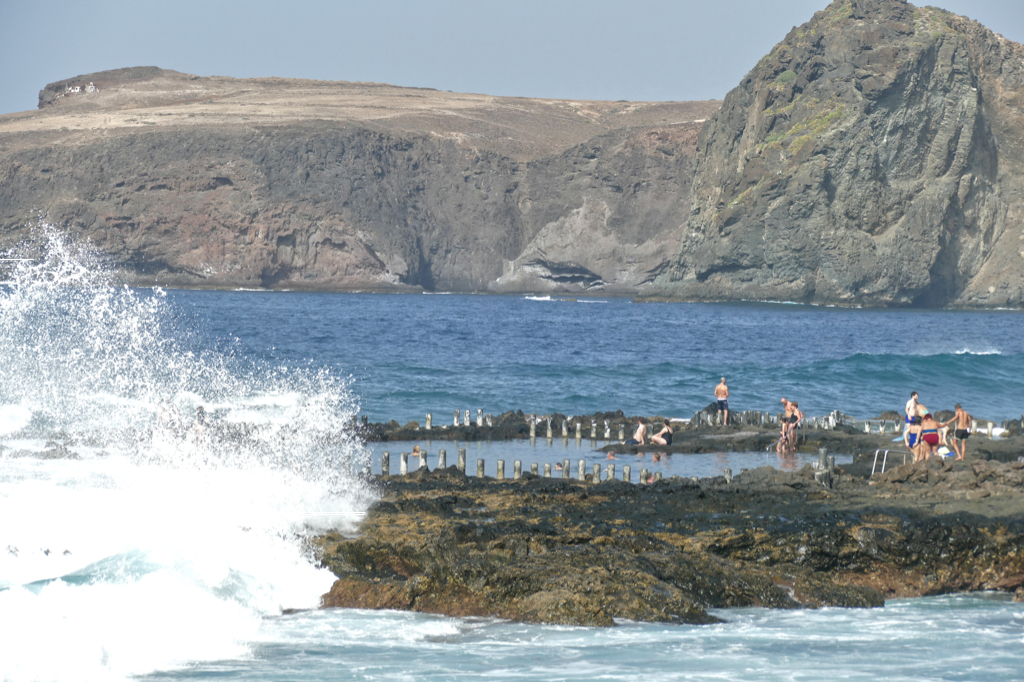 The region owes its formation to volcanism and an underlying hotspot. The volcanic activity continues to this day as the people on the island of La Palma sadly had to experience it in 2021.
Due to this activity, there is a large number of bubble caves and lava tubes. Therefore, the ancient Canarians lived in natural caves. A large number of natural and manmade caves are still found in Gran Canaria. On those islands where there weren't any suitable caves, the aborigines built houses from stone, obviously. Interestingly, their styles and sizes differ from island to island.
Roots
Research has proven a connection between the native Canarians and the Berber peoples in North Africa. The settlers most likely came there while Spain was under Roman sovereignty. The settlement was not a one-time event. In a continuous process, different groups of settlers were brought to the islands. Between 1 BC and 3 AD, there were close economic ties between the Canary Islands and parts of the Roman Empire.
After the Roman Empire, these relationships diminished and eventually were completely discontinued. Since the inhabitants of the islands had no skills in shipbuilding and no knowledge of navigation, also relations between the islands broke off at this time.
Therefore, cultures on the individual islands developed independently until the arrival of the Spanish conquerors in the 15th century.
As a matter of fact, there was not a mutual culture of the Guanches on the Canary Islands. Actually, those lived only in Tenerife. Nevertheless, for a long time, the cultural differences between the islands were ignored, therefore, some still refer to all Canarians as Guanches.
Finders Keepers
Well, well, well – and then came the Catholic Kings in 1478. Obviously, they enforce their rule over the islands of Gran Canaria, Tenerife, and La Palma. Perfidiously, the conquest was not financed by the crown, but by the conquistadors themselves. Later, they would be compensated by the exploitation of the conquered territories.
In the period that followed, the Canary Islands became part of the Kingdom of Castile.
20th Century
Although there were no armed conflicts in the Canary Islands during the Spanish Civil War, a large number of supporters of the local government and opponents of the Francoist troops were interned in camps. Many were murdered or disappeared.
After Francisco Franco's death, the Spanish Parliament passed the first autonomy statute for the Canary Islands in 1982. Today, the Comunidad Autónoma de Canarias is one of the country's 17 autonomous communities.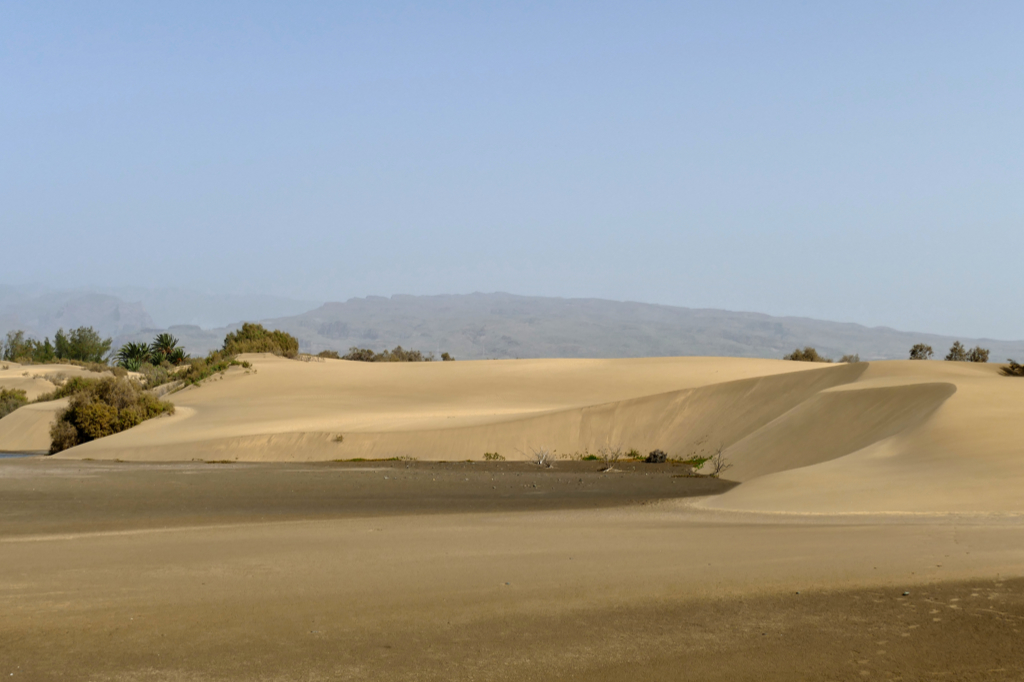 By far the most important industry on the islands is tourism. The main tourist areas are on Tenerife, Gran Canaria, Fuerteventura, and Lanzarote. And by chance, these are also the islands I've visited on my recent trip. Therefore, I'll happily show you that those places are amazing as soon as you leave the tourist ghettos at the beaches.
In addition to longer stays, the islands are also increasingly seeing day visitors from cruise ships. It remains to be seen whether this is a positive development for the islands and the seas.
Gran Canaria
With an area of ​​more than 1500 square kilometers, Gran Canaria is the third largest of the Canary Islands, after Tenerife and Fuerteventura. However, in terms of population, Gran Canaria is the second largest one. Only Tenerife has more inhabitants. Yet, the island's capital Las Palmas de Gran Canaria is the largest city of all the Canaries. It has more than 850 thousand inhabitants.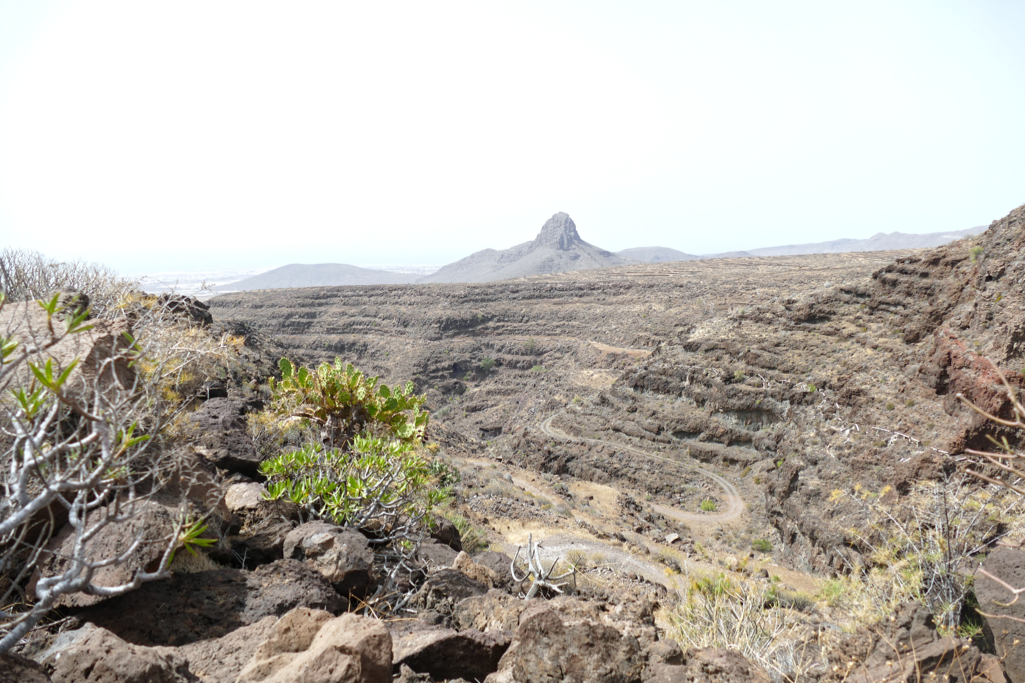 Like the entire archipelago, Gran Canaria is of volcanic origin obviously. Although the island's highest point is the 1,956 meters high Morro de la Agujereada, the symbol is the Roque Nublo – at only 1,813 meters. Contrary to previous assumptions, the volcanoes in the north of the island are still active. But don't you worry, the last eruption was around 2000 years ago.
Many dry gorges, the infamous barrancos, trench the mountains towards the coast.
Dog Years
There are various explanations for the origin of the name Gran Canaria. The most probable is that it was named after the large dogs, that roamed the island back in the day.
Spanish mastiffs were carried by the conquistadors as war dogs for the conquest of South America. However, many of these dogs were left behind on the Canary Islands. Today, they are mostly used as watchdogs.
In the mid-14th century, a project was developed in Mallorca to convert the indigenous Canarians to Christianity. The project was approved by Pope Clement VI, and in 1369, the diocese of the so-called Happy Islands was established in Telde.
Faith
In 1461, a symbolic ceremony of the occupation of the island took place near what today is the city of Las Palmas. An interpreter had to make the Canarios understand the sense of the brouhaha. One year later, a monastery was founded in Telde.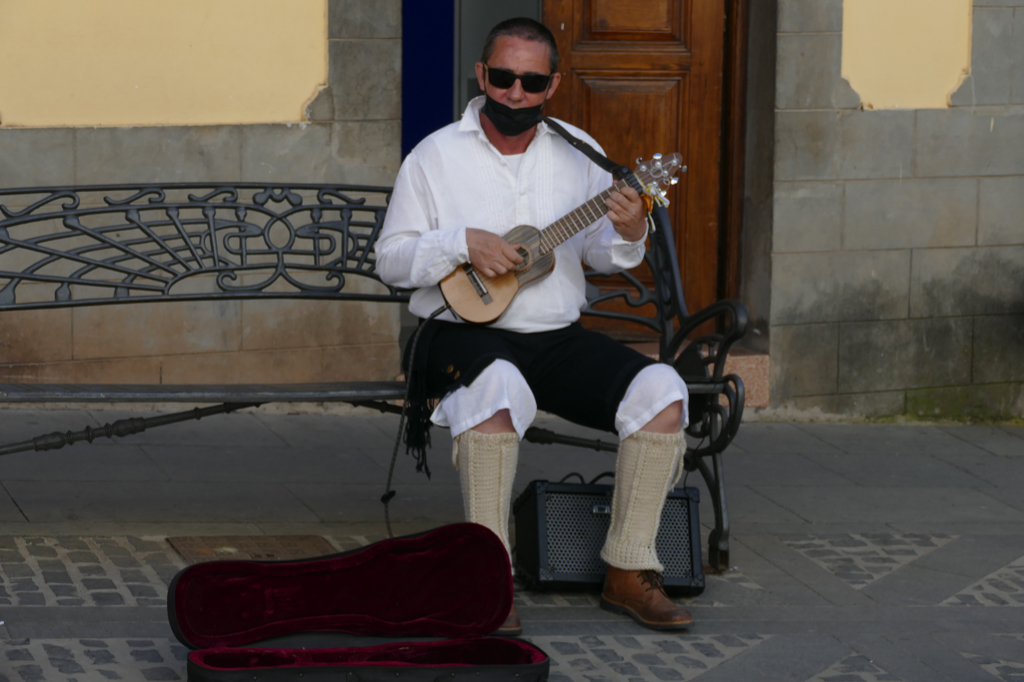 Castilian troops reached the northeast coast of Gran Canaria in 1478. The Canarios did not engage in open battle, but fought the Castilians in a kind of guerrilla warfare. As a result of the resistance of the natives and the internal disputes in the leadership of the Castilian troops, the conquest progressed very slowly. This prompted Queen Isabella and King Ferdinand to send a governor to the island.
After further troop reinforcements had arrived in Gran Canaria, the conquerers organized a large-scale attack on the north of the island. A battle ensued near Arucas in which Doramas, one of the most respected generals of the Canarios, was killed.
After conquering large areas in the south of the island, the Canarios were forced to accept the Christian faith and surrender to the Castilian crown.
Bloodshed
During the conquest, the number of Canarios killed must have been shockingly high as the Castilians had used firearms. Only about 15 percent of natives on the island had survived. Also, after the conquest, indigenous people were deported to the Spanish mainland. They were distributed in different places in Andalusia. A large part settled in Seville, where they lived in very precarious conditions. Others participated in the conquest of the neighboring islands of La Palma and Tenerife. Eventually, they settled there on the lands allotted to them.
A new society of different origins emerged in Gran Canaria. The Catholic religion and the Castilian language prevailed, obviously. The conquerors, as well as the settlers recruited for agricultural work, came mostly from the lands of the Crown of Castile. For instance, workers for sugar production were recruited from Madeira. Also, African slaves were brought to the island to work in the sugar factories.
In 1492, Christopher Columbus anchored in the Port of Las Palmas. There, he spent some time before continuing on his first trip to the Americas.
Modern Times
While sugar cane and wine were Gran Canaria's main exports in the 16th century, the island also played an inglorious role in the West African slave trade.
Due to an economic crisis, a wave of emigration took place in the 19th century. Many Canarios tried their luck in Cuba and Venezuela. With the construction of the Puerto de la Luz in Las Palmas, however, international merchant ships called at Gran Canaria. Also, the Canary Islands became a free trade zone in 1852.
From 1955 onwards, tourism started to develop. This did not only bring a strong economic development, it sadly also resulted in a slightly destructive building boom.
Interestingly, modern tourism on Gran Canaria was initially limited to the north of the island and Las Canteras beach in Las Palmas. It was not until 1962 that the barren and sparsely populated south of the island was transformed into a busy touristic epicenter.
Practical Information
How to Get There And Around
By Plane
Gran Canaria International Airport is located about 18 kilometers south of Las Palmas. Since there is only this one airport on the island, it serves conventional as well as European low-cost airlines alike.
There are also flights to and from the other islands such as Fuerteventura and Tenerife operated by local airlines like Binter, Canaryfly, and Air Europa. If you check prices on their websites, don't get over-excited about the incredibly cheap prices as these apply only to permanent residents. However, even for other passengers, flying between the islands is very reasonably priced and oftentimes cheaper than taking the ferry.
By Ferry
The Puerto de la Luz in Las Palmas is the main port on the island. From here, Olsen Express and Naviera Armas grant regular ferry services to Tenerife, Fuerteventura, Lanzarote, La Palma, and El Hierro as well as to Madeira. To Cádiz on the Spanish mainland, a trip by boat takes about 2 days.
Another port that connects Gran Canaria with Tenerife is the Puerto de las Nieves in the northwest of the island.
Taking the ferry is not necessarily cheaper than going by plane. However, it is a more eco-friendly way of travelling. Also, it is the only option if you have to take your car across the sea.
If you're on a flexible schedule, you should check thoroughly the prices at different times of the day as well as between the individual companies as they can differ a lot. Also, just like the airlines, the ferry companies grant residents of the Canary Islands a considerable discount.
Land Transport
If you haven't booked a package where the travel company arranges the shuttle from the airport or jetty to your hotel, you have different options of how to get to your final destination. The most comfortable option is taking a cab*, obviously.
However, you save lots of money by taking one of the public buses. Direct buses #66 and #90 to the tourist centers in the south cost 4 €uros and get you there in about 40 minutes. Buses #60 and #91 take you to Las Palmas in about half an hour for as little as 2 €uros. You can pay cash – only with change or small bills – or by credit card if it's equipped with NFC.
As there are many more connections to the different towns around the island, you better check out the website of Global, the local bus company. As a matter of fact, Global's blue buses are only connecting Gran Canaria's towns and villages. If you want to travel within the city limits of Las Palmas, you need to take one of the yellow buses by Guaguas. I'm supplying you with more information in my Guide to LAS PALMAS.
By the way, locals call all buses la guagua, not only those of the eponymous regional bus company.
I'm not driving, but if you want to rent a car, you can do so right at the arrival hall. There are different car rental companies to choose from.
Immigration and Customs
The Canary Islands are part of the Schengen Area and the customs area of ​​the European Union. Since they are not part of the tax area for excise duties and VAT, certain products are way cheaper than on the mainland. Looking at the gas prices, for instance, will probably make you cry. Also, cigarettes and liqueur are much cheaper and, most importantly, cosmetics and perfumes. Also, small businesses with annual deals of less than €30,000 are exempt from tax liability.
While there are hardly ever personal border controls within the Schengen Area, customs controls when coming from the Canary Islands are still possible. Therefore, make sure to keep your shopping within the allowed limits.
Organized Trips
As I pointed out, there are many many wonderful spots on Gran Canaria, bewildering and wild, waiting for you to be explored. While in the past, I mainly joined organized day trips from time to time when there was no convenient public transport option, I now do it also for safety reasons. Believe me, you do not want to sit by yourself in the wilderness with no opportunity to call for assistance. Therefore, especially when exploring impassable and rough terrain, take at least a hiking buddy with you. Or, even better, go with a knowledgeable local guide.
To spend a lovely day trip in the company of strangers – who then might become friends – check out these great activities on Gran Canaria:
Where to Stay
Gran Canaria has been a popular tourist destination for decades. Especially on the southern coast around Playa del Ingles and Maspalomas are many huge hotels and apartment complexes. Since Las Palmas de Gran Canaria is such a great place to enjoy all aspects of the island, there is a wide choice of hotels and apartments there, too.
Nevertheless, you'll find at least a small choice of lodging options even in the tiniest villages. In each and every hamlet, there will be a smaller guesthouse or privately rented apartments.
I recommend accommodations for the places I've visited in the individual posts. However, here is a search box that will help you book places to stay across the island*:
What to Eat
The Canaries are gifted with an abundance of juicy fruits and veggies. There are rivers of the finest olive oil and the world-famous pork cerdo Iberico. Obviously, there is a rich catch of fish fresh out of the sea. Consequently, the cuisine is excellent.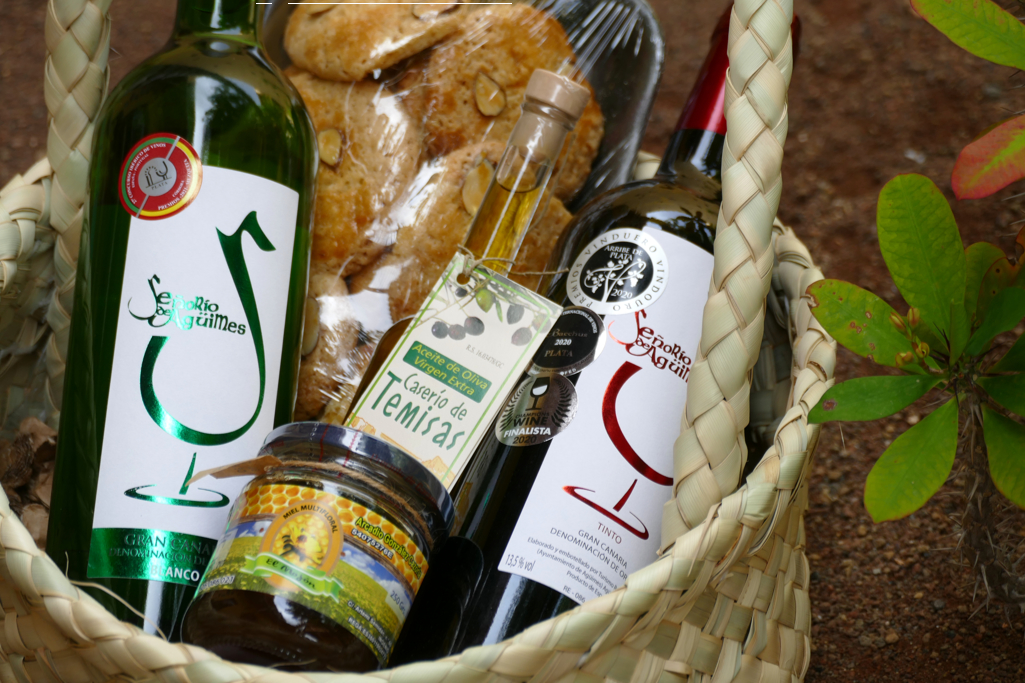 After all, the Mediterranean cuisine has been inscribed in the List of the Intangible Cultural Heritage of UNESCO in 2013.
Tapas and Menú del Día
Just like on the Spanish mainland, there is an overwhelming number of bars and restaurants also on the Canary Islands. There, you can enjoy a glass of beer or wine with some tapas, varied hot and cold snacks. They can be slices of serrano ham, diced or grilled cheese, papas bravas, tiny potatoes with a hot sauce, boquerones en vinagre, marinated fresh anchovies – the list is endless.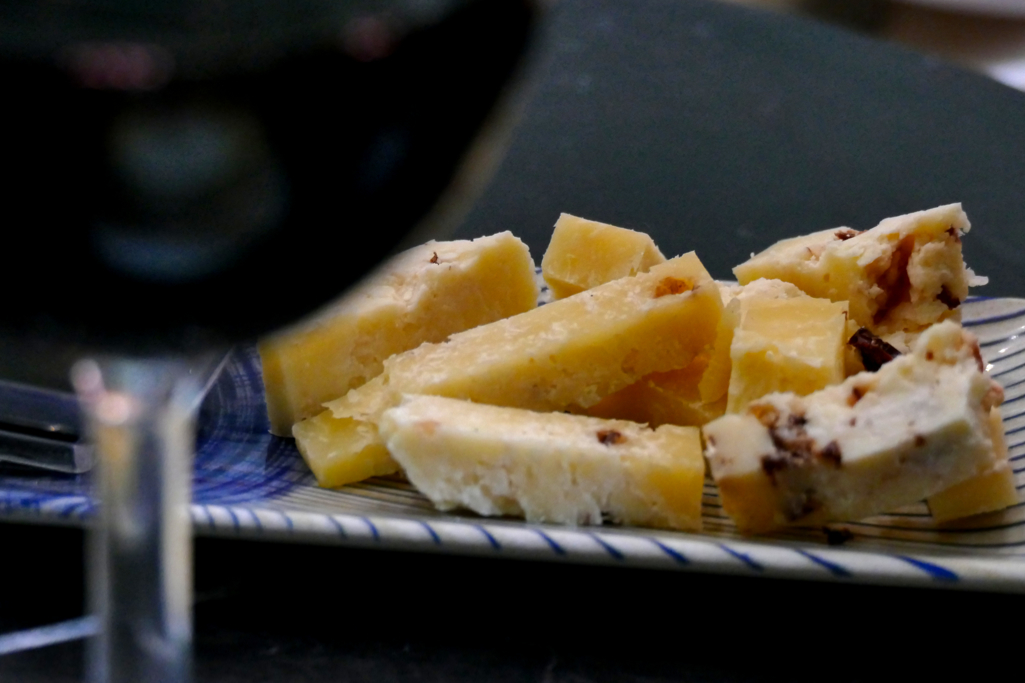 Normally, you'll get some small complimentary tapas with your drink – at least olives or peanuts. A selection of two or three tapas can actually replace a meal. However, you can also order a ración, hence, a serving, or a media ración, a half-sized serving.
When you are really hungry, the menú del día might do. It's usually a three-course meal. You can combine it to your liking from different starters, main courses, and dessert options. Often, the price of around 10 €uros includes water or even wine. However, the menú del día is usually just a lunch option and not offered at dinner time.
As in most other European countries, tipping is rather optional in Spain. It is not compulsory, but an appreciative gesture. Also, you don't need to calculate a certain percentage. Rounding up to the next full €uro might be a bit chintzy. However, adding one or two €uros will normally do.
Bakeries and Delis
There are many small bakeries and delis selling all kinds of sandwiches and empanadas, savory pastry pockets. If you have a sweet tooth, you'll also find a great variety of delicious pies.
Therefore, if your hotel does not offer any breakfast, just enjoy your morning coffee and a sandwich at one of the many bakeries, rubbing shoulders with the locals.
Markets and Supermarkets
Just like in Italy, many Spanish supermarkets have a food counter. Here you can buy simple dishes like grilled chicken, meatballs, and fritters as well as sides like potatoes and salads.
I'm not claiming that this will be the fanciest meal of your life. Nevertheless, if you just need to grab a filling snack, I find it's a valid option. Also, it's a truly Spanish experience since it's definitely not a touristy dining place.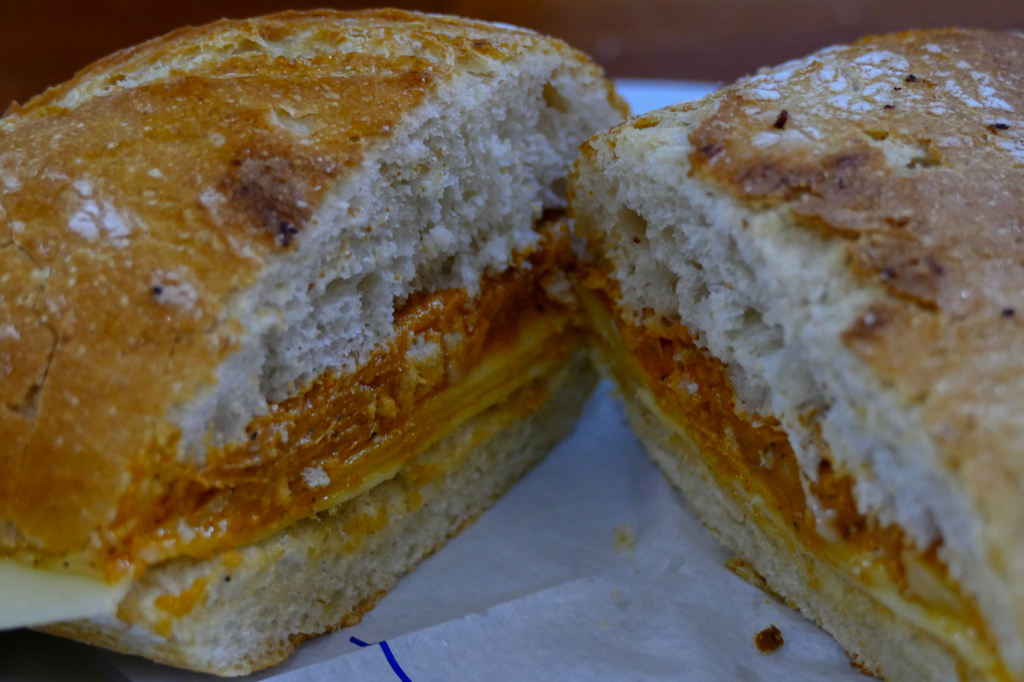 Most of Spain's big, often covered farmers' markets offer far more than just amazing fruits, veggies, cold cuts, and cheeses. They are also counters where you can enjoy a coffee or even a light wine along with a delicious snack.
You definitely should not miss out on this authentic experience.
When to Eat
Now, Spanish mealtimes can be challenging.
Years ago, I visited the Costa de la Luz together with my then 7 years old daughter. We were used to northern European mealtimes and had to find tricks to avoid going hungry. Not only are classic mealtimes much later than expected. In addition, many restaurants close their kitchens'n'doors in-between. For instance, our favorite pizzeria in Conil de la Frontera re-opened only at 10 p. m. By then, we were starved.
To survive, we developed a distinct schedule by making Spanish lunch hours our dinner time. I kid you not. Around 4.30 p. m., shortly before restaurants closed to re-open only late at night, we went for dinners. Admittedly extremely early dinners.
By the way, I've written an entire post about travelling in the company of kids – especially as a solo parent.
Standard Meal Times
So what are the average mealtimes in Spain? Well, as a rule of thumb, breakfast is between 7 a. m. and 9 a. m. However, it often is just some coffee with or without milk. The second breakfast is then eaten between 10 a. m. and 11 a. m. This can be another coffee, but now accompanied by a pastry or a sandwich. My personal favorite, however, is a tostada sprinkled with olive oil and grated tomato.
Lunch is served relatively late between 2 p. m. and 4 p. m. In the mid-afternoon, there is a merienda, another sweet or hearty snack. Finally, dinner is served between 9 p. m. and 11 p. m. to those who are still up by then.
Note that although many restaurants are open for the evening shift around 7 p. m., their kitchen might open one or two hours later. Until then, they only serve drinks and cold tapas.
Cash, Cards, and Deals
Since 2001, 19 European countries paying with €uros, and Spain is, obviously, one of them. The exchange rate is 1 US$ = 0,92 EUR (May 2022), but you can check the conversion on this page.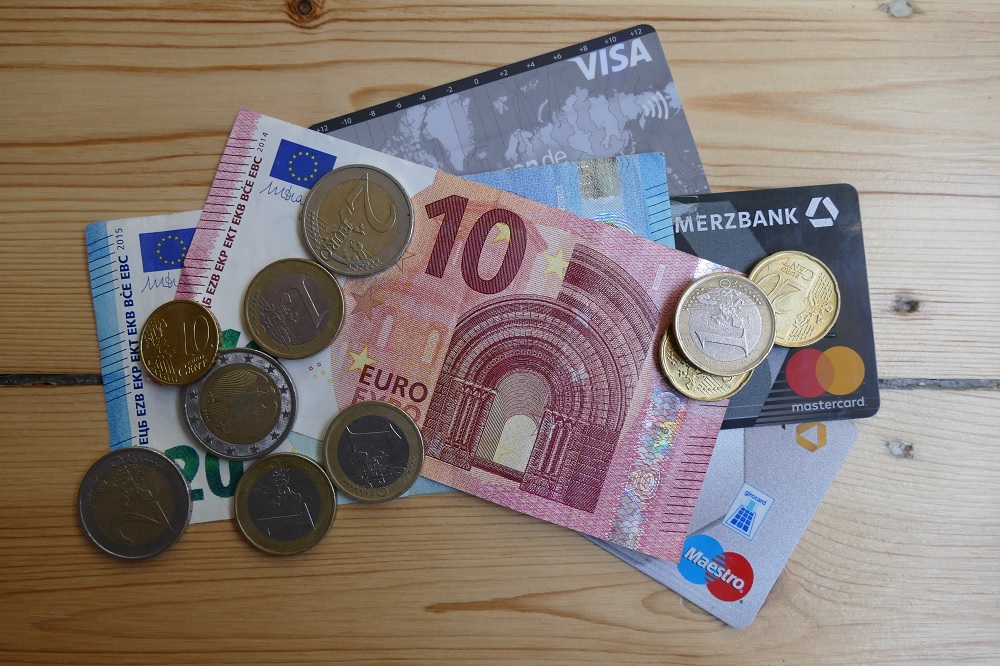 Especially due to the Covid pandemic, even small businesses prefer that you pay by credit card, and preferably contactless. I could have spent my entire trip to Gran Canaria without spending basically any cash at all.
Language
Before the Spanish conquest, each Canary Island spoke its own type of the Guanche language. Due to the systematic pushback of the local culture by the Catholic conquerors, only fragments of the language exist to this date. You mostly find those traces in the names of places.
Today, the official language is Spanish, obviously. If you want to learn some basic Spanish or just brush up on your knowledge, there are various apps and online tools. I personally like to practice with babbel. However, due to international tourism, most people working in tourism and gastronomy speak at least some rudimentary English and very often also German.
Nevertheless, here are some ground rules for Spanish pronunciation since saying for instance city names wrong can cause some problems. If people don't understand where you want to go, they won't be able to give you directions.
Say It Right
The good news is, that in general, you read Spanish the way it's written. Although, the letter C is a bit tricky for foreigners. Placed before an A, O, or U, it's hard and pronounced as K. Followed by E or I, it is pronounced like an English the. Now, if you want that th-sound in combination with A, O, or U, the letter Z comes into the picture. So you have to pronounce Canaria Kanaria, and Plaza Platha.
On the other hand, if you want C to sound hard in combination with E or I, you make it a QU – but you don't hear the U. Fine example: Tequila, that you pronounce like Tekkila.
This applies also to the letter G. If it's followed by A, O, U, or a consonant, it's pronounced like the G in guitar or Gran. To make a G sound hard before an E or an I, they squeeze in a mute U – like in guilt. If G stands before an E or an I, it is rather breathed than pronounced – a bit like the H in house.
The same applies to the letter J. You always pronounce it like the H in house.
The last trap is double L which is not pronounced like an L but like a Y in yellow. So it's not Malorca, but Mayorca. When a word is written with just one L like Tequila, it's a simple and innocent L.
Connection and Communication
Since June 2017, no roaming charges apply within the EU with a European mobile phone contract. This applies in all 28 countries of the European Union as well as in Iceland, Liechtenstein, and Norway. It pertains to all contracts.
When roaming is not available, you can connect to the internet at basically every museum, eatery, and, of course, hotel.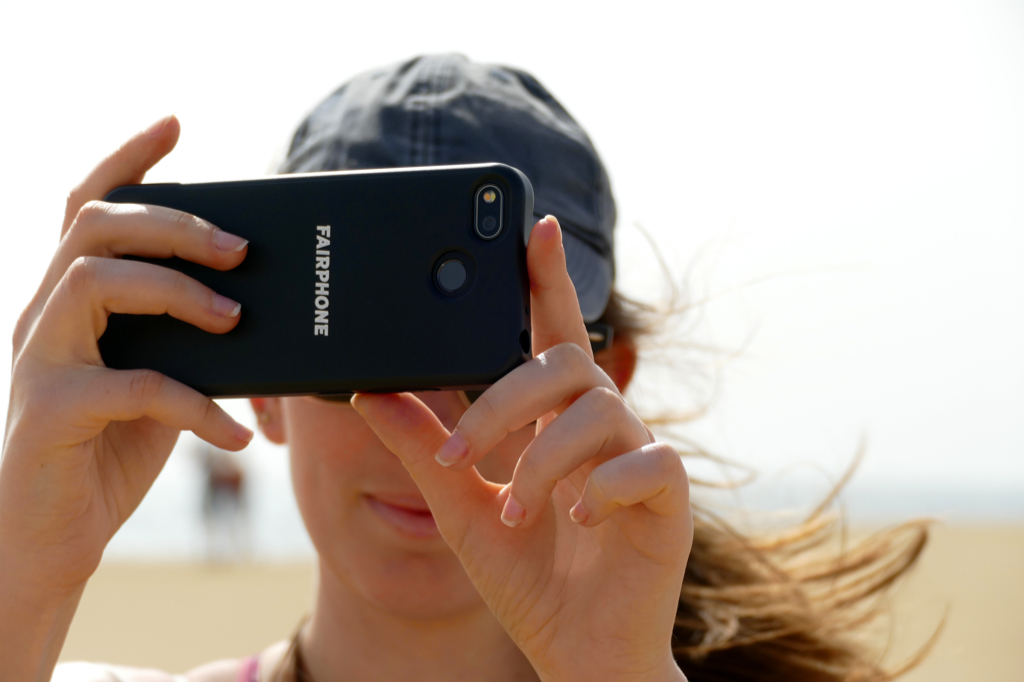 If you insist on being online 24/7, you can get a SIM card. The cheapest one would be Lycamobile while Orange Tu Mundo has the widest coverage.
In Spain, they use plug types C and F. Their voltage is 230 V and the frequency 50 Hz. Whereby, as nowadays all these chargers have integrated adapters, in general, the voltage and frequency don't really matter.
By the way, you'll find comprehensive travel info in my post World's Most Complete Travel Information – an indispensable globetrotter-classic.
Places to See
Below you find links to posts on all those beautiful places I visited during my trip to Gran Canaria. In each of those posts, you'll read inspiring stories and get valuable information that will make your own trip smoother and more enjoyable. If you seek general information on Spain, go to this post.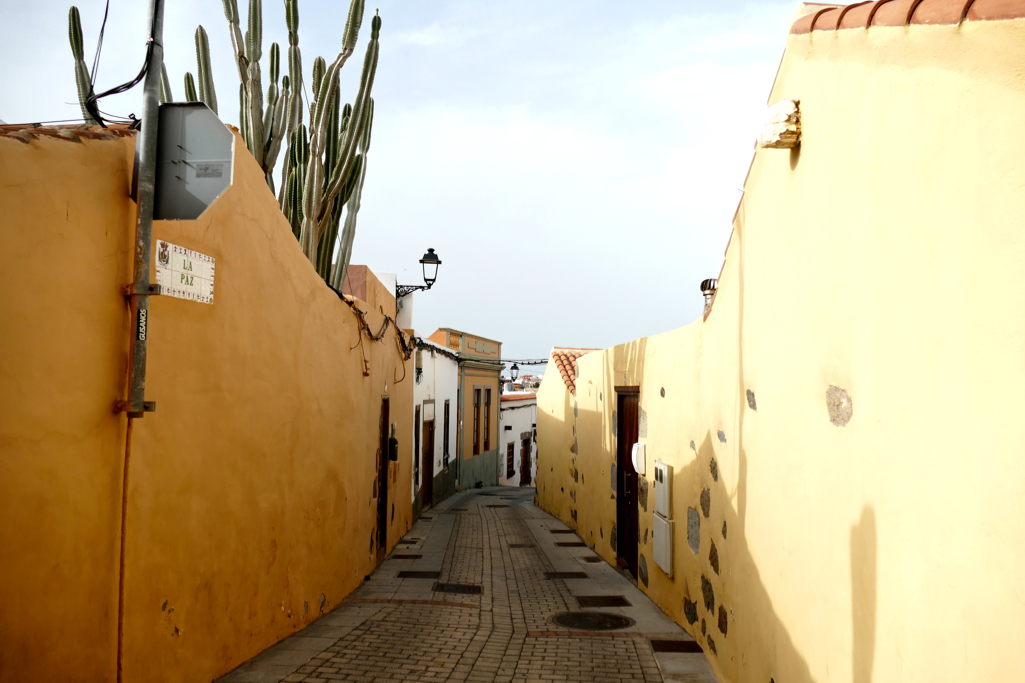 Map
On this map, you can see where all the wonderful places I'm linking to in this post are located. This way, you can put together your itinerary accordingly.
Clicking on the slider symbol at the top left or the full-screen icon at the top right will display the whole map including the legend.
Pinnable Pictures
If you choose to pin this post for later, please use one of these pictures: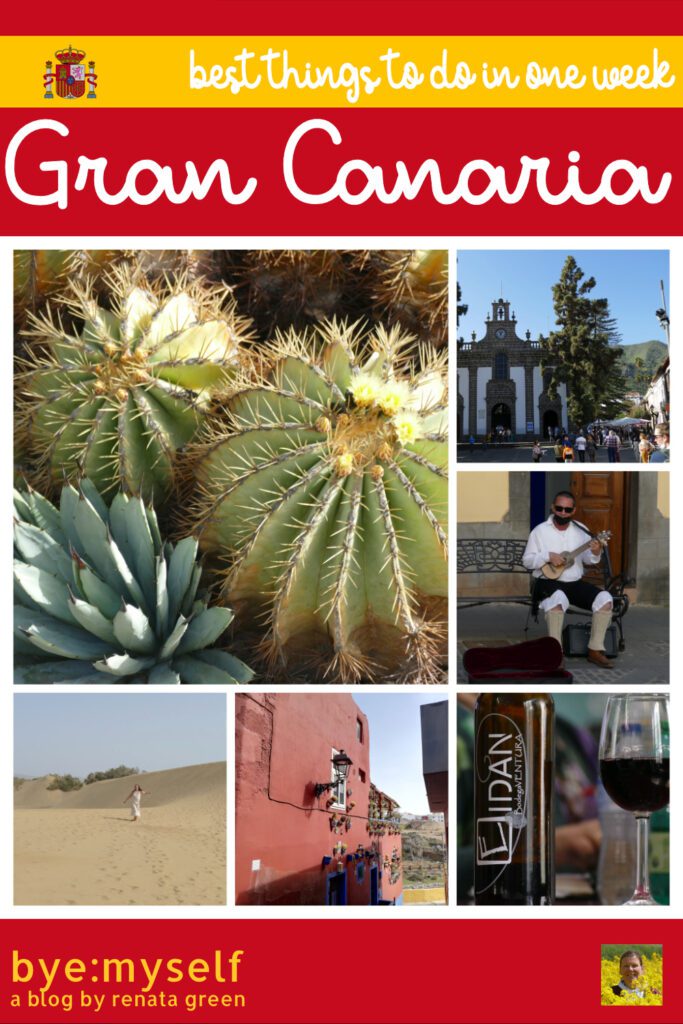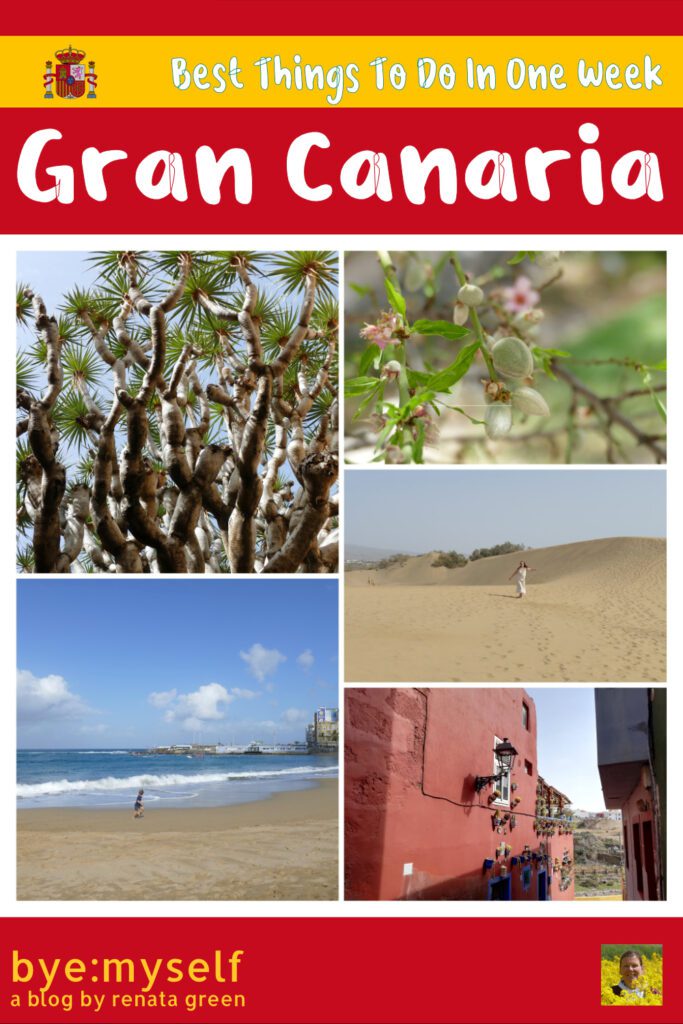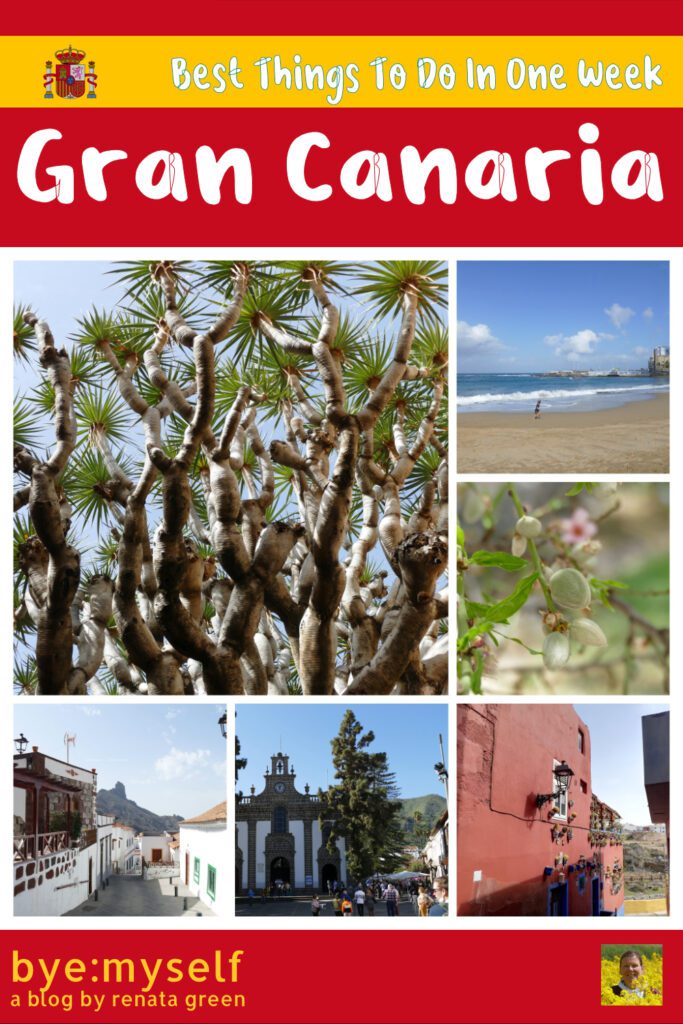 * This is an affiliate link. If you book through this page, not only do you get the best deal. I also get a small commission that helps me run this blog. Thank you so much for supporting me!