El Cotillo is particularly popular among surfers. The long beaches and the surge of waves are just perfect for lazy bathers and avid sportsmen alike. However, El Cotillo is also Fuerteventura's most beautiful village and the perfect destination for a day trip.
A Lovely Day Out
The day I visited El Cotillo, the weather wasn't that great. On my stopover in La Oliva, I even experienced some drops of rain. And although the sky was pretty much clear by the time I reached the coast, there was still a strong breeze blowing and the waves were really high. Nevertheless, this way, I'm living proof that you can spend a lovely day in El Cotillo even if you cannot go surfing, swimming, or even just relaxing on the beach without getting sandblasted.
Yes, you definitely don't have to be a surfer to be happy in El Cotillo. However, it's not the most exciting place when it comes to shopping or partying. However, El Cotillo is great for beauty and relaxation. And for surfing, obviously.
El Cotillo is the northernmost municipality of Fuerteventura and has about 1500 inhabitants. The village used to be an important trading port but due to reefs, trade increasingly shifted to other ports around the island. Nevertheless, it's still a very active fishing port. Also, due to its beauty and prime location, individual tourism is big here, too.
Where Are You Going?
"Where are you going? Lajares?" asks the bus driver the British couple. Although he asks in Spanish, they still get that he wants to know where they are heading to. He even states the name of the place, Lajares, which he pronounces Lahares.
"Lajares?" asks the lady, yet, she's pronouncing it Ladgares as probably any British person would do. "Lahares?" asks the driver again.
"Ladgares!" answers the lady.
They go back and forth for some time until she spells the name of the place.
Now I understand and jump in: "Sí, they want to go to Lajares".
Until this little incident, I sometimes asked myself if this Say It Right section that I'm including in many posts on places in Spain is really necessary. Doesn't everyone know that you pronounce a J like an H in Spanish? Well, obviously not. And I'm glad to help out a bit so that each bus driver has the chance to take you to your desired destination.
So, if you follow my traces to El Cotillo and maybe squeeze in a short break in Lajares, now you know that you have to tell the driver you are going to Lahares. And please don't say that your final destination is El Coti-lo. No, you want to go to El Cotiyo – because a double L is pronounced like a Y in Spanish.
The Sea That Unites Us
You know how I am: As soon as I see art – notably urban art – I'm enchanted and I know it will be a good day. Hence, as I got off the bus across the Ermita de Nuestra Señora del Buen Viaje and spotted a gripping mural, I knew I came to a good place. It covered the entire side wall of a two-storey building. Getting closer, I saw that it wasn't a painting but a collage of six large photographs. The weathered sign at the lower right corner read Al Otro Lado de la Lente – on the other side of the lens. Hmm, interesting.
As I kept on walking, I saw more of those large-sized photographs decorating the walls of El Cotillo's austere white buildings. They all depicted scenes from the sea and were therefore mostly in different shades of blue. That some of them were a bit weathered actually only added to their charm.
Later, I learned that these amazing wallhangings were the result of El Cotillo's 3F Photography Fair. This project started back in 2014 with the aim of enriching the sceneries and promoting culture.
Now I also understood the enigmatic title On the Other Side of the Lens. Many of the photographers who participated in the competition were actually local surfers. So by taking pictures of surfers they suddenly found themselves….yes: Al Otro Lado de la Lente or On the Other Side of the Lens.
Many of the photographs that remain on El Cotillo's walls are by Pablo Prieto. You not only see his love for surfing, but you can also actually feel his passion for the sea in each of his works.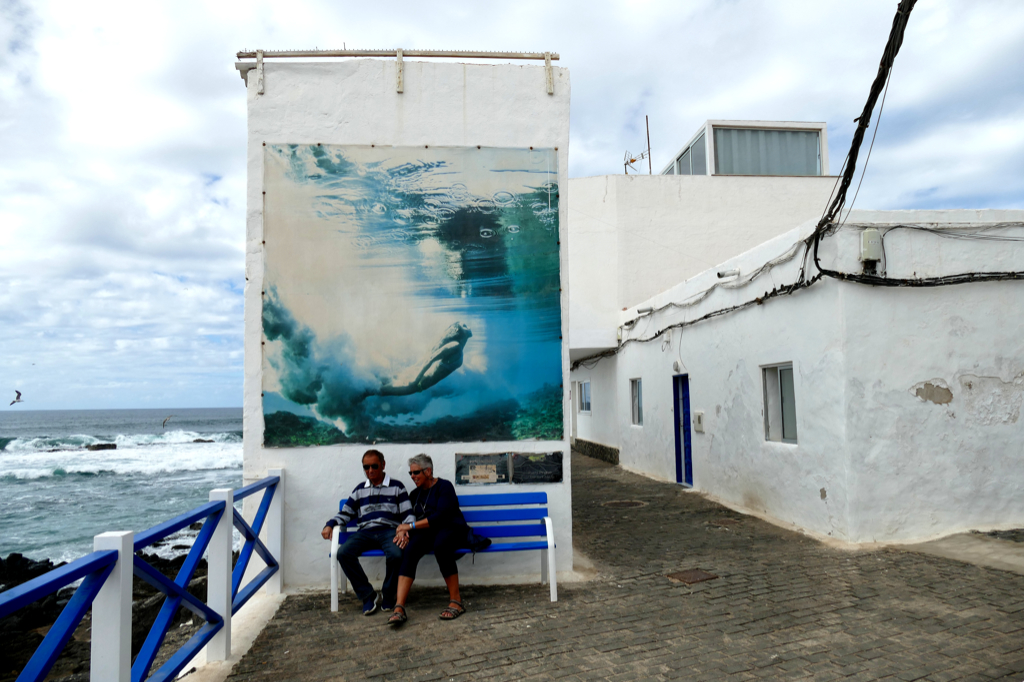 Each piece of urban art is exposed to the elements. And in a place like El Cotillo, the burning sun, the salty air, and the strong winds are taking a heavy toll on the material. Therefore, what I got to see might be gone in a couple of years. But there will probably be other fantastic pieces. No matter what you'll find in El Cotillo, it will certainly be beautiful.
A Walk By the Sea
Albeit all those photos are very intriguing, nothing beats the real thing, namely the open sea. And since El Cotillo is idyllically built on a shore – it's a fishing village, after all – a walk along the coast is something you shouldn't miss on your day trip.
Usually, as you get to El Cotillo by bus, the first stop is the parking lot next to the small chapel Ermita de Nuestra Señora del Buen Viaje. Eventually, the coach continues to the bus station downtown. Getting of at the first stop is much more intriguing since you find yourself next to one of Fuerteventura's most beautiful beaches Playa de los Lagos. Like most beaches on the island, it's not only long, it's also wide. Therefore, everyone finds a good spot and tranquility, although the beach is not really secluded.
The Village
Especially towards the coast, the village center is just lovely with crooked alleys lined by austere whitewashed fishermen's houses.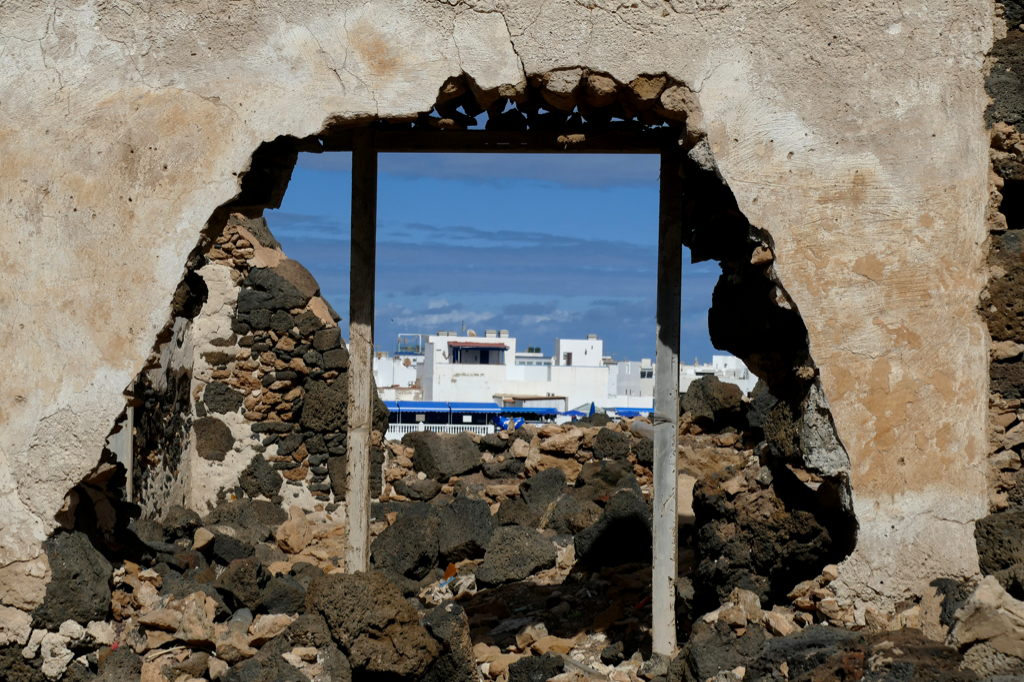 A particularly alluring area is around the Playa del Muellito. Admitteldy, the black beach is not that great compared to the endless golden sand beaches stretching north and south of El Cotillo. However, this area has still a bit of the sheltered village vibe to it.
Yes, it's a prime location, hence, there are bars, restaurants, and small souvenir shops. But everything is very friendly and laid-back.
As you walk from the port uphill in a wide right-hand bend, you'll finally reach the Mirador Alto Grande, El Cotillo's highest panoramic viewpoint. The views of the village and the surroundings are just overwhelming. Talking 'bout overwhelming: Be very cautious up here. Although there is a makeshift wooden banister, the breeze can be crazy. I actually had the feeling that the wind would carry me across the sea if I stepped any further to the cliff.
Village With a View
A bit more tranquil are things at the Mirador Hornos de Cal which is located further south behind the marina. This is where the village ends and the southern beaches like Playa del Castillo and Playa del Aljibe de la Cueva begin.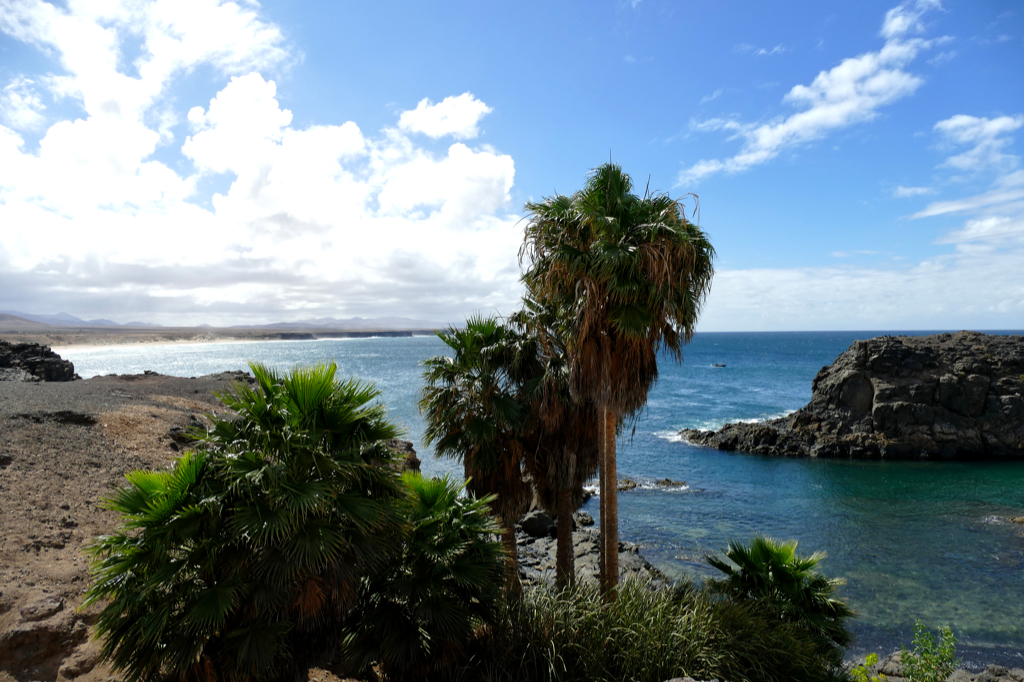 In contrast to the rather sheltered bays north of the village, these beaches are open unprotected stretches. Therefore, they are paradisaic for surfers and certainly not ideal for swimmers and sunbathers.
Attractions in an Attractive Place
Just a few steps from the Mirador Hornos de Cal are two of El Cotillo's very few real tourist attractions. But who needs tourist attractions in such a mesmerizing setting, anyway?
The Torre del Tostón is a fortified tower from 1743. It was constructed to protect the port from pirates. Today, it houses El Cotillo's tourist information. Also, you can learn about the tower and the history of the village in an exhibition inside the tower.
Right next to the Torre del Tostón is a preserved whale skeleton. You'll find those in various places on the island, for example in Morro Jable or Puerto del Rosario.
This particular whale skeleton comes from a Cuvier's beaked whale. It was was found off the coast of Fuerteventura in 2004. It is huge, namely an incredible 5.75 meters long.
Northwards
Since the Faro del Tostón is rather far from the village center, I left it for the end of this visit – basically as an extra tour. The walk to the lighthouse takes an hour, give or take. It was built in the 19th century to mark the Strait of Bocaina the islands of Fuerteventura and Lanzarote. Today, it also houses a museum on traditional fishing. There is also a small circular trail in its vicinity where information boards inform you on the local flora and fauna.
Last not least, the area around the lighthouse is the best spot to enjoy one of the Canary's dramatic sunsets. You simply cannot beat the view of the sea, the bays, and the lighthouse in one panoramic shot.
How to Get There
To get to El Cotillo by public transport, you can either take bus #7 from Puerto del Rosario or bus #8 if you are coming from Corralejo. Coming from Corralejo, you can easily include two more stops, namely at the historic townlet of La Oliva and at Lajares. But better make sure to work on your pronunciation before your go…
Between 8 a. m. and 8 p. m., the buses are going by the hour. Hence, if you make it a day trip, you can easily spend stopovers of one or two hours at either location and then continue to El Cotillo.
Note that there are two bus stops in the village: One is on the southern tip at the exit towards La Oliva. The other one is north of the village across from the chapel Ermita de Nuestra Señora del Buen Viaje.
Where to Eat
The staples in the village are fish and seafood, obviously.
Especially the alleys around the Playa del Muellito are lined with small restaurants. Obviously, you cannot really expect a good bargain here. But hey, let's celebrate the good life – and the great views.
Where to Stay
Hard to believe that to this date, El Cotillo withstood the curse of mass tourism. Consequently, there are no massive all-inclusive hotels here. Most visitors opt for small family-owned lodging options, anyway.
You should find a lodging options that suits you right on this map*:
Well-Organized Activities
Although I'm an avid solo-travelling woman, I sometimes like to join organized tours. Since I'm not driving, they are sometimes the only option to visit remote places. Also, it's a great way to get in touch with fellow travellers.
Therefore, here are some great ideas on how to visit Fuerteventura's hinterland or put out to sea on a day trip:
El Cotillo was just one of the wonderful places I visited during my week on the island of Fuerteventura. To read about the others, go to this post and take your pick!
For general information on Spain, go to this post. There, you'll find information and tips that will make your trip much smoother and more enjoyable.
Pinnable Pictures
If you choose to pin this post for later, please use one of these pictures:
Did You Enjoy This Post? Then You Might Like Also These:
* This is an affiliate link. Hence, If you book through this page, not only do you get the best deal. I also get a small commission that helps me run this blog. Thank you so much for supporting me!