While studying Portuguese in Rio de Janeiro, I thought it might be a good idea to take a trip to Belo Horizonte at the weekend – mostly because I wanted to see Inhotim, a botanic garden full of contemporary art.
Turns out, Inhotim was the only spot worth the travel. But so worth it!
Weekend Trip to Minas Gerais
Although that particular weekend the Carnival was in full swing in Rio, I decided to take a trip to Belo Horizonte in order to visit Inhotim. According to my schedule, it was the only chance to see it on this trip to Brazil.
While my inbound flight had been to the Antonio Carlos Jobim International Airport in Galeão, this domestic flight left from Airport RJ Santos Dumont which is basically in the mere center of Rio. Getting there, I took the tram, however, I could have easily walked from the commercial district.
Arrival in Belo Horizonte was a whole different story. As I booked my flights, I didn't bother to check the airport – hence I arrived 30 kilometers from the city.
Inconvenient, yes, but there are several buses. I took the one going to the main bus station since I believed that would be the most centrally located stop.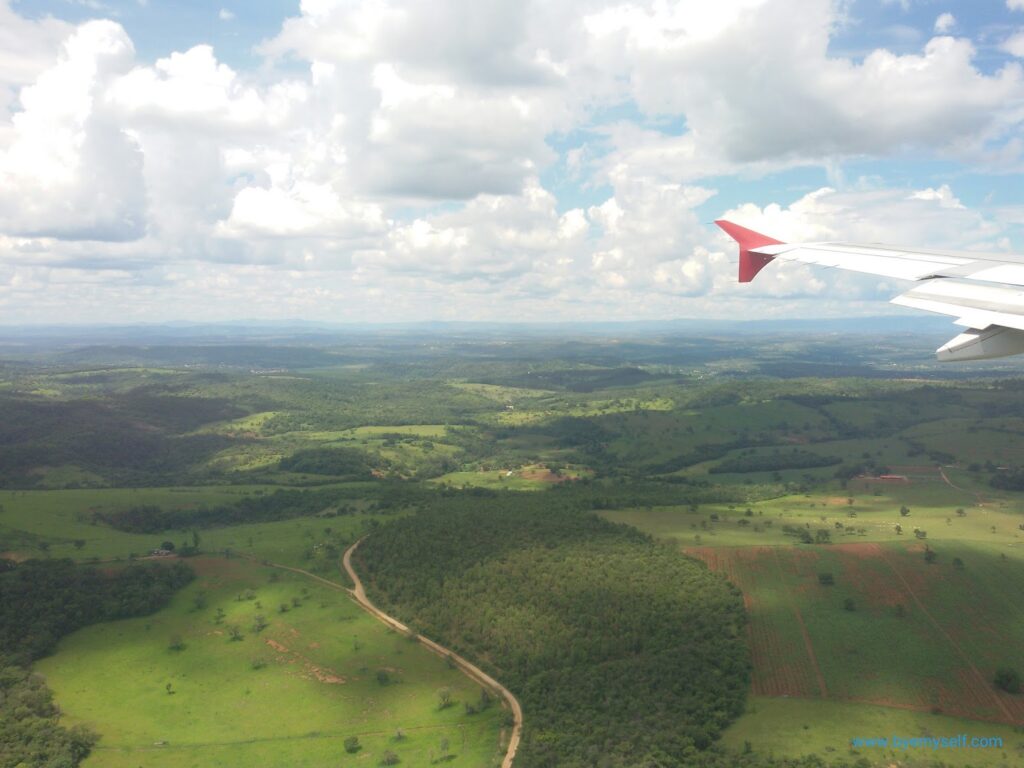 Good thinking, but it is at the same time the stop where the simple folks go. Hence, it was a bus that stopped at every street corner, getting blocked in the traffic of crowded neighborhoods.
It took forever, the journey was not exactly scenic. In the end, I arrived in one of the most run-down parts of Belo Horizonte. Which, by the way, in general, seems to be a very run-down city.
How the Other Half Lives
It's quite shocking how many people are homeless in Brazil. I know that even some people from the lower middle class do live in Favelas, the infamous Brazilian ghettos. However, I believed that mainly the poorest of the poor have their homes there.
But obviously, the poorest of the poor don't have a home at all. Or their home is a very dirty blanket on a sidewalk. As I said, shocking.
I don't like Belo Horizonte.
It's not just that it's run down. It also has an unpleasant vibe to it.
I cannot explain it any other way.
Feeling alienated and uncomfortable, I began to have second thoughts regarding my weekend plans. Was it worth all the money and the effort to come to this hellhole?
Well, one never knows before one knows.
After a short, nervous night at an okay hotel, I hopped on the bus to Brumadinho – knowing I would like it since already the name is cute.
But its strongest suit lies on the outskirts and goes by the name of Inhotim.
Belo Horizonte
Nevertheless, let me first tell you a bit about Belo Horizonte. I wouldn't recommend it as a must-see destination. However, if you happen to be in the area, make sure you don't miss going to see Inhotim. But we get to that later.
Belo Horizonte's artery is the Avenida Afonso Pena where you find many stores and restaurants. Its central point is the Praça Sete de Setembro, honoring the centenary of Brazil's independence. Actually, it is just an obelisk marking the city's zero point.
Igreja São José
One bloc down south, you'll see to your right the unusually colored Igreja São José, St. Joseph's Chruch, founded in 1904 and finished in 1912.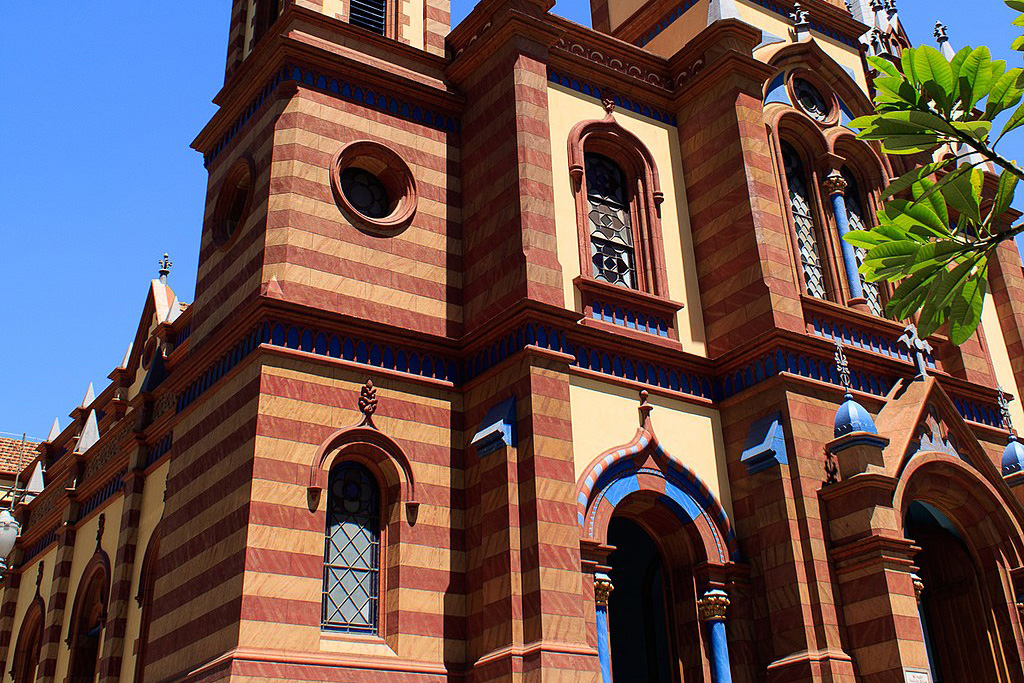 The church is one of the city's most notable monuments. It was Dutch Redemptorist missionaries who commissioned this house of worship to be built in a Neo-Manueline style with strong Dutch influences. The layout is ​​60 meters long and 19 meters wide and forms a perfect Latin cross.
Museu Mineiro
There are a couple of interesting exhibitions in Belo Horizonte, especially regarding the history of the miners. The city is the capital of the federal state of Minas Gerais, translated as general mines.
As a matter of fact, in Minas Gerais – a territory as large as France! – you'll find a large variety of different mines and extraction fields.
The museum was founded in 1982 and is today part of the Praça da Liberdade Cultural Circuit project.
Until 1977, the building from the late 19th century housed various chambers and councils.
Today, it presents 36 collections from different institutions and private collections from Minas Gerais. There are paintings and sculptures, sacred art and furniture, tools and utensils, and much more.
Museu Mineiro
Avenida João Pinheiro 342
Belo Horizonte
The museum is open from Tuesday to Friday from 10 a. m. to 7 p. m., weekends from noon and Thursday from noon to 9 p. m.
Centro Cultural Banco do Brasil
Another nice place in the vicinity of the Praça da Liberdade is the Centro Cultural Banco do Brasil. It's a cultural project financed by the oldest and largest Brazilian Bank. They run cultural centers in various Brazilian cities, and in Belo Horizonte, the elegant building alone is worth a visit.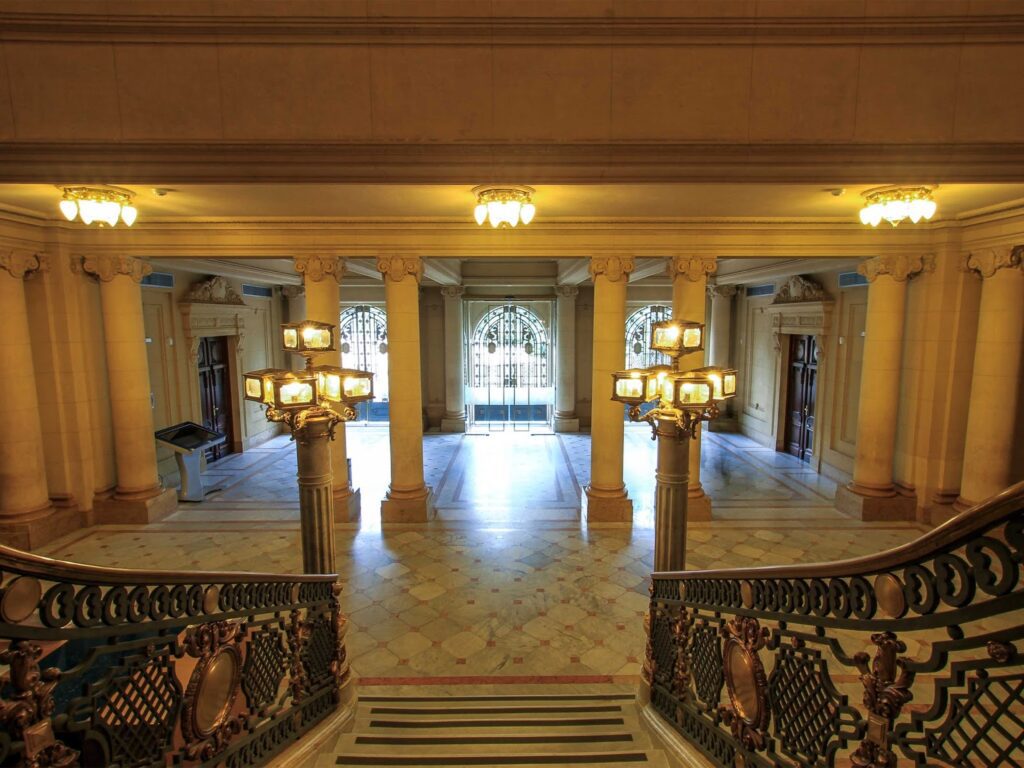 Centro Cultural Banco do Brasil Belo Horizonte
Praça da Liberdade 450
Belo Horizonte
Phone: + 55 – 31 – 34 31 94 00
Email: ccbbbh@bb.com.br
The center is open from Wednesday to Monday from 10 a. m. to 10 p. m.
Feira de Arte e Artesanato da Avenida Afonso Pena
The thing I liked best in Belo Horizonte was the Feira de Arte e Artesanato da Avenida Afonso Pena. It's an arts and crafts fair that takes place every Sunday from 8 a. m. to 1 p. m. on the Avenida Afonso Pena between Rua da Bahia and Rua dos Guajajaras.
It's not touristy at all, you can buy literally everything you might need around your home.
The best part, however, is the food stands selling really good Brazilian street food.
The market runs alongside the really nice Parque Municipal Américo Renné Giannetti, Belo Horizonte's central park.
So after all, there are certainly some things to do, but I've found the city extremely run down and depressing. The number of obviously deranged, intoxicated people squatting and camping in the streets was overwhelming.
Brumadinho
Brumadinho is a friendly little town – about an hour by bus from Belo Horizonte.
As I learned from my friendly, hippie-ish landlord, bruma is the coal dust, hence, that's where the town of Brumadinho got his.
I didn't get to see much of the town itself since I was rushing more or less straight to Inhotim. But what I saw looked tranquil and nice. Hence, if I ever come back, I will skip Belo Horizonte and go straight to this cute little place.
Inhotim
Bernardo de Mello Paz is one of the few people who could actually say 'yes' if rhetorically asked whether he owns a mine.
In the mid-1980s, de Mello Paz began to establish an exquisite botanic garden on his huge piece of land outside of Brumadinho. He collected rare and precious species of plants and arranged them beautifully on hills and around ponds.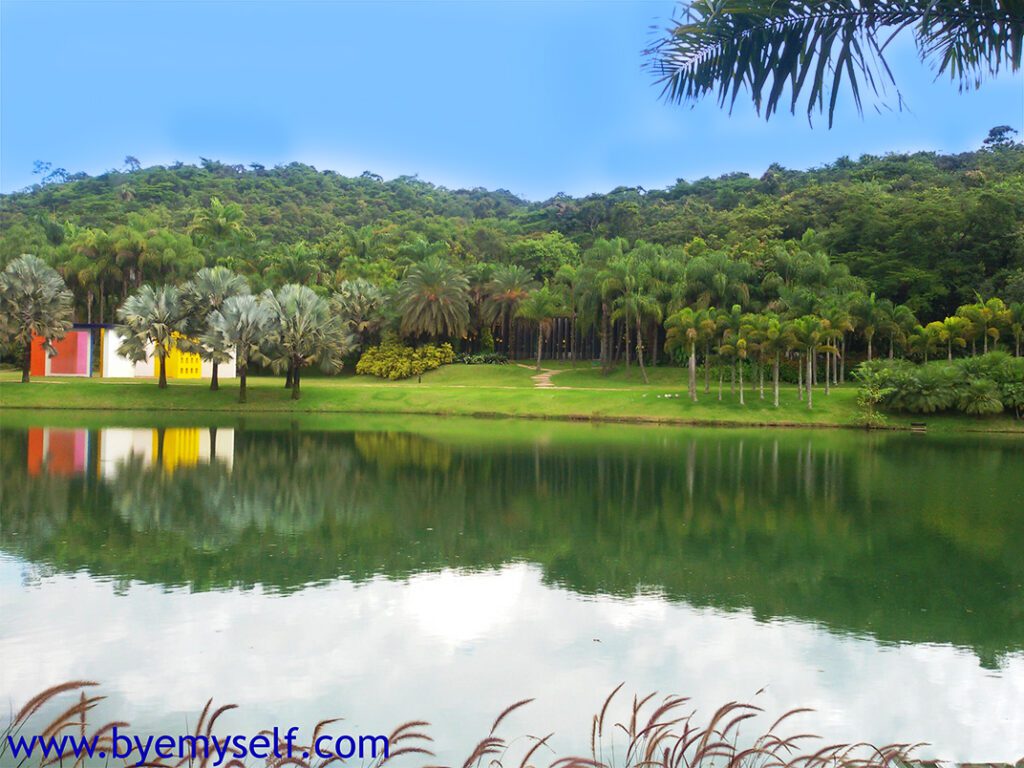 The man has very good taste. In plants, but also in art. Therefore he also arranged his art collection, one of the most significant collections of contemporary art in the world, on these premises.
Galleries – Inside and Out
There are about 500 works by Brazilian and international artists from about 30 different countries on display; in the gardens and in special galleries.
There are huge sculptures and installations that would never fit in a gallery.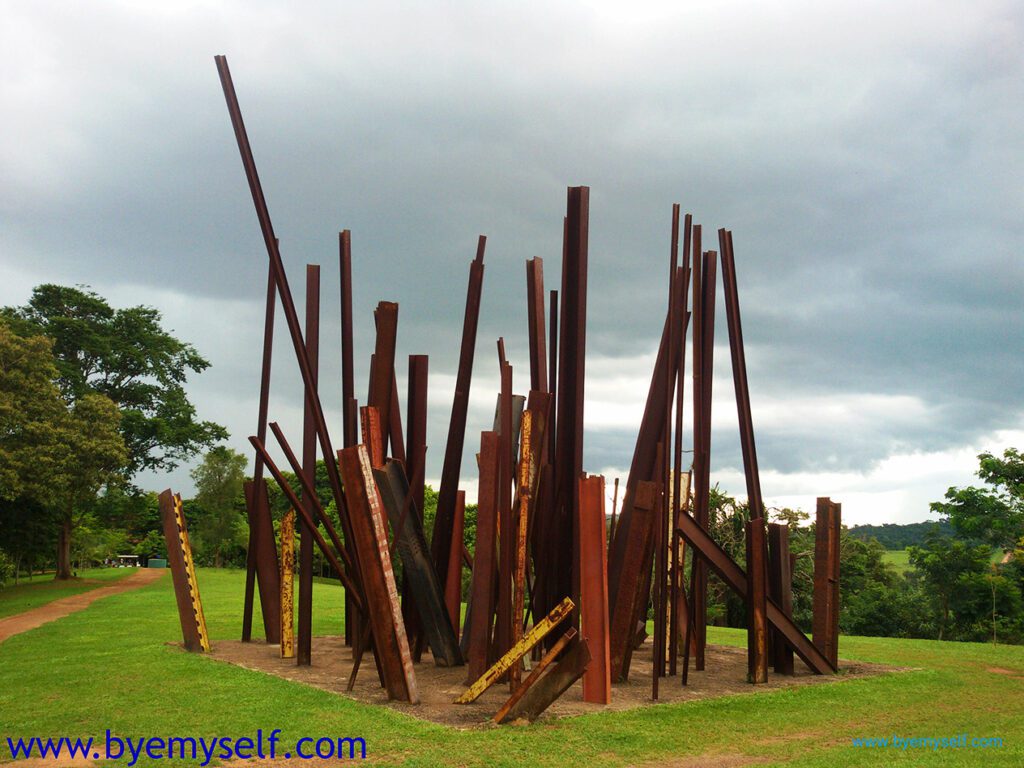 There are huge sculptures and installations that do fit in a gallery as long as they can fill the whole room undisturbed.
There are sculptures and installations that form a nice, almost symbiotic togetherness.
At Inhotim, there is room for all of this. Since there is space, lots and lots of space.
Yes, you have to do a lot of walking. But if you get too tired, there are lovely young people driving you around in little carts. You'll find all the relevant info to know before you visit below.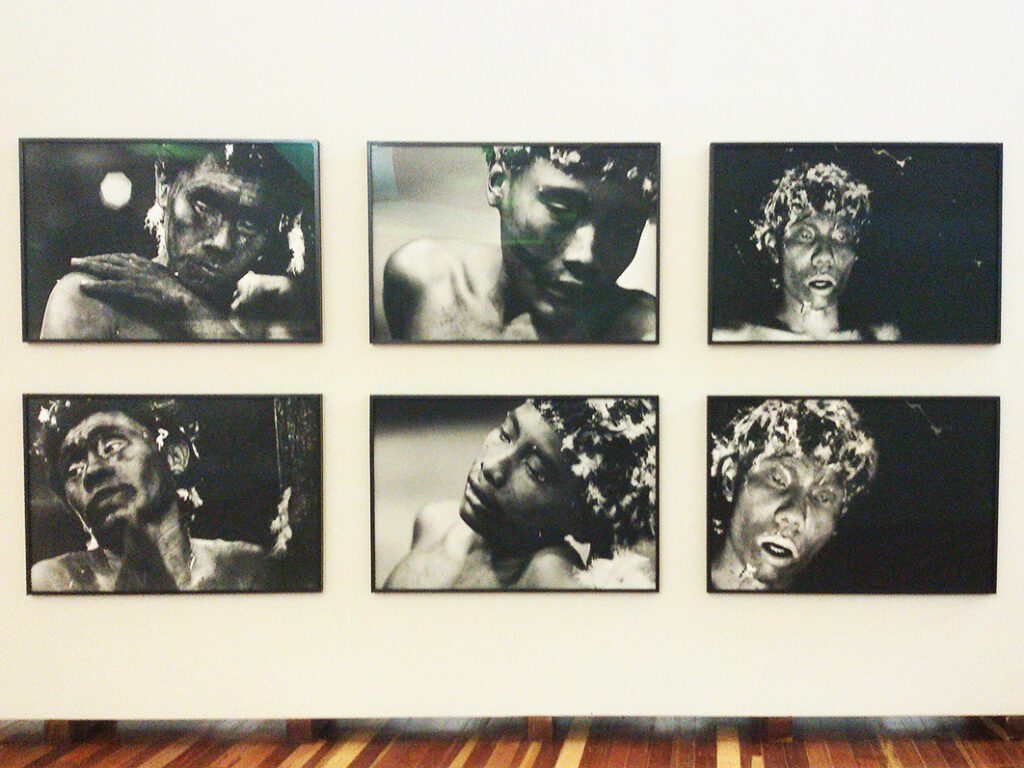 Planning Your Visit
Inhotim is good to you: There are sockets to recharge your phone or your camera, and there is free WiFi. There are clean bathrooms and many water faucets so that visitors do not necessarily have to buy overpriced drinks; which aren't overpriced at all, anyway.
There are two restaurants. One is more upscale – whereby you get an excellent buffet for about 20 US$ which you'd never get at this price in Europe or in the US. The other one is more like a cafeteria where the good Brazilian buffet is very reasonably priced.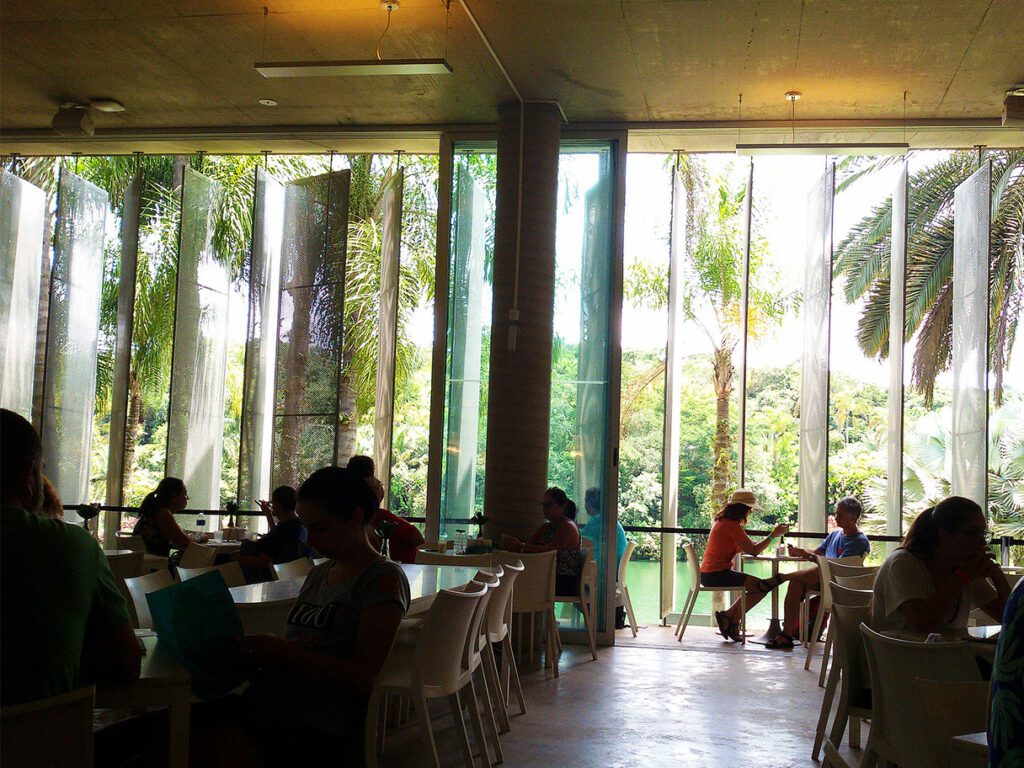 In addition, there are snack bars and ice cream parlors all over the place. And lots of shady spots to relax for a while – some equipped with wooden deck chairs or cute lounge chairs, others with extraordinary seats carved in raw wood.
INHOTIM
Rua B, 20
Brumadinho
Email: info@inhotim.org.br
Open Tuesday to Friday from 9.30 a. m. to 4.30 p. m., weekends and holidays till 5.30 p. m.
The gardens and galleries are open to the public from Tuesday to Sunday from 9:30 a. m. to 4:30 p. m. – Saturdays, Sundays, and holidays to 5:30 p. m.
The one-day admission for adults is R$ 50, kids from 6 to 12 have to pay half price and if they are younger than 6, entrance is free. Everyone else gets in for free on Wednesdays – except on holidays. For two days, adults pay R$ 88, and for three R$ 120.
Note that there are small carts available that drive visitors between the different galleries. The use of these carts costs an additional 35 R$ per visit- and I highly recommend it since the site is huge.
Charter of a private cart for up to 5 people costs 750 R$ per day or 150 R$ per half an hour.
Important Note
Before you go, check their website or inquire directly whether special rules apply during your period of visit. When I visited, I needed proof of yellow fever vaccine, a couple of months later they abolished that. However, to save yourself from disappointment, inquire shortly before visiting.
Get more inspiration – and information – on Inhotim in this special post.
Practical Information
How to Get to Belo Horizonte…
Going to Belo Horizonte by bus from Rio de Janeiro takes about six hours which I find a bit too long for a weekend trip. I was lucky to get really cheap tickets for about 70 US$ round trip – I booked about six weeks ahead.
For more tips and hacks on how to save money and still travel comfortably, check out my posts on planning and organizing your trip respectively when to book ahead.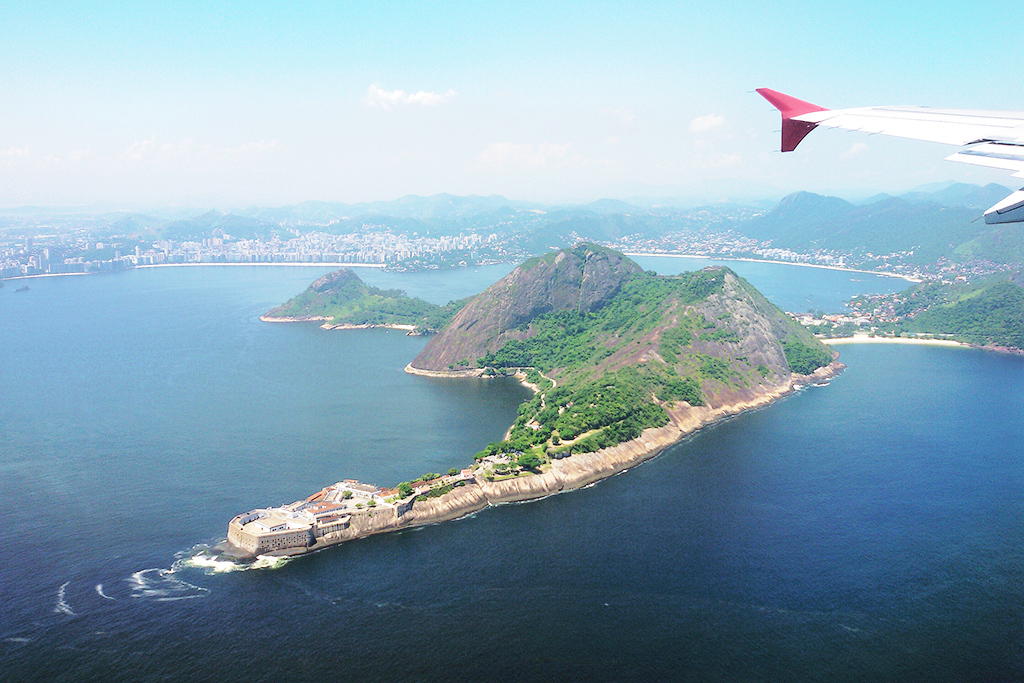 Like many other Brazilian cities, Belo Horizonte has two airports, one close to the city and another one about 30 kilometers north. Hence, here comes my first piece of advice: Don't take the bus that goes to the bus terminal.
I thought it would be a good idea since bus terminal sounds centrally located. Well, it is, but it is also located in a very bad area. Plus the bus that goes there is the cheap one for the poorer crowd and it stops at every corner. This way, it takes forever to finally arrive at this shady area.
It's far better to take the airport shuttle. Taking this coach costs next to nothing more. It goes to the Connection Airport Terminal at Av. Álvares Cabral 387, which is a bit less depressing and dangerous.
…and to Brumadinho and Inhotim
I don't know how many buses are actually going from Belo Horizonte to Brumadinho since it's really not that far. Since I had to make sure to catch my plane the next day, I made a reservation online and went with Saritur.
It's also possible to book a day tour from Belo Horizonte straight to Inhotim and back in one day, but I wasn't so crazy about getting back the same day.
Where to Stay
I booked a room at the Hostel Hari *, a small guesthouse within walking distance from the town center as well as Inhotim, so that was a plus. The hostel was cute and the hosts got out of their way to make me feel welcome.
Nevertheless, I must admit that there were downsides. They have only one shared bathroom for up to eight people. The walls and doors are paper thin so when people are talking or watching TV in the communal area, it's like you are sitting right next to them.
This would be fine and dandy for a hostel price. Since I paid 120 R$, I was a bit annoyed. After all, the night before, I had paid less at the San Diego Express* in Belo Horizonte for an executive room with all hotel standards like a private bathroom, A/C, TV, and a fridge.
This being said, on this map, you find lodging options in Brumadinho*…
…and on this one accommodation in Belo Horizonte*:
Cash And Cards
The currency in Brazil is the Real (plural Reais) and the rate is 1 US$ = 5,21 R$ as of December 2022. For further conversion check this page.
Of course, there is cash and there are cards. Because of the relatively high crime rate such as pickpocketing, Brazilians tend to pay even tiny amounts with debit cards. Even street vendors and hawkers are accepting them when someone just buys a newspaper and chewing gum.
Although there are notably many ATMs all over the place, not all of them work with international credit cards. But don't panic, there are so many different banks – sooner or later, you'll figure out which one works with your card.
Especially in larger cities like São Paulo, Rio de Janeiro, or Belo Horizonte, be cautious where you use the ATM – you shouldn't do your banking in whatever neighborhood and particularly not after dark.
Language
Since Brazil used to be a Portuguese colony, people speak Portuguese. As Belo Horizonte is not very touristy, few people speak decent English.
At a sophisticated facility like Inhotim, signs are written also in English and the staff is basically bi-lingual.
This being said, it's a nice gesture to learn at least some basic words and expressions anyway. You can do so right online with babbel.com.
For two weeks, I actually took language lessons in Rio de Janeiro, which was a great experience and enriched my stay in many ways. To learn more about this option, please go to my post Language Learning in Brazil.
Connection and Communication
Brazil is one of the very few countries where I got a national SIM card. To be honest for the sole reason that I had accidentally blocked mine and wasn't able to use my phone at all. I got a pre-paid card from Claro and was very happy with their service.
This being said, I actually prefer to use free WiFi. Actually, there was a connection to the internet without any issue at basically every museum, eatery or café, and, of course, hotel. Worked like a charm.
At the end of my trip to Brazil, I had three or four different adapters. Although there is an official type N socket and plug, you'll find also type C plugs. Also, there were type A sockets like in the US – howsoever, it was a wild mix, but in the end, everything turned out fine.
Also, the voltage is either 127 or 220 V, and the frequency is 60 Hz. Thank God, nowadays, all these chargers for phones and readers and computers have integrated adapters. Therefore, voltage and frequency don't really matter.
By the way, you'll find this kind of practical travel info in my post World's Most Complete Travel Information – an indispensable globetrotter-classic.
Map of Belo Horizonte
Belo Horizonte and Inhotim Gardens in Brumadinho were only two stops during my exciting visit to Brazil's South. Go to the main post to check out all the other destinations. You'll also find valuable general information that will make your trip smoother.
Pinnable Pictures
If you choose to pin this post, please use one of these pictures:
Note: I'm completing, editing, and updating this post regularly – last in December 2022.
Did You Enjoy This Post? Then You Might Like Also These:
* This is an affiliate link. If you book through this page, not only do you get the best deal. I also get a small commission that helps me run this blog. Thank you so much for supporting me!