24 hours in Singapore: Obviously, I couldn't miss out on adding Singapore to my series on 24 hours in the world's most frequented hubs. After all, Singapore's Changi Airport is one of the busiest airports in Asia.
As always, I put together a comprehensive itinerary for a sunny day as well as another one in case it rains. This way, you'll know exactly how to spend a short city break or layover at Asia's glittering mega-city whether rain or shine.
Singapore with its population of 5.75 million is the second most densely populated sovereign state in the world – after Monaco.
The city's strong suit is the service industry such as international banks, insurance, etc. Also, a relatively high percentage of Singapore's population are ex-pats. Therefore, basically everybody is fluent in English although the official national language is Bahasa Malay. However, with a population of 76 percent ethnic Chinese and 7 percent ethnic Indians, Mandarin and Tamil are official languages, too.
Just like the population presents a colorful variety, the city itself does so, too. You'll find modernism next to traditions, financial districts and shopping malls close to ancient jungles.
I first got to Singapore because I was on a trip to Malaysia and thought that it would be a good opportunity to visit it for a day or two. Turns out, I fell in instant love with the vibrant city.
So if you have the chance to spend a day on a layover in Singapore, do it!
Local Currency
Singapore Dollar (SGD) / 1 SGD = 0.71 US$ as of November 2022 / current rate
Emergency Contacts
Police 999
National Airline
If you are flying Singapore Airlines and have a stopover in Singapore, they make you an incredible offer: a one-night hotel stay, airport shuttle, and access to 15 attractions – and all this from SGD 40!
Airports
Changi Airport / IATA-Code: SIN
If you have a stopover of at least 5.5 hours, you can join a complimentary city- or heritage tour offered by Changi Airport!
Tourist Info Online and Onsite
Singapore Visitors Centres at Changi Terminal 1, 2, and 3.
Opening hours: 6 a.m. to 2.00 a.m. daily
Getting Downtown and Back
I wish every city had such an extensive, well-maintained, and reliable system of public transportation like Singapore.
And it's cheap, too. I recommend you buy the tourist pass, which gives you an unlimited amount of rides, right at Changi Airport. There are passes for one, two, or three days for SGD 10, SGD 16, and SGD 20. Even if you follow the sunny day itinerary, the pass should pay out since you will hardly be able to avoid using public transportation.
With your brand new pass, you then travel from the airport downtown to your hotel. To get to the Robertson Quay Hotel, you can take bus No. 36 going to the Dhoby Ghaut station from where you have to walk about one kilometer. Get alternative connections on SBS Transit.
Morning Activities
Singapore is a tropical country, so the chance that you will model your cute summer dress is quite high. But you better take also a light cardigan or a large scarf with you since the busses, malls, and many restaurants are air-conditioned. Although they are not as cold as in the US, but still chilly enough to catch the flu.
The fastest way to get there is walking – within 20 minutes you'll be at South Bridge Road where especially the blocs between Cross Street and Sago Lane are just amazing.
Street of Harmony
There is the mint green building of the Islamic Masjid Jamae on 218 South Bridge Road – just a stone's throw away from the Sri Mariamman Temple at No. 244.
Eventually, a short walk takes you to the iconic Buddha Tooth Relic Temple, Singapore's most important Buddhist building on 288 South Bridge Road.
The vast majority of Singapore's ethnic population is Chinese, so you definitely should pay Chinatown a visit.
Take your time to explore all the little alleys stuffed with shops and restaurants and all sorts of mambo jambo behind the temple.
If you'd like to learn more about the first Chinese contract workers in Singapore, a visit to the Chinatown Heritage Center on 48 Pagoda Street is highly recommendable.
The fact tha I planned lunch in the so-called Little India district gives you a great opportunity to experience the city's stark cultural contrasts within just a couple of minutes. The MRT North-East Line takes you there from the stop Chinatown to Little India in 15 minutes.
Little India's arterial road is the Serangoon Road with colorful stores with blaring Indian music and exotic scents. Bollywood at its best.
Once you're done awing, turn into Kerbau Road. Behind the first crossing, you will notice a very colorful building to your left, the 'Tan Teng Niah'. Built in 1900, it is the last Chinese villa in this neighborhood, stemming from the era when Chinese businesses used to operate next to Indians.
From here it's just a short walk to the wonderful Indian restaurant where you'll have lunch.
Morning Activities
Since Singapore is a tropical country, you won't be freezing.
But as a tropical monsoon region, especially from October to February, you might experience heavy rains. Never mind, grab an umbrella, and let's go.
To see at least the Buddha Tooth Relic Temple, walk right along the Singapore River and cross at Alkaff Bridge. There you hop on bus No. 51 which takes you to Opp Hong Lim Park. From here, unfortunately, you have to walk. Or you take a cab to the Temple, which will cost you very little.
To make up for not seeing that much of the city itself, get informed about it at the Singapore City Gallery.
Here all your questions regarding geology, the concept, the challenges, and everyday life will be answered in an educational yet fun way.
Singapore City Gallery
The URA Centre
45 Maxwell Road
Singapore 069118
Phone: + 65 63 21 83 21
Email: ura_gallery@ura.gov.sg
The Genesis of Singapore
Since the City Gallery covers mostly the geological and ecological side, the National Museum of Singapore deals with the settlement, immigration, ethnicities, and all related aspects – hence, with the people. It is absolutely fascinating and not to be missed.

To get there from the City Gallery, take bus No. 190 at Pearl's Ctr and get off after only seven minutes at SMU.
National Museum of Singapore
93 Stamford Road
Singapore 178897
Phone: +65 63 32 36 59
Email: nhb_nm_hospitality@nhb.gov.sg
Now that you've learned so much about Singapore's history and about its different ethnicities, let's sample some of their delicacies – let's go to Little India for lunch.

Walk back to SMU station and take bus No. 147 to Tekka Ctr. From there you walk down Serangoon Road, turn left into Kerbau Road, get a glimpse at the Tan Teng Niah building (for all this, see the sunny day description), and hurry to the Banana Leaf Apolo.
Lunch
Hungry? Walk down one block to the Race Course Road, and at No. 54, the gates to culinary heaven will open.
There is the 'Banana Leaf Apolo' serving the best in Indian cuisine, sorted by the very diverse Indian regions.
Banana Leaf Apolo
54 Race Course Rd
Singapore 218564
Phone: +65 62 93 86 82
Email: enquiry@thebananaleafapolo.com
They are open daily from 10.30 a.m. to 10.30 p.m.
Afternoon Activities
An attraction not to be missed is definitely the Gardens by the Bay, an award-winning park of a size of over 100 hectares, introducing and preserving flowers, bushes, and other plants from all over the world, presented in a very educational yet beautifully arranged way.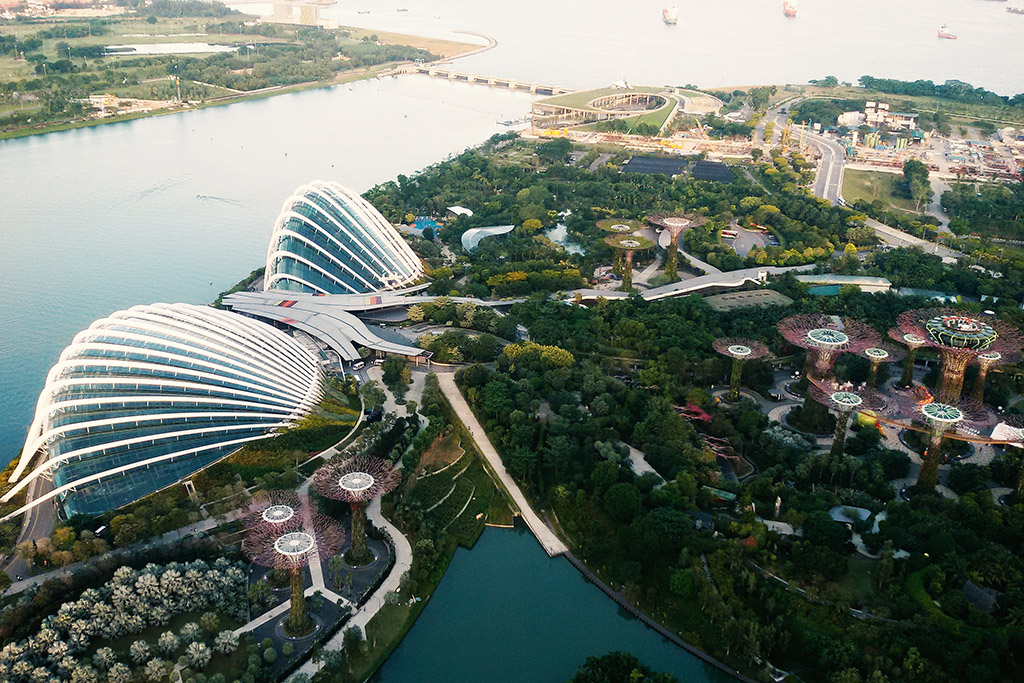 Sustainability at its best.
There are several attractions like the skyway, the supertree grove, and of course the Flower Dome and the Cloud Forest Conservatories. Every night at 7.45 and at 8.45 p.m. there is a – yes, beautifully kitschy – light and sound show.
Gardens by the Bay
18 Marina Gardens Drive
Singapore 018953
Phone: + 65 – 64 20 68 48
Email: feedback@gardensbythebay.com.sg
Afternoon Activities
Is it still pouring so that you cannot continue by any chance with the sunny part itinerary? Never mind, your afternoon will be great just the same.
You are going to see some fine art in some gorgeous buildings.
Walk back the Race Course Road to Little India station and get on bus No. 131 and get off at Manulife Ctr.
The Singapore Art Museum's building used to be a Catholic boys' school. After the school moved out and gave way to make it a gallery,  the building had to be transformed thusly. The enormous glass hall, where sometimes special events take place, is particularly impressive. The huge venue owns and presents an important collection of Southeast Asian contemporary art and organizes exciting special exhibitions such as the Singapore Biennal.
Singapore Art Museum
71 Bras Basah Road
Singapore 189555
Phone: +65 – 65 89 95 80
Email: enquiries@singaporeartmuseum.sg
Still ready for some art? The next venue is by far not as ample as the Art Museum, but it hosts some fine Asian antiques and art – no wonder, it's the Asian Civilisations Museum.
While the permanent collection – although absolutely exquisite – is fairly small, their special exhibitions are totally worth seeing since they often combine art with some strong environmental or sociological aspect.
To get there, just walk back to the Manulife Ctr stop and keep going by bus No. 131 to Opp Singapore's Cricket Club.
Asian Civilisations Museum
1 Empress Place
Singapore 179555
Phone: +65 – 63 32 77 98
Email: nhb_acm_vs@nhb.gov.sg
Dinner
As a matter of fact, everybody has to experience Marina Sands Bay – the gigantic surfboard on three pillars.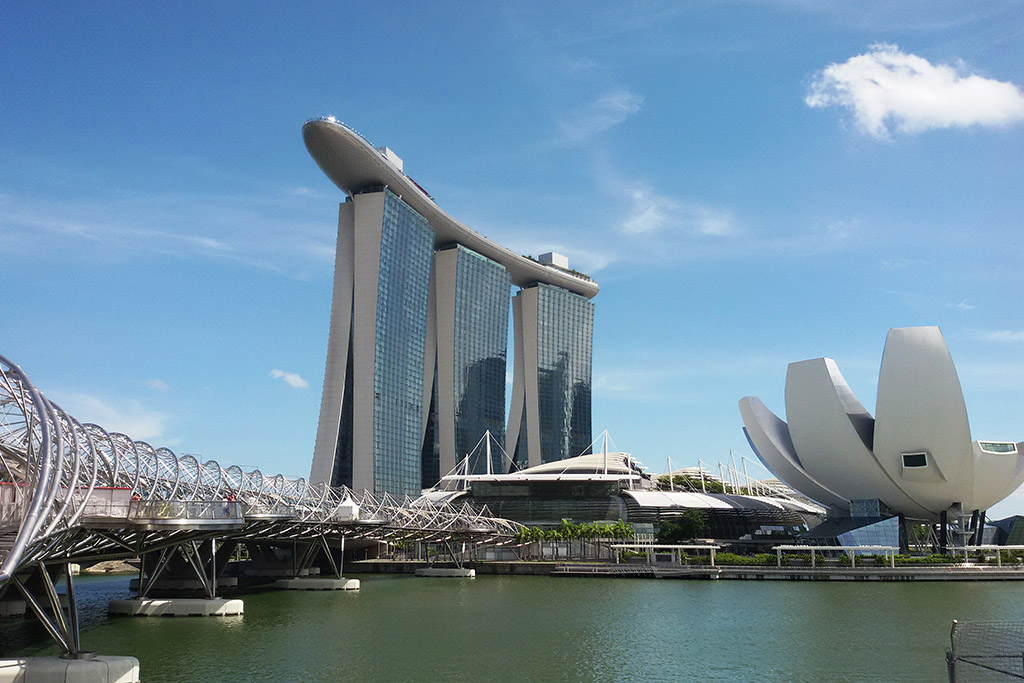 It contains the world-famous luxury hotel Marina Bay Sands* with an infinity pool on the 57th floor, a first-class shopping mall, and an artscience museum – in short: this place is just amazing.
If you follow the sunny day itinerary, you then just have to cross the bridge connecting the Gardens by the Bay with the Marina Sands and you're there.
On a rainy day, coming from the Asian Civilisation Museum, it's a five minutes walk – however, you have to cross the Singapore River at the Cavenagh bridge and you're practically there.
Since next to the hotel is the fancy shopping mall, you might want to do some (window-)shopping and get dinner at one of the varied eateries here (the least expensive option is the food court in the basement).
Of course, you can also have dinner at one of the restaurants at the hotel complex, which is divided in – and eventually, stay for a nightcap or two.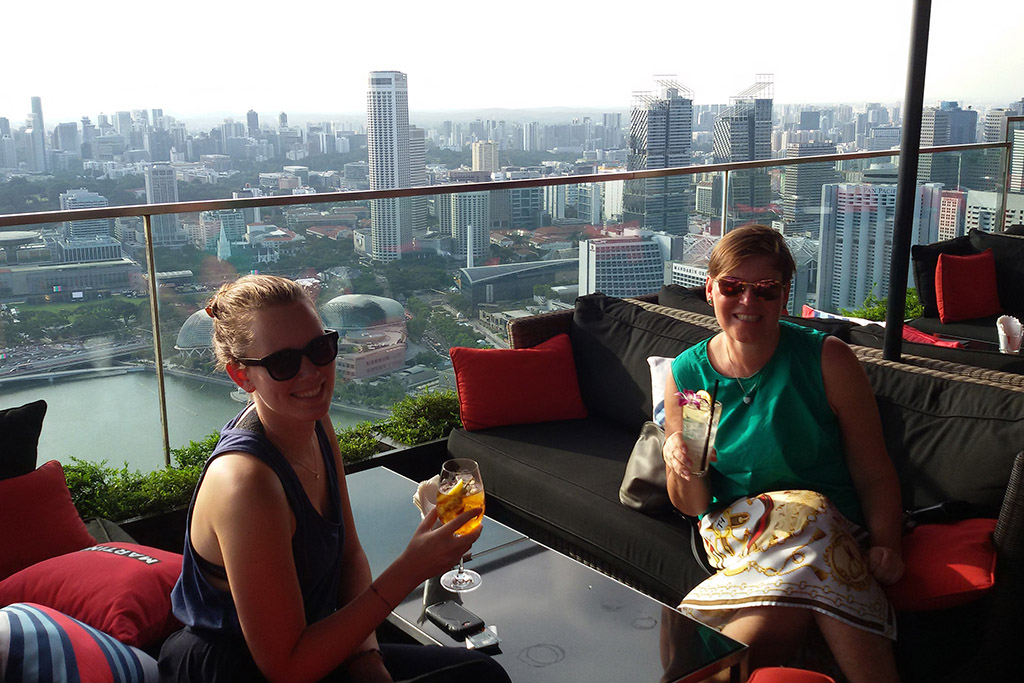 Actually, the small but satisfying menu at the CÉ LA VI Club Lounge with a choice of burgers, pizzas, and other snacks might just do the trick at a reasonable price. This is the cheapest option. Still, on the same level (57th floor) is the CÉ LA VI Restaurant and Sky Bar with a more complete menu, higher prices, and a consumption minimum of SGD 80 per person.
They open on weekdays at 12 p.m. and at weekends at 11 a.m. and remain open till late – the 'day lounge' closes at 10 p.m., though.
Nightcap
Sorry, but since you are already in the greatest place in all of Singapore – where else do you want me to send you?!
Just order another drink, lean back, and let the view take away not only your breath but all your worries.
Singapore

X

tra
Since the night safari is supposed to be the big thing to do in Singapore, I add some extra info. The fact is, I was not impressed.
Although it's very organized, still it's packed, and there are long waits. Yes, the animals in the dark do give this zoo a special atmosphere – but I've found it really exhausting to wait so late, then the zoo is quite far away from the center…I just wasn't impressed. But it's easy to say since I've seen it. So decide for yourself – after all, it is a unique thing.
However, they have a really good website with lots of useful, clear information – like how to get there by public transport or by special shuttle and much more.
Night Safari
80 Mandai Lake Road
Singapore 729826
Phone: +65 6269 3411
Email: enquiry@wrs.com.sg
Accommodation
If you can afford to splurge, spending the night at the Marina Bay Sands* is, obviously, a once-in-a-lifetime experience. To take it down a notch and still enjoy a prime location, you might want to opt for the Robertson Quay Hotel*
Map – sunny day itinerary
Map – rainy day itinerary
If you're not flying into Singapore but taking the bus e. g. from Malaysia, you might like this little story about my adventure doing so.
Pinnable Pictures
If you choose to pin this post for later, please use one of these pictures:
Note: I'm completing, editing, and updating this post regularly – last in November 2022.
Did You Enjoy This Post? Then You Might Like Also These:
* This is; obviously, an affiliate link. Therefore, if you book through this page, not only do you get the best deal. I also get a small commission that helps me run this blog. Thank you so much for supporting me!
Icons: money bag by Roundicons from www.flaticon.com, police car, train, sun, glass, and bed by Freepik from www.flaticon.com, takeoff plane and board made by ultimatearm from www.flaticon.com, info made by Roundicons from www.flaticon.com, umbrella made by Kiranshastry from www.flaticon.com, food plate by Vectors Market from www.flaticon.com