You've been to the Eiffel Tower, you've seen Sacre Coeur and sailed on the river Seine? Great, after you've checked the most important tourist sites off your list, you, my fellow culture vultures, can focus on Paris' amazing museums.
Actually, it's mainly the city's museums and monuments that make me come back to Paris again and again.
Therefore, in this post, I'm introducing the key that allows me to skip the lines and quickly opens the doors to the best venues: It's the Paris Museum Pass that grants access to no less than 50 museums and monuments at a very reasonable flat rate.
Isn't that far too much, you might ask. Well, you probably won't visit all of them in one go.
Nevertheless, since with the Paris Museum Pass*, you don't have to wait in the long lines that often form at the entrance doors, you'll get to see more than you've ever expected.
Paris – A Moveable Feast
I was a young teenager when I visited Paris for the first time. My mom was very keen to visit all those iconic landmarks and romanticized places. I don't know why my Dad didn't go with her, but he didn't and since she didn't want to go there alone, she took me with her. Although the trip was somehow organized by a third party, we went from Hamburg all the way to Paris by train – just the two of us. Someone in charge had booked us into a tiny quite horrible hotel in a sketchy neighborhood. And as far as I remember, some city tour by bus was also included. Other than that, we walked around, got to see the most iconic landmarks and my mom lived her Parisian fantasy. It was far from glamorous, but I must say, in a quirky way, it was a fun trip.
A few years later, by then I was already an older teenager, I went on this infamous interrail trip with my then-boyfriend. I've mentioned some of the slightly wack shenanigans for instance in my post on How I Became A Citizen Of The World. However, Paris had also been on our long list of destinations. It was summer and we had come on a jam-packed night train from Amsterdam. My plan had been to sleep on the train to save money like a hardcore backpacker. In the end, we were lucky we had even seats to sit on, there was no way to lay down and sleep.
Soyez Bienvenus
We got to Paris. First things first, we purchased a so-called carnet of ten tiny tickets – I love those iconic pieces of carton to this day. Holding my wallet and the tickets and the change, all of a sudden, there were these three little girls in shabby colorful dresses holding a huge cardboard over my hands, engaging in some weird singsong. I was completely perplexed: What was this spectacle? What did they want? As suddenly as they appeared, they were gone. And gone was also my wallet, gone were the tickets and the change. They had robbed me. I had fallen victim to a classic Parisian tourist scam.
We reported the incident at a police station next to the Bois de Boulogne where we spent the rest of the day. The next day, we went to see the Eiffel Tower, paid the Mona Lisa at her posh home in the Louvre a visit, and we had crêpes and coffee at a street café before we boarded a train at the Gare de Lyon heading for the far less exciting Switzerland.
Paris Museum Pass – Key to a Cultural Treasure Chest
Today, I cannot even count how many times I visited Paris since then. Oftentimes, I passed through and spent just a couple of hours before heading for the Southwest. For these occasions, my guide 24 hours in Paris is a great resource to make the best of a stopover. Nevertheless, most of the time, I came for some cultural events and more often than not, I returned for yet another time to some of my favorite art museums. By now, I think there is hardly a museum in the city that I haven't visited at least once.
Now, if you are a culture vulture like me and you are keen on visiting some of Paris' world-famous venues, there is a key that will open the doors to all those cultural treasure chests, and it's called the Paris Museum Pass*.
What's In It For You?
Other than the standard city passes you'll find in many metropoles around the globe, the museum pass grants free access exclusively to some museums and monuments. There isn't public transport included, no cruise on the river Seine, no climbing up the Eiffel Tower and no discounts at cheesy souvenir stores. Museums and monuments – fair and square.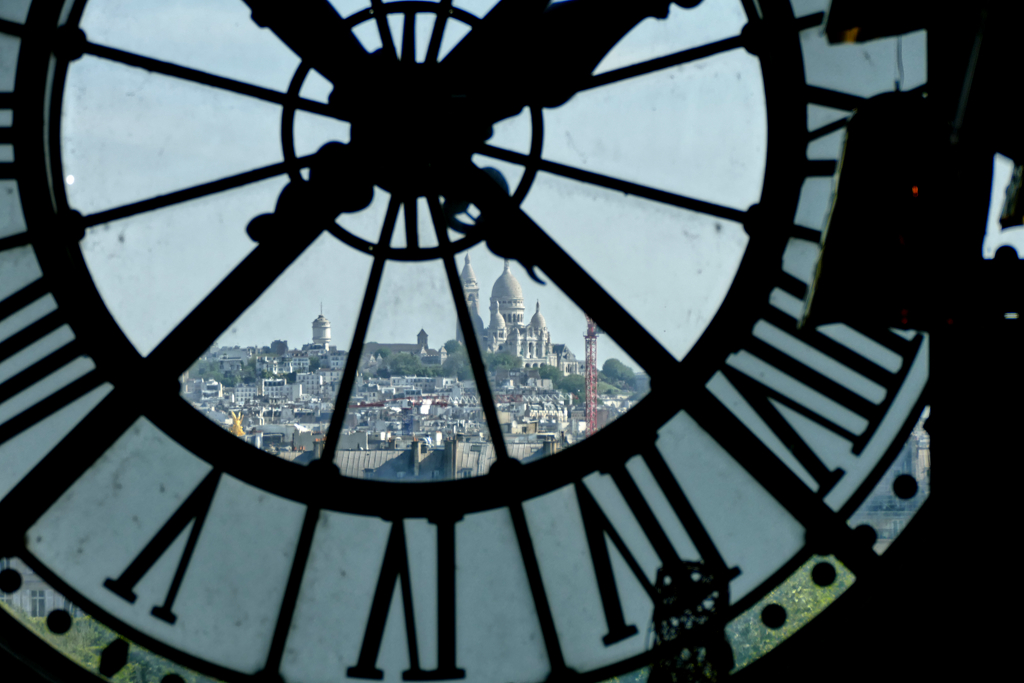 Also, not all museums are covered. Paris has 180 museums, after all, and about 20 are accessible free of charge anyway. Hence, the Paris Museum Pass* grants access to the 50 most famous and popular venues not only in the city, but in the entire region. And yes, it includes the celebrated Louvre, the world's most famous castle in Versailles, and many more.
Depending on which version you purchase, you have 48, 96, or even 144 consecutive hours to visit all the venues you like for free. Also, you can skip the sometimes crazy queues and beeline your way straight to the entrance.
Pay Less And Skip the Lines
However, you need to consider some regulations: Most importantly, keep in mind that although access is free of charge, you are requested to book a time window at the most popular venues like the Louvre, the Orangerie, Sainte Chapelle, the Musée du Judaïsme, and the Château de Versailles. This is not an option to skip the insane lines, this is mandatory. And personally, I recommend doing so not days but actually, weeks before your trip, especially if your visit is during the high season or some public holidays. You can book time slots free of charge on the venues' websites.
Also, mind you, you can visit each and every venue only once. And finally, beware that most of the time, temporary exhibitions, as well as guided tours, are not included.
You can purchase a pass at the tourist information and at all participating venues as well as online*.
As you activate your pass on the first visit – on the date and time of your choice – the clock starts ticking. When planning your trip, keep in mind that museums and monuments are often closed on Mondays or Tuesdays, May 1st, Christmas Day, and New Year's Day. Hence, it might be inconsiderate to begin your visits for instance on a Sunday.
Beware that most museums and monuments are free for children and teenagers under 18 and for young EU citizens under 26 years of age. Consequently, this group of people doesn't need the pass. Neither do people with disabilities. Also, access to museums is free for all on the first Sunday of every month.
My Tip
The more days you buy the cheaper gets you pass. However, according to my experience, this might put lots of pressure on you: You paid for the pass, and now you have to make the most of it and race from venue to venue. Been there, done that.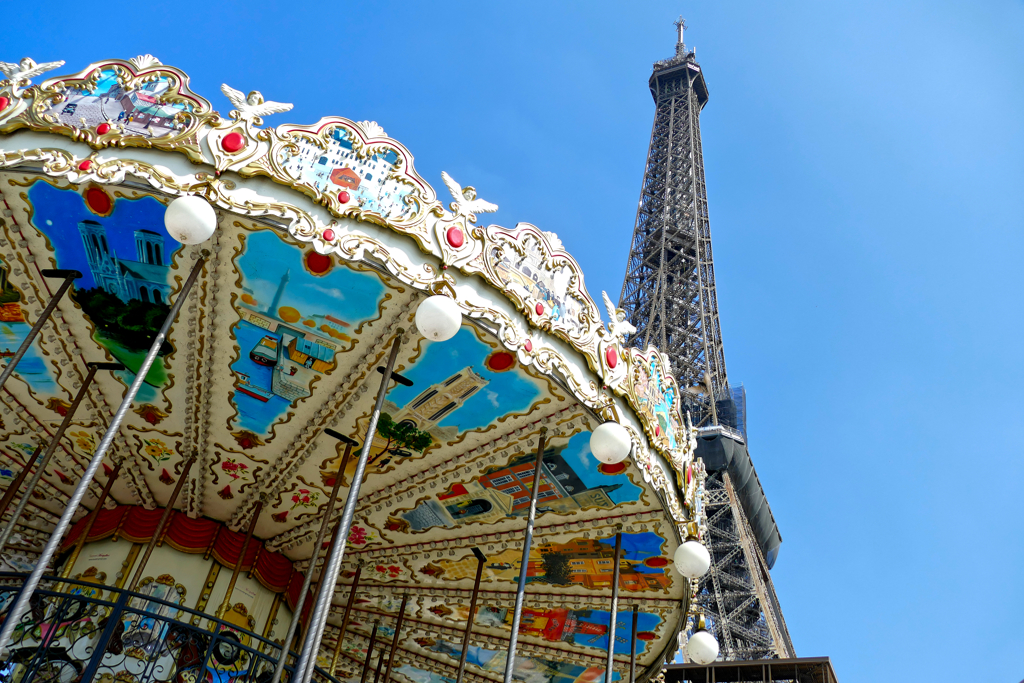 Therefore, I recommend obtaining a pass for maybe half of your trip, hence, if you're in Paris for let's say five days, buy a pass for only 48 hours. If you play your cards right, it covers three calendar days, anyway. This way, you'll have enough time to enjoy the other glories the city has to offer which are not included in the Paris Museum Pass*.
My 15 Must-See Venues
There are tons of mesmerizing buildings housing fantastic art collections in Paris, hence, it's a bit preposterous to recommend only 15 of them. But exactly due to this incredible variety, you cannot avoid prioritizing what to see. My list and the short descriptions of the galleries should help you choose what's most interesting for you. Also, to make your planning easier, not only do I mention the respective opening hours of each venue. I'm also quoting how much each visit would cost you without the pass. This way, you can check, coordinate, and plan your itinerary much better.
My list contains only the venues that are included in the Paris Museum Pass*. Nevertheless, there are many other galleries like for instance the Musée Maillol or the Musée Jacquemart-André that show amazing art but are not covered by the pass. Also, there are a dozen of museums which are managed by the city of Paris. Those are free for everyone.
And finally, even the most blood art thirsty culture vulture might need a break from sculptures and paintings. You might want to add a walk through a lush park, enjoy a Kir Royale en terrace or do some souvenir shopping. Therefore, I've always added some suggestions of what else to see in the particular museum's vicinity. This way, your visit will become more varied and complete and you'll have an unforgettable time.
Allons-y!
Arc de Triomphe
Maybe it's a good plan to begin your visit by climbing up to the top of the Arc de Triomphe de l'Étoile, Paris' triumphal arch located in the center of Place Charles de Gaulle. No fewer than 12 boulevards run from this square in all directions.
The Arc de Triomphe de l'Étoile was commissioned by Emperor Napoleon I after the Battle of Austerlitz to celebrate his victories in 1806. Construction was finished in 1836. Beneath the arch lies the so-called Tomb of the Unknown Soldier. An Eternal Flame is burning in memory of the unidentified soldiers fallen in WWI.
As I pointed out above, the Arc de Triomphe stands at the crossing of 12 roads in the center of some very busy roundabout traffic. And yet, you can spot people running like crazy across the road instead of comfortably crossing through the underpasses below the road.
Please, don't be one of them.
Obviously, the arch has a viewing platform at a height of 50 meters from where you have fantastic views of all of Paris – from Sacre Coeur down the Champs Elysee, from the Eiffel Tower to the skyscrapers of La Défense. However, I was surprised that there isn't even the slightest warning that climbing the 284 steps of the spiral staircase can be quite a challenge. Actually, in the attic room below the platform, paramedics were treating a middle-aged lady. Yes, you guys, climbing up 284 in circles within a rather narrow staircase can be an issue for some folks, so consider that before buying your ticket.
The arch can be climbed every day from 10 a. m. until 10.30 p. m. for an entrance fee of 13 €uros. You can buy individual tickets on this website*.
My Tip
Apart from regular wreath-laying, there is also a patriotic ceremony with flags and music, and pump and circumstance every evening at 6.30 p. m.
You can find out exactly who is organizing the particulate ceremony and what is happening on the respective date in an online calendar.
What Else Is There to See?
The view of the Avenue des Champs Élysées from the top of the Arc de Triomphe is quite an impressive sight. There is a reason for the Avenue des Champs Élysées being probably one of the world's most famous boulevards. It runs almost two kilometers from the Place de la Concorde to the Arc de Triomphe on Place Charles-de-Gaulle.
However, it is only the middle part of the so-called Ax Historique which actually begins in the east at the Palais du Louvre, continues through the Tuileries Garden, across the Place de la Concorde, passes the Arc de Triomphe where it merges into the Avenue de la Grande Armée which leads out of town across the river Seine to the satellite town of La Défense.
Although it's mainly tourists who burn money at the stores lining the Avenue des Champs Élysées, it's still a magnificent boulevard with lots of extravagant stores and grand architecture, hence, definitely worth a stroll, especially if this is your first time in the city.
Musée Nissim de Camondo
I continue with the former home of the Camondo family since it's within walking distance from the Arc de Triomphe right in the posh 8th arrondissement.
Count Moïse de Camondo came originally from Constantinople, hence, today's Istanbul, where he was born into a Sephardic Jewish family. The Camondo family had settled in Venice after escaping the Spanish Inquisition in the 15th century and then came to Istanbul in the 17th century.
In 1910, he inherited his parents' city palace on Rue de Monceau. He commissioned the architect René Sergent to replace the old building with a new mansion in the classic Parisian style. He wanted a courtyard and a garden and, most importantly, adequate spaces for his extensive collection of 18th-century furniture and works of art.
The museum is actually named after the founder's only son Nissim de Camondo. Sadly, he died as a fighter pilot in WWI. According to Moïse de Camondo's last will, it was opened as a museum to the public in 1936. This was one year after the patriarch's death.
During WWII, Moïse's widow Irène survived the prosecution by the Nazis as she fled to the south of France. The Camondos' daughter Béatrice, her husband, and their two children were murdered in the Auschwitz concentration camp. They were the last Parisian Camondos. In the Montmartre Cemetery is their family tomb.
The Collection
Today, the building is a precious example of a classic city palace. In addition to the magnificent representational rooms, visitors also get to see the utility rooms such as the kitchen, the laundry room, and others.
The rooms are furnished with precious pieces and the floors are decorated with beautiful Savonnerie carpets from the 17th century. There is silverware commissioned by Catherine II of Russia as well as porcelain services manufactured in Sèvres in the 18th century. The impressive painting collection includes works by Élisabeth Vigée-Lebrun, Francesco Lazzaro Guardi, and Jean-Baptiste Oudry, to name just a few.
The Musée Nissim de Camondo is open to the public from Wednesday to Sunday between 10 a. m. and 5.30 p. m. The general entrance fee is 12 €uros.
Fun Fact
Years ago, on my very first visit to Istanbul, coming from the Galata Tower, I walked down some beautifully curved art nouveau stairs. Later, I learned that they were built by the Camondo family in the 1850s. Initially, they were constructed as a shortcut for the family members who worked in the Galata neighborhood and lived in Pera. Hence, another silent reminder of this influential family.
Musée Jean-Jacques Henner
Just around the corner from the Camondos' former home is a museum dedicated to Jean-Jacques Henner. For no apparent reason, this French painter of academic realism has been a bit overshadowed by the big names among his contemporary fellow artists.
The house at 43 Avenue de Villiers was built in 1878 for the painter Guillaume Dubufe, and in 1921, Jean-Jacques Henner's niece acquired the building to install a museum honoring her uncle's oeuvre.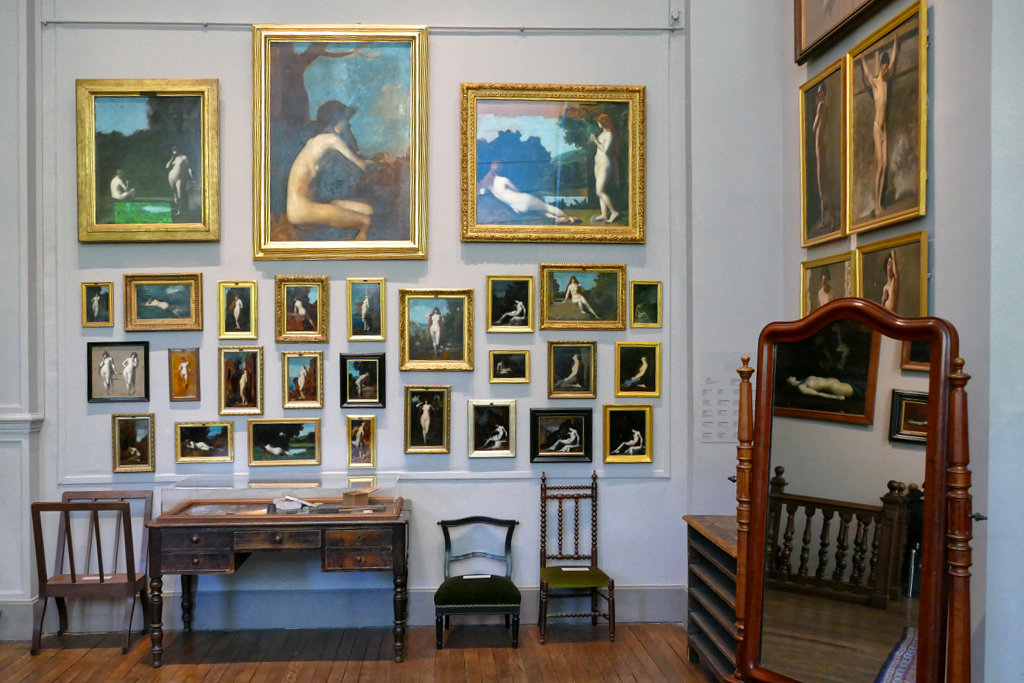 Today, it is furnished and decorated with the artist's personal items. There are also diaries and sketchbooks which show visitors the process from an initial idea to the finished work.
The museum owns more than 500 paintings and 1,000 drawings by Jean Jacques Henner many of which are on display. However, the museum also exhibits some paintings and sculptures by other artists such as Jean-Baptiste Camille Corot, Louis-Léon Cugnot, and Adolphe Monticelli.
The museum is open to the public from 10 a. m. until 10.30 p. m. for an entrance fee of 13 €uros.
What Else Is There to See?
The Musée Nissim de Camondo as well as the Musée Jean-Jacques Henner are in the vicinity of the beautiful Parc Monceau. It was founded by Louis-Philippe-Joseph, Duke of Orléans and Duke of Chartres, a cousin of Louis XVI, and opened in 1769.
Through steady acquisitions, the garden expanded to 12 hectares which earned it the name the Folie de Chartres which charmingly translates to the Craziness of Chartres.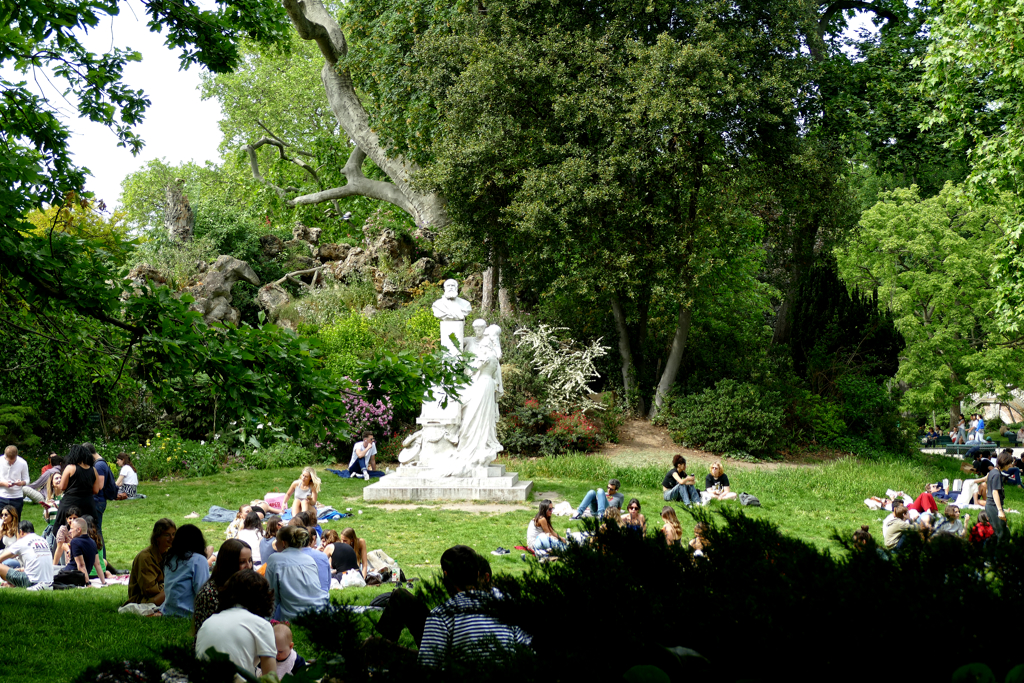 Since Chartres was in constant disputes with the French court and was a close friend of the also quite quirky George IV, he developed a fancy for everything British. He commissioned the Scottish garden architect Thomas Blaikie to design the park in an English style. The playful layout with winding paths and randomly placed statues set it very much apart from the traditional French gardens. You'll find various statues of famous French artists such as Guy de Maupassant, Frédéric Chopin, and Édouard Pailleron.
Today, the park which also contains a number of miniature versions of structures such as Egyptian pyramids, Chinese pagodas, Dutch windmills, and Corinthian columns, is a pleasant'n'popular greenery, especially on hot summer days.
Musée Jacquemart-André
Although the What Else Is There to See? bits in this post are meant to show you a different side of Paris apart from all those amazing museums included in the Paris Museum Pass, I simply cannot resist including one art gallery that's actually not covered by the pass. But the Musée Jacquemart-André is such an outstanding art museum, I simply have to introduce it here.
Housed in a town mansion, hôtel particulier in French, from the Second Empire era, it shows the mindblowing art collection that the couple Édouard André and Nélie Jacquemart accumulated between the 1860s and 1912. The works on display range from Italian Renaissance to Dutch Baroque and French and British Rococo.
In 1912, Nélie Jacquemarts bequeathed the mansion including the collection as well as her summer residence, the Abbaye Royale de Chaalis, to the Institut de France. Today, both buildings are accessible to the public.
The Musée Jacquemart-André is open to the public d from 10 a. m. until 10.30 p. m. for an entrance fee of 13 €uros. You can buy tickets that allow you to skip the lines on this website*.
By the way, Nélie Jacquemarts' former summer home, the Abbaye Royale de Chaalis, located in Fontaine-Chaalis about 60 kilometers north of Paris, can be visited every day from 10 a. m. to 6 p. m. for an entry fee of 6 €uros.
Musée du Louvre
Yes, the big moment is here, we are going to what's probably the world's most famous museum, the Musée du Louvre. This art museum is housed in the historic Louvre Palace, the former residence of the French kings. Since its opening in 1793, the collection has grown to over 380,000 pieces. However, only about a tenth is on display at a time. A size of almost 73,000 square meters and around 10 million yearly visitors make the Louvre not only the largest but also the most visited art museum in the world.
Built in 1190, the building was initially a defensive castle. Eventually, it served numerous governmental purposes. Between the 14th and 18th centuries, it was a royal residence.
Cardinal Richelieu, who served as a chief minister to Louis XIII., built up a large private collection at state expense. In 1660, about 20 years after Richelieu's death, the collection moved to the Louvre. Obviously, it was not on public display. Since this was heavily criticized, France's very first picture gallery was installed in the Palais du Luxembourg in 1750. When Louis XVIII. used the Palais as one of his apartments, the gallery was closed in 1779. The works returned to the Louvre depot.
Talkin' Bout a Revolution
In 1793, in the course of the French Revolution and one year after the abolition of the monarchy, the Louvre was opened as a museum.
This allows visitors to admire some of the world's most famous works like the Mona Lisa by Leonardo da Vinci, Wedding Feast at Cana by Paolo Veronese, The Coronation of Napoleon by Jacques-Louis David, Liberty Leading the People by Eugène Delacroix, as well as amazing sculptures like the Venus de Milo, an ancient Greek sculpture from the Hellenistic period around 150 BC and the Winged Victory from the island of Samothrace, created around 190 BC, to name just a vanishingly small number of masterpieces.
In 1981, President François Mitterrand initiated the so-called Grand-Louvre project. Among other measures, the Galerie d'Apollon was restored and the iconic glass pyramid, designed by Ieoh Ming Pei, was installed in the courtyard. It quickly became a famous landmark and serves as the main entrance to the museum. Also, the so-called Carrousel du Louvre opened in 1993. It is a subterranean shopping mall and is directly connected to the museum.
The Musée du Louvre is open from Wednesday to Monday between 9 a. m. and 6 p. m. Fridays, they are closing only at 9.45 p. m. The general entrance fee is 15 €uros on the spot and 17 €uros if you buy a timed ticket online*.
Don't forget to book a time slot with your Paris Museum Pass!
Fun Fact
Not only the British Museum in London houses tons of artifacts looted brought back from more or less peaceful exhibitions. The Louvre houses 60 ceramic tiles from the 17th century which were stolen in Istanbul in 1895. French restorer Albert Sorlin-Dorigny worked on the restoration of Hagia Sophia between 1895 and 1899 and took the opportunity to take numerous art treasures as quite precious souvenirs to France without much asking. Perfidiously, he replaced the tiles with replicas made in the Choisy-le-Roi faience factory. However, the Turkish Minister of Culture requested the restitution of the tiles only in 2011.
My Tip
In my post How to Avoid Copyright Infringement: Unexpected Traps, I'm also mentioning Ieoh Ming Pei's famous glass pyramid. As a matter of fact, contrary to many other countries, France lacks complete freedom of panorama.
What does that mean?
Well, various French buildings and landmarks are protected by copyright, and commercial reproductions of these for instance in pictures quickly result in copyright infringement.
The Musée du Louvre holds the copyright of the pyramid. If the publication of your pictures violates their rights depends on your shot: If it's taken from afar so that the pyramid is just a part of your motif, you should be fine. However, it should not be your picture's main subject.
If you want to post a close-up of the pyramid, you should send an inquiry to the press department of the Louvre. They will then decide on the permissions for publishing.
Musée de l'Orangerie
Just a pleasant ten-minutes-stroll from the Musée du Louvre is the Musée de l'Orangerie. During the Third French Republic in the 19th and 20th centuries, the Orangerie was used as barracks, for storage, as well as a venue for concerts and even for sports. Obviously, there were also various exhibitions taking place in the building. In 1921, the Orangery as well as its twin building, the Jeu de Paume, were planned to become a branch of the Musée du Luxembourg, dedicated to contemporary art.
Today, the Musée de l'Orangerie is best known for the two halls with Claude Monet's water lily paintings. These paintings are 2 meters high and form a total length of over 100 meters. The French Surrealist André Masson called these water lily displays the Sistine Chapel of Impressionism.
In addition to these early 20th-century paintings by Monet, the museum owns a vast collection of impressionist works.
The Musée de l'Orangerie is open from Wednesday to Monday between 9 a. m. and 6 p. m. for a general entrance fee of 12.50 €uros. You can buy tickets for reserved time slots on this website*. However, if you have a Paris Museum Pass, make sure to book a time slot in advance!
What Else Is There to See?
As you walk from the Musée du Louvre to the Musée de l'Orangerie, you'll cross the beautiful Jardin des Tuileries, the Louvre's former palace park. To me, this is one of the most French icons, and in fact, it has been immortalized in many works of art such as paintings and also compositions.
At the time the Palais des Tuileries was built, the western side of the garden was designed in the Italian Renaissance style for Queen Catherine de Medici who was born in Florence and became a French queen from 1547 to 1559 by marriage to King Henry II. It remained a private Royal garden until the revolution.
The garden is open every day from 7 a. m. to 9 p. m.
Adjacent to the Jardin des Tuileries is the Place de la Concorde, the city's largest square and, along with the Place des Vosges, Place Dauphine, Place Vendôme, and Place des Victoires, one of the five royal squares of the city. However, it is only the second-largest square in France after the Place des Quinconces in Bordeaux.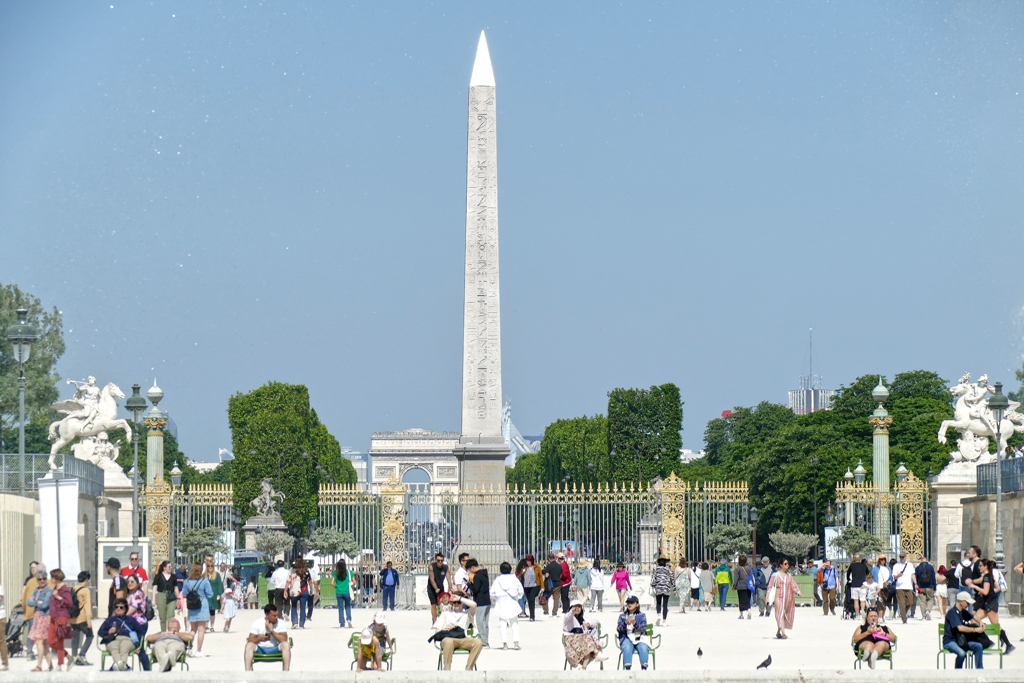 Its most prominent feature is the 23.5 meters high granite Obelisk. It stems from the 13th century BC and comes from the Temple of Luxor. Muhammad Ali Pasha gifted it to King Louis-Philippe and it was erected in Paris in 1836. It is one of the landmarks marking the Ax Historique between the Louvre and the Arc de Triomphe.
Musée d'Orsay
The building that today houses the Musée d'Orsay was originally the train station Gare d'Orsay. Built by Victor Laloux for the 1900 World Exhibition, it was the hub for traffic to the southwest of France until 1939. On the initiative of President Valéry Giscard d'Estaing, it was remodeled into a museum and opened in 1986.
The Musée d'Orsay shows more than 4000 works. Apart from a few exceptions, all the paintings, sculptures, graphics, photographs, and furniture date from the period between the beginning of the Second Republic in 1848 and the beginning of WWI in 1914.
The Musée d'Orsay took over parts or even entire collections from other galleries such as the Musée du Jeu de Paume, the Musée National d'Art Moderne, and even the Musée du Louvre. Today, mainly the collection of French impressionists is absolutely outstanding and unique in the world.
The Musée d'Orsay is open from Tuesday to Sunday between 9.30 a. m. and 6 p. m. Thursdays, they are closing only at 9.45 p. m. The general entrance fee is 16 €uros for the permanent collection and you can buy a timed ticket online*. Also, there is a combi-ticket that includes the Musée Rodin and costs 24 €uros.
You do not need to book a time slot if you have a Paris Museum Pass, you can just show up and enter through a reserved entrance.
Tombeau de Napoléon et Musée de l'Armée
The Musée de l'Armée is not only the central museum of military history in France, but at the same time one of the most important in the world. It was founded in 1905 in the Hôtel des Invalides and houses photos, paintings, medals, armor, sculptures, uniforms, and weapons.
This might be a good moment to point out that a Hôtel in French is not necessarily a lodging option. It can be a private mansion, a villa, or a palace. For instance, a Hôtel de Ville is the city hall and by no means a guesthouse. The Hôtel des Invalides used to be a home for war invalids. Also, all those magnificent city palaces are called Hôtels – I'm introducing some of the most outstanding ones in my post 10 Most Beautiful Palaces in the Marais Neighborhood of Paris.
And finally, yes, a Hôtel is oftentimes actually a hotel.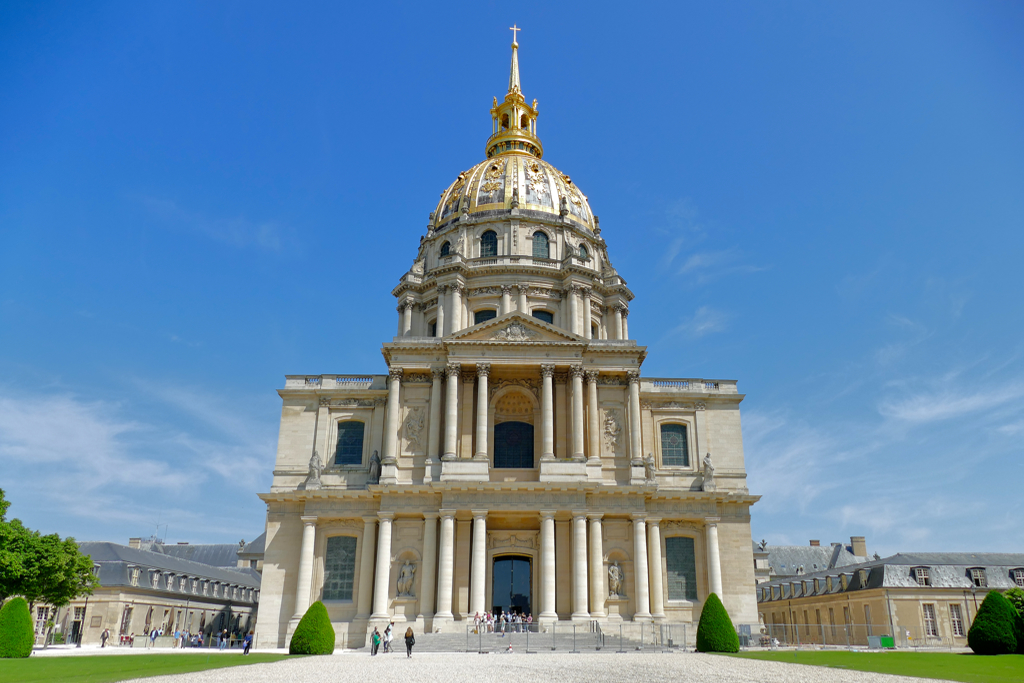 Behind the museum is the Chapelle Royale des Invalides which was built in the classicist Baroque style from 1679 to 1708. It was initially used as a church but later converted into the final resting place of Emperor Napoleon I. in 1840.
Coming Home
After Napoleon's death on the island of St. Helena in 1821, it took extended negotiations with Britain to get permission to transfer the Emperor's body from the British overseas territory in the South Atlantic to France. The coffin was first buried in the Chapelle Saint-Jérôme in a side wing of Les Invalides as excavation and decoration of the actual crypt took twenty years. In 1861, the casket was finally lowered into the sarcophagus in the basement.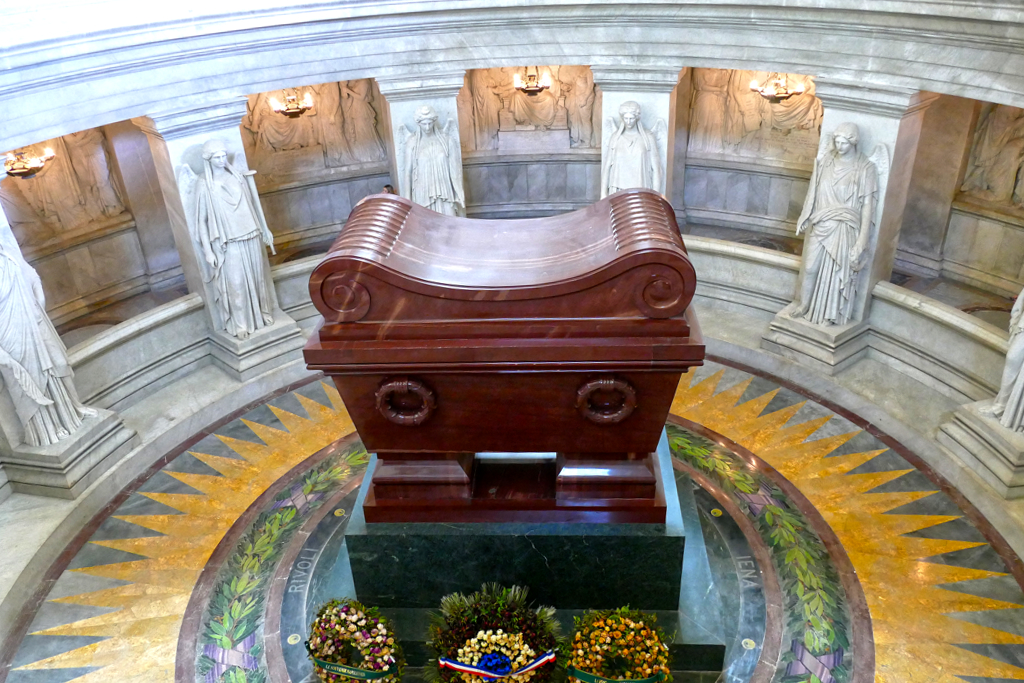 The crypt is located exactly under the dome. In the center stands a huge sarcophagus made of quartzite from Shokschinsk on Lake Onega in Russia. The twelve surrounding pillars are supporting the upper gallery. They are decorated with larger-than-life – and certainly taller than Napoleon – victories. Marble reliefs on the walls show Napoleon's achievements like the Pacification of the nation, the Centralisation of the Administration, the State Council, the Civil Law, and all the little man's other good deeds.
On the upper floor, there are further tombs of famous French militaries.
The entire Invalides complex is open every day from 10 a. m. to 6 p. m. The general entrance fee is 15 €uros and you can buy your ticket online*.
Musée Rodin
Just a few steps from the Dôme des Invalides is one of my favorite art museums in Paris, namely the Musée Rodin.
Constructed between 1727 and 1732, the Hôtel that today houses the museum was occupied by various tenants until the Duchess of Charost sold the property to the Society of the Sacred Heart of Jesus in 1820. From then on, the Couvent du Sacré Cœur became a higher girls' school until the Law of Separation of Church and State permitted the French state to confiscate the property in 1904.
The following years, artists such as Henri Matisse and Jean Cocteau lived in the mansion. In 1909, Auguste Rodin rented four rooms.
The same year, the property went for sale, but Rodin asked to live there for the rest of his life. Senator Gaudin de Villaine prevented the sale. In 1919, it became the Musée Rodin, however, the artist had already passed in 1917 and therefore did not live to see the opening of the venue.
François Auguste René Rodin
Auguste Rodin is considered a highly influential pioneer of modernism. Especially his groupings of elements were extremely unusual and far ahead of their time. In contrast to Michelangelo's unfinished works, which were mostly left in their state for lack of funds, Rodin used this fragmentary as an expressive artistic style.
The Musée Rodin is open from Tuesday to Sunday between 10 a. m. and 6.30 p. m. The general entrance fee is 13 €uros and you can buy a timed ticket online*. Also, there is a combi-ticket that includes the Musée d'Orsay and costs 24 €uros.
You do not need to book a time slot if you have a Paris Museum Pass, you can just skip the general line.
What Else Is There to See?
You cannot visit Paris without seeing the Eiffel Tower. From the Musée Rodin as well as the Hôtel des Invalides it's just a short walk to the southeastern side of the Champ de Mars from where you have a completely unobstructed view of the iconic 330-meter-tall iron-frame tower.
Built from 1887 to 1889, Gustave Eiffel designed it as a monumental entrance portal and a lookout tower for the world exhibition commemorating the 100th anniversary of the French Revolution. At that time, the tower was the tallest building in the world. In 1930, however, the Chrysler Building in New York took over.
The tower became a significant part of French radio and television history as the transmitter of the first European public radio program in 1921 and the first French television program in 1935. To this date, it is the most important transmission system in the greater Paris area. As the city's tallest building, it is still the most important feature in the cityscape. With around seven million visitors every year, the Eiffel Tower is one of the most visited landmarks in the world.
The Eiffel Tower is open every day from 9.30 a. m. until 10.45 p. m. There are various ticket options depending on which level you want to visit and if you're willing to climb the stairs or prefer taking the elevator. Either way, you can buy your ticket online*.
Between the Champ de Mars and Trocadero
As I said, the large greenery Champ de Mars is a great spot to see the Eiffel Tower in all its glory. Another wonderful spot lies on the opposite side of the tower on the northern bank of the River Seine. Here are the gardens of the Trocadéro.
After various building projects had been rejected, Napoleon III and Baron Georges-Eugène Haussmann planned on building a garden on the slopes of the Chaillot hill as an insignia of social harmony that would ease urban tensions during the unsettled times of the Second Republic in the second half of the 19th century.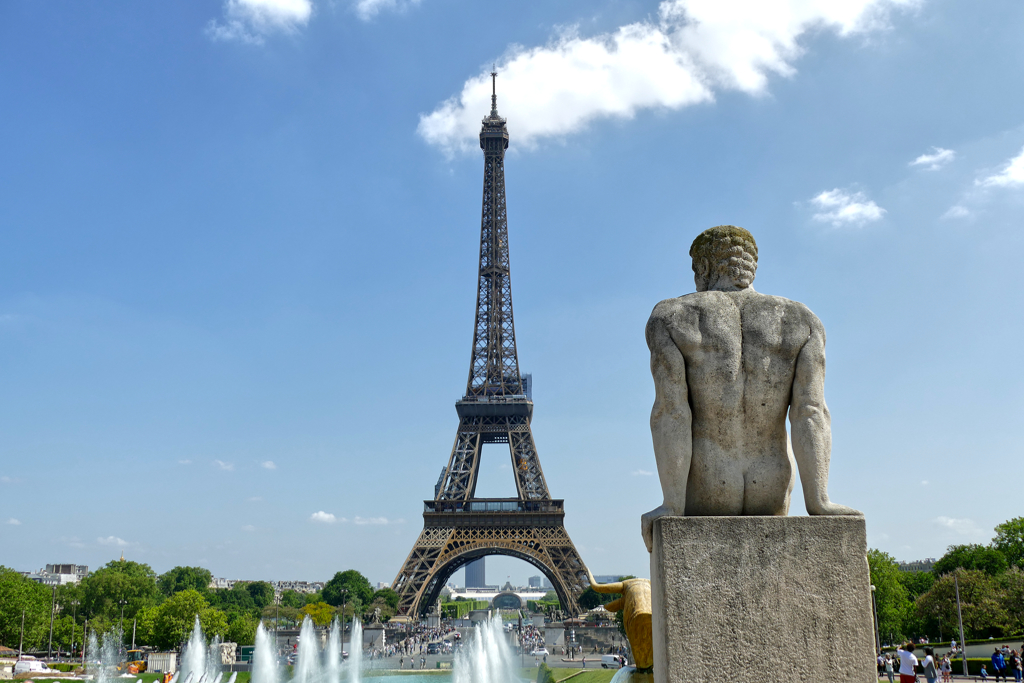 The Jardins du Trocadéro were completed for the World Exhibition in 1878. They were laid out to compliment the Palais du Trocadéro. They were arranged around huge basins and fountains and decorated with impressive sculptures.
Today, the Trocadéro complex grants you the most picturesque views of the Eiffel Tower and beyond from many different angles.
Centre National d'Art et de Culture Georges-Pompidou
On the initiative of former President Georges Pompidou, the architects Renzo Piano, Richard Rogers, and Gianfranco Franchini designed what then was called the Centre National d'Art et de Culture Georges-Pompidou. It is an arts and culture center that opened in 1977.
The supporting structure as well as the pipes were arranged visibly on the outside of the building. The supporting structure and the ventilation pipes are painted in white, everything concerning electricity is in yellow, the water pipes are green, the air-conditioning lines are blue, and everything movement-related like stairs and escalators are in red. This way, the spaces inside remain largely free and are more versatile.
Knowledge And Fun For Everyone
The Center Pompidou aims to grant free access to knowledge. It houses the library Bibliothèque Publique d'Information, the music research center Institut de Recherche et Coordination Acoustique/Musique IRCAM, a children's workshop, a cinema, a theater, and lecture halls. The most important venue, however, is the Musée National d'Art Moderne showing momentous works of art from the 20th century. Also, there are a restaurant and a café as well as a huge bookshop. By the way, that's a great place if you are looking for original and meaningful souvenirs from Paris.
In 2010, the Center Pompidou-Metz was opened in a building designed by Japanese architect Shigeru Banas as a first branch outside of Paris. Since 2015, there is another branch in the Spanish city of Málaga showing around 90 masterpieces from the Parisian Musée National d'Art Moderne.
From 11 a. m. to 9 p. m., the entrance to the building is free of charge. On Thursdays, the museum is open until 11 p. m. The general admission to the Musée National d'Art Moderne is 15 €uros for the permanent collection and an additional 2 €uros if you want to visit also the temporary exhibitions. You do not need to book a time slot if you have a Paris Museum Pass, you can just skip the general line.
Musée d'Art et d'Histoire du Judaïsme
Located in the adjacent Marais district is the Musée d'Art et d'Histoire du Judaïsme. This largest Museum of Jewish Art and History in France opened in 1998. It was installed in the Marais for historical reasons. In fact, the Marais has been a predominantly Jewish neighborhood since the late 18th century.
Musée d'Art et d'Histoire du Judaïsme traces the history and culture of European and North African Jews from the Middle Ages to the 20th century. The collection consists of religious objects, manuscripts, and works of art that were contributed by Jewish people from all over the world. The art collection includes outstanding works by Marc Chagall and Amedeo Modigliani.
The Musée du Judaïsme is open from Tuesday to Friday between 11 a. m. and 6 p. m. and on weekends from 10 a. m. to 7 p. m. The general entrance fee is 10 €uros.
Keep in mind that the Musée du Judaïsme is one of the venues where booking a time slot in advance with your Paris Museum Pass is mandatory!
Musée Picasso
Another great museum located in the Marais is the Musée Picasso. I think I already pointed out in my post on Málaga, the artist's hometown, that I'm not a big fan of Picasso. However, due to the very unexpected and modern presentation of his work, a visit to this museum is a must for everyone.
Not only does the museum showcase many of Picasso's most important works. There is also the artist's former private art collection on display which includes paintings by Georges Braque, Paul Cézanne, Henri Matisse, Joan Miró, Amedeo Modigliani, and Henri Rousseau, to name just the most important ones.
The Swiss sculptor and designer Diego Giacometti designed the interior of the museum in 1985. Sadly, he passed in the same year just before the opening of the museum. Currently, there the exhibition is arranged under the aegis of Paul Smith and was one of my recent visit's highlights.
The museum is housed in the Hôtel Salé – meaning salted in English – which was commissioned by a salt tax collector between 1656 and 1659.
The Musée Picasso is open from Tuesday to Friday between 10.30 a. m. and 6 p. m. and on weekends they are opening already at 9.30 a. m. The general entrance fee is 10 €uros and you can book tickets on this website*.
You do not need to book a time slot if you have a Paris Museum Pass, you can just skip the line.
Fun Fact
Picasso's heirs paid their inheritance tax by handing over the artist's collection of paintings to the French government. This was made possible by a law from 1968. Supposedly, this law was passed while Picasso was still alive and mainly to secure some of the artist's works for the French state.
What Else Is There to See?
If you're ready for a refreshing break from your art hunt, the Place des Vosges is one of the most beautiful and serene spots in the Marais district. It is the oldest of the five so-called Royal Squares and arguably the most picturesque squares in Paris. The Good King Henry IV not only promised – and I'm quoting here – every peasant a chicken in the pot on Sundays. He also commissioned the first urban square in Paris which was inaugurated on the occasion of the double wedding of King Louis XIII. with Anna of Austria and his sister Elisabeth with Philip IV, the future King of Spain in 1612.
Sadly, good old Henry did not live to see the inauguration as he was assassinated in 1610. While Henry's idea had been to use in a multi-purpose manner with craft shops on the ground floor and apartments above, the first buyers were members of the nobility who actually occupied the entire complex. Merchants then rented rooms behind the arcades to supply the posh residents with everything they needed.
The small park in the center of the square was then installed only in 1866.
Institut Monde Arabe
The Institute of the Arab World was founded in the student district of the Latin Quarter in 1980. It promotes the dialogue and understanding between France and the Arab world.
On the southern wall, the incidence of sunlight is regulated by irises behind the glass façade. This way, they open and close automatically. The building was planned by Jean Nouvel, Architecture Studio, Gilbert Lezenes, and Pierre Soria. As a matter of fact, the outstanding design made Jean Nouvel internationally famous. He even received the prestigious Aga Khan Award for Architecture in 1989.
The institute consists of a library, a language lab, a cinema, and spacious galleries. One of the best features for visitors is the Salon du Thé on the rooftop from where you have one of the best panoramic views of the city.
The Institue is open from Tuesday to Sunday between 10 a. m. and 6 p. m. and on weekends they are open till 7 p. m. The general entrance fee is 8 €uros.
There's no need to book a time slot with your Paris Museum Pass.
Panthéon
The Panthéon is France's national hall of fame and the burial place of famous French personalities. King Louis XV. commissioned the building as the church of the Abbey of Sainte-Geneviève. Architect Jacques-Germain Soufflot and his students built the Pantheon according to the one in Rome between 1764 and 1790.
Shortly after its completion, the leaders of the French Revolution declared the imposing domed structure a secular national hall of fame. It should honor significant personalities in French history. This was done by ornate monuments. In addition, it was planned to bury influential celebrities in the basement of the building. Below the ground floor is a massive system of corridors with numerous chapels honoring historical figures.
The list of personalities buried here is definitely impressive. The revolutionary leader Mirabeau was the first one to be buried in the Panthéon in 1791. However, after he had fallen out of favor, his body was removed in 1793. Also in 1791, Voltaire's remains were transferred to the Panthéon where they still rest today which makes him the longest tenant. Sophie Berthelot, the wife of chemist and politician Marcellin Berthelot, was the first woman to be buried at the Panthéon in 1907. Second was Marie Skłodowska Curie who had died already in 1934 but was transferred only in 1995. It's not unusual that bodies are repositioned only long after their death: Novelist Alexandre Dumas died in 1870 and was moved to the Panthéon only 132 years later in 2002!
The Panthéon is open every day from 10 a. m. and 6 p. m. The general entrance fee is 11.50 €uros and 15 €uros if you add the panoramic view. You can book your ticket online on this website.
You do not need to book a time slot if you have a Paris Museum Pass.
Fun Fact
Josephine Baker was the last celebrity that was brought to the Panthéon in 2021. However, it was just a symbolic burial as Baker's cenotaph contains only soil from her birthplace in Missouri as well as from her final resting place in Monaco.
What Else Is There to See?
Just a short walk from the Panthéon is Paris' most beautiful park Jardin du Luxembourg. It is a former royal palace garden and part of the Palais du Luxembourg, the assembly hall of the upper house of the French parliament.
The park is roughly divided into two parts: Around the palace are geometrically arranged flowerbeds and terraces in the style of classicist 17th-century French gardens. The western part of the premises is arranged more freely in the style of English landscape gardens.
The garden is particularly popular with students from neighboring universities and Parisian families since it offers a wide range of leisure and sporting activities.
Depending on the season, the garden opens between 7.30 and 8.15 a. m. and closes between 5.30 and 9.30 p. m. You can verify their opening times during your visit on this website.
Rest In Peace
A less vivid place are the Catacombes de Paris. By the beginning of the 19th century, the bones of around 6 million Parisians had been transferred to these catacombs as the growing population, epidemics, and famine had led to overcrowding of Parisian cemeteries.
The vaults were supported by pillars and expanded to include the bones of cemeteries that stood in the way of urban planning. A little disorganized at first, the gravediggers eventually began to pile up skulls and bones and arrange them in decorative patterns. Memorial plaques and wooden crosses marked the cemeteries of origin.
In 1809, the catacombs became a museum and are the world's largest necropolis. Today, about two kilometers of the catacombs are open to visitors. However, the main part remains inaccessible to the public.
The Catacombes de Paris are open from Tuesday to Sunday between 9.45 a. m. and 8.30 p. m. The general entrance fee is 29 €uros and you can book your ticket online on this website and skip the lines.
Fun Fact
One wing of the catacombs belongs to the Banque de France. It's the storage of the bank's gold treasure.
Basilique de Saint-Denis
The Cathedral of Saint-Denis is actually considered one of the founding structures of the Gothic era. In fact, the first pointed ribbed vaults were built in the choir in 1140. In the 4th century, a burial chapel was built over the tomb of Saint Denis. According to legend, during the persecution of Christians, this good man was beheaded in Montmartre around 250 AD. He then picked up his head and walked all the way to the site of the current church. There he finally collapsed and could be buried.
Since the end of the 10th century, the Basilique de Saint-Denis has been the burial place of most of the French Kings and Queens.
Desecration
However, the tombs were opened during the French Revolution in order to access the lead coffins and use the material in warfare. The bones of the roughly 160 Royalsties were either stolen or thrown into a mass grave. Finally, the sarcophagi were secured for the Musée des Monuments Français.
After the reinstatement of the Bourbons under Louis XVIII., the tombs were revamped and the found bones returned in 1817. As it was not possible to assign particular bones to the deceased, they were buried in bulk in two ossuaries in a side room of the crypt.
From Paris' city center, Saint-Denis can be reached in about 30 minutes by the regional RER train. The Basilique is open every day from 10 a. m. and 6.15 p. m. Sundays, they open only at noon. The general entrance fee is 9.50 €uros. You can book your ticket online on this website. Note that there is a combi-ticket that also includes the Panthéon and costs 16 €uros. With this ticket, you have to visit both venues within three days.
You do not need to book a time slot if you have a Paris Museum Pass.
Fun Fact
All tombs on display in the church building are actually empty with the exception of the tomb of Louis XVIII., Louis VII. of Notre-Dame-de-Barbeau, Louise of Lorraine, Louis XVI., and Marie-Antoinette.
What Else Is There to See?
After you've ventured out to the town of Saint-Denis and paid the truly magnificent cathedral a visit, you might want to relax for a moment. The Parc de la Légion d'Honneur located right behind the Basilique de Saint-Denis is the perfect spot for a pleasant break. Apart from lush greeneries, the park has a fitness course and playgrounds for children. In April, it hosts a beautiful tulip festival. The Parc de la Légion d'Honneur is open every day from 7 a. m. to 9 p. m.
Château de Versailles
Another unmissable day trip should lead you to the Palace of Versailles at the city of the same name. Apart from Neuschwanstein in Germany, the Château de Versailles is arguably the most famous castle ever. It is one of the largest palace complexes in all of Europe and was the main residence of the French Royals from the mid-17th century.
The Château de Versailles was initially designed as a hunting lodge for King Louis XIII. Built in 1661, the complex was remodeled and expanded in several steps under Louis XIV. Mind you, the château has 2,300 rooms and the largest part is more than half a kilometer long! During its time as a residence, a court of several thousand people roamed the palace. Obviously, it was the cultural and political center of France. Nevertheless, the French Revolution forced Louis XVI to leave Versailles in 1789.
Today, the Château de Versailles including its extensive gardens and three pleasure palaces is open to us underlings. In 1979, the Palace was included in the UNESCO World Heritage List.
The Château de Versailles is open from Tuesday to Sunday between 9 a. m. and 6.30 p. m. The general entrance fee is 19.50 €uros and the only option included in the Paris Museum Pass.
Keep in mind that booking a time slot in advance with your Paris Museum Pass is mandatory! However, there is a variety of additional options that include bike rides, boat rides, a gourmet break, an equestrian show, and more. You can book these comprehensive passes on this website*.
Practical Information
How to Get There
Plane
There are three airports serving Paris: The two main airports are Charles de Gaulle in Roissy northeast of the city and Orly south of the center.
There is a direct local RER train going between Charles de Gaulle Airport and the city center. It costs 11.40 €uros and takes about half an hour to Gare du Nord and a few other stops within the city limits. However, there isn't a direct train line from Orly airport. Either way, you have to change between the Orlyval Métro and the RER at the Antony Train Station. A trip cost 12.10 €uros and takes around 60 minutes.
However, both airports can also be reached by more expensive airport buses: For 16.20 €uros, the Roissybus takes you to and from the Charles de Gaulle Airport in about 75 minutes. The stop is at 11, Rue Scribe close to the Opéra. Yes, it's actually more expensive than the RER and it takes longer. Beats me why people are taking it.
Anyway, there is also the Orlybus which takes you from the stop at Place Denfert-Rochereau in 30 minutes to the airport. It also costs only 11.20 €uros, hence, in this case, the bus is a better option than the RER.
Finally, Paris Beauvais airport is located further north and is served by budget airlines. There is a bus going between Beauvais and the city center by public transport. It goes to Porte Maillot from where it also leaves around 3 hours before the departure of scheduled flights. You can conveniently check the departure on their website. A single trip costs 16.90 €uros, and a roundtrip 29.90 €uros. The ride can take up to 90 minutes depending on the traffic.
Train
There are six Gares, hence, train stations in Paris taking passengers to destinations throughout the country and the rest of Europe: Gare du Nord, Gare de l'Est, Gare de Lyon, Gare d'Austerlitz, Gare Montparnasse, and Gare Saint-Lazare.
The Gare du Nord is the gateway to northern cities like Brussels and Amsterdam. From here, you can also go by Eurostar to London. In addition, it is an important hub in the Paris urban transportation network. Just a stone's throw away is the Gare de l'Est, one of the oldest train stations in Paris. This is where you'll catch the train to northeastern destinations such as Strasbourg, Frankfurt, Berlin, Hamburg, and Munich.
The hub for southeastern destinations, however, is the Gare de Lyon. From here, you go the south of France and then to Switzerland and northern Italy.
Across the river Seine is Gare d'Austerlitz, the gateway to the center of France. However, currently, it's being remodeled.
The most important train station when it comes to national travel is arguably the Gare Montparnasse from where trains are leaving to Brittany, the Loire Valley, and the so-called Aquitaine. However, trains to Spain and even Portugal also leave from here. In addition, Montparnasse is an important hub of local and regional public transport.
Finally, there is the Gare Saint-Lazare from where you'll leave for Mont-St-Michel and Dieppe.
Obviously, you can buy all kinds of train tickets online. The national train company SNCF has an informative website in French and English. However, make sure to double-check from which station your train is leaving.
Fun Fact
Many impressionist painters had a soft spot for the Gare Saint-Lazare: Edouard Manet as well as Claude Monet made this railway station the main motif of many of their paintings. There's an anecdote of Monet showing up unannounced, demanding the station master to blow steam on his command.
Bus
Travelling by long-distance bus is getting really popular in Europe. The cheap prices make up for the little loss of time compared to trains. And since various companies are competing, the service is usually very reliable.
One of the most popular bus companies in Europe is flixbus. They are going to Paris from many European cities like for instance Amsterdam, Berlin, Brussels, Lisbon, London, Prague and many others.
There are nine flixbus stations around Paris, whereby the one at Bercy-Seine is the most central one. However, it is located inside the Parc de Bercy.
How to Get Around
Public Transport
I'd argue that of all European cities, Paris has the most comprehensive network of public transportation. The world-famous metro alone has incredible 302 stations. In fact, you're never farther than 500 meters from a metro station. While this is absolutely fantastic, changing lines is a downer since some stations are huge and built like multi-level mazes. I kid you not, it happened to me that I was walking in circles since I missed the correct tunnel. However, I never heard of anybody getting lost down there forever, so don't worry.
In addition to the already comprehensive metro network, there are local trains called RER, there are trams, and there are busses, obviously. So no, nobody needs a cab in Paris.
Single rides cost 2.10 euros. If you buy a so-called carnet, that's 10 tickets, you pay only 19
You can buy those iconic small paper tickets that I love or you get a Navigo card for 2 euros that you then can tap up.
If you travel with one of those cute paper tickets, make sure to keep it until the end of your trip. In some places, you need to insert it in a turnstile to leave the stations. Also, there might be ticket controls within the station and if you cannot show a validated ticket, you're in trouble.
Paris Visite Travel Pass
Yet, there are also travel passes for 1, 2, 3, or 5 consecutive days. You can choose between a pass valid for zones 1 to 3 in the center and a pass for all zones in Paris and the entire Île-de-France including airports, Disneyland Paris, and Château de Versailles.
| | | | | |
| --- | --- | --- | --- | --- |
| | 1 Day | 2 Days | 3 Days | 5 Days |
| City Center | 12.00 €uros | 19.50 €uros | 26.65 €uros | 38.35 €uros |
| City Center and Île-de-France | 25.25 €uros | 38.35 €uros | 53.75 €uros | 65.80 €uros |
Kids under 4 years of age travel for free, under 12 they pay half price.
Walking
Although I refrain from referring to walking as an exclusive option to explore the city, you will be walking a lot. With about 10 kilometers from north to south and around 11 kilometers from east to west, the very city of Paris is surprisingly small. And as it is expectably picturesque, you'll be strolling more than you have ever planned. Yes, you're never more than 500 meters from the next Métro-station. But that's not necessarily the line you need. Hence, why not walk the short ten or twenty minutes? Well, let me tell you, those quickly add up to hours and many kilometers.
Even if you explore just the very center, I highly recommend taking the Métro from time to time. But even then, you'll be on your feet a lot. Also, many streets are paved with cobblestones. And finally, keep in mind that Paris is very hilly in some places so you'll have to climb steep streets'n'stairs.
Therefore, do yourself a favor and wear sensible shoes like loafers or sneakers – or even light hiking boots. Don't even think about wearing thin heels, you'll ruin your shoes, your feet, and thusly your day.
Cycling
I was very surprised by how many people are cycling in Paris. It's much less than in Amsterdam or Copenhagen, obviously, but apparently, the Tour de France rubbed off on the average citizen.
As a visitor, you can join the fun and rent a bike. The company Vélib offers regular bikes which are green as well as blue e-bikes. Both kinds have baskets and locks in case you need to take a break. They need to be picked up respectively returned at one of the many stations located throughout Paris.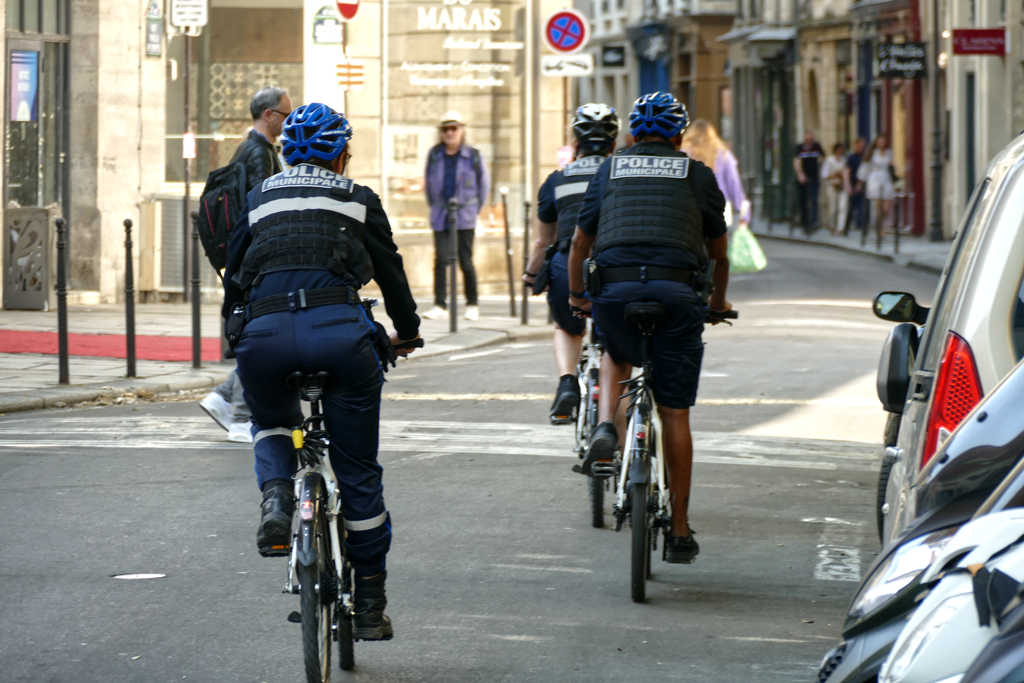 You can sign up for passes online. However, if you cannot receive a text message on a French phone to confirm your payment, you'll need to sign up at one of the terminals. Make sure to take a picture of the passcode on the screen in case something goes wrong with the confirmation. You get an account number and a PIN. Keep them thoroughly.
There are passes that anyone with a valid credit card can obtain as well as subscription options for residents or long-term visitors.
You'll be charged two fees: Firstly, you'll be charged for the pass right away whether you ever use the bikes or not. Then, there is the rental fee for the actual use.
Pay As You Ride
Occasional users should get the Ticket-V for three €uros. It is suitable for a single-use rental of a green bike or an e-bike for up to 45 minutes. After that, you'll have to pay one €uro for each additional 30 minutes on a regular bike or two €uros for e-bikes.
The Pass 24-hour Classique costs five €uros. For 24 hours, you can use the green bikes for free for up to 30 minutes. After that, your credit card will be charged one €uro for each additional half hour until you return the bike. This way, you can use as many bikes as you like without paying more than the pass fee. All you have to do is switch bikes after 30 minutes.
If you decide to use a blue e-bike with your Pass Classique, it will cost 2 €uros for every 30 minutes with no free minutes.
If you opt for either the Pass 24-hour Electrique which costs ten €uros or the Pass 3 Jours for 20 €uros, the first six trips on a blue e-bike are free for up to 45 minutes. Then, you'll be charged one €uro for each additional 30 minutes. If you decide on using a standard green bike with this pass, it's free for up to 60 minutes per trip. After that, it's one €uro per 30 minutes.
Apart from the Ticket-V, all passes allow you to take up to five bikes at a time with one account. This comes in handy for small groups or a family since you have to open just one account for the entire party.
Where to Stay
Since Paris is one of the most touristy cities in Europe, there is a wide choice of accommodation and all of them are crazily expensive.
It's an easy equation: Of the three aspects of a good standard, convenient location, and affordable price, you always have to waive one. If you find a good standard hotel in a convenient location, it won't be at an affordable price. A hotel in a convenient location at an affordable price won't have a good standard. And finally, a good hotel at an affordable price won't be in a convenient location.
I opted for the last option which brought me to the neighborhood of Port de Bagnolet. At the Campanile Paris Est*, I had a squeaky clean room on the 7th floor and the métro station Galliene literally at my feet. Also, right next to the hotel is a shopping mall with a couple of fast-food restaurants and a huge supermarket. Although commuting around half an hour back and forth every morning and evening might not be everyone's cup of tea, I paid a fraction of what I had paid in the city center.
On this map, you can choose suitable lodging options in Paris according to the location – and your budget, obviously*:
What to Eat
Wow, that's a toughie! Not because there aren't many choices – no, on the contrary: There are trizillions of choices, from Michelin-star-decorated restaurants to delicious small falafel joints. It's Paris, after all!
Obviously, there is no way to get food for free. But there are ways to eat decent and still not break the bank.
It starts with the breakfast. If it's included, take it. Coffee is quite pricey in Paris, expect to pay at least around 4 euros for a small cup of coffee. Add two pastries and you'll probably be at 8 euros. And I am talking about an average bakery, not a cafe. There, you'll pay even more. So if you can start the day with a large breakfast at your hotel, I'd suggest you go for it.
Finding a nice lunch at a reasonable price shouldn't be such a big deal. Many eateries have a plat du jour or a menu or formule that includes a starter or a dessert and sometimes even water and wine. You won't get that at dinnertime. In general, it's better to stuff face at noon and opt for a sandwich or some hearty pastry in the evening.
A good option to get some nice snacks is for instance Carrefour City and Carrefour Express. But also other supermarkets offer ready-made hot and cold meals. I don't claim it will be the fanciest meal you've ever had but it is an option that will save you lots of money.
Classic Cuisine
When I travel, I try to find this mom-and-pop eatery where I rub shoulders with locals. Not tourist traps, but nothing over the top, either. A place where the average towny enjoys his or her lunch.
Therefore, my very favorite restaurant in Paris is Chartier.
The first Bouillon Chartier opened in 1896 and is located in a back building on Faubourg-Montmartre. The interior is designed in an art deco style and hasn't practically changed over the decades. The spacious hall offers seats for over 300 people and looks a bit like an old-fashioned train station eatery. It even has a large clock on the wall! The busy waiters are pacing between the small tables in long white aprons, black vests, and bow ties. They write down the order right on the paper tablecloth in front of you where they also sum up l'addition at the end of your meal.
Due to the fantastic quality at very reasonable prices, Chartier has first been popular with locals but now tends to be overrun with tourists. Therefore, I do not go to the original Chartier anymore but prefer their branches in the vicinity of the Gare de l'Est and in Montparnasse. You'll find all three restaurants on the map below.
Mussels From Brussels
Another one of my favorites is the restaurant chain Léon de Bruxelles, albeit it is rather a staple food of Brussels than a Parisian classic. But as Moules-frites is quite popular among the French, too, Léon is always fairly busy, especially at noon. They have seven or eight branches in various arrondissements in Paris, you'll find three on the map below.
Last but by no means least, I love the Levante eateries in the Marais district. The most famous one is certainly L'As du Fallafel where even celebrities like Lenny Kravitz enjoy their kebab.
I don't know how long Mr. Kravitz had to wait in line. When I got there, the queue went all the way down the Rue des Rosiers. Anyway, L'As is just one of the uncountable Middle Eastern eateries, hence, you won't go home hungry.
A great alternative is a sandwich or some cake from La Boutique Jaune. Sacha Finkelsztajn opened his classic grocery store in 1946, and since then, you can buy all kinds of traditional Jewish bread and cakes, canned goods, condiments, and other groceries. And for around 10 €uros, they fix you a delicious classic Jewish sandwich.
My Tip
The most idyllic place to enjoy your snack is the Jardin des Rosiers Joseph Migneret. It is a beautiful lush garden nestled between historic mansions. The main entrance lies a bit hidden in the building on Rue des Rosiers 10. The garden is open weekdays from 8 a. m. to 7 p. m. and weekends from 9 a. m.
Cash, Cards, And Deals
Since 2001, 20 European countries are paying with €uros, and France is one of them, obviously. The exchange rate is 1 US$ = 0,94 EUR as of June 2023, but you can check the conversion on this page.
Also, you can pay with credit cards even the smallest amount basically everywhere.
Paris is by no means a cheap place. While it's quite challenging to save on food and most of all accommodation, you can at least reduce your costs by getting a Paris Museum Pass*. This pass grants you free access to 50 museums and monuments.
There are three options – the longer you stay, the more you actually save:
| | | |
| --- | --- | --- |
| 48 hours | 96 hours | 144 hours |
| 55 €uros | 70 €uros | 85 €uros |
Language
The French are famous for many great things. Presumably, speaking foreign languages is not one of those. Nevertheless, I got the impression that after many decades, Parisians are now bowing to the fact that their city is one of the most visited metropolises in the world and there is no harm in learning at least a few words of English. I felt like hearing a lot more English around me than in previous years, and I also got the feeling that Parisians now mock'n'hate their visitors a bit less for forcing them to communicate in foreign tongues.
In return, you might want to meet the French halfway by learning at least some polite phrases with the help of babbel or Lingohut, for example.
Connection and Communication
Since June 2017, no roaming charges apply within the EU with a European mobile phone contract, This applies in all 27 countries of the European Union as well as in Great Britain, Iceland, Liechtenstein, and Norway and to all contracts.
In case European roaming is unavailable, you can connect to the internet without any issue at basically every museum, eatery, café, and, of course, hotel.
If you insist on being online 24/7, you can get a SIM card, obviously. There are prepaid SIM cards by many companies. The cheapest one is distributed by Orange France and costs only 2.99 €uros. Other brands are SFR France, Bouygues Telecom, and Free Mobile. They cost 10 €uros. Keep in mind that some companies might also charge an activation fee.
In France, they use plug types C and E. Their voltage is 230 V and the frequency 50 Hz. Whereby, as nowadays, all these chargers have integrated adapters, in general, the voltage and frequency don't really matter.
By the way, you'll find this information and many more comprehensive travel tips in my post World's Most Complete Travel Information – an indispensable globetrotter-classic.
Paris for Free!
So this was my inspirational guide to Paris' best museums you can visit with your Paris Museum Pass. What a great deal, am I right? But buckle up since it gets even better: In my post Paris for free!, I'm introducing parks, panoramic viewpoints, and even museums that won't cost you anything at all! Don't believe me? Just rush over and see for yourself.
What's also completely free is a self-guided walking tour to the most beautiful town palaces you'll find in the Marais district. With my comprehensive guide, you can explore this fascinating quarter at your own pace.
And finally, if you are just on a stopover in the city of lights'n'love, check out my guide 24 hours in Paris where you'll find a thoroughly planned itinerary for either a sunny or a rainy day.
Map
On this map, you can see where all the museums and monuments I'm introducing in this post are located.
Clicking on the slider symbol at the top left or the full-screen icon at the top right will display the whole map including the legend.
Pinnable Pictures
If you choose to pin this post for later, please use one of these pictures:
Did You Enjoy This Post? Then You Might Like Also These:
* This is an affiliate link. If you book through this page, not only do you get the best deal. I also get a small commission that helps me run this blog. Thank you so much for supporting me!