Guide to Galle, one of Sri Lanka's Highlights – and one of eight sites listed as a UNESCO World Heritage.
Therefore, the historic Galle Fort is one of the country's most visited tourist places.
For a reason.
Nature's Decoration
A colonial mansion in the walled old town of Galle.
One of these typical houses – white-washed and with windows and doors of dark wood.
Not long ago, they were shiny. But the sun here is merciless and the salty air from the ocean pulls its weight, too.
Therefore the wood, still intact, deems a bit weathered.
In the entrance hall of No 62 are a Chinese chaise longue and two wicker chairs. A faint aroma of durian is lingering through the air. Although this smell does not please everyone's olfactory sense, here it just takes the Asian-colonial appearance to a state of perfection.
The room's most prominent feature is a huge chandelier hanging above a small coffee table in the very center of the room.
As I enter to check in, the friendly host brings me a glass of ice cold juice and prompts me to take a seat. It's still early, the room I booked is not ready yet.
Chirp chirp.
What was that? I look around. Are my ears fooling me?
Chirp chirp.
There it was again. Not loud, but clear. I look again, searching.
Chirp chirp.
Now I spot a strange bundle between the brass arms of the chandelier.
What's that? Why is there straw in a chandelier?
Mom is Home
While I'm still wondering, a red-vented bulbul lands on the grill above the entrance door and looks nervously around.
Then, mother bulbul cocks her head, takes a last cautious look and lands elegantly on one arm of the chandelier.
And now I realize that the straw is not just some filth. It's a nest! It's some bird's home!
There are two or three baby birds in there, now chirping ferociously.
Now the babies are craning their skinny naked necks. They open their beaks, that seem far too big for their small featherless heads, in anticipation.
The mother starts feeding them.
Last – Definitely Not Least
Galle, the last stop on my trip through Sri Lanka, conquered my heart despite the fact that it's very touristy.
It is one of the eight sites being listed as a UNESCO World Heritage. And while places like Anuradhapura, Polonnaruwa, Sigiriya, Dambulla, and Kandy are on the list for really, really old structures and architectonic sites, Galle is sort of the baby of the family. The beautiful, historic Galle Fort was built by the Portuguese in the 16th century. Later, it was expanded and finished by the Dutch in the 17th century.
The city of Galle has a population of around 112,000 people, hence it's a relatively big place. However, the famous Galle Fort has only a size of about 0,5 square kilometers and is protected by an around 3 km long wall. The rampart was constructed from granite and corals and has a total of 14 bastions. It is fronted by a moat.
The City And the Fort
Although almost 4,000 people lost their lives when the merciless waters of the Tsunami hit Southeast Asia on Boxing Day 2004, these walls protected the Fort against even bigger damage.
To this date, Galle's Portuguese, Dutch, and British heritage are reflected in its well-preserved and beautiful colonial architecture along the narrow alleys that are partly car-free. In 1988, it became a UNESCO World Heritage Site. And along with that, it became a pretty polished, cute place.
However, it has actually little to do with the part of the city outside the walls.
As a matter of fact, already before the European colonialists took over, Persians, Arabs, Malay, and Indians were trading and merchandising at this seaport.
Welcoming a large number of visitors every year, there are many cute souvenir shops and specialty stores, cozy coffee places and restaurants around. Nothing the average Sri Lankan could afford.
Fancy Inside
You can enter the Fort through two major gates. Most visitors, coming from the central bus stop or the train station, will come through the New Gate, located south of Galle's cricket stadium.
Walking clockwise on the rampart, you'll get to the part on the east side where most of the historic buildings are located around Church Street.
There is the Groote Kerk, the Dutch Reformed Church, built in 1755. The Kerkhof, the churchyard, was the holy place where the burials took place. Distinguished persons got priority to have their graves closer to the church building. Texts on most of the tombstones are in Dutch. The cemetery for the natives and ordinary folk was on a site outside the fort.
Next to the Church is the Galle Library while the belfry is across the street at the corner of Queen Street.
From Dutch to British
At the next corner is another historic Church. The Anglican All Saints Church was, obviously, built by the Britons in 1871. I was delighted by the windows painted in pre-raphaelite style.
Turning into Queen Street, to your right is the British Queen's House to your right and the Maritime Archeology Museum to the left. It's housed in a Dutch warehouse from 1671.
Also, the Old Gate is going through this building.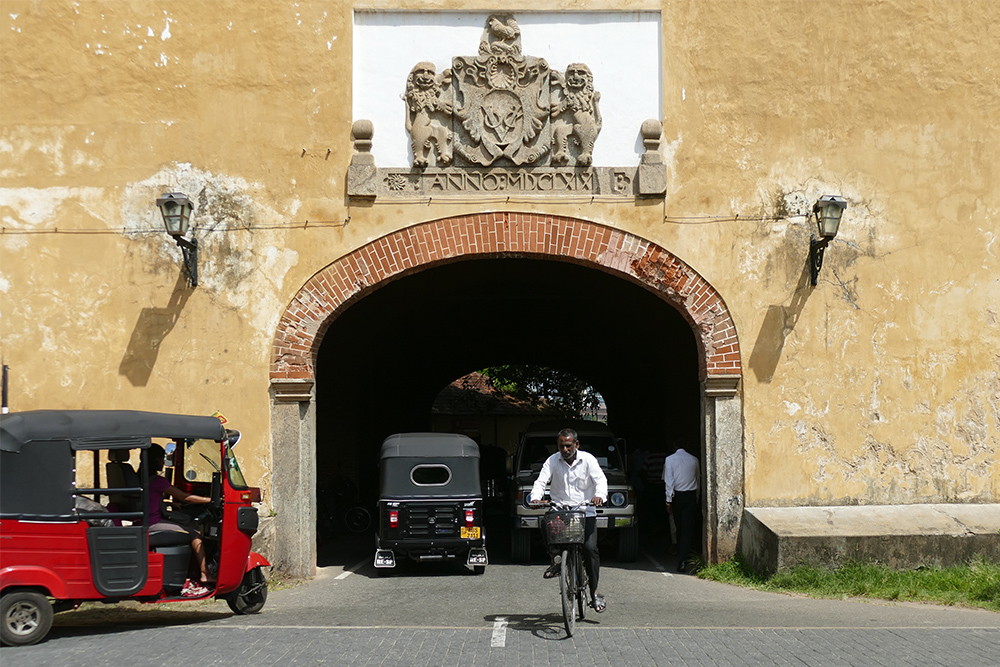 A Place of Justice
At the next corner where Queens Street leads into Hospital Street is the Ambalama, the Courthouse Square.
Actually, it's just a simple brick and mortar structure with four cylindrical pillars holding the roof. Although the Ambalama is now only a landmark, even today, there are actually the courthouse, police station, and other official buildings around it.
Continue on Hospital Street and you'll get to the….hospital, namely the Old Dutch Hospital. It is one of the oldest buildings in the Galle Fort.
However, today it is a posh and pricey shopping and dining precinct.
Before you continue climbing the walls, turn right at the next corner and go to Leyn Baan Street. At Number 39 is a highly interesting museum showing not only utensils, tools, and furniture from the colonials centuries. They practice also some traditional crafts such as tatting and stone cutting there. Precious stones and jewelry can be purchased right on the spot at a very nice – and accordingly expensive – gift shop.
From Bastion to Bastion
Back on the shores, climb the Aurora bastion to get the best view of the Old Dutch Hospital and the harborfront.
You're on your way to one of the most iconic buildings of the Fort which used to be Sri Lanka's oldest lighthouse from 1848. Originally, the lighthouse was located about 100 meters / 330 feet from the present site. It burnt down in 1934 and rebuilt in 1939.
Across the street from the lighthouse is the Meeran Jumma Masjid, a Mosque built in 1904.
On the Wall
The next bastion, the Flagrock, is the southernmost point and a popular hangout to watch the sunset. Once it was used as a signaling station to warn ships of the dangerous underwater rocks as they approached the shores.
Continue walking to the northwest, the next bastion is Triton. Here, you can still see the remains of a windmill that was used to draw water from the sea.
From the next barbican, the Neptune bastion, you have a wonderful view of a couple of Galle's houses of worship.
Walking along the beautiful Rampart Green, passing the Clippenberg bastion, you'll finally get to the most impressive parts of the wall. In the north, there are the Star and the Moon bastions and also the Galle Fort Clock Tower from 1883.
There are also statuettes representing the oppression of colonial rule.
After you've surrounded the Fort walking its walls, you can spend hours just strolling through the alleys, taking in the beautiful architecture and the elegant vibe.
Practical Information
How To Get There…
Galle Fort is one of Malaysia's most prominent tourist spots. Therefore, there are buses getting there along the coast all the way from Tangalle. Actually, to Mirissa, it's only a bit over an hour by public bus and to Unawatuna about twenty minutes.
Besides going be public bus for next to nothing as I did, you can hire a tuk-tuk or a taxi for about 10 US$.
A ride to Colombo and, of course, to the airport, you also can go by public transport up the coast. Also, there is a direct shuttle bus between Galle and the airport. Unfortunately, it does not go that often. For my flight, the schedule was not convenient. Therefore, I hired a cab – which turned out to be one of the most amazing encounters during my trip to Sri Lanka. How so? Well, I wrote about it in another post.
Anyway, hiring a cab is convenient and given that fact that the trip takes about three hours, fairly cheap – I think I paid something like the equivalent of 30 US$.
…And Around
Within the Fort, you'll be probably mostly walking. Distances aren't that far and the road are very narrow with deep ditches left and right. I would not like to ride a bike there.
As soon as you leave the Fort, you find yourself at a huge bus terminal where you can take local and regional buses. Of course, you can also walk outside the Fort. However, there's lots of traffic which makes it quite unpleasant.
Inside as well as outside the Fort, tuk-tuk driver will incessantly offer you their services. Although they are not as cocky and ruthless as in Kandy, you still have to haggle with them over the price.
Good places to shop
Yes, there are many, many cute souvenir shops and specialty stores housed in the historic buildings at Galle Fort. They look nice, they are climatized, and they accept credit cards – everything the enchanted tourist loves when souvenir shopping.
Let me tell you, I've been travelling for three weeks crisscross the island and checked out goods and prices. And at least regarding latter, Galle Fort is a very bad deal.
I wrote in the respective chapters when a place was particularly good for a certain kind of products. For instance, brass around Kandy or ceramics in the outskirts of Mirissa.
Artisans and Craftsmen
If you want to shop at a store where they have a wider range of local products, making sure you get good quality, have a look at the Laksala store. You find them all over the country. These shops are governmentally controlled and their prices are fixed. However, their prices are not exactly cheap. You can actually get better deals when bargaining at some of the small hawkers. Anyway, if you want to shop at Laksala, there is one store on 74 Sea Street about half a mile from the Fort's main gate.
If you want to shop for high-quality fabric, household linen, sarees, and garments, there is a small boutique next to the old fruit market at the corner of the A2 road with the 3rd cross street.
Everything they have is of such an excellent quality of good taste – I really stocked up on basically everything there; and back home, I was not like, oh my, what was I thinking?!
Souvenirs From the Local Supermarket
Wanna shop for tea? Of course, you do! Here, too, I cannot recommend the specialty stores at the Fort. Instead, take a short hike to Keells supermarket on 46 Colombo Road. They have a wide range of different teas. Most of them are packed in original, beautiful tin boxes. This not only keeps the tea fresh, but also makes a wonderful gift. Don't get irritated if some of the small writing is in Cyrillic. Actually, it's proof of quality since it means that this tea is meant for export. And they are exporting only the good stuff.
Supermarkets such as Keells are also the perfect place to stock up on herbs, spices, and snacks such as devilled cashew nuts and the like. Another good supermarket is Cargills Food City. Only that in Galle, they did not have the variety of tea they have everywhere else; strange.
Splurge at the Fancy Spa
Ok, there is a store at Galle Fort that's relatively expensive – in relation to Sri Lankan costs of living – but just irresistible: Spa Ceylon Luxury Ayurveda, in Galle located on Lighthouse Street 47. I really have to warn you – although I spent the equivalent of four Sri Lankan lunches on four tiny packs of facials and felt really decadent…I just couldn't resist. They have a wide range of wonderful beauty products and makeup and they are a SPA, too.
Best place to sleep
I cannot recommend my accommodation in Galle enough. The room at the Light House Inn* was nice, yes, clean and cozy and even with a small balcony. The location was absolutely great. In one of the Fort's main streets, just a stone throw from all the places of interest within the Fort, however, very quiet.
The strongest suit is the owners: A sophisticated family, incredibly kind, witty, and helpful. Unfortunately, due to my schedule, I spent only one night there. But if I ever go back to Galle, I know already now where to book to make my stay the most enjoyable one.
Get more details, check out availability and the Light House Inn's rates. *
If you are searching for other convenient lodging options, you can do so on this map*:
Best place to eat
The Indian Hut at 55 Rampart Street is serving authentic Indian dishes at excellent prices. Especially considering the million-dollar-location overlooking the rampart and the ocean. In short: Excellent Indian dinner with a view.
They are open daily from 11 a. m. to 10:30 p. m.
A wonderful place for a refreshing drink and a light snack or a hearty curry is Anura's on Lighthouse Street No 9. They are open every day from 9 a. m. to 10 p. m. After a long walk on the city walls in the merciless sun, Anura's homemade lemonades and juices will be a lifesaver.
They also run a casual guesthouse.
What to See
I'm an avid solo-travelling woman. Since solo-travel doesn't equal solitude, I love to join organized tours here and there. They allow me to meet fellow travellers – for just a short moment or a lifelong friendship.
Therefore, here are some great ideas of what to do and which tours to join during your stay in Sri Lanka*:
Map
Here is a map with all the places mentioned in this post so you won't get lost:
Do you want to read about all the other beautiful places I've visited in Sri Lanka? Then go to the main post and take your pick! There you'll also find valuable general information that will make your trip smoother.
Pinnable Pictures
If you choose to pin this post, please use one of these pictures: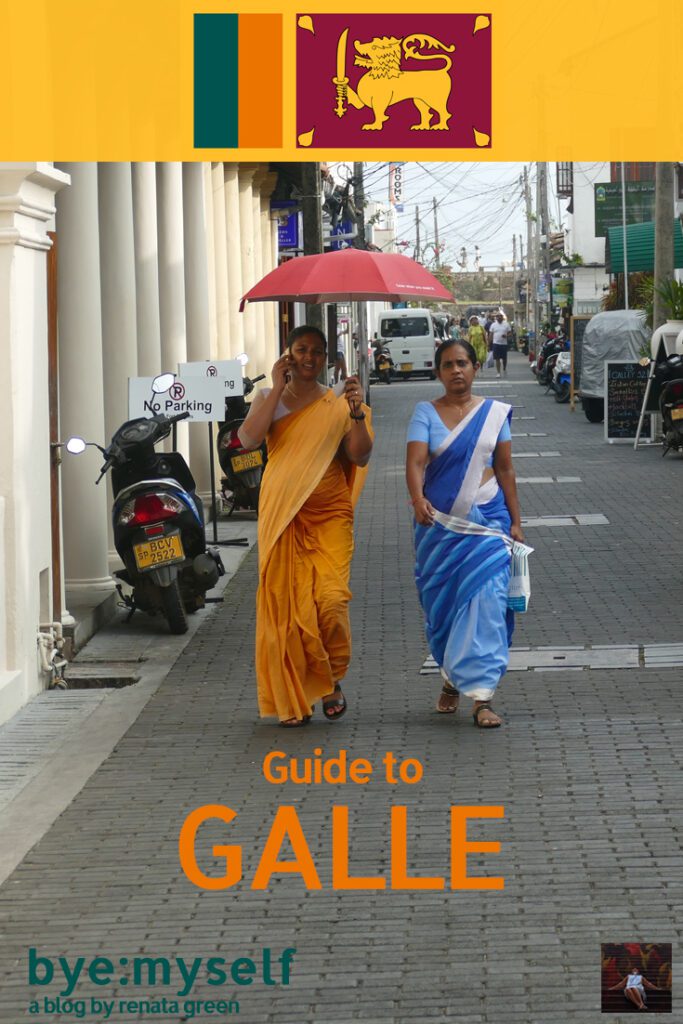 Did You Enjoy This Post? Then You Might Like Also These:
* This is an affiliate link. If you book through this page, not only do you get the best deal. I also get a small commission that helps me run this blog. Thank you so much for supporting me!